Known as the hen of the woods, maitake, sheepshead mushroom and signorina these delicious, bountiful fungi have lots of names and are king of the Fall mushrooms in the Midwest. In this post I'll tell you everything you need to know to find, identify, harvest, clean and cook them.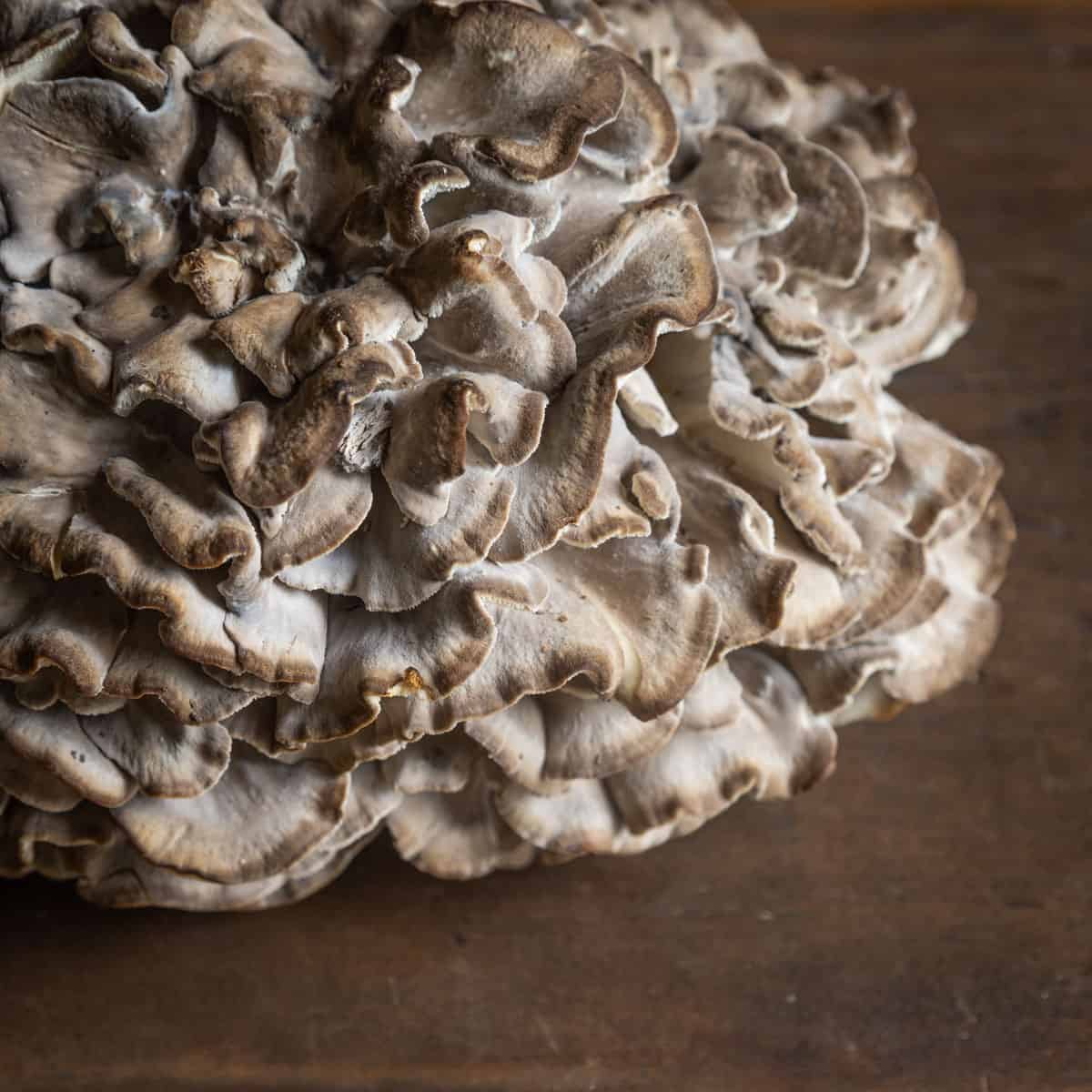 One of a few mushrooms only found East of the Rockies in North America, hen of the woods, (also known as Grifola frondosa) are a choice edible mushroom that grows at the base of trees. At a glance the mushrooms look like a roosting bird, which is where the name comes from. They're a parasitic polypore mushroom that infects living trees and injured trees, causing a butt-rot in the host.
Also known as maitake (dancing mushroom in Japanese) these have a long history of use in Japanese cuisine and culture. As legend has it, perfect mushrooms could be worth their weight in silver and harvested by samurai or given as gifts to the shogun. They're also prized in Japan for their (reputed) medicinal properties supporting the immune system.
How to Identify Hen of the Woods
One of the easiest, and safest wild mushrooms to identify for beginners, hens are easy to spot, even at a distance. Here's a few tips on properly identifying hen of the woods.
Appears as a cluster at the base of trees, especially oak.
Caps can be light to dark grey, smoky brown, or a combination.
Are composed of rosettes of layered caps originating from a central stem.
Instead of gills, the reproductive structure is white pores on the underside of the caps.
Will grow on dead, dying, or downed trees, as well as stumps.
Will occasionally grow directly from the roots of fallen trees and logs.
They have a distinct fan-like shape, and the cap is layered with frilled edges or ruffles.
Have a white spore print often visible on mature mushrooms.
Bruise brown when handled over time.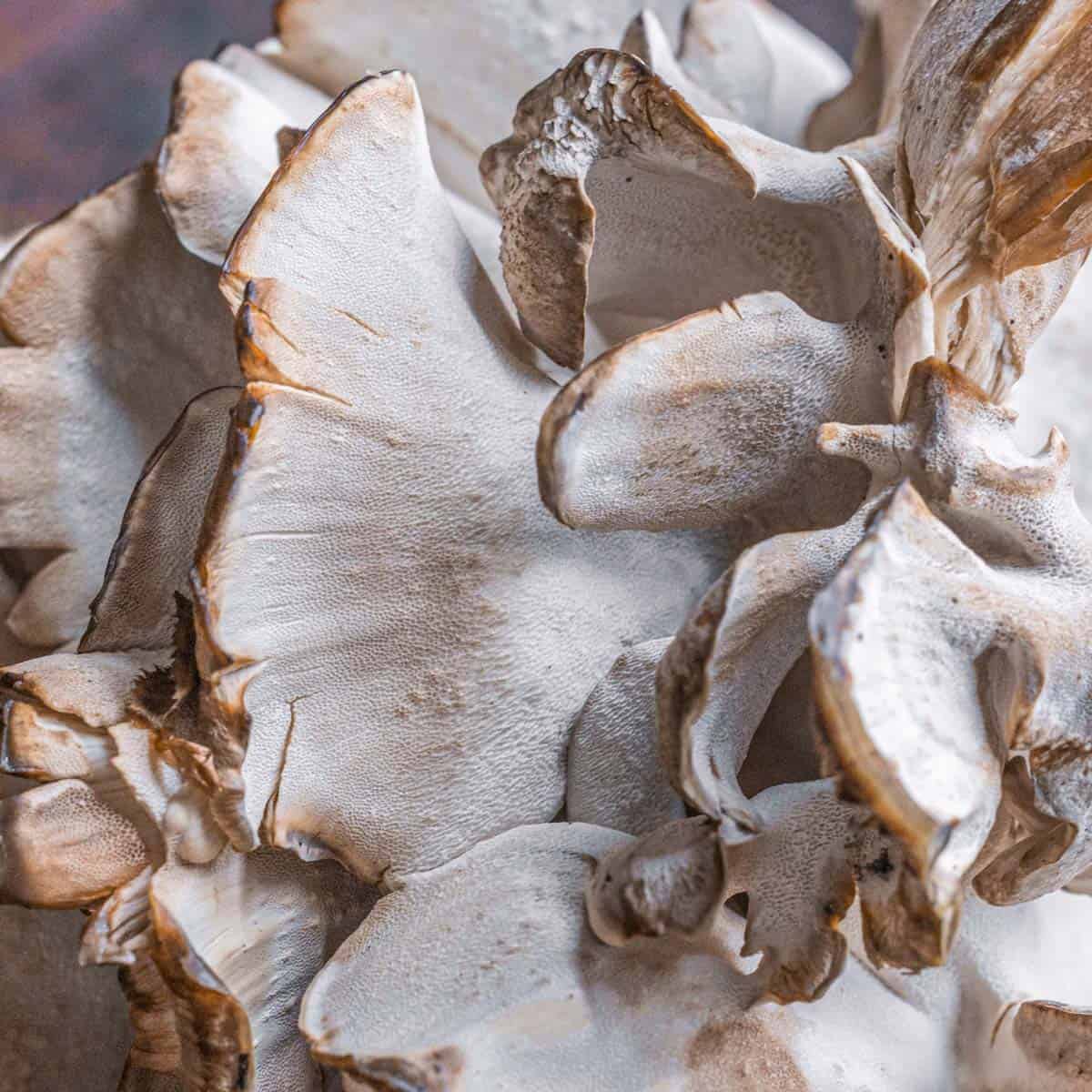 Where to Find Hen of the Woods
Where I hunt in Minnesota and Wisconsin, the easiest way to look for large, old oak trees. Red oaks seeming to be their preferred host.
Hens appear in late Summer around September and continue through the fall (October) but you might see an occasional one in August. These can grow to be massive, and I've picked clusters that have weighed thirty pounds.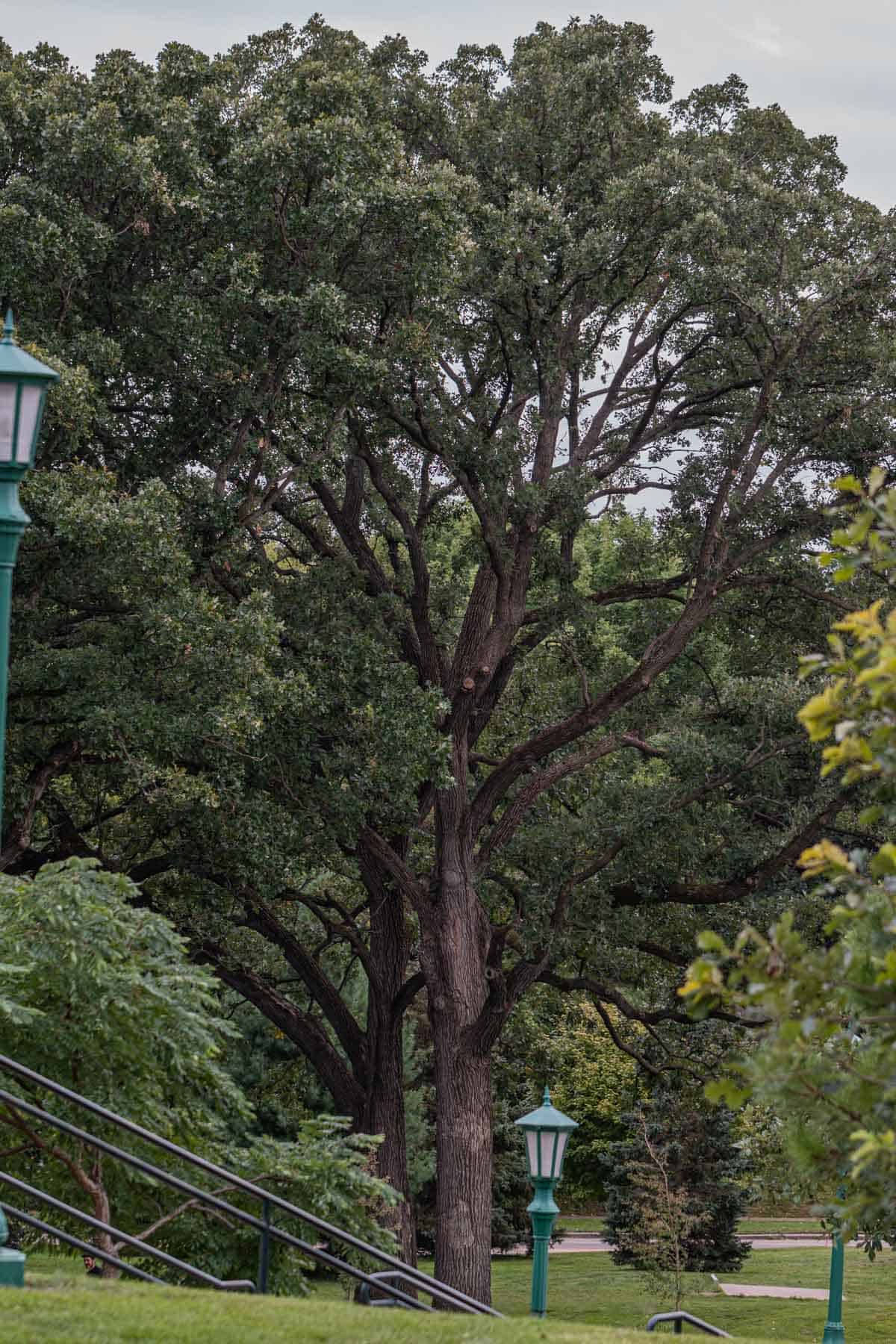 You don't need to be in the deep woods for these. Here's the best tips I have:
The bigger the tree, the bigger the mushroom can be. Look to your nearest local park that has big old oak trees.
If you're in an open, grassy area make sure the grass isn't being sprayed with chemicals, as happens on golf courses.
Hen of the woods grow at the base of white oak trees, red oak trees, and rarely on maple trees.
Hunting on bike helps you cover area quickly to find hens along paved trails.
If there's one there's more. If one tree has a hen, then the whole grove has been infected. Look around the base of other trees in the area.
Look for death and decay in woods that have lots of fallen trees and oak stumps.
Hens are a semi-common yard mushroom. Hunt by car in your neighborhood and ask politely to pick if you find one.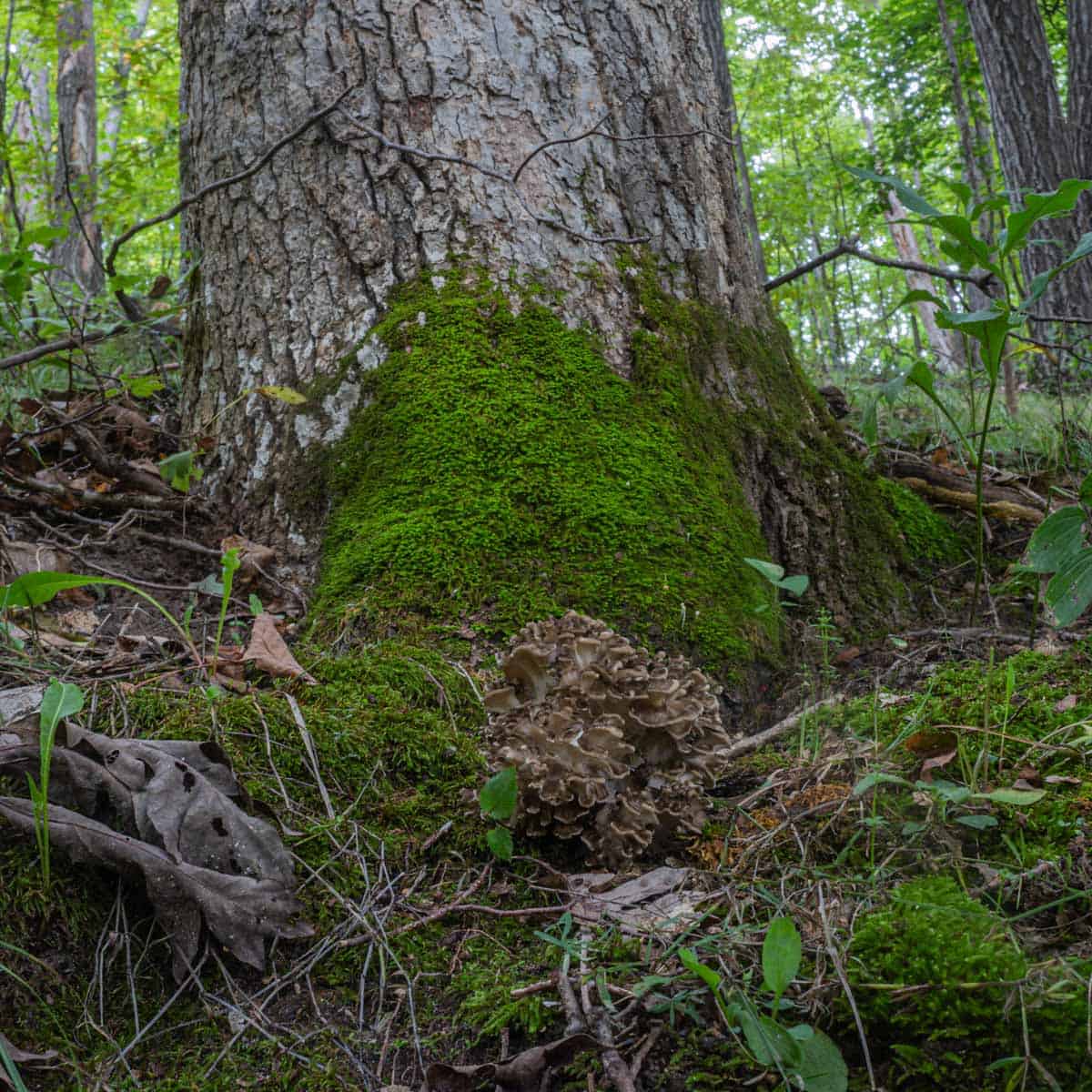 The mushrooms will come back year after year in the same location. When you find an infected grove, go there regularly once the mushrooms start to fruit. Different trees will give hens at different times throughout the season.
Hen of the Woods Look Alikes
There's a few mushrooms that look like hen of the woods, or could be confused with them, but here are no poisonous look alikes. Here's the top five you should know.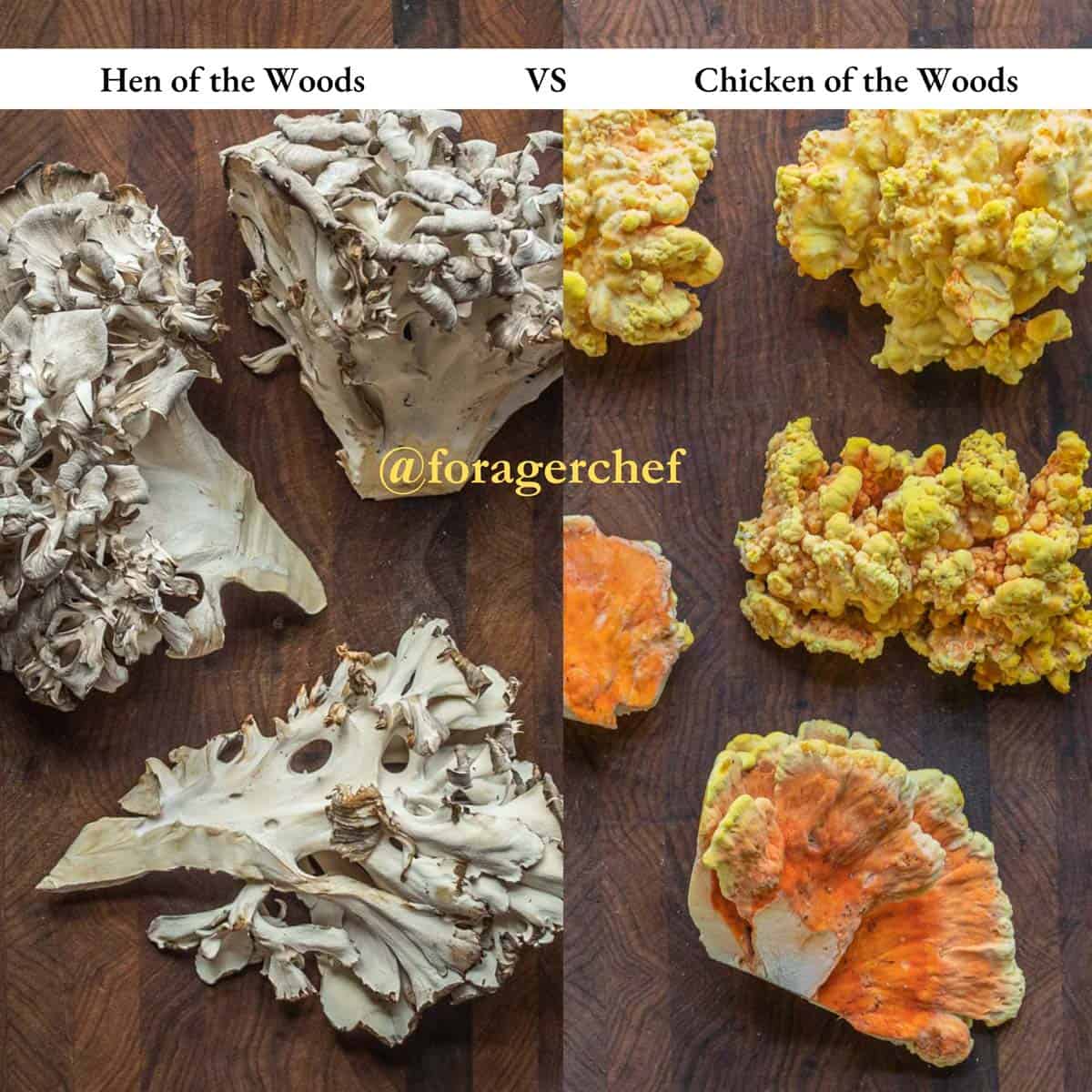 Umbrella Polypore / Polyporus umbellatus
The umbrella polypore (Polyporus umbellatus, formerly Grifola umbellata) is very good, but rare. It grows in the summer at the same time as hen of the woods, and can also be found on oak trees. It's easy to tell the difference from a true maitake as the caps of P. umbellatus have a funnel shape.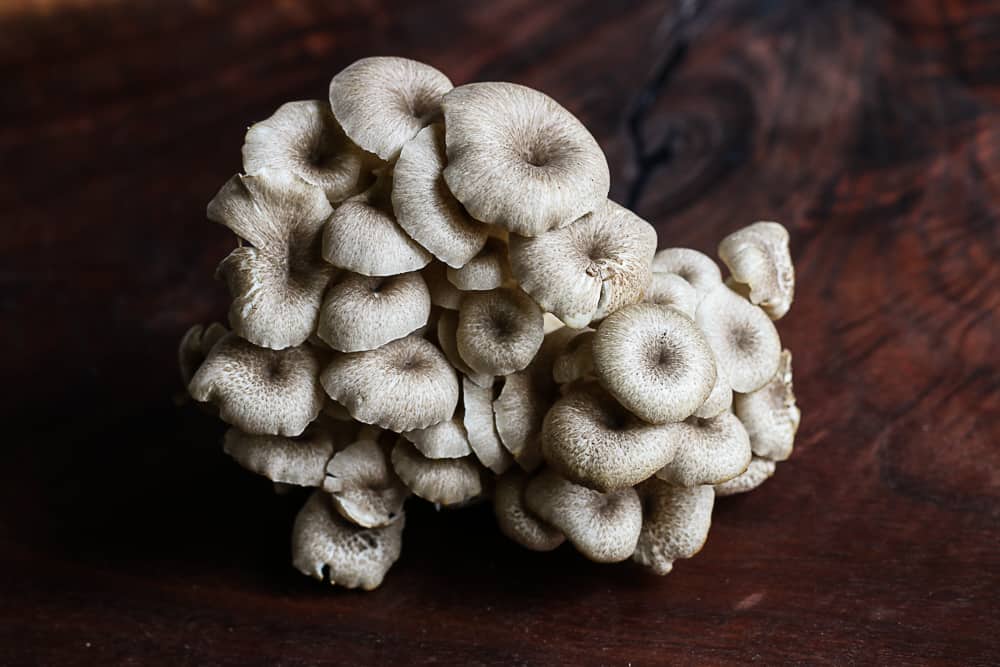 Black Staining Polypore (Meripilus sumstinei)
Also easily confused with hens, the black staining polypore also grows at the base of infected oak trees, but is easily identified from its black staining when bruised or handled. It's delicious, tasting like a hen crossed with black trumpet mushrooms.
It's tougher than hens, and need special treatment like drying and powdering. Cut the tender ½ inch margin into duxelles, or make them into stock and broth.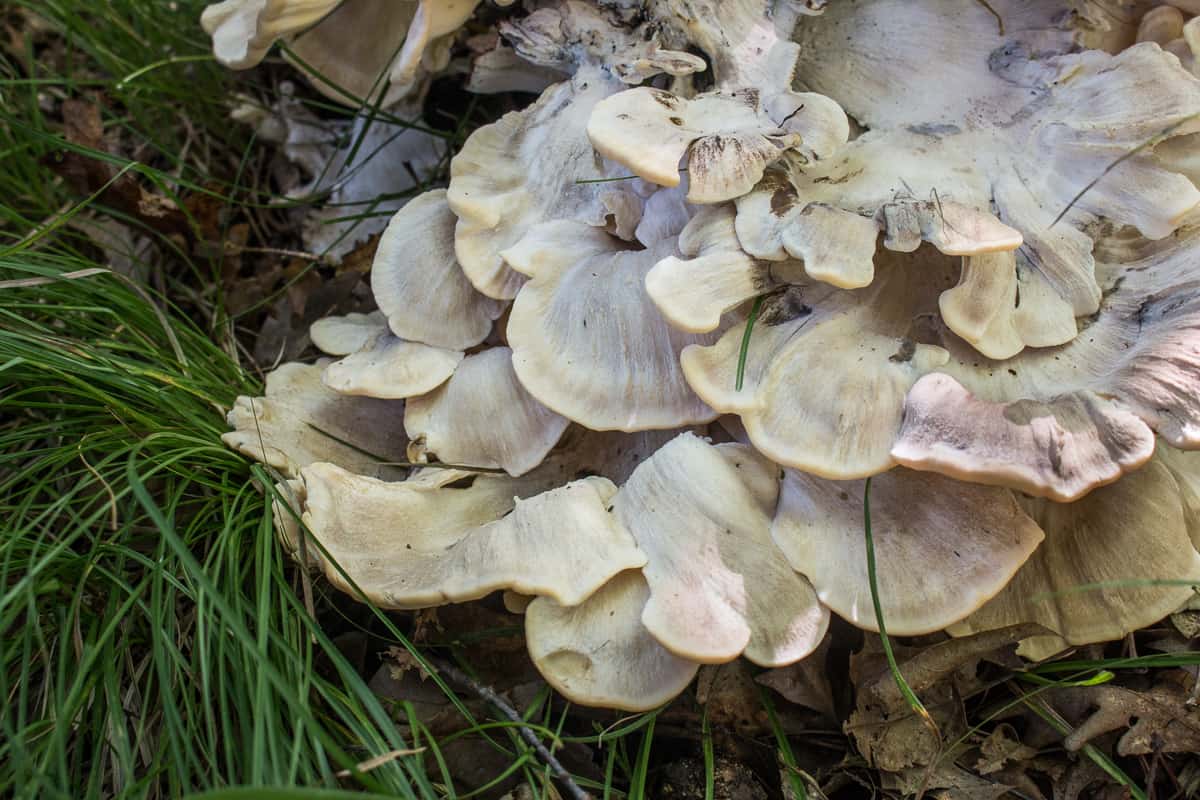 Berkley's Polypore (Meripilus giganteus)
A large cousin of the BSP, Berkley's polypore infects beech, pine, spruce and firs as well as oaks. Like other meripilus, it's very tough when mature, and only the tender outer edge should be used. I think they're best used to make duxelles or mushroom stock.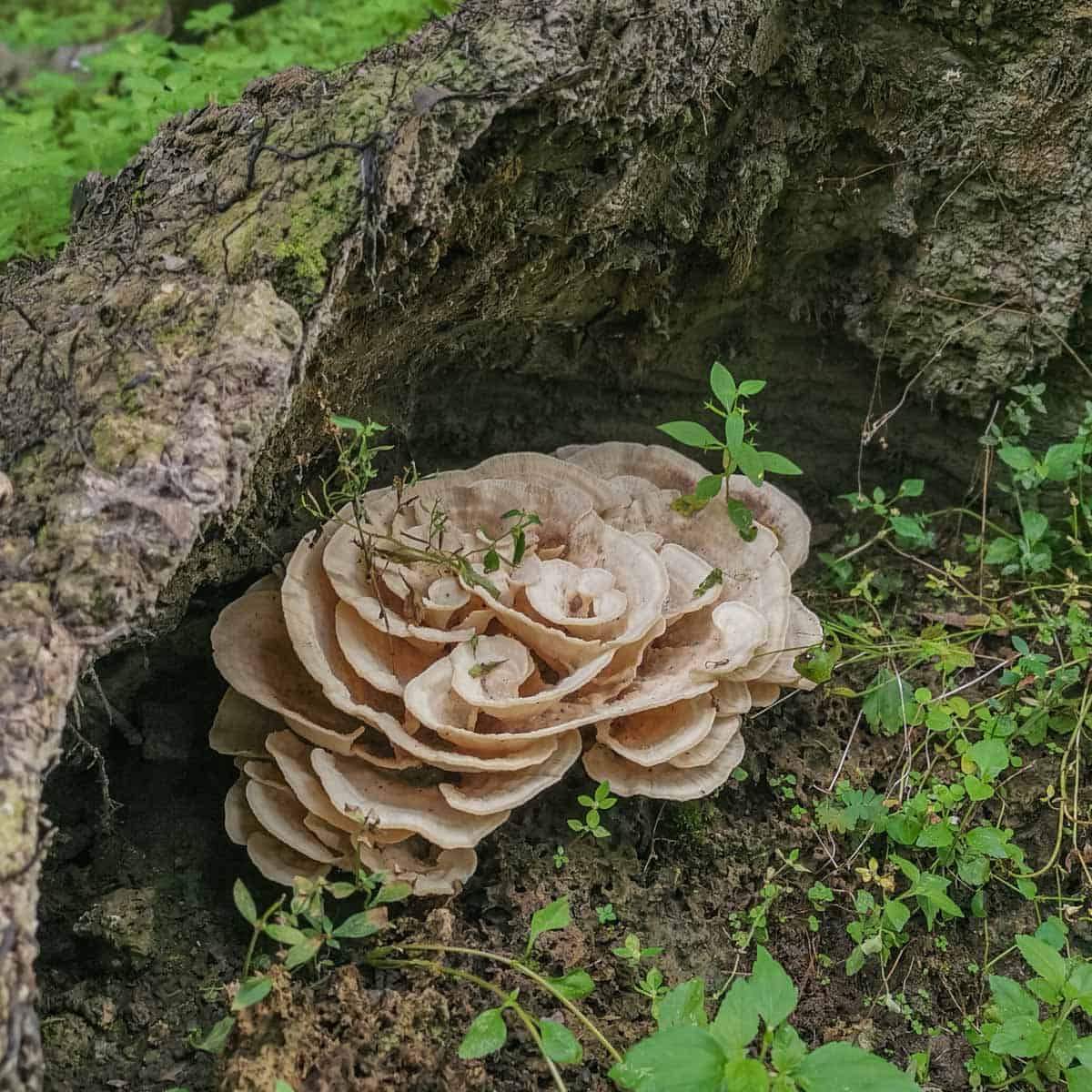 Bonderzewia
Another parasitic fungus that grows at the base of oak trees. These are a rare find for me but are definitely a mushroom that looks like hen of the woods. They seem far too tough to be useful, but many people still say that about black staining polypores. They're not harmful to my knowledge, but they would be very hard to chew.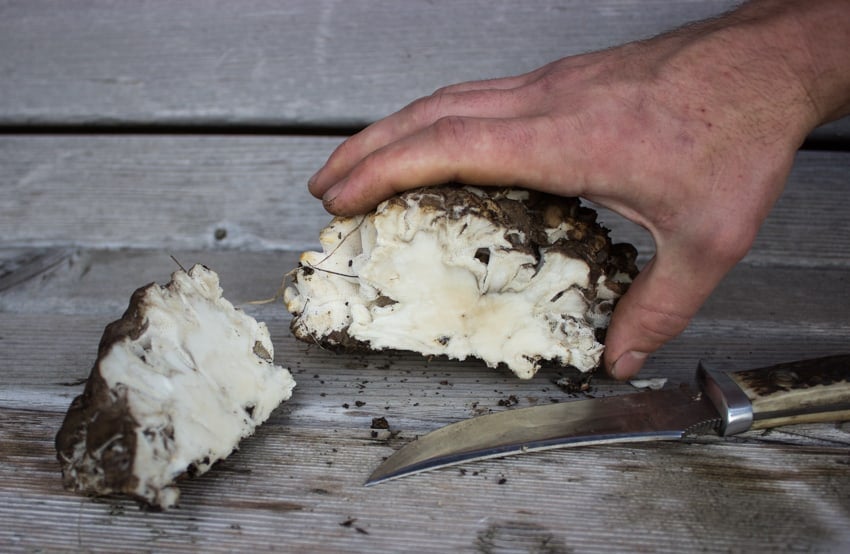 How to Harvest Hen of the Woods
The first thing to do is inspect the mushroom. If you can see white spores on the ground it's past-prime, but could still be ok to eat. Older mushrooms will be tougher, younger ones are more tender. Grasp the base of the mushroom and pull it up, then carefully trim any dirt from the stem.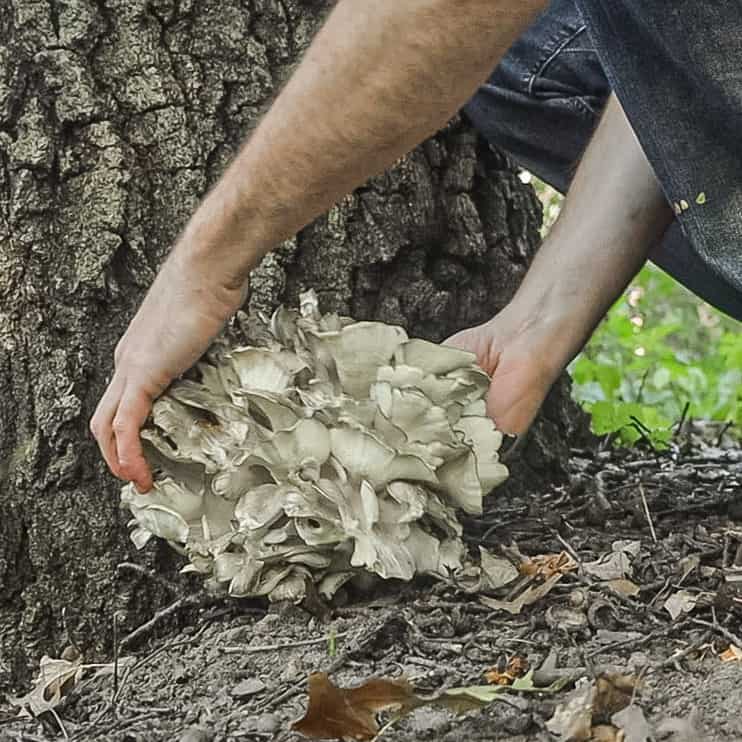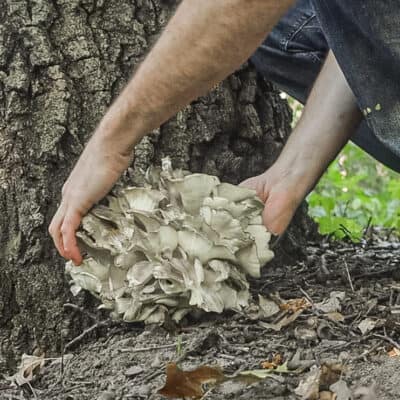 Inspect the mushroom closely for dirt, leaves and debris. If it rained recently you may want to pass. The best mushrooms should feel tender, and look very clean without grit stuck in or on the fronds.
Knowing when to harvest hen of the woods is important. Bigger is not necessarily better and waiting to see how long it takes a hen of the woods to grow can ruin your mushroom. Most of the time when I find a hen I take it, unless it's just starting. Hen of the woods grow moderately fast, so go back in 3-4 days if they're too small to harvest.
Below, left to right: older mushrooms will be tough, younger mushrooms are very tender, and perfect mushrooms are in the middle.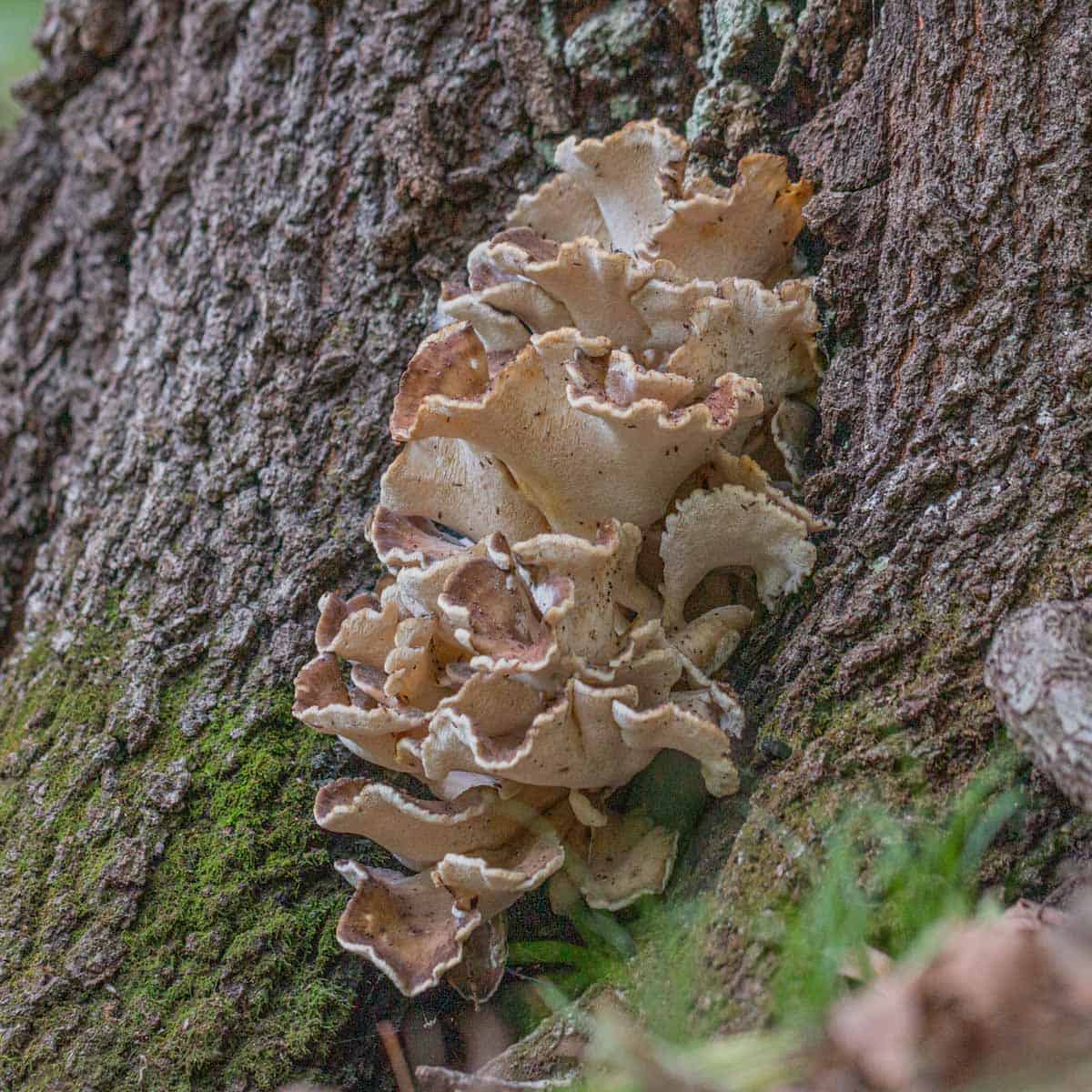 Hens are tricky enough to clean as it is, but if it rains, dirt will splash on the mushroom and dry, and the mushroom will physically absorb the dirt into its flesh as it grows.
How to Clean Hen of the Wood
These can be easy to clean, or very difficult depending on the growing conditions. First, you separate the mushroom into large leaves or clusters and inspect for twigs and debris. The flesh should be pure white-cut away dirty or discolored portions. Clean mushrooms can be cut in thick slices.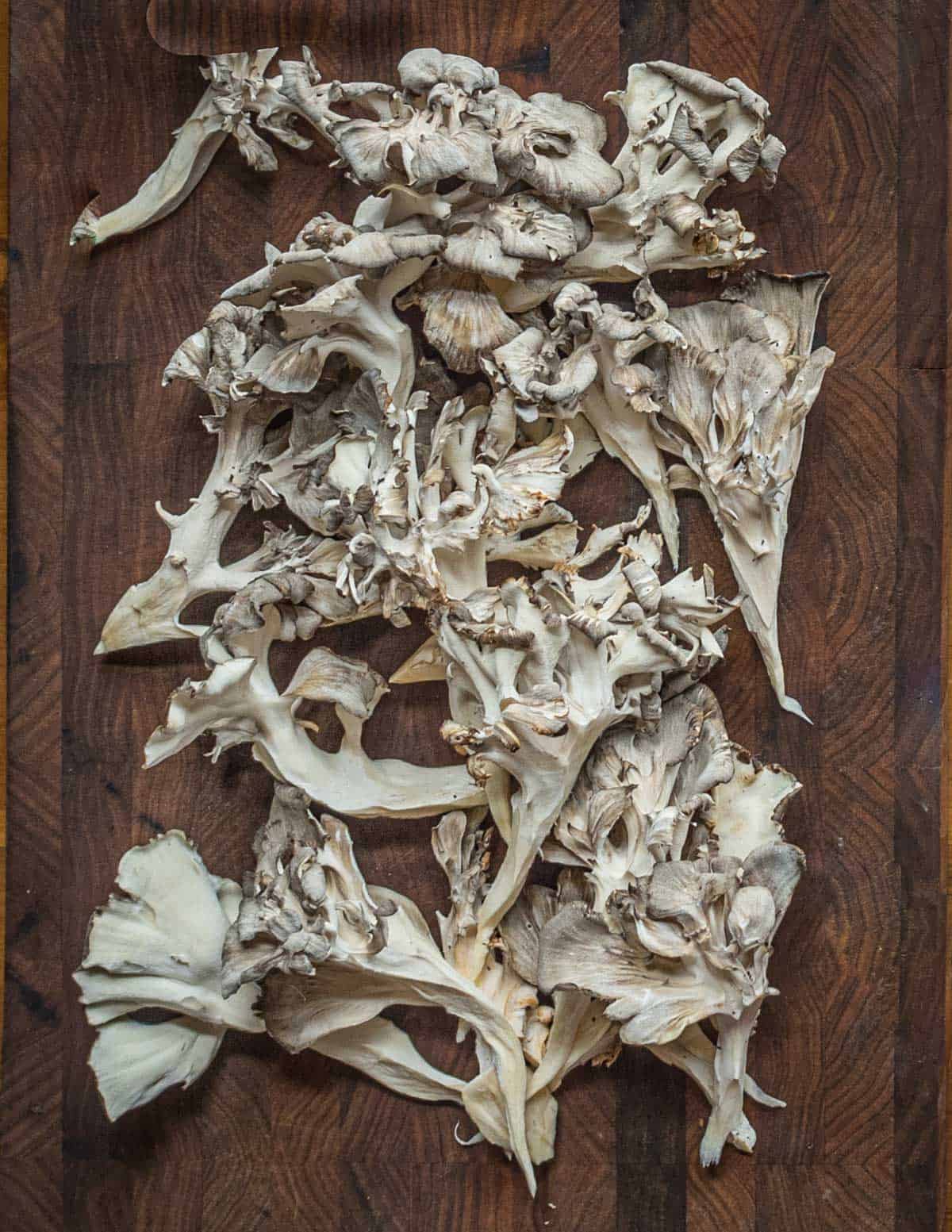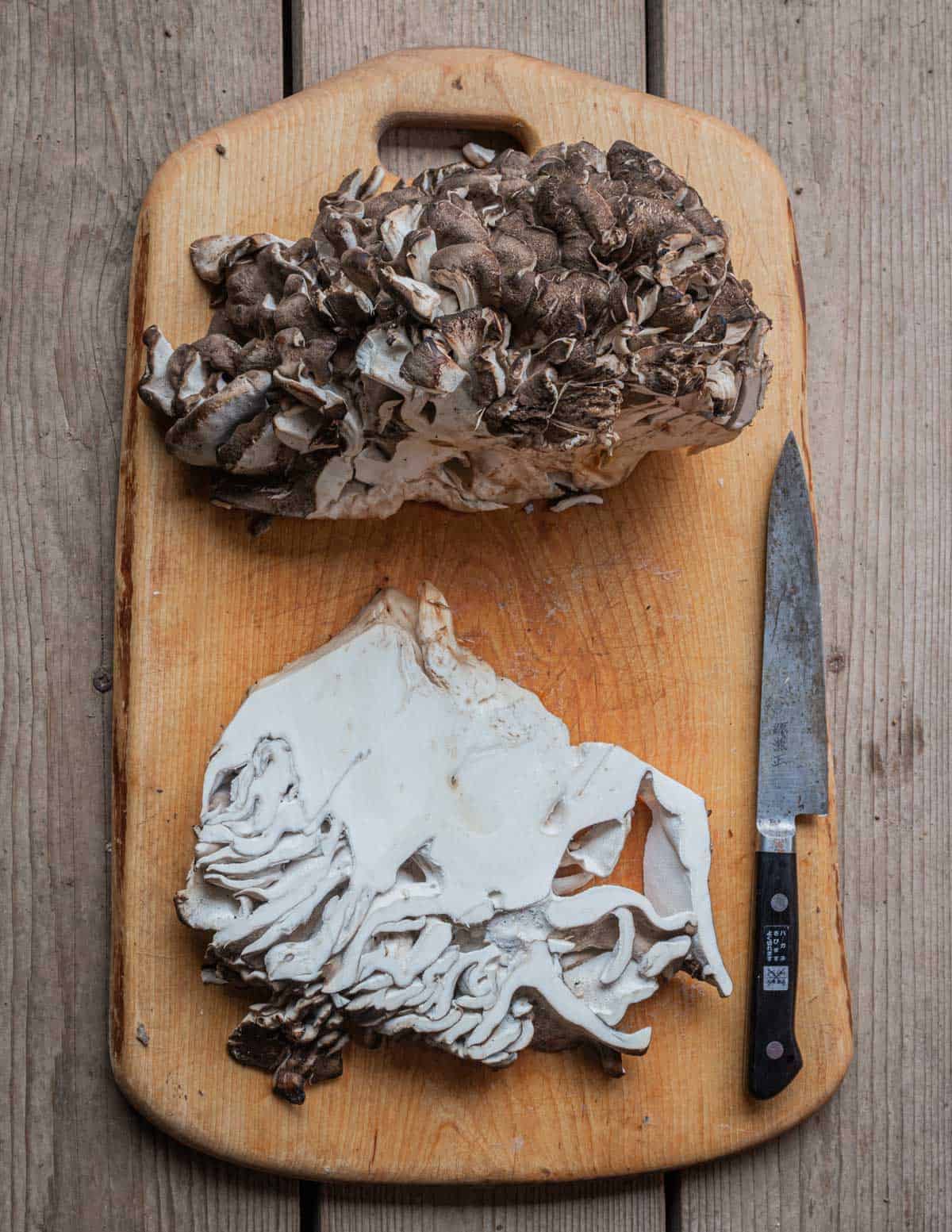 This might only be an acorn or a twig to remove, but debris is often lodged inside the mushroom flesh itself, as the mushrooms will absorb dirt that falls on them as they grow. One time a diner at a restaurant broke his tooth on a pebble in the mushroom itself.
The mushrooms are usually free of larvae but are often home to insects like pill bugs, centipedes, ants and spiders. I once found one with a baby snake inside. It's all part of Nature's design as the mushrooms function as shelter for small creatures. They're literally a bug hotel.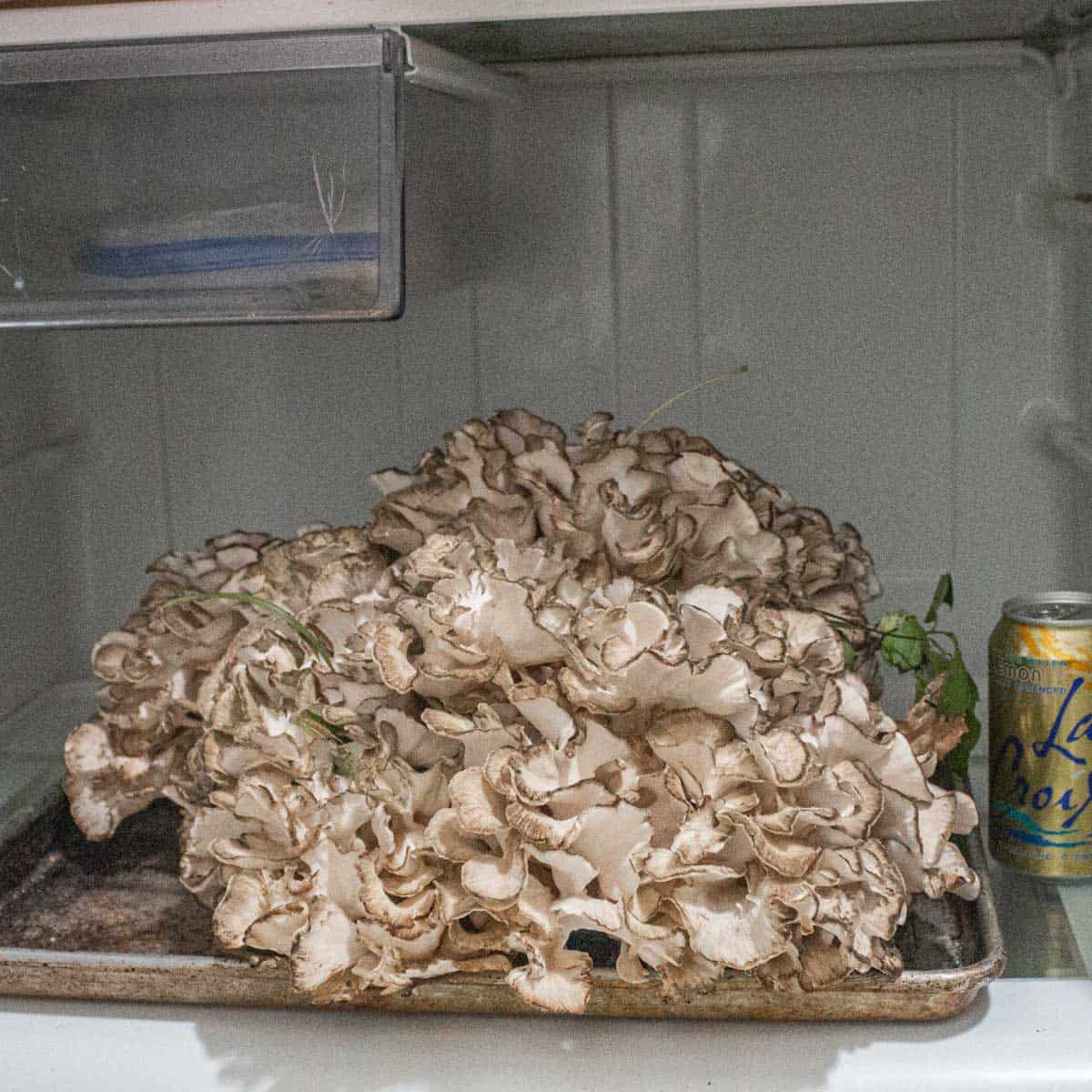 Once the mushrooms are cut, you can swish them in a sink of cold water, dry them on paper towels, and store the hen of the woods in a Zip Loc bag with a dry paper towel in the fridge. If you don't have time to clean them, store them whole in the fridge and clean them as soon as possible. Properly stored, the mushrooms will last for at least a week or more.
How to Cook Hen of The Woods
Hen of the woods taste meaty and delicious with a mild mushroom flavor. You can substitute them in just about any mushroom recipe, but keep in mind cultivated mushrooms grown on a substrate don't taste as good as wild ones. To cook, Just separate the mushrooms into bite size clusters and fry, sauté, stew, braise or roast them.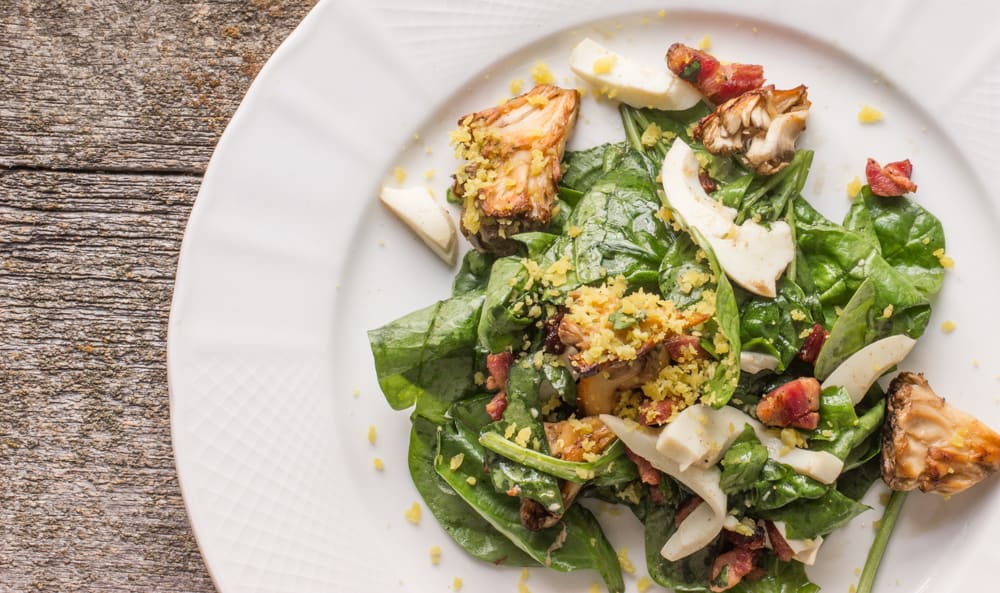 Their size also makes them a great mushroom meat substitute for vegan and vegetarian mushroom recipes like my Wild Mushroom Taco Meat.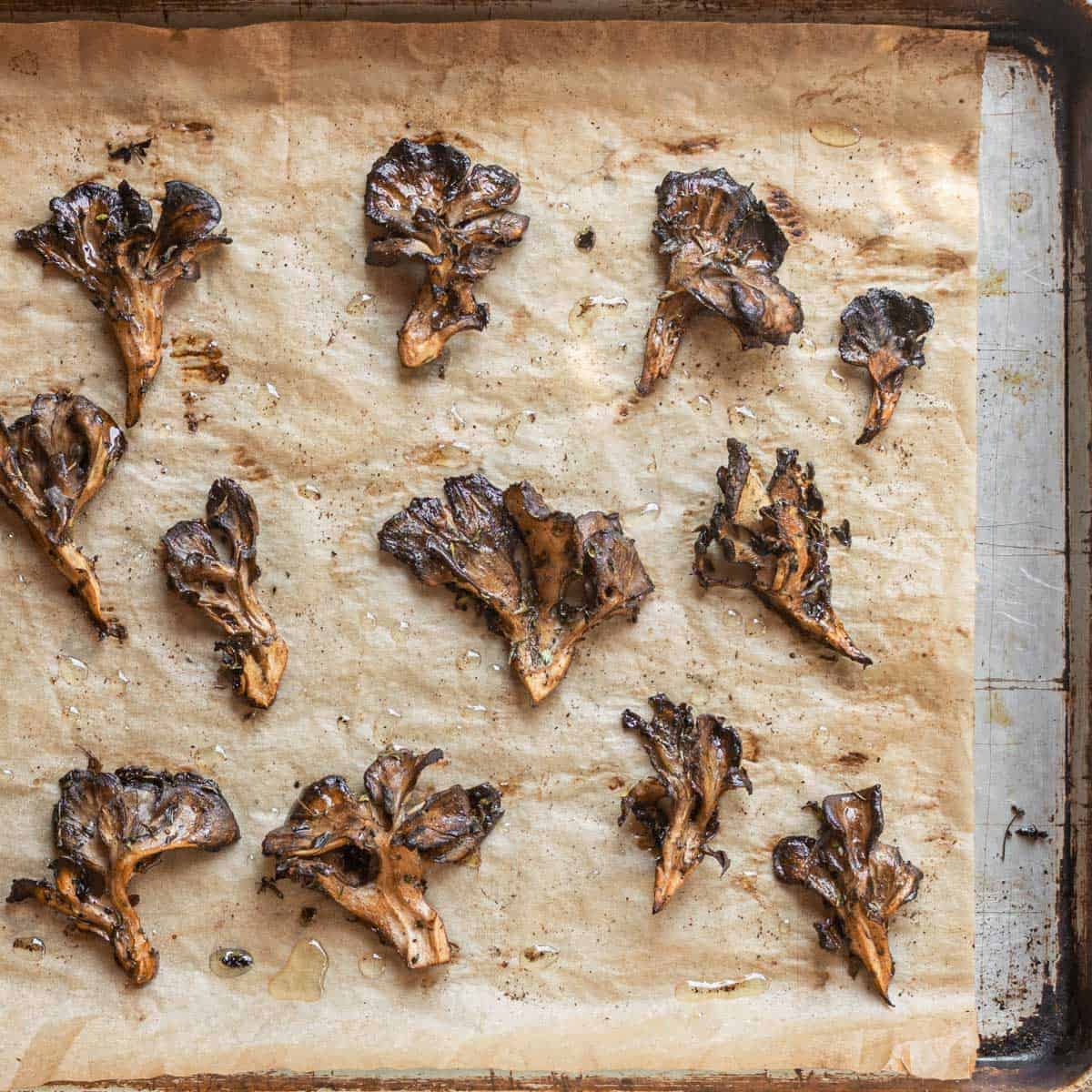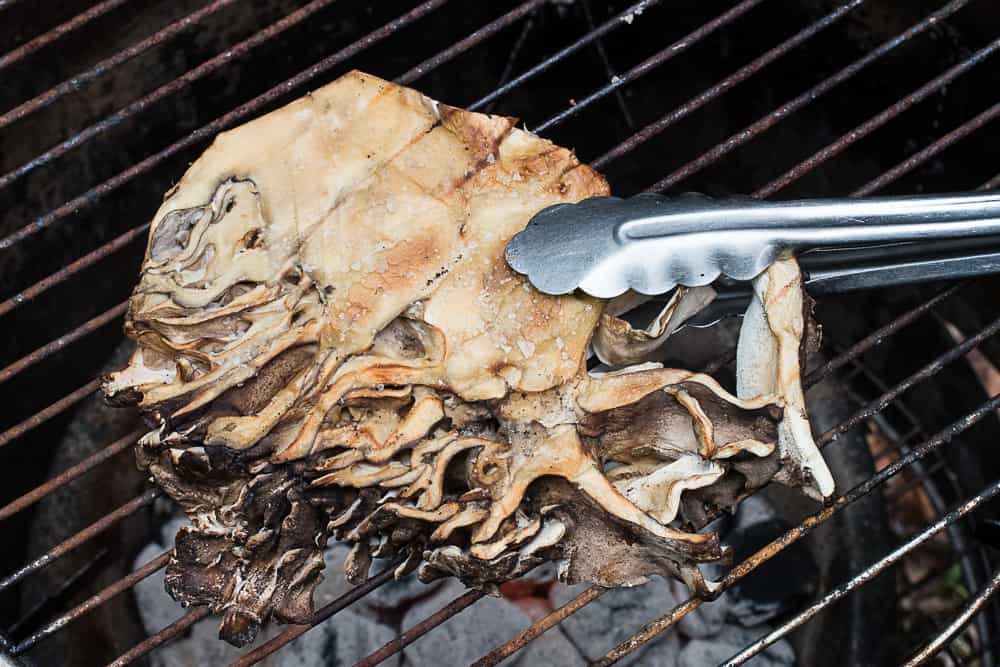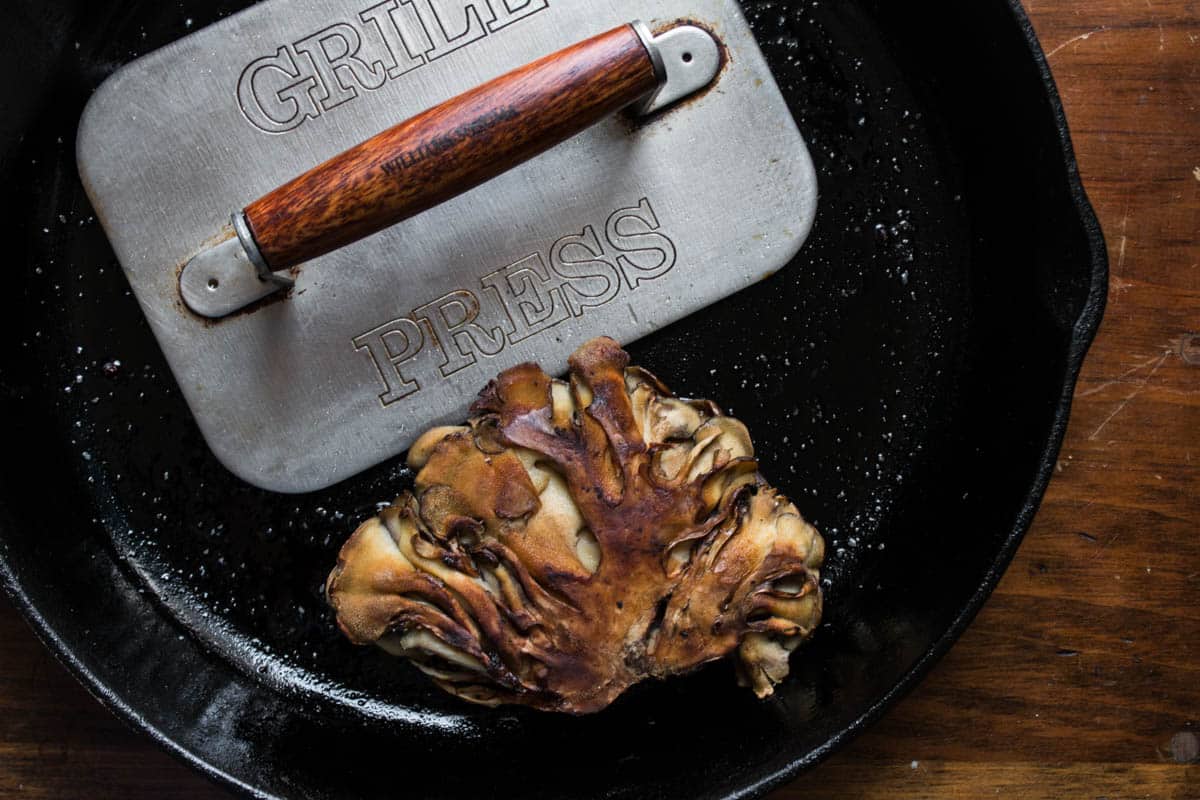 If you find a perfectly clean mushroom, a favorite hen of the woods recipe is roasted whole or cut into thick slices and grilled as hen of the woods steaks. You'll need young, very clean mushrooms to make steaks but when you find a good one, it can be an easy way to make a great meal.
To preserve them, the mushrooms can be, pickled, frozen, dried and/or powdered to use in seasoning blends for soups and sauces. Freeze drying works well too. Hen of the woods mushroom jerky is a crowd favorite too. Dried mushrooms become very tough, and are best used for stock where the mushrooms are discarded afterward.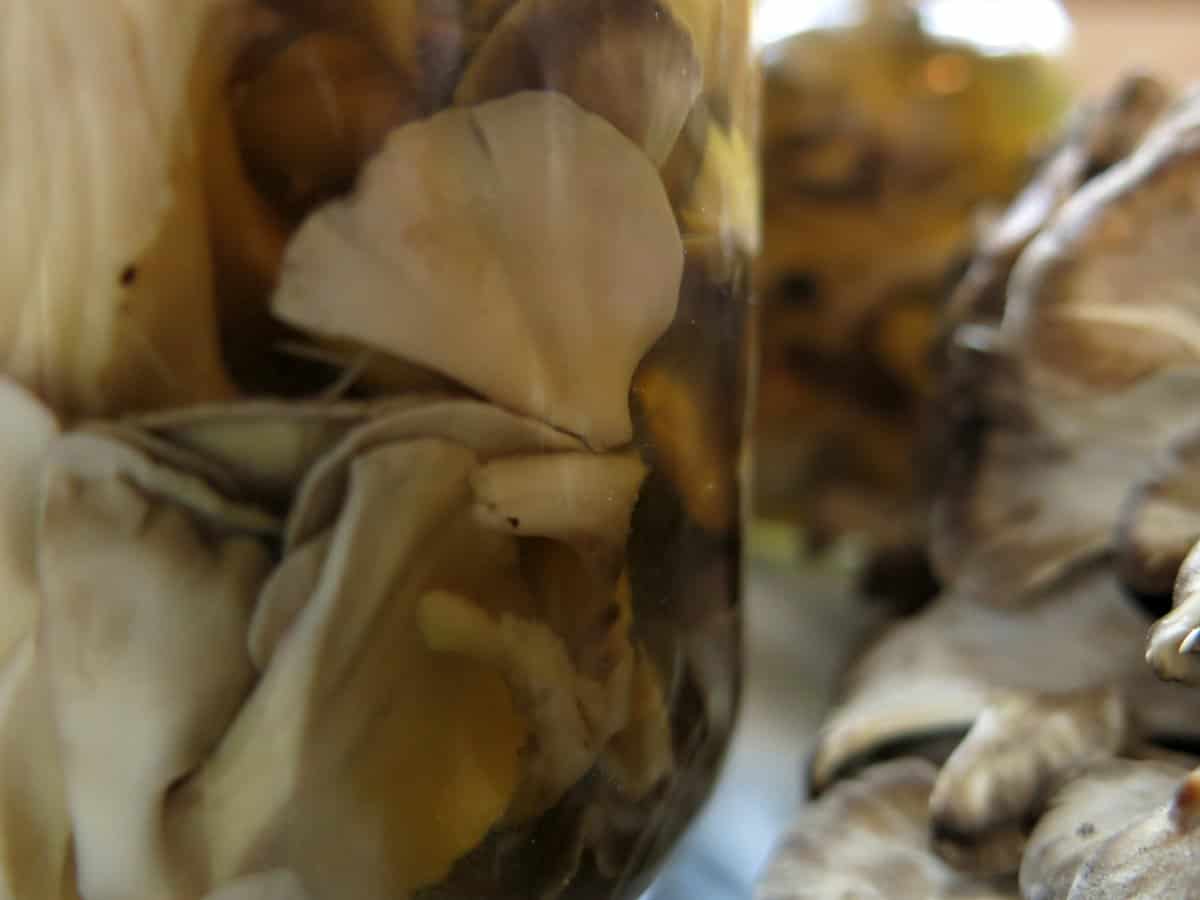 Freezing is a good option to preserve these mushrooms and, unlike others, hen of the woods can be frozen raw or cooked. I usually cook my mushrooms before I freeze them. I make wild mushroom duxelles to use in stuffings, or cook and vacuum seal them as in my post on freezing wild mushrooms.
The IQF (individually quick-frozen) technique works well for freezing. To do it, take or a whole chunk or pieces of clean mushroom and put them on a cookie sheet lined with parchment. Freeze the hen mushrooms, place in a bag and vacuum seal. Cook the mushrooms straight from frozen.
Hen of the Woods Recipes
Recipes I've made specifically for maitake or where they would be good substitutes.
More Hen of the Woods Mushroom Recipes
FAQ
How do you store hen of the woods?
Put the cleaned mushrooms into a Zip Loc Bag with a paper towel. Open the bag occasionally to let them breathe. Cultivated mushrooms will last 3-4 days. Wild mushrooms will last a week or even longer.
Where do you buy hen of the woods mushrooms?
Asian grocers usually carry the Hotko Brand maitake, a 3.5 oz package costs around 3.99. Wild maitake can be bought at farmers markets during the season for $10-25 / lb.
Can you eat maitake mushrooms raw?
Yes, but they're slightly bitter. The fact that they taste so good cooked makes eating them raw unnecessary.