Hen of the woods, maitake, sheepshead, hen of the forest, these delicious, bountiful mushrooms have lots of names and are the king of Fall mushrooms in the Midwest.
I say Fall mushroom because they come out in earnest post Summer, but you might see an occasional one in midsummer, although they're rare that early. These can grow to be massive, and I've personally picked clusters that have weighed thirty pounds or more.
Even with their large size, these can be a frustrating, elusive mushroom to hunt. For around 3 years or so, I would only find one here and there, some years I went without finding any. I've learned a little about hunting them though, and I'll share a couple things with you
Habitat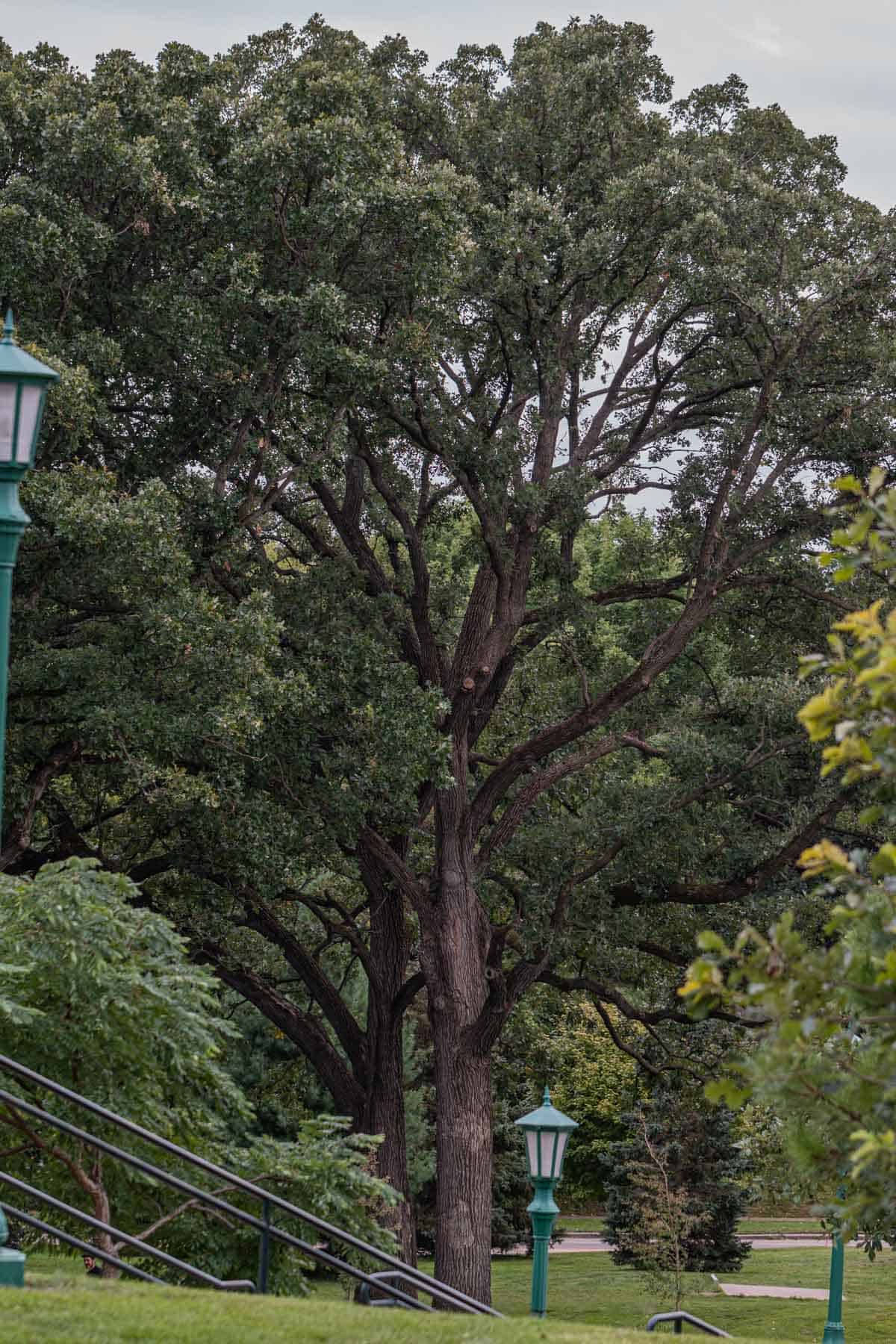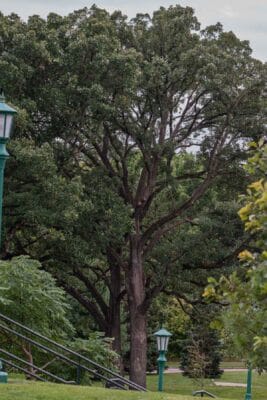 Hens are technically a parasitic mushroom that lives off of a host tree. Where I hunt in Minnesota, the easiest way to look for these is to go to areas with old white and red oaks, with red oaks seeming to be their preferred host where I hunt.
It might seem counter intuitive, but you don't need to be in the deep woods for these, although some of my best patches are very secluded. Here's the best tips I can think of:
Look to your nearest park that has big old oak trees, it doesn't have to be "woodsy" open and grassy with a playground is fine, just try to not look like a stalker, and make sure the grass isn't being sprayed if it's a golf course or something similar. If it's at the right part of the season, they won't be that difficult to find at all. Be warned though, you won't be the only person looking at local parks.
You don't have to hike! I have a couple of friends who hunt on bike, biking helps you cover a lot of area quickly, and snatch low-hanging (read as obvious) hens along paved trails. As a bonus, you can have less competition going to areas less hunters think to go, since most will hunt on foot.
If you find one, there's more! If one tree has a hen, then the whole grove has likely been infected. Keep looking around at the base of trees, and keep coming back after you get some rain, rest assured, if you find one hen, you've probably found a spot to go for years to come.
Look for death and decay. Hens are a parasite, and aren't good for the trees they feed off of. It's not a rule, but a good way to start out hunting is to find woods that have lots of fallen oaks, stumps, and dead matter.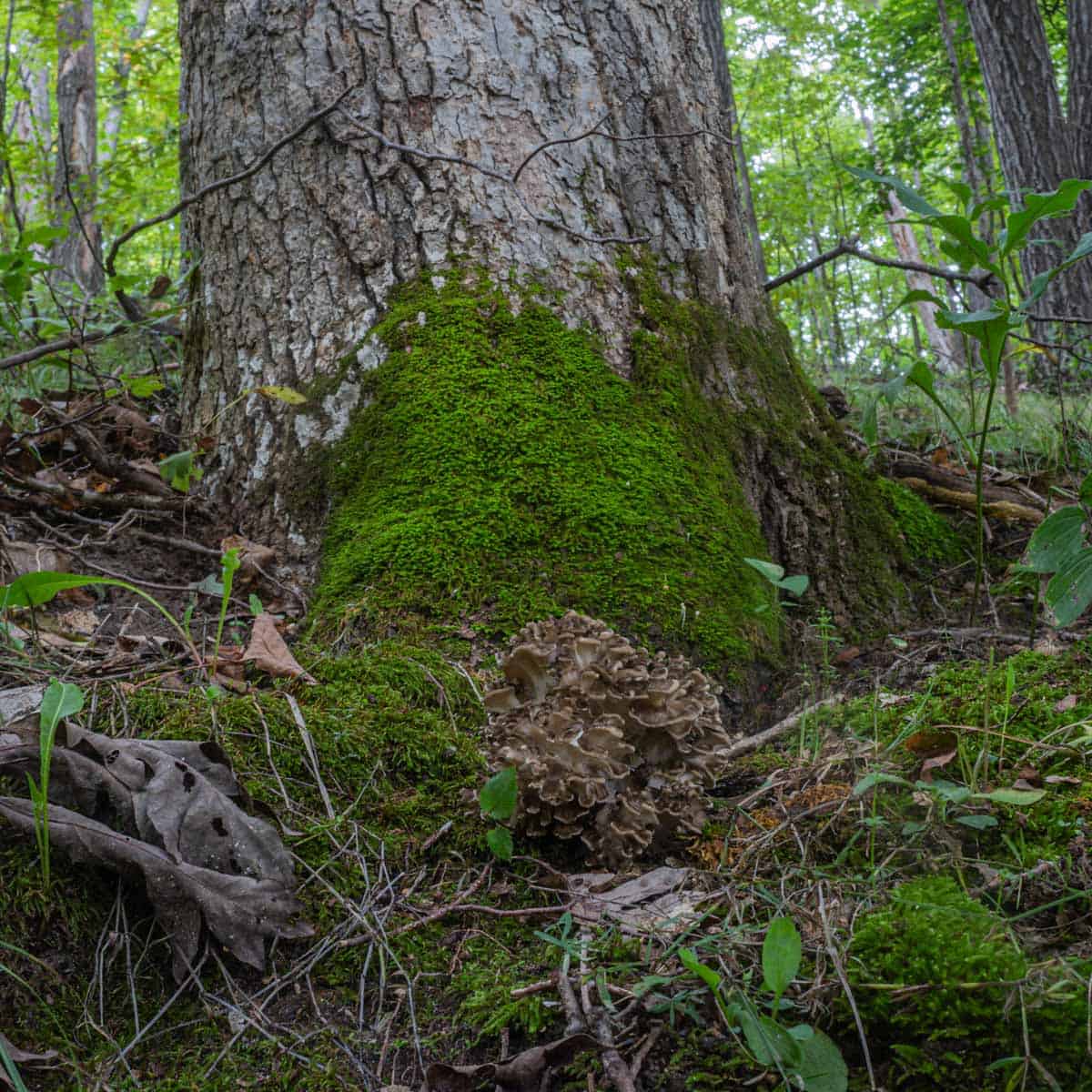 My favorite way to hunt hen of the woods is the old fashioned way- on a secluded trail away from prying eyes, and competing hunters. After you find a couple spots, all you have to do is waltz in and check to see if they're up yet.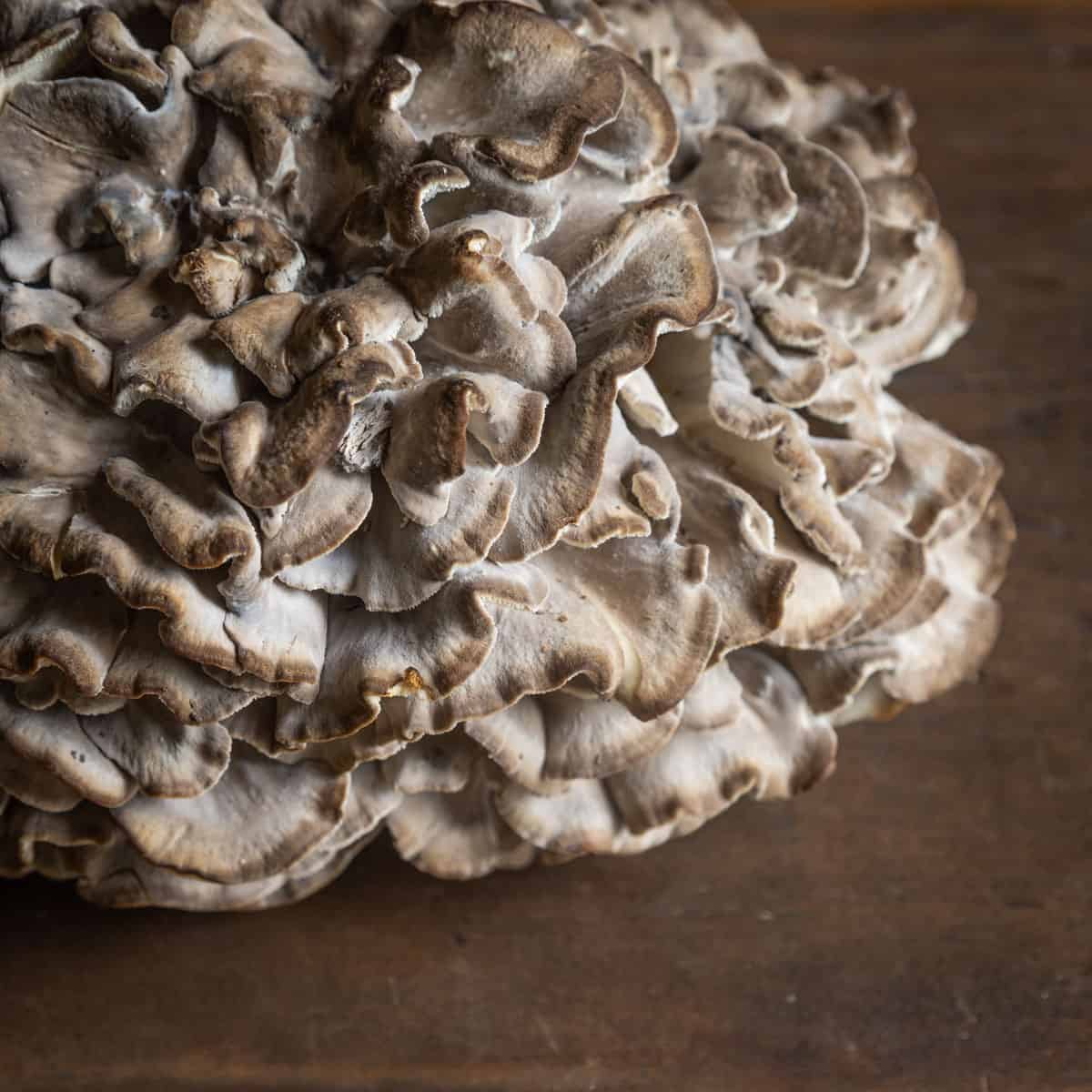 If you know trees that are hosting hens, they'll come back year after year in the same location. It's interesting because they grow specifically on one tree, but if you find one in an area, look around, because there are probably more nearby.
Once you know an area has them, you can bet other trees will become infected, remember, hens are a parasite. I'll add too, that if you have an area that's rich in hens, you should go there regularly once they start to fruit.
Different trees will give hens at different times throughout the season. I find them at the base of white oak trees, red oak trees, and very occasionally on maple.
When to harvest
One of the best When you find a young hen, it might be tiny, the size of a golf ball or your fist, or it could be larger.
There's a natural urge to wait for it to get huge, thinking you'll get more bang for your buck, but that is faulty logic: young and tender, as opposed to old and tough should be your motto.
How big is too big?
The biggest thing to know with these mushrooms is that while you can come across huge clusters (I once brought a single 30lb'r on tv with me) bigger is absolutely not better.
Most of the time when I find a hen, I take it, unless I can clearly see that it's just starting to poke it's head out of the turf, and then I might wait 3-4 days or so.
Other mushroom hunters might not find your hen if you greedily wait a week for your hen to balloon to behemoth size, but beetles, slugs, and fly larvae will.
Another thing not often discussed with these is that waiting and watching them can compromise their cleanliness. Hens can be tricky enough to clean as it is, but the kicker is that if you get a nice rain, and dirt splashes up on the hen and dries, the mushroom will physically absorb the dirt into it's flesh as it grows.
I once had a diner break a crown from biting into a piece of hen that physically had a pebble inside the flesh, guess who picked up the tab? Pickem young, and pickem clean.
Multiple Species?
Hen of the woods is supposed to be only one mushroom: Grifola frondosa, but over the past few years I have run into different color variations of hens.
I'm not a professional mycologist, but I do know that there are at a number of distinct species of chicken of the woods, so I assume the same could be possible with hens. Whether it's an weird color variation, or something else I don't know, but here is a picture of a white version that I get from the same maple tree every year.
I can find no difference in taste between the white/grey/and brown versions of hen of the woods I've found. Whatever causes the color variation, it's interesting.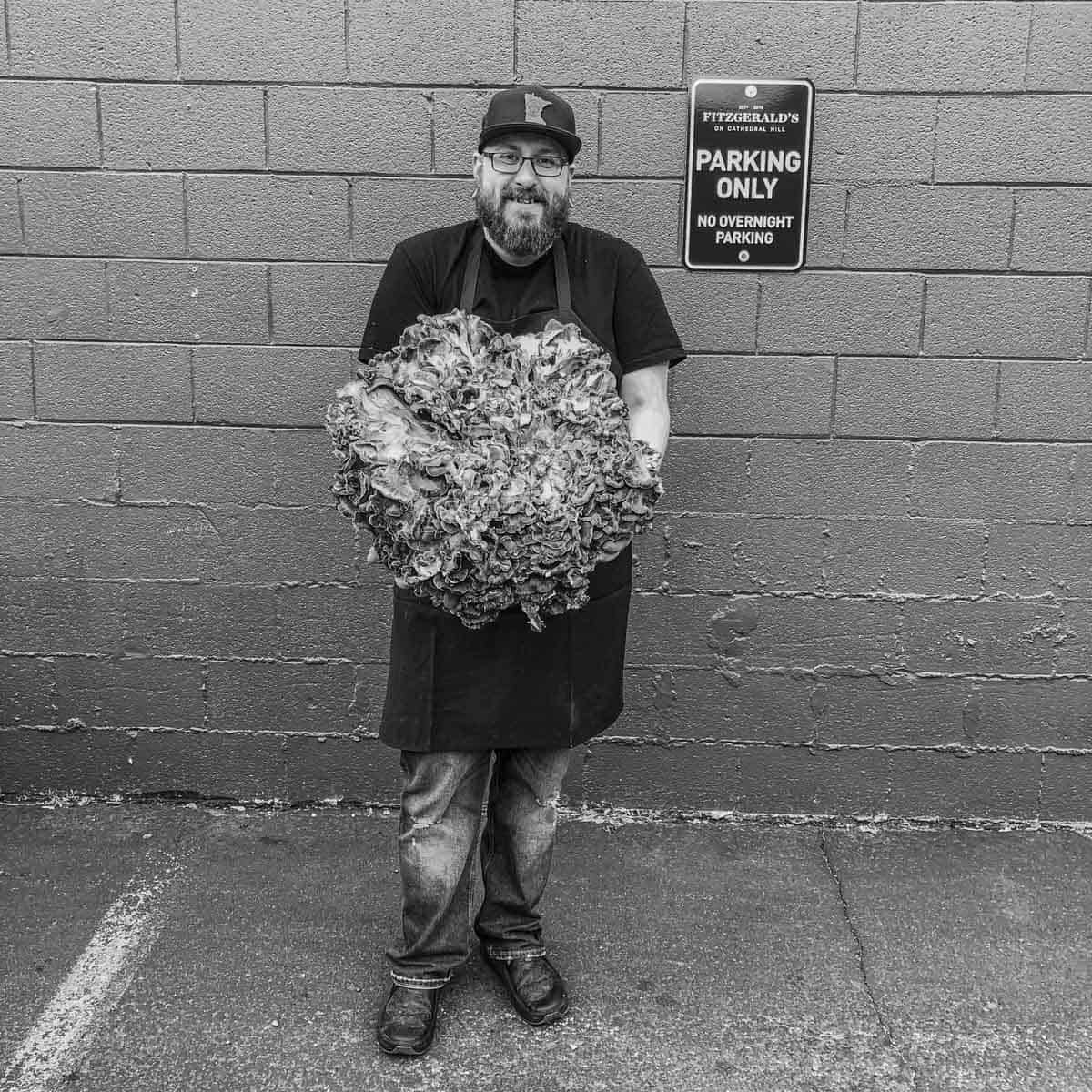 Look a Likes
As far as look a likes, there's a few I know of. One is Grifola umbellata, also called the umbrella polypore. I've collected and eaten them, and they're good, but very rare.
Umbrella Polypore / Polyporus umbellatus (Edible and Excellent)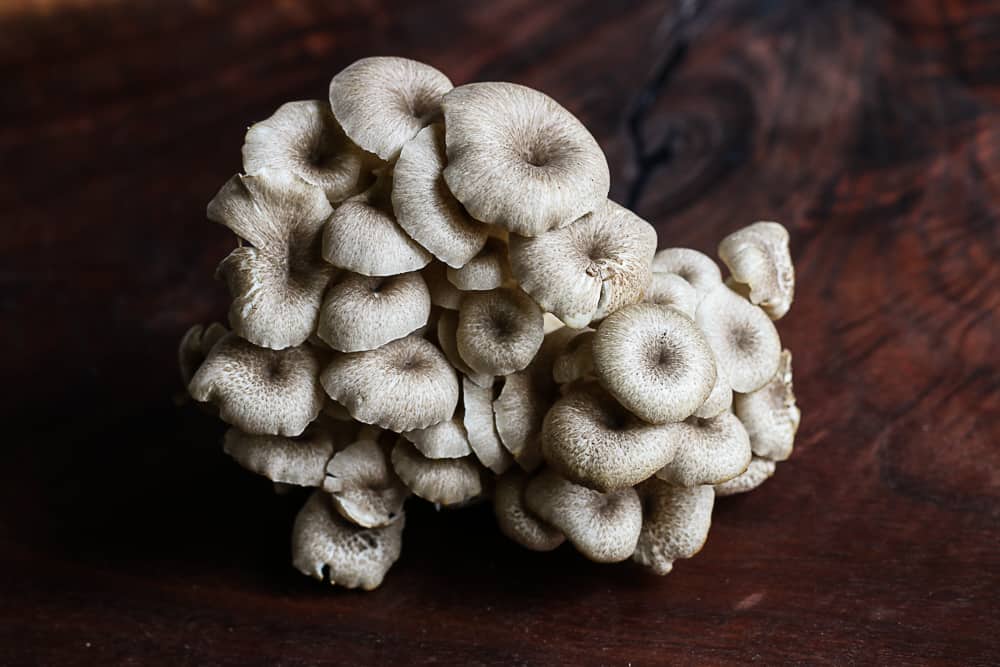 The other look a likes are pretty elusive. From what I know they belong to a family of related mushrooms called Bonderzewia. When I've found these they look very similar to hen of the woods, but are much more solid and hard. I've eaten them, but they're pretty tough, although If you find them young enough they would probably be ok, thinly sliced, or pickled.
Black Staining Polypore / Meripilus sumstinei (and others)
Black staining polypores are probably the most common thing peoples will confuse with a hen of the woods.
Thankfully, these mushrooms are edible too, and delicious, but they're more difficult to cook as they're tougher, and need special treatment like drying and powdering, cutting the ½ inch margin into duxelles, or making into stock and broth.
If you find a good meripilus, take it! There's other mushrooms related to these, such as Berkley's polypore, which look similar to the BSP, without the black staining.
Bonderzewia (and similar)
I rarely see these, but they do look a bit like hen of the woods. They seem far too tough to be useful, but many people still say that about black staining polypores. They're not harmful to my knowledge, but they would be very hard to chew.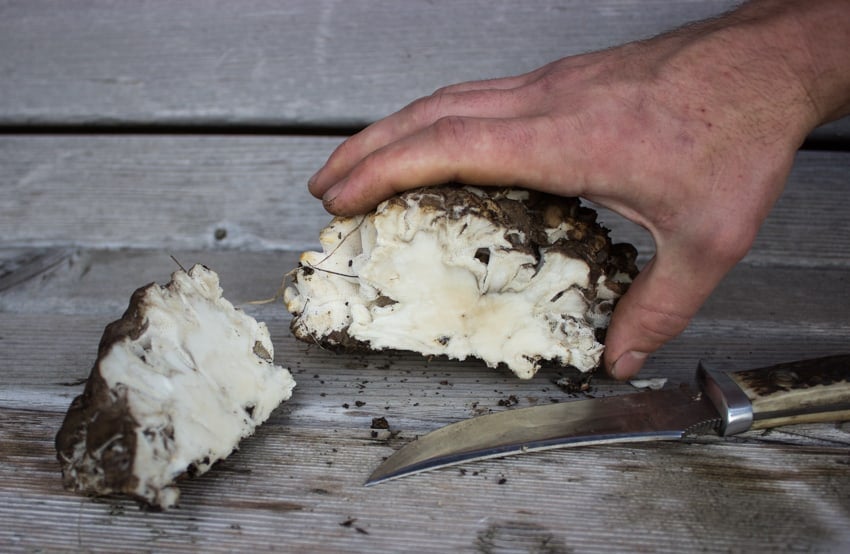 Cultivated vs Wild
You may have seen little plastic bags of maitake at specialty grocery stores. The skinny is, just like an animal, the flavor of a mushroom resides in what it consumes, so to speak.
A wild hen is like a naturally raised and fed animal, and has a rich, particular flavor. Hens can be cultivated though, and, like you might suspect, the growers are not creating the same substrate (read as mushroom diet) as their wild cousins.
Over the years, I would source cultivated hens from suppliers here and there, but they taste like a button mushroom with the shape of a hen.
But, I do know at least one company that's created a more natural substrate for theirs to grow on, and, it follows that the more natural the substrate, the better the flavor will be, but it will still never taste as good as a wild hen, period.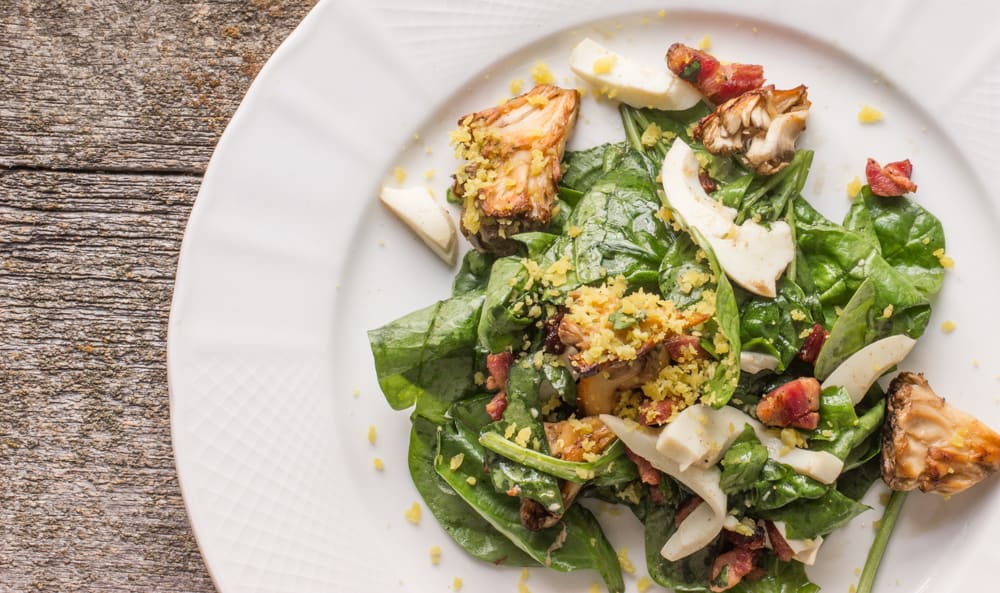 Cooking
There are a few tricks to hen of the woods. Usually I separate the mushrooms into bite size clusters, inspect them for debris and the occasional insect, and then cook. If you find some nice young ones though, they're great cleaned and roasted whole, like a piece of meat.
Separating them into large sections can give you some fun possibilities too-their size gives them a lot of possibilities in the kitchen.
Hen of the woods steaks
Hens are giant, meaty mushrooms, so it only makes sense to treat them like a piece of meat. You'll need young, meticulously clean mushrooms to cut steaks out of, but when you find a good one, it can be an easy way to make a great meal out of them.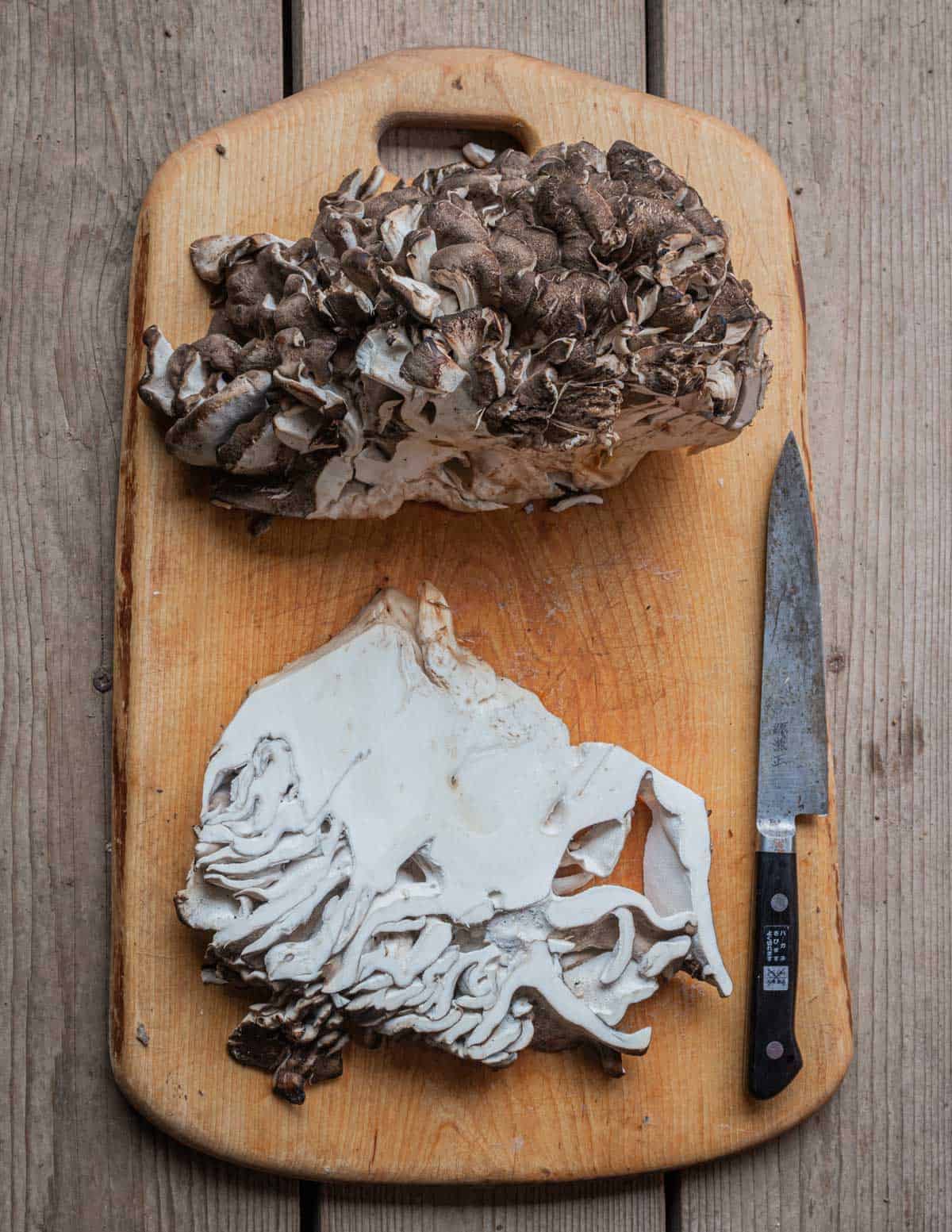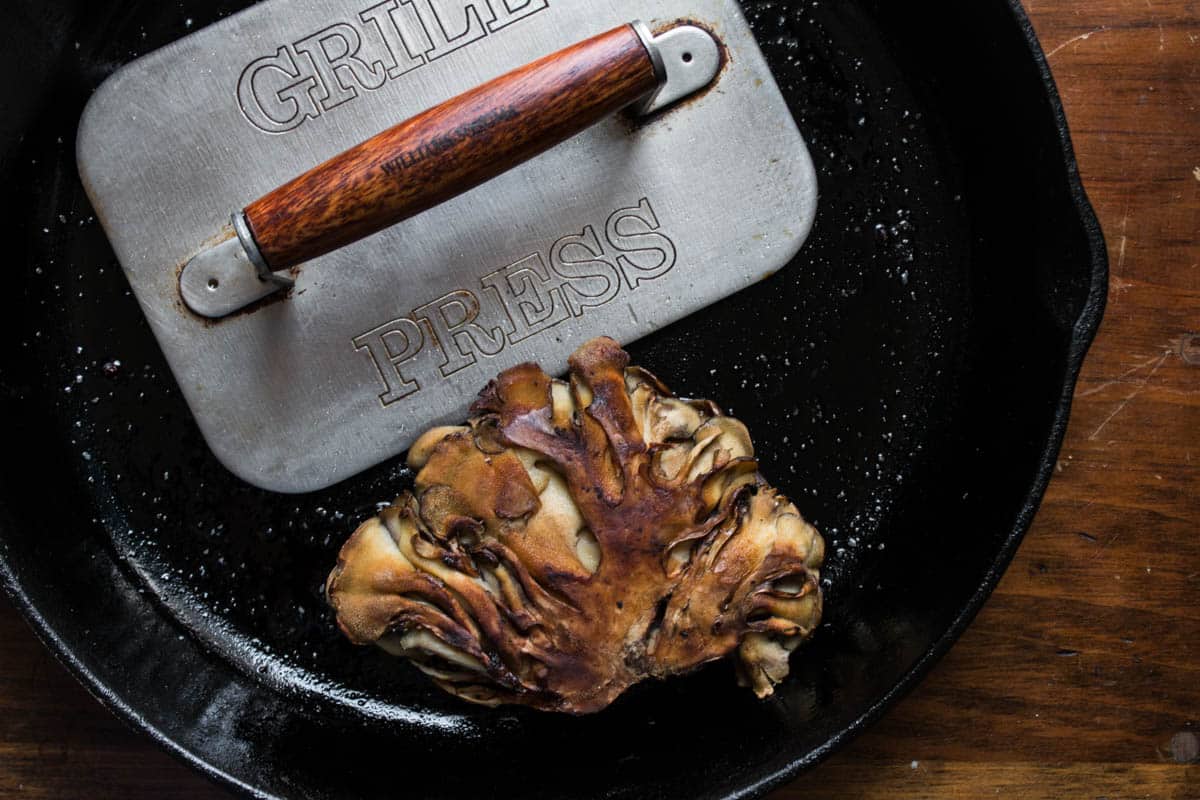 Hen cores
If you get a really nice hen, you might find yourself cutting the fronds off like a large broccoli, when that happens, you can be left with pounds of tender, solid mushroom core, and it is good stuff.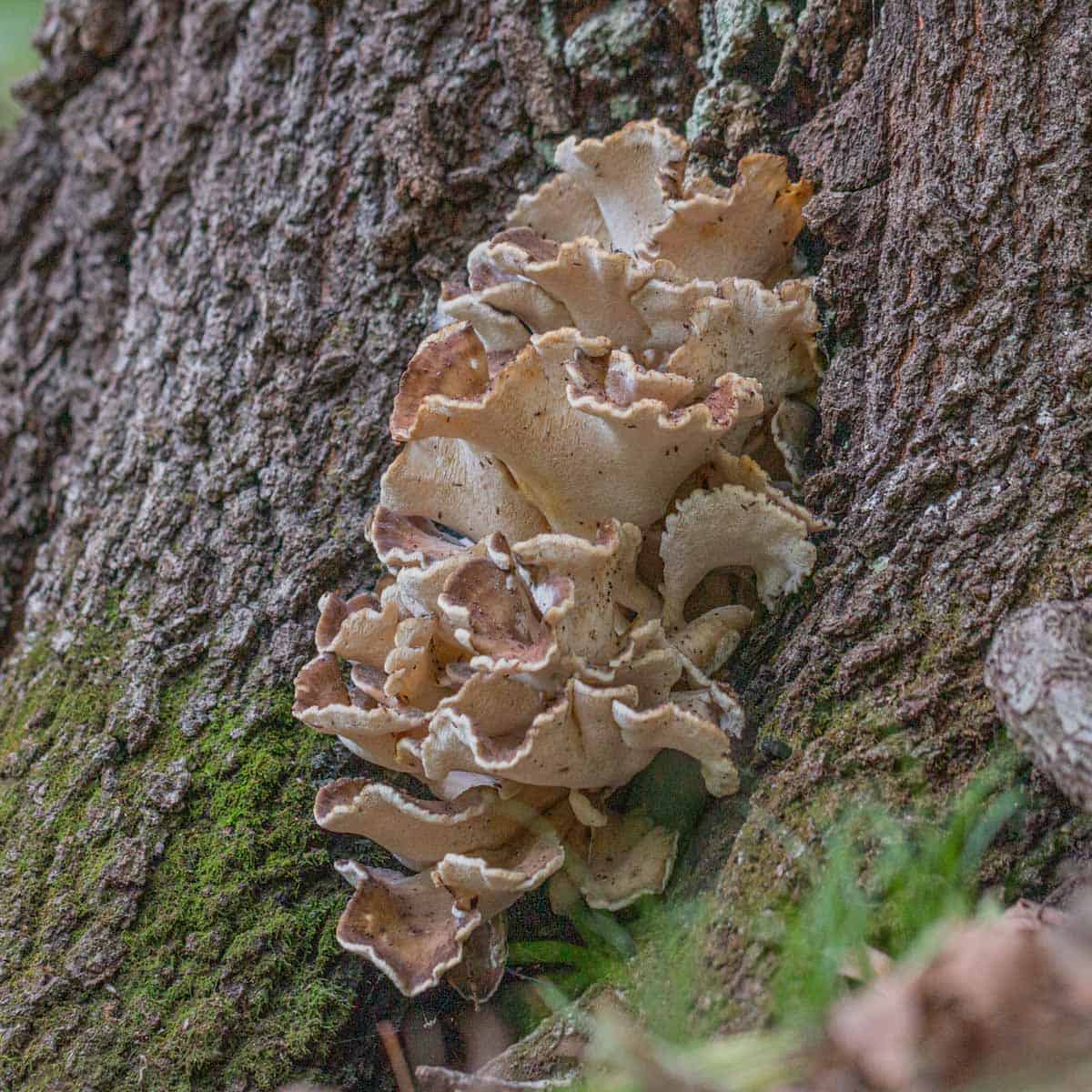 Trim the dirt from the bottom and enjoy it as you would any other part of the mushroom. It's great diced and added to soup, or cooked in large chunks as you would hen steaks, just make sure to clean and trim any dirt from the bottom of the mushroom accordingly.
Cleaning
These are relatively easy to clean, I typically just separate them into leaves or clusters. Something worth mentioning is that hen of the woods and chicken of the woods as well grow kind of like blobs absorbing things that are close to them.
This might only be an acorn or a twig you can pull out, but I've found debris lodged inside the mushroom flesh itself. One time this ended up being a pebble that a diner at a restaurant broke his tooth on. As you can imagine, that was no fun, so make sure to inspect them thoroughly.
A Bug hotel
With chicken of the woods and other mushrooms, you have to check for worms. Hen of the woods are generally going to be worm free, which is a really nice bonus.
But, you will see all manner of small critters running out of them: pill bugs, centipedes, ants, spiders, snakes (yes, I've found a baby snake in a large one) It's all part of natures design, as maitake function as shelter for small creatures. Hens are literally a bug hotel.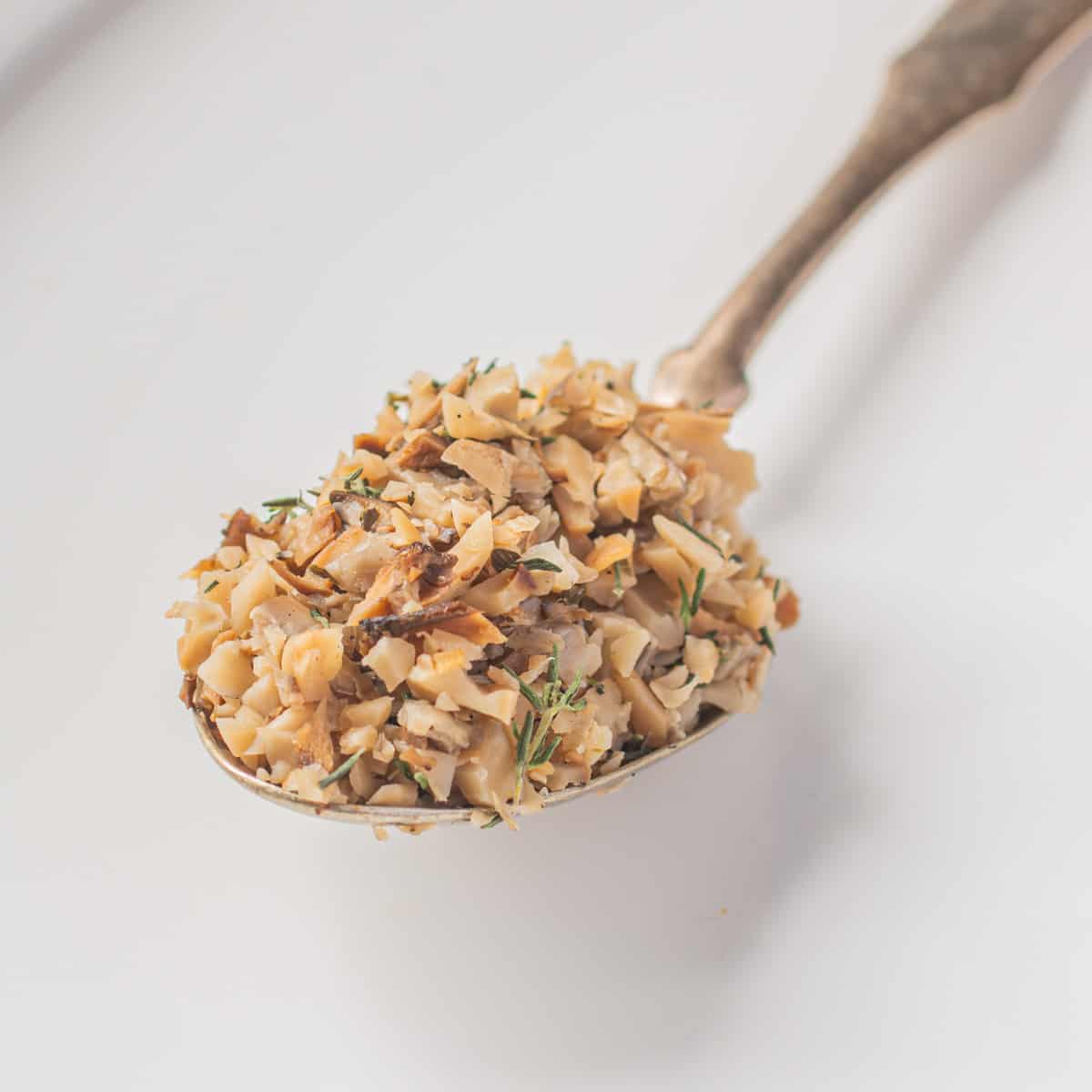 Preservation
Since these can be found in huge quantities, much bigger than you could ever fit in your fridge, it's good to have some methods to preserve them.
Structurally they're very similar to chicken of the woods so I treat them both the same-I either pickle, or saute and freeze them for later use.
I know that some people dry and powder them, and use it in a seasoning blend, add to soups and sauces, etc. Hen of the woods jerky has always been a crowd favorite too.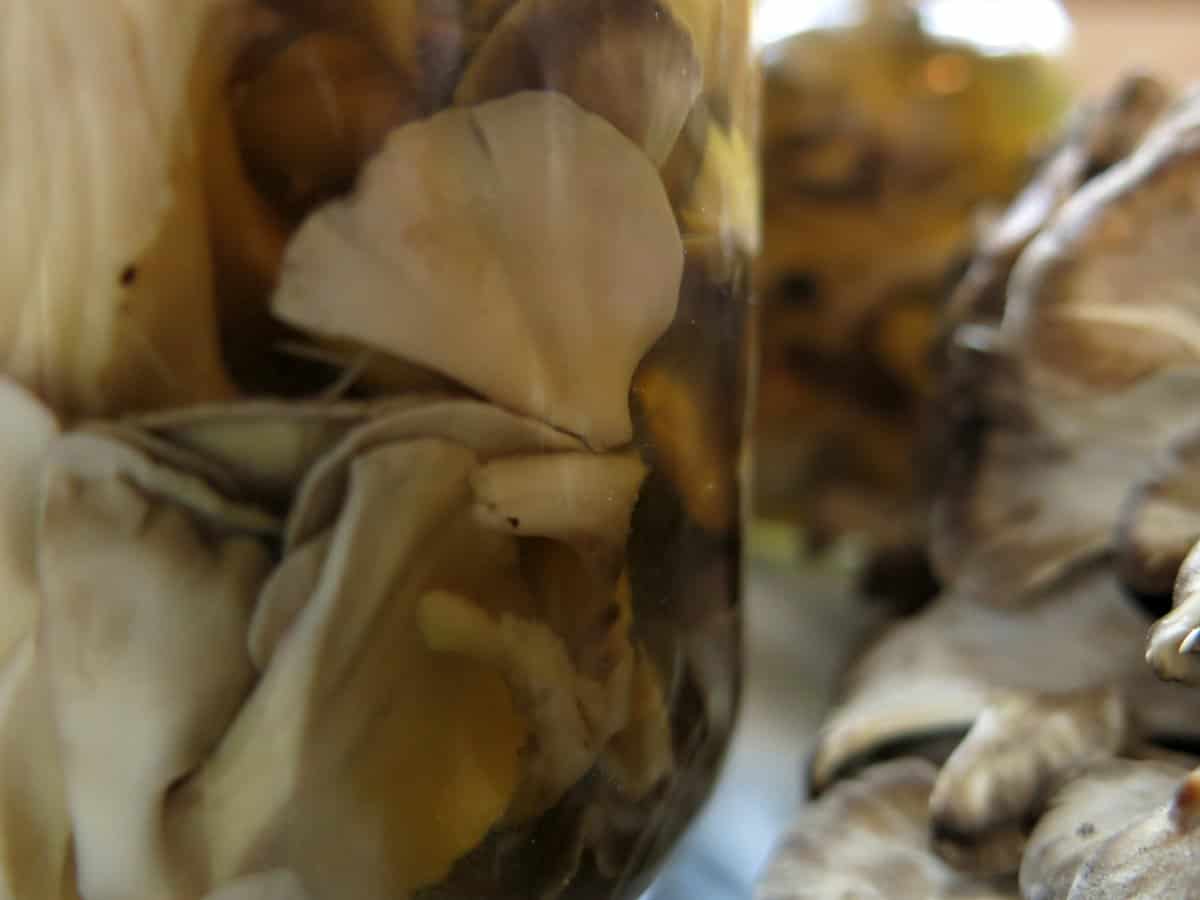 Before you shrug pickled mushrooms off as a cold snack that will take up cupboard space, I'll tell you why I love pickled hens so much.
You see, pickling hens, and chanterelles and a many other mushrooms as well is the closest thing to eating them fresh as you will get in the off season. It preserves their texture like nothing else.
Granted, they have a little sharpness from vinegar, but my recipes contain much less vinegar than you'll find in traditional recipes, since most pickled mushroom recipes assassinate mushrooms with too much vinegar in my opinion.
Freezing
Freezing is a good option to preserve your hens, and there's a number of ways people go about it. Personally, I like to cook my mushrooms before I freeze them, so I make duxelles, or cook and vacuum seal them as I outline in my post on freezing wild mushrooms.
Some people do like the IQF freezing technique, so I'll explain it quick. To IQF (individually quick-frozen) freeze your mushrooms, take cleaned pieces of mushroom and put them on a cookie sheet and freeze them.
When the mushroom pieces are thoroughly frozen, remove them, put into a bag and vacuum seal. Cook the mushrooms straight from frozen.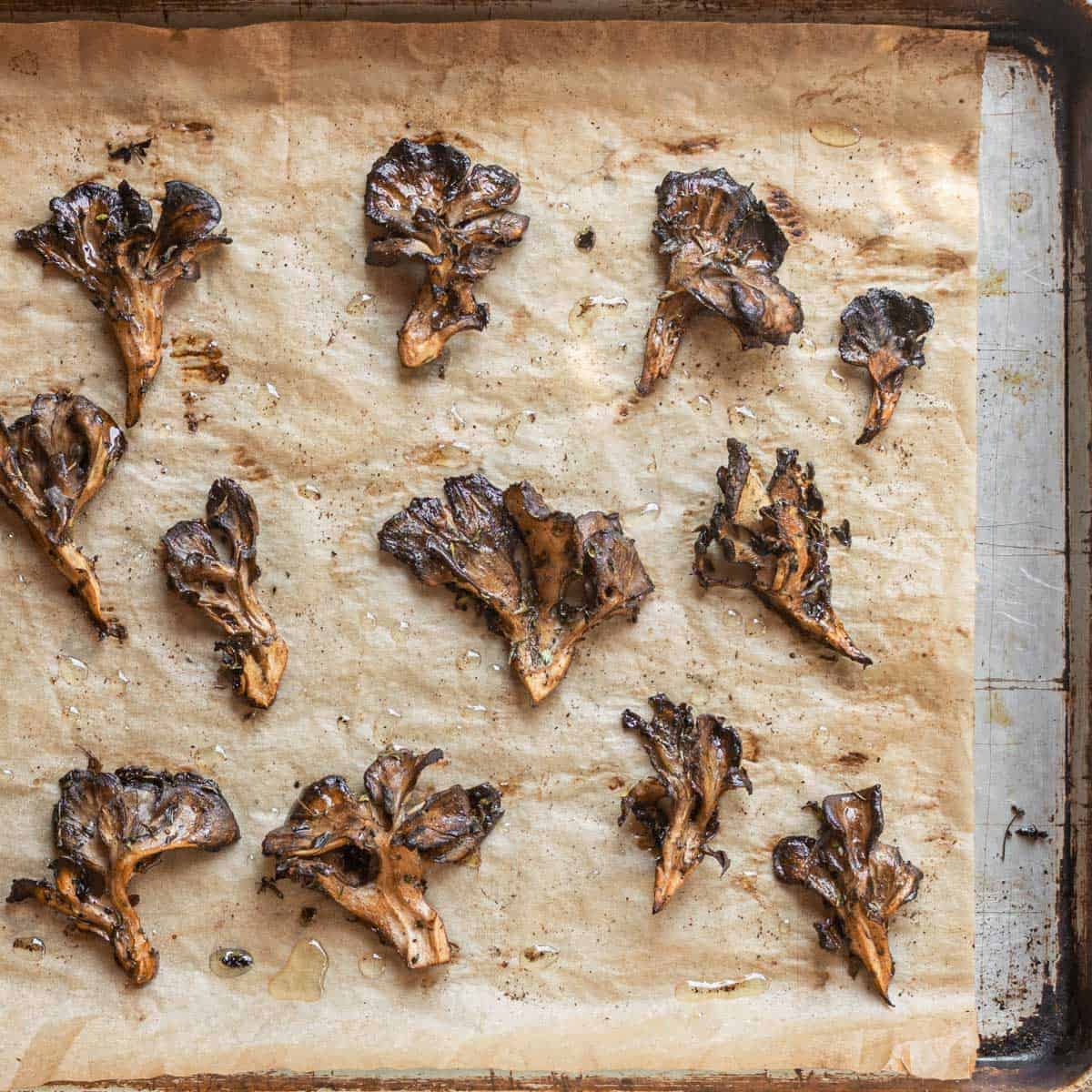 Recipes
Recipes I've made specifically for hens or where they would be good substitutes.