Black staining polypores are an underappreciated cousin to hen of the woods and chicken of the woods. They have an irresistible flavor comparable to black trumpets.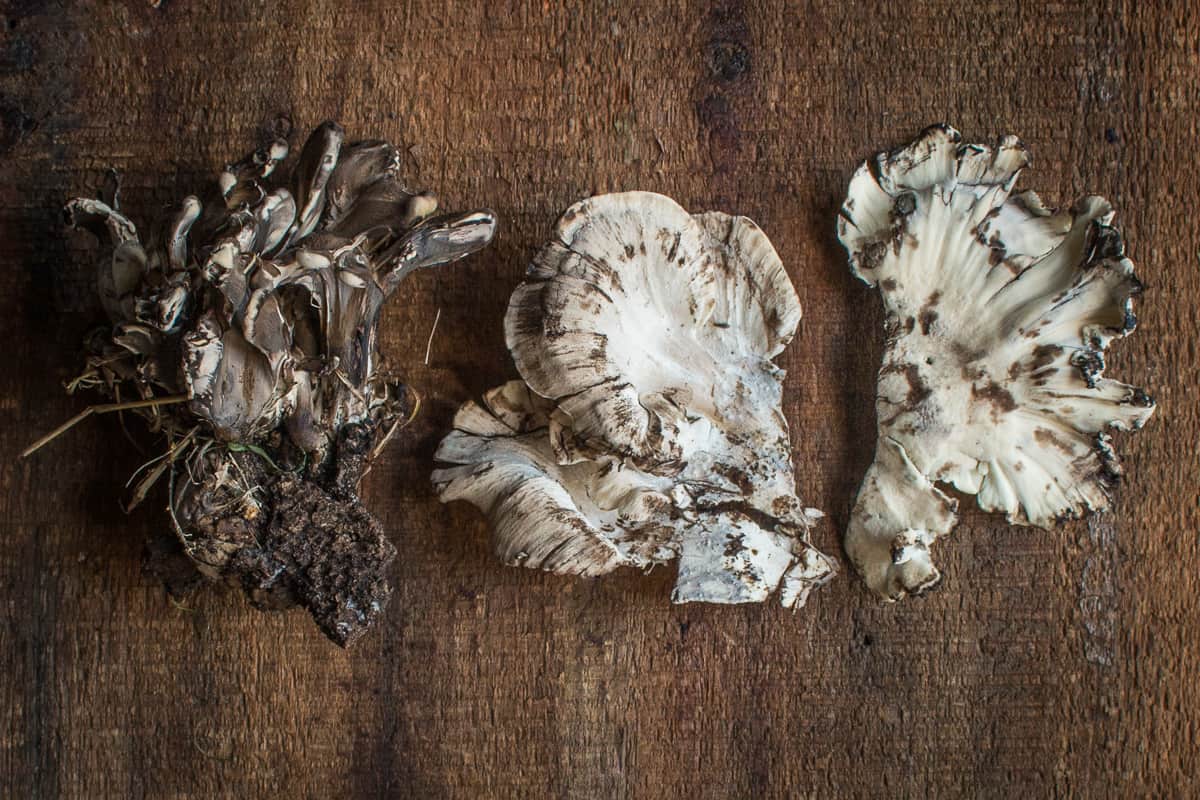 A number of years ago I got an envelope in the mail, ground dried powder of Meripilus sumstinei, the black staining polypore or rooster of the woods. it the first time someone sent me mushrooms in the mail I'd never met, which, is now a pretty regular occurrence (currently I'm waiting on honey truffles to arrive from Hungary).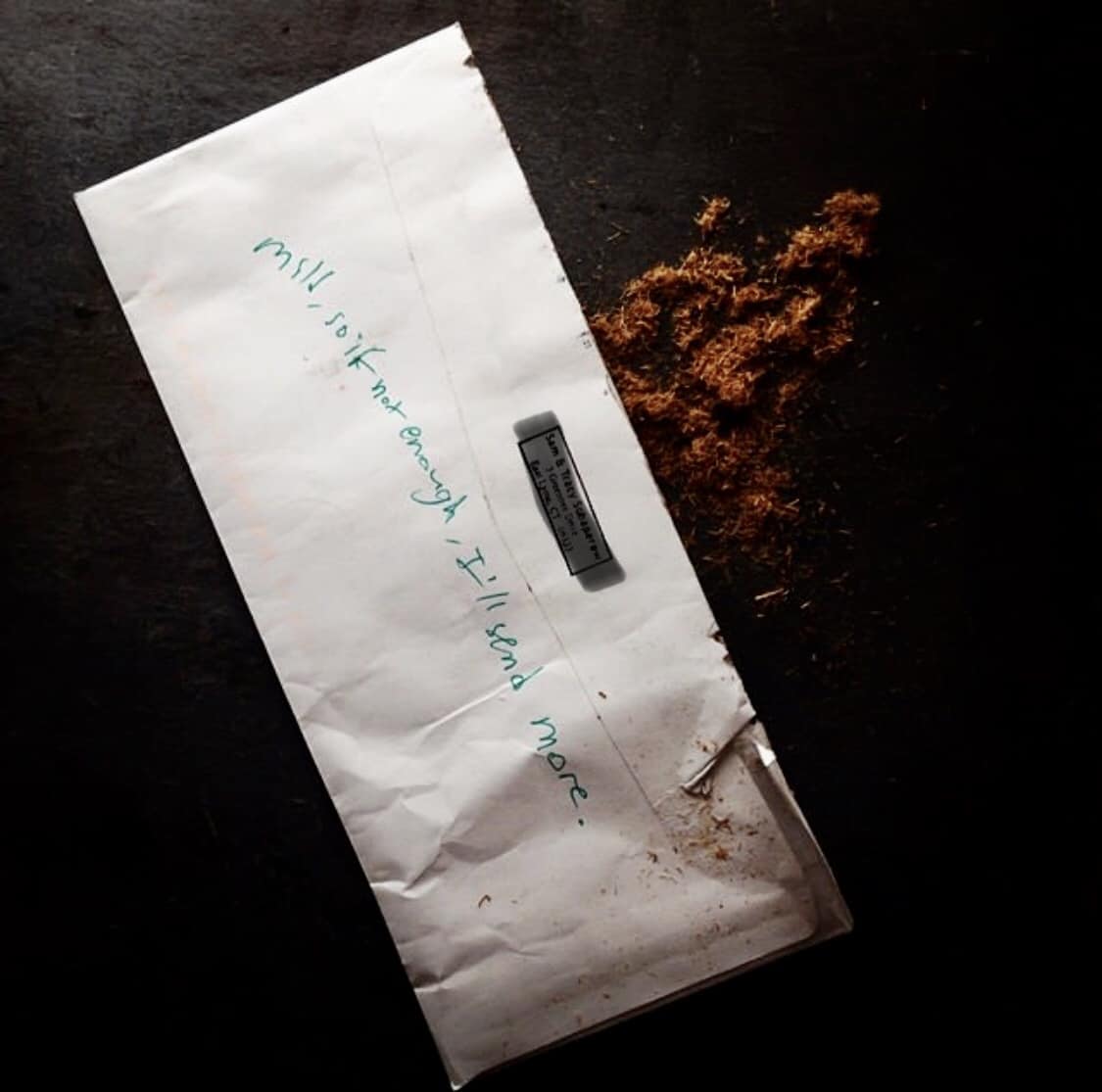 It was a small amount, not too much to play with, and I never got around to working with it. But, I remembered the name of the mushroom, and made a point of remembering the fact that someone liked them so much they felt compelled to mail them to me.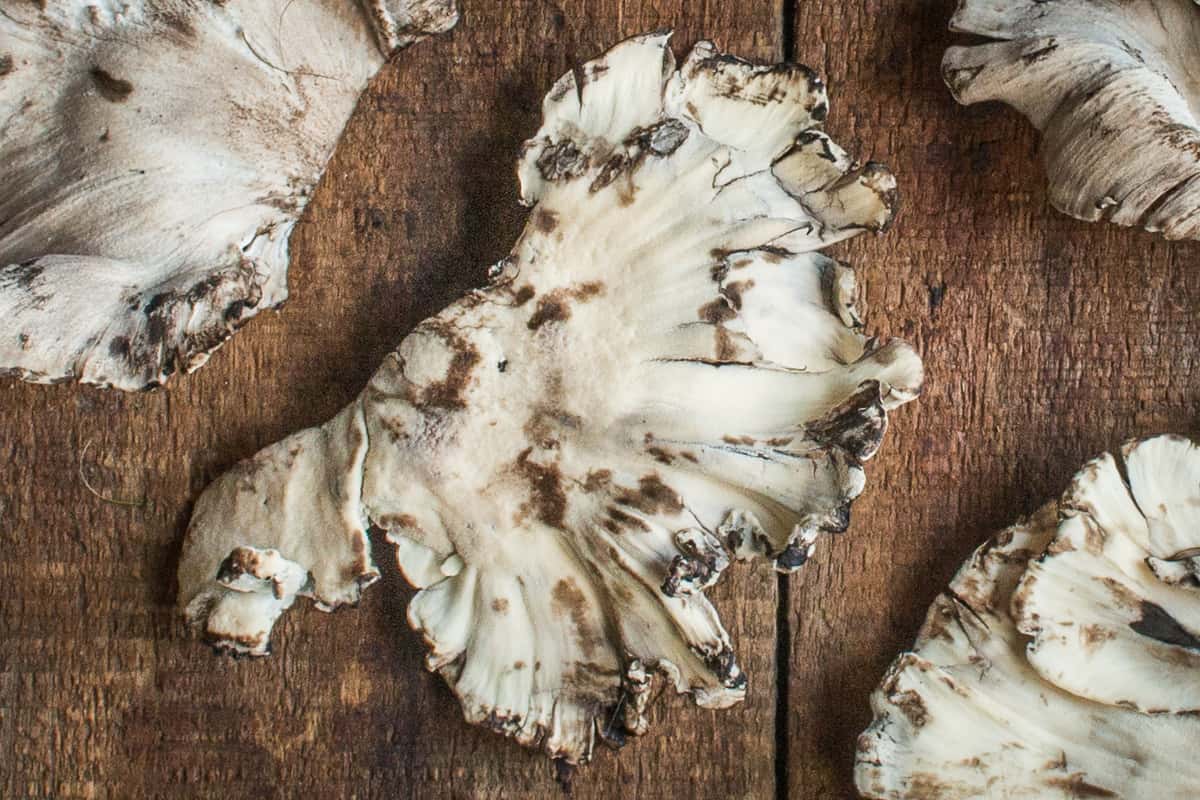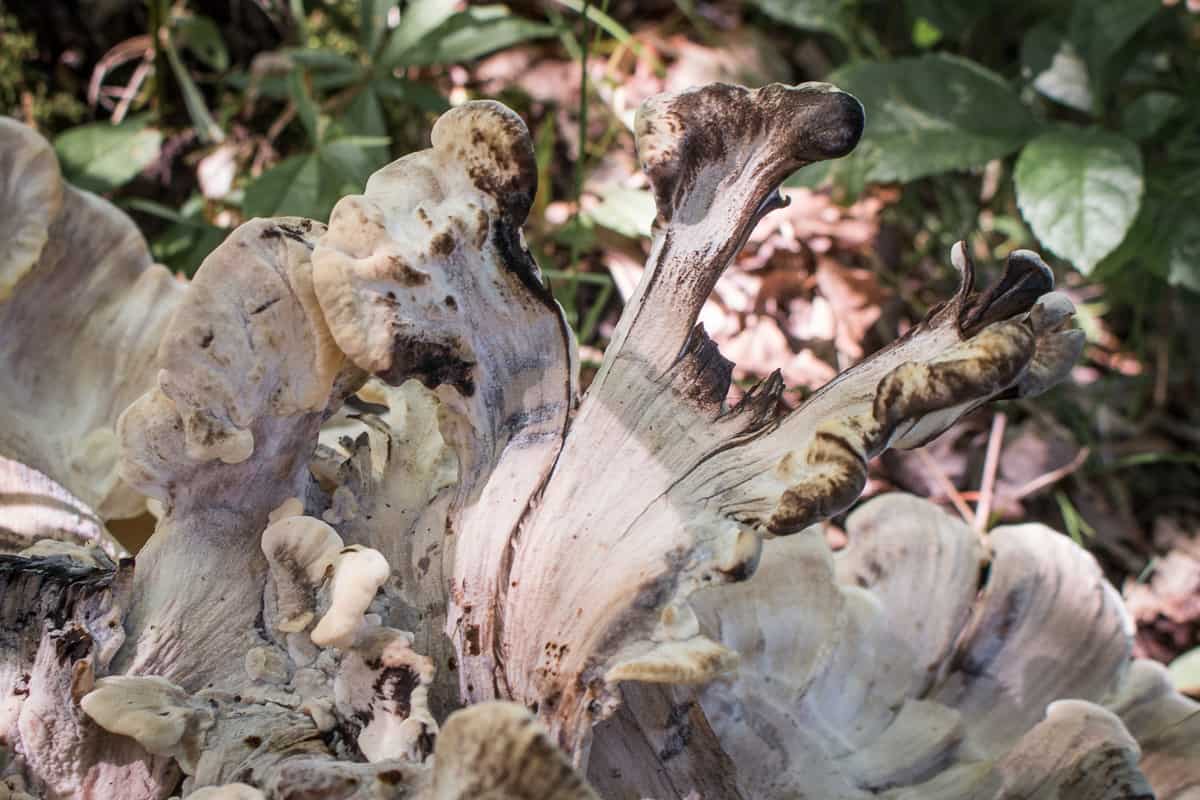 Years went by, and I forgot about them, since Meripilus is quite rare in MN and WI (I've never seen anyone in the area post pics of them). Not satisfied, the mushroom gods sent me another message.
Last year, my friend Jacqui mailed me a fresh specimen...from France. I walked into the communal entry at the apartment building I keep for a test kitchen and immediately smelled mushroom, a very rich mushroom. In the hallway was a little box marked with all the postal trappings of a long journey.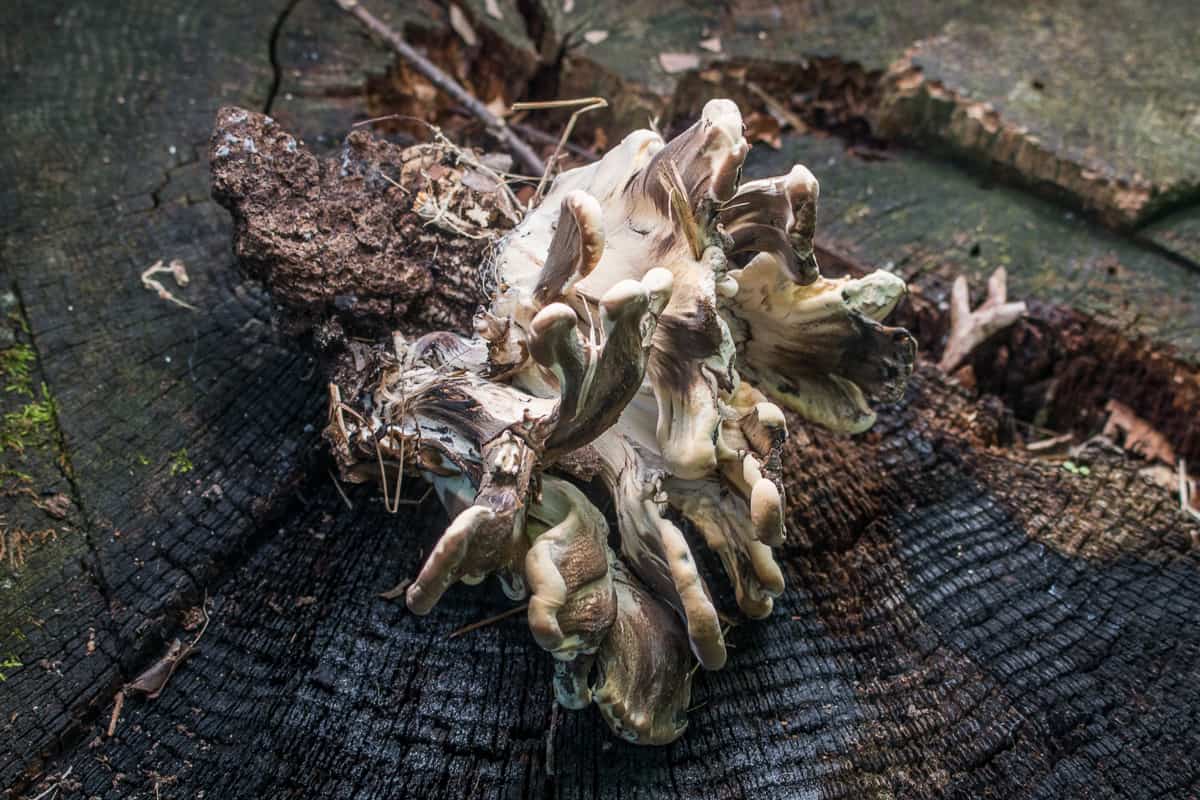 I grabbed the box, opened it up, and was hit with a walk of umami aroma. Unfortunately, the journey was a little too far, and temperature a little too warm, and what I could see was once a very young polypore was now a blackened lump, the paper bag it was lovingly wrapped in wet with juice. I examined it for a bit, thinking I might be able to salvage some, and, knowing how virulent mushroom poisoning can be from eating past prime things, thought better of it. The smell stayed with me though, and, even though it was past prime, it made my mouth water.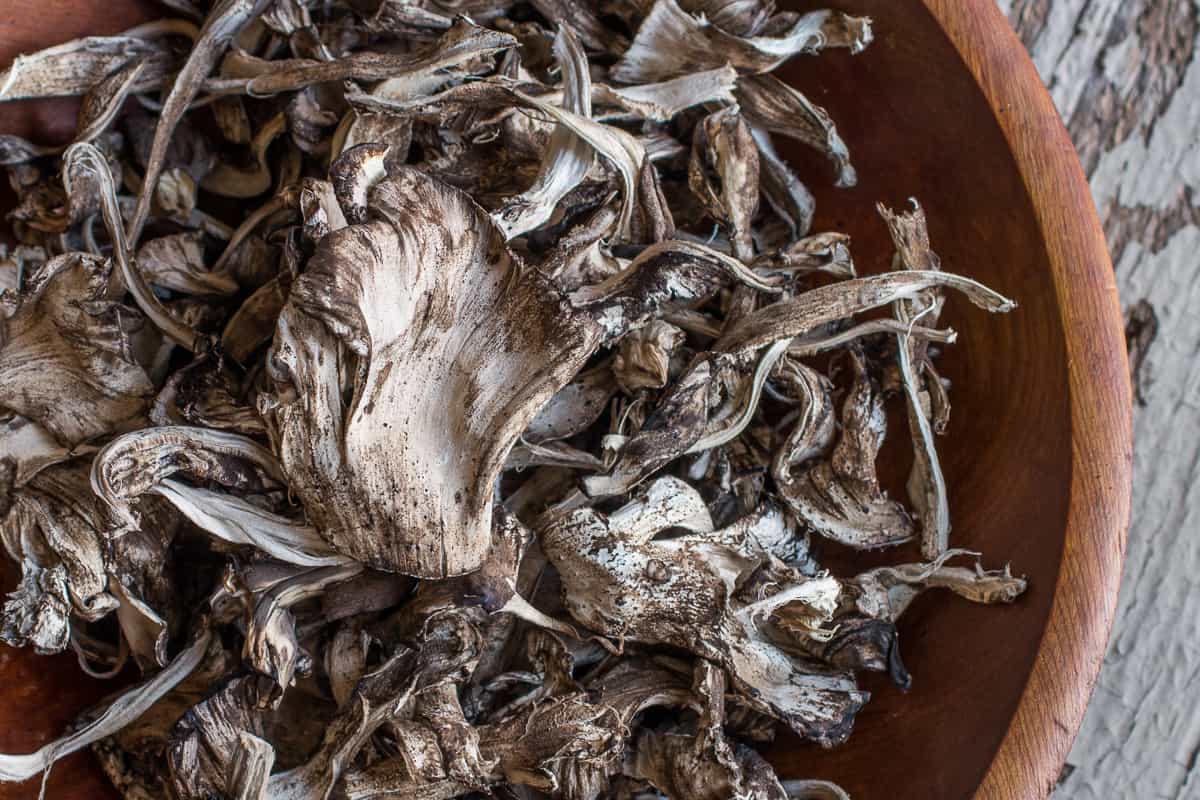 Like a lot of things in life, the third times a charm, and this year I stumbled on my own black staining polypore. It was early August, and I was checking one of my burr oak spots for porcini.
Like hens and chickens of the woods mushrooms, Meripilus sumstinei is a wood parasite, infecting trees and eating them from the inside out, appearing in a rosette shape similar to hens and others like Bonderzewia berkleyi. Mine was growing on a burr oak stump, in an area typically rife with hens, albeit at least a month early.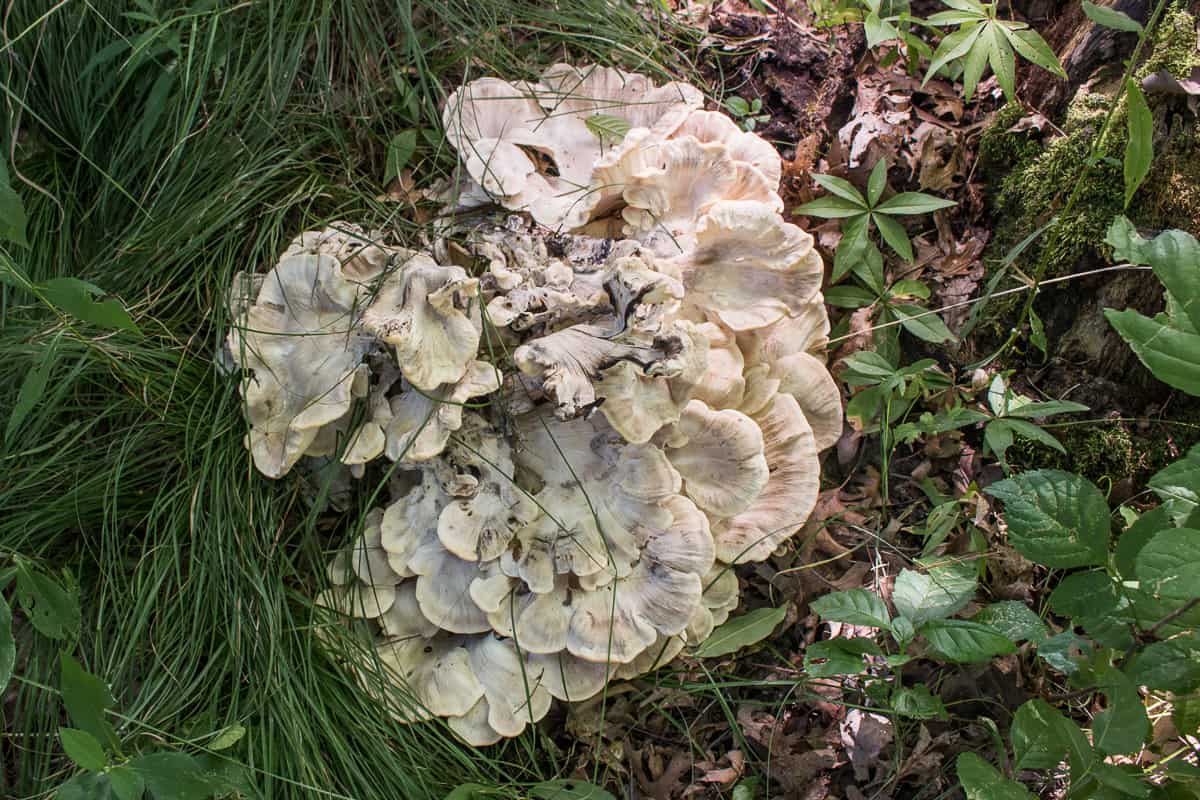 The smell, noticeable from a distance, was intense, to say the least. It's a complex aroma, that, to me evokes something like a hen of the woods crossed with a touch of black trumpet mushrooms, begging to come back to the kitchen with you.
There's a catch though: unlike hens and chicken of the woods, black staining polypores are tough from the get-go, really tough, as in eating leather tough. The smell and flavor are so good though, that even if you brought them home and ground them up and made mushroom chew, I'd think it would be worth it, come to think of it, it's not a bad idea either.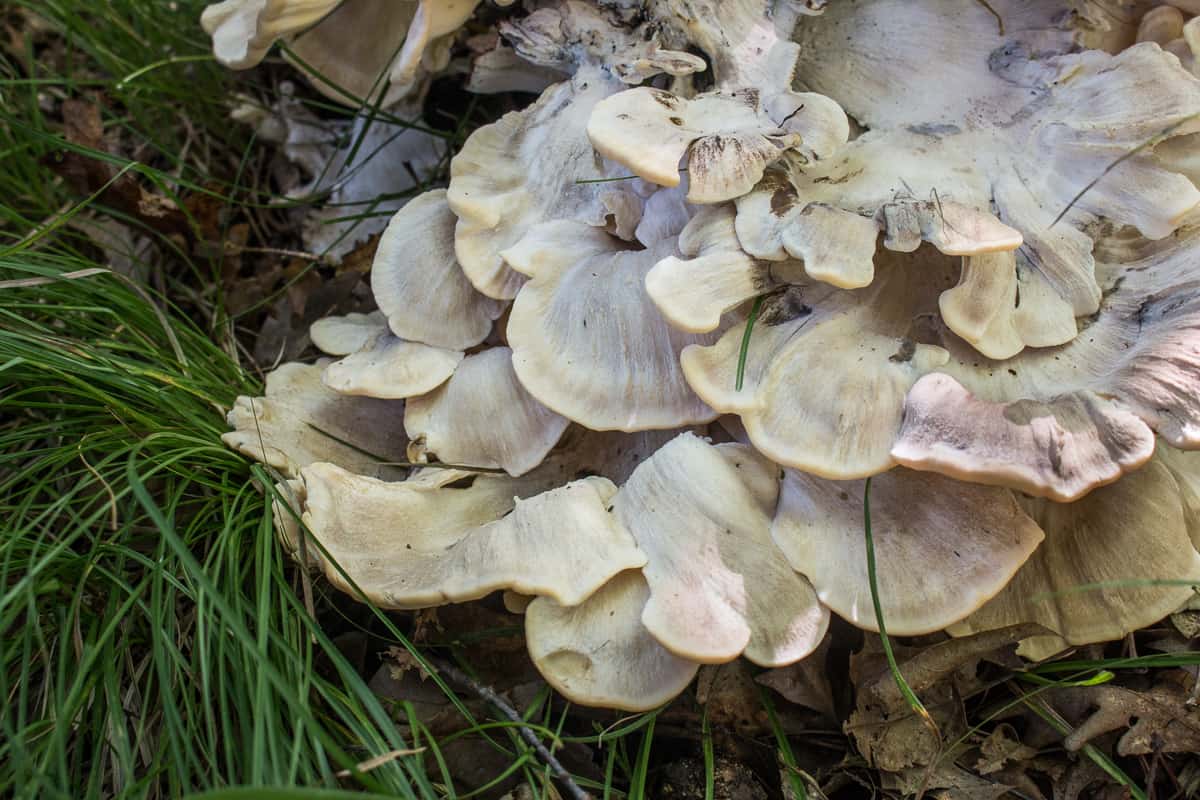 If you look online, you won't see much other than ID blurbs though, and I was surprised to not even see a recipe online for something as obviously useful as a simple broth made from them. Furthermore, multiple others proclaim it completely inedible, and not worth your time, insinuating it should be called garbage of the woods.
After working with it intimately for the past two weeks I can tell you for certain: nothing is farther from the truth. The black staining polypore is a great mushroom for the table, with a deep, rich flavor all it's own. It's tough, leathery texture just means you need to be creative. Claiming it's unworthy of the table is just plain laziness.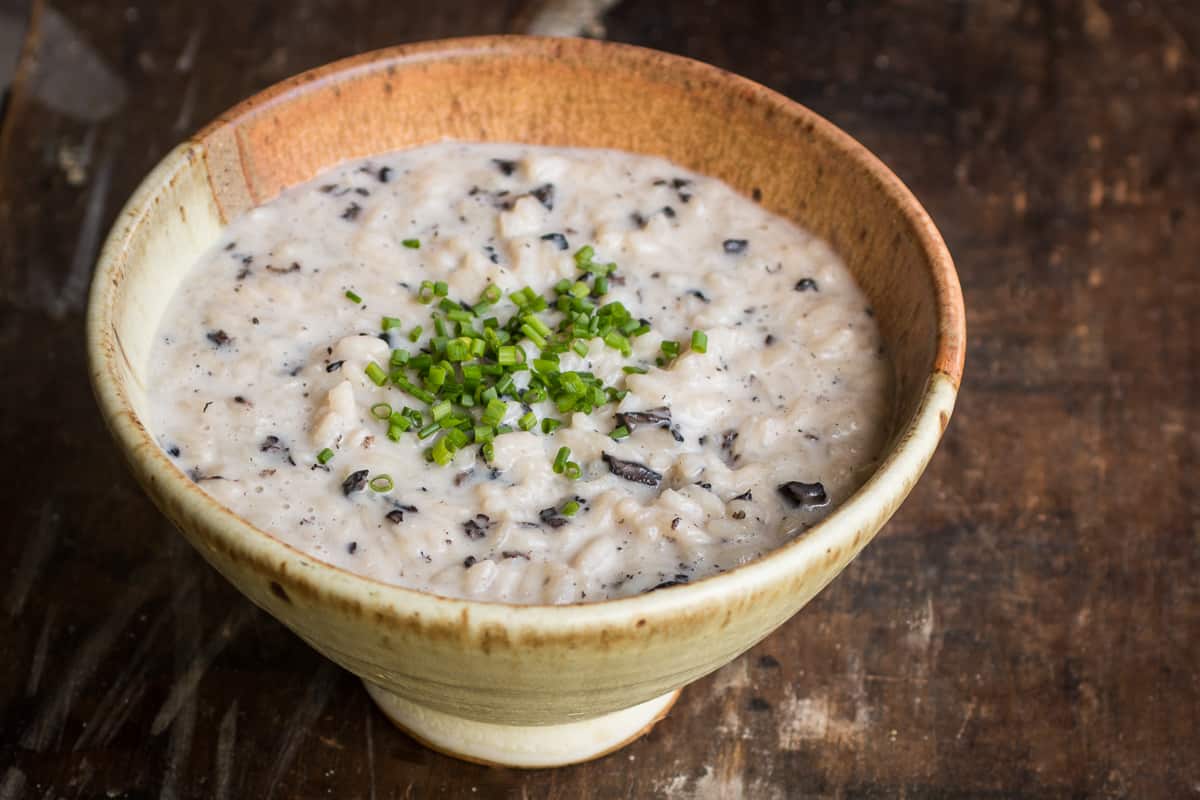 Cooking
After doing the happy dance for a while in the woods around my stump, I messaged others I know who've cooked Meripilus (Jacqui and @chefswild, the latter being a near bottomless resource on them).
While most of the black staining polypore will be tough as nails, the outer young margin of ½-1 Inch can be cooked fresh if sliced into a thin julienne, and it's excellent like that. It will still be slightly chewy, but it's a good chewy, and spooned onto a steak, burger, or just straight from the pan dripping with butter, will make your toes curl from the umami.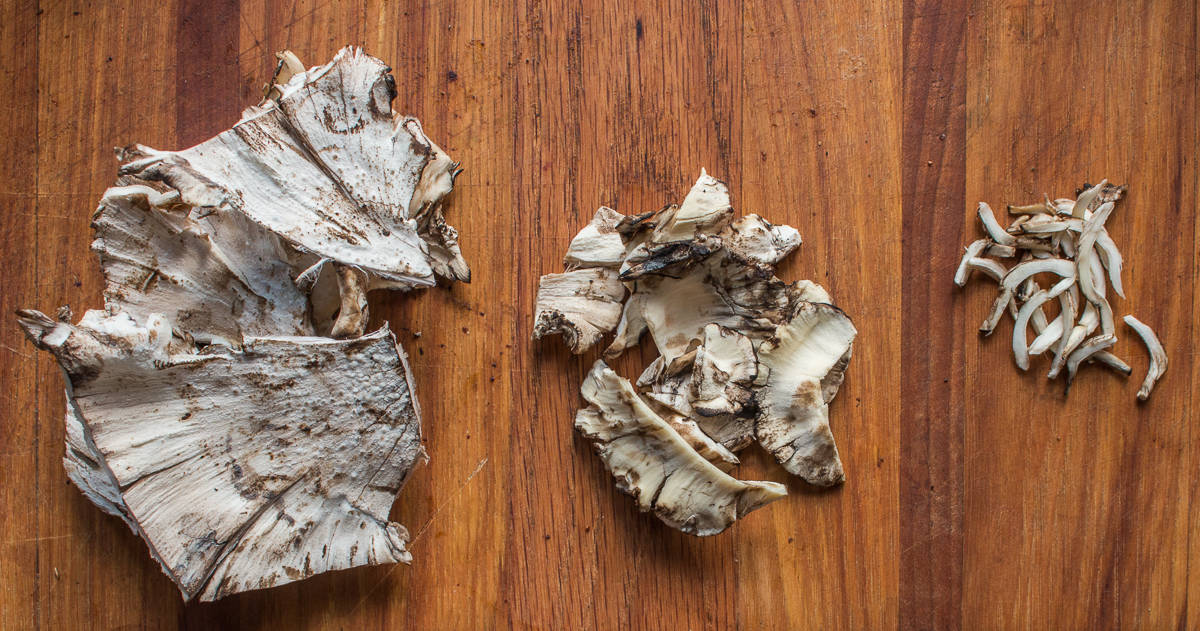 With the large mass of a polypore, harvesting say, a 5 lb mushroom and getting ¾ lb of cookable trim might seem like a poor yield, and it is, but that tender-ish trim is packed with flavor. Made into duxelles, they have near endless uses. The woody trim can be dried and used for stocks and powder.
Simmered with nothing more than a clove of garlic, a bay leaf, a few scraps of herb stems, or even all alone, with nothing more than water and some salt to finish, the final liquid is a deep tasting mushroom nectar that cries out to be the base of ramen, dashi, or a light broth, or used as the base for something like risotto, where the duxellles can be stirred back in to reinforce that special Meripilus flavor.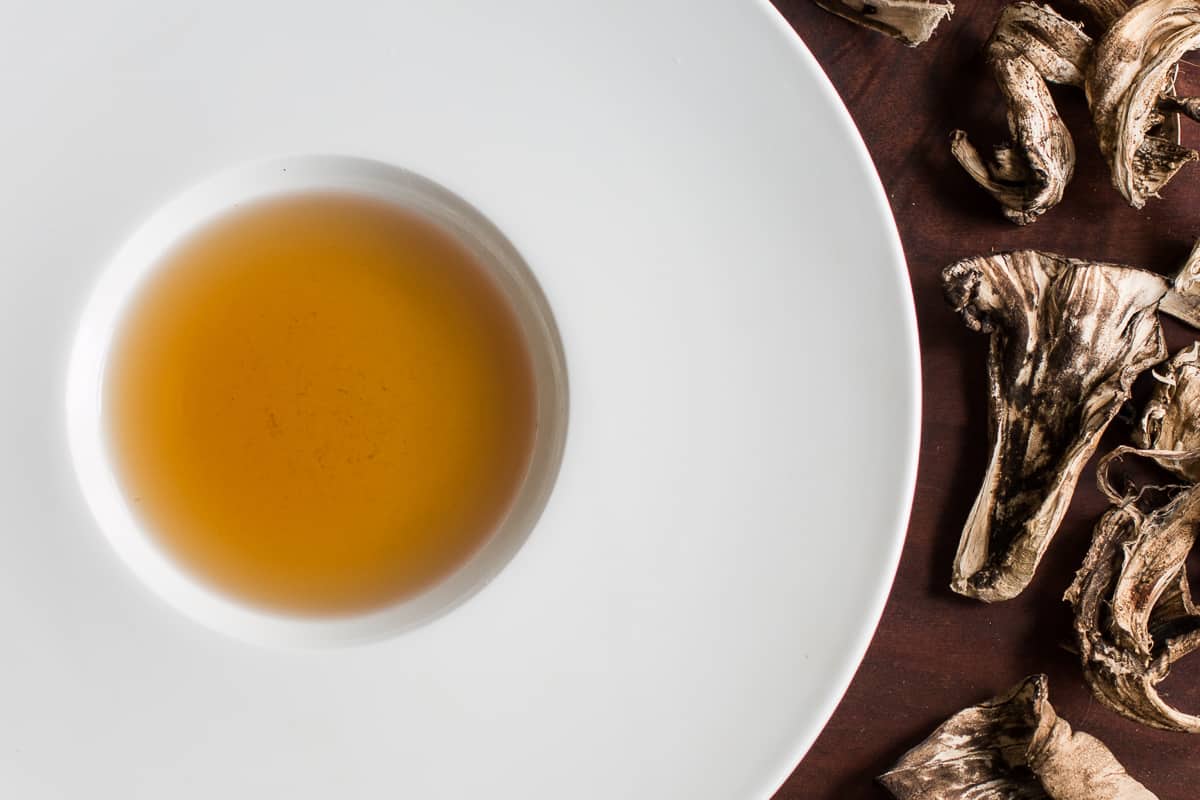 Hands down the crowd favorite I've made so far was inspired by a 100% black staining polypore burger @chefswild made. I didn't have enough to make multiple burgers, so I channeled the James Beard blended burger project and mixed my duxelles with fresh ground beef from the farm.
They were one of the best burgers I've had to date, with the mushroom flavor coming through even alongside typical sharp condiments like mustard and pickles.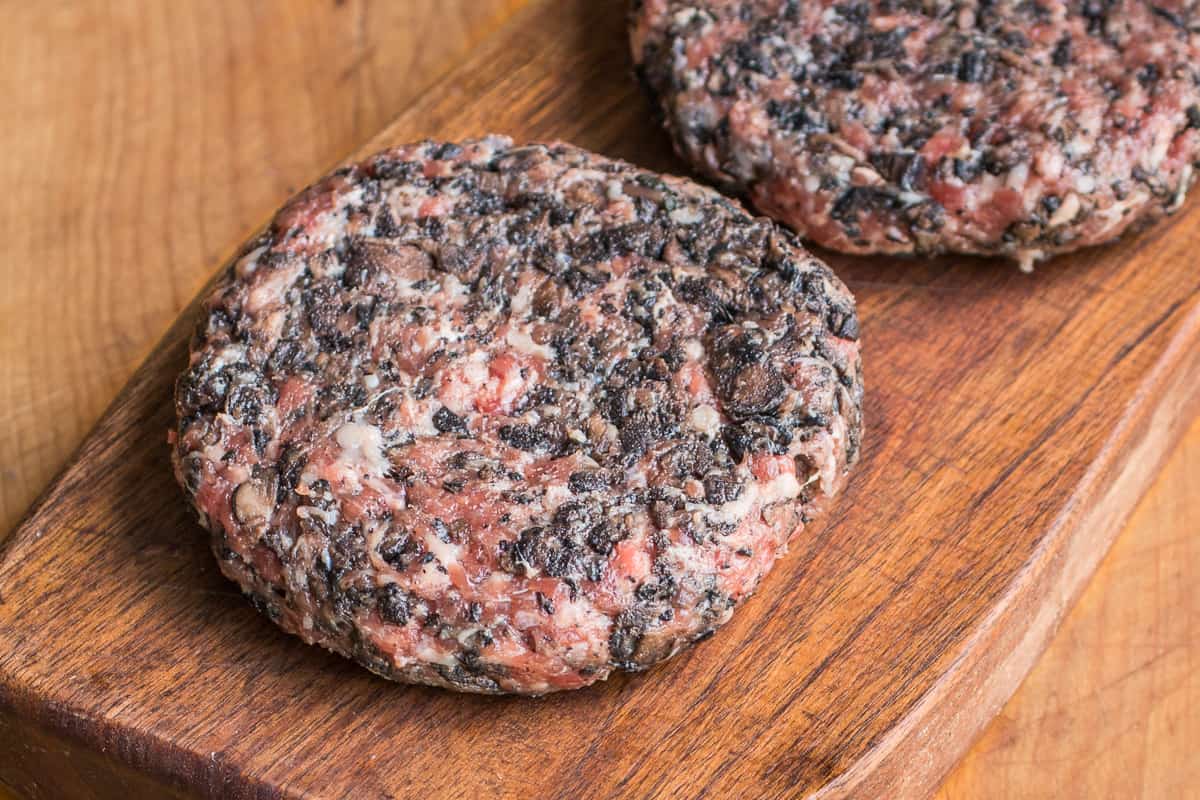 There's lots of possibilities for using these mushrooms. So, in closing, if you come across a black staining polypore, consider bringing some back with you to experiment with. And, if someone brushes them off and says they're not worth eating, consider inviting them over to eat their words, or maybe drink them in a cup of broth. They're a mushroom definitely worth the extra work it might take to get to know them.
Black Staining Polypore Broth
Yield: 4 cups
Ingredients
4

cups

chopped

Black staining polypore mushrooms, roughly 1 inch or smaller pieces, or simply torn

1

fresh bay leaf

a few sprigs of fresh thyme

1

garlic clove

whole

5

peppercorns

¼

of one small onion

skin on

8

cups

filtered water

Kosher salt

to taste
Instructions
Combine all ingredients in a pot, cover, bring to a gentle simmer, and cook for 1 hour.

Strain the stock, then cool, transfer to a labeled, dated container and refrigerate until needed. Season it to taste lightly with salt. The stock will keep for at least a week if not longer, and can be frozen.
Black Staining Polypore Risotto
Classic risotto, made with black staining polypore stock and duxelles. Serves 4-6
Equipment
Wooden spoon or spatula 10 inch saucepot or similar
Ingredients
½

cup

Black staining polypore duxelles

see recipe

Kosher salt

to taste

4-5

cups

Black staining polypore stock

see recipe

¼

cup

Shallot or yellow onion

diced small

1.5

cups

Risotto rice

like carnaroli, arborio, baldo, etc

½

cup

Dry white wine

Splash of cooking oil
Finishing
5

Tablespoons

unsalted butter

¾

cup

grated parmesan

plus more for serving

Fresh chopped Italian parsley or chives

to garnish, optional
Instructions
In a wide pan, say 10-12 inches diameter, sweat shallot on medium-high heat in the oil until translucent, then add the rice, stir to coat with oil and cook a few minutes more. Don't allow the bottom of the pan to color.

Add the wine, duxelles and salt, and cook until the pan is nearly dry, then begin ladling in the stock gradually in ½ - ¾ cup increments, waiting until the stock is absorbed before adding the next lade. Don't add salt yet if your polypore broth is seasoned.

When the rice is just barely cooked through, add the butter, the parmesan and parsley, stir vigorously until incorporated, taste and adjust the seasoning for salt if needed, and adjust the consistency with a little extra stock. You may have extra stock leftover--that's ok.

The flavor should be mushroomy, cheesy, and delicious, and the risotto itself should be thick and creamy, but also flowing and loose. Portion the risotto into soup bowls. Jiggle the sides of each bowl after plating so that each bowl of risotto is flat. Serve. Pass extra grated parmesan at the table.
Meripilus Burgers
Black staining polypore duxelles mixed with ground beef makes a terrific hamburger. Makes 4 decent sized burgers.
Ingredients
1

lb

Ground beef

preferably 80/20.

6

oz

Meripilus duxelles

see recipe

Kosher salt, to taste

Fresh ground black pepper, to taste
Instructions
Mix the duxelles and ground beef well, then cook a small amount to taste. Depending on how strongly you season your duxelles, you may or may not want to season the burgers. Generally I season burgers ahead of time and mix for a better texture, flavor, and shelf life raw. If you can, leave the burgers uncovered in the fridge for at least a few hours before cooking for the best crust.

Season the burgers lightly with salt and pepper, then cook over a hot fire or in a dangerously hot cast iron skillet to your desired temperature. Medium is plenty.