The one and only mushroom duxelles. This is one of the oldest, most traditional, and especially useful recipes for preserving mushrooms there is along with simply drying, and mushroom catsup/ketchup.
At it's heart its really just a finely chopped, concentrated mushroom base-nothing too crazy. It's a lot more though. Duxelles is a mother ingredient, one that you can use as the base for an endless amount of recipes.
Duxelles is usually made from fresh mushrooms
The recipe here is for fresh mushrooms, not dried. Even though many dried mushrooms can be reconstituted in liquid and keep a lot of flavor, that flavor dissipates a bit into the reconstituting liquid, and it's not exactly the same as using fresh.
Some dried mushrooms concentrated into duxelles can develop bitter notes, like black trumpets or candy caps. That being said, I do dry a lot of mushrooms, and I do make duxelles from dried mushrooms. See a separate example of that in my post on dried mushroom duxelles.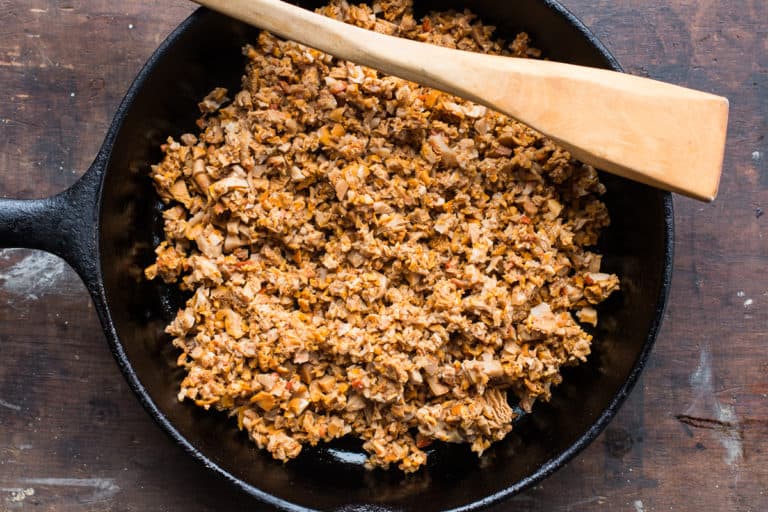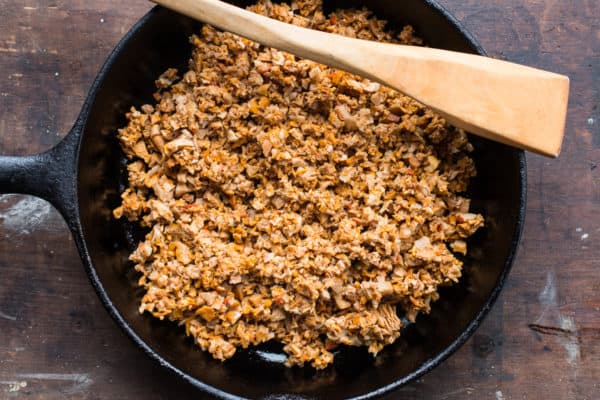 Some mushrooms too, like hedgehogs and golden chanterelles I don't dry, since their flavor is damaged and changed by the process, for those two species in particular, you will want to use only freshly picked mushrooms to make your duxelles.
In this recipe, I'm using hedgehog mushrooms, which are an underdog that kind of live in the shadow of their more well known cousins-various species of golden chanterelle.
I use them here for a reason though: hedgehogs really shine in a preparation like this with their rich, meaty flavor, and yield a killer duxelles.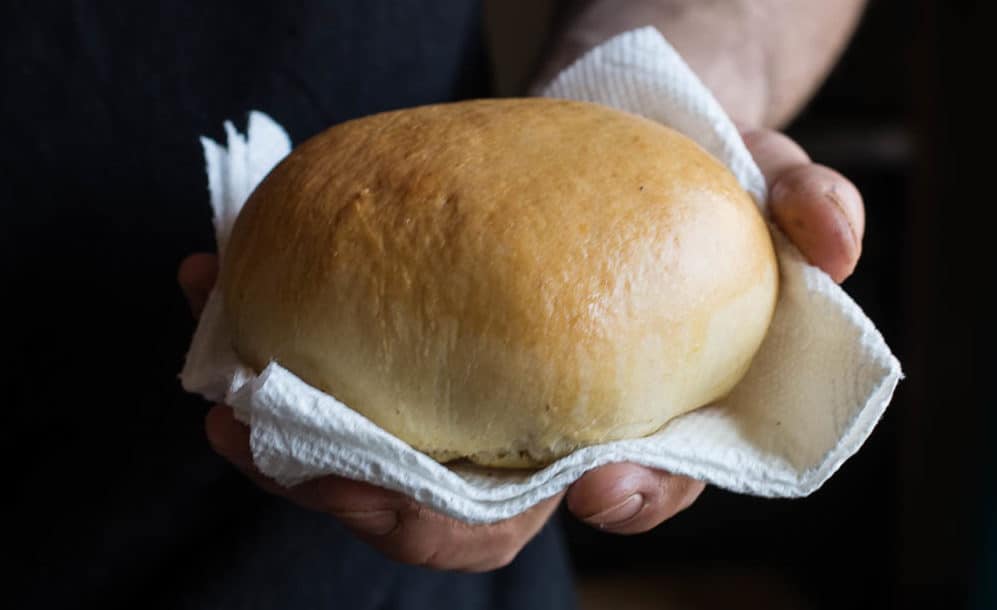 Why make it?
From a preservation standpoint, one great benefit is that they can be frozen without losing quality. Blanching mushrooms in salt water and freezing is doable, but it is not my first choice.
Most mushrooms react negatively to freezing, and they tend to get stringy and chewy. When made into duxelles, cooked down with fat and seasonings, they preserve much better.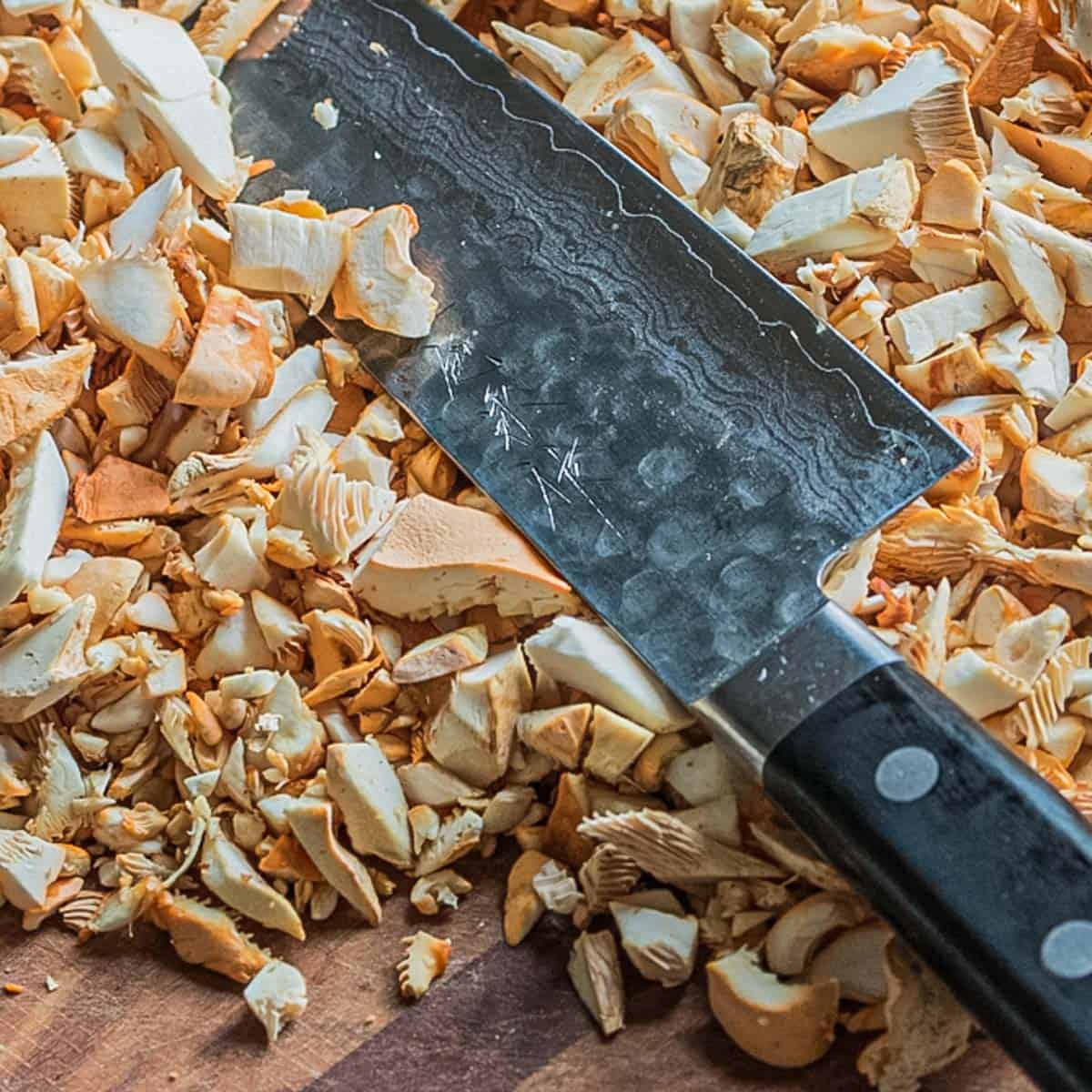 The better result after freezing is because the mushrooms don't have to hold their shape since they are minced finely, bypassing the stringy, chewy texture that some get post freezing. Also, they're being cooked with butter means that they get protected by an insulating layer of fat, which wards off freezer burn.
I should mention, that immature boletes that have not yet spored may be frozen. Thousands of pounds of porcini are processed this way and sold to restaurants around the U.S. and Europe every year from China, usually under the label "IQF" porcini. (Individually-Quick-Frozen)
Can you use a food processor?
Yes, but pay attention to the specific mushrooms you're cooking, and always pulse—don't puree or you'll end up with mushy mushroom paste. Wild mushrooms that are large and/or firm, like hen of the woods, chanterelles or chicken of the woods, are probably better (read as more efficient) done in the food processor.
Soft mushrooms, like mature boletes, epecially if you're using the pores, I would only chop by hand. Let the texture and morphology of the individual mushroom be your guide. But, yes, it's fine to use a food processor to make duxelles, just make sure to pulse them.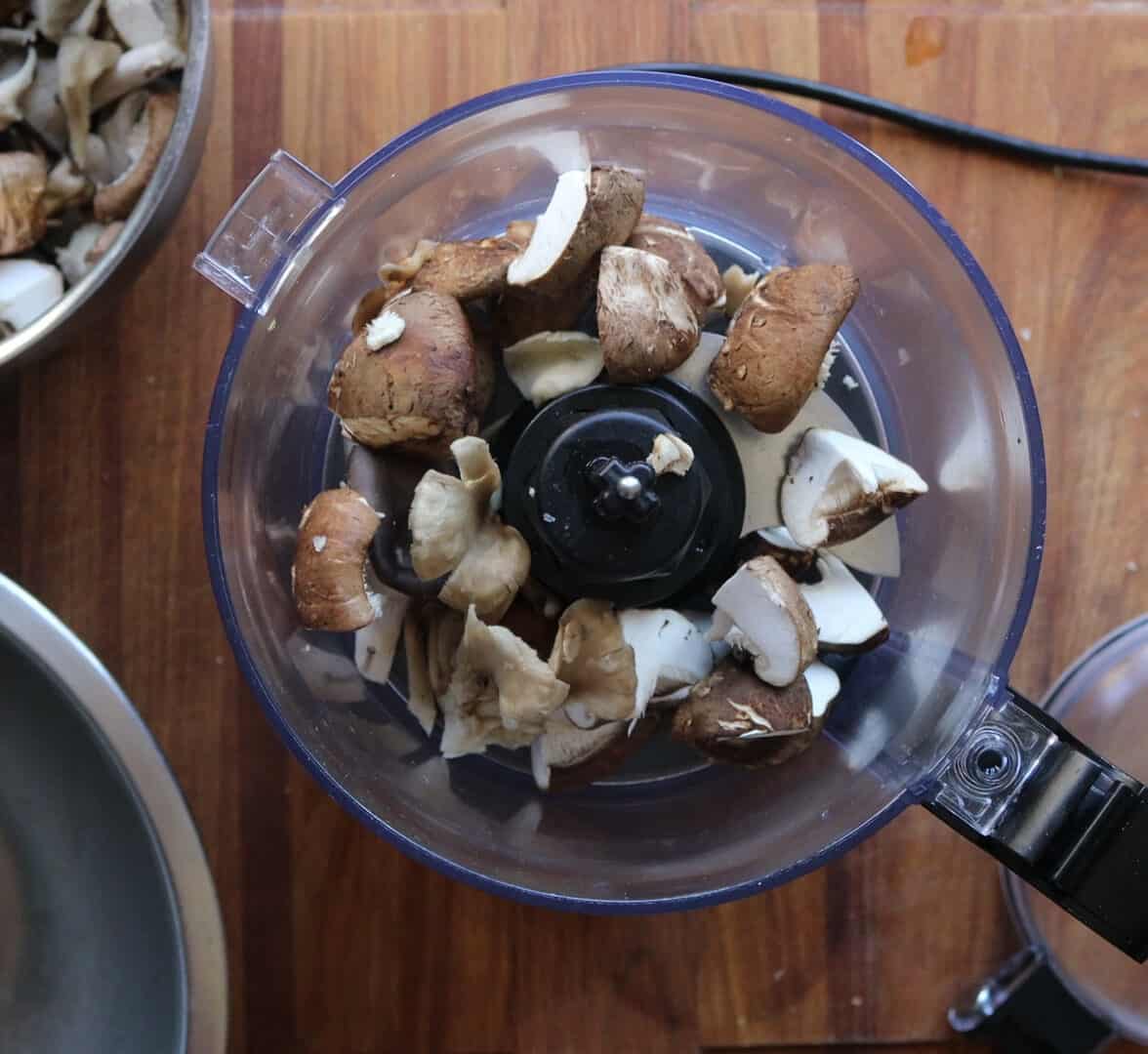 Roasting the duxelles to deepen the flavor
Here's a great trick that isn't mentioned in any cookbook I know of, French or otherwise when talking about duxelles. Depending on the species of mushroom you use and how much water they contain, after cooking, you might taste your duxelles and not be blown away. Don't worry!
If you use commercial mushrooms, expect them to be mild and need some extra attention. Chanterelle duxelles I like as is.
Here's the skinny: removing water from the mushrooms and getting color on them will deepen the flavor of the finished product, but that's nearly impossible to do when mushrooms are cut up very fine.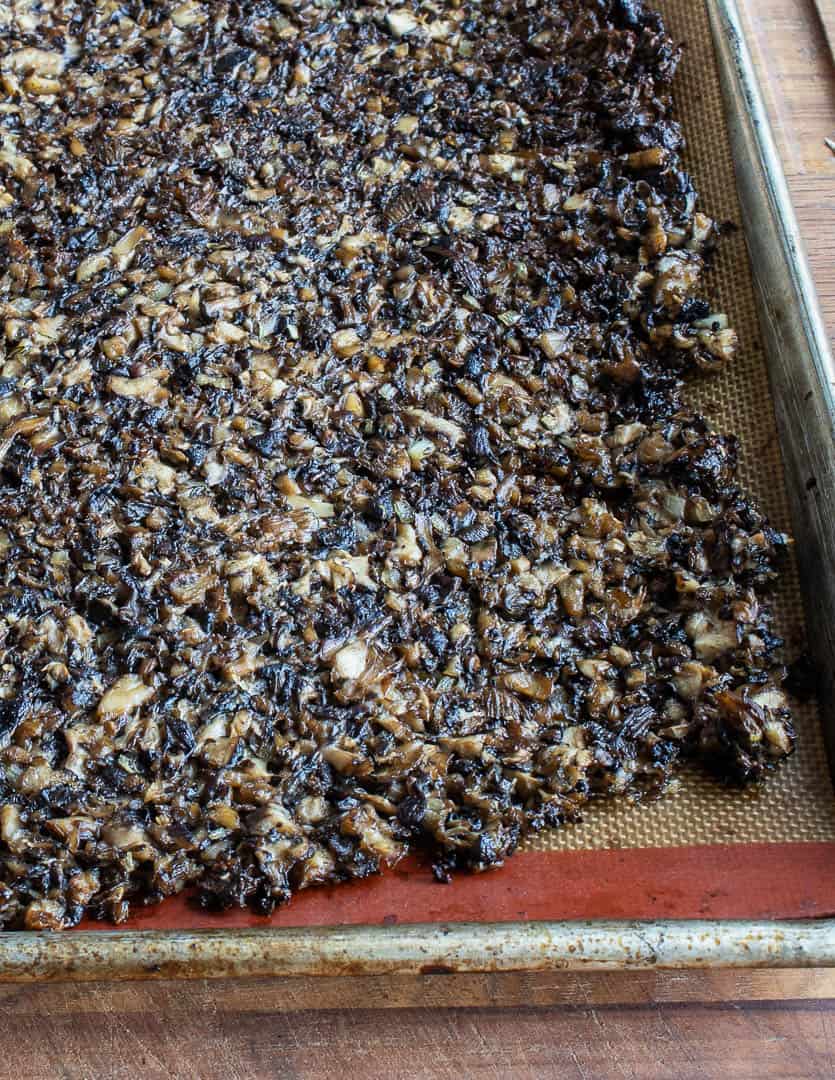 So, what you can do is this: after cooking the duxelles per my recipe here, spread them out onto a baking sheet, spray or brush them with oil, then cut criss-cross lines in them with a spatula.
Bake the duxelles in a hot oven (425F) for 15-20 minutes, turning them over with a spatula and mixing them halfway through cooking to help deepen the caramelization.
After baking, the duxelles will have lost a noticeable amount of water, and will have a rich, robust flavor. This is especially useful if you're making large batches of duxelles, or are using mushrooms that are wet. Try it.
Big Tip
Note that cooking in the oven to dry out the duxelles may not be necessary with some species that contain less water, such as black trumpet mushrooms, and it would result in the duxelles being too dry.
Use your intuition here as mushrooms and their water content can vary greatly between species, as well as from environmental factors, especially rain.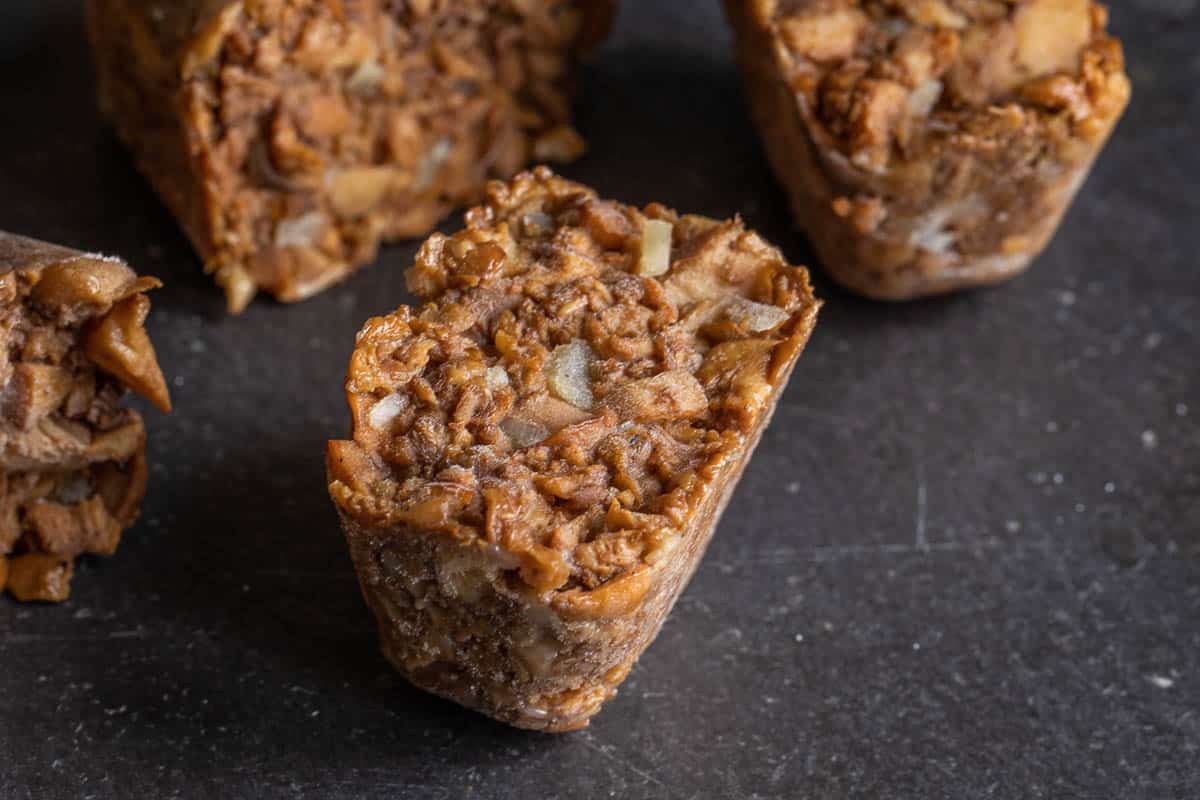 Freezing
After I make duxelles, they're going straight to the freezer--either in a vacuum sealed bag pressed flat for quick thawing, or my personal favorite: the ice cube tray.
Duxelles frozen in an ice cube tray can be frozen in a re-sealable vacuum bag, or wrapped in parchment and frozen in a Ziploc, then presto! Take a chunk out whenever you need for that special sauce or stuffing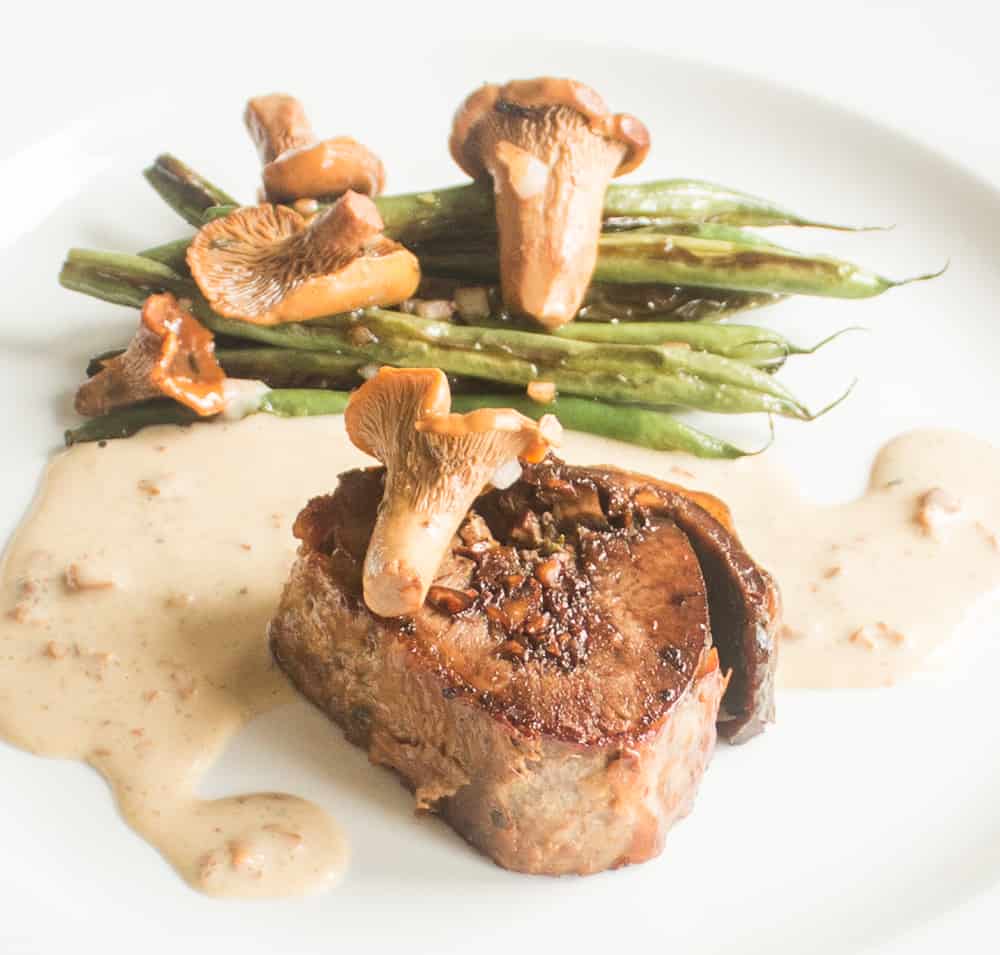 Recipe Ideas
Duxelles are an instant stuffing, mix them with a touch of ricotta cheese for ravioli filling, or just all by themselves, for a very rich stuffing, such as in a type of pasta where only tiny amounts of filling are used, as with tortellini.
Gravies and any savory sauce are a natural place to add a tablespoon or two of duxelles, they will thicken it slightly, and allow a sauce to be further thickened by adding a tablespoon or two of butter.
Spread on toast, duxelles make a fine appetizer, kind of like a mushroom tapenade.
If you add a little bit of oil and some vinegar to taste, you have an instant, powerful mushroom vinaigrette.
A little dollop makes a great garnish, maybe swirled in a cream of mushroom soup, or something earthy, like a soup made from potatoes or root vegetables.
To create some mushroom dumplings, you could add ¼ cup of duxelles to my recipe for puffball Parisienne gnocchi

here

, just omit the puffball powder
Whisk duxelles into eggs for an omelet for a special breakfast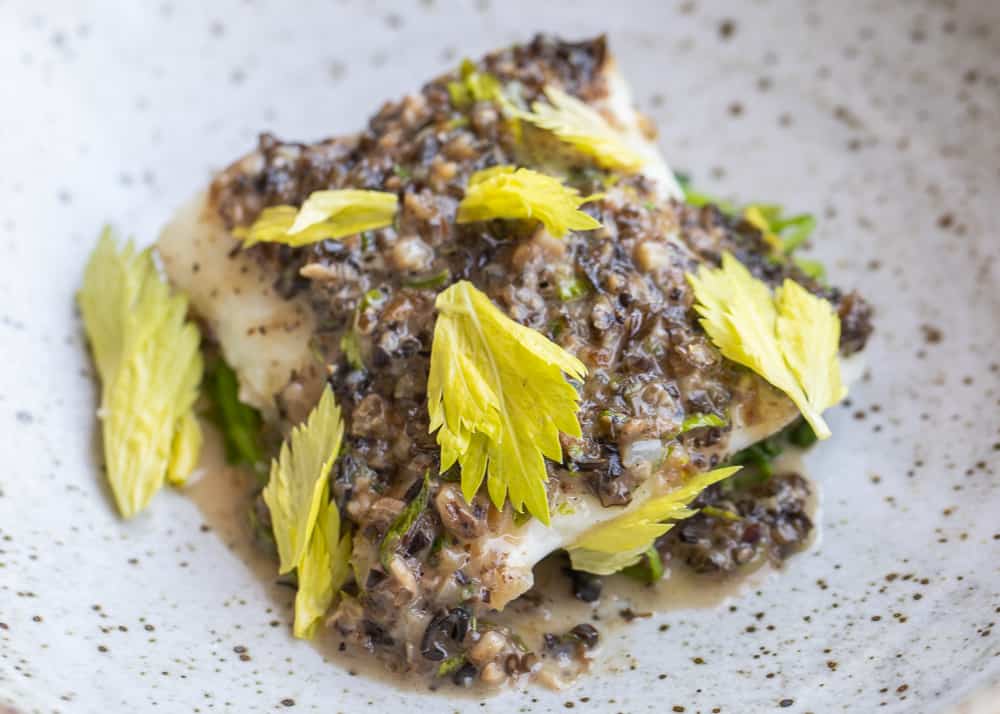 Derivative Recipes
Examples of how I might use duxelles in recipes.
Pot Roast with Duxelles Stuffing (Venison, beef, pork, lamb, etc)
Duxelles sauce for fish (skip the venison trotter if you want)
Mushroom and Beef Runzas / Bierocks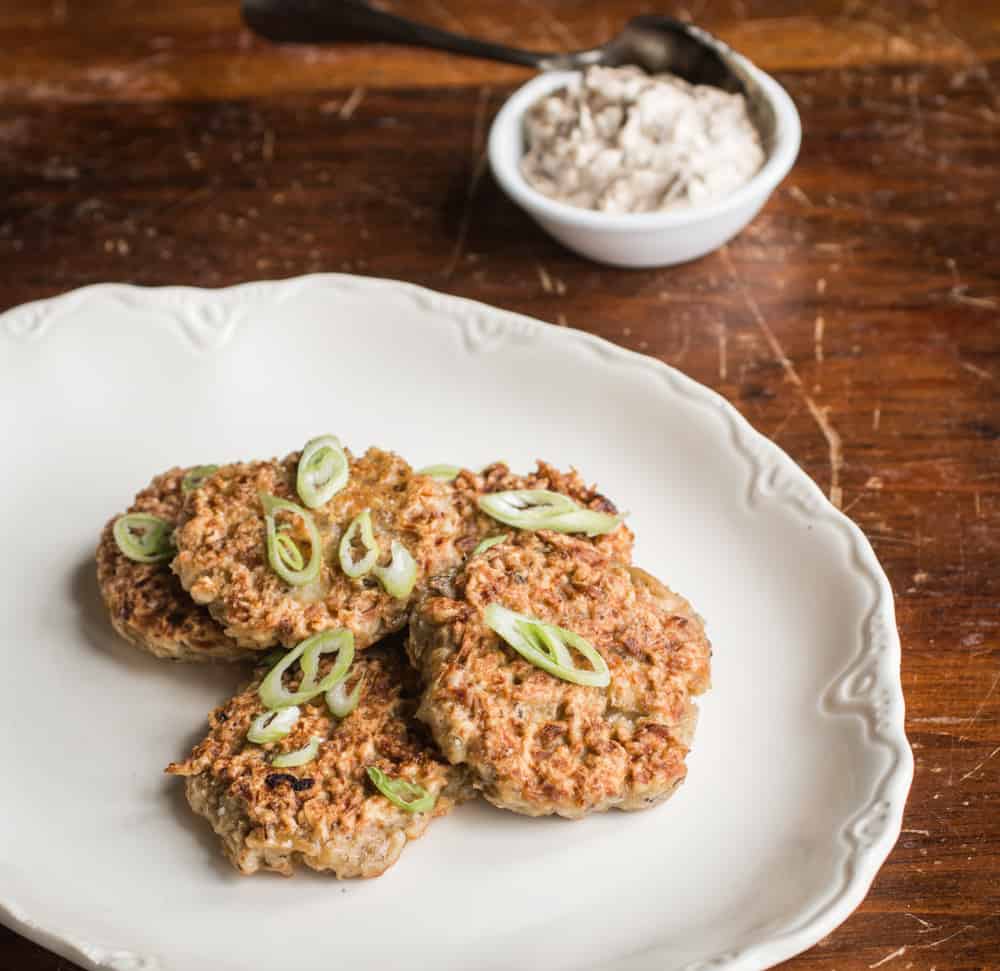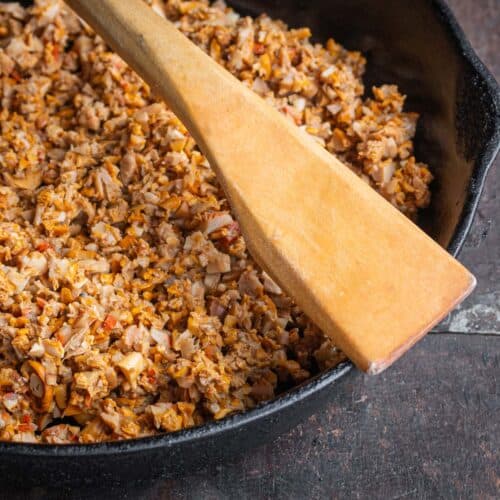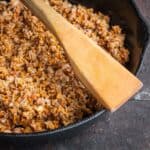 Print Recipe
Classic Wild Mushroom Duxelles
A duxelles of mushrooms is one of the oldest, time-tested ways to preserve your harvest. This is a small batch, scale as needed for large harvests. I mostly make this in quantities of 2+lbs, but making a small batch will help you get the feel for the process.
Equipment
Chef knife or food processor
Ingredients
1

lb

fresh wild mushrooms cleaned

caps and stems roughly chopped.

1

tablespoon

shallot diced ¼ inch or chopped roughly

½

teaspoon

kosher salt

¼

Teaspoon

fresh ground black pepper

2

tablespoon

oil

plus a little extra for roasting afterword

¼

cup

dry sherry

dry white wine can be substituted

½

teaspoon

fresh chopped thyme
Instructions
Finely chop the mushrooms by hand, or pulse the mushrooms in a food processor until they're finely chopped, but be careful not to over-process them. Traditionally you would chop them by hand, and it will give the best texture.

Heat a large saute pan with the oil. Heat the pan until hot and nearly smoking, then add the mushrooms and shallots, and stir to coat with the oil. Cook for a minute or two, stirring occasionally.

Add the salt, pepper and the herbs. Continue to cook, lowering the heat to medium to prevent scorching. Cook the mixture for ten minutes, until the mushrooms have given up their water and the pan starts to look dry.

Deglaze the pan with the sherry or wine, then cook off the liquid again until the pan is dry, stirring the pan to coat the mushrooms with the juices. From here, if you like the flavor, you can cool the duxelles and refrigerate them for a few days, or freeze right away for later. If the duxelles taste mild to you, as may happen if you're making a large batch, proceed to drying them out in the oven.
Drying/roasting the duxelles to finish (optional)
After cooking, spread the duxelles onto a cookie sheet, spray or brush lightly with oil, then cut a cross-hatch pattern in them with a spatula. This will not be necessary with some species that contain less water, such as black trumpets.

Bake the duxelles for 15-20 minutes at 400F, or until you like the flavor, taking them out of the oven half-way through roasting to turn them over with a spatula to reveal the light-colored mushrooms underneath and encourage even caramelization. Cool the duxelles, then refrigerate or freeze.
Notes
After cooking, a great way to preserve them is to pack into ice cube trays and freeze, then pop out the cubes seal in a re-sealable vacuum freezer bag. This is a relatively small batch, so feel free to scale it up.