A simple sauteed chicken with mushroom pan sauce is a great, easy main dish I used to serve in my restaurants when we had mushroom duxelles on hand.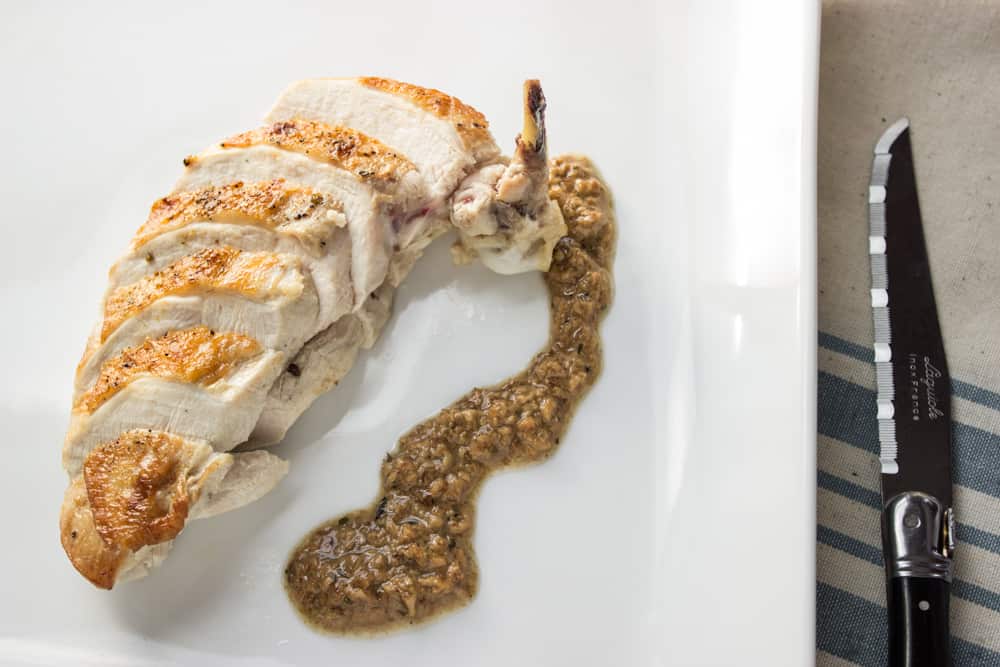 Duxelles in stuffings and such is great, but one of the simplest and most pure ways of enjoying the flavor of duxelles is to make a simple mushroom pan sauce.
Any sort of meat preparation that leaves some browned bits or drippings in a pan will work great, but to make sure you get a good amount of drippings, you want a thick cut of meat like an 8 ounce steak, a roast, or a bone in chicken breast like I'm outlining here.
You can definitely just cook down some chicken or beef stock and whisk in duxelles and butter too. There's no wrong way to do this, as long as it tastes good to you. Think of this as a broad guideline, not a strict recipe.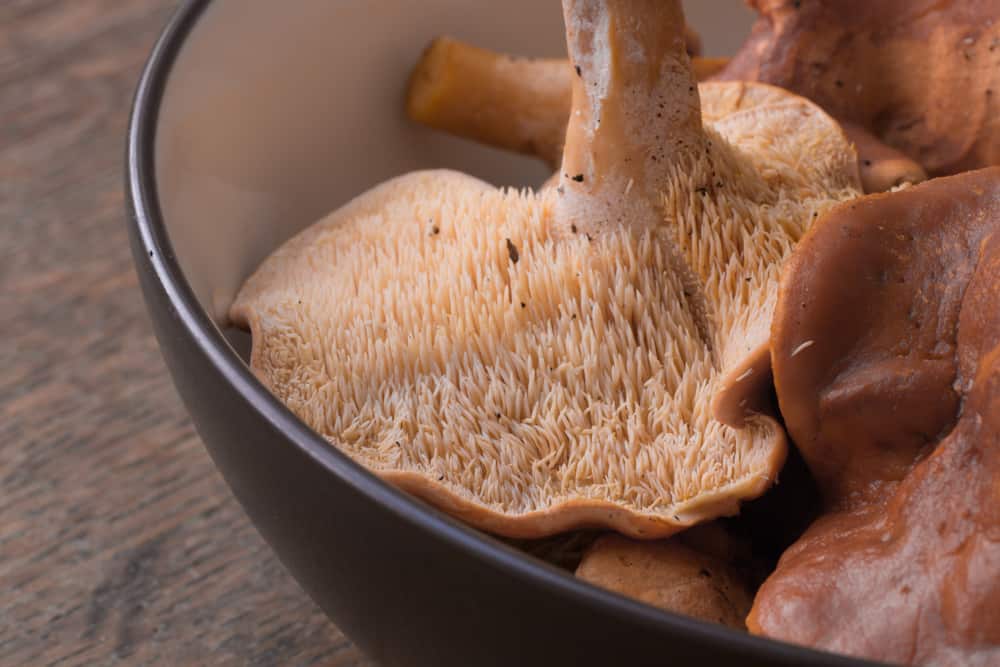 Any species of mushroom for duxelles will do
I used a duxelles made from hedgehog mushrooms, but you could use whatever you have on hand. Shoot, even button mushrooms will taste great in duxelles.
Using dried mushrooms
You can fashion a duxelles from dried mushrooms, but since the mushrooms are dried and concentrated, the flavors can become bitter sometimes, especially with black trumpet mushrooms or lobster mushrooms. To curb any bitterness, use a larger amount of fresh mushrooms (white buttons from the store are fine) to cut and smooth out the flavor of the dried mushrooms when preparing the duxelles.
Using fresh mushrooms
You can use fresh sliced or finely chopped mushrooms in place of pre-made duxelles and it will work fine.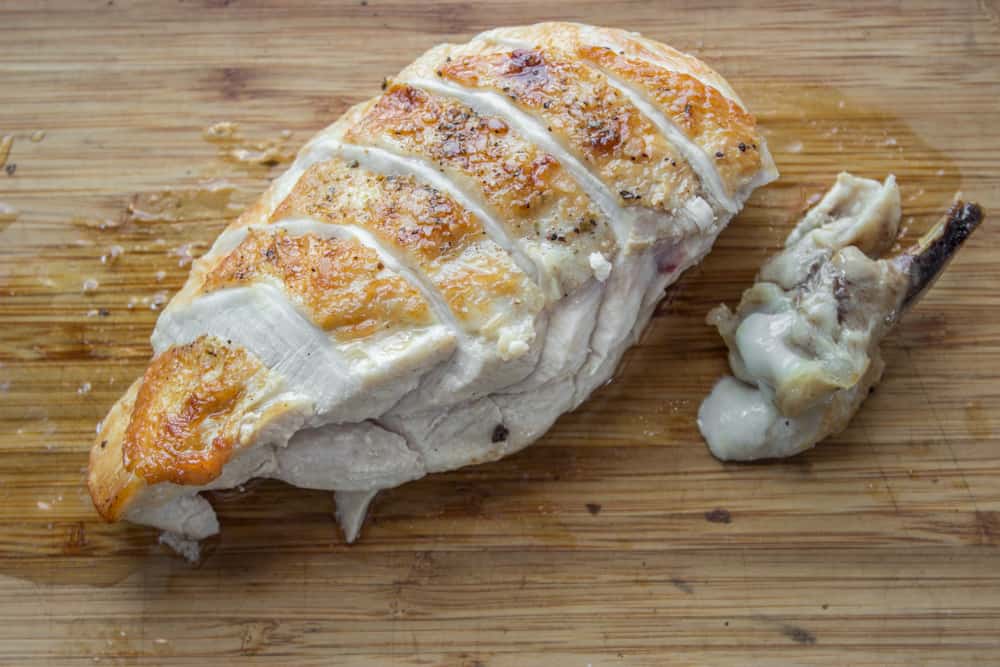 How to get the crispiest skin on a chicken breast
You want that rock hard skin that goes "tink-tink-tink" when you tap it. Everyone knows crispy skin is addictive as crack, and I love a good roast chicken, but lets be honest, you can't do it everynight, and getting a whole bird to have crispy skin is a feat.
A quick-trick weeknight fix is a bone-in, skin on breast that will cook in about 15 minutes. A quick vacation in the oven and that bird's coming out singing. It's the same way I cook them at restaurants, as do most chefs.
There's a couple tricks to getting a rock-hard chicken skin though. You don't have to use all the tips I outline, but following them will give a superior product. Don't have time to dry brine the bird overnight? No prob. Dry the chicky boobs off really good with paper towels, season them and proceed à la Minute. Here's what I suggest:
Dry Brine Overnight
This means season the chicken with salt and pepper the night before, then leave it out UNCOVERED, skin side up in the refrigerator, so that the skin dries out. Freaked out from memories of old steak you forgot about in the fridge? Don't be, it's going to be aweome.
Pan Roasting
Put the chicken skin-down into a hot pan, then into the oven, 375-400F is good. When the chicken is just done, remove the pan and inspect the skin by lifting up the breast. If the skin needs to be more golden brown (read as rock-hard and golden), put the pan back on the burner for a minute or two over medium heat to get a perfect golden brown.
Rest That Meat!
You need to to take the bird out of the pan to rest it SKIN SIDE UP before slicing, this could happen in an oven thats been turned off, or in even just on a cutting board as pictured here. The great part is that doing this all in one pan means that it kind of forces you to rest the bird, since you want to deglaze and harvest all the delicious chickenly bits in the pan.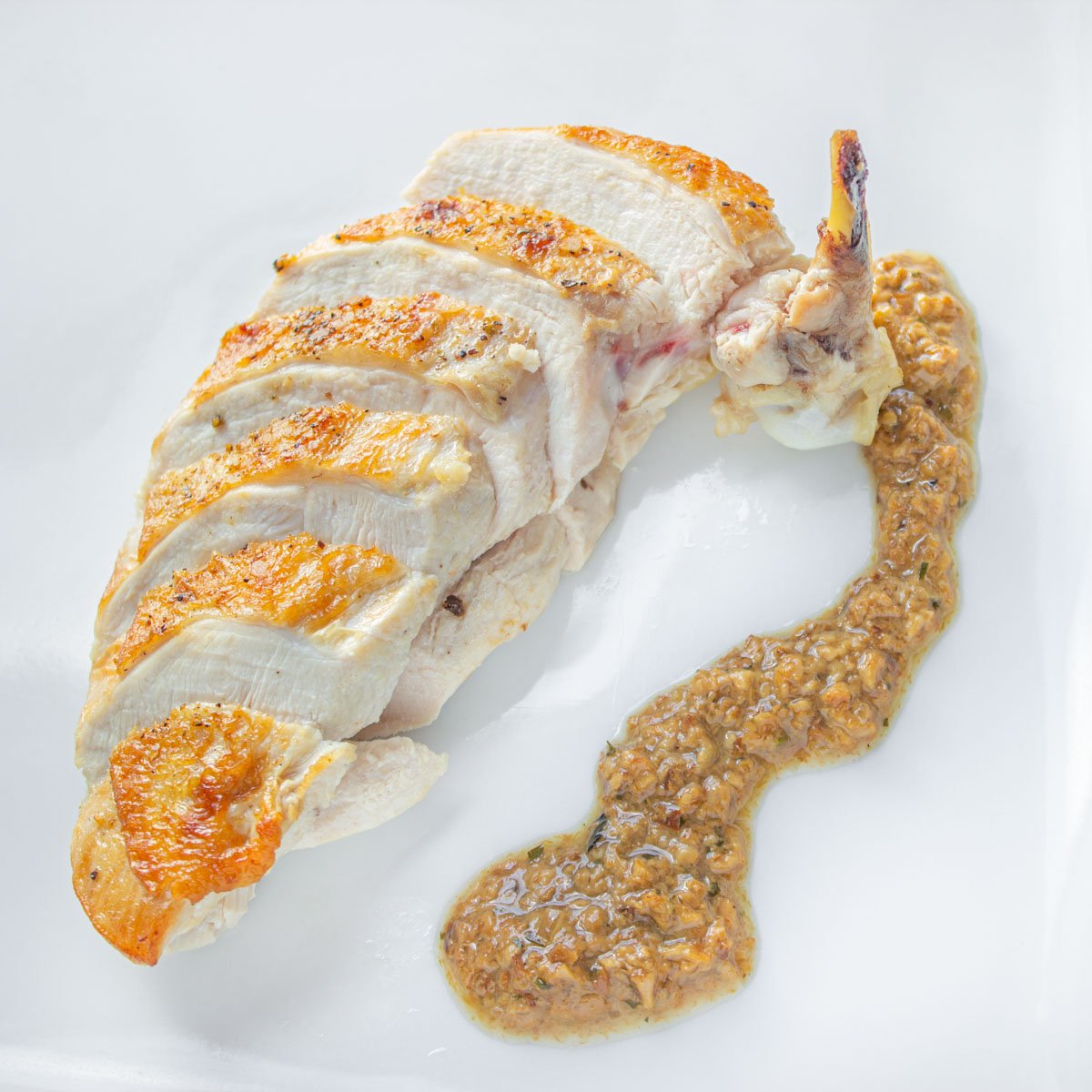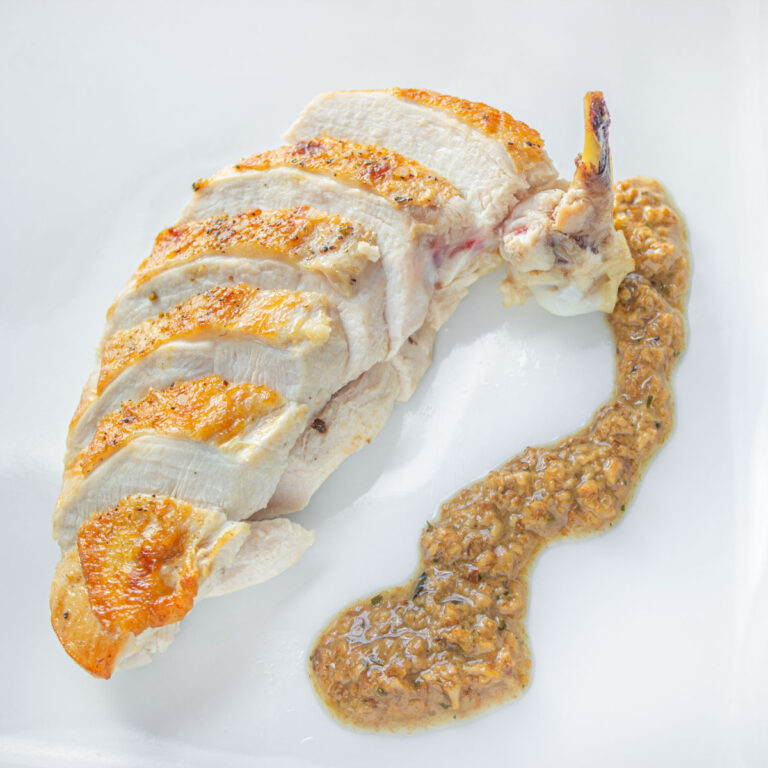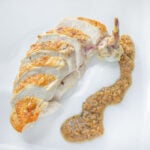 Print Recipe
Pan Roasted Chicken Breast with Mushroom Pan Sauce
Skin-on, bone-in, roasted chicken with mushroom sauce
Equipment
Heavy pan, like cast iron
Ingredients
2

bone in chicken breasts with wing bone attached

Kosher salt and pepper

1

Tablespoon

light olive oil

½

cup

chicken stock

preferably homemade or low sodium

2

tablespoons

unsalted butter

4

ounces

fresh mushrooms, finely chopped

or ¼ cup of prepared mushroom duxelles

1

teaspoon

dijon mustard

optional

1

splash

dry white wine
Instructions
The day beforehand, season the chicken with salt and pepper to taste all over and allow to sit out overnight in the refrigerator, uncovered.

When it's time to cook, heat a pan or cast iron skillet over medium high heat with a teaspoon of oil. Add the chicken breast skin side down for a minute on high, then put in the  oven.

Cook in the oven until the chicken is just done, about 155F. Take the chicken breasts out of the pan, and let rest in a warm place.

There should be a bunch of nice drippings crusted in the pan. If you're using fresh mushrooms, add them and cook on medium heat until they give up their juices. Deglaze the pan with a splash of wine, scrape up the bits, then add a good spoon of duxelles and a good ½ cup of nice chicken stock, along with the mustard if using.

Bring to a boil, then turn the heat down and simmer the mixture until all the bits have been incorporated into the sauce, then whisk in a tablespoon or so of butter and stir until it melts. Taste the sauce for salt, adjust as needed (it may not need anything, and keep in mind it still needs to reduce.)

When the butter has thickened the sauce and it tastes really good, you could finish the sauce with a little parsley or chives. To finish, slice the chicken, then put skin-side up on a plate.

Spoon the sauce cascading off the bird, or on the side (to make sure the skin doesn't become soft) and serve immediately, with a vegetable side. Cooked greens are one of my favorites.
Notes
Chicken thighs can work, and are cheaper if you can't get bone-in, skin-on breasts. 
Nutrition
Serving:
6
oz
|
Calories:
393
kcal
|
Carbohydrates:
4
g
|
Protein:
27
g
|
Fat:
30
g
|
Saturated Fat:
11
g
|
Polyunsaturated Fat:
4
g
|
Monounsaturated Fat:
13
g
|
Trans Fat:
1
g
|
Cholesterol:
104
mg
|
Sodium:
189
mg
|
Potassium:
499
mg
|
Fiber:
1
g
|
Sugar:
2
g
|
Vitamin A:
447
IU
|
Vitamin C:
1
mg
|
Calcium:
21
mg
|
Iron:
1
mg