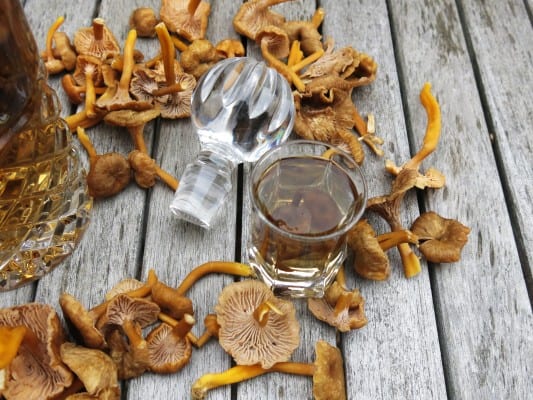 I love yellowfoot chanterelles, they're pretty, petite, and fragile. I only know of one place to pick them in Minnesota, its a mixed woods forest up north, with lots of rolling hills and a wide amount of varying terrain. In a couple places there are wet spots with puddles and tiny ponds. These damp spots are where I find them, hiding with the moss around the water.
I don't usually find a ton of these, but when I do I like to save them for special occasions. Unlike golden chanterelles and hedgehogs, which should not ever be dried (just because grocery stores sell dried chanterelles doesn't mean they taste good!) yellowfoot chanterelles, and their cousins the black trumpets have a much thinner, hollow frame, which allows them to dry and be reconstituted effortlessly for cooking. There is another way you can preserve them though, and I have been experimenting with it, it's a fun one.
A while ago I found an old Italian recipe for preserving chanterelles in vermouth. I got to thinking that I should try preserving yellowfeet the same way, but vermouth contains other flavorings like herbs and such, so I figured I would use vodka since it's mild flavor would allow me to taste only yellowfoot chanterelle and nothing else.
If sipping mushroom flavored liqour sounds weird, thats ok. The biggest reason I wanted to make it was to use it in cooking. One of the most decadent sauces I've ever had is made by sauteing morels and chopped shallots in brown butter, then deglazing the pan with cognac or brandy, evaporating the alcohol and then adding stock, cream or veloute.
Now imagine that same morel sauce, but this time made by deglazing the pan with cognac in which dried morels have been steeped. Black trumpets will make a black liquor, or how about a chanterelle family infused liqour made with golden chanterelles, hedgehogs and yellowfeet?
I know for a fact Italians have been known to make a cordial with golden chanterelles too, For that all you would need to do is follow the recipe below and add some simple syrup to taste after the liquor has infused. Yellowfoot chanterelles do have a more earthy taste than golden though, so they will give a slightly different result.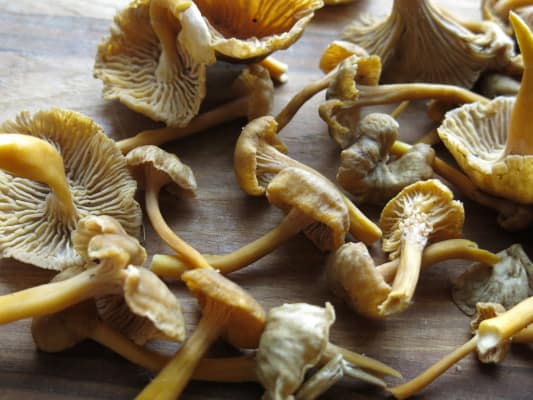 That being said, after the alcohol has been infused, the flavor can deteriorate after a while, so use this stuff within a month or two. I also keep it in the fridge after infusing at room temperature for a while.
Update: 5 years later.
In the end, this is really kind of a novelty, but a good conversation piece for if you have some other mushroom hunters over. I've found I prefer mushroom vodka straight up, as a shot, all alone. Maybe with a salted or brined yellowfoot on the side. Cooking with it is fine, but it's purity is lost and it's hard to parse it from other flavors.
Here's a simple proportion for the infused vodka.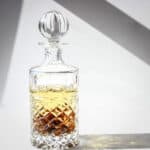 Print Recipe
Chanterelle Vodka
Yield: One .75 litre of Yellowfoot Chanterelle flavored vodka
Ingredients
30

or so  fresh yellowfoot chanterelles

weight doesn't really matter, but if all the mushrooms you have are small, e.g. the size of pencil eraser, you should add more than twenty. My 30 yellowfeet chanterelles were all about the 3 inches tall.

.75 litres of fine vodka

the type which you would want to drink by itself. I used Prairie vodka, an organic vodka made around Benson Minnesota, its available in many liquor stores in the metro area.
Instructions
Clean the chanterelles of debris using a small brush or if they are really filthy, by rinsing quickly under some cold running water.

Combine the chanterelles and the vodka in an air-tight, nonreactive container, like a glass mason jar. An alternate method would be to just stuff the mushrooms in the bottle after taking a healthy pull, but then they'll be harder to remove.

Store the mushroom vodka in a cool place away from sunlight for at least 1 week, then refrigerate to keep the aroma and enjoy. The vodka flavor will eventually smooth out and get mild.