I have a tendency to miss some berries during foraging season. Black caps (Rubus occidentalis) especially I love, but never seem to take the time to pick enough. This year I found a great new patch though, so I made sure to try a few new things that weren't jam or jelly.
Wild berry cassis was one of the best things I've done with blackcaps so far, and it's a great way to put up berries with relatively no sugar. The finished product is ridiculously good—a sort of berry-booze concentrate you can use as a flavoring agent in cooking, as a mixer for drinks, or, as a component of something like a compound booze, mixing it with other flavored alcohols you've made to craft really cool, locally inspired creations that reflect where you live.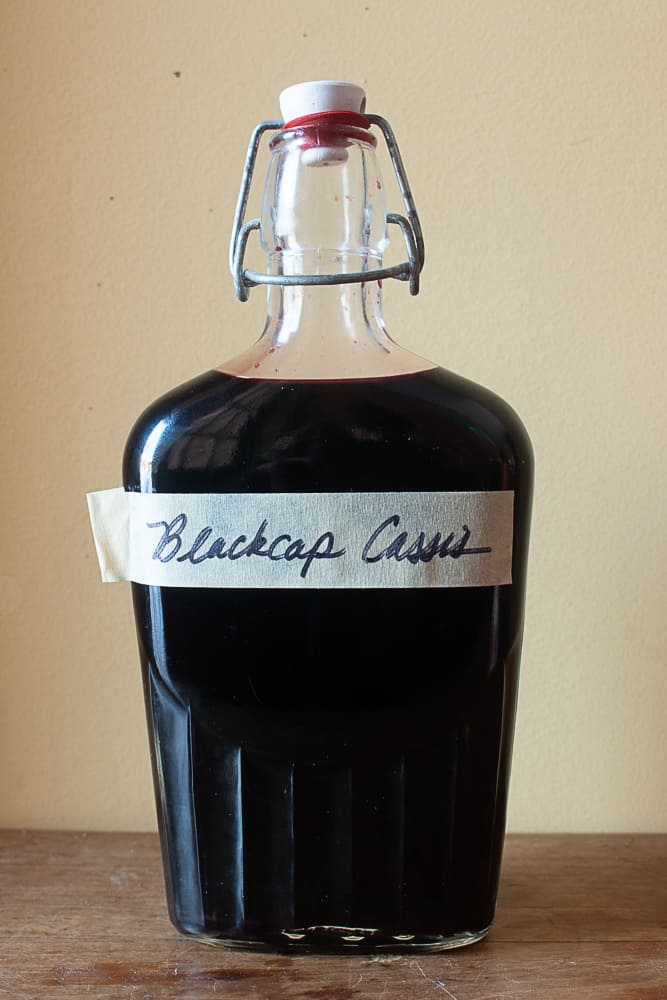 Traditionally, black currants are used to make cassis, and some people might say that black currants should only be used to make cassis, but lets be honest here: as long as you have ripe, delicious berries, you can use all sorts of things, and all it takes is a bottle of decent brandy, a little maple syrup, and some time. I used black raspberries for mine, but some other good choices would be:
Good fruit for a DIY Cassis / Liqour
Aronia berries / Chokeberries
Regular raspberries
Serviceberries
Chokecherries
Wild black currants
Wild Grapes
Wild blueberries
Sandcherries
Mulberries, especially dark ones
Sloes (Prunus spinosa)
Huckleberries
Once you have your fruit, the rest is easy, just take the berries or whatever else, put them in a container, and cover with alcohol and a little maple syrup or sugar. Then comes the expensive part: time/waiting. I've made a few of these, and I really liked the flavor after at least 2-3 months of maceration.
Can you do anything with the leftover fruit?
When you see how much fruit goes into making a batch of this, you'll probably wonder if there's anything that you can make with the fruit after the maceration. The answer is, possibly. Soft fruit without noticeable stones or seeds like blueberries, currants, serviceberries, or aronia could probably be cooked with some sugar and water to refresh them and worked into a puree.
Fruit with seeds like our black raspberries, or mulberries will be noticeably dried out after the maceration process. In other words, after soaking in booze, the fruit is spent.
I discard the fruit after maceration, since I'm constantly working through different foods anyway, and I need less things in the "hopper" not more. But, if you're feeling industrious, try dehydrating the spent fruit until cracker dry, then grinding into flour sifting to remove some of the stones/seed pieces and adding the flour to baked goods.
You won't get every piece of seed or stone out, but it's not a big deal, and the gentle crunch it will add to things can be very nice. Try adding spoonfuls to pancakes and muffins, or quickbreads like banana.
Kir Royale: The finest thing Cassis can become?
There's all kinds of things you can put barely sweet, intensely fruity booze into, and I'm going to list a few for you, but a Kir Royale is the first thing I reached for, since there's just something about a champagne cocktail.
Considering that the past 8 months or so we've all been going through a global pandemic, flavored alcohol drinks and special occasions are something we can all probably use a few more of in our lives.
The kir is simple, just ½ oz of your cassis in a champagne flute, filled with champagne. I like ice cubes in my champagne and wine, heretical as it may be.
At your house, you do with your berry concoctions as you see fit. The finished product makes a great start or end to a meal, and the scent of the berries wafting out of the glass (the word hypnotizing comes to mind) will tempt you to fill, drink, fill, and repeat.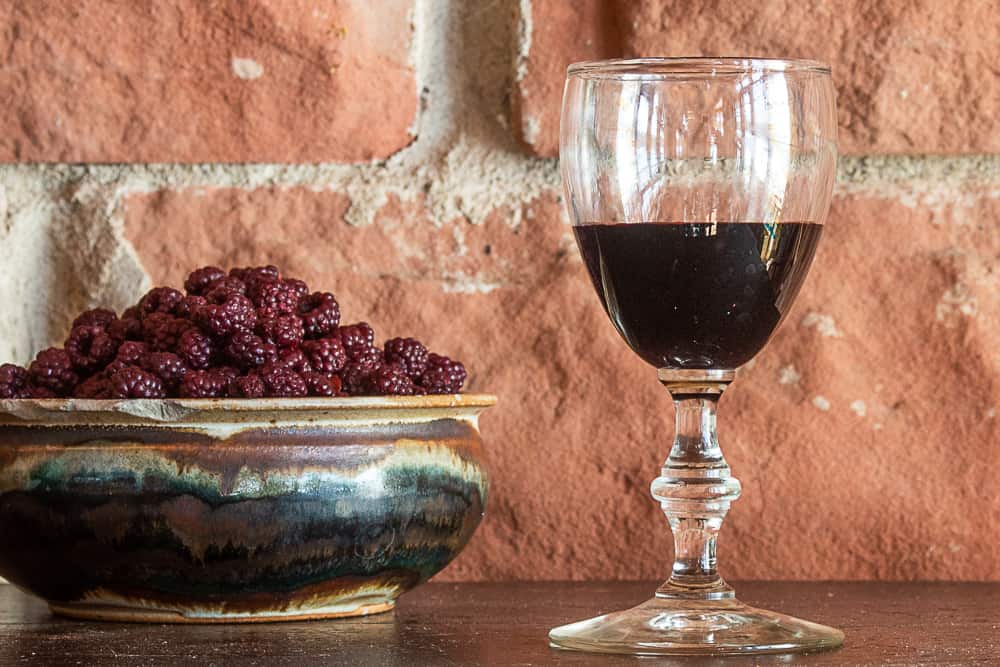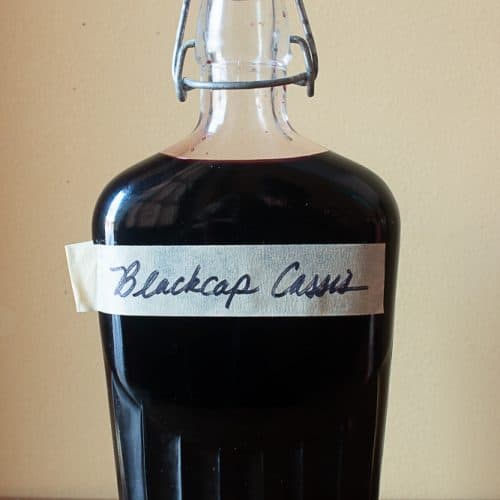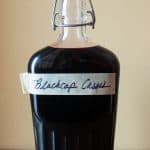 Print Recipe
Black Cap Raspberry Cassis
Homemade cassis flavored with black cap raspberries and a touch of maple syrup.
Ingredients
1.5

lbs

blackcap raspberries or other berries

750

ML

bottle of brandy

not too cheap, not too expensive*

½

cup

maple syrup

or to taste
Instructions
Mix the brandy and maple syrup.

Pick the berries over for debris or any foreign particles.

Cover the berries with brandy and maple and store for a few months (I'd suggest at least 2-3) in a non-reactive container in a cool dark place.

Taste the cassis from time to time to check on it's progress.

When you're pleased with the flavor, strain without pressing on the berries, then bottle the liquor.
Notes
*Something like E and J is fine here, just don't use some bottom of the barrel pain thinner.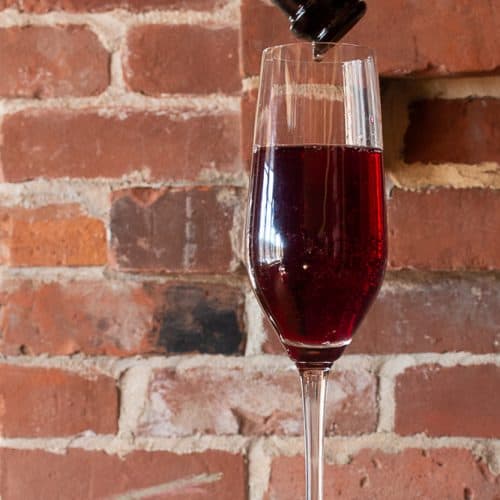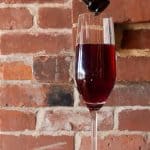 Print Recipe
Black Raspberry (or another berry) Kir Royale
A classic Kir Royale flavored with wild berry cassis
Ingredients
½

oz

1 tablespoon Wild Berry Cassis

5

oz

champagne or prosecco

chilled
Instructions
Pour the cassis into champagne flutes, then pour the champagne or prosecco in, tilting the glass at a (roughly) 45 degree angle.
Notes
*Add some ice cubes if you're a filthy heathen like me, or if you bring the champagne back from the store, can't wait to drink your cassis, but don't like warm champagne.