A simple ragout of wild mushrooms was one of the recipes on the saute station back in the day when I was working at the now-closed Trattoria Da Vinci under Chef Angelo Volpicelli. Angelo was super talented, barely spoke English, and had owned his own restaurant in Rome for 12 years. Twelve years is a long time in the U.S. for a restaurant to survive, and the same thing goes for Europe.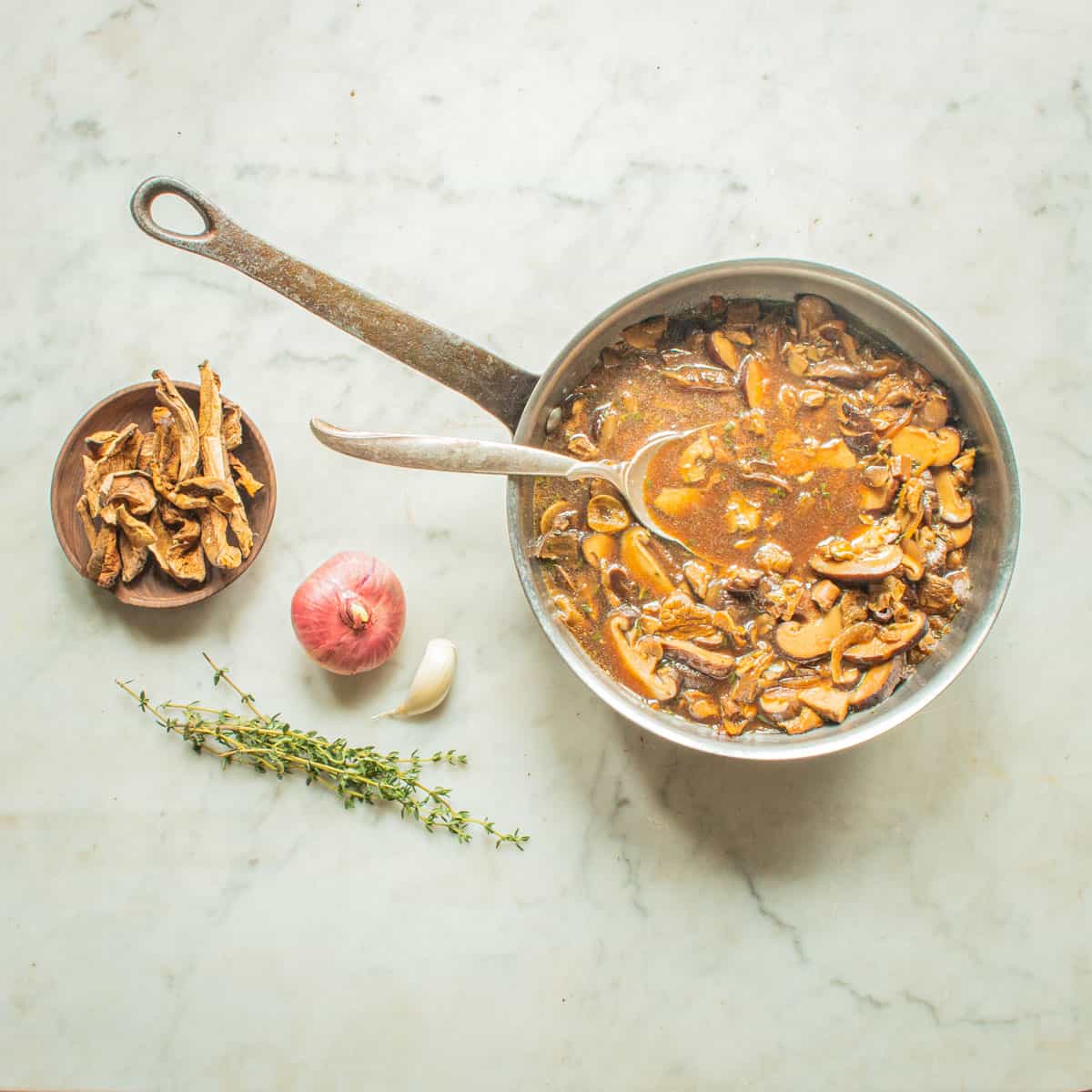 I owe Angelo a huge debt for a number of reasons, not the least of which was putting up with my arrogant, impulsive, occasionally insubordinate twenty-something self. 'm lucky he didn't fire me in the first 6 months, especially after I once put salt instead of sugar in a restaurant-sized batch of tiramisu.
Angelo was very picky about who cooked what, but, gradually, here and there, I was shown how a few things should be made. The mushroom ragu I always loved to make, it seemed magical how a few simple ingredients came together to make one of those things that you can only describe by saying the sum is greater than it's parts. Essentially, the ragu functioned as a sort of extender for European dried porcini.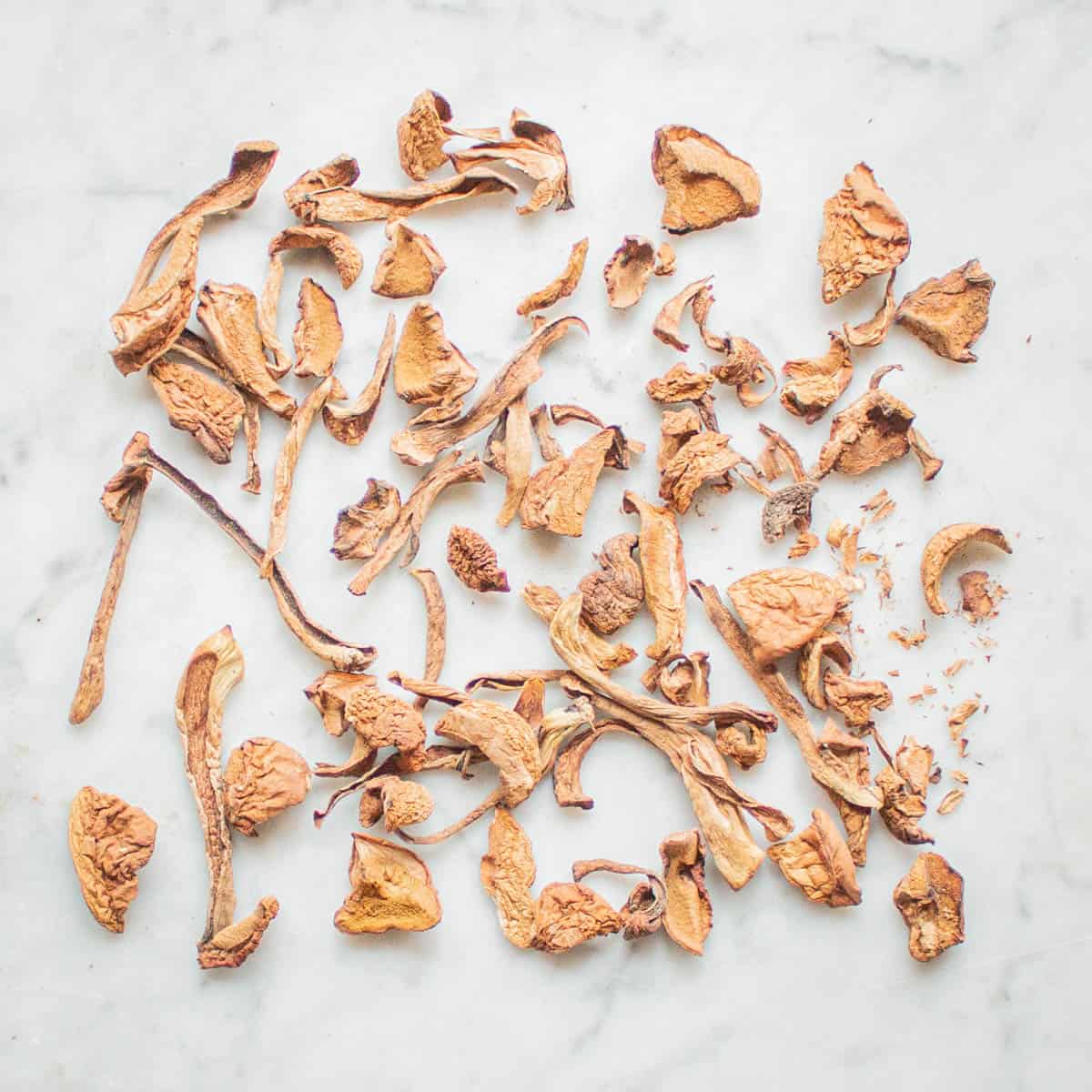 To make it, you soak some dried porcini in water, then sweat some sliced red (interestingly not yellow) onion, fresh mushrooms (whatever kind, mostly we used crimini and portobello mixed) along with garlic, half a lemon, and a sprig of rosemary.
The resulting stewed mushrooms tasted richly of porcini, and their aroma permeated the whole thing. For service, we would use the ragu in a number of ways, and it was really convenient to have around.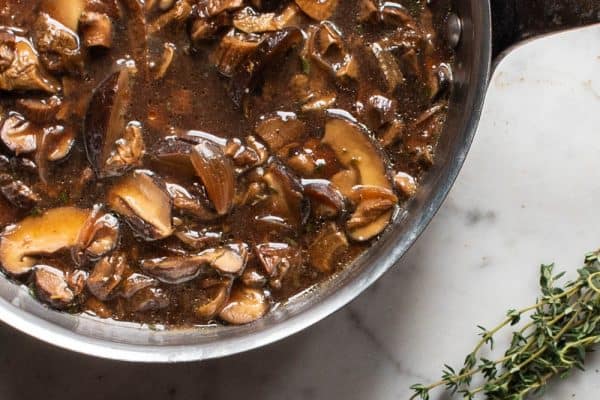 How to use
Hands-down one of the best uses is warming up the ragu and spooning it as-is (or embellished with cream) over a bowl of steaming polenta, preferably with a good handful of parmesan thrown in. Add some wilted greens and it's a meal.
Adding the stewed mushrooms to any pasta is a really great way to use it. They will be great anywhere their juices can be incorporated into the final dish.
Risotto with mushrooms is easy. Just make a white risotto, and fold in as much mushrooms and liquid as you'd like.
We had an "add mushroom option". Since you can't overcook mushrooms in liquid, if someone wanted to add mushrooms to a dish, trofie pasta with pesto, for example, we would just add a spoonful of the ragu to the typical pasta. Easy up-sell.
One of the best ways to use the ragu was added to a spicy penne arrabbiata, especially when crisp pancetta was folded into it.
Pan sauces. Since part of the magic of the ragu is that it's juicy and liquid, we would often add it to sauces for things like veal and chicken scaloppini.
We also added it to a dish of baked focaccia that ate a bit like pizza. Take a square of foccacia about the size of a saucer or a 5in x 5inch square, cut the square in half horizontally. Cook the mushrooms in their juice down with some cream or bechamel sauce. Smear pesto on top of the focaccia, top with sliced tomatoes, finally the mushroom bechamel and shredded parm or mozz on top. Bake until browned and bubbly, cut into triangles and eat as an appetizer.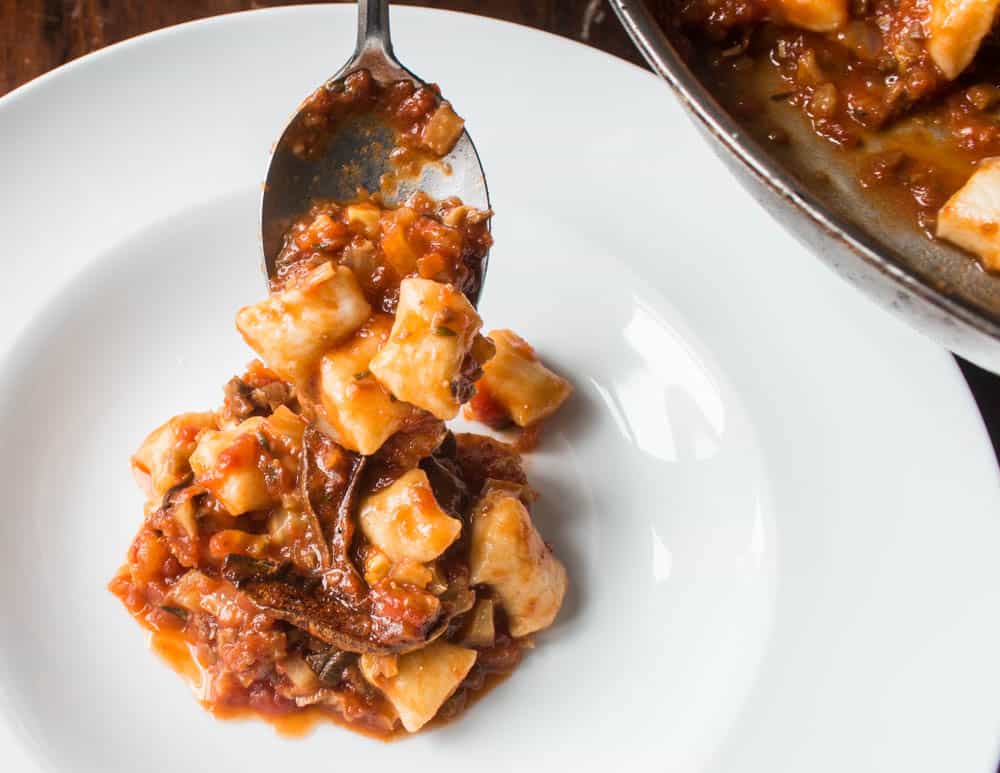 Storing the ragu at home
This recipe makes a decent amount of ragu--more than you'll probably need for one meal, so it's a good thing to think about different ways to store it. Back at the restaurant, we would make this in gallon batches every week, and the restaurant did a brisk business, so we never worried about it going bad.
But, at home, it can be a different story. Freezing half of the ragu can be a good idea, as is freezing the ragu in ice cube trays. Ice cubes of mushroom ragu (or large chunks from freezing in a different form) are great since they can go directly from the freezer to the pan.
What kind of mushrooms can I use to make this?
This is the best part. At the old restaurant, we used only European porcini, and, as I mentioned, it functioned as an extender for them and their strong flavor. My wild mushroom ragu here is a hybrid, and takes into account the variability of dried wild mushrooms.
What that means, is that I use less fresh mushrooms than the original recipe would have called for, since the dried mushrooms I use are (mostly) not as strong flavored as European porcini, which are incredibly potent.
But, dried mushrooms are only the beginning of how you can be creative here. The original recipe would use fresh portobellos and crimini, and that's fine in the off-season, but during mushroom season you may want to use fresh wild mushrooms, and I recommend that. Here's some ideas of mushrooms you can use and ways you can switch up the basic recipe.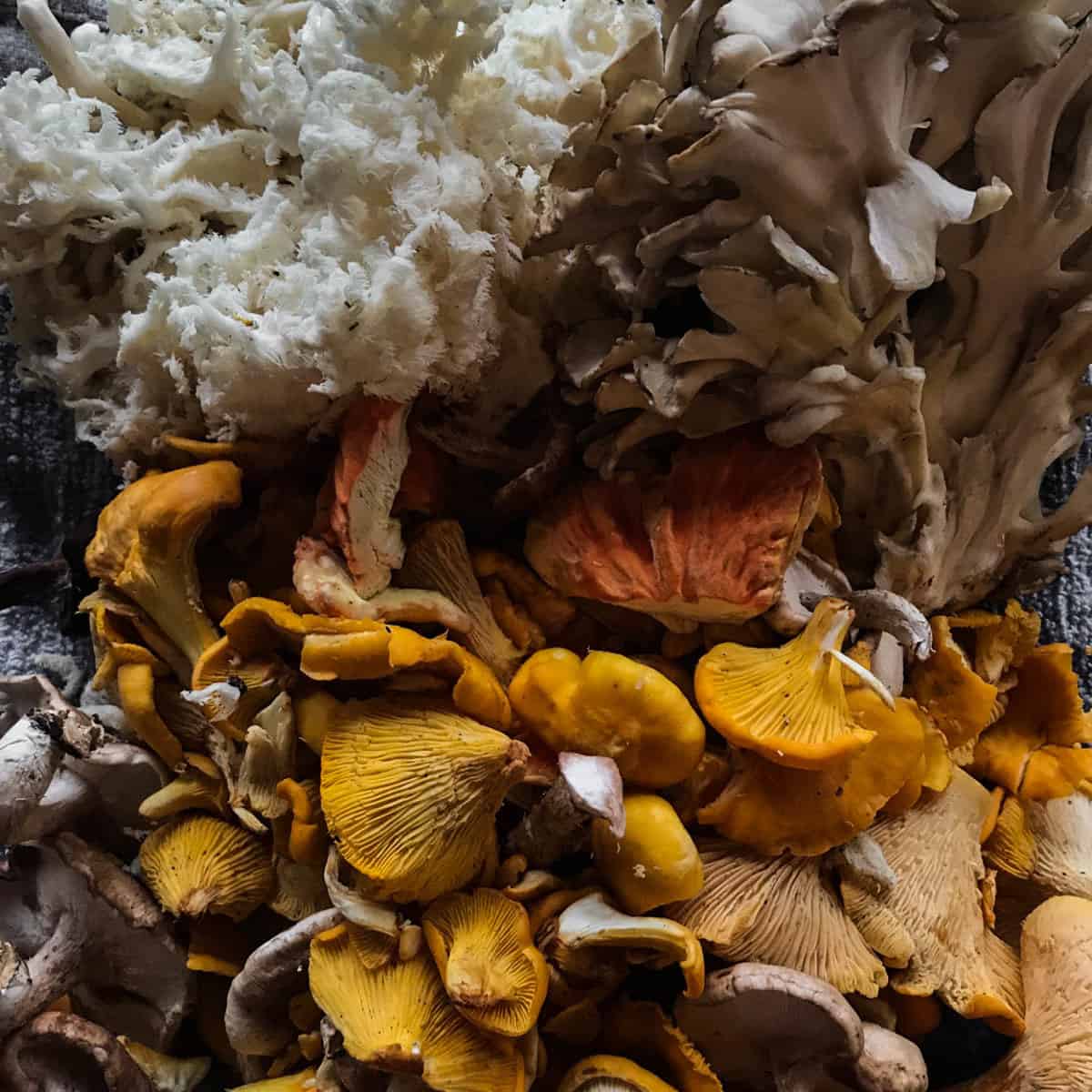 Dried wild mushrooms
This is a great way to use up small bits and odds and ends, crumbs at the bottom of the jar of a mushroom mix, etc
Porcini
Morels (their strong flavor shines here)
Slippery jacks (a good way to hide these is in a blend)
Leccinum
Any and all dried random boletes, like Boletus pallidus, Hemileccinum subglabripes, etc
Fresh wild mushrooms
Using a blend is great here, especially for those times when you have a lot of different mushrooms together
Whole small chanterelles
Hygrophorus russula
Agarics like meadow mushrooms
Hen of the woods sulphur shelf, Ischnoderma, or other mushrooms that can have a large weight/volume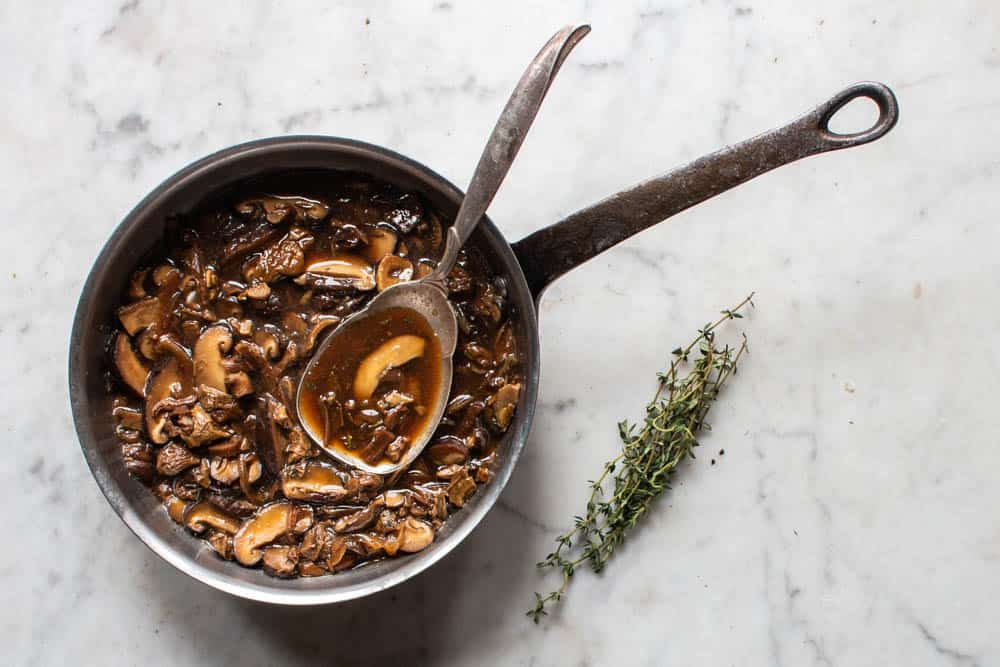 More
How to Dry or Dehydrate Wild Mushrooms
Vegan or Vegetarian Mushroom Recipes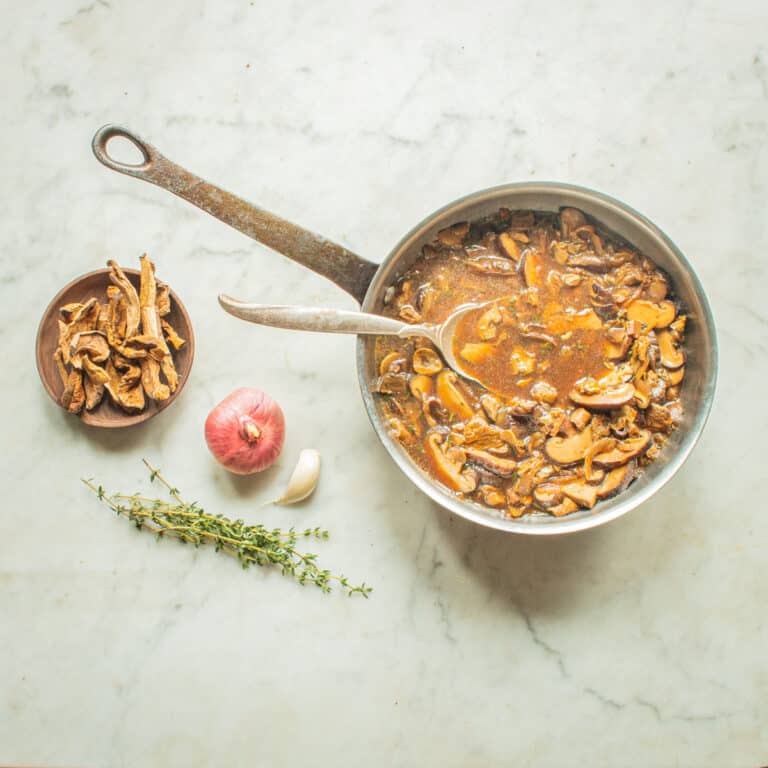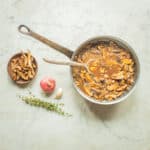 Print Recipe
Dried Wild Mushroom Ragout
A simple ragu of dried wild mushrooms and fresh mushrooms that can be incorporated into many different recipes. Yield: about 3 cups.
Equipment
1 3 quart sauce pan or satoir pan
Ingredients
8

oz

fresh shiitake mushrooms, or substitute wild mushrooms

thickly sliced

30

grams

roughly 1 cup dried wild mushrooms, like porcini

1

large clove of garlic

thinly sliced

¼

cup

dry white wine

¼

cup

cooking oil

like olive

½

teaspoon

sea salt

plus more to taste

2

cups

vegetable or meat stock

or water

¼

cup

thinly sliced shallot or red onion

1

teaspoon

chopped fresh thyme or rosemary

2

one-inch thick strips of lemon zest

peeled with a vegetable peeler
Instructions
Rehydrate the mushrooms in 1 cup of stock or water, then agitate to remove grit, remove the mushrooms and coarsely chop, then strain the stock and reserve.

Sweat the shallot and garlic in the oil for 2-3 minutes, then add the fresh mushrooms, herbs, salt and pepper and cook until the mushrooms are wilted. Add the rehydrated, dried mushrooms.

Add the wine, cook until reduced by half, then add the mushroom liquid, lemon zest and reserved stock and cook for 15 minutes, or until the mushrooms are completely cooked.

Discard the lemon zest, cool and store in the fridge.
Serving
To reheat the ragu and serve by itself, I like to whisk in a little unsalted butter or heavy cream to thicken it slightly and add body, but, it can be nice all by itself, like if you're serving it alongside a bowl of freshly cooked polenta. To refresh the flavor, hit it with a dash of fresh lemon juice before serving.

The ragu will last for 5 days in the fridge and can also be frozen for long term storage.
Notes
Originally this recipe was perfumed with a sprig of rosemary and whole halves of lemon. Since this is a very small batch, I use a more focused amount of herbs and lemon zest here to make sure the flavor comes through. Feel free to adjust things around a bit, but I wouldn't remove the herbs, shallot or lemon since they're part of what give this recipe it's character.
Nutrition
Serving:
4
oz
|
Calories:
119
kcal
|
Carbohydrates:
7
g
|
Protein:
1
g
|
Fat:
10
g
|
Saturated Fat:
1
g
|
Polyunsaturated Fat:
3
g
|
Monounsaturated Fat:
6
g
|
Trans Fat:
0.04
g
|
Sodium:
198
mg
|
Potassium:
201
mg
|
Fiber:
2
g
|
Sugar:
1
g
|
Vitamin A:
0.05
IU
|
Vitamin C:
0.3
mg
|
Calcium:
3
mg
|
Iron:
0.3
mg