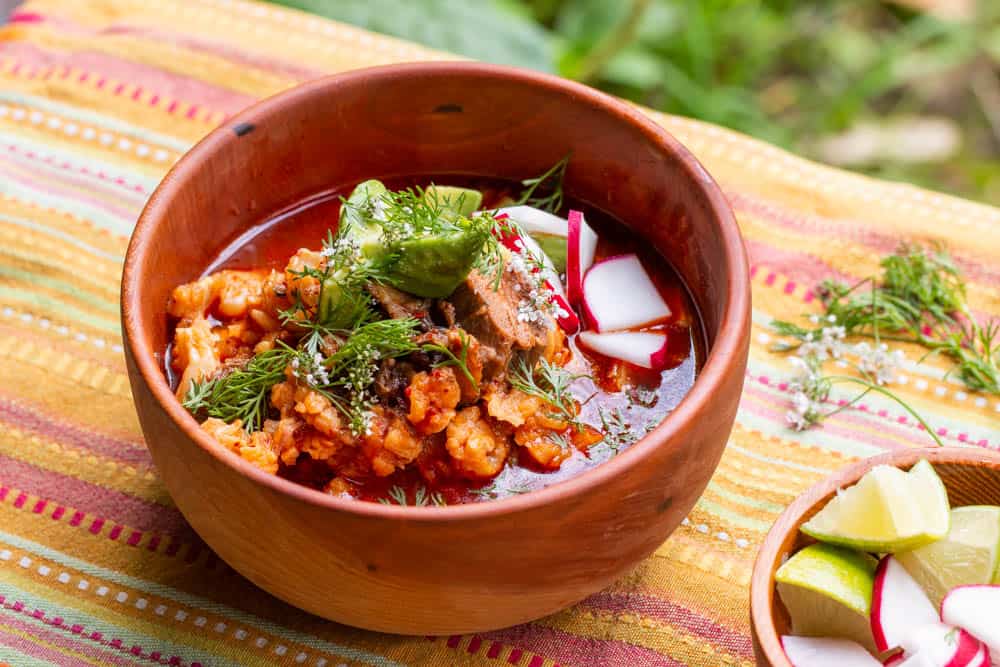 Some people might say an image of an animal head is unappealing, down right spooky. What I think is unnerving is the fact that we're disconnected from where our meat comes from. More and more, and I feel like most Americans just can't deal with the fact that the meat they eat had a life, let alone a face.
To me, the act of cooking, eating, and, (gasp!) enjoying a head is a kind of fist-pump in the air for sustainable, mindful eating, and a nod to learning old things. Some people will turn green just considering the thought of eating something made with a head, and that's fine—we're not going to run out of boneless white meat, fake meat, fake boneless white meat, or any permutation of the latter food scientists can come up with anytime soon. I can assure you though, heads are useful and they can be delicious, especially in soup, which brings us to the tale of a ram called butthead.
Shepherd Song: Purveyors of Fine Grass Fed Lamb and Goat
A few years ago my friends at Shepherd Song Lamb and Goat Meat donated a couple rams to the farm to mate with some ewes they'd previously given us that were too small for their needs (but very tasty, a small icelandic breed).
One of the rams was nice and docile, the other ram, was a butt-head, also known as a ram that will ram you. As funny as it sounds, a ram that has a tendency to ram things with it's head or be aggressive can be dangerous, and Jon—patriarch of the farm and experienced sheep wrangler, has had the broken bones to prove it.
So, for the good of the herd and human pelvic bones, mr. butthead had to go. There was a good amount of meat on him, and that meat wasn't from just any run of the mill wool sheep. Butthead was an heirloom breed called Isle d'France, a species of sheep designed for meat, not wool, as is the case with most commercial lamb.
The product Shepherd Song makes is best grass-fed lamb and goat I've had the pleasure to cook, so I try not to waste anything. After dispatching, the meat is hung, since it's easier to work with chilled and allowed to dry out for a few days. With no meat to cut up immediately, the "first harvest" as I call it, usually consists of a few different things: blood, caul fat, offal, and, the head.
Lamb heads: natures perfect soup bone
Think about it, lamb heads might as well have been created to make soup. In my world, the best meat soups and broths are made not from only bones, or only meat, but a combination of the two—something I learned when I tried to use only cheap marrow bones for stock back in the day. Clean-ish bones, even roasted for multiple hours on low heat will still give a pallid stock that's rich with gelatin, but lacking the dark cast created by caramelized proteins found in muscle.
Posole is a great thing you can make with a head, and after you puree some guajillos and vegetables into broth and simmer it with dried hominy and herbs, no one is going to think for a second that they're eating anything but a fine bowl of soup.
This is really just Mexican comfort food modeled after what I order at one of my favorite hole-in-the-wall restaurants in the Twin Cities. At it's core it's nothing more than meat broth with hominy, chilis and a few other things, with a crowing glory of garnishes to pick from so each person can compose their own bowl like a choose your own adventure book. Don't skip the avocado.
Happy Halloween.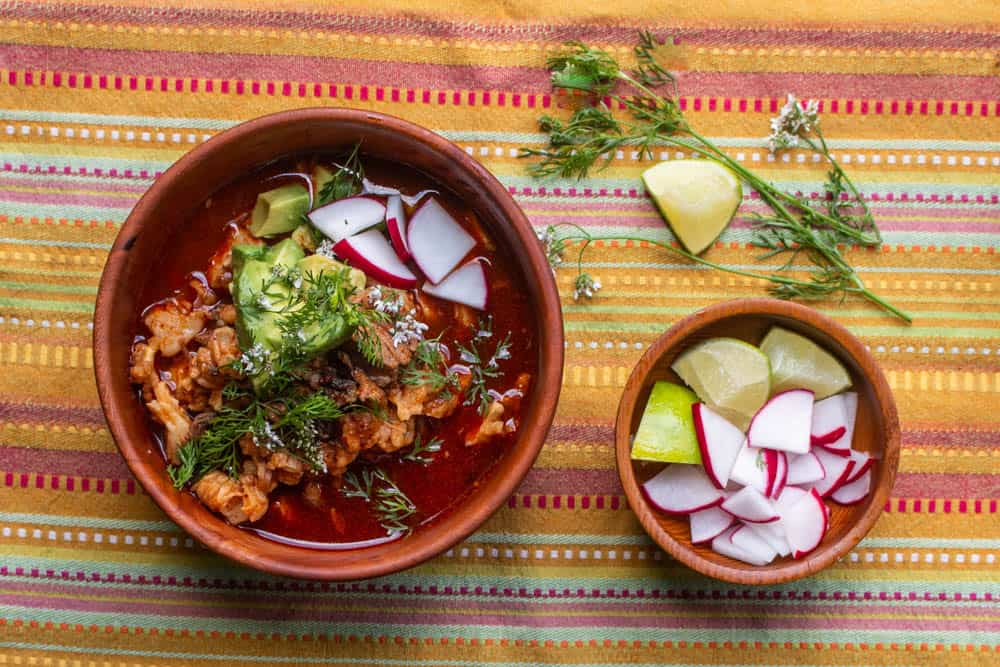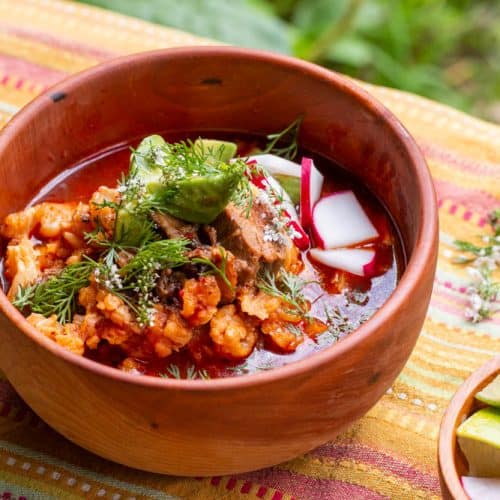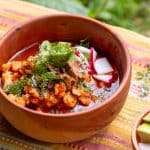 Print Recipe
Smoked Lamb Head Posole
Posole made from a smoked rams head is a delicious way to enjoy a lesser-appreciated cut. Serves 6-8
Ingredients
Soup
1

cup

or 8 ounces dried Mexican white hominy

1

ram or sheep's head

with tongue, preferably an older, larger hogget or mutton since they contain more meat

1

lb

lamb stew meat, diced ½ inch

optional

1

large yellow onion

diced ¼ inch, about 3 cups

3

large cloves fresh garlic

minced, about 1 tablespoon

10

cups

water

2

teaspoons

fresh ground cumin

2

tablespoons

cooking oil or lard

Kosher salt

to taste

3

oz

dried guajillo chilis

3

dried bay leaves

2

teaspoon

dried Mexican oregano
Garnishes (pick and choose a few)
Fresh lime wedges

Sliced radishes

Diced avocado

Shredded cabbage

Grated queso fresco

Chopped fresh cilantro to taste
Instructions
Smoke the head and make the broth
Season the rams head with salt and pepper and smoke in a smoker at 250 for 2 hours, then cool*.

In a stock pot large or wide enough to fit the head, sweat the onion and garlic for 5 minutes until translucent. Add the heat, hominy, bay leaves, dried oregano, additional stew meat if using and water, cover and bring the mixture to a simmer, then cover and cook for 3-4 hours.

The head may not be completely covered with water, so you'll need to turn it occasionally to ensure even cooking. Cooking in a crock pot, depending on the size, would be great too, and could require less liquid to cover the head as the shape of the cooking vessel is similar to the head.
Building the soup
Meanwhile, toast the chilis in a cast iron skillet in the oven at 300 for 20 minutes, then cool, break open, and discard the seeds.

Put the chilis in a blender or food processor with 1.5 cups hot stock from the posole, and puree until smooth, then add back to the pot.

When the meat is tender and the hominy has started to pop, remove the head and cool on a cutting board.

Using gloves, remove the meat from the head when cool, including the tongue, and chop coarsely, peeling the tongue beforehand.
Serving
Add the chopped meat back to the soup. If the soup seems too brothy, reduce it a bit more, if it's looking dry, add a little liquid until you like it. The soup should be brothy. Season to taste with salt, then serve, with garnishes on the side.
Notes
*I like throwing my heads in the smoker right away and then freezing them. If you don't have a smoker you could just roast them for the same amount of time.