Here's a great recipe for an evening after a squirrel or rabbit hunt, especially if you have nice fat grey squirrels around like I do. When I butcher a deer or lamb, I usually save some offal, but, with limited freezer space I do have to pick and choose, and I don't usually keep every single thing. Small game like squirrel, pigeon and rabbit are a different story though.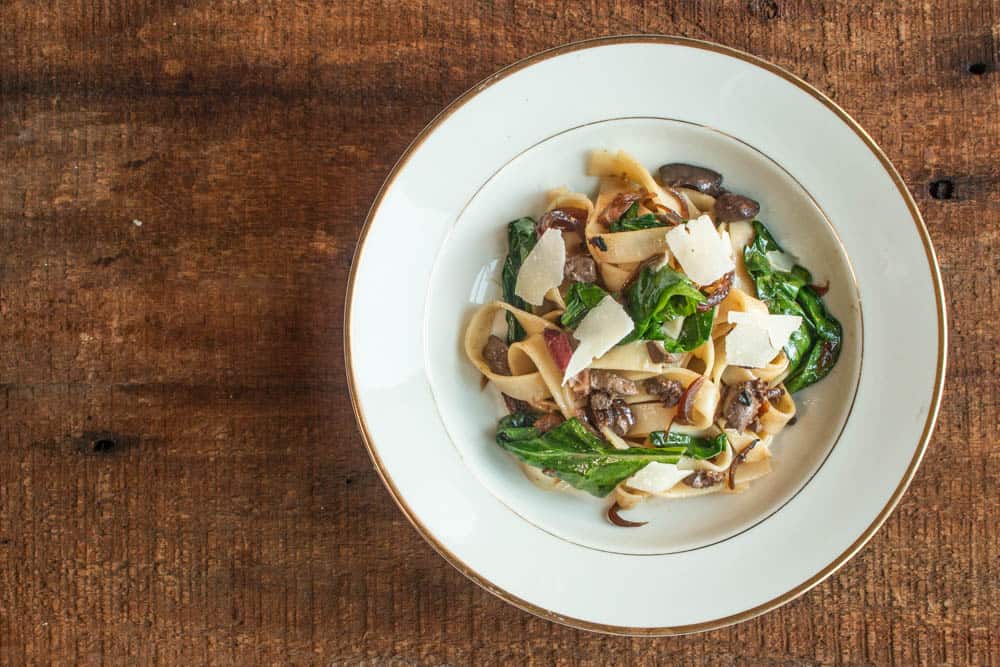 If you haven't had them, the wee giblets of those smaller animals is a different creature from large ungulates. If you generally shy away from organ meats, know that the wobbly bits of little creatures is mild and delicious, not to mention that they take up a fraction of the space compared to the organs of the bigger animals. If you you find yourself with some, a bowl of Tuscan inspired fettuccine with chopped giblets, spinach and caramelized onions is a good thing to make with the, regalie, or "gifts" as the choice bits are called.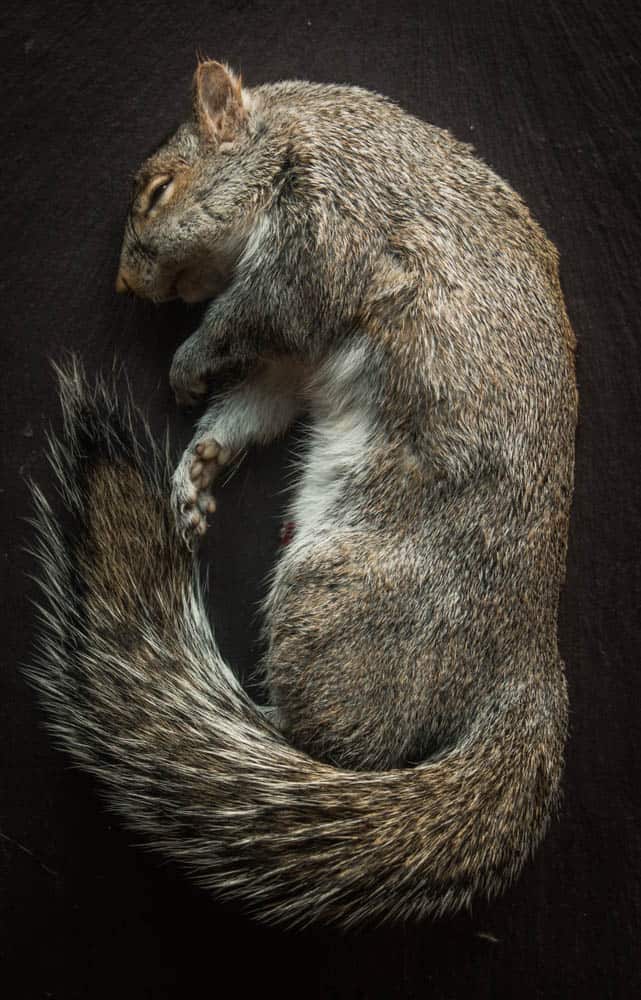 Squirrel, rabbit and pigeon offal is mild and delicious
At the risk of sounding repetitive, I need to really emphasize one of the big takeaways of this post: small game organs are delicious and nothing like bigger animals. Heck, I'd put money on being able to serve squirrel, rabbit, and pigeon organs to children they're so mild.
The kidneys of rabbits particularly might be my favorite and I used to save them for myself when we would get rabbits in at one of the restaurants I used to work at.
When I got back home from my shift, I'd treat myself to a couple cold beers and a big sliced of grilled bread topped with raging hot deviled kidneys with a sauce of reduced stock, butter, cayenne and mustard.
The fettucine is loosely based on the classic Tuscan pasta with chicken livers, which, if you don't have small game livers, are fine too. The key is cooking everything together quickly, and not allowing the giblets to overcook and dry out.
While a lot of similar recipes rely on cream this one is a simple, almost sauce-less pasta, with a splash of chicken stock, and just a hint of dairy in the form of sweet butter and parmesan folded in at the end. I hope it can inspire you the next time you have access to some small game goodies.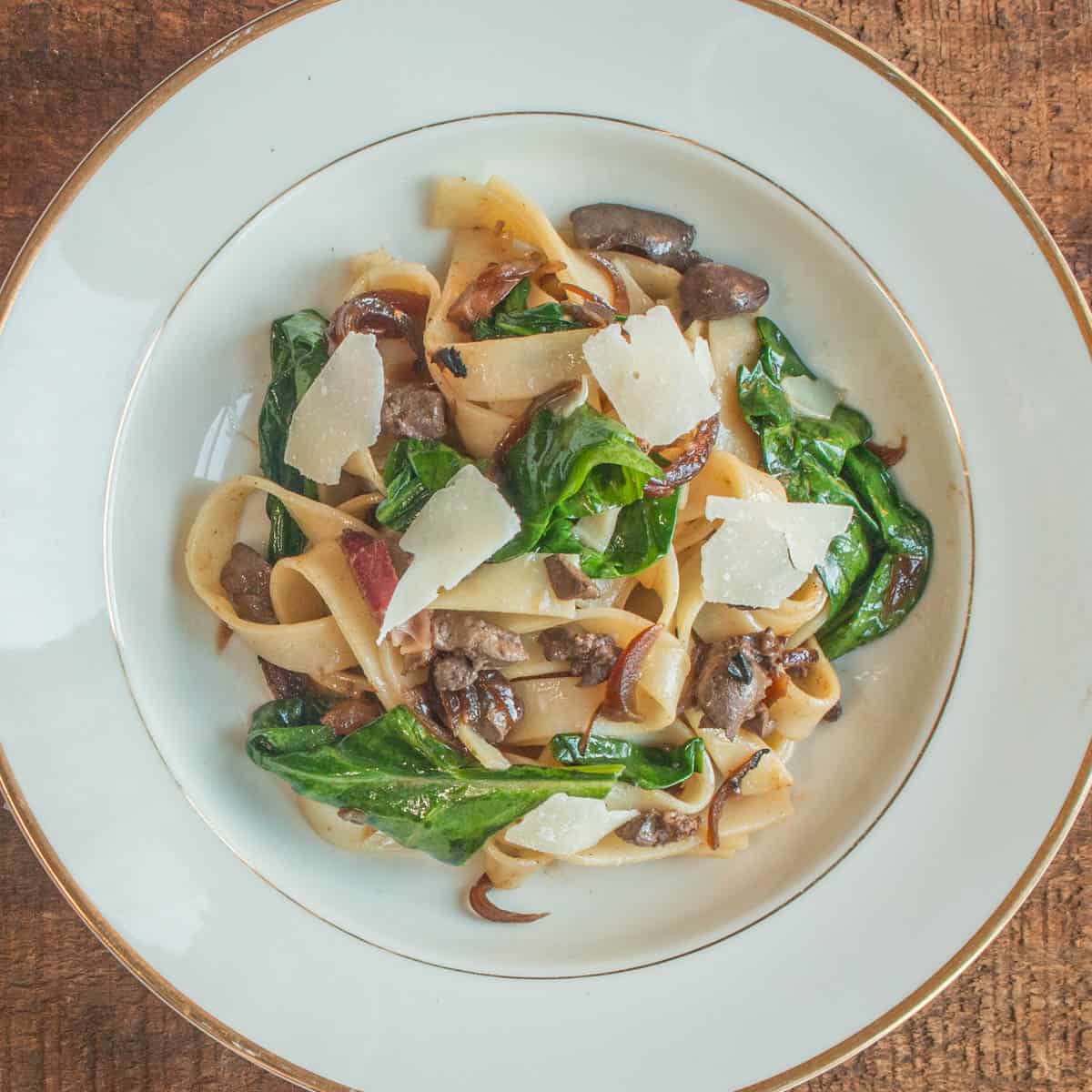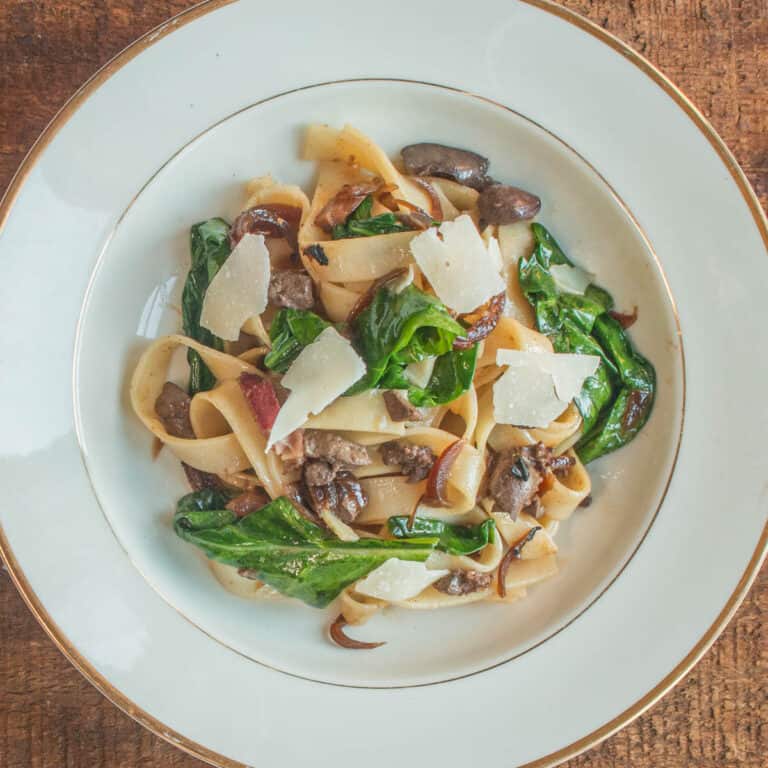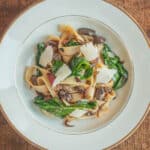 Print Recipe
Squirrel or Rabbit Giblet Fettucine
Fettucine tossed with a Tuscan-inspired sauce of giblets, bacon, spinach and sweet butter. I don't add any cream to this recipe, but you could. Serves 2
Equipment
1 10 inch saute pan

1 Pasta pot
Ingredients
5

oz

fresh fettucine

or 4 oz dry

2

oz

bacon

1 slice sliced ½ inch

3

oz

squirrel giblets

or the giblets from 3 large squirrels

Handful of fresh spinach

Fresh grated parmesan

to taste

3-4

fresh sage leaves

slices

Splash of dry white wine

¼

cup

squirrel or chicken stock

2

tablespoons

caramelized onions

Kosher salt and fresh ground black pepper
Instructions
Soak the giblets in milk overnight (optional).

Pat the giblets dry, then chop coarse.

Bring a couple quarts of lightly salted water to a boil. Meanwhile, render the bacon until crisp, then add the sage, giblets, toss for a minute and season with salt and pepper.

Add the caramelized onions and wine, reduce until the pan is nearly dry, then add the squirrel or chicken stock and bring to a simmer. Add the spinach to the pan and wilt.

Drain the pasta and toss, adding the butter and a small handful of parmesan and mix to incorporate.

Taste and adjust the seasoning, divide between two warmed pasta bowls and serve.
Notes
*Rabbit, pigeon, chicken, and other offal can be substituted
Nutrition
Serving:
6
oz
|
Calories:
447
kcal
|
Carbohydrates:
53
g
|
Protein:
21
g
|
Fat:
16
g
|
Saturated Fat:
5
g
|
Polyunsaturated Fat:
3
g
|
Monounsaturated Fat:
6
g
|
Trans Fat:
0.1
g
|
Cholesterol:
225
mg
|
Sodium:
233
mg
|
Potassium:
349
mg
|
Fiber:
3
g
|
Sugar:
2
g
|
Vitamin A:
4766
IU
|
Vitamin C:
9
mg
|
Calcium:
33
mg
|
Iron:
5
mg