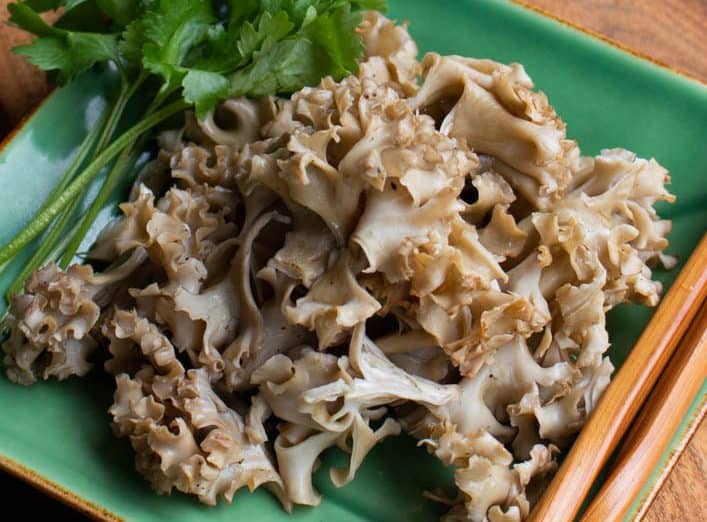 Oh how I love cauliflower mushrooms. Sparassis radicata, Sparassis crispa--I don't care if they come from the East Coast, West Coast, or Timbuktu, all I know is that they don't grow in the Midwest, for all intents and purposes.
Once in a while, when our fall mushroom season winds down in Minnesota, I might order a few, well, ok, I might order 10 lbs and eat them for a month occasionally to sate my craving.
Cauliflower fungus is special in the way of polypores as, unlike chicken of hen of the woods, they're delicate, fluffy and wilt down to a fraction of their size when cooked. With that in mind, you can treat them a lot differently than some of their other tree-eating cousins. Steaming them is a good example.
With chicken and hen of the woods I usually like to brown them a bit, hens even more than chickens, part of the best part about cauliflower mushrooms is their frilly texture.
They don't necessarily need a hard sear, and, if you tried, it wouldn't work as they'd just wilt into a pile. That being said, I have a crazy-good recipe for seared cauliflower mushroom steaks, but it will be a while before I get that one posted.
Back to the steamed caulifungus with ponzu. This was just a simple app I came up with one day to enjoy their texture, and it couldn't be easier.
You cut the cauliflower mushrooms into pieces you can pick up with a pair of chopsticks, then steam until they're cooked (save the liquid underneath the steaming basket since it's a rich mushroomy nectar, too).
Afterword, you dip them in dueling cups of melted butter or ghee (or oil like toasted sesame) and ponzu sauce. It's really a pure, refreshing way to eat these mushrooms, and it puts their texture at the forefront.
Can you steam other wild mushrooms here?
Yes, potentially. Small, very tender clusters of hen of the woods could be nice, as would chewy slices of Hypsizygus ulmarius. Tiny chanterelle buttons could be nice too, as would any of the Hericiums.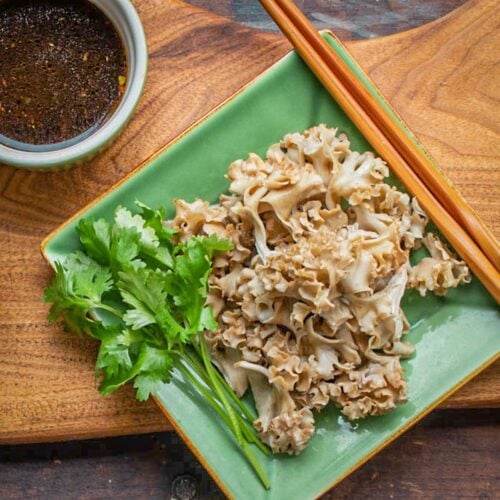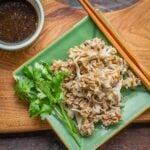 Print Recipe
Ponzu Sauce
A simple condiment made from soy sauce, fish sauce, sesame oil, lime zest and fermented hot sauce. It will make just about anything taste good.
Ingredients
Ponzu
¼

cup

soy sauce

1

Tablespoon

fresh lime juice

¼

teaspoon

grated garlic

¼

teaspoon

grated ginger

1

teaspoon

sriracha

½

Tablespoon

fish sauce

Zest of ¼ lime
Instructions
Combine all ingredients and mix well, put in a container with a tight fitting lid and refrigerate.
More
Cauliflower Mushrooms: The Noodle Fungus