Steaming mushrooms can be a good way to cook them if you need a break from sauteing with butter and garlic. Here I've used cauliflower mushrooms (Sparassis crispa) and they're probably my favorite, but many other mushrooms can be used.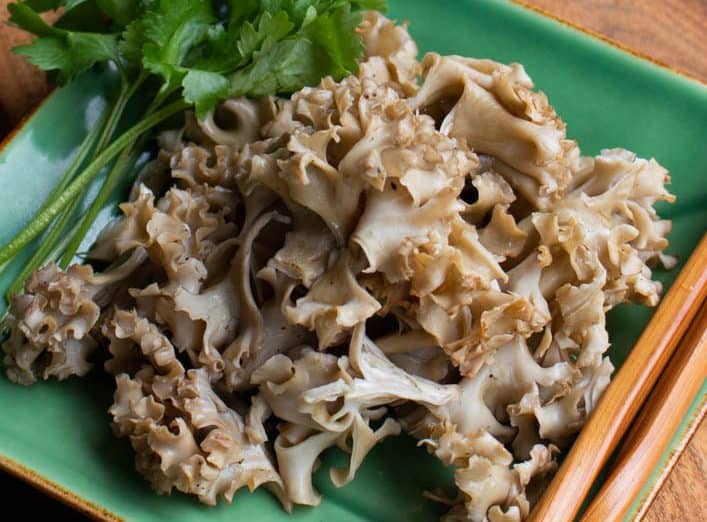 A way to preserve and cook
Steamed mushrooms can make a great, simple side dish. But, it can also be a good way to par-cook them for later as it's essentially steam pasteurization.
This is mostly useful for wild mushroom foragers. Some hunters will boil mushrooms before freezing, but that robs them of some flavor. Steaming mushrooms keeps in more of their natural juices.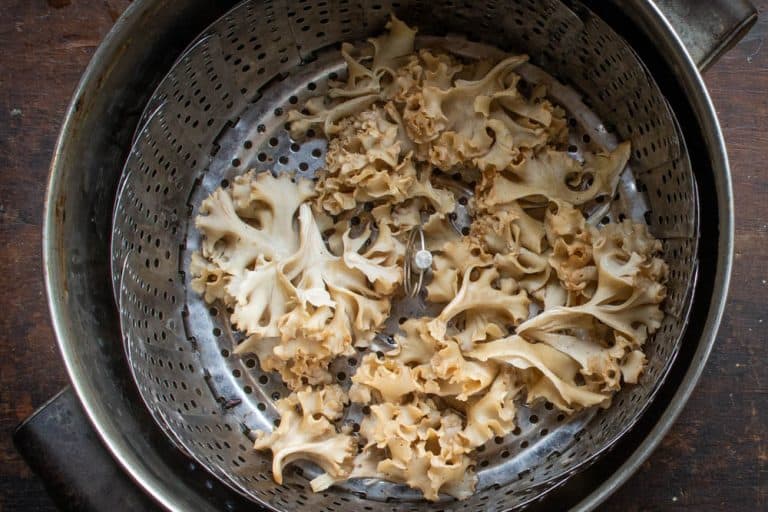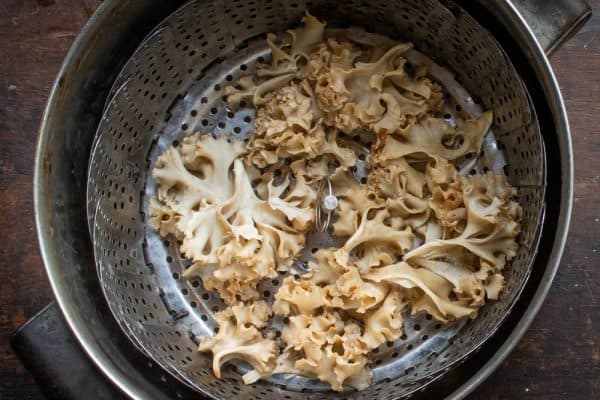 If you want to save the mushrooms for later after they're steamed, allow them to cool, then put them in a bag and vacuum seal.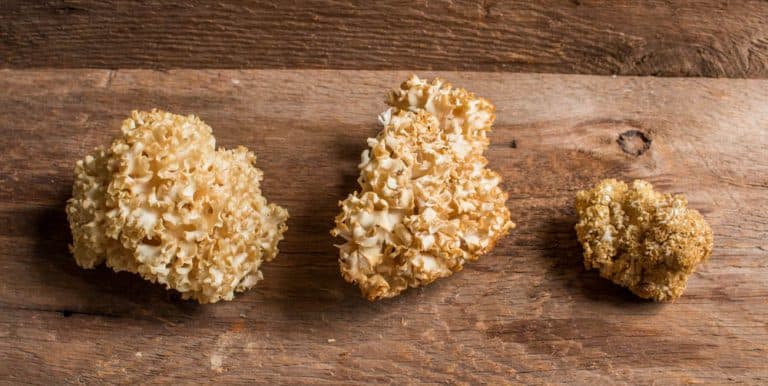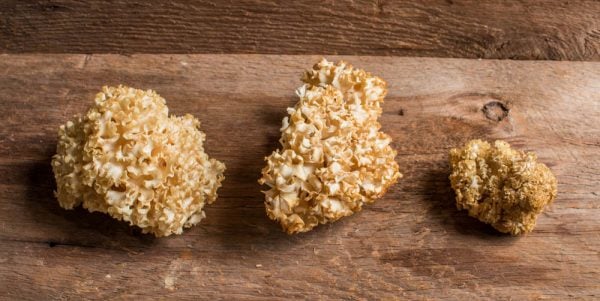 How to make it
Cut the mushrooms into pieces you can pick up with a pair of chopsticks, then steam until they're cooked (about 5-7 minutes). Save the liquid underneath the steaming basket since it's a rich mushroom nectar.
Afterword, you dip them in dueling cups of melted butter or ghee (or oil like toasted sesame) and ponzu sauce. It's really a pure, refreshing way to eat these mushrooms, and it puts their texture at the forefront.
Other mushrooms to use
This is one of my favorite cauliflower mushroom recipes, but you can cook just about any mushroom like this. Some of my favorite are chewy ones like pieces of king oyster, or meaty shiitakes. Button mushrooms work fine too if it's all you have. Hen of the woods mushrooms, cultivated or wild, are very good too.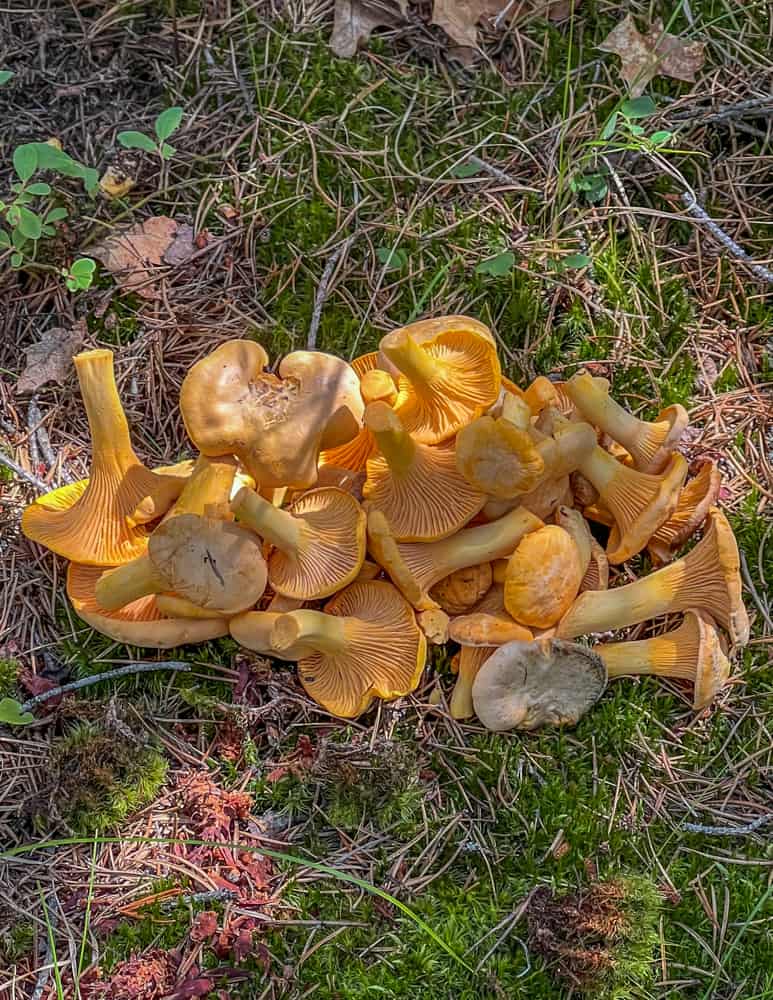 For wild mushrooms, look for very tender clusters of hen of the woods, slices of elm oyster, chanterelle buttons, or whatever you have that will keep a firm texture after steaming.
Variations
You don't necessarily have to use water to steam the mushrooms. In French cuisine, steaming, or cooking au vapor, is often done with white wine and fresh herbs or dried herbs instead of water. It can be a nice change of pace if you haven't tried it before.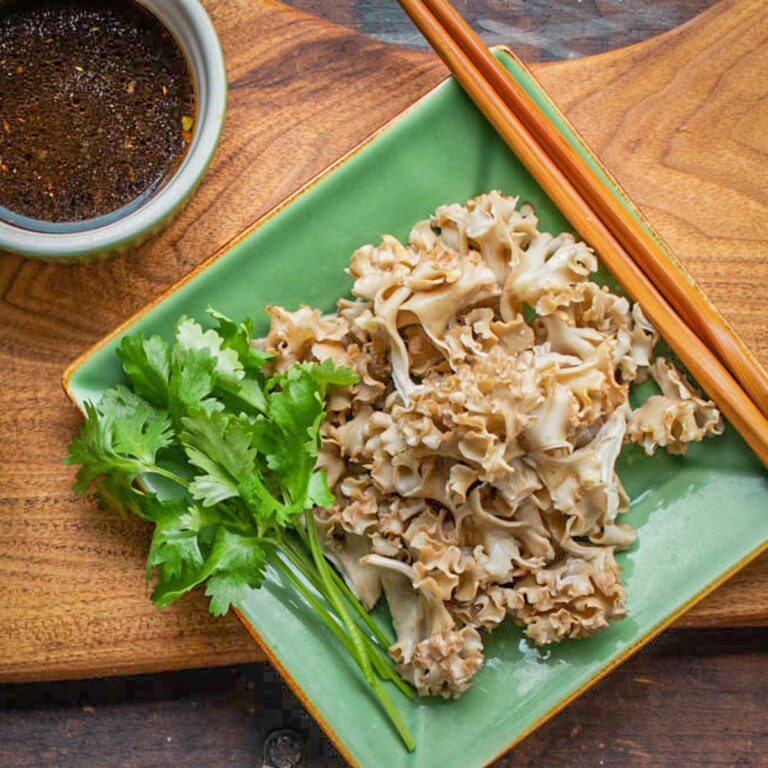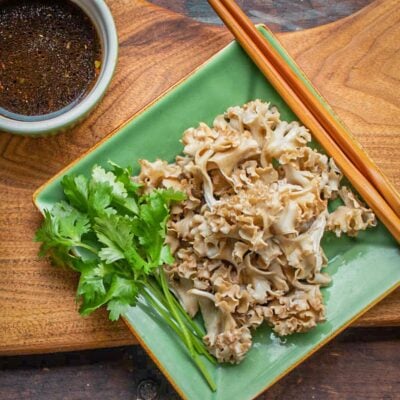 More
Cauliflower Mushrooms: The Noodle Fungus
Vegetarian and Vegan Mushroom Recipes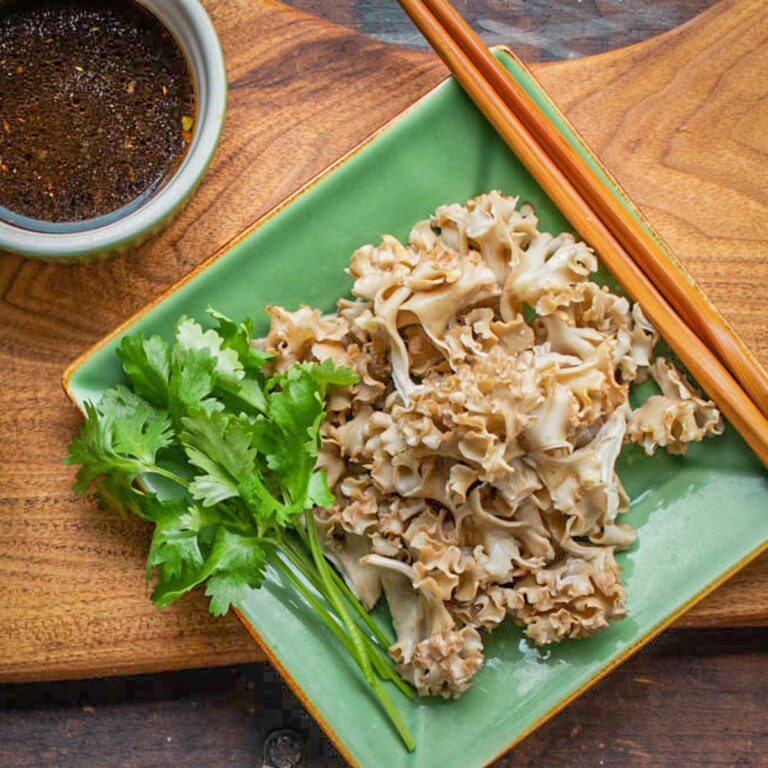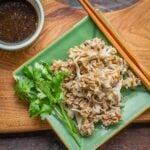 Print Recipe
Steamed Mushrooms with Ponzu Sauce
A simple condiment made from soy sauce, fish sauce, sesame oil, lime zest and fermented hot sauce. It will make just about anything taste good.
Ingredients
Ponzu
¼

cup

soy sauce

1

Tablespoon

fresh lime juice

or lemon juice in a pinch

¼

teaspoon

grated garlic

¼

teaspoon

grated ginger

1

teaspoon

sriracha

½

Tablespoon

fish sauce

Zest of ¼ lime

2

oz

melted butter, warmed (optional)

or room temperature sesame oil
Mushrooms
8

oz

Fresh mushrooms

preferably an interesting variety
Instructions
Ponzu Sauce
Combine all ingredients and mix well, put in a container with a tight fitting lid and refrigerate.
Prep and clean mushrooms
Cut the mushrooms into bite sized pieces. The shape can vary depending on the size of your mushrooms. Young buttons, baby bellas or crimini can be cooked whole if small. Trim any stems if necessary to make them look nice.

Wild mushrooms like hen of the woods or cauliflower mushrooms can be pulled into bite-sized pieces. If your mushrooms are wild, make sure to wash and dry them if necessary. Soaking mushrooms is unnecessary.
Steaming
Line a pot with a steamer basket. add water in the pot (about 2 inches) then add the mushrooms.

Put the lid on the pot and turn the heat to high. Bring the water to a boil, then reduce the heat to low and cook for 15 minutes. Keep the mushrooms covered during the cooking process.

Remove the mushrooms and serve on a warm plate with the sauce on the side. Save the mushroom juice in the pot for adding to a soup or sauce.
Eating
Pick up a mushroom using a fork or chopsticks. Dip it into the melted butter or oil if using, then into the sauce, and eat as an appetizer.
Notes
Other Cooking Methods
You can also steam mushrooms using a rice cooker, electric steamer, or by putting them in a pot with an inch or two of water, topping with a lid, and cooking until the mushrooms are wilted. 
Nutrition
Serving:
2
oz
|
Calories:
22
kcal
|
Carbohydrates:
3
g
|
Protein:
3
g
|
Fat:
0.2
g
|
Saturated Fat:
0.03
g
|
Polyunsaturated Fat:
0.1
g
|
Monounsaturated Fat:
0.003
g
|
Sodium:
1016
mg
|
Potassium:
219
mg
|
Fiber:
1
g
|
Sugar:
1
g
|
Vitamin A:
2
IU
|
Vitamin C:
2
mg
|
Calcium:
6
mg
|
Iron:
1
mg