Butternuts, also known as white walnuts (named for the light color of their wood) are cousins to black walnuts. They have a milder flavor than their cousins. Here's everything you need to know about finding and harvesting your own.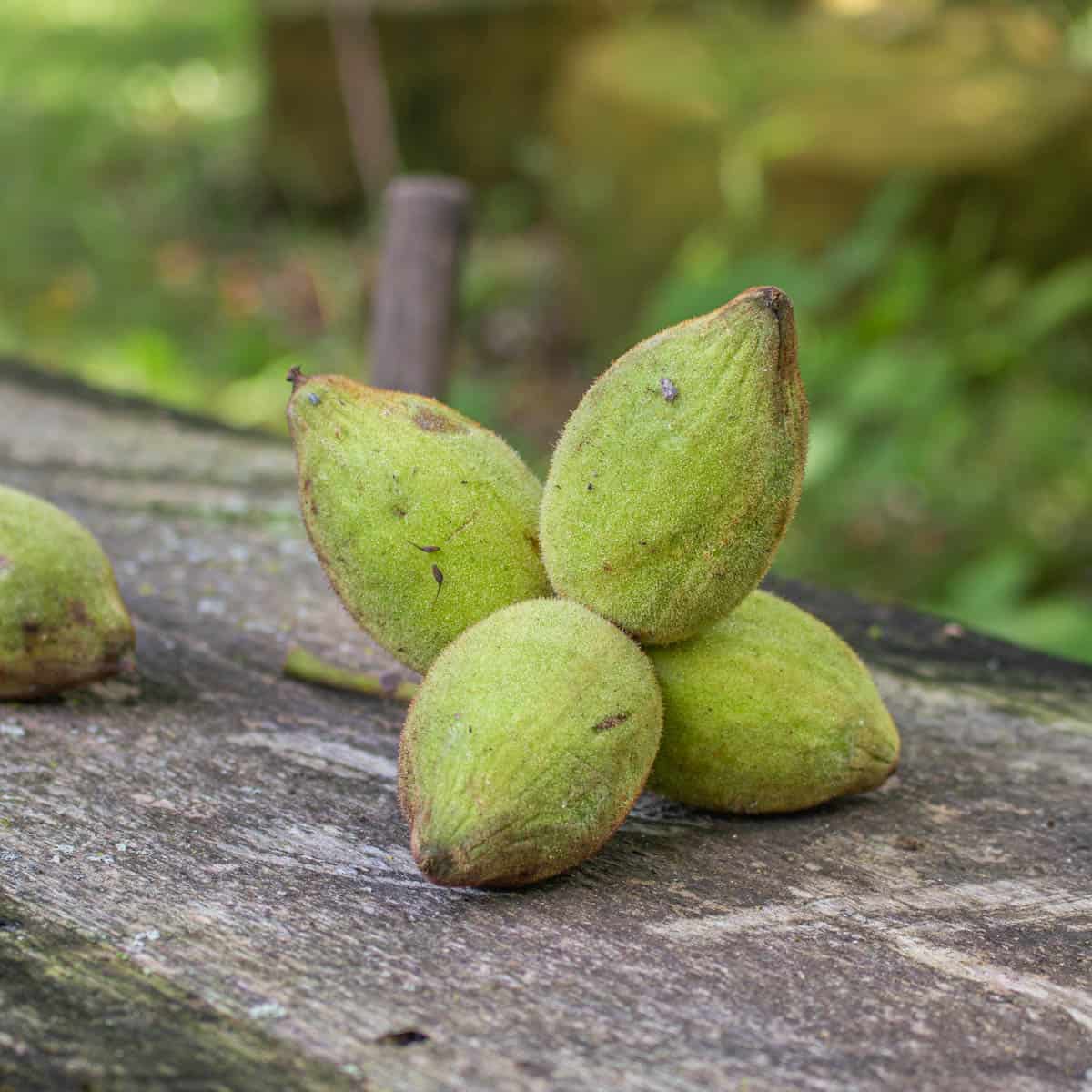 When I saw my first butternut I had the same thought plenty of people have probably had: "that's a weird looking black walnut". They're not black walnuts though. They're butternuts, and in Minnesota, it's illegal to harvest them, or even possess them—more on that later.
Butternuts vs black walnuts
Both nuts share the same genus: Juglans cinerea and Juglans nigra, respectively, and, at first glance, they look similar, as both nuts come in a green husk that will stain your fingers. Their shape is different though, as butternuts are much more ovoid than circular, a bit like miniature footballs.
While black walnuts can be a little annoying as they're prone to stain things, butternuts don't seem to be as bad in that regard, but they make up for it by being covered in sticky hairs, that, once you notice are hard to forget.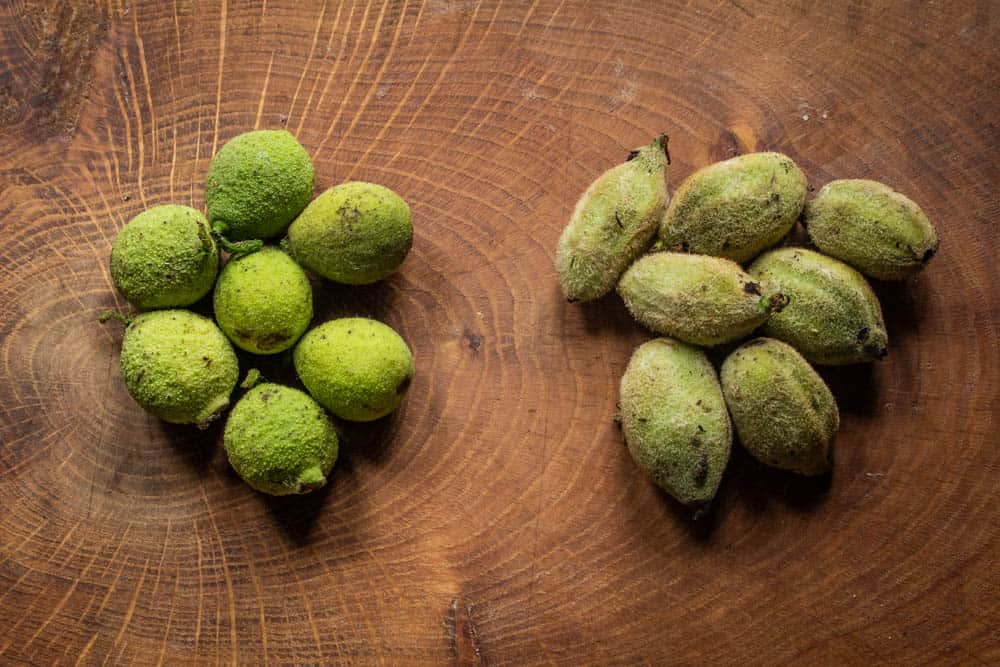 But, the biggest difference has to be in flavor. Butternuts have a smooth, mild buttery taste, and the ones I've tasted lack the stronger tannins I can get from skins of English walnuts from a store.
Freshly cracked ones, raw or lightly toasted, make for excellent eating. Black walnuts, on the other hand, have a strong, aromatic flavor I describe similar to menthol, musk, and earth—truly it's own taste.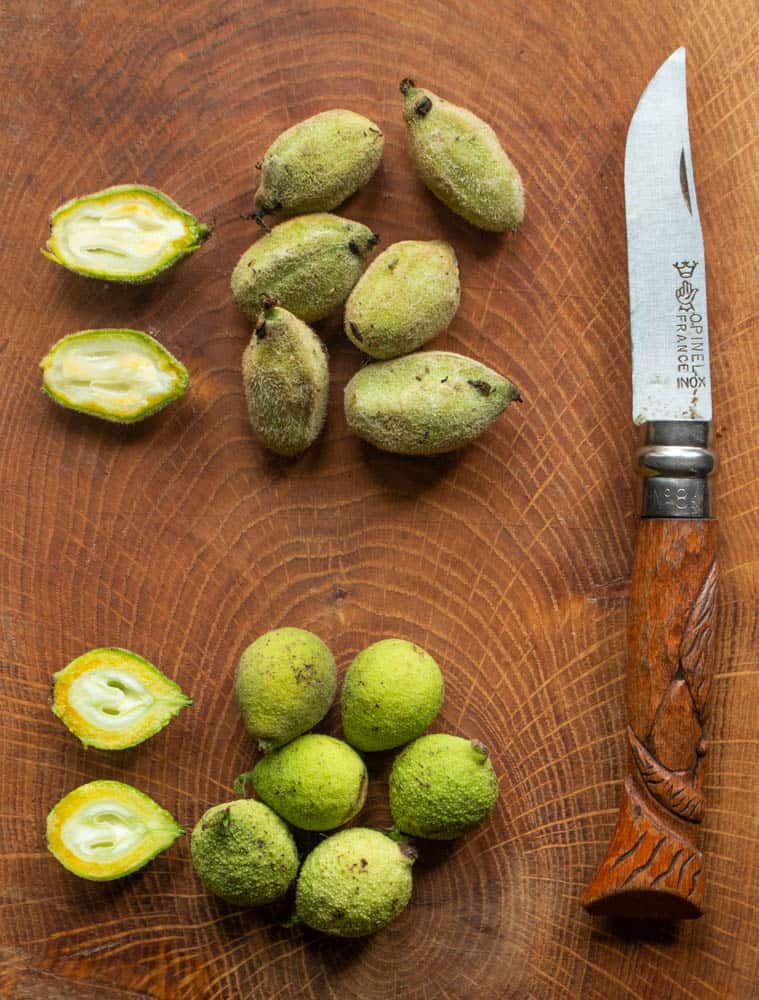 I love black walnuts, and could eat them by the handful, but the taste is so powerful many people strongly dislike them (the true sign of a delicacy!).
Butternuts have a mild, creamy taste anyone will love, and if you like regular walnuts, you'll like them, but first you'll have to find some.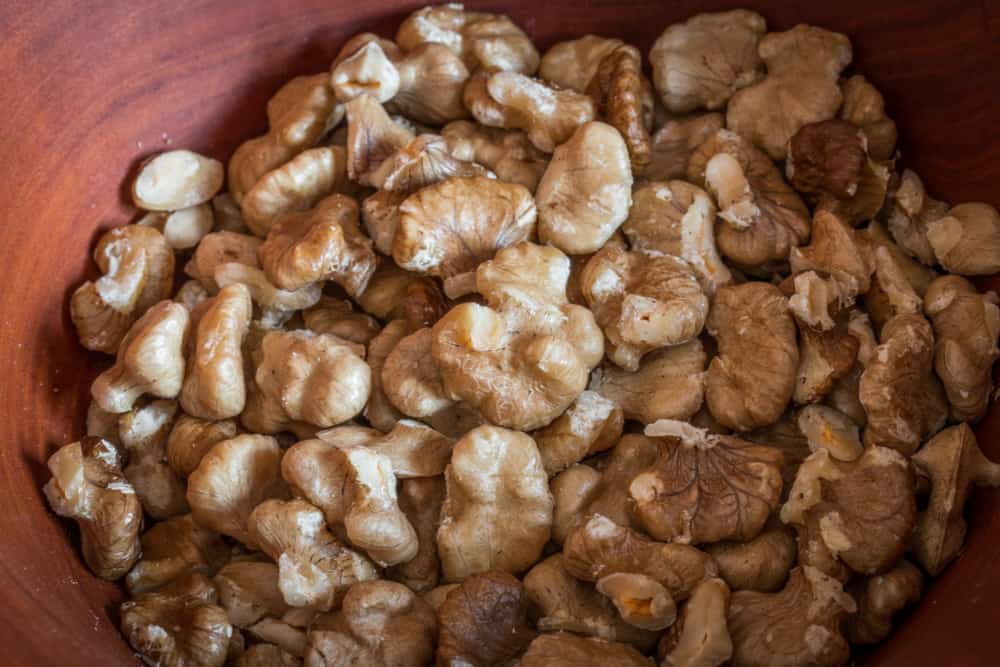 Early Drop
The tricky part is that butternuts drop early. Typically about a month earlier than black walnuts, falling around September where I live.
Most of you will be familiar with seeing black walnuts rolling around in the fall, but I'd never seen a single butternut on the ground, only on the tree itself, until Sam Thayer took me along time scout for some on the farm. We harvested butternuts, but not by collecting nuts already fallen like you might black walnuts.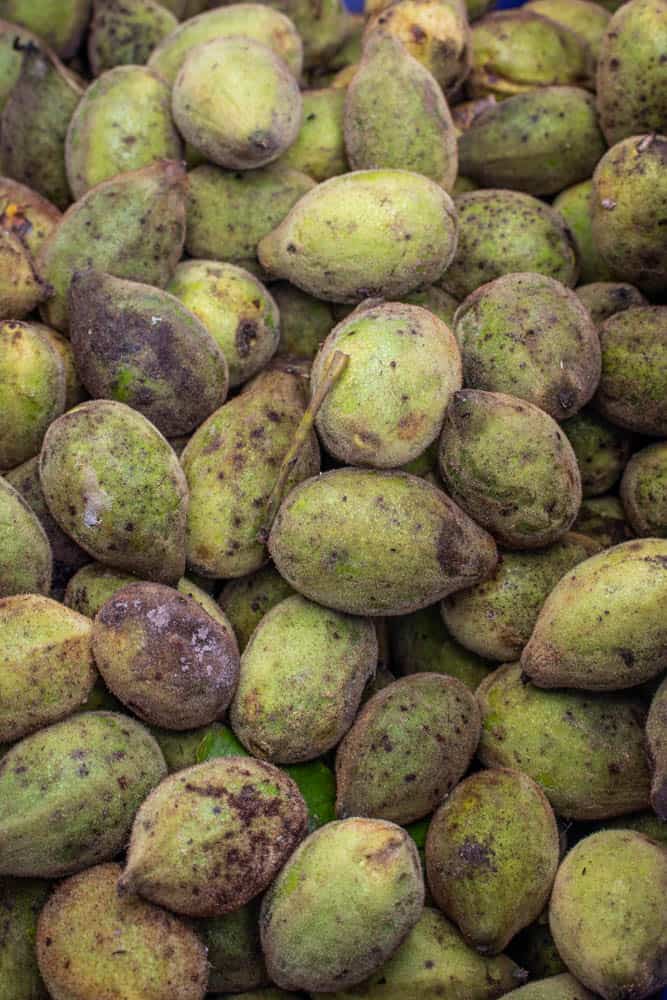 To get the butternuts, Sam climbed a tree to a height that made me nauseous, shook it with a sort of preternatural skill, and made it rain down an artillery of green mini-footballs.
I couldn't believe how many gallons we picked up from just two trees! The simple act of shaking a choice tree, at the right moment, and making it rain down food, was a sort of command of nature I'd never imagined.
Just two modestly fruiting trees gave us 3 gunny sacks filled with enough butternuts to burden three grown men.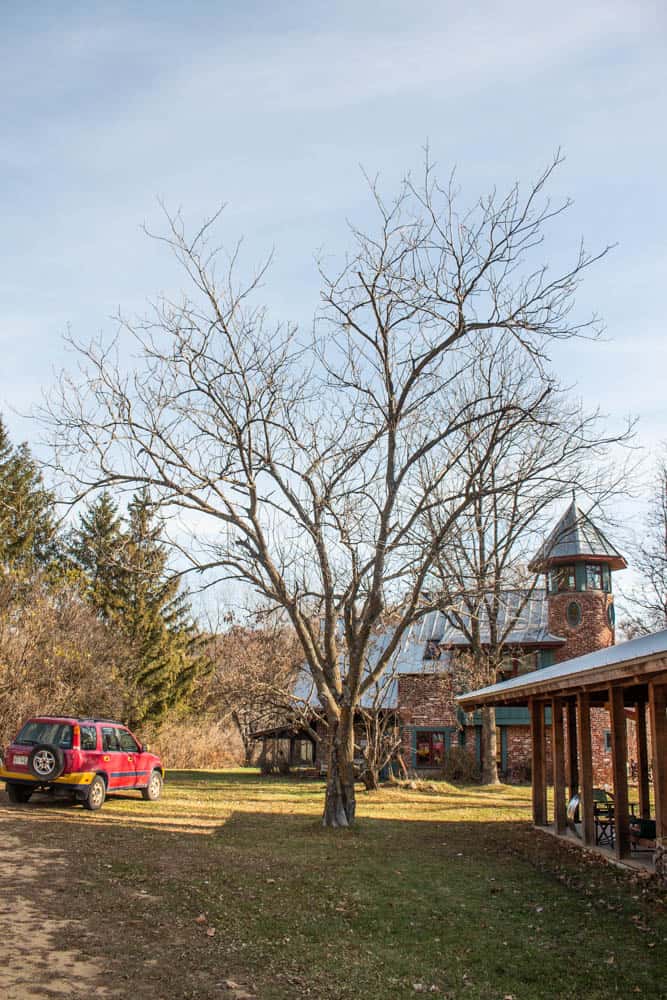 Tree Shape
One helpful trick Sam mentioned to me to make ID easier is a general rule I've never heard anyone else talk about.
For the most part, with exceptions, butternut trees are generally taller than they are wide, and black walnut trees are wider than they are tall. This can really help pick you pick them out from a distance.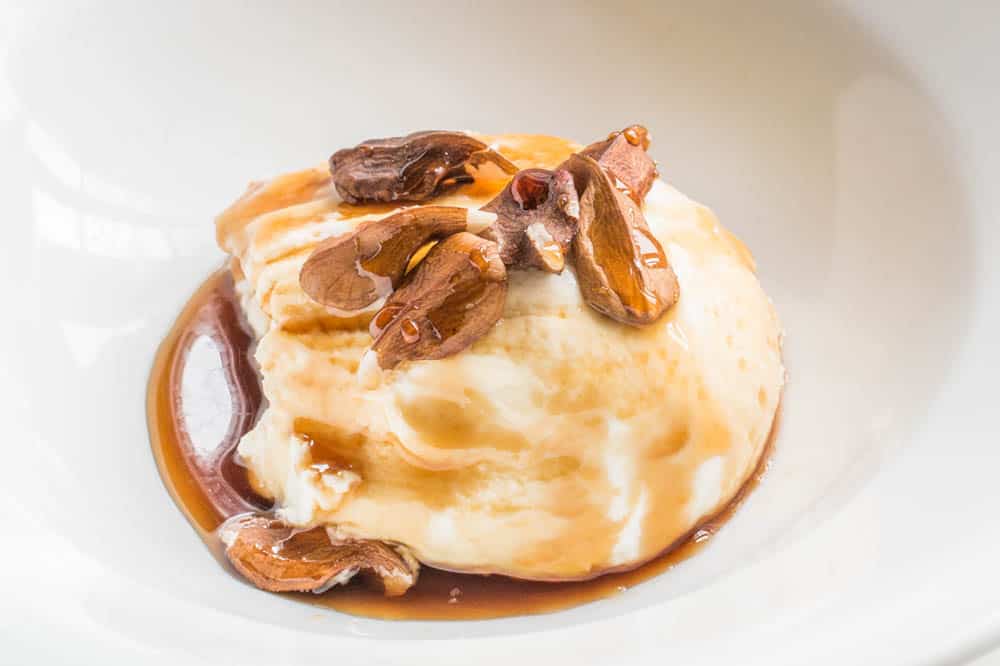 The Squirrels nut of choice
Just like black walnuts, butternuts do fall off the tree by themselves, but I'd never noticed a single butternut on the ground, and If you've never seen one either, don't worry, you're not blind. Jokes about squirrels and nuts abound, but I'm dead serious when I say squirrels seem to prefer butternuts above all other nuts that I've seen.
It's a thing. With black walnuts, I see squirrels bopping around with them here and there, but they seem to pick them more leisurely.
Butternuts, by comparison seem to evaporate off the ground as soon as they fall without a trace—not a single one seems to be left unless I go to a certain tree in town I know of, the exposure to predators and other things probably making it more difficult for the professional nut harvesters. Butternuts exist though, and if you beat the squirrels, they can be yours.
Butternut canker and legality
Another reason you might not see butternuts is because of the disease that affects them. Butternut canker, a sort of fungus that attacks the trees, is bad news, similar to the blight that hit American chestnut trees as far as impact--not a good thing if you're a butternut tree.
Some trees I've picked from seemed to have a good resistance though, and if you look closely you can see the scars on the trunk to prove it.
Unfortunately, the losses in Minnesota are bad enough that the tree has been listed as "of special concern" since 1996, and is now considered endangered, and, in a nutshell, that's why it's illegal.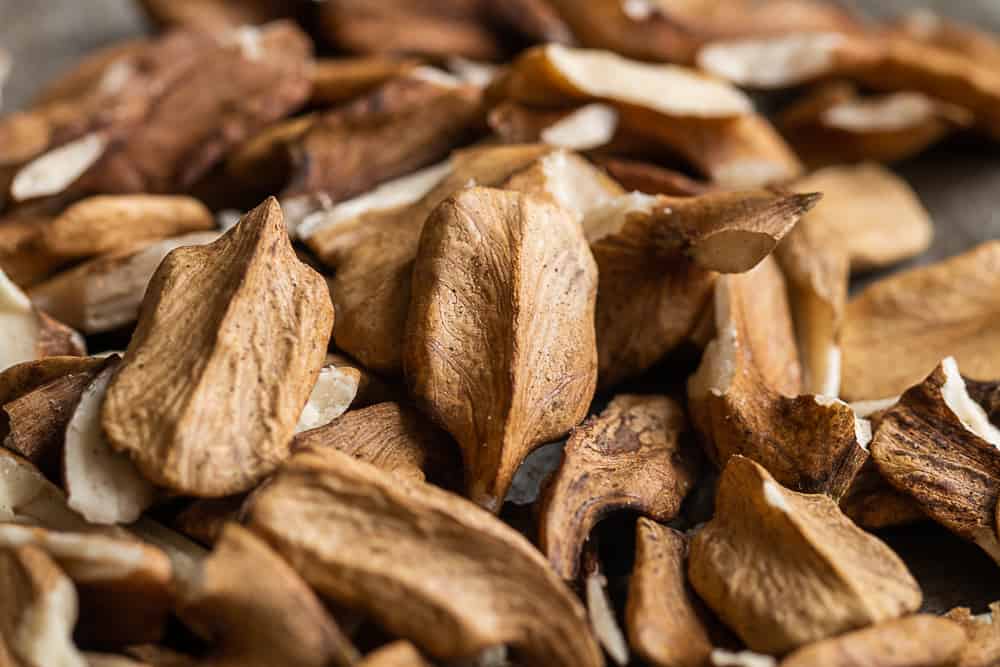 I couldn't believe that a food plant so reasonably well known in the wild food community could be illegal myself, so I called the Minnesota DNR and, after a number of calls over the span of a few months, I finally got the answer.
Essentially, listing it as an endangered species invokes the full legal the full legal protocol making it completely illegal to harvest or possess the nuts. Don't gather the nuts, pick them up, move them, eat them, plant them, or, drive around with some in your car, unless they're in a secret compartment.
That's right, even if you wanted to plant the trees, be the Johnny Appleseed of butternuts, you could technically be facing jailtime, a felony and all the trimmings that go with it, including the loss of your voting rights.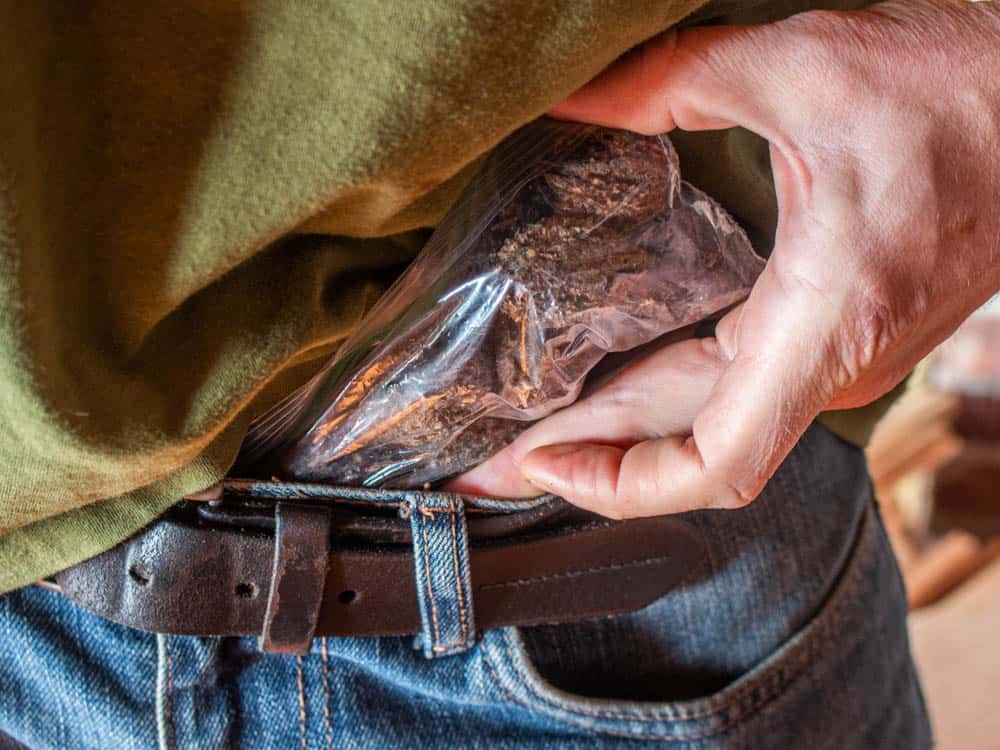 The law here is obviously overkill, but I can understand the intent. Plant gets blight disease that slowly destroys it? Put it on the endangered list--easy as, pecan pie, right? It seems to me like a knee jerk reaction that had unintended consequences.
At least to me, there's a difference to someone possessing the edible fruit of a tree that's harvested in quantity and legal in the surrounding states, to destroying the den of a timber rattlesnake, eating bald eagle egg omelets, or foraging other vascular plants that are endangered or threatened, like ginseng.
Not even the state can possess the nuts for propagation
It gets better though, and by better I mean bad. The law is fascinatingly byzantine in the case of butternuts, and I'm quoting the DNR here: "not even the State Nursery can possess the nuts for purposes of propagation".
So, you can't plant butternuts, I can't plant butternuts, and neither can the state. So, my question is, how the hell are we supposed to help this tree if no one can touch it? Is there nutting we can do?
Harvesting and Storing
When you pick the nuts up off the ground, unlike black walnuts, butternuts won't be mushy and wormy--the hull will hold their shape.
With black walnuts, I like to roll each nut over with the heel of my shoe to remove the softened green hull as I pick, but with butternuts, I haven't found that necessary at all.
Harvesting
First, consider wearing gloves as you harvest to avoid staining your hands. Look for green nuts that appear to all dropped from the tree at the same time. Put the nuts into a container that can support weight, like a 10-gallon pail, bus tubs, or heavy Rubbermaid containers, then bring them home and set them out on large trays in a single layer, with a fan blowing on them to speed up the drying/curing process.
I keep commercial restaurant sheet trays around just for this purpose along with a speed rack that stores them vertically. Refer to the image below to see my setup (shagbark hickory nuts pictured).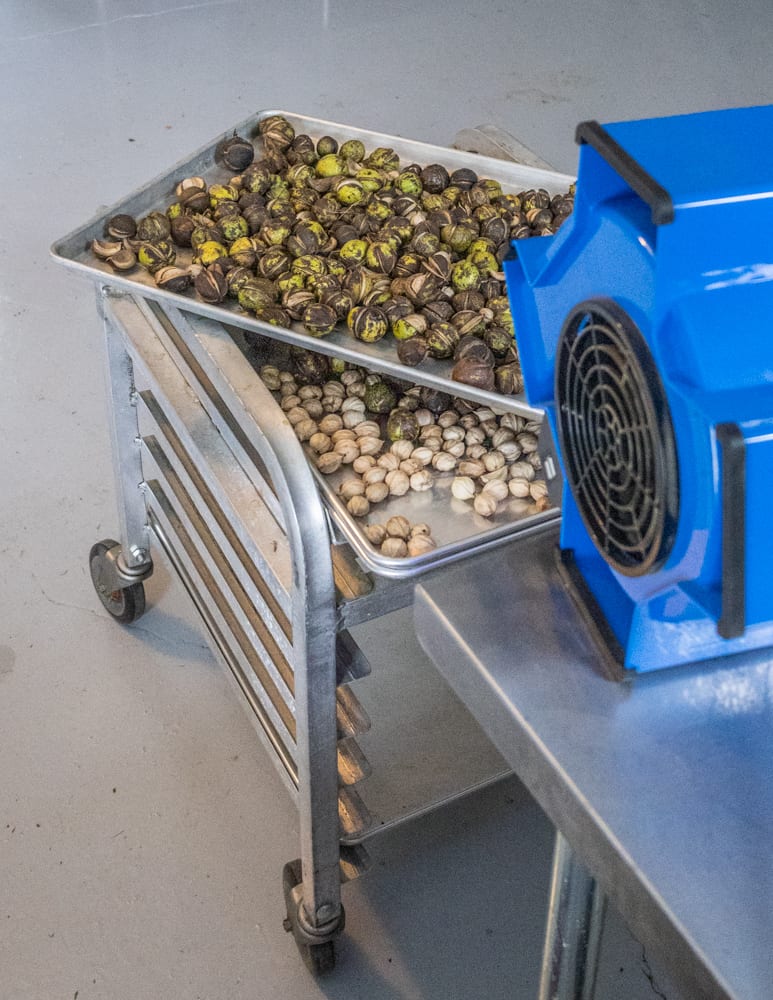 Butternuts, with their hulls attached, will take a little longer to dry than black walnuts or hickory nuts. Expect 3-4 weeks or more. If you feel like you want to remove the green hull, you can do that, and they'll dry faster and be ready to crack in as few as a couple weeks.
To remove the green hull, or not?
Some people like to remove the green hull before drying as nuts stored loose or piled in a container can change slightly in flavor as they age. I'm currently too lazy to do this, so I make sure that my nuts are stored in single layers, with a heavy duty fan blowing on them 24 hours a day until they're completely dry. I've found that as long as the nuts are dried as quickly as possible, the flavor of the butternuts seems just fine. I assume the change in flavor is due to slow decomposition of the hulls, but I'm speculating.
Storing
Finished, cured nuts can be stored at room temperature or in a cool dark place for a long time, similar to black walnuts. I've had dried butternuts last for multiple years in milkcrates in my garage.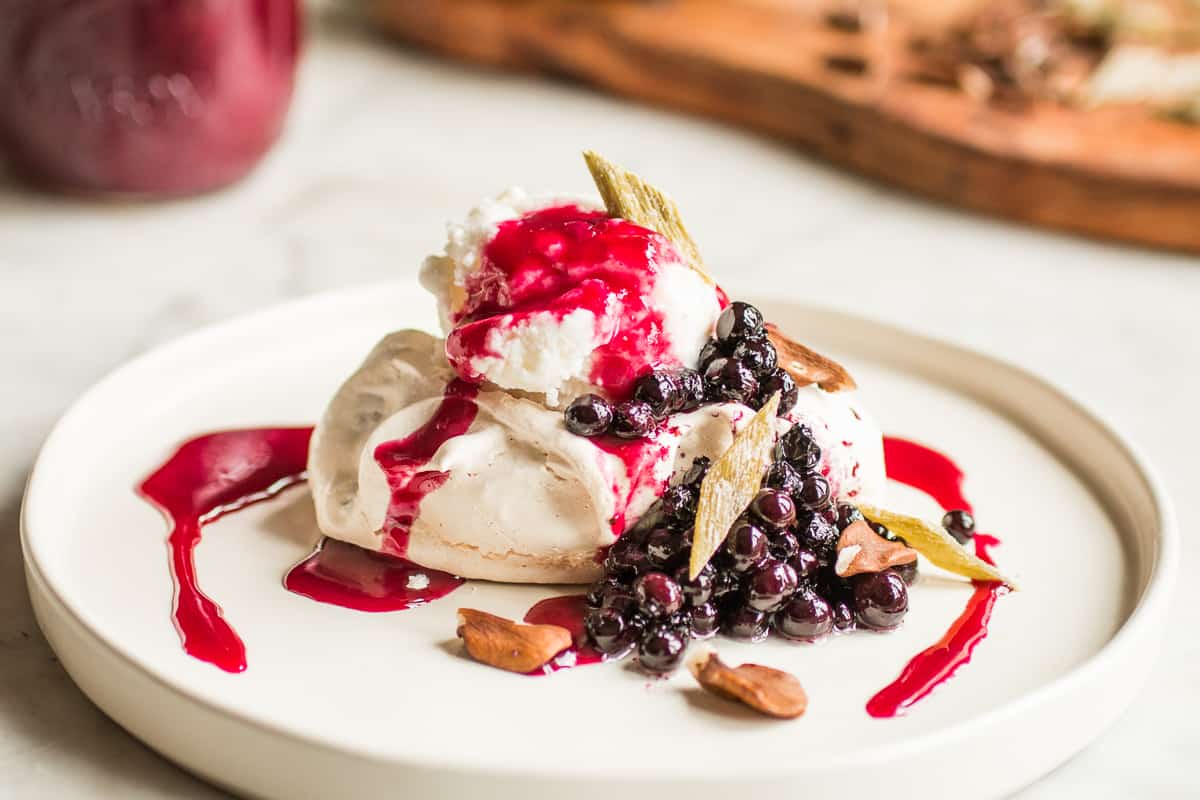 Cracking
Update: Grandpa's Goody Getter is now my go-to method for cracking, and it can crack dried butternuts with the hulls still attached. I highly recommend this as opposed to the hammer method, just like with black walnuts. Video demonstration at the end of this post.
This is the fun part, and for me, really challenging at first. After curing my first few attempts at cracking them were embarrassing, to say the least.
Just like other ancestral skills, cracking butternuts and black walnuts is a learned skill, and it takes practice to not smash the nuts to smithereens. I waited to share this until I could dependably get whole nut halves by myself, and I hope the quick video below can help illustrate the process.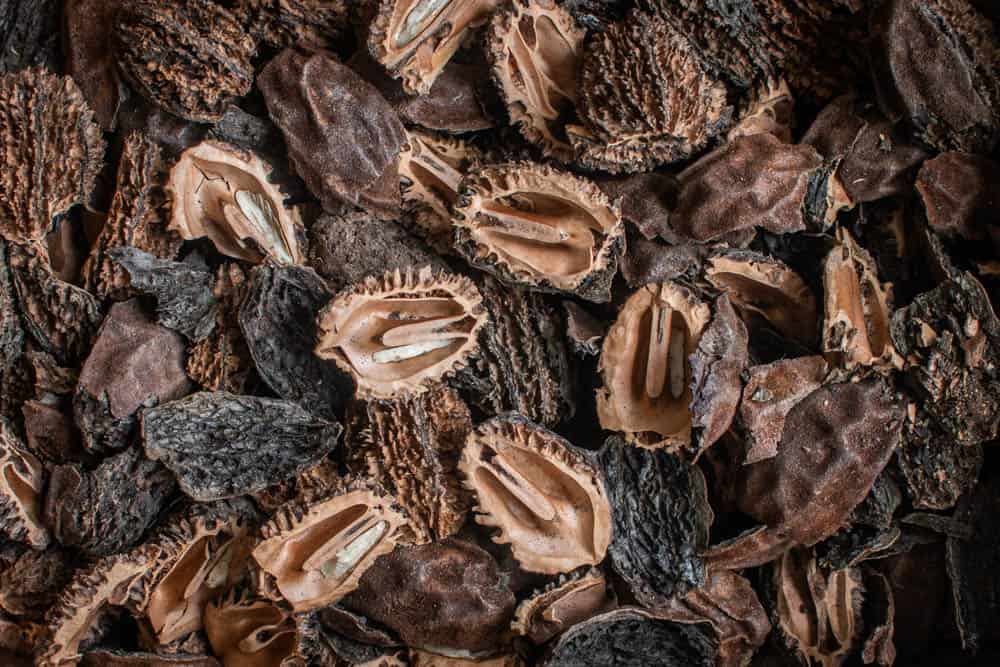 Basically, you have to first whack the nuts so they shed the dried black hull, after that, I hold them vertically preferably on a really firm surface, like a big stone and give them a whack, striking as "true" or as straight as possible, until I hear the audible "crack", just like black walnut.
Unlike black walnuts, butternuts only have two halves, so once I got the cracking part down, I've actually found them a bit easier to crack than black walnuts, which, in a perfect world, I can probably get 4 quarters from.
A tin snips can help spot treat the nut shells to help release the nut meats on difficult nuts, and is, yet again, another great trick passed down from Sam.
Related
Grandpa's Goody Getter: The Best Black Walnut Cracker
Guide to Shagbark Hickory Nuts
Further Reading/Listening
In Defense of Plants Butternut Podcast with Andrea Brennan, graduate research assistant focusing on butternuts and how hybrids could help save the tree from butternut canker.