This is now my all-time favorite cauliflower mushroom recipe: cut into big chunks, and cooked as a mushroom substitute for meat. Read on and I'll explain how it's done, and why.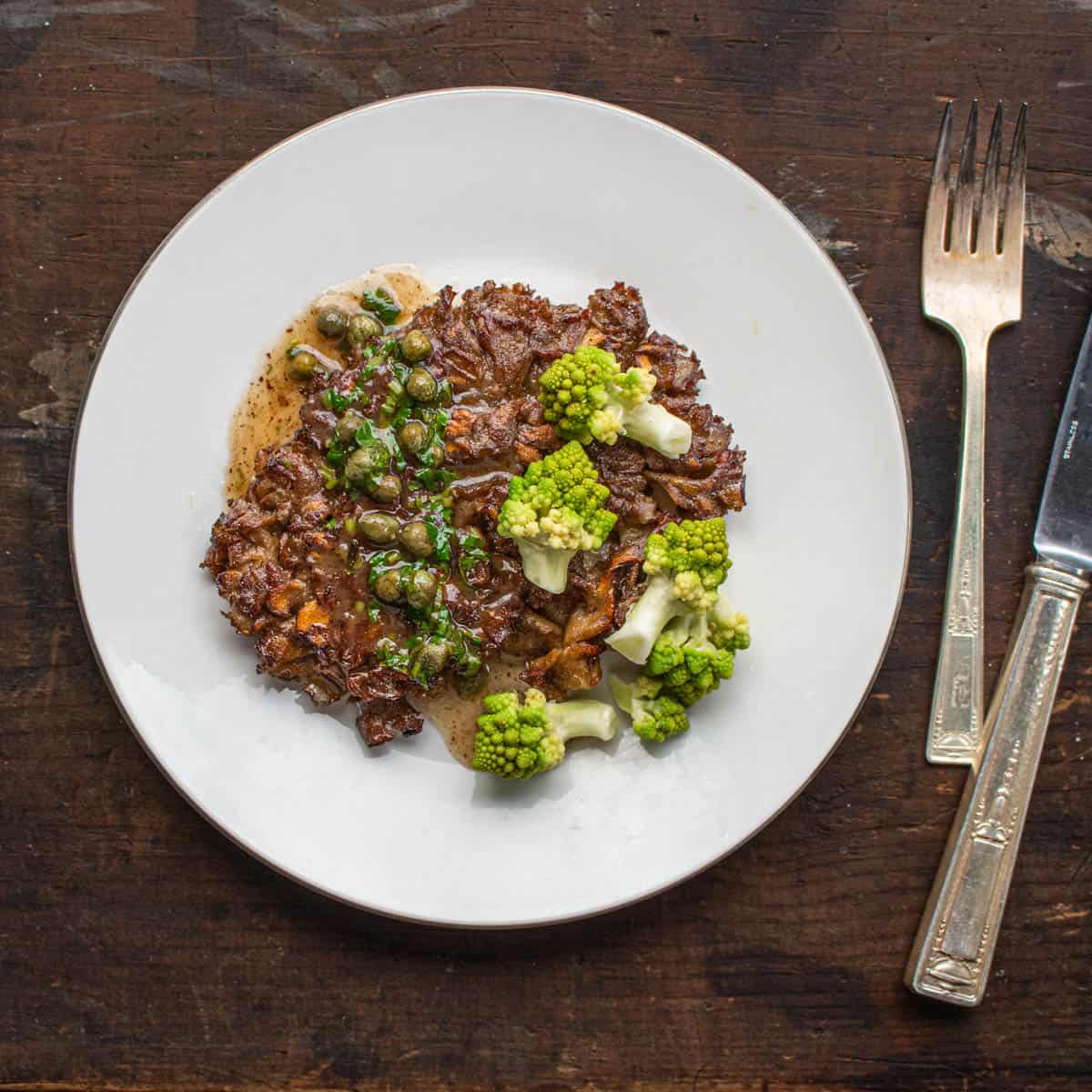 Cauliflower mushrooms are like hen of the woods in that they're often large--much larger than many other mushrooms, but unlike hens, cauliflower mushrooms have a much looser structure, and wilt after cooking, where hen of the woods will generally hold their shape.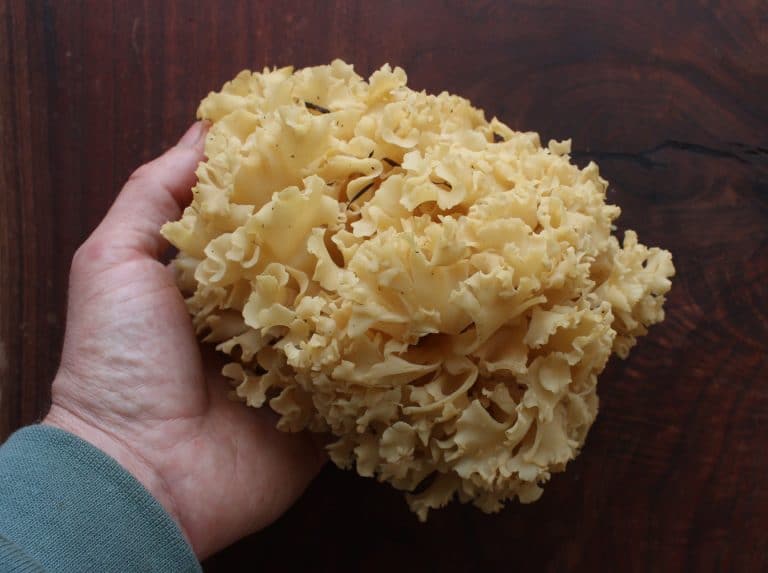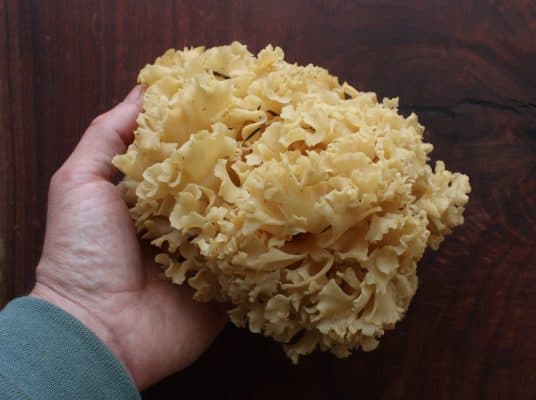 The volume that cauliflower mushrooms lose isn't necessarily a bad thing, it's just a by-product of their structure that makes them unique. I couldn't help but wonder though, if there might be a way to cook them as a center of the plate item as I do chunks of hens.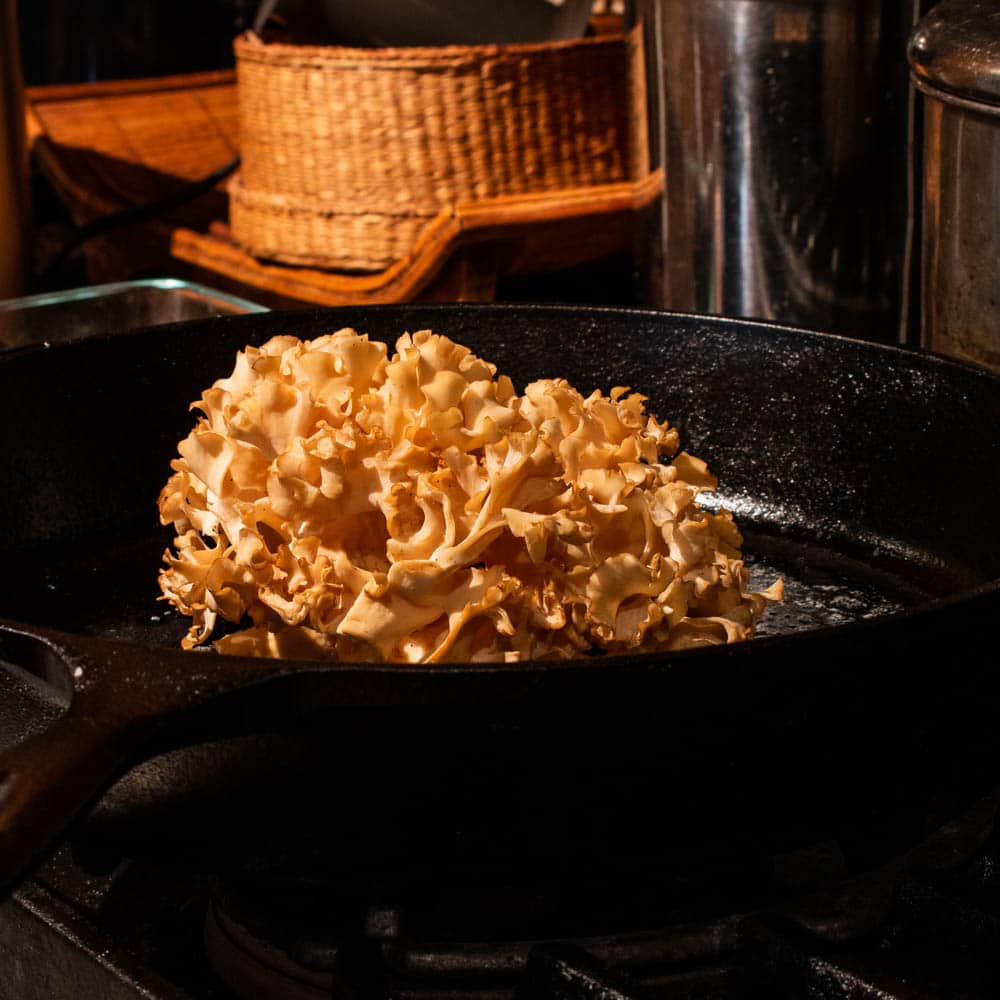 Now, you could always dip them in batter and deep fry them, which would definitely hold their shape, and would be good, but I don't often deep-fry things at home. I wondered if the mushrooms wilting couldn't be used to my advantage, so I took a few big hunks and steamed them.
After steaming, the mushrooms wilt into a sort of floppy mass of wet noodles. If they were going to hold their texture, they were going to need a crust, so I pressed the water out, both to get the water out that could make a crust soggy and to compact them into a thick mushroom noodle pancake I could cook like a steak.
After that I seasoned them, and dredged the mushroom noodle-patties in flour to ensure they got a crisp crust.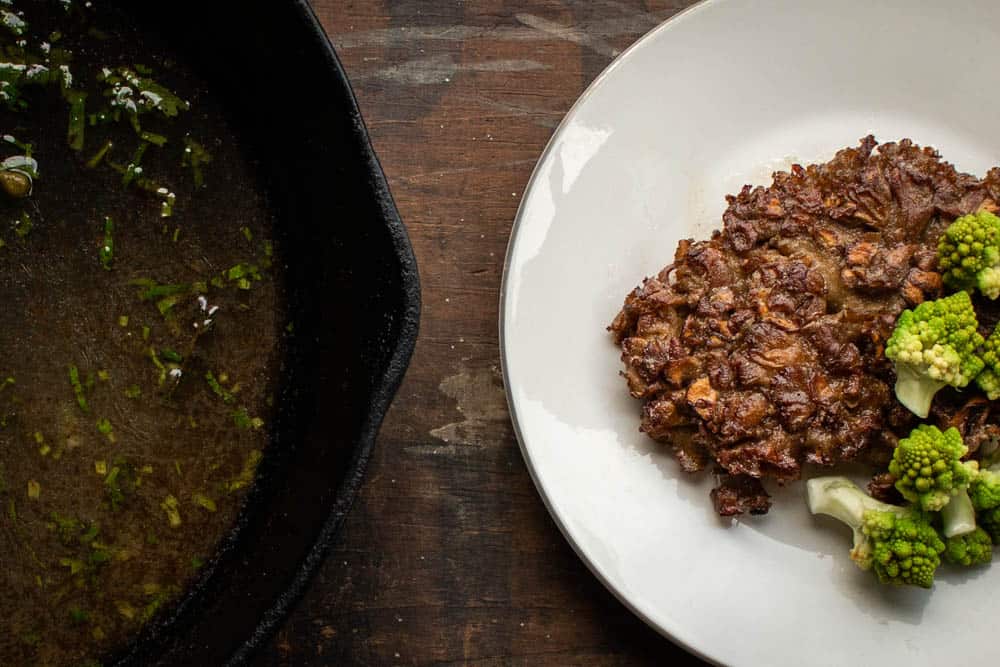 The finished product is excellent, and one of the best recipes for cauliflower mushrooms I've tried yet. Unlike the hen of the woods steaks, the cauliflower steaks, cutlets, or whatever you want to call them aren't giant hunks of food, they're more along the lines of a cutlet or thin escalope, but that's a bit of a moot point.
Napped with a little pan sauce with lemon zest and capers, no one will care about a little creative license in the description here.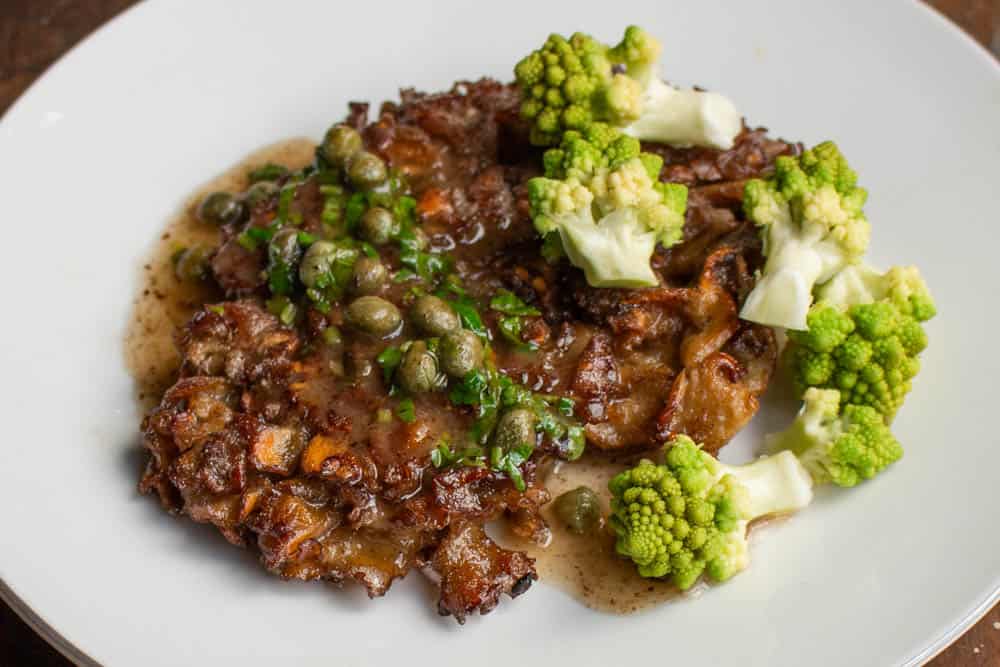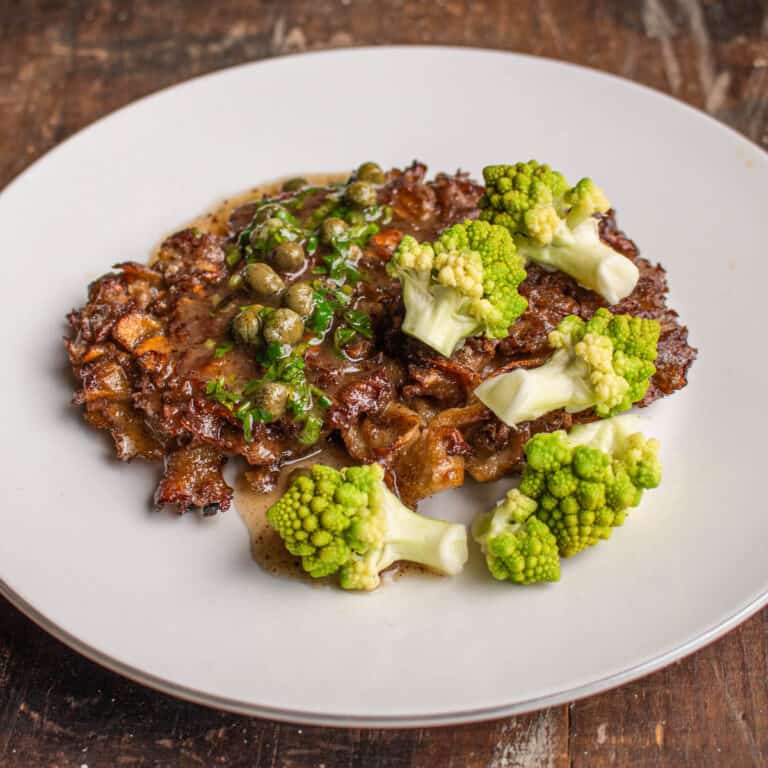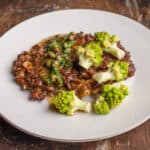 Print Recipe
Cauliflower Mushroom Steaks
Crisp hunks of cauliflower mushrooms you can prepare and eat like a piece of meat. Serves 2, scale as needed. Serve them with blanched or steamed cauliflower or romanesco, or wilted greens.
Equipment
1 bacon press

or heavy pan, or another weight

1 10 inch saute pan or cast iron skillet
Ingredients
Mushrooms
8

oz

Cauliflower Mushrooms

in one piece

Cooking oil

clarified butter or lard, as needed, about ¼ cup

½

cup

water

½

cup

all purpose flour or equivalent*

Pinch

of paprika

Kosher salt and pepper

3

small sprigs of fresh thyme

optional

1

small clove garlic, crushed with the back of a knife

optional
Pan Sauce (optional)
¼

cup

wine

¼

cup

stock

Fresh lemon juice

to taste

1

tablespoon

unsalted butter

Italian parsley

to taste

1

tablespoon

nonparielle capers
Instructions
Steaming the cauliflower mushrooms
Heat a small amount of water in a pot or pan large enough to hold your cauliflower mushroom that you can put a lid on. Put the mushroom in the pan, heat the liquid to simmering, season the mushroom lightly with salt and pepper, then cover the pan and turn the heat down to low.

Cook the mushroom for 5 minutes or so, or until it wilts, then remove the cover or lid, and press the mushroom down gently with a plate, another pan, or a weight that can compress the mushroom and leave to cool.

Remove the cauliflower mushroom, it will be like a mass of noodles. Press the mushroom dry between paper towels. From here, the mushrooms can be prepared ahead of time up to 24 hours.
To finish and cook the mushroom "steaks"
Pat the mushrooms dry to remove any residual water. Mix the flour with a pinch of paprika and salt, and a few grinds of fresh pepper. Season the mushroom steaks lightly with salt and pepper, dredge in the flour mixture, tapping off excess.

Cook in the oil until browned on both sides, adding the garlic and thyme if using to the pan with the mushrooms to perfume them. From here they can be served as-is, or you can keep them warm for a minute while you quickly prepare the pan sauce.
Optional Pan Sauce
For the optional pan sauce, deglaze the pan the mushrooms were cooked in with the wine, then add the stock, capers, and unsalted butter, bring to a simmer and whisk until lightly thickened.

Finish with lemon juice, parsley, and a pinch of salt and pepper to taste, then spoon over the finished cauliflower mushroom steaks. Serve them with blanched or steamed cauliflower or romanesco, or wilted greens.
Notes
*All purpose flour could be anything here that will absorb fat and get crisp: cornflour, buckwheat flour, wild rice flour--take your pick.
Nutrition
Serving:
4
oz
|
Calories:
215
kcal
|
Carbohydrates:
29
g
|
Protein:
7
g
|
Fat:
6
g
|
Saturated Fat:
4
g
|
Polyunsaturated Fat:
1
g
|
Monounsaturated Fat:
1
g
|
Trans Fat:
0.2
g
|
Cholesterol:
15
mg
|
Sodium:
129
mg
|
Potassium:
425
mg
|
Fiber:
2
g
|
Sugar:
3
g
|
Vitamin A:
238
IU
|
Vitamin C:
2
mg
|
Calcium:
14
mg
|
Iron:
2
mg
More
Cauliflower Mushrooms: The Noodle Fungus