Nature's bounty can come in giant waves throughout the year. If you're a wild mushroom hunter, you'll quickly realize you need a plan to figure out what you're going to do with all of your free food. One of the easiest ways of preserving mushrooms is drying or dehydrating them.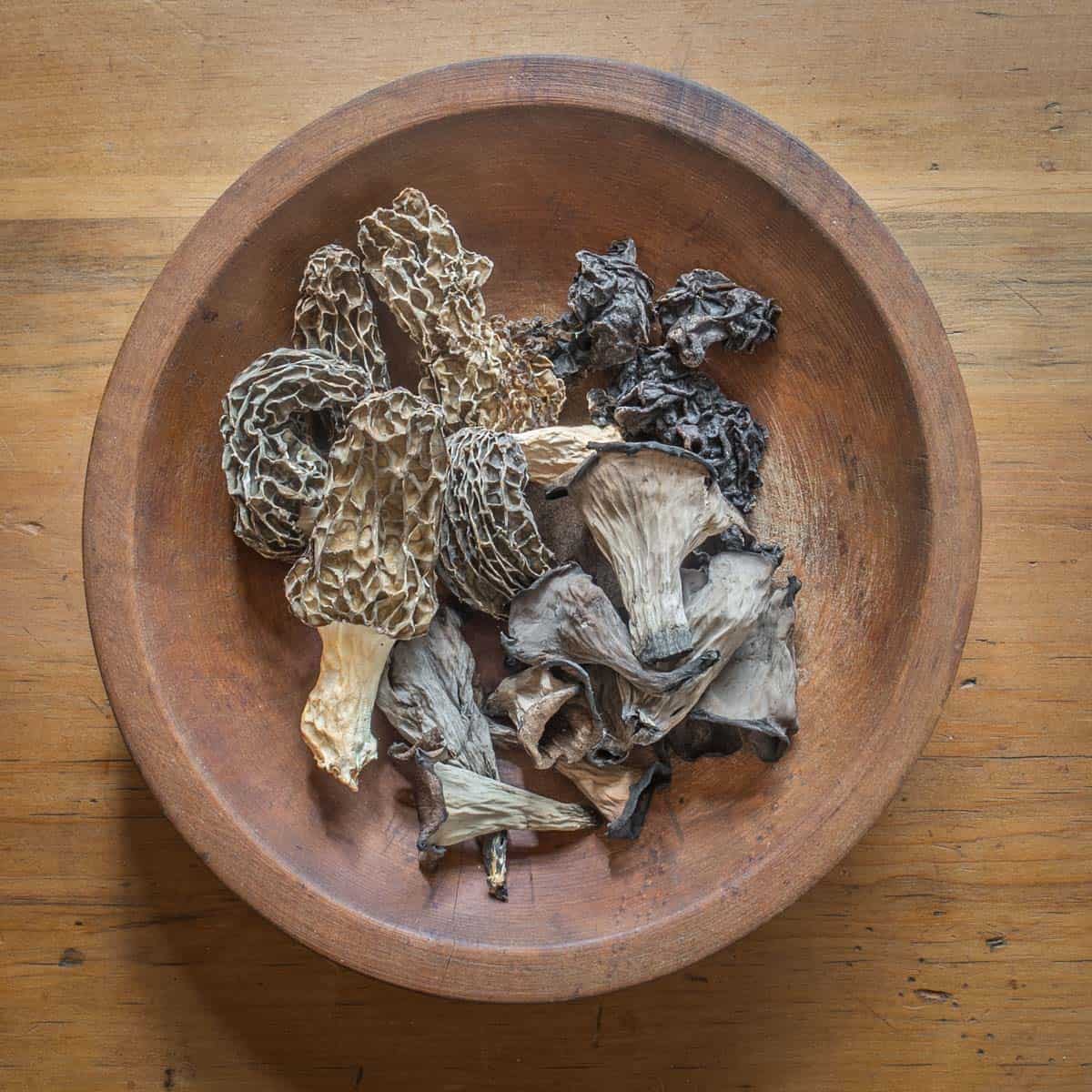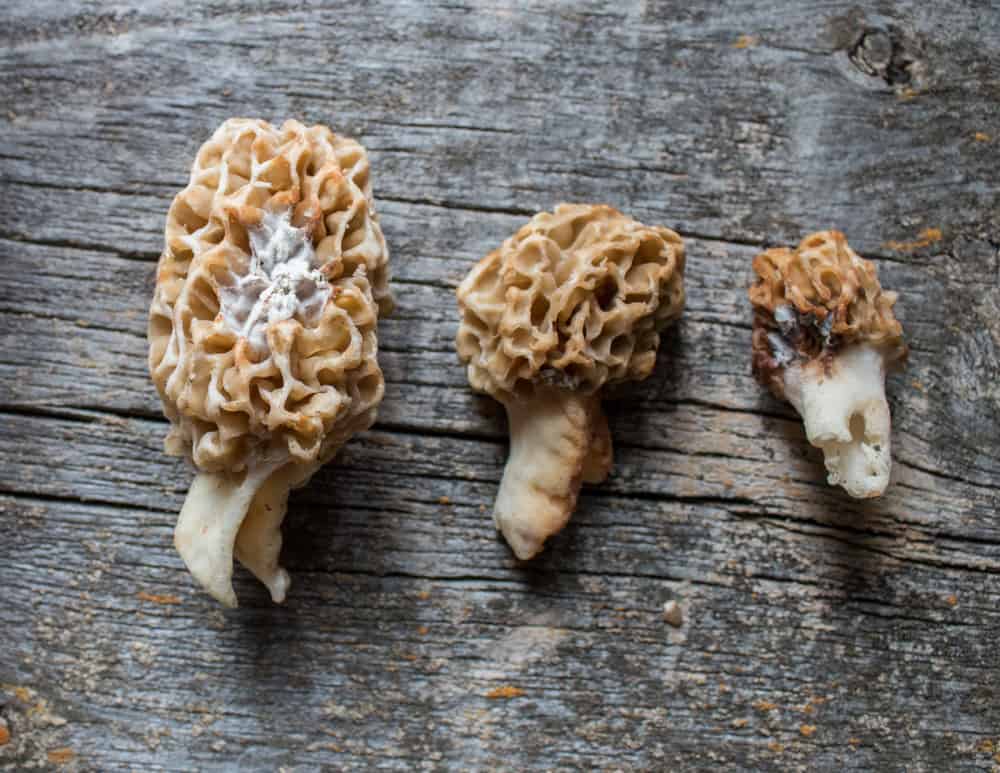 I've tried to dry and preserve almost every mushroom I've come across, and I was the point man for drying and preserving the hundreds of pounds of wild mushrooms that came through the door for a professional restaurant years ago.
Drying mushrooms at home isn't as serious as it is in a restaurant, where I've seen 30, 40 or even 100 lbs dealt with at a single time, but a few little tips and tricks can save you from possible heartbreak in the event you were out on a very hot or wet day when picking. Properly dried, your mushrooms will last, literally, for years to come with minimal loss of flavor. Here are some things I find helpful, and some Q and A style tips I've gotten from readers.
My Tips on Drying Wild Mushrooms
Clean and separate your mushrooms
You don't *have to* clean them, but it's a good idea to brush the mushrooms and at least attempt to clean them a bit well before drying, especially if you're going to powder them for using as a seasoning, or for crusting meat, etc.
Ideally, you'll pick clean mushrooms in the field. It can be tempting to dry dirty mushrooms thinking that dirt will wash off, but rainy, muddy mushrooms may not rehydrate clean. Brush and inspect the mushrooms in the field, trim off dirty parts with a knife and discard, and then give them another once over at home, as much as possible without washing them. The cleaner the mushrooms are that go into your bag, the less work you have to do later.
If I have some suspect dirty mushrooms, or ones I want to use for a different purpose (really small morels make better soup garnish than larger ones, for example) I like to separate them out before I dry them.
Space them out evenly in the dehydrator
With delicate mushrooms like slippery jacks, or mushrooms picked in the later stage of their life cycle, the heat created by dehydrators can actually speed up the decomposition process, especially if they do not have proper breathing room.
When I first started picking I once opened up the door of my dehydrator and had to scrape liquified slippery jacks off of the bottom, it wasn't fun, and the smell was even worse than scraping the putrid, maggot-filled mushroom sludge from the bottom of the dehydrator at the restaurant. You've been warned.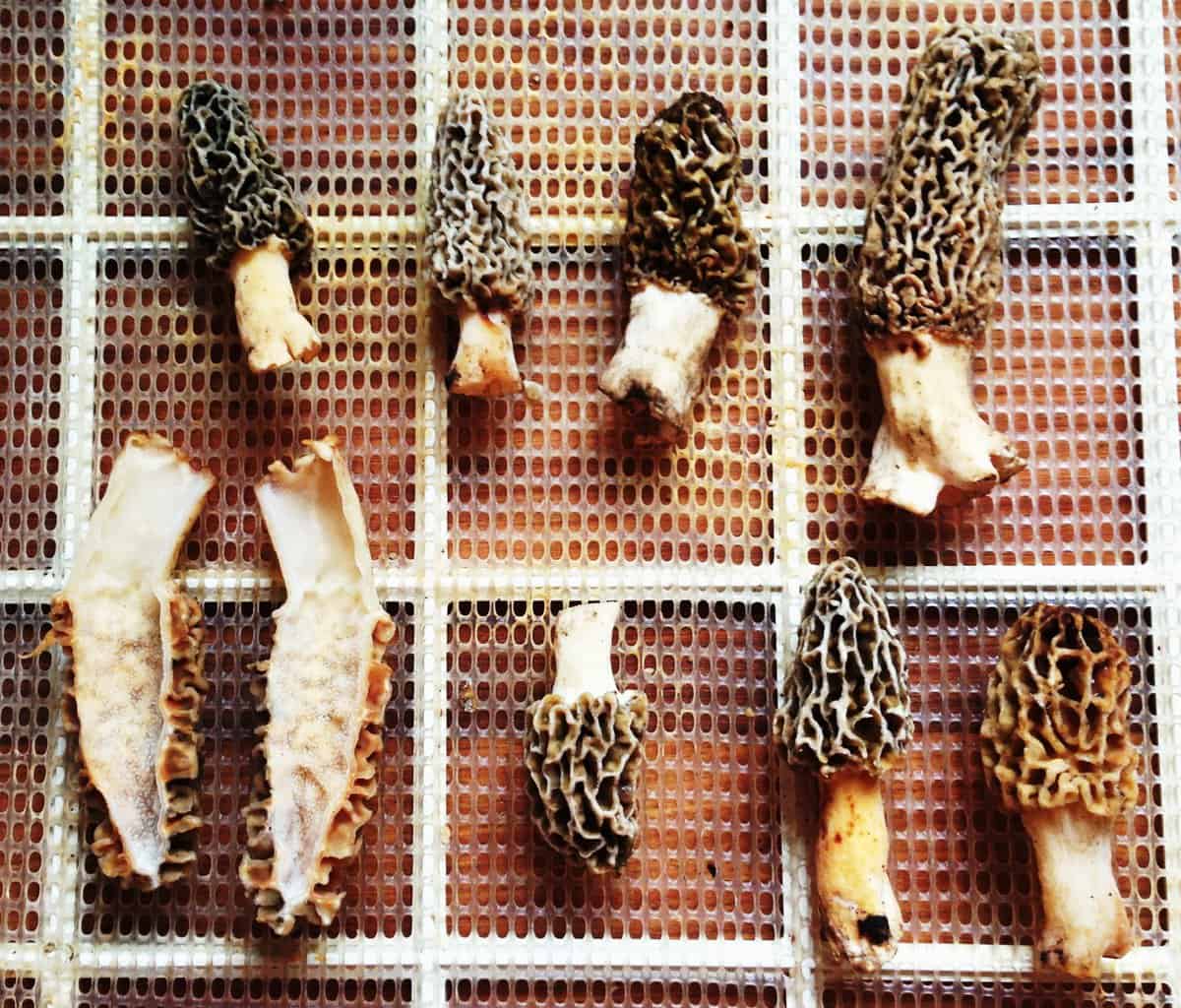 Dry mushrooms as soon as you can
This ensures that your mushrooms were dried in peak condition, and will rehydrate in peak condition.
What temperature do you set the dehydrator to?
A certain amount of heat can help develop good flavors in your dried mushrooms, allowing toasty aromas to develop. If your dehydrator has a high setting, 135 F-150F will work fine. If your dehydrator doesn't have a specific heat setting, you can always toast the mushrooms a bit before cooking with them in a pan or in the oven. Toasting dried mushrooms is optional, but it can be nice, especially with boletes.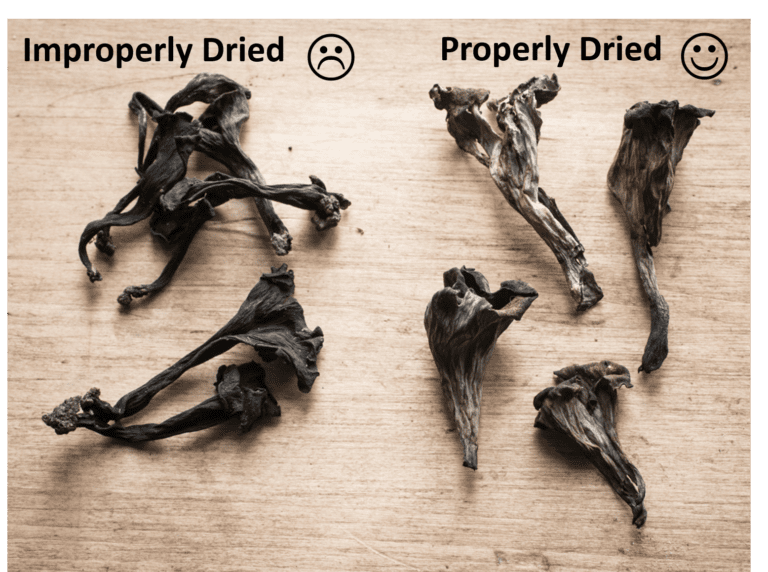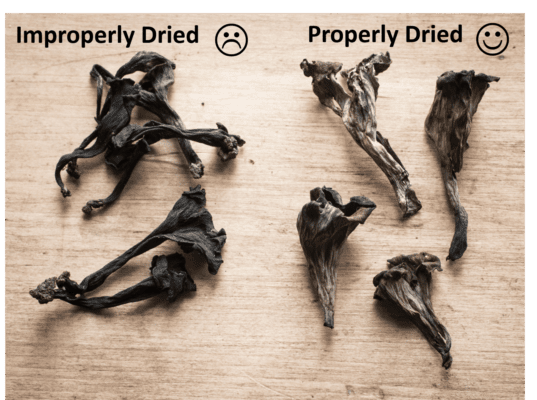 Don't dry wet mushrooms
If your mushrooms are wet from rain or warm from being in a vehicle, before even thinking about processing, cooking, or cleaning them, lay them out comfortably on a cookie sheet and refrigerate them immediately, covered in a slightly moist towel or rag. They need to aerate, cool quickly, and breathe to retain their shelf life. Once they're cooled, you will have the best success drying them.
Thinly slice your mushrooms
Thinly sliced mushrooms will dehydrate faster, mushrooms cut too thick can be tough after rehydrating. I do not dry whole mushrooms, unless they're hollow, like black trumpets, morels or yellowfeet. I don't recommend drying mushrooms whole, since they can be very tough.
Drying is a great way to use insect damaged mushrooms
After they're dehydrated, they can be ground into powders that will create stocks, rich compound butters, rubs and other things.
How long does it take?
This varies between species of mushrooms. Black trumpets will usually dehydrate themselves where I live in Minnesota, if I leave them on the counter. Basically, the thicker the mushroom, the more water it has, and the longer it will take to dry. Boletes take the longest by far, but I've never really had any sliced mushroom take longer than 48 hours to dry.
How dry should they be?
The answer is cracker-dry. Properly dried shrooms should almost be brittle, if there are any in your dried collection that still seems to have soft spots, either leave the top of the container you are going to store them open for a while so they continue to aerate, or dehydrate for another 24 hours.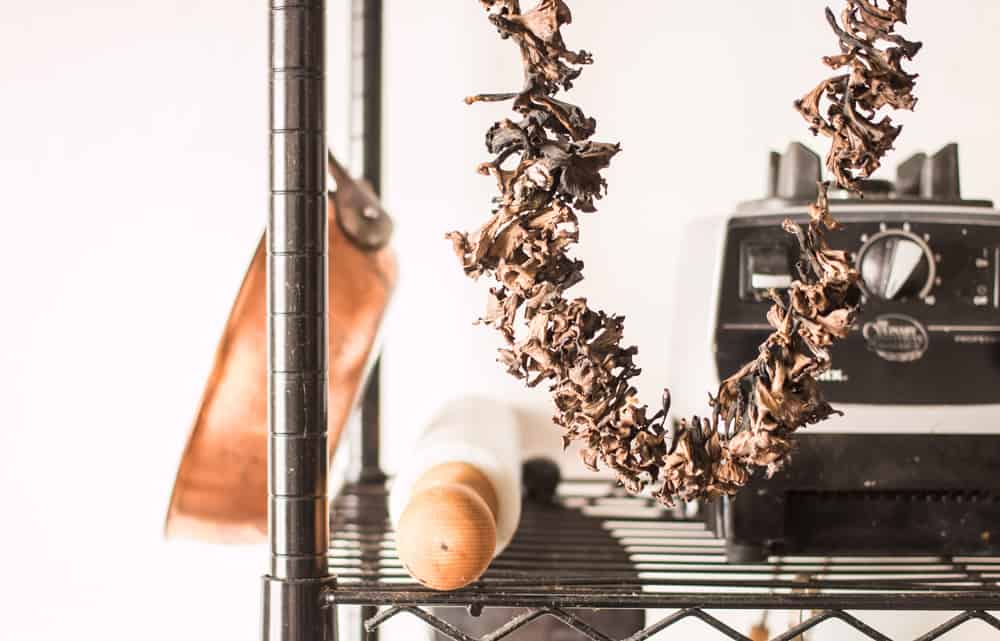 Drying wild mushrooms without a dehydrator

You don't have to have a dehydrator, but they're nice to have. People have been drying mushrooms for eons without a dehydrator, here's a few ways you might do it, and a couple troubleshooting tips.

Slice the mushrooms as thin as possible
Sliced mushrooms can be threaded with a needle and string, then you can hang them up and let them air dry outside, this is one of the oldest techniques.
Blow a fan on the mushrooms constantly, it may take days for them to be completely dry.
Laying sliced mushrooms on screens outside or in a dry place
If the mushrooms feel even the slightest bit moist, leave them out for a while longer.
Putting the mushrooms on a cooling rack in an oven on the warm setting, as long as it isn't hot enough to cook them works too, I like to keep the oven cracked open a bit though.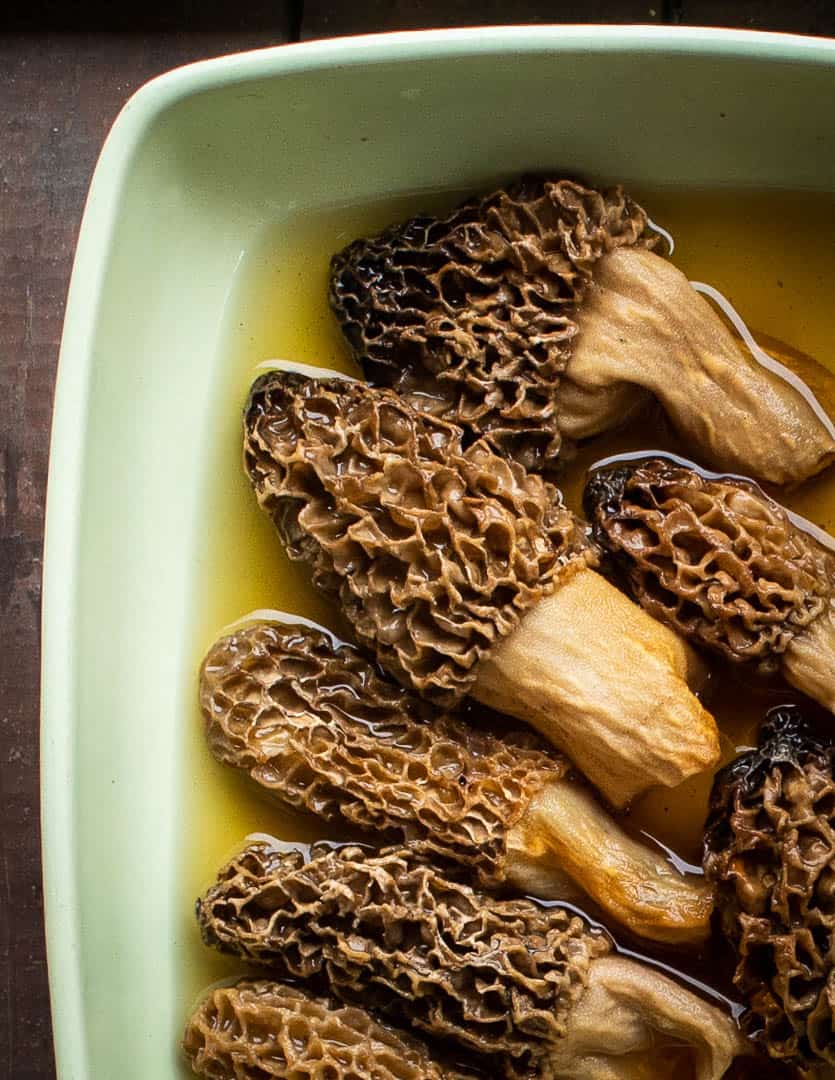 Re-Hydrating and Cooking
This wouldn't be complete without a mention of how to rehydrate mushrooms after they're dried. You may not think about it, and I definitely didn't at first, but the amount of time the mushrooms are rehydrated is very, very important when cooking with them. I like to rehydrate mushrooms just as long as they need, and no longer, typically 15-30 minutes is fine, especially when using a wet preparation.
Can you leave dried mushrooms in water for too long?
Yes. The flavor of mushrooms, as a general rule is very water soluble. When dried mushrooms contacts water, a little of the soul of the mushroom goes into it, and the amount of mushroom flavor contained in the water increases the longer the mushrooms are soaking. As well, over-rehydrated mushrooms, especially boletes, can have a kind of unpleasant, saturated texture, on the side of slugs.
Depending on what you're doing, it might not be an issue, for example, making a cream soup where the mushrooms will be pureed with their juice won't make a difference, but rehydrating mushrooms to sauté with some fresh ones and eat on some fresh arugula might suffer a bit.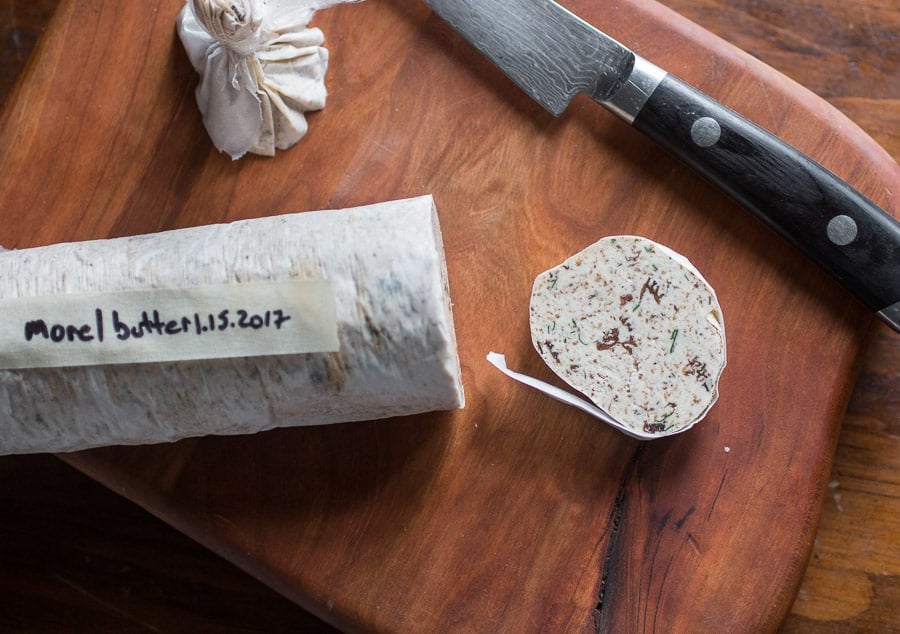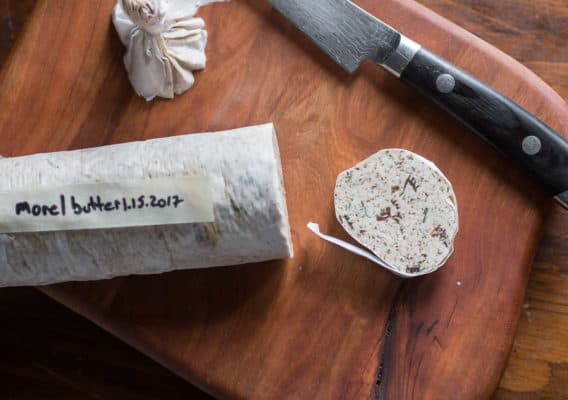 Cooking dried mushrooms without rehydrating
As long as your mushrooms were clean, grinding wild mushrooms into powder is a great use for them, especially for things like porcini that have been sampled by bugs. Here's a few examples:
Dried Mushroom Recipes
Now that you've brushed up on the basics, browse my selection recipes geared for using up your dried mushroom stash.
Dried Mushroom Recipes