These pluteus are a common edible mushroom of gardens and the edges of woods. They're relatively easy to identify, and a mushroom I will collect if I see them.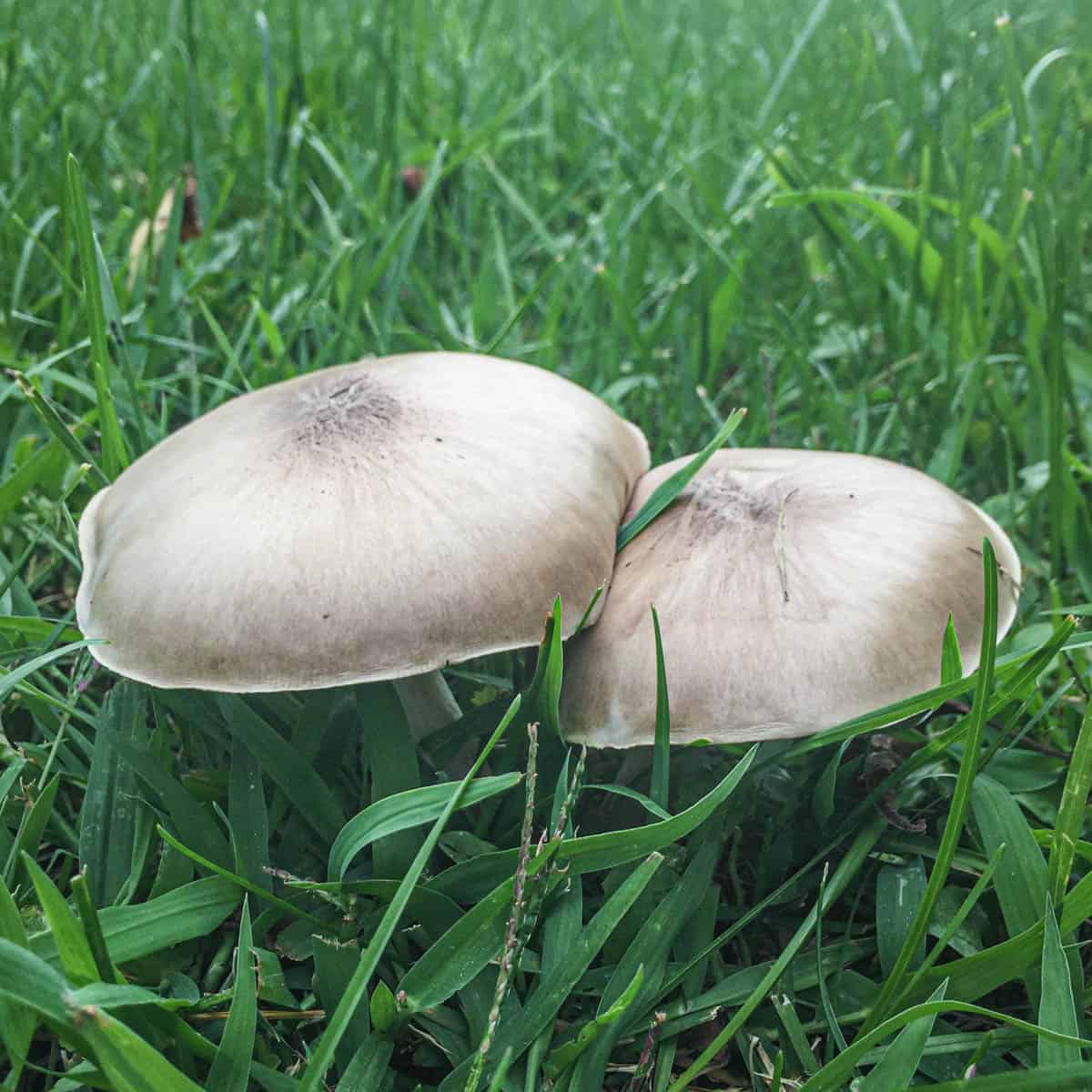 After the morels have come and gone in Minnesota, there's a bit of a variety season and deer mushrooms, also known as the fawn, is one of the first you might see.
They're graceful mushrooms that loves to pop up here and there in yards, open spaces, and in the woods on logs, depending on the exact species. Oddly enough, the name deer mushroom is pretty accurate, as I do see deer occasionally eating these mushrooms, as well as squirrels.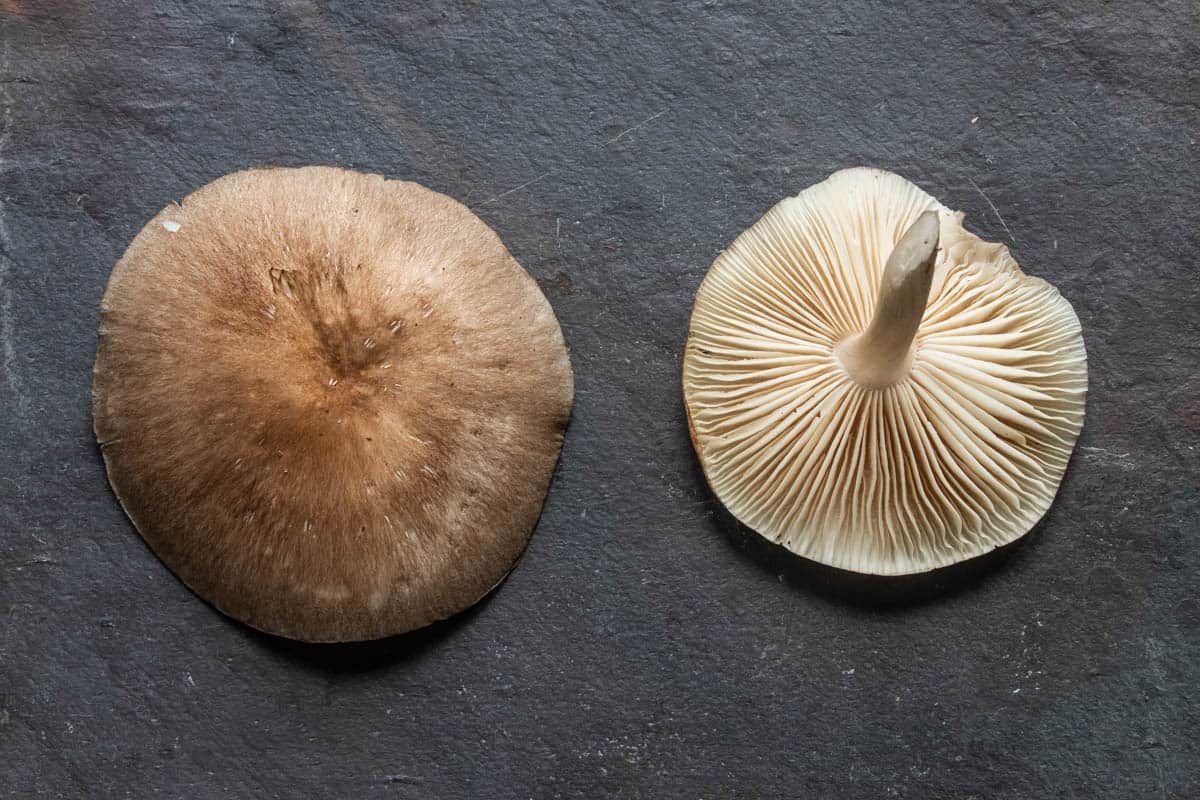 For the purposes of this post, I'm grouping the two I refer to as deer mushrooms together: Pluteus pestatus, which I usually see in yards, and Pluteus cervinus, that I typically see in woods growing from dead logs. I don't usually see these in huge fruitings, more or less there will be one or two here, then a couple there. They're relatively easy to identify with a basic knowledge of mushroom I.D. techniques, and are worth collecting once in a while if there is nothing else, although there's definitely better wild mushrooms out there to harvest.
Identification

The fawn mushroom has a tell tale "nipple" on its cap, called being umbonate.
Very young mushrooms may have a totally brown cap.
These are decent sized mushrooms, I usually pick ones that have caps at least 4 inches in diameter.
As the mushroom grows older, it's cap might flip up like an umbrella as it shoots its spores and matures.
The cap may develop little cuts or slices in it as it grows, almost looking like someone sliced it with a knife, or cut small chunks from it.
The gills of the mushroom have a sort of pinkish red tint to them.
Notice in the picture below that the gills also do not touch the stem.
These always grow directly from wood, but remember to check the ground for signs of former trees, since mushrooms can grow from buried wood too.
There will never be a "sac" or anything at the base of its stem resembling an egg, also the stem is totally bare and clean, with no evidence of any kind of ring or other decorations.
The cap is composed mostly of gills that are packed tightly together, it's thick, bushy, and brittle.
Pluteus pestatus and cervinus have a pink-ish spore print. If you have a white spore print, you should compare your mushrooms with Megacollybia rodmanii.
Some Pluteus should probably not be eaten-If your stems bruise blue, discard them.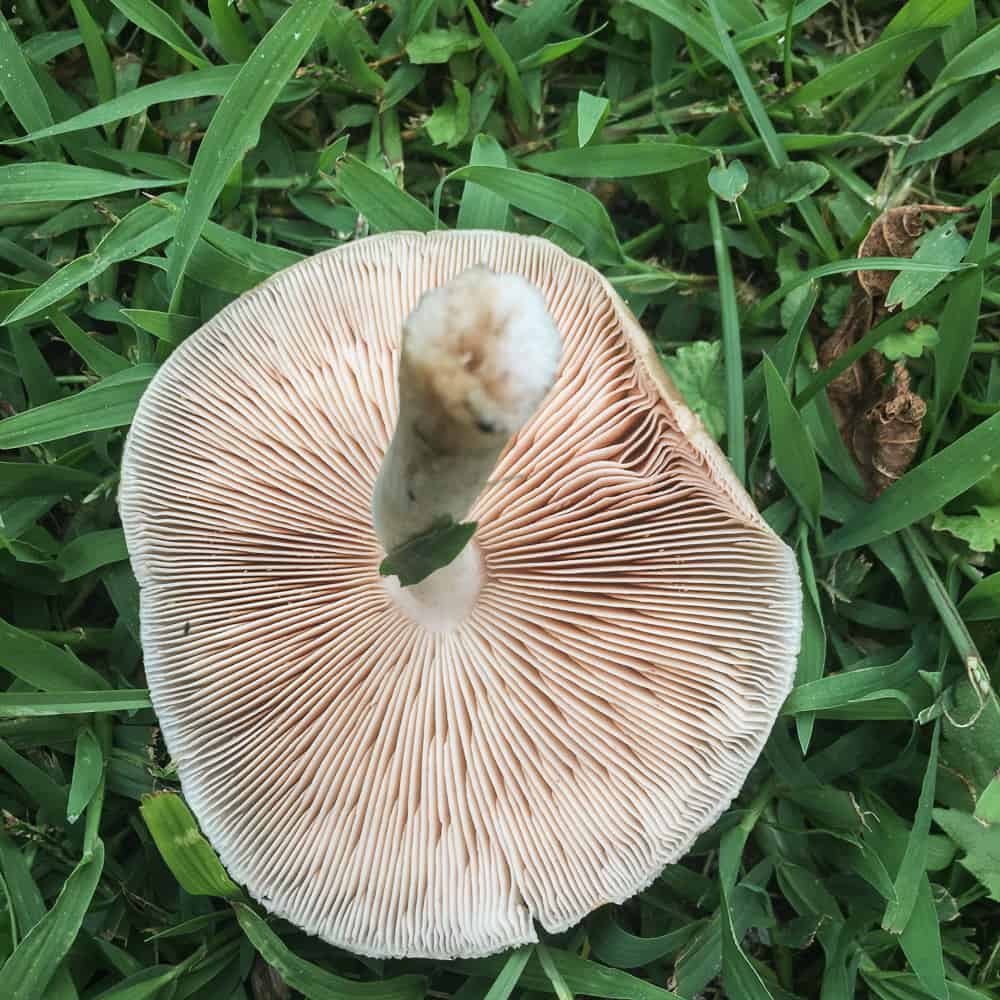 Look A Likes
There's a few look a likes for deer mushrooms, but, thankfully they're easy to separate from the baddies, and, personally, I find the mushroom most often called a "look a like" for these a bit of a stretch, but mushrooms can be confusing, especially if it's your first time.
Galerina marginata
Galerina marginata, also known as the funeral bell, is a lethally toxic mushroom that can also grow from wood. But, don't be scared-they're easy to separate from most mushrooms with a quick inspection. Here's a quick list of the differences:
Galerina
Has an orange-brown cap
Is smaller than most Pluteus
Has a brown spore print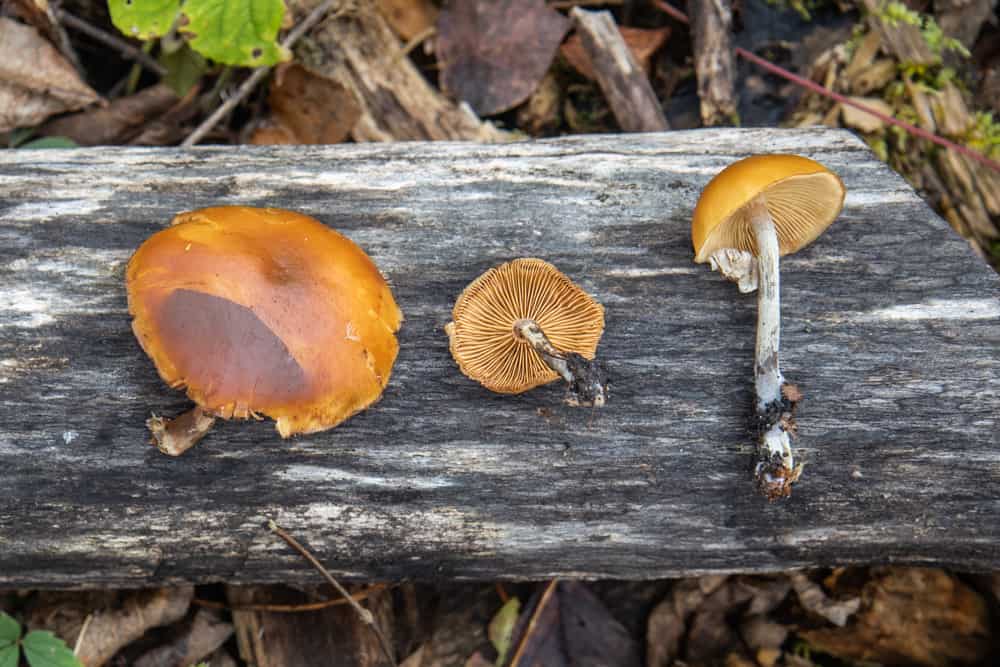 Cooking

Pluteus are ok, but they're delicate and brittle, so make sure you put them in a basket and keep them safe, otherwise you'll wind up with mushroom crumbs when you get home. They have an interesting radish flavor and aroma, which can be more noticeable with some species than others.
If you smell the gills close up, you will notice a definite aroma of radishes. If you caramelize and brown them in a pan, this flavor leaves and they take on a taste that's more mushroomy and earthy. If you stew them, without caramelizing, the radish flavor will remain. One of my favorite ways to cook them is sauteing the caps whole and tossing with garlic and parsley, as below.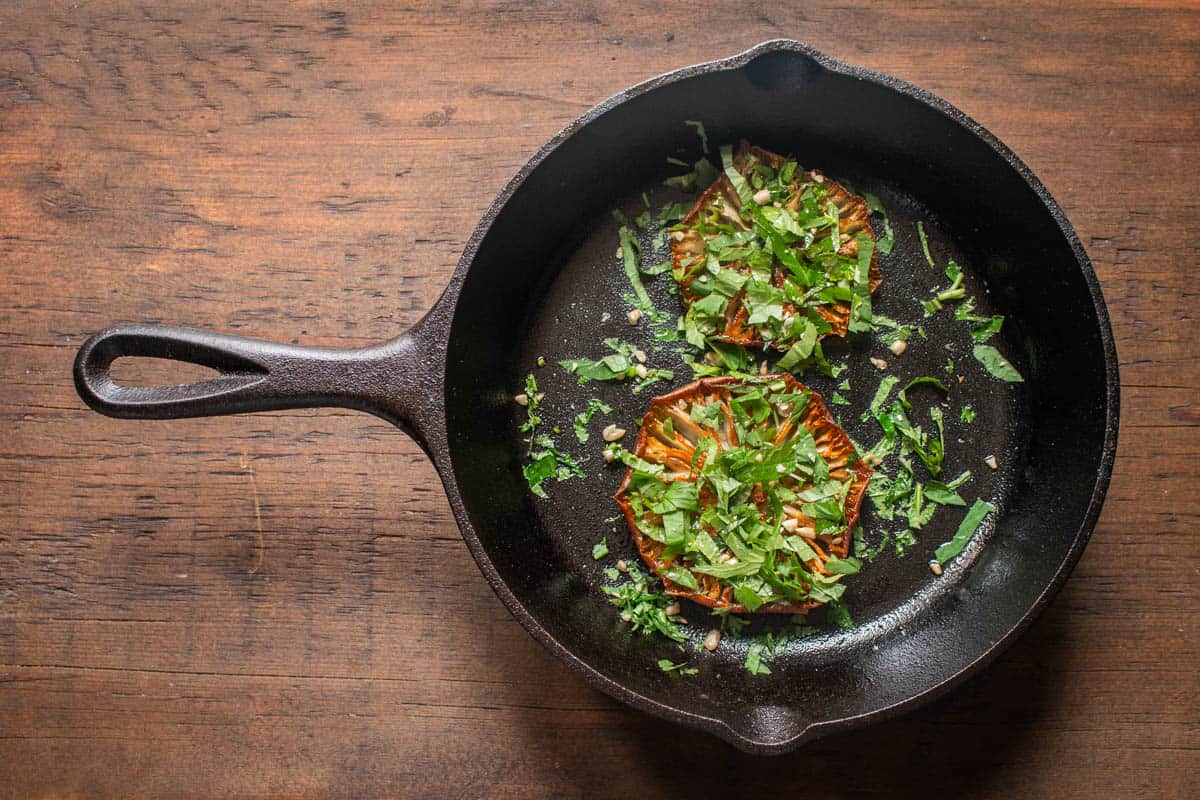 If, by some stroke of luck you find enough to preserve them for later use there's plenty of options. Deer mushrooms can be sliced and dried easily, or even left whole, although, unlike most other mushrooms, the flavor doesn't seem to really improve from drying. They have a mild flavor after re-hydrating that's a decent addition to a stock or soup. Pickling them is always a fine option too, refer to my basic recipe for mushroom conserve.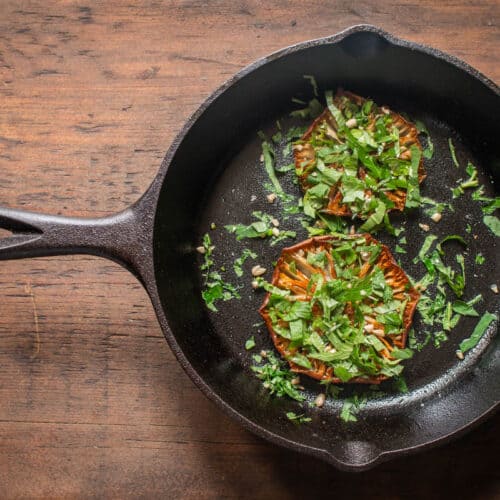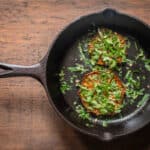 Print Recipe
Deer Mushroom Caps with Garlic and Parsley
Sauteed deer/fawn mushroom caps with garlic and parsley-a simple side dish for wild mushroom caps.
Ingredients
2-4 Large, clean pluteus caps

1

Tablespoon

cooking oil or butter, or a mix

2 tablespoons chopped Italian parsley

1 large clove garlic

Kosher salt and fresh ground black pepper

Lemon wedges, for serving

optional
Instructions
Inspect the mushrooms and dust them of any grit, wood or debris.

Cut the stems from mushroom and slice them into ½ inch pieces.

In a saute pan, such as a 10 inch size, heat the oil or butter, then add the mushroom caps and cook, turning occasionally, until browned on both sides and the water has evaporated.

If the mushrooms soak up all the oil, add another drizzle to the pan now.

Season the mushrooms with salt, add the garlic and stir, cooking for a minute or two until the garlic is aromatic.

Turn the heat off. Add the parsley, stir to mix, then arrange the mushroom stems on top of the caps. Sprinkle with a little extra parsley and serve with a wedge of lemon.
Recipes