There are some recipes so timeless that they're known across borders and cultures with the only change being their name. Wild mushrooms with garlic and parsley, or persillade, is one of those dishes.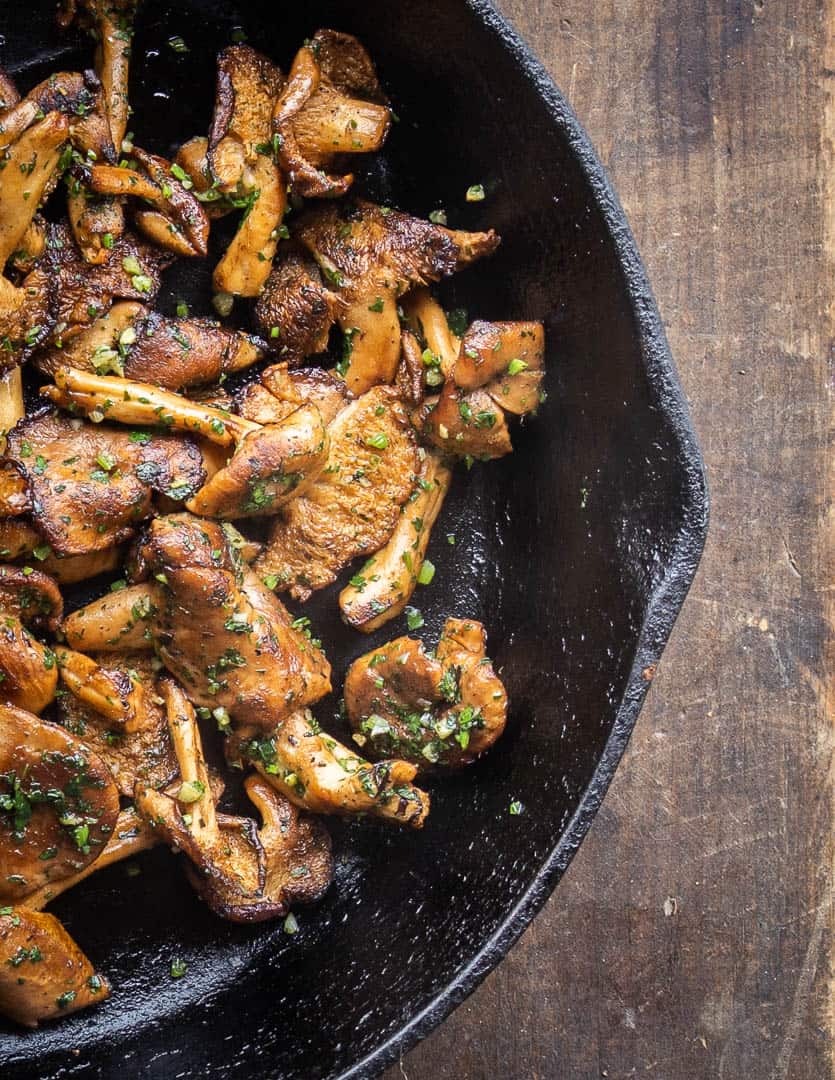 In France, this would be called mushrooms with persillade. In Italian it's known as mushrooms "la loro morte" roughly "cooked to their death", a romantically macabre way of describing something. In Spain mushrooms are cooked similarly, but most of the time I see Saffron milkcaps or "rovellons" being used all by themselves.
Whatever you call it, this is one of the most tried and true ways to prepare mushrooms. And there is no better time to enjoy it than in the heat (often literally) of summer-fall mushroom season here in the Midwest.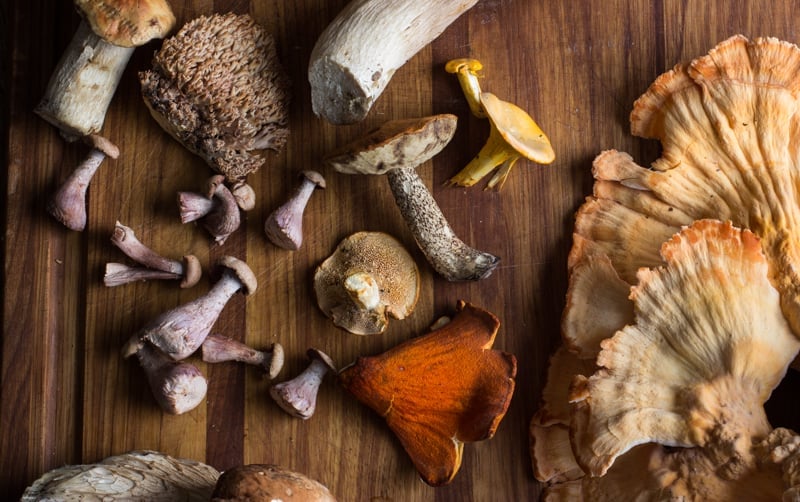 As simple as the recipe is, there is a couple things to know so you can enjoy it to the fullest. First, you want a variety of mushrooms, of course you can use just one species, but having a bunch of different types let's you enjoy different textures, colors and flavors.
One day this summer I grabbed a few purple Laccaria, some lobsters, white and yellow chicken of the woods, porcini and various boletes, chanterelles, hedgehogs, and a beautiful Ramaria botrytis-they're pictured here. Variety is key-the more species, the more interesting you're finished product will be.
How to cut the mushrooms
When you have different species, which will give you the most interesting version. I like to think that the mushrooms tell me how they like to be cut.
If the mushrooms are very small, like the Laccaria pictured below, I may leave them whole, and the same goes for small chanterelle or hedgehog buttons. If the mushrooms are larger, like lobsters or the Leccinum pictured, I may cut them into slices.
Other mushrooms like the Ramaria pictured here are sliced into thick pieces so they still resemble their shape. Treat each mushroom individually and the finished product will be more interesting.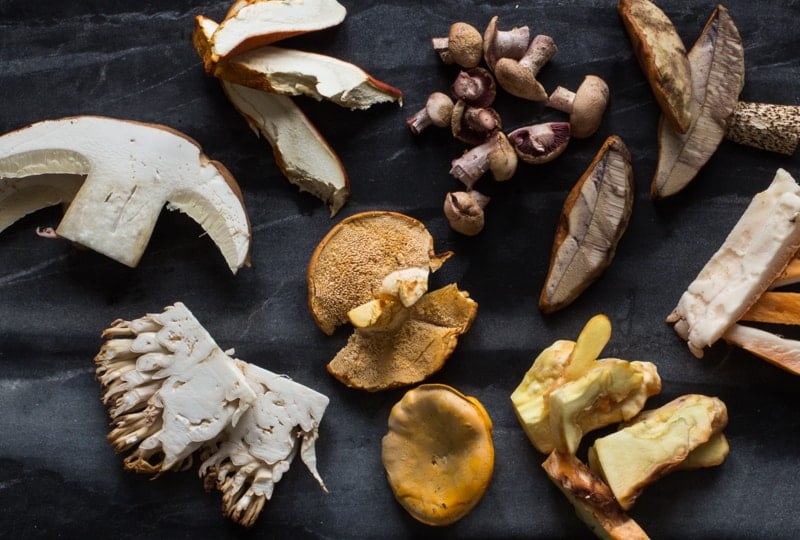 Another thing to keep in mind about the ingredients is the quality of your garlic and parsley. Absolutely do not ever think of using tinned, pre-chopped garlic for this (or anything for that matter in my opinion).
Pre-chopped garlic has a terrible taste that borders on fermented to me, and not in a pleasant way. As it includes liquid too, it won't caramelize and gently brown like raw, fresh chopped garlic. If you have any of that in your fridge, please unsubscribe from this website.
True Persillade (Chop the garlic and parsley together)
Traditionally, persillade is not just tossing a little garlic and parsley into a pan. For the most traditional result, the garlic and parsley must be chopped together, not separately.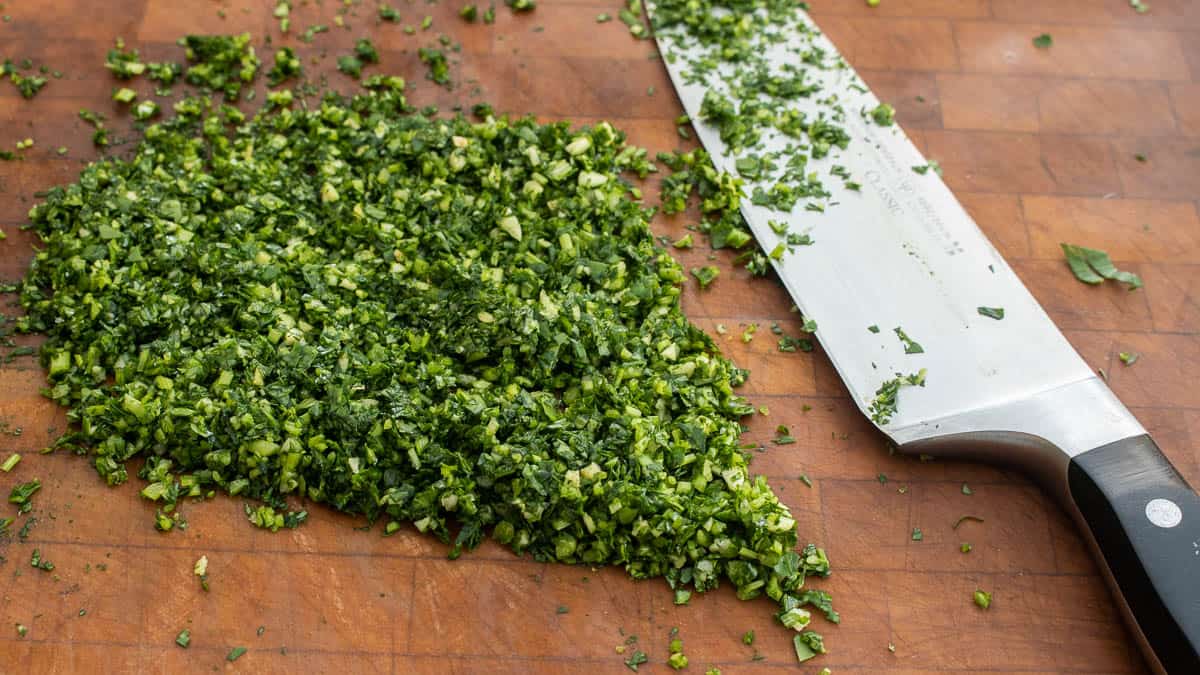 The same goes for the parsley. I would only use fresh, Italian flat-leaf parsley here, since it actually tastes like something. Dried parsley is a no-no, and is only fit for garnishing plates from 1980-you might as well season something with sawdust.
Curly parsley too, is pretty void of flavor, and since the price of flat leaf and curly parsley is roughly the same, choosing one over the other is a no-brainer.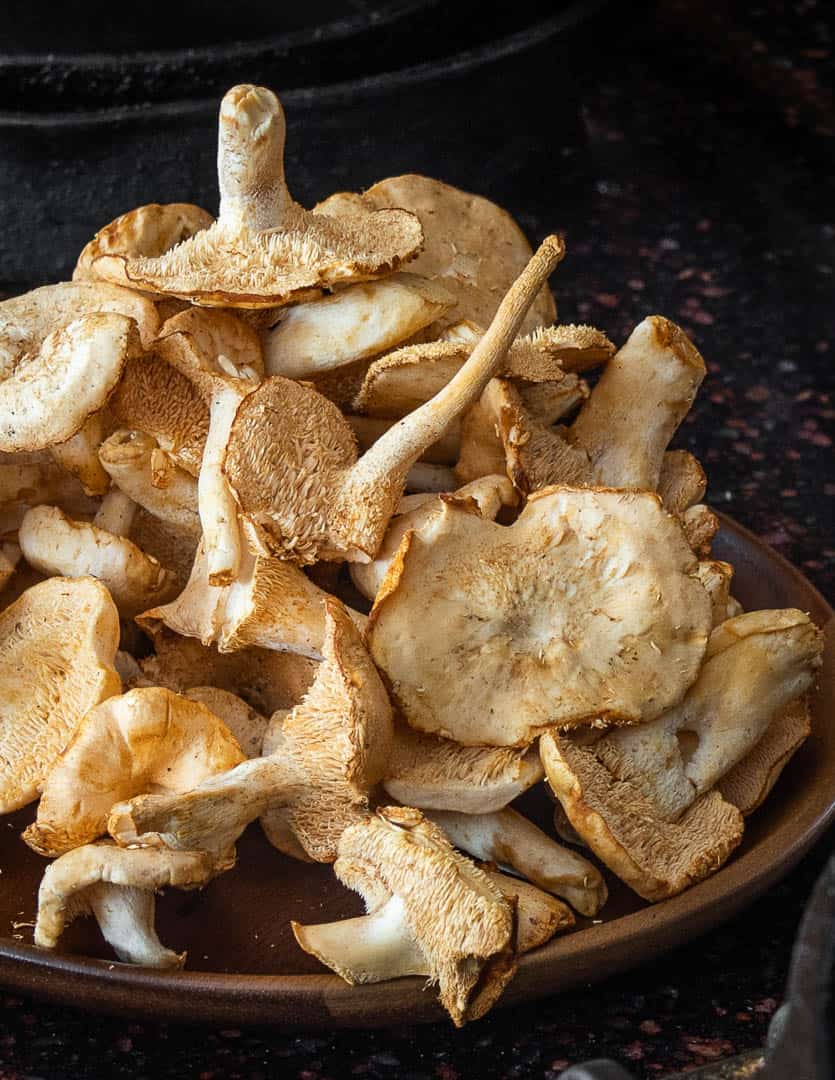 One last thing to mention is the type of fat. You can experiment with sorts of things here, and they'll each give you different results.
Flavorless, high heat oil, like grapeseed or non-gmo canola are good, but animal lards will give you a deeper flavor, since they aren't flavorless. Duck, and poultry fat are especially good.
Using the wet saute
Using the wet saute here is a good trick to help the mushrooms not soak up too much oil. For a video demonstration of that, see my post "How to Cook Chanterelle Mushrooms".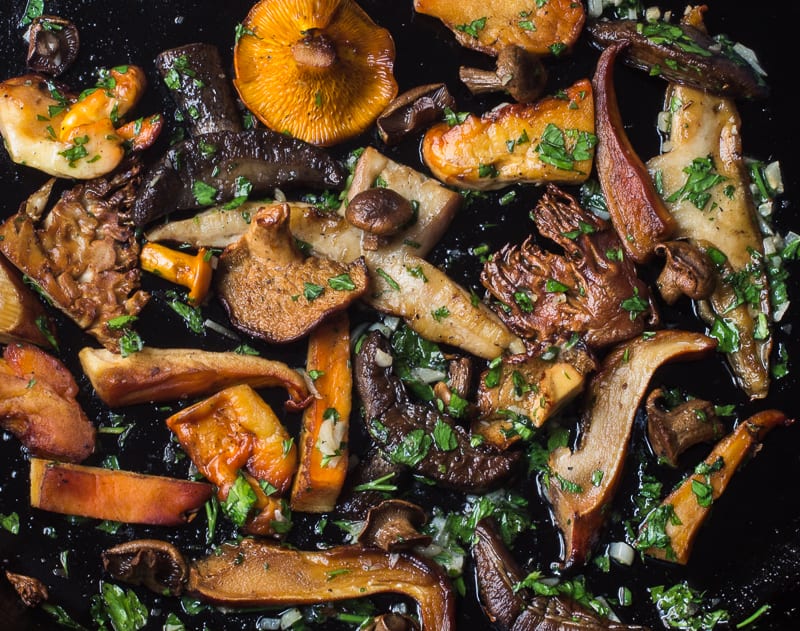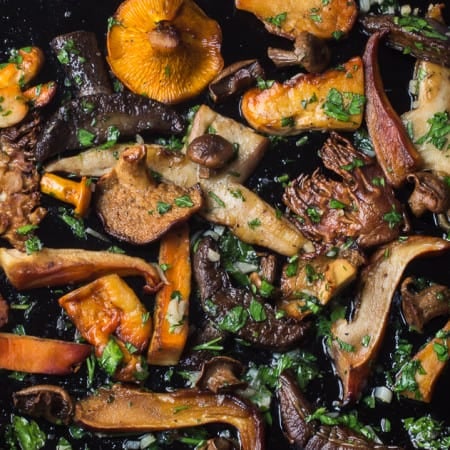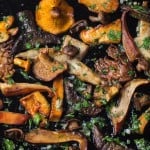 Print Recipe
Wild Mushrooms With Garlic And Parsley (Mushrooms with Persillade)
Ingredients
1

small clove

fresh garlic

end trimmed

1

small handful

Fresh Italian parsley

½ oz or so, very well dried

8

ounces

mixed fresh wild mushrooms

Kosher salt

to taste

Fresh ground black pepper

to taste

1

tablespoon

Cooking oil or poultry fat, especially duck fat
Instructions
Clean the mushrooms, rinsing them lightly with water and drying on a towel if needed.

On a cutting board, mince the garlic and parsley together with a chefs knife until very fine. This will make a little more than you need. Leftover persillade is good stirred into soup, or tossed with hot vegetables.

In a large saute pan or cast iron skillet or two pans if you only have 10 inch saute pans, heat the water on high heat and add the mushrooms. Cover the pan with a lid to trap steam.

Cook the mushrooms until wilted and the pan is dry, then add the oil and allow them to brown gently.

Season to taste with salt and pepper. Turn off the heat, then stir in a generous tablespoon of the persillade.

Double check the seasoning for salt and adjust if needed, then remove and serve. The mushrooms make a good side dish like this, perched on top of a steak, or a bowl of wilted greens, plopped onto a bowl of soup--just about any way you could imagine.