Nothings says a good morning like a bag of giant lobster mushrooms. Their size can be stunning, along with their heartiness against bugs. These cakes are probably my favorite lobster mushroom recipe.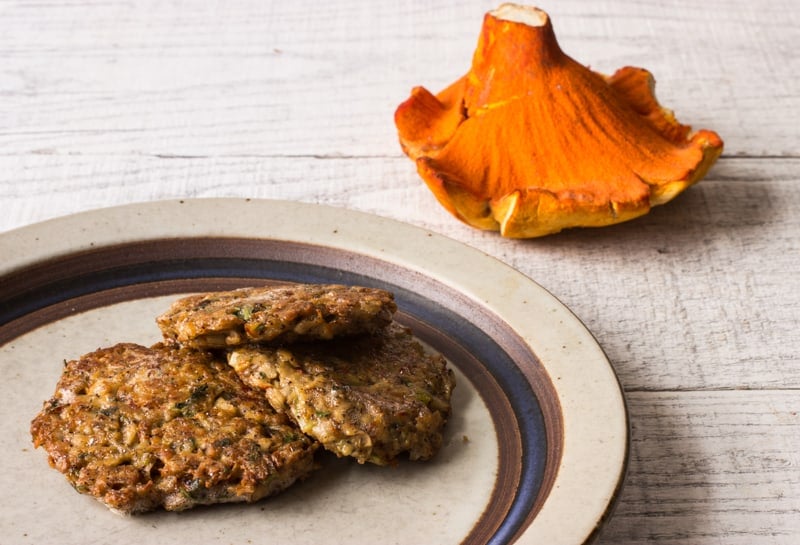 I dry plenty throughout the year since it unlocks more of their aroma, but there are some other ways to concentrate their flavor. These cakes are a great method I came up with this year, for just that purpose.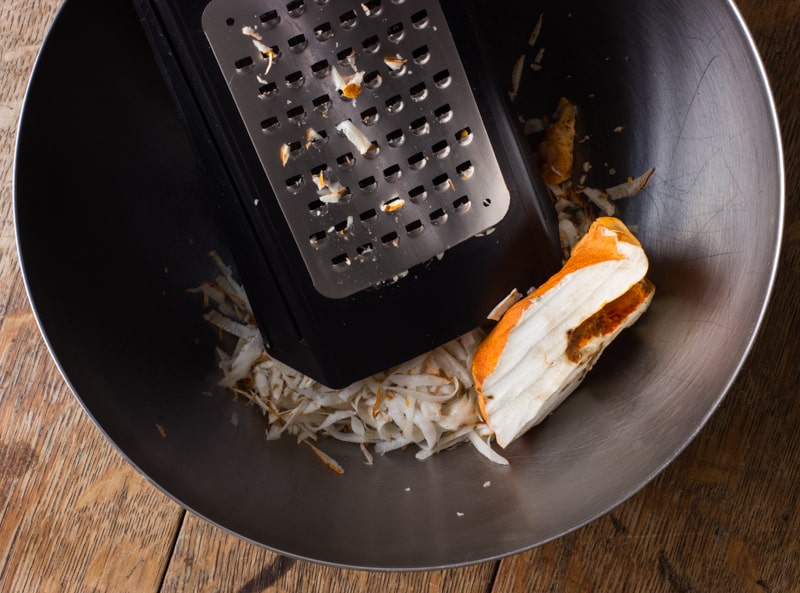 Basically, one day I had a discussion with my line cooks about how just cooking at the stove Isn't enough. I expect them to be creative, experiment, and contribute to menu development, since it makes them more vested in the food, and also helps them learn.
A couple days later one of them came in early to play with some vegetables and pickles, one of the things he made were little cakes of shredded zucchini. That's when I thought of making these. When I make a cake of shredded vegetables, I salt them lightly beforehand (a little technique I learned from Julia Child).
The salt allows the vegetables to release water, which would make the batter loose. Afterwards I squeeze out the water, season the the vegetables with salt, herbs, egg, and a little bit of a binder like flour.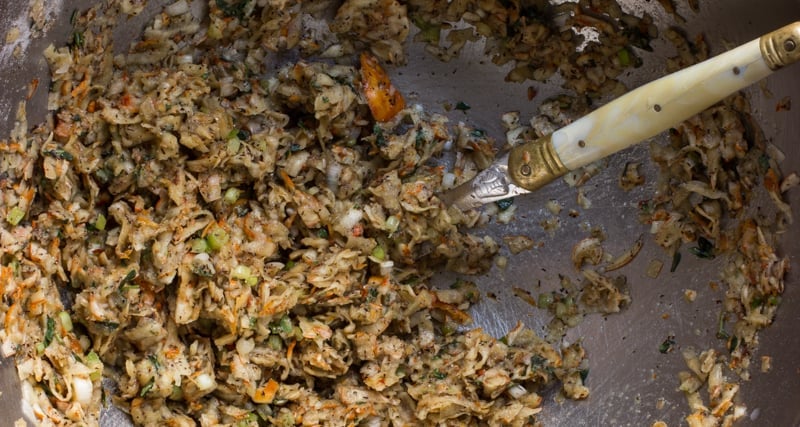 Getting to the point, the bulk of a lobster mushroooms weight is made up of...water. Removing some of that water, like when the mushrooms are dehydrated, concentrates their flavor. Salting shredded mushrooms, then squeezing out the water, will have a similar effect of concentrating their flavor.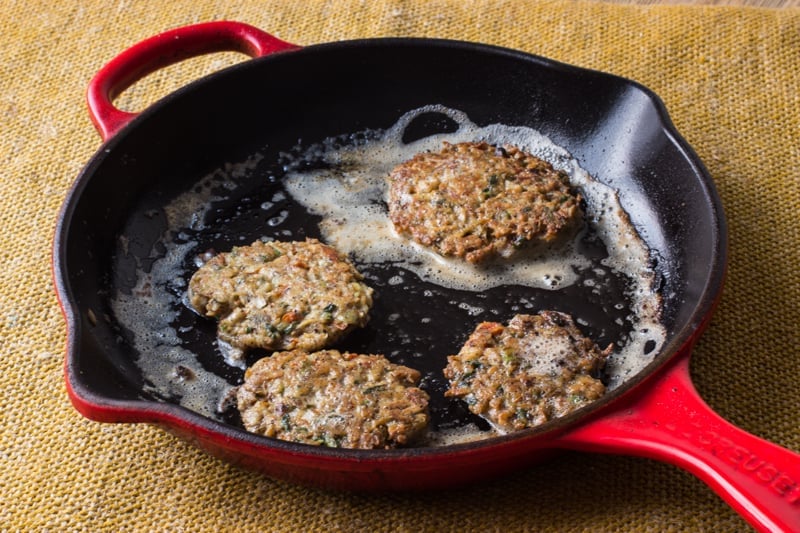 Needless to say, these crispy fried mushroom cakes are fantastic. Try them next time you have a bunch.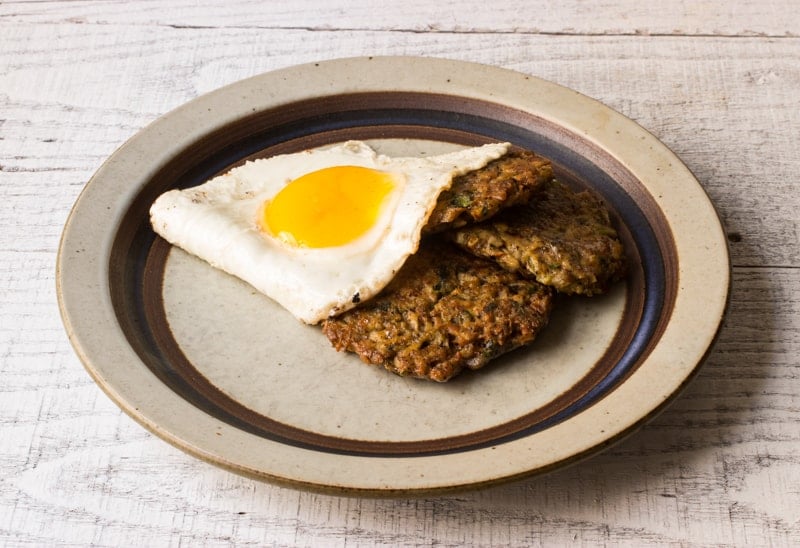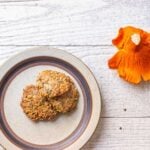 Print Recipe
Lobster Mushroom Cakes
Yield: 4-6 latkes, enough to serve 2-4 people as an appetizer or component of an entree
Equipment
1 box grater

1 mixing bowl

1 Cast iron skillet
Ingredients
½

lb

fresh lobster mushrooms

trimmed, cleaned, and washed if necessary

½

teaspoon

salt

plus more to taste if needed

½

teaspoon

fresh ground black pepper

¼

cup

green onion

trimmed and diced ¼ inch

1

tablespoon

fresh sliced chives

1

teaspoon

fresh chopped thyme

1

teaspoon

smoked paprika

1

tablespoon

all purpose flour

or more as needed to form the cakes

1

whole large egg

plus one egg yolk

Clarified butter

animal lard, oil, or a combination, as needed for sauteing the cakes
Instructions
Shred the lobster mushrooms on a box grater or through the shredding attachment on a food processor. Mix the shredded mushrooms thoroughly with the salt, then allow to sit for 10 minutes so the salt can draw out their water. Squeeze the shredded mushrooms to remove as much water as possible, then mix with the remaining ingredients except the cooking fat.

In a nonstick or seasoned cast iron pan, heat a tablespoon or two of the fat until hot and shimmering. Form a small test cake and fry it on both sides until golden, then cool, taste, and judge the seasoning and texture. If the cakes seem difficult for you to form, add another pinch of flour. If you think they need more seasoning, add a pinch of salt, more herbs, etc and repeat the process until you like the taste.

Working in batches, take a couple heaping tablespoons of the mushroom mixture and form into cakes, then fry a few minutes on each side slowly, and gently, until golden brown, flip and repeat, then serve immediately.

If you're making a large batch, finished cakes can be held in a warm oven on a cookie rack until the others are done.
Notes
You can vary these any number of ways, like using a blend of big mushrooms like firm boletes or polypores, and the herbs can be tweaked to use what you have on hand, adding a little grated parmesan or ground, dried lobster mushrooms wouldn't hurt either. The proportions in the basic recipe are solid though, and won't let you down.
They're excellent served with eggs, a little reduced tomato sauce, flavored mayonnaise, a lemon wedge, your favorite condiment, or just straight out of the pan.
Nutrition
Serving:
2
cakes
|
Calories:
45
kcal
|
Carbohydrates:
8
g
|
Protein:
4
g
|
Fat:
1
g
|
Saturated Fat:
0.1
g
|
Polyunsaturated Fat:
0.3
g
|
Monounsaturated Fat:
0.03
g
|
Sodium:
590
mg
|
Potassium:
422
mg
|
Fiber:
2
g
|
Sugar:
3
g
|
Vitamin A:
617
IU
|
Vitamin C:
5
mg
|
Calcium:
16
mg
|
Iron:
1
mg