There really is no substitute for fresh mushrooms in everyday cooking, but we can get pretty close. Of course they can always be pickled for long term storage, but there's another method, almost in between a pickle and a marinade: the almighty conserve. Think of it as the best pickled mushroom you've ever had.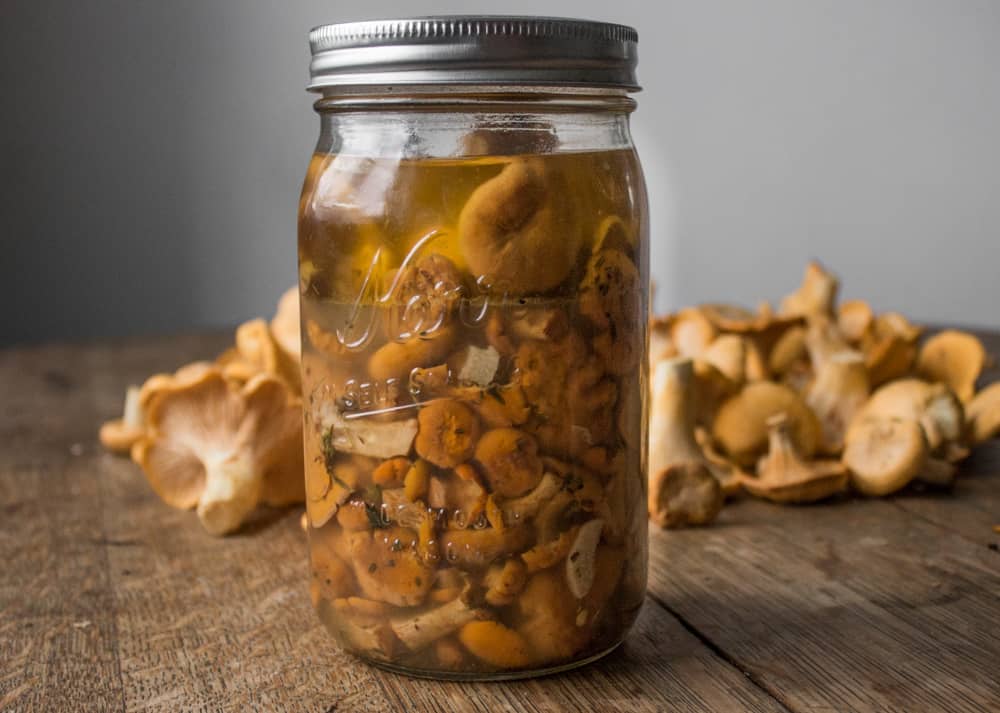 I used to make 80 lb batches of these pickled mushrooms every week at my first restaurant. It was also sold commercially at Heartland Restaurant and Farm Direct Market in its heyday when we had a market full of preserves like pickles, sauerkraut and other ferments, all made in house.
Real quick for the sticklers: I've seen mushroom "conserva" and "conserve" both on the menus of various restaurants. They're generally going to be the same thing, conserva just being the Italian translation.
Don't kill the mushrooms with vinegar
The real magic about this is that it lacks the overkill acidity of most pickling liquids (as well as sugar, which I don't care for in mushroom pickles), but it's still safe enough to can in a water bath.
Kept under their liquid, the pickled mushrooms will stay for a very long time. Some recipes online will say they keep for about a month, let me tell you though, I have kept mushrooms stored like this in restaurants for over a year, having no loss in the quality of the product. Just make sure to keep the pickled mushrooms under their liquid.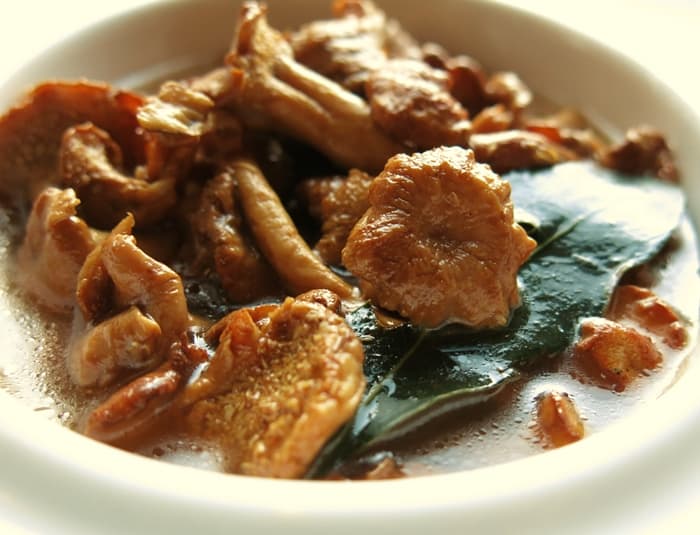 PH and Canning Safety
I don't usually can this in restaurants, since there's walk in coolers, but for home use,you want something shelf stable. I did an experiment to test if this could be canned in 2015, I suspected it could, but I wanted to be 100% sure. Here's the skinny: general standards for pickling and canning say that you want to have a PH under 4.6 or lower for hermetically sealed foods.
Canning food in a pressure canner doesn't require a low PH as the temperature exceeds 242F, which is enough on it's own to ward off botulism. Foods canned in a water bath canner (like this can be) only reach 212F (the boiling point of water), and that isn't enough on it's own to prevent botulism, so lowering the PH with acid or vinegar is necessary.
To find a sweet spot PH level, I started with 2 cups of liquid and then started adding vinegar, stirring to incorporate, and then testing the PH at 1 and 2 minute intervals to make sure I got a steady reading.
The moral of the story is that mushroom conserve here, consistently came in at right around 3.6, which is way under what you need to be safe, and adding more vinegar eventually made PH level plateau at right around 3.2, which begs the question of why we would ever pickle something in 100% vinegar, which plenty of mushroom pickles call for.
Anything preserved in 100% vinegar is far too strong for me. The lower amount of vinegar in conserve recipes gives you an advantage in that the mushrooms retain more of their flavor, making them more versatile.
The End-All Mushroom Pickle for most species
I guarantee you, once you try this recipe, you may never want to simply pickle mushrooms again. I used hedgehog and chanterelle mushroom in the pictures here because they're probably my favorite for conserve but you could use a lot of different mushroom species, epecially if they're in the button stage.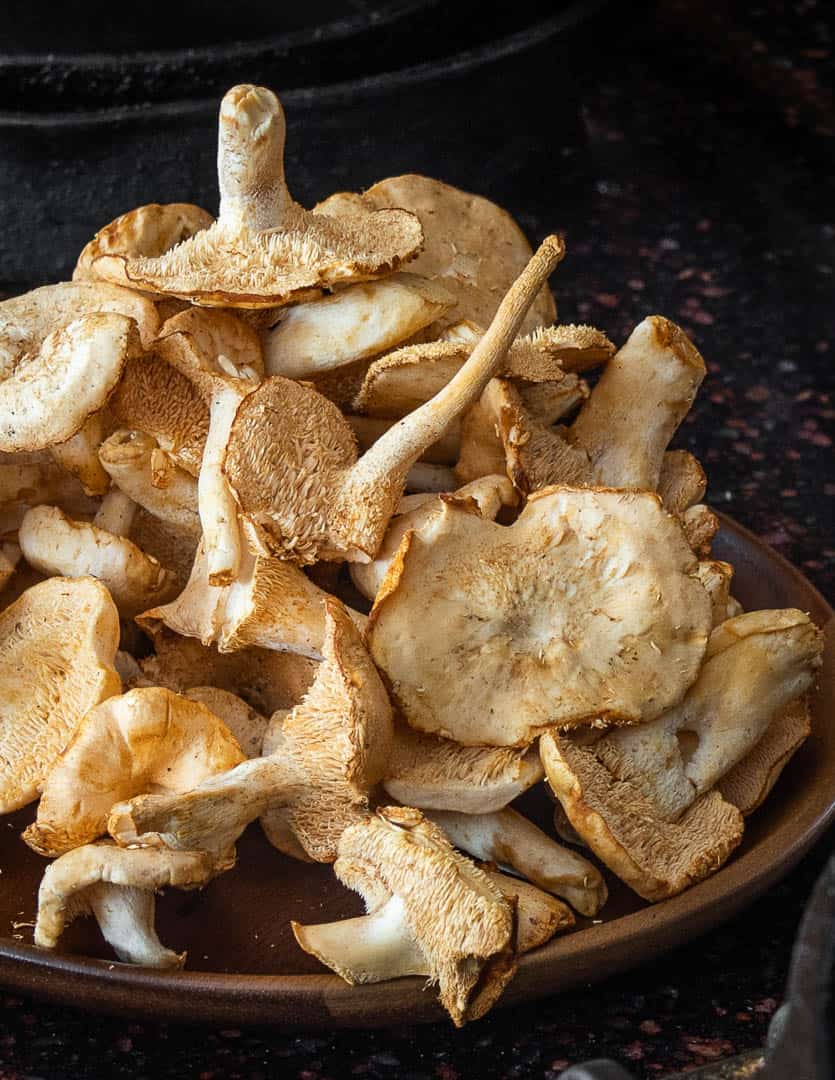 If it's a mushroom you can pick, it can probably be conserved, and wild mushroom blends are good too. One thing to know though, is that aborted entolomas and any species of puffball I like to caramelize until lightly golden in oil before the vinegar and liquid is added, otherwise they just don't taste as good, a bit like some cousin of crumpled tofu.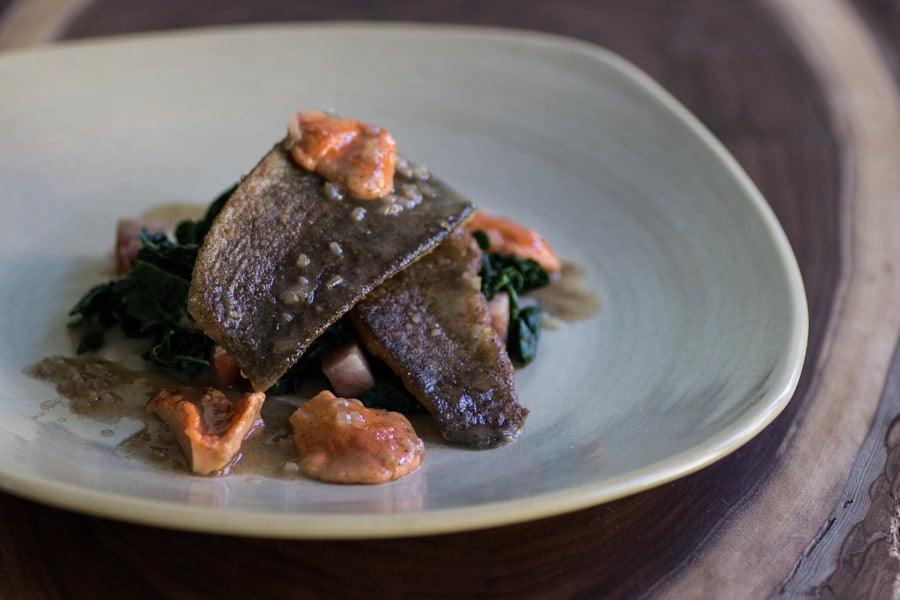 There's a couple things that are good to know about preserving mushrooms this way, and I would give the same advice for pickles. Here are some tricks I've learned after using this recipe for years. At one restaurant, I used to make this in 80lb batches, weekly-- I might know a thing or two about it.
Only use young mushrooms for conserve and pickles, small tight buttons will yield the highest quality product. Larger, more mature mushrooms are better dried.
Don't go crazy with the flavoring ingredients. Adding a whole bunch of herbs, garlic and spices will make your mushroom conserve (or pickles for that matter) taste like medicine. Start with my tested proportions and get creative later.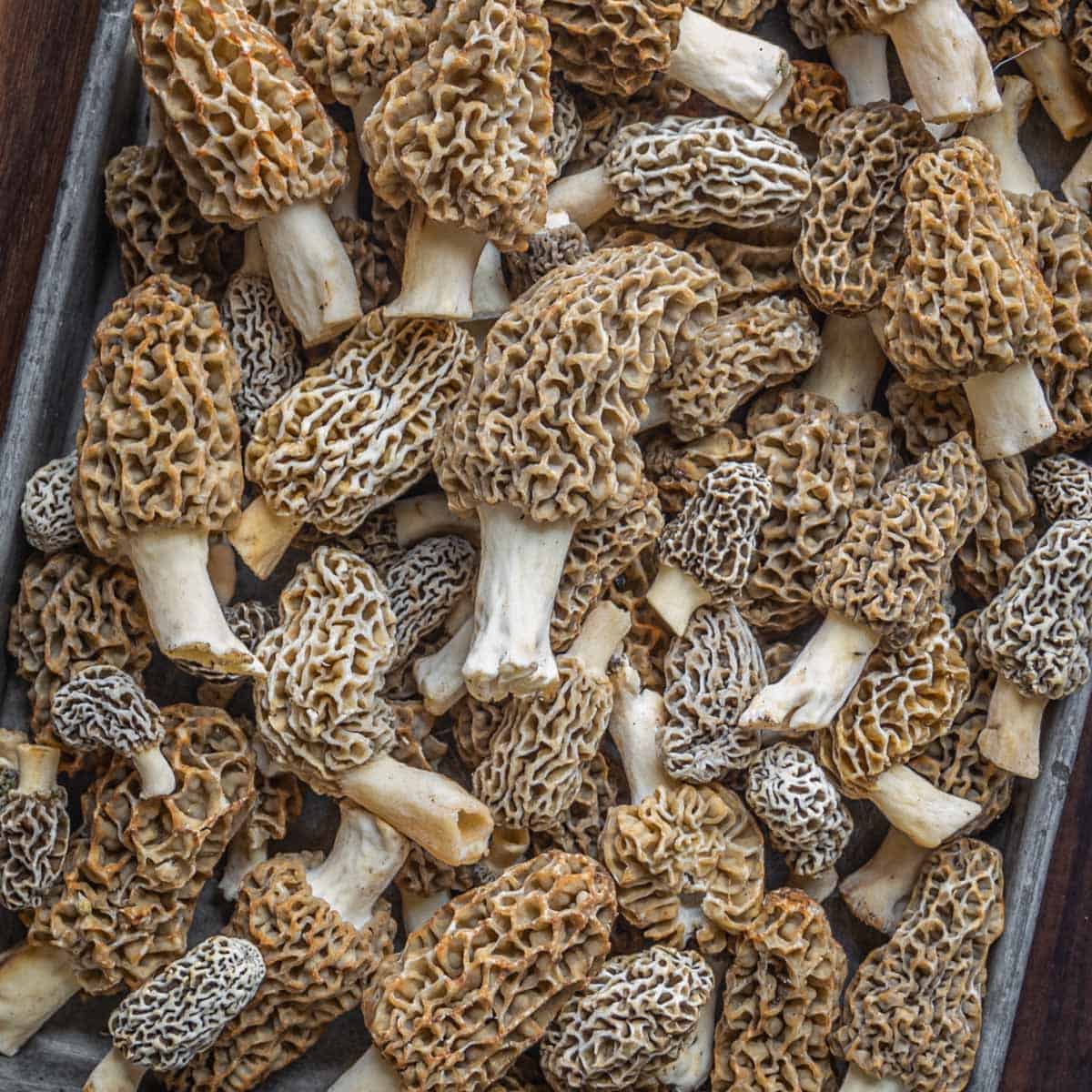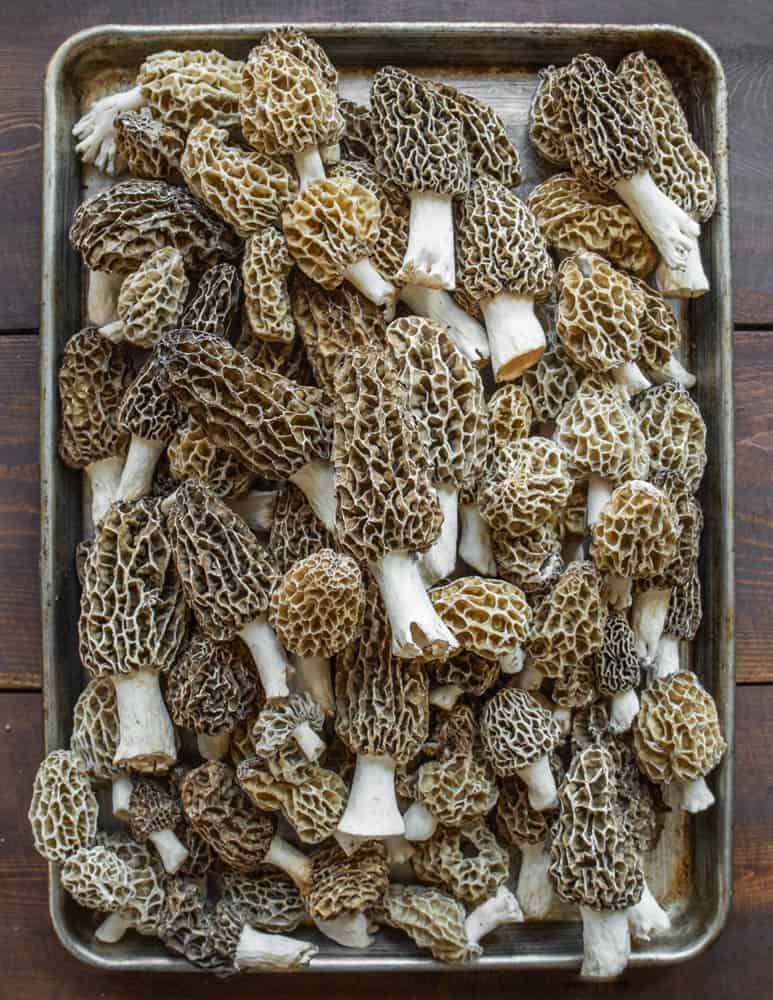 How I Use It
This is how a lot of chefs preserve mushrooms en-masse, and, although they have a little acid to them, and they're in a container of liquid, it definitely doesn't mean that they're to be relegated to a bloody mary skewer or part of a pickle plate. Oh hayll no.
Like I mentioned, wet preservation like this is probably the best way to keep the texture of fresh mushrooms, salting comes in a close second, but then they need to be rinsed and soaked before hand. With mushroom conserve, all you do is pull them out of the jar and warm them up if you want. Easy money.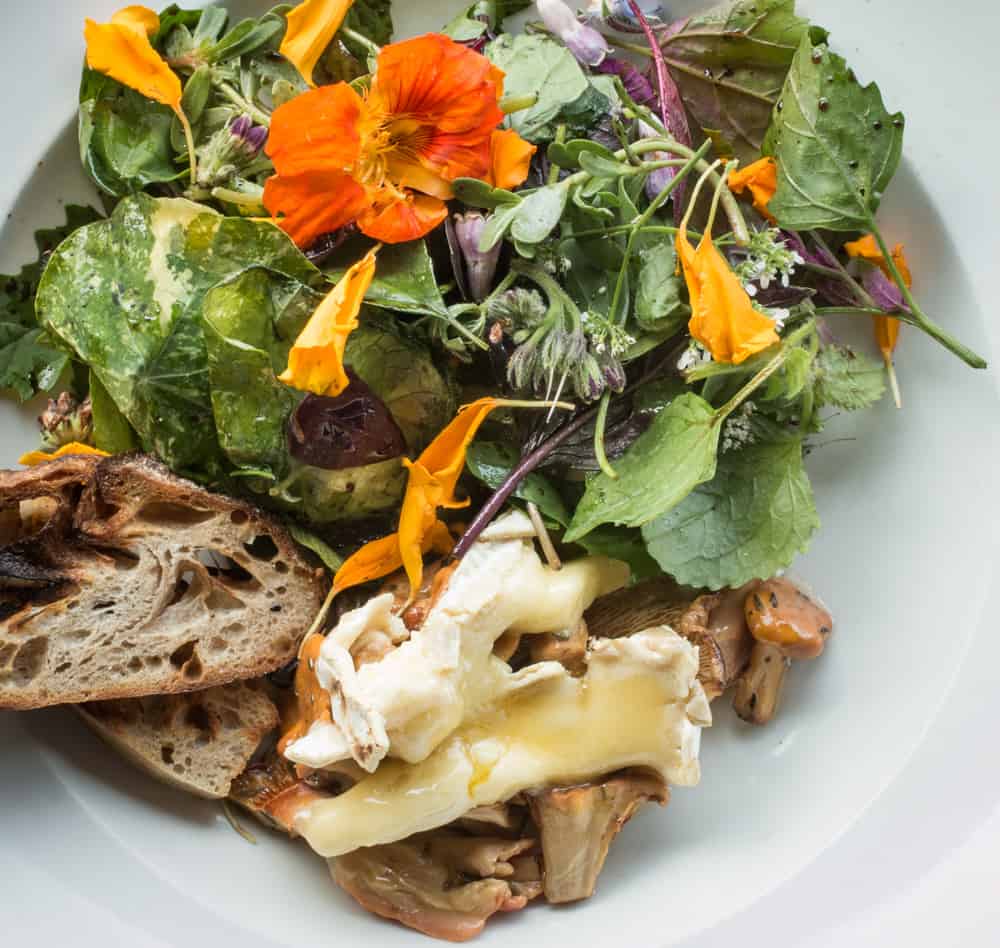 Pro Tip: Serve them Warm
Most of the time, I like to warm these up and add them to a dish, as a garnish to finish a plate, or as part of a warm salad, or appetizer. They can even be an appetizer in themselves.
Baked in a dish with a little liquid and topped with a slice of brie and melted under the broiler in an oven, they're ridiculously good spooned on toast, with a green salad on the side to cut the richness. I'm sure you can figure out plenty of things to do with them, if you don't end up eating them out of the jar standing in front of the fridge.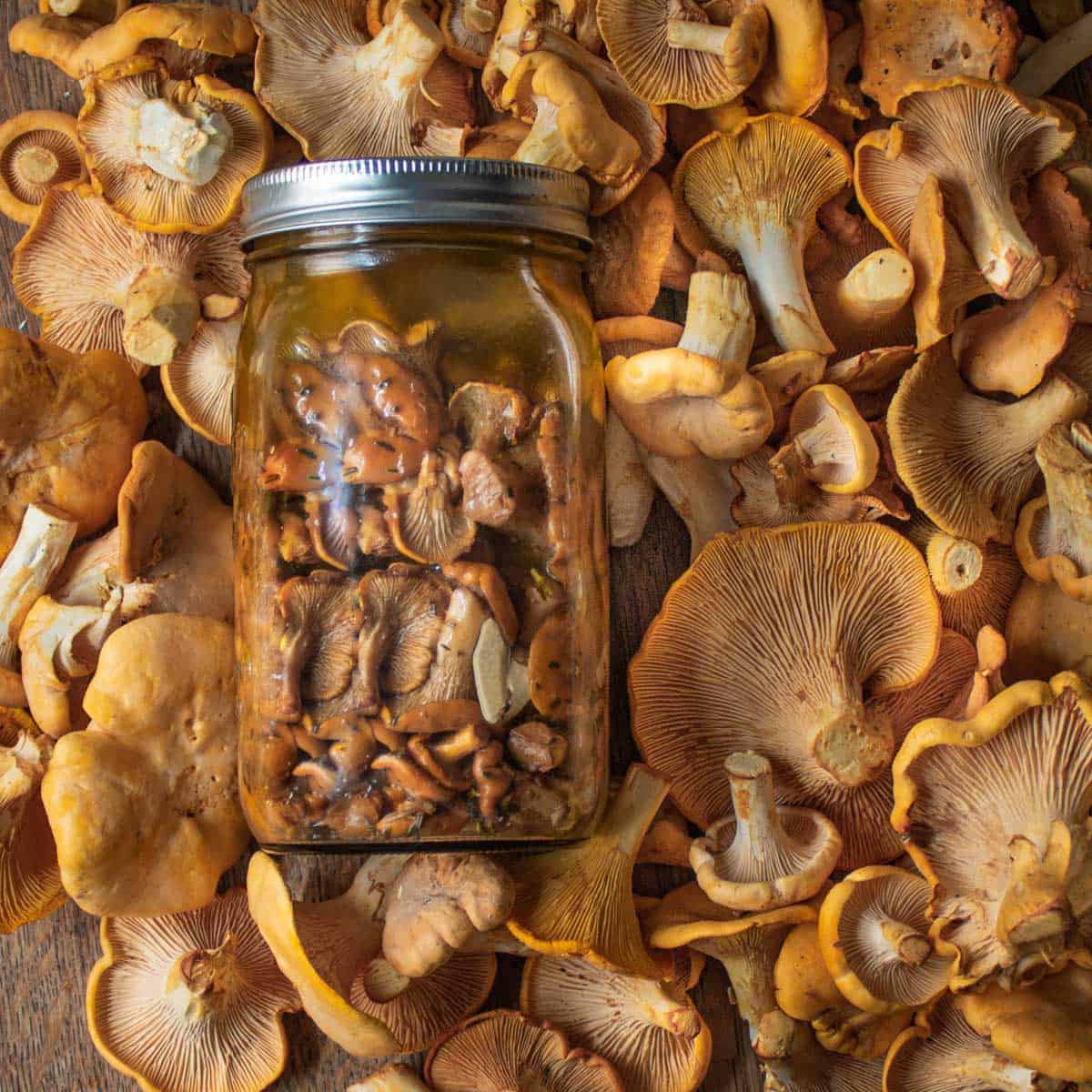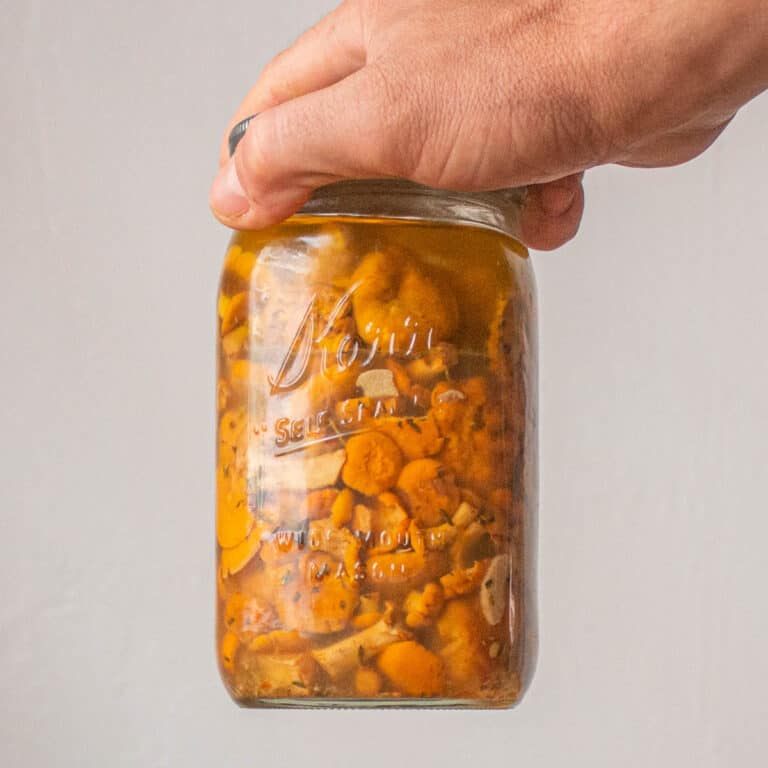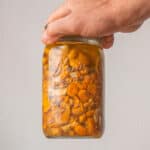 Print Recipe
Wild Mushroom Conserve
Probably the greatest wild mushroom pickle/preserve you will ever taste. Yield: 1 qt canning jar 
Equipment
1 wide mouth quart mason jar
Ingredients
Scant 2

lbs

small young mushroom buttons.

28-30 oz will fit a quart jar. Chanterelle buttons are my favorite here

3

cloves

7 grams garlic

thinly sliced

½

cup

flavorless oil for sauteeing

grapeseed or canola

1

teaspoon

5 grams kosher salt

a generous teaspoon

¾

cup

water

½

cup

Rice wine vinegar

you can also use white wine vinegar, but it will have a stronger flavor

2

teaspoons

fresh chopped thyme

fresh only

1

dried bay leaf

or use fresh
Instructions
Read through the entire recipe before proceeding.

Clean your mushrooms by swishing them quickly in cold water while you clean them to ensure they'll have liquid to give up when they hit the heat. Transfer the mushrooms to a tray lined with a few paper towels and allow them to rest and release some liquid. I like to do this overnight in the fridge to allow them to dry out a bit.

In a wide pan with high sides, or a soup pot, gently heat the oil and the sliced garlic slowly on medium heat until the garlic begins to turn golden. Take your time here, as the more color you can put on the garlic, the better the finished product will taste. Do not burn the garlic.

When the garlic is perfectly golden, add the mushrooms, salt and herbs, stir so the salt can help draw out the mushroom liquid, then cover the pan, cooking on medium heat, and allow the mushrooms to give up their juice and halt the cooking of the garlic. The mushrooms should give off a good amount of water.

Once the mushrooms have wilted and given up their juice, add the water and vinegar, then bring the mixture to a rolling boil.

Finally, put the mushrooms in a quart jar, pack them down, then bring the liquid back to a boil, and pour the boiling liquid over the mushrooms. Wiggle a chopstick around in the jar to get out air pockets, adding extra pickling liquid as needed. From here the mushrooms can be stored in the fridge and will last for months as long as they're kept under their liquid.

If you want to water bath can the mushrooms, leave ½ inch of headspace at the top. Depending on the size of your mushrooms, you may have a little pickle liquid and some mushrooms leftover.

Press the mushrooms down to make sure they are completely covered with liquid--add a little oil to cover if they threaten to pop up, then screw on the lid, then process the jar(s) in a water bath like regular cucumber pickles: 10 minutes for pints, 15 minutes for quarts. Store opened jars in the fridge.
Notes
If you want to can this for long term storage, pour the mushrooms and their juice while boiling hot into the jar, top it off with the extra ¼ cup of oil, screw on the lid tightly and turn the jar upside down. Alternately, can in a water bath. 
Nutrition
Serving:
1
oz
|
Calories:
91
kcal
|
Carbohydrates:
4
g
|
Protein:
1
g
|
Fat:
8
g
|
Saturated Fat:
1
g
|
Polyunsaturated Fat:
2
g
|
Monounsaturated Fat:
5
g
|
Trans Fat:
0.03
g
|
Sodium:
6
mg
|
Potassium:
306
mg
|
Fiber:
2
g
|
Sugar:
1
g
|
Vitamin A:
0.4
IU
|
Vitamin C:
0.003
mg
|
Calcium:
10
mg
|
Iron:
2
mg