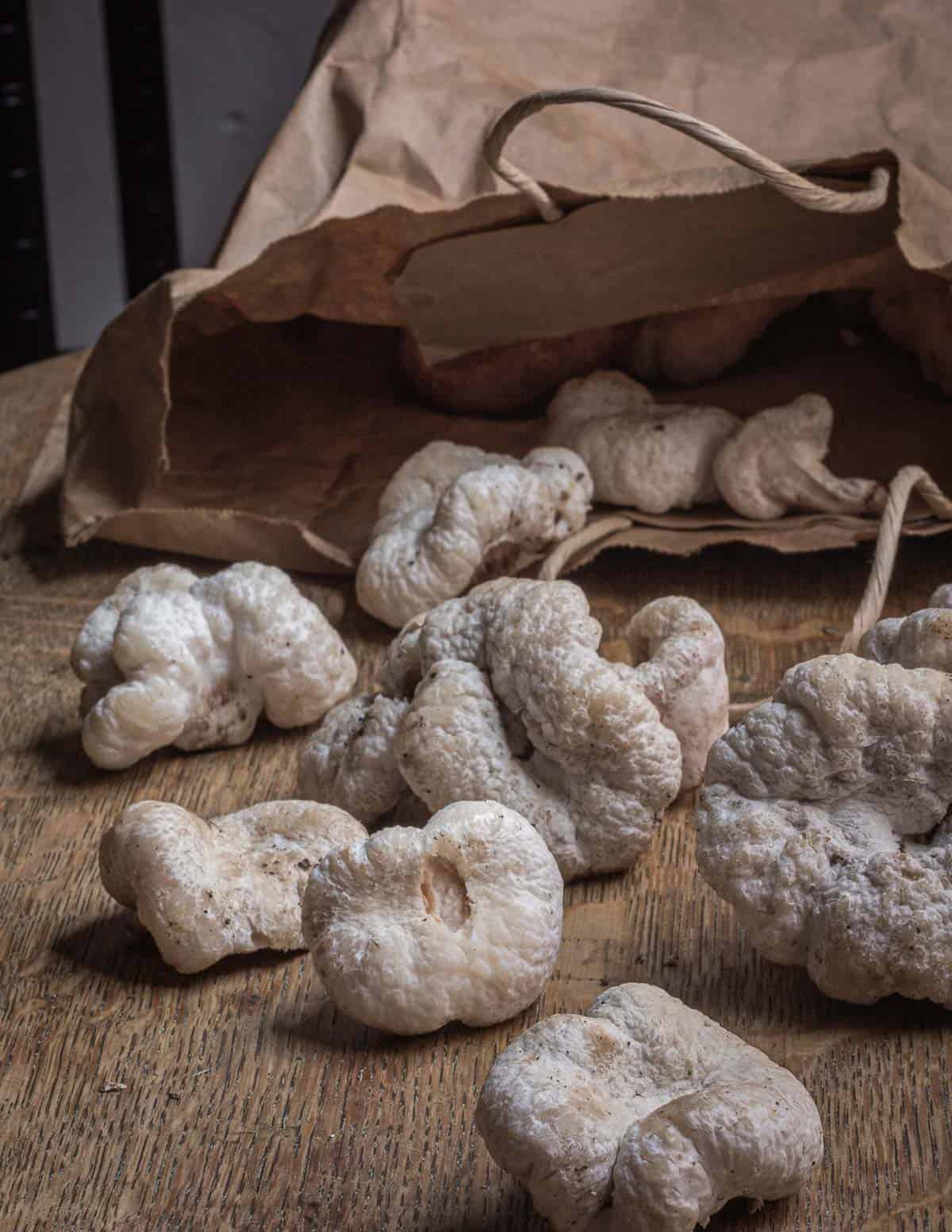 The shrimp of the woods! Also known as aborted entolomas-a terrible name for an easily identifiable, edible wild mushroom.
I had heard of these through another chef friend of mine, but it took me a while to find them on my own. They look like strange white popcorn balls that crawl out of the earth. During their season in the middle to late fall, they'll seem to be everywhere in my region, looking almost like they're oozing out of tree roots and dead wood.
There is a bit of confusion as to what these actually are, but the latest theory I've heard is that aborted entolomas are produced through a reaction of an entoloma species with honey mushrooms when growing in the same vicinity.
Aborted forms=Carpophoroids
Something occurs between the honeys and entolomas, and it causes mushrooms to "abort" themselves and change their shape from a typical looking mushroom with a stem, cap and gills, to the funky popcorn ball shown in the pictures here that are firm to the touch when fresh, and lacking gills of any kind, with the true name of the aborted form being a carpophoroid.
From what I've seen, the strange relation seems compounded when the two mushroom species are near one another. I do see them growing separately though too, for whatever it's worth. Sometimes they can be confusing, and you might see mushrooms that aren't fully aborted, like below.
Aborted Armillaria, or entoloma? 
I've wondered for years what species I'm actually eating when I cook aborted entolomas, thankfully there's Tom Volk's page, a well-known professional mycologist. Tom says that originally aborted entolomas were thought to be entolomas forced by the honey mushrooms to form the corpophoroids, but now, through new research that he and his students have done, they've deduced that the mushrooms we're eating are actually aborted honey mushrooms, so the name aborted entoloma is technically incorrect. Another reason why we should adopt "shrimp of the woods", as a common name, in my opnion. Read the full article here at: Tom Volk's Page 
General Cooking and Cleaning
Collecting entolomas is easy. Cleaning and cooking is the hard part, well, more so just the cleaning. When you're picking them, make sure that you trim off the root/base that attaches them to the ground, which is usually covered in dirt. The mushrooms often have a divet in the top,  and if dirty mushrooms are put on top of them in a basket or bag, they will be much harder to clean, and they'll make all your other mushrooms dirty too.
Browning: the key to good flavor 
I'll be honest with you, if you don't prepare these right they can be pretty uninteresting. The key to flavor with entolomas is to caramelize and brown them, that's when they shine. If they just get stewed from raw, things are going to be bland and styrofoamy, just like with a puffball.
Like the lobster mushroom, the characteristics of aborted entolomas can give plenty of inspiration. The first few times I ate them, I noticed that they have a texture that's a bit similar to shrimp, just with a mild mushroom flavor. Thinking of shrimp leads me toward preparations that might be good with shellfish or crustaceans,use your imagination. Suffice to say that these love white wine, pasta with oil and tomato based sauces, a bit of hot pepper, you get the idea. Just google a recipe for shrimp that looks good and plug in entolomas, you can't lose, unless you don't brown them first!
Preservation
As far as preserving your shrimp of the woods, there are a couple tricks I've found. Just like puffball mushrooms, these have white, spongy flesh. This means that the need to have some color put on them in order for them to taste like anything at all. It follows from there that pickling is not really a great option, unless they are browned first, and then pickled, which is kind of wierd to me.
A compromise would be browning them and then marinating them in something acidic, like some wine or lemon juice, preferably with some tasty olive oil, etc thrown in the mix. You could also wilt them withought browning and freeze, and then brown them later after thawing.
Like most wild mushrooms, I don't recommend freezing them raw though, since it does something strange to their texture. They can be sliced and dried, and that works, ok, just make sure to put some color on them after you re-hydrate them. Making a duxelles and freezing is a great option, too, and would serve double duty by saving space in your freezer.
Can you eat the non-aborted form?
In short, yes. I've eaten them and they taste fine. I don't recommend picking them though if you are in any way new to mushroom hunting, since some entolomas are dangerous and there is a possibility you could mistake them for something else.
Recipes
Here's some recipes I've made for these, or where they would be a good substitute.