A rich Manhattan-style clam chowder, using seafood-themed mushrooms instead of fish might sound like heresy, but it isn't to mushroom hunters. This is a great, simple soup anyone can make, and everyone will enjoy.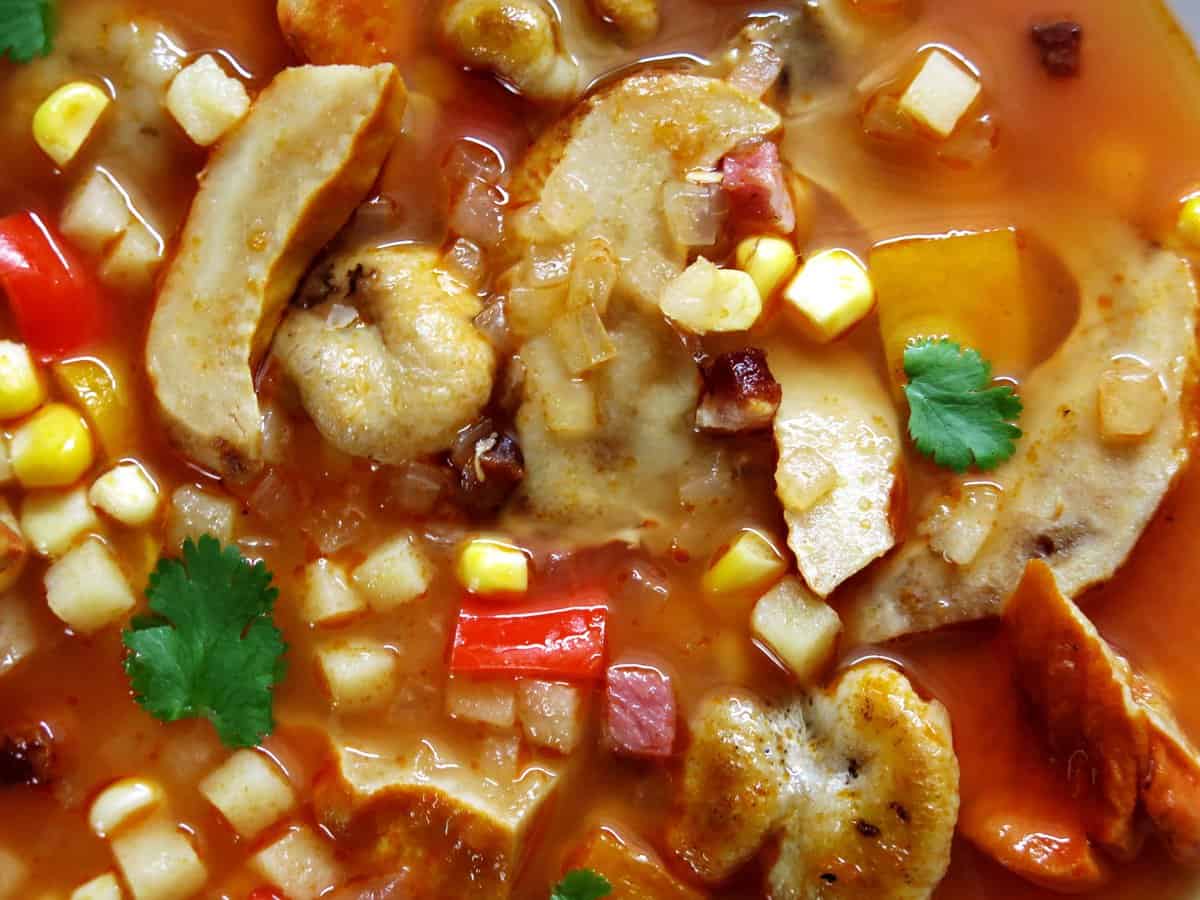 Lobster mushrooms are a joy to work with in the kitchen. I have cooked many varieties of mushrooms, and have plenty of favorites, but there's just something awesome about lobsters. They have what you could describe as a "mushroomy" flavor, but there is something more, something oceanic, it's subtle, but it's there. Their texture sets them apart as well.
Where boletes and many other species may get a bit "slippery" when cooked (a texture people often blame for their dislike of mushrooms) Lobsters retain a pleasant crunchiness, a toothy bite; even when fully cooked. Truly amazing is the thin red coloring on the outside of the mushrooms, a by product of it's being infected by another fungus.
The red coating is a natural food coloring, and acts mildly like saffron. The fishy quality of the lobster mushroom is concentrated in this red coating, and I have done very interesting culinary experiments with it, which I will delve into another time.
These characteristics truly set the lobster mushroom apart from others in the kitchen. Their unique flavor also gives us clues as to how they should be treated.
With a mushroom that tastes pleasantly of shellfish, you can cook it as such. This lobster mushroom recipe in particular is a textbook example of how you can be playful with the texture and flavor of wild mushrooms, incorporating them into tried and true dishes, and in doing so create new ones.
I include clams in the name of this soup, but it's actually vegetarian if you omit the bacon. I had no clams at the time, but I did have about 50lbs of lobster mushrooms burning a hole in my coolers.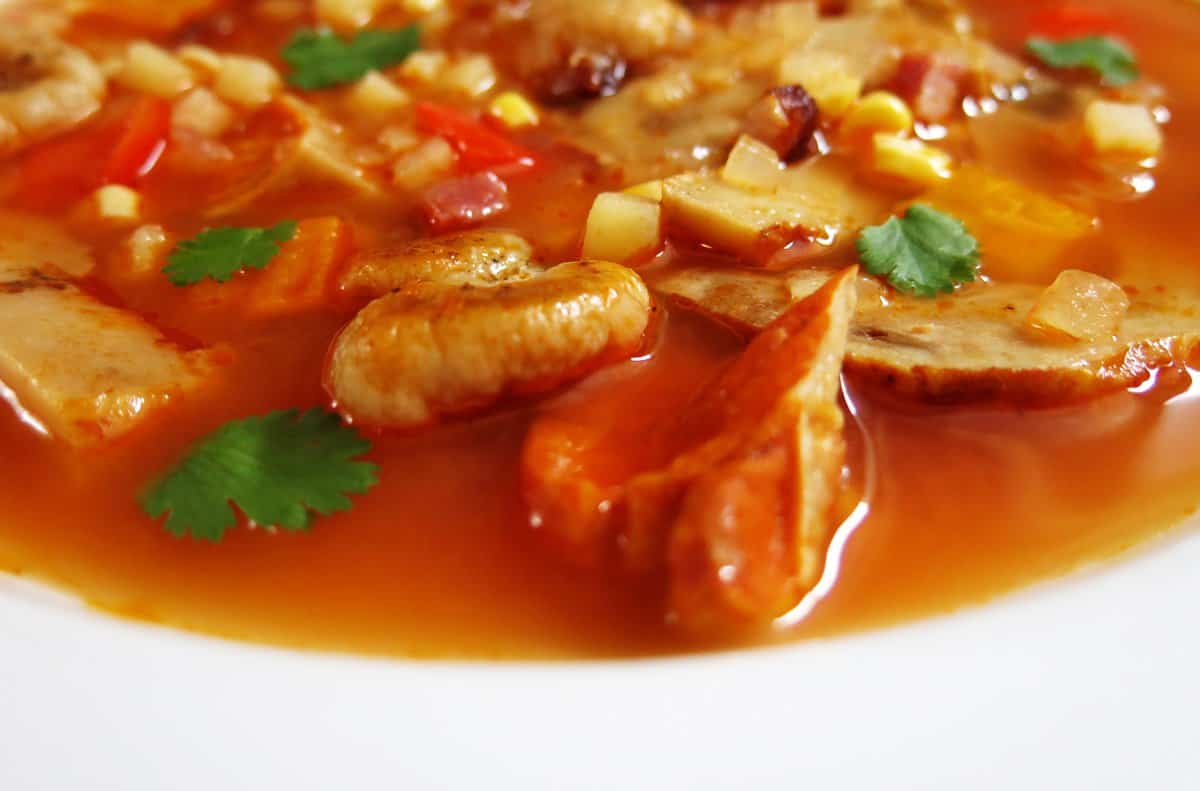 Moving on to the chowder, Everyone has an idea of what a clam chowder is. When I think of it I envision a slightly briny, creamy base, that probably includes celery and onion as aromatics, preferably without carrots.
Carrots would add a root vegetable's sweetness to this, corn is a more appropriate vegetable in my opinion, and evokes summer. I imagine potatoes too floating around in there, heightening the creamy texture and adding body to the soup.
If the soup is heated for extended periods of time, the potatoes will start to break down and thicken it as well, which could be good or bad, depending on whatever creative style you are going for.
There is another sort of clam chowder that exists too though, and although it is well known, I'll touch on it briefly just in case you may not be aware. The other type is known as Manhattan clam chowder. As it's name implies, it originated in New York.
A Manhattan clam chowder differs from a typical white clam chowder in that it is broth based, without being thickened by a flour liaison, like roux often used in white chowders. A Manhattan chowder also includes tomato, and typically sweet peppers of some sort, from my experience. It is a great alternative to it's heavier, white cousin, and is a great thing to make in warmer weather, when thick soups sound unappealing, and can make you feel heavy.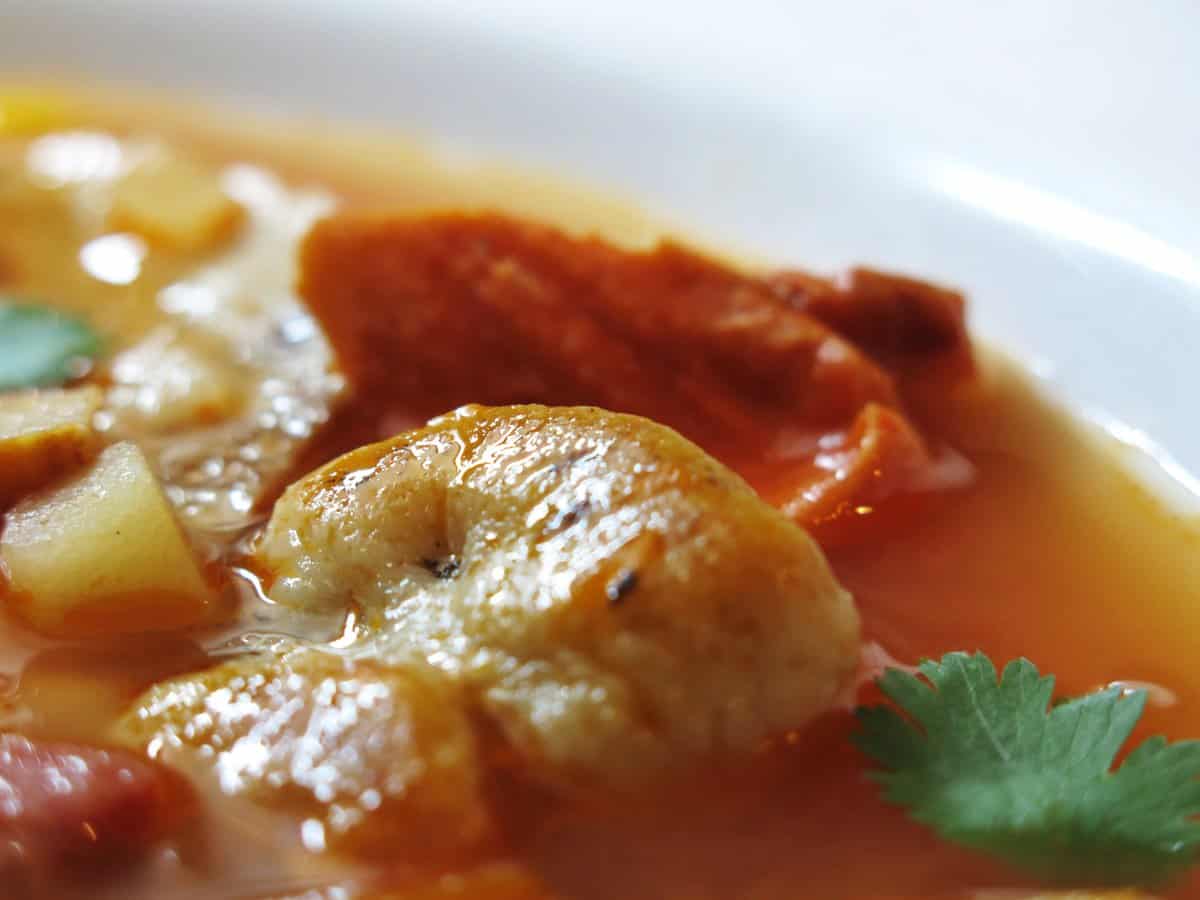 Alongside the losbsters here are the Aborted entolomas. These mushrooms are not the equal of lobsters culinary wise in my opinion, but as I have mentioned before they have a texture reminiscent of cooked shrimp.
So, even though they don't possess the slight shellfish quality of the lobsters, I include them here to reinforce the "fish mushroom" theme. It works out great, and adds another fun textural component alongside the lobsters.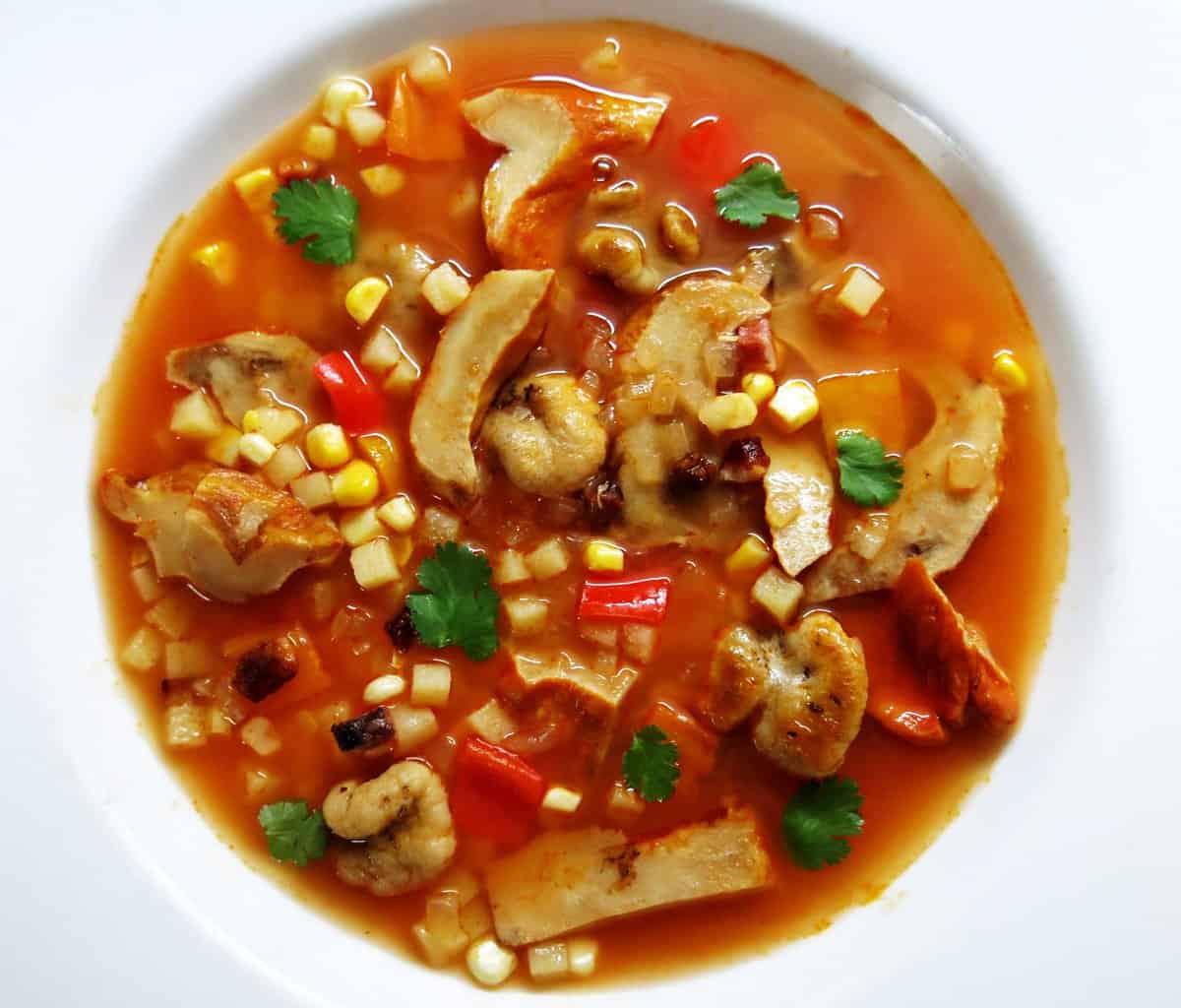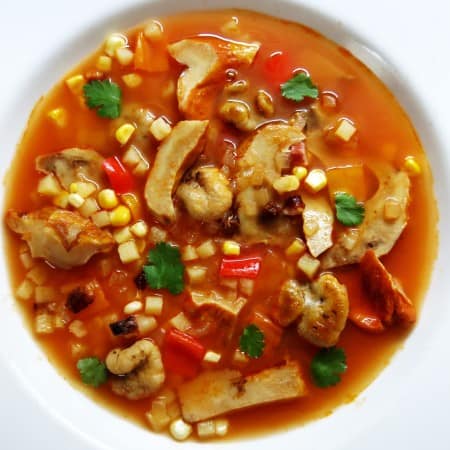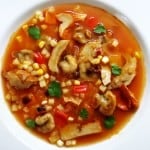 Print Recipe
Lobster-Entoloma Mushroom Manhattan Chowder
Yield: About 2 quarts enough two serve 4 people for dinner, maybe with salad on the side.
Ingredients
2

cups

sliced lobster mushrooms

about 2 oz

1.5

cups

aborted entoloma mushrooms

halved if large, left whole if small

2

quarts

chicken or vegetable broth

you could use water in a pinch

4

oz

bacon

diced. (lightly freeze bacon to make it easier to cut)

2

cups

peeled russet potato

diced ½ inch

1

cup

tomato sauce

you could use canned, or just puree some fresh

1

cup

fresh sweet corn

½

cup

celery

diced ¼ inch

1

cup

onion

diced ¼ inch

2

large red sweet peppers

seeds removed and diced ½ inch

4

small cloves of garlic

thinly sliced

½

cup

white wine

Pinch

of crushed red pepper flakes

or dashes of your favorite hot sauce

Kosher salt

tablespoon

chopped fresh cilantro or oregano

Extra virgin olive or suflower oil for garnishing

optional
Instructions
Clean the mushrooms, if they are dirty enough to warrant washing in water, allow them to air dry on some towels for 30 minutes or so.

In a sauce pot with high sides, or a pasta pot, slowly render the bacon until it is crisp and has released it's fat. Remove ½ of the bacon fat, leaving the rest in the pan to cook the mushrooms. Increase the heat to high and add the mushrooms, stirring occasionally, until they have released their juice and have taken on some color, about 5 minutes. If your mushrooms were wet, this will take longer.

Season the mushrooms with ½ teaspoon of salt, then add the garlic and chilli flakes and cook for 2 minutes. Next add the celery, onion, and peppers and cook until they have softened, about 5 minutes. Add the wine and cook until it has evaporated.

Next add the potatoes, corn, chicken or vegetable stock and the tomato sauce, bring the mixture to a simmer, then reduce the heat and cook for 30 minutes, or until the potatoes are tender.

Season the soup with salt to taste, it should also be a tiny bit spicy, so add another dash of hot sauce if it needs it. If you made the soup with water, check the seasoning a second time. Finally add the fresh cilantro and serve. Garnishing with a bit of fruity olive oil, and serve with crusty bread and a green salad.
Notes
Substitutions 
There's a lot of great mushrooms you could use here besides the lobsters and entolomas, but it's a great way to combine the lobster and shrimp of the woods. Lactarius and crunchy milk caps are good too. Honey mushrooms love the flavors of peppers and tomatoes too, and will thicken the soup like okra. 
Nutrition
Serving:
6
oz
|
Calories:
337
kcal
|
Carbohydrates:
43
g
|
Protein:
14
g
|
Fat:
14
g
|
Saturated Fat:
4
g
|
Polyunsaturated Fat:
2
g
|
Monounsaturated Fat:
5
g
|
Trans Fat:
0.04
g
|
Cholesterol:
28
mg
|
Sodium:
2261
mg
|
Potassium:
1345
mg
|
Fiber:
7
g
|
Sugar:
13
g
|
Vitamin A:
2309
IU
|
Vitamin C:
109
mg
|
Calcium:
65
mg
|
Iron:
3
mg