Here's a refined, elegant recipe for using nothern pike and yellowfoot chanterelles together. The Lyon region of France is famous for a recipe using pike made into fish mousse dumplings, called quenelles de brochet. Since pike is filled with tiny bones, fileting it out to be boneless results in very thin pieces of fish that can be difficult to cook properly.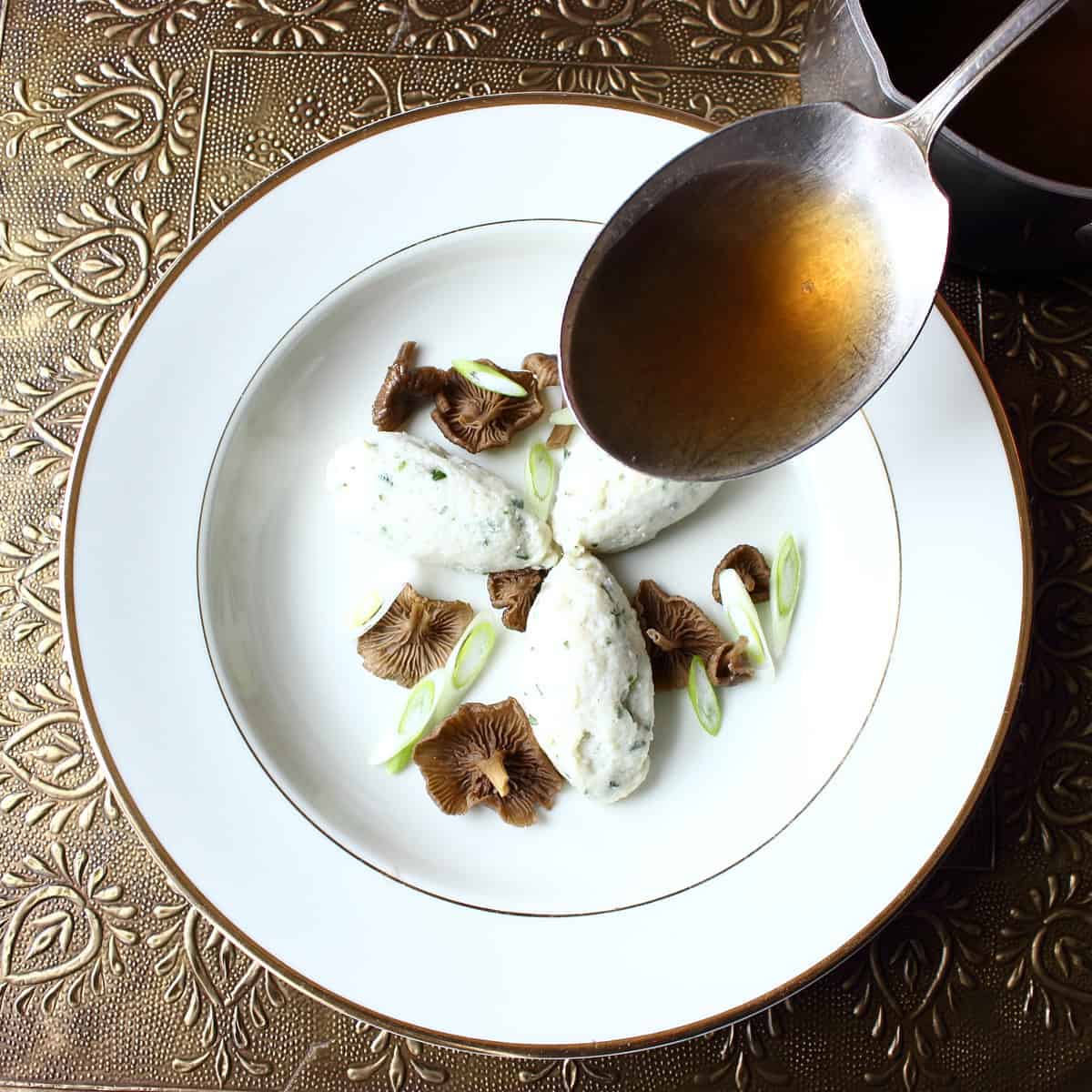 Making fish mousse bypasses the problem of pike bones since the fish is pureed and mixed with other ingredients to make a fluffy fish puree, a resourceful way to treat these fish considering that it can be made with scrap and trim.
Usually quenelles will be poached in order for them to hold their shape, then napped with a cream sauce and baked until the sauce is golden brown and delicious, looking like a perfect toasty brown lasagna. When made correctly, these little dumplings are great, soft and silky, with a mild fish flavor.
In this recipe, the pike dumplings are served in a consomme, which is a fancy clarified broth. We know they have been enjoyed at least since the renaissance, if not longer.
Basically, you make some nice stock from roasted meat and bones, then you chill it. The next step is to beat egg whites and ground vegetables into the stock, heat it gently and slowly, stirring constantly.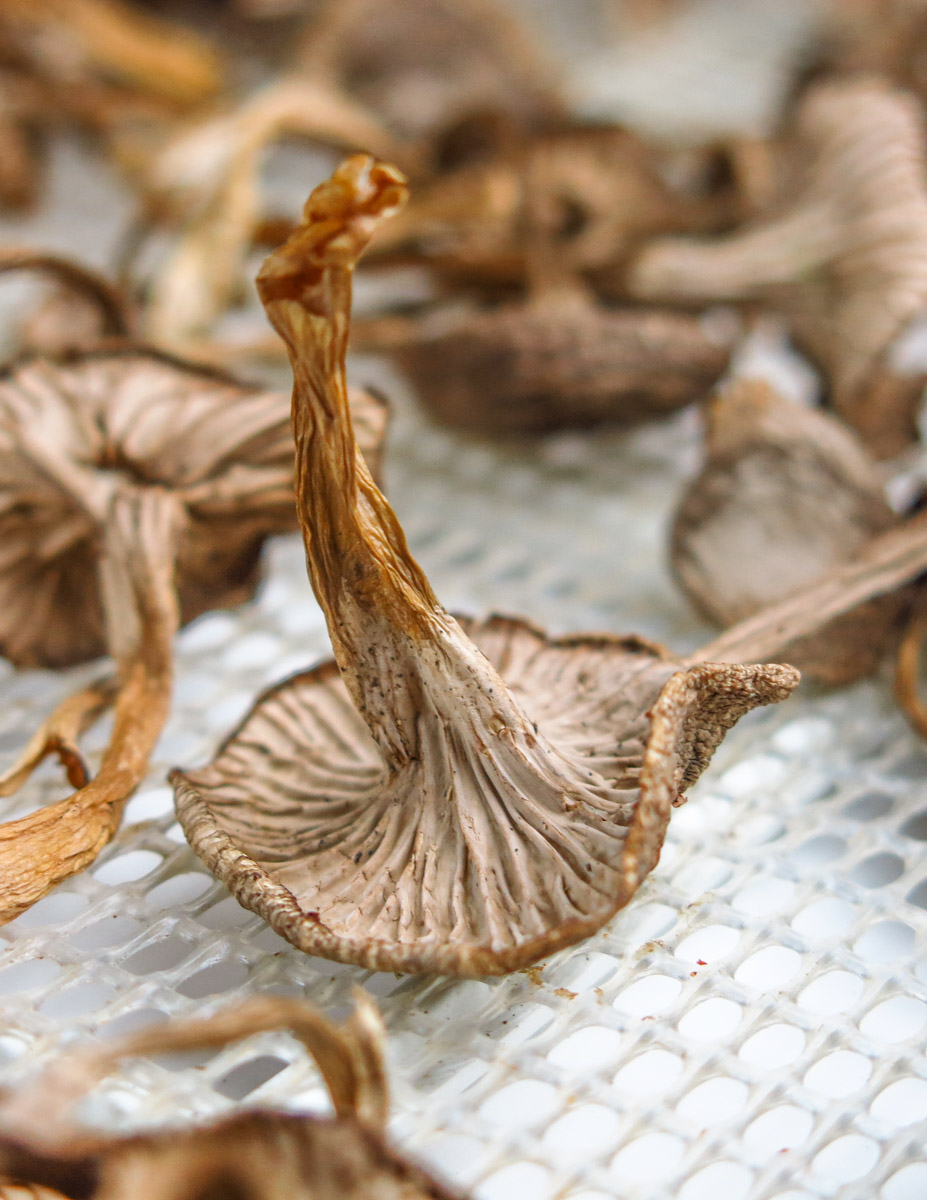 This dish is at it's heart a tribute to yellowfoot chanterelles. Yellowfeet and black trumpet mushrooms are to my knowledge the only mushrooms from the chanterelle family that can be dried and keep a decent texture due to their hollow shape.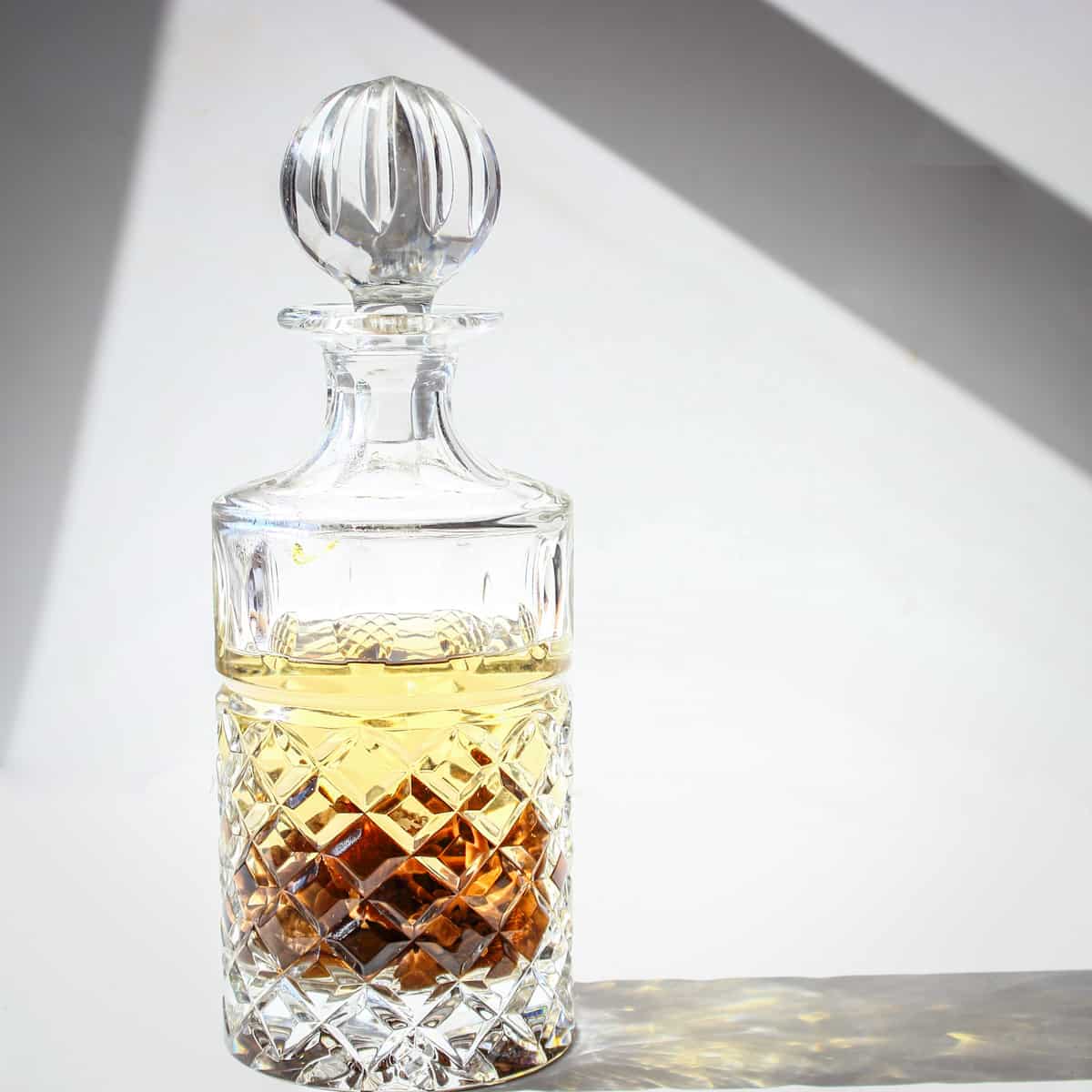 They make great additions to anything where you might use dried mushrooms, a standby being a soup or broth. Often consommes will be flavored with some sort of fine alcohol or spirit to impart a little extra flavor. In this case, I decided to use a vodka infused with yellowfeet.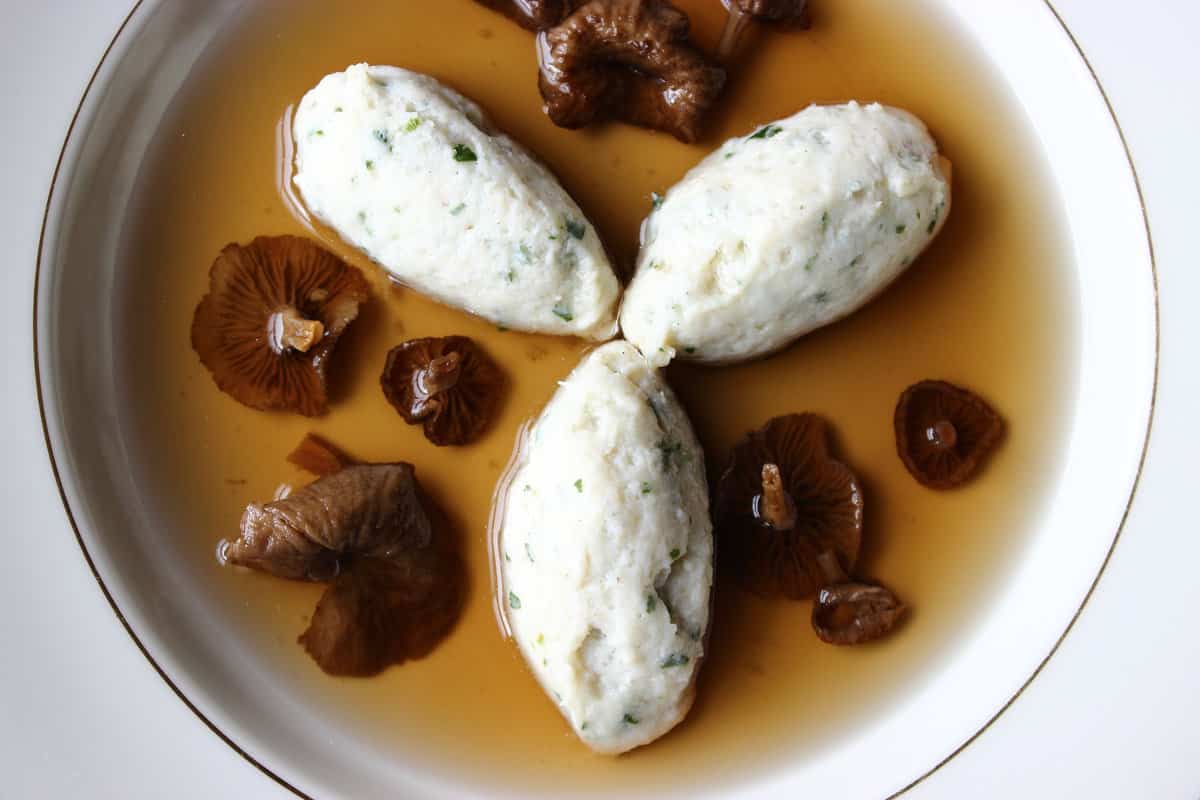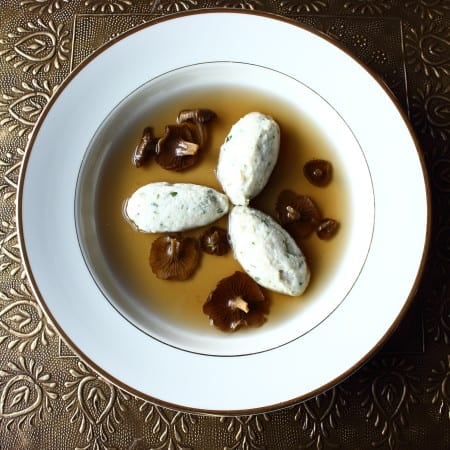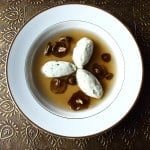 Print Recipe
Northern Pike Dumplings in Yellowfoot Chanterelle Consomme


Yields about 8 cups of consomme after clarification
Ingredients
8

cups

chicken consomme

recipe follows

12

grams

dried yellowfoot chanterelles

4

egg whites

1

recipe northern pike mousseline

recipe follows

Kosher sea salt

1

T

vinegar

such as champagne

¼

cup

yellowfoot chanterelle infused vodka

(optional)
Chicken Stock and Consomme
4

lbs

chicken bones

1

white onion coarsely chopped

1

rib celery coarsely chopped

1

carrot coarsely chopped

16

cups

water

Bouquet garni

wrap these ingredients in cheese cloth and tie to prevent them falling out. Although you don't have to do this, it's easier to remove

5

cloves

garlic

ten black peppercorns

1

bay leaf

1

sprig fresh thyme

½

bunch of parsley
Instructions
Roast the chicken bones at 400 for about 30until golden brown in a roasting pan. When browned, place the bones in a stock pot and deglaze the roasting pan with 1 cup of water, scraping up the browned bits from the bottom of the pan.

Add the browned bits to the stock pot, then add the bouqet garni and the water. Bring the mixture to a boil, then reduce the heat to a simmer. Cook uncovered for 3 hours, adding a little more water if you see the bones poking above the water. Strain the liquid off after 3 hours, then chill and reserve, adding the dried yellowfoot chanterelles to allow their flavor to infuse while the stock chills.
Clarifying
Remove the dried yellowfoot chanterelles from the stock, making sure to agitate them in order to remove any dirt. Reserve the mushrooms for garnishing the finished dish.

To clarify the stock, take the cooled chicken stock and combine with the egg whites in a small stock pot or pasta pot. Stir the mixture vigorously with a wooden spoon *see note* for a minute or two to disperse the egg whites. Heat the mixture on medium heat, stirring slowly and constantly, until the stock begins to steam, but does not boil, about 30 minutes.

When the stock begins to steam and get very hot, you will notice particles floating to the top of the pot. Continue stirring gently until a large raft of egg white forms on the top.

Turn the heat down to low and allow the raft to clarify the broth completely. When you can poke into the raft with a spoon and see crystal clear broth underneath, you have succeeded. Give yourself a pat on the back, because this is a real feat. Move apart the raft gently with a spoon and begin to ladle the broth out into a strainer placed over another pot.
Straining
When the stock is strained, you will likely need to strain it again to get a really clear broth, here's what I do at home: I strain the consomme through paper towels, or even a coffee filter placed in a strainer if it is really cloudy.

No matter how many times I see consomme's cloudy and messed up, most of the time they can be saved, unless the stock is allowed to boil with the egg white. It will take time, and you might need to change your filter mid way through the stock, but it works.

When the consomme is clarified add the chanterelle vodka. Season the consomme to taste with salt, and set aside until needed
Plating
Heat the consomme and allow to gently simmer for about 10 minutes. It's important to simmer the consomme to cook off the alcohol of the yellowfoot vodka, which would taste "hot" otherwise. All you want is for it's flavor to remain.Heat the pike dumplings in a small amount of water or stock.

It is important not to heat the dumplings in the consomme, otherwise the dumplings might give off particles that will cloud your consomme, ruining all of your hard work. One last time, check the seasoning of the consomme, adding the champagne vinegar to taste.

Divide the dumplings between each of four heated soup bowls. Garnish each bowl with some of the dried yellowfoot chanterelles, ladle in the broth and serve.
Notes
This is a light entree, to be accompanied by something like a side of vegetables and bread. In a restaurant I would serve it as a 1st course or part of a multi course menu.
See the recipe for yellowfoot schapps/vodka here. 
Nutrition
Serving:
6
oz
|
Calories:
51
kcal
|
Carbohydrates:
4
g
|
Protein:
7
g
|
Fat:
1
g
|
Saturated Fat:
0.1
g
|
Polyunsaturated Fat:
0.1
g
|
Monounsaturated Fat:
0.1
g
|
Cholesterol:
9
mg
|
Sodium:
1842
mg
|
Potassium:
158
mg
|
Fiber:
0.1
g
|
Sugar:
2
g
|
Vitamin A:
11
IU
|
Vitamin C:
1
mg
|
Calcium:
57
mg
|
Iron:
0.4
mg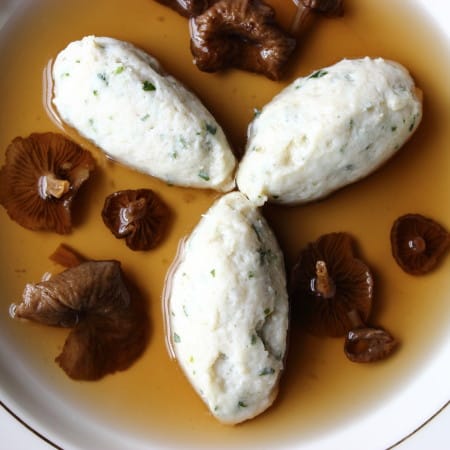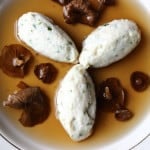 Print Recipe
Northern Pike Mousseline
Yield: 2.5 cups of mousse, enough to make dumplings for four people, I made 16 large dumplings from this recipe
Ingredients
1

lb

northern pike scrap

you could use other fish as well

½

cup

bread

doused with 3 tablespoon milk to soften

½

cup

cream

teaspoon

kosher salt

¼

teaspoon

fresh ground white pepper

2

T

fresh chopped herbs

I like a mix of parsley and tarragon, in a pinch just use parsley. For the sake of argument though, if you are going through the trouble to make consomme, you can probably make time to find some fresh herbs!
Instructions
Chop the pike trim or fish. Add the bread crumbs and salt, then pulse in a food processor until well combined. Turn the food processor back on and begin to drizzle in the cream.

When the cream is totally absorbed, the mixture should be light and fluffy. Take a teaspoon of the fish mousse and cook it to make sure it tastes good, if needed, adjust the seasoning for salt or pepper.

If you are feeling ambitious, pass the mousse through a tamis sieve to remove any residual connective tissue. You don't have to, but passing the fish mousse through a strainer is a technique of refinement though, it makes it velvety smooth and delicate.

Bring a few quarts of lightly salted water to a simmer. Using two large soup spoons, make quenelles or football shapes from the fish mousse, dropping them into the simmering water. Cook each dumpling for about 5 minutes, until they are done. Remove the pike dumplings to a cookie sheet or something to cool, and refrigerate until needed.