Many of the mushrooms I pick I see often, and regularly. Occasionally I see some that are quite rare though, (there is one mythical variation I have seen only once!) In a typical season, there is no typical season, but you will be able to guesstimate as to what you might find. Sometimes nature throws you curve balls, and from my experience, some random encounters can really be breathtaking. Here is a new mushroom to me I found last year.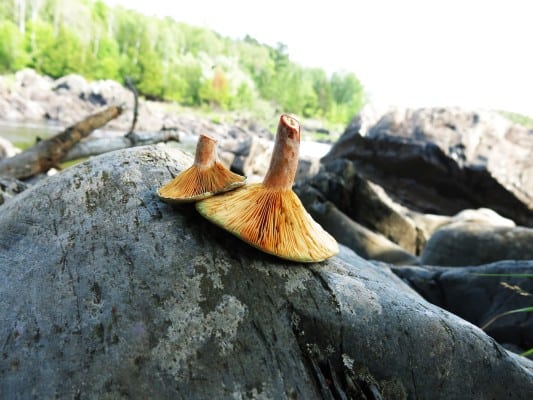 I had taken a Sunday to go hunt lobster mushrooms in one of my favorite, scenic spots. Its along the outskirts of the coniferous boreal forest in Northern Minnesota, where the pine trees are tall, and the air is crisp from nearby Lake Superior. There had just had a bunch of late summer rain in the area, which we all know will feed any sort of fungi that might want to grow. I also knew that there had been flooding along the trail in the past week.
Earlier in the year I had spoken at length with a old, grizzled hunter about hunted flooded spots. The Spring floods of North Dakota in 2013 made it possible for him to bring us 100lbs of morels.
Anyway, the spot where the lobster mushrooms appear is hidden a couple miles off of a bike trail, you have trudge through some rocky terrain, going higher and higher, eventually coming up a slope overlooking a big river. After the arduous, rocky hiking, the trail slopes down back to the river. For a mile or so you get to walk right alongside it. It's a beautiful site.
Before I had begun to enter where the lobsters start to fruit, I started to see some ominous signs of life: little chicken fat boletes, a handful of chanterelles, and plenty of russula species. Right alongside of the trail, I came upon a little beige looking mushroom. I stopped down to examine it, and as any mushroom hunter knows, I quickly spotted a couple more nearby.
What I saw really perplexed me. The mushrooms had tan to white colored caps, but underneath, the color of it's gills was an incredibly vibrant orange, these pictures do them no justice! I knew immediately that they were a species of milkcap, and the orange color made me think they were were Lactarius deliciosus, the saffron milk cap which I had found one or two of before.
(See an informational post on them here) I was overjoyed, lactarius are one of the first mushrooms depicted in European art, in an ancient fresco from Herculaneaum which was around Pompeii. Seeing them always makes me imagine Roman emperors and aristocrats gathered around a table, feasting on piles of milk cap mushrooms.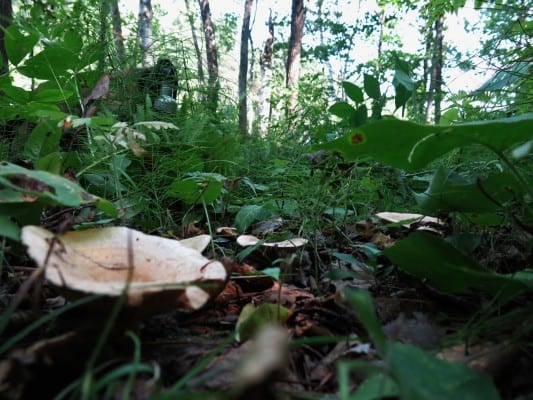 In the back of my mind though, I was skeptical. True saffron milkcaps have an orange coloring to the top of their cap as well, and I know that species of mushrooms are legion, one little difference can mean a completely different mushroom, or a species from another family entirely, possibly a dangerous one.
I had to pick them though, I needed to taste them, to understand and experiment with them. I have a drive to discover old flavors, and rediscover culinary knowledge lost to society, just like Europe reclaimed the science and math they lost during the dark ages via the renaissance.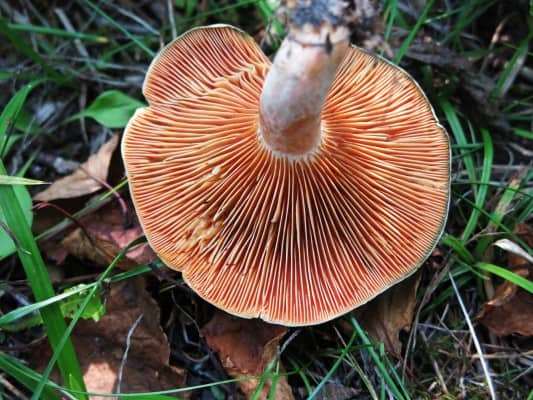 I started to cut some to see if their latex (the milky substance milk caps give off) changed color, or if the mushrooms showed a different color after they were cut with a knife. When cut they turned a brilliant red orange, I picked all that I could find that were good and relatively bug free, and went on my way.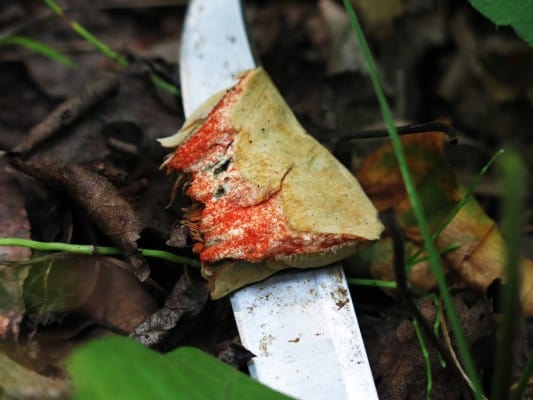 When I got home, I started to do research. First I turned to David Arora, but even the grand tome of Mushrooms Demystified didn't describe such a species. After that, I turned to the Falcon Guide to North American Mushrooms. by Dr. Orson K. Miller Jr and his wife Hope. Their book had the answer, and is a great example of why it's great to keep a variety of field guides.
They describe a mushroom called lactarius salmoneus, stating that it can be found in the Southeastern United States, and further south down to Texas. They also say that the mushrooms may bruise slightly red when cut, (ding!) they grow around pine (ding ding!) and that they enjoy areas that have experienced recent flooding (ding ding ding!).
Even though the field guide didn't mention them growing in the Midwest, I don't really think that matters, our mushrooms have only been partially documented, and there is plenty of variation and surprises to be found. Perhaps it's a related subspecies, but I personally think that's a moot point. For all intensive purposes, it's a milkcap related to the saffron milkcap, and it is edible, nuff said.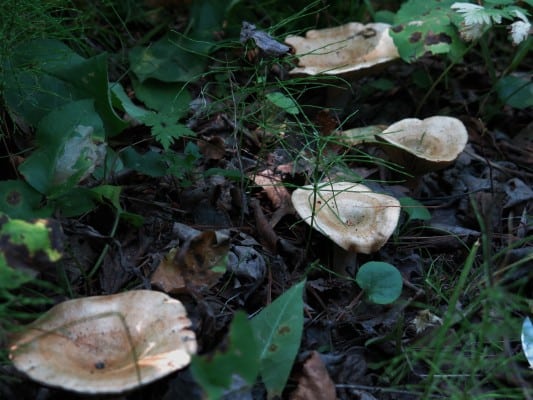 Unfortunately I was a bit late, most of the milkcaps had bug damage. Having recently been told by my boss to grind a buggy batch of chanterelles that showed up from Michigan in the food processor for stock, I was undeterred. I cooked the few puny buttons that were bug free, and they were excellent, with a subtle shrimpy note.
The rest I processed in the dehydrator for future use and experimentation, and experiment with them I did. Their aroma is something like dried toasted shrimp shells when dried, nutty, popcorn-y. I knew that at the very least, they could be used to make some fun soups and broths, as well as be used for seasoning dishes, which I often like to do with dried, powdered mushrooms. Here is a brief re-cap/basic culinary summary: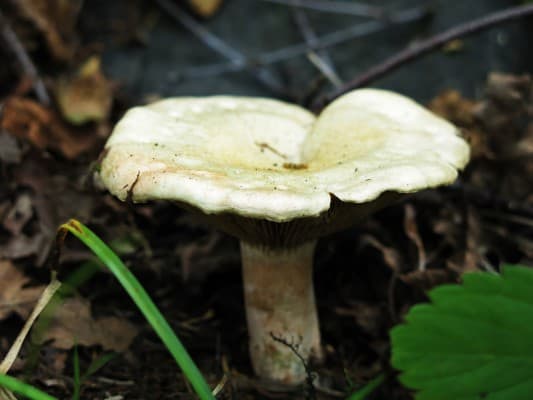 Habitat
I found these in areas around pine trees in Northern Minnesota that had been recently flooded. Like most milkcaps, they need a large amount of rain to fruit, look for them after continuous days of rainfall in the fall, or if you know of a river near pine trees (mine were eastern white pine) that has recently flowed over.
Preservation
Since milkcaps are hollow, these dry well, although I didn't really enjoy the texture of them rehydrated as much as something like black trumpet mushrooms or yellowfoot chanterelles. They could be dried and then made into duxelles though, using my recipe here. Drying them and grinding into powder is a great way to enjoy these if you don't fry them all up first fresh. Their flavor when used to make broth and stock is not very shrimpy, like their smell.
Dried these create a rich and delicious broth, you could fool people in a blind taste test telling them it was chicken stock! I usually experiment with mushroom powder like this with pure water first, the broth alone that came from these mushrooms and water alone could fool people into thinking it is chicken stock, it's quite good.
The dried powder from milkcaps is also a good seasoning for fish and meat when used like a flour dredge. make sure to add some butter to the pan when cooking fish or meat crusted with dried mushrooms this way though, since the mushroom powder burns easily. The milk solids in the butter help to encourage even caramelization and prevent burning, and also rehydrate the ground mushrooms very slightly, which enhancing their flavor and texture.
More