Spicy, blackened shrimp of the woods mushrooms are a vegetarian take on blackening you can easily make at home. Try them tossed in a salad with a creamy dressing or served over creamy grits.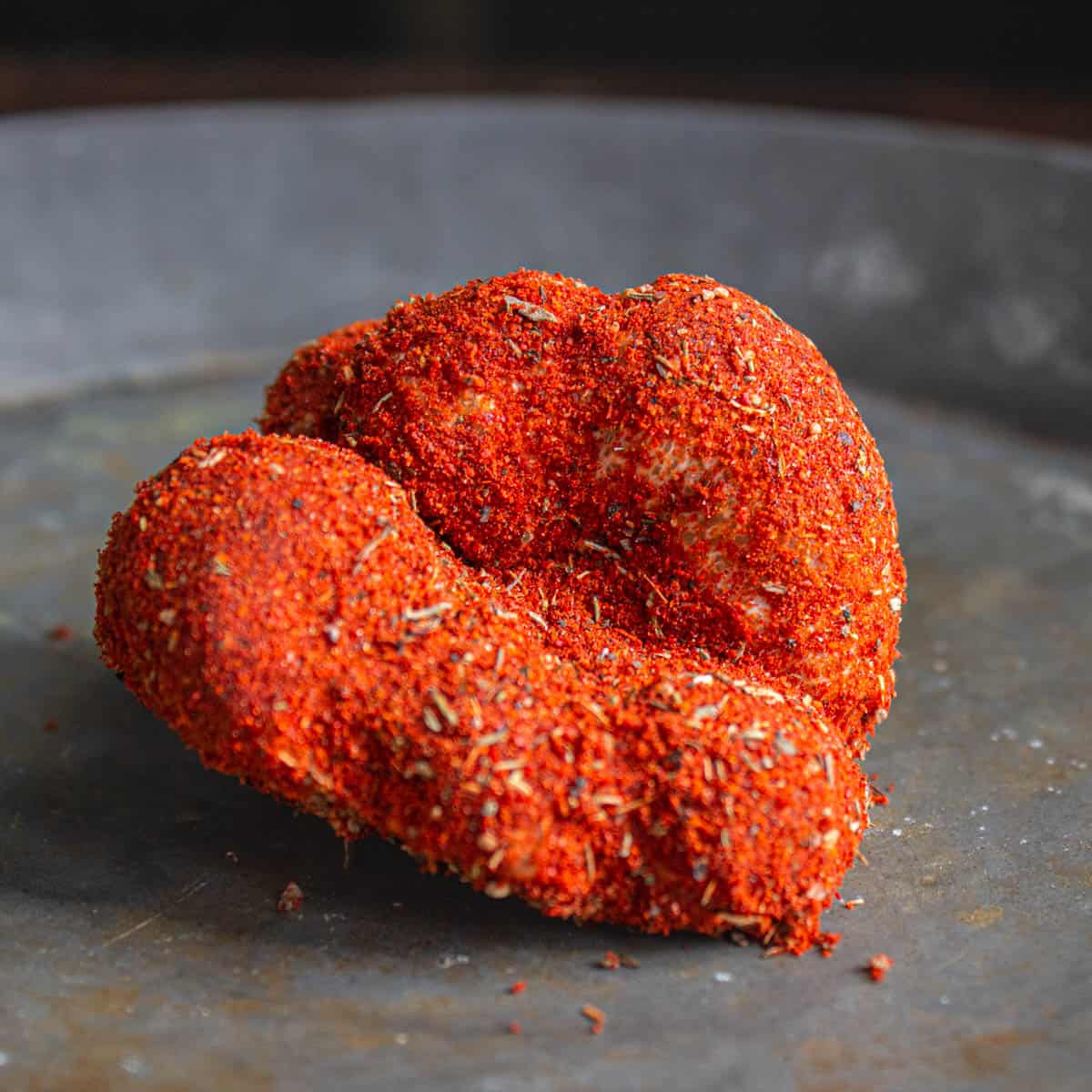 Even in so-so mushroom years you can get enough aborted entolomas to fix a few meals. Whether you think of aborted entolomas as a consolation prize for finding hens is up to you.
Like I've said before, these can be bland if they aren't treated right, they need to be caramelized and browned for their flavor to come out and shine. That being said, a great way to think about how to use them is to think of recipes where you like to use shrimp, and plug in the entolomas, making sure that they get caramelized in whatever dish you're using them in.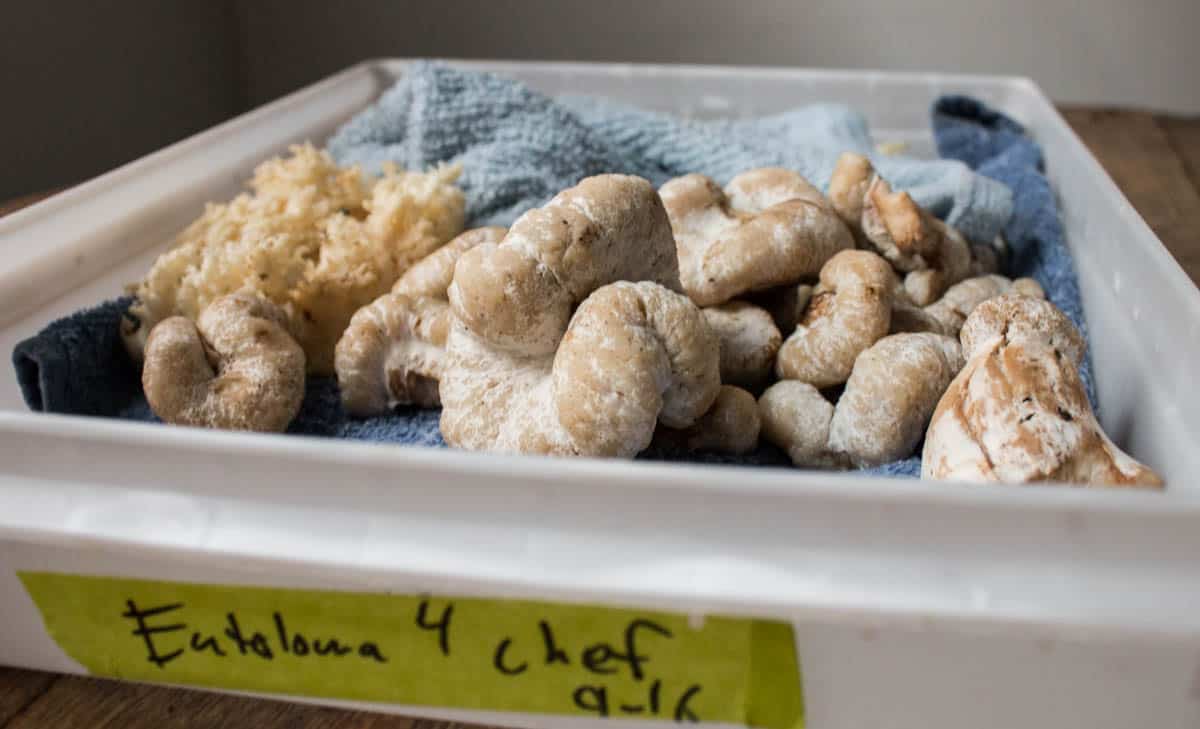 While I was gathering mushrooms for a dinner the other week, I found a nice vein of entolomas and had enough left over to cook some for myself after the dinner. I remembered blackening shrimp at one of the first restaurants I worked at, so I started developing a spice mix to use with the mushrooms.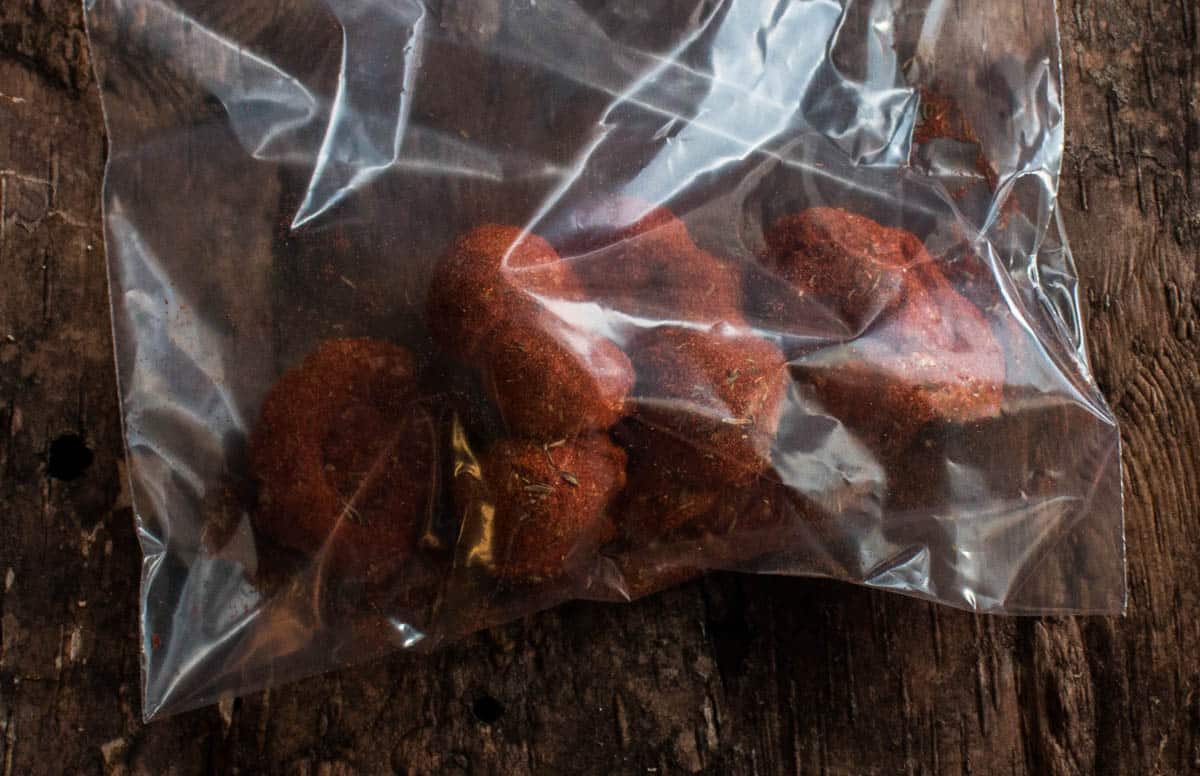 I had mine with a little green salad, but you could do all sorts of stuff with them. At the old restaurant Melvins on the Lake in Spicer MN, we used to toss blackened shrimp with pasta and alfredo sauce, but that's a little heavy for me right now. I'm sure you can think of plenty of different ways to use these little spicy mushroom poofs.
There are a few things to know about blackening, spice mixtures, and different schools of cooking this way so I'm going to give you some notes to think about if you haven't made similar things before.
Chef's Notes
Before you start cooking, open the windows in the kitchen, turn on the fan, then turn on another fan, unplug all smoke detectors, tie a rag around your face and put on some goggles. Loved ones may want to go into another room and close the door. If you have a small apartment kitchen, you may want to cook outdoors, or at someone else's house where they have a hood vent above the stove.
To me, blackening usually means the item to be cooked gets dipped in clarified butter, rolled in seasoning then cooked in cast iron on high heat, but I found that this gave me a little too much seasoning on my mushrooms.
I found if I wash the entolomas, then nestle them in a towel to dry, they still retain enough moisture to be coated perfectly with seasoning when I shook them in a bag. Also, it's fun to shake food in a bag.
Blackened foods are usually flat, like a steak or a piece of fish. Doing the same with a mushroom shaped like an alien popcorn ball is not easy. You will not get uniform blackening, it's ok.
The blackening spice here is spicy, but it isn't as spicy as many. My advice: cook a mushroom by itself to taste the seasoning, then adjust with a little more cayenne if you want more kick.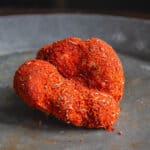 Print Recipe
Blackened Shrimp of the Woods Mushrooms
Aborted entoloma mushrooms with a spicy, blackened coating
Equipment
Heavy pan, like cast iron
Ingredients
For the blackening spice
Yield: about ¾ cup

5

tablespoons

sweet paprika

2

teaspoon

garlic powder

1

tablespoon

onion powder

2

tablespoons

dried thyme

1

tablespoon

ground black pepper

1

teaspoon

cayenne pepper

or more to taste
For Cooking the Mushrooms
8

oz

Shrimp of the woods mushrooms

or as many as you have

4

Tablespoons

Clarified butter

lard, or high heat cooking oil, as needed

Kosher salt

to taste

Beaten egg white

(optional, see note)
Instructions
Mix the blackening ingredients together, then store in a labeled, dated container, it will last for 6 months in a cool, dry place.

Clean the mushrooms, dip in water and swish to remove any grit. Allow the mushrooms to rest between towels to weep water until ready to cook This can be done ahead of time.

When you're ready to cook, remember to turn on a fan and unplug the smoke detector, if you can't, tie a rag around your breathing parts. Brush the mushrooms lightly with egg white if using, then season with salt to taste. Toss with the blackening seasoning or shake in a plastic bag until well coated.

Heat a cast iron skillet until very hot, then add the clarified butter, wiping around the pan so that only a film of fat remains-this is important as too much fat can remove some of the coating, especially if you don't opt to crust the mushrooms using egg white.

Cook the mushrooms, trying not to move them around until a dark crust forms where they contact the pan. Turn the mushrooms over and caramelize the other sides, adding more clarified butter or lard if needed. When the mushrooms are caramelized, cooked, you're done coughing and the smoke has died down, serve immediately.
Notes
If you want to try this, cook a test mushroom with my spice blend below. If you want it more spicy, add some cayenne, but it's easier to add spices to a blend than it is to remove. It took me 3 batches of trial blends to get one that I thought was balanced.
Brushing the mushrooms with beaten egg white is optional, but will give you the best crust. 
Nutrition
Calories:
761
kcal
|
Carbohydrates:
46
g
|
Protein:
15
g
|
Fat:
66
g
|
Saturated Fat:
38
g
|
Polyunsaturated Fat:
6
g
|
Monounsaturated Fat:
18
g
|
Cholesterol:
154
mg
|
Sodium:
51
mg
|
Potassium:
1845
mg
|
Fiber:
21
g
|
Sugar:
9
g
|
Vitamin A:
18408
IU
|
Vitamin C:
12
mg
|
Calcium:
299
mg
|
Iron:
20
mg