One of the most classic hen of the woods recipes, these grilled, pressed mushroom steaks are one of my favorite hen of the woods recipes.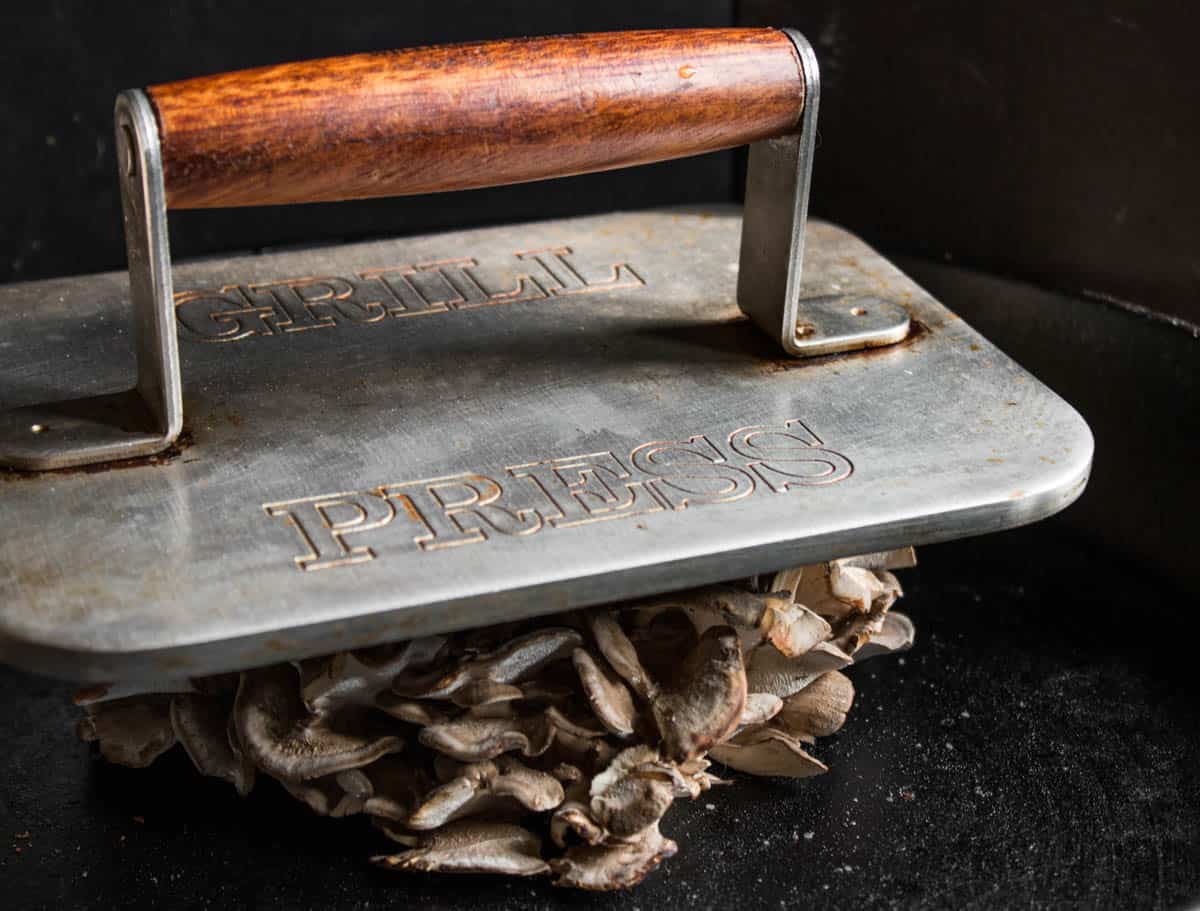 It was a busy Saturday night, and a little more exciting than usual since I had some friends coming in for their anniversary: the husband and wife duo who wrote and photographed the book Tasting Minnesota. I wanted to make a couple fun things for them since I knew they enjoy things like mushrooms and eating weeds out of their garden.
The first course was a little stew of the youngest mikweed pods I could find in my cooler. After that I was having a little creative difficulty, I didn't know what to make.
Then it came to me: I'd picked one little hen of the woods and stuck it in the cooler after having gone out the day before, hitting all my patches and basically gotten skunked except for one little maitake. It was about 6 ounces or so, maybe a little bigger, it would be just perfect for two people.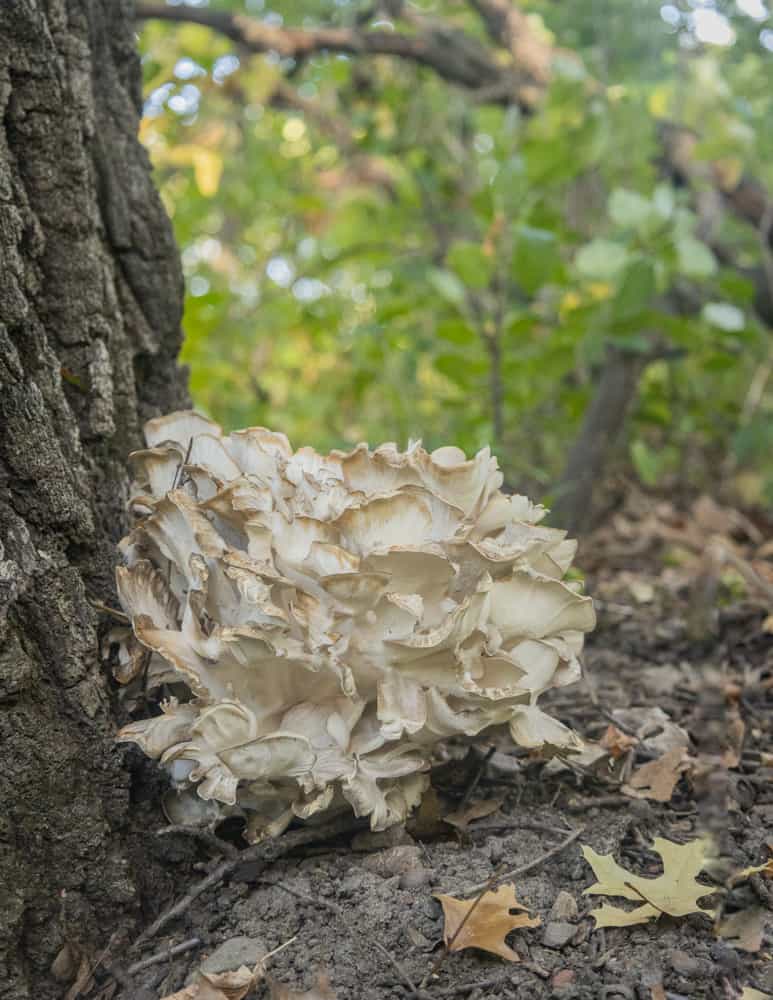 The cooks had also requested a grill press for our flat top, so I'd brought mine in from home. What if I cooked the little hen "al mattone", the way Italians cook split chickens on the grill, pressed to make their skin crisp?
I put the mushroom down on the flat top, oiled it up, put the press on it, and waited. A couple minutes later, I gave it a flip.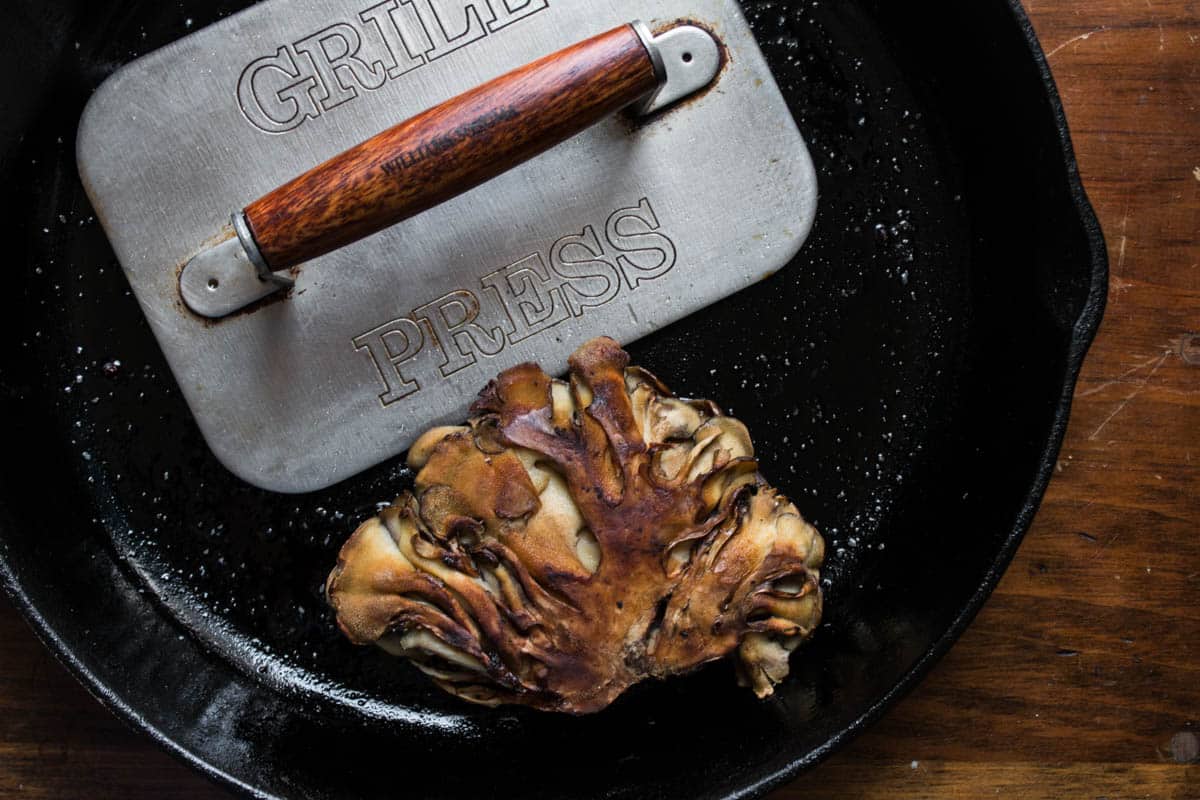 It was a thing of beauty. I'd cooked hen of the woods in big chunks before and loved it, but this was something a little different. The caramelization was edge to edge, impossible to replicate without weighting down the mushroom.
I chopped it in half with a chef knife, the inside was tender, the ruffles and ridges all pressed together tightly, everything surrounded by golden brown goodness.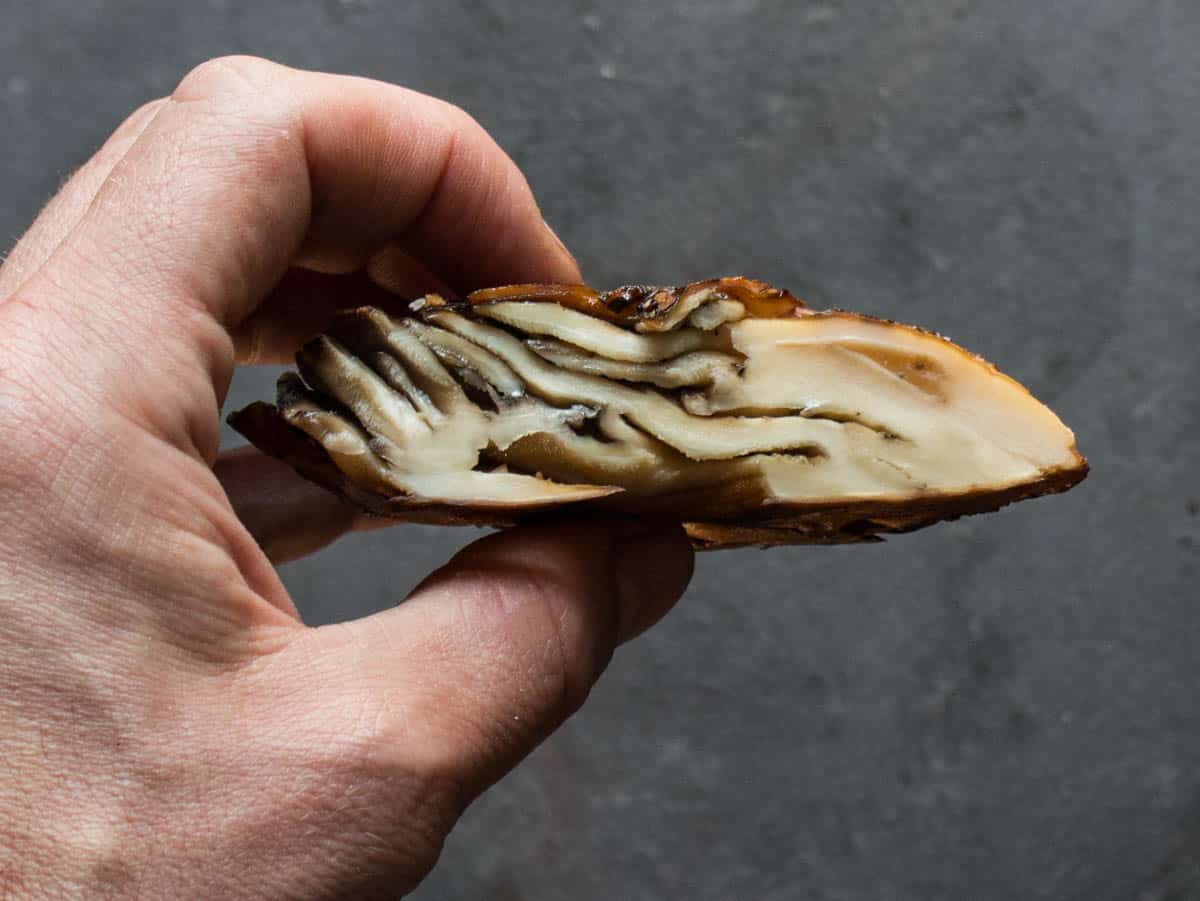 I was surprised by how well the flattened hens held they're rigidity too, they were stiff as a board coming off of the grill. Even though I'd rinsed them well to remove grit and a spider that was renting the inner core, they were crisp as could be.
Now all you have to do is figure out what to do with your hens when they come out of the pan.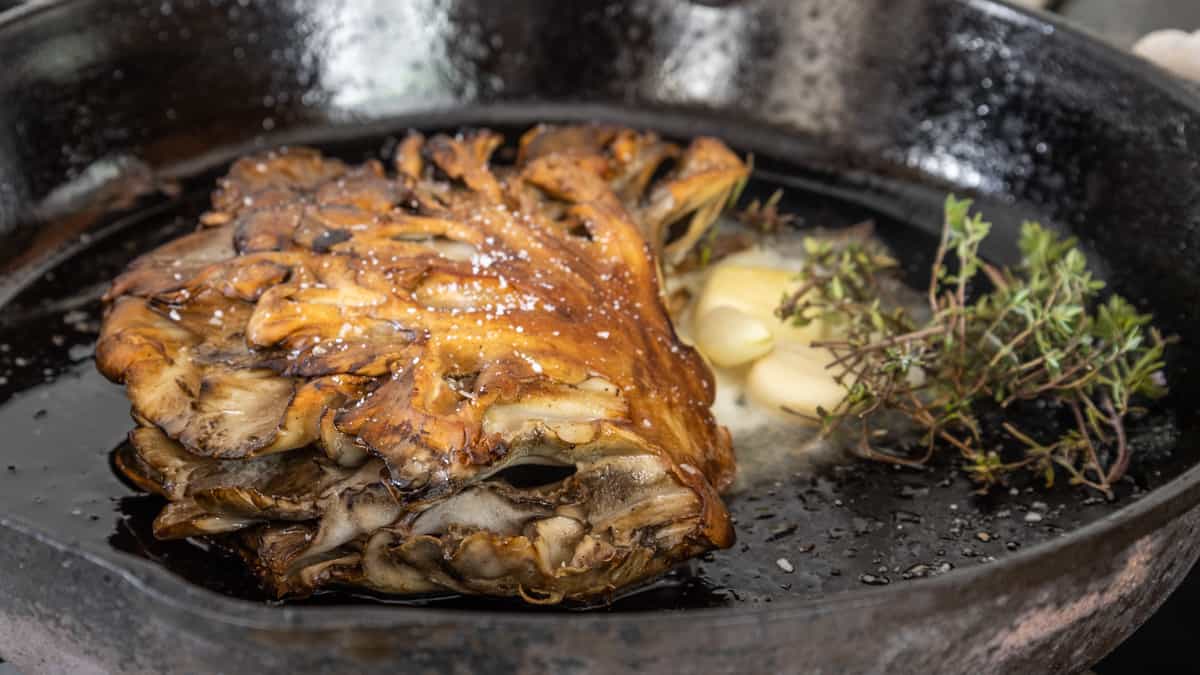 Cleaning large clusters of hen of the woods
A word on cleaning. Cutting hens into large pieces and cleaning can be tricky to say the least, so here's what I do: I visually inspect each hen cluster, and rinse in cold water, trimming with a paring knife as needed, then I let them dry on paper towels, or underneath dish cloths at the restaurant.
Each hen is different, and some you just may not be able to cook like this, especially if they're in sandy soil and it's been raining. If worst comes to worst, and you are forced to break the hen up into pieces that aren't giant steaks, it's ok, they will cook a little faster, just try and keep them in as big of clusters as possible and use your best judgement.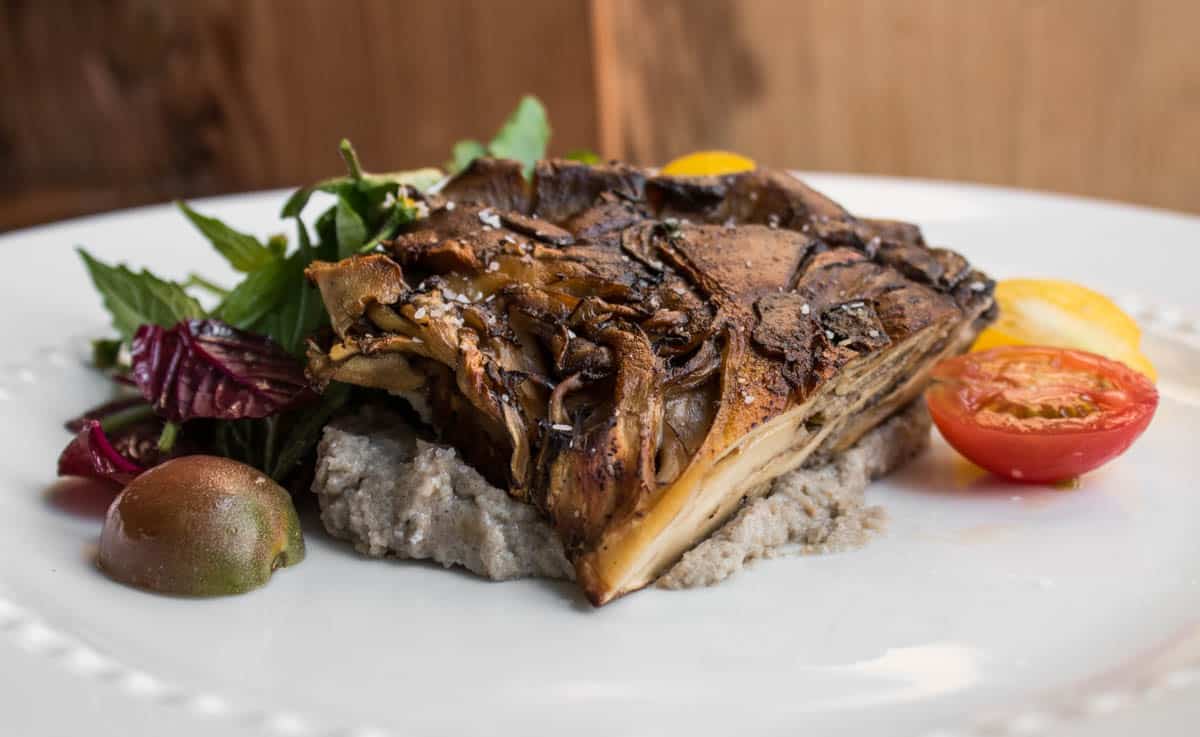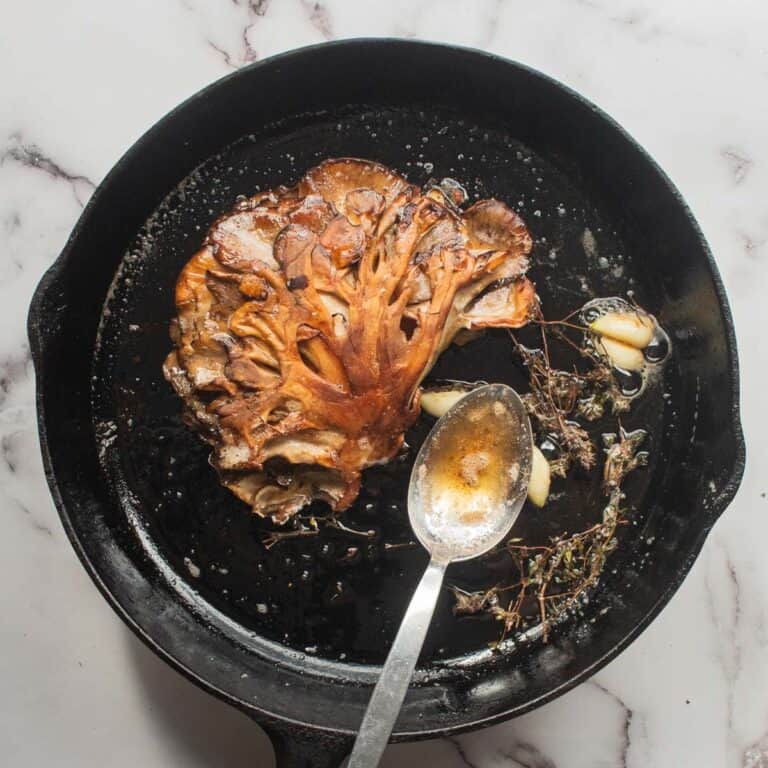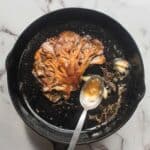 Print Recipe
Hen of the Woods Mushroom Steaks
Hen of the woods, cut into large clusters and cooked under a weight makes an incredible wild mushroom steak.
Equipment
1 10 inch cast iron skillet
Ingredients
6

oz

Very clean hen of the woods mushrooms

broken into large clusters, I like about 4-6 ounce pieces

Kosher Salt

2

tablespoons

Cooking oil

or as needed

A weight for pressing down the mushrooms

this could be a rock, log, cinder block, a pan, whatever. If it's an oddly shaped item, or crumbly (wood) wrap it in foil before it contacts your mushrooms
Basting and finishing (optional)
A couple lightly crushed garlic cloves

4

Tablespoons

unsalted butter

This is a starting point, you just need enough butter to be able to baste the steaks.

Small handful of fresh thyme
Instructions
Clean the hens by swishing in cool water, gently peering inside the leaves to make sure their cleaned, trimming with a paring knife as needed, then allowing to drain on paper towels.

Heat the oil in a pan or on a griddle until hot, but not smoking. Add the mushroom  clump and season with salt, placing the weight on top, then cook until the underside is deeply caramelized, then flip and repeat.

If the pan gets dry, add a little more oil. When both sides of the mushroom are deeply caramelized and browned, add the butter, garlic cloves and thyme to the pan, cook for a few minutes more, basting with the butter as it foams.

When you can't take it anymore and the house smells delicious, remove the hen steak(s) to a paper towel to weep excess oil for a moment, sprinkle with some flaky salt or just a little extra kosher salt, and serve as a center of the plate item with your favorite side dishes, garnishes, etc.
Notes
Put them on a steak, eat them as a vegetarian steak, or just sprinkle some on some salt and use a paper plate, there's no wrong way to eat these. Of course you don't need to use a literal brick, but you could, I'd wrap it in foil first though. Just think of "cooking under a brick" as "pressed while cooking".
Nutrition
Serving:
2
steak
|
Calories:
285
kcal
|
Carbohydrates:
6
g
|
Protein:
5
g
|
Fat:
29
g
|
Saturated Fat:
2
g
|
Polyunsaturated Fat:
8
g
|
Monounsaturated Fat:
18
g
|
Trans Fat:
0.1
g
|
Sodium:
9
mg
|
Potassium:
541
mg
|
Fiber:
2
g
|
Sugar:
3
g
|
Vitamin C:
4
mg
|
Calcium:
5
mg
|
Iron:
1
mg
More