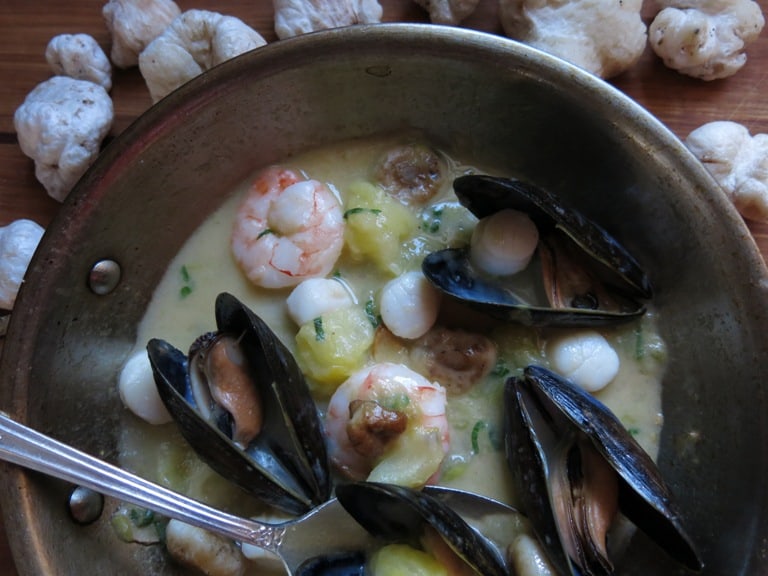 I knew a couple people had spoken about these things called aborted entolomas when I started picking mushrooms, but it took me about a year to be confident in recognizing them. Information about their edibility is out there, but there is not tons of it. Guides from the Pacific Northwest did not discuss it, but eventually I began to put together a little picture about them from hunting on my own. I discovered a mushroom that is very mild, but when caramelized and browned takes on a great, delicate flavor that store bought mushrooms could never even dream of.
I have confused a number of people when comparing this mushroom to shrimp. Just to clarify, the flavor of the aborted entoloma is similar to mushrooms. The texture is shrimpy, or something like you might expect in a plate of shellfish. To amplify this texture, I like to serve them alongside fish, similar to the idea of pairing lobster mushrooms with venison I mentioned a little while ago.
This little recipe is a great example of how you can be playful with the texture of things. It is also a glimpse of the many, ways that entolomas could be served.
When I made this, I was using up the last of my heirloom tomatoes of the season, I had some green zebra tomatoes and a small golden roma. I knew I wanted to make something with fish and entolomas, and I remembered one of the old shellfish combinations that we used to serve at the ill-fated Il Vesco Vino restaurant in St. Paul.
We would make a spicy fra-diavolo ("devil" sauce) served with pasta, it was really simple, and very popular. This is a tweaked version that is much lighter than the original that we made back at the restaurant. Unlike the other ragu, this one is not too spicy, but it definitely could be if you wanted it so. I wanted to design a simple fish ragu that was more wine based, with soft flavors.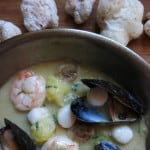 Print Recipe
Shellfish Ragu, With Aborted Entolomas, Heirloom Tomatoes and Mint
A small ragu of shellfish with entoloma mushrooms.
Ingredients
½

cup

Aborted Entolomas

cut into 1inch chunks

6

Shrimp

go with"16/20"/lb shrimp

5

Small bay scallops

about 5-6/person

8-10

Mussels or clams

or both, I was fine with 4 pieces for myself, if you use clams, look for small Manilas, they are my favorite. For mussels, look for large "meds" or Mediterranean mussels, they are a little more expensive, but the meat inside is huge, and juicy

½

cup

heirloom tomatoes

blanched in salted water, peeled, seeds squeezed out, and cut into 1 inch hunks

⅛

cup

dry white wine

1

tbsp

fresh sliced mint

1

tbso

of unsalted butter

Kosher salt and fresh ground pepper

1

tablespoon

flavorless oil for sauteeing

like canola or grapeseed

Dash of hot sauce
Instructions
Begin by heating a small saute pan with a tablespoon or so of oil and then adding the aborted entolomas when hot, cook for a minute or two until they are nice and caramelized, then season with a bit of salt.

Next add the thinly sliced garlic and make sure the pan is lugubrious with oil, this will make sure the garlic toasts and doesn't burn, cook for 30 seconds or so, until lightly golden. To halt the cooking of the garlic, next add the shrimp and cook for a moment, enough to color them lightly and allow bits of them to stick to the pan, which will deepen the flavor of the sauce.

Next add the clams or mussels, and the tomatoes, splash of hot sauce, then the wine, season this with a pinch of salt and throw a lid on the pan to make the mussels or clams open. When the mussels and clams are opened, add the bay scallops and just heat through, then add a small amount of butter and the teaspoon of sliced mint, swirl the pan until the butter is incorporated fully and the sauce is thickened slightly, season to taste with salt, then serve.
Notes
If you want to serve with pasta, 1 oz of dried spaghetti could be sauced by this recipe for a light entree, served with a salad on the side. Or spoon it over ½ cup of cooked, soft polenta, or in a bowl accompanied by some grilled toast.