I love a good seafood ragu, and this simple one made with mussels, scallops, shrimp and mussels is a good example of one you can make at home with a few ingredients you probably have in the cupboard. It's a classic Mediterranean recipe I used to make when I worked under an Italian Chef.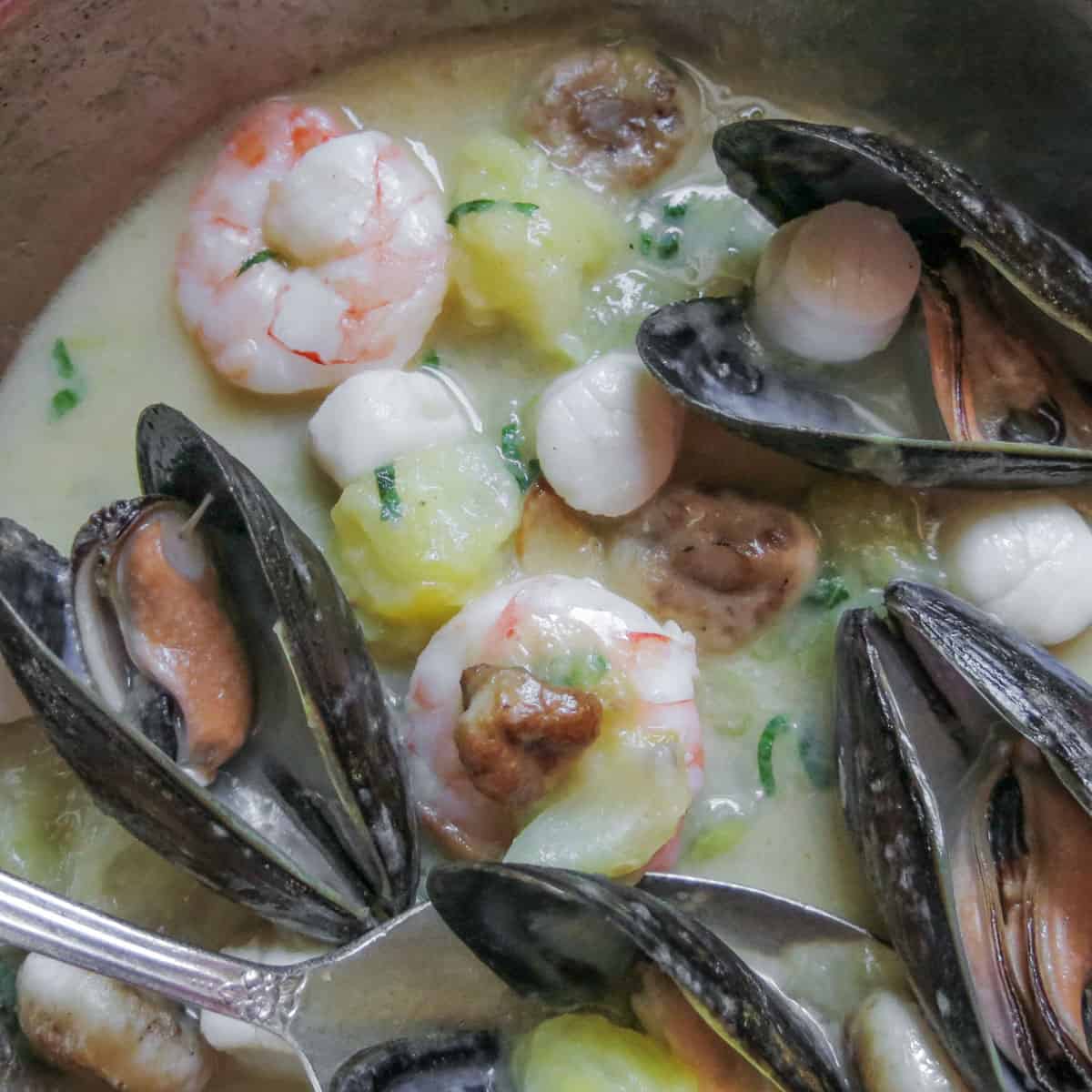 To add some texture, I add a few mushrooms here, as we used to at an Italian restaurant I worked at. They add a nice texture and flavor, but are optional.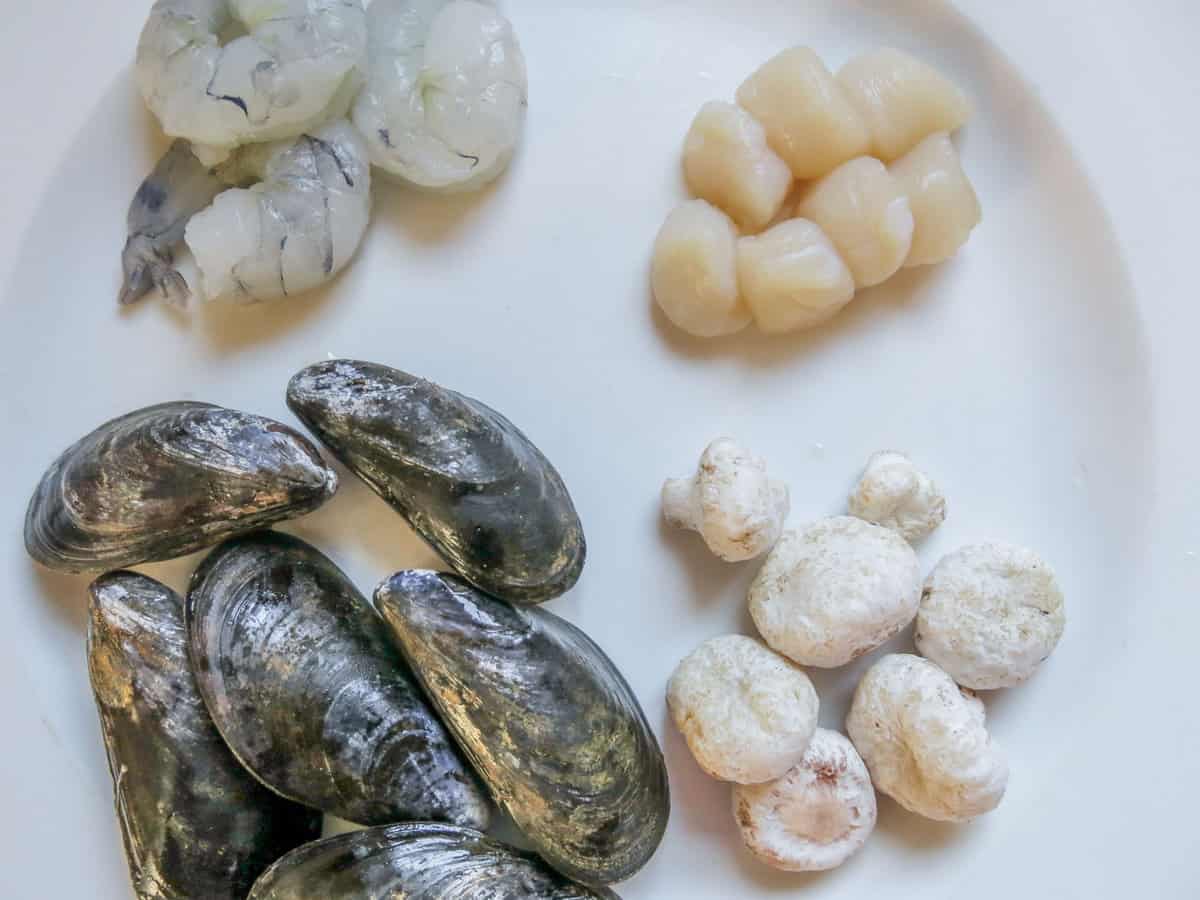 Fish and Shellfish to Use
You can use just about any fish or shellfish that you like. But I always try to include some bivalves like clams or mussels when I can. Here's a few suggestions:
Cockles (similar to small clams)
Manilla clams
Mussels
Cooked oysters
Small pieces of diced fish like salmon
Shrimp and prawns
Scallops, preferably bay scallops or large scallops cut into pieces
Razor clams
Snails removed from their shell
Pieces of crab or lobster meat
Using Fish stock or shellfish stock
This is optional. Many recipes for fish ragu will instruct you to use fish stock or shellfish stock, but whatever fish you use will make it's own stock as you cook them, so if you don't have any don't worry.
My favorite broth to use is shrimp stock or lobster stock, made by simmering roasted shells or carcasses and simmering with white wine, celery, garlic or shallot and a little bay leaf.
Tomatoes
I use fresh chopped tomatoes here, but canned tomatoes or tomato puree are fine too. With canned tomatoes you don't need to worry about the skins coming off and getting stuck in your teeth.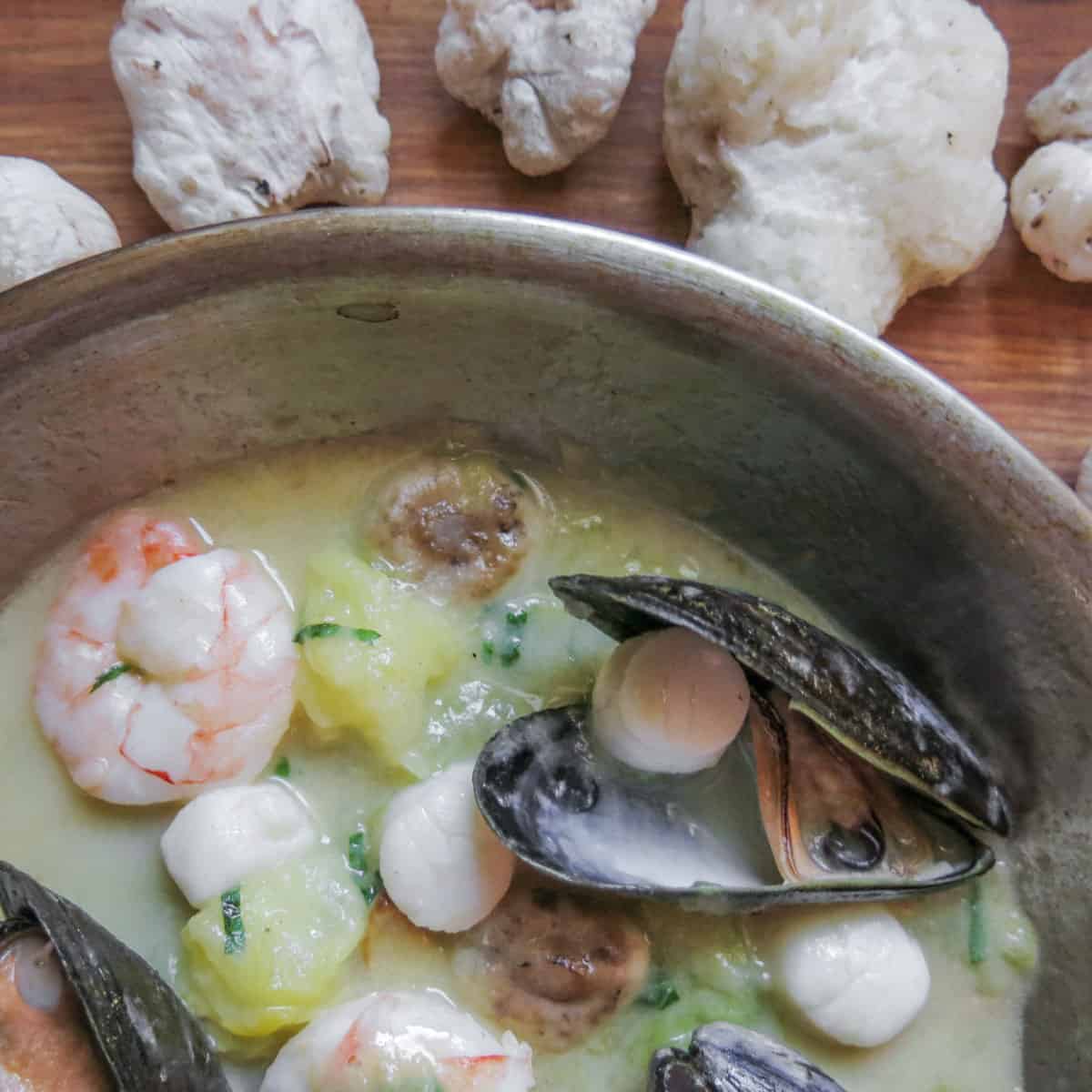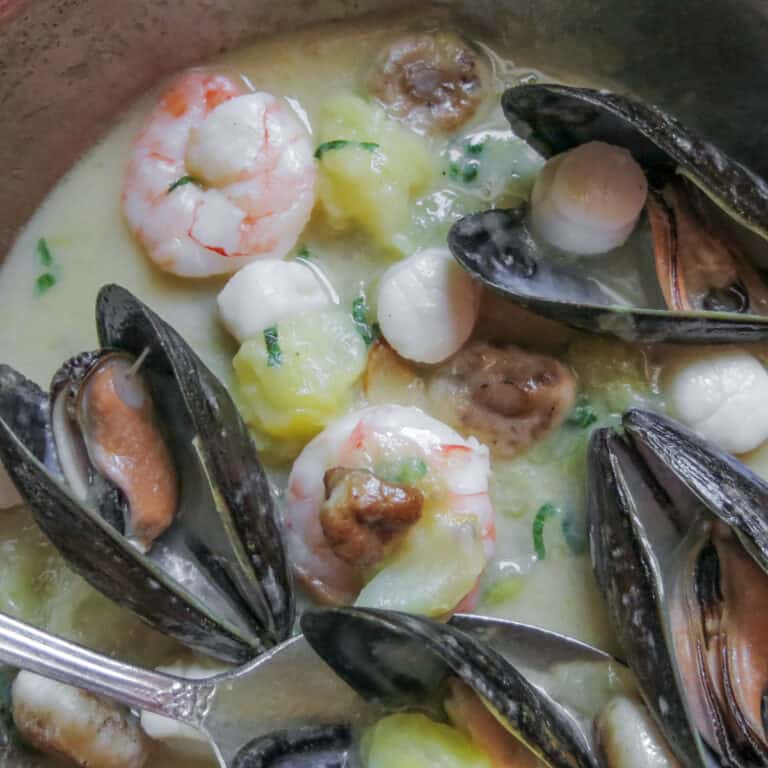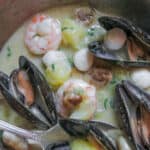 Print Recipe
Fish or Seafood Ragu with Mushrooms and Mint
A small ragu of shellfish with entoloma mushrooms.
Equipment
1 10 inch saute pan or large skillet
Ingredients
4

oz

fresh mushrooms (optional)

cut into 1inch chunks

½

lb

Shrimp

roughly 8 medium shrimp or ½ lb fish

4

oz

Small bay scallops

about 5-6/person

½

lb

Mussels or clams

1

cup

heirloom tomatoes

blanched in salted water, peeled, seeds squeezed out, and cut into 1 inch hunks

¼

cup

dry white wine

1

tbsp

fresh sliced mint

1

tablespoon

of unsalted butter

Kosher salt and fresh ground pepper

1

tablespoon

flavorless oil for sauteeing

like canola or grapeseed

crushed red pepper flakes
Instructions
Begin by heating a small saute pan with a tablespoon or so of oil and then adding the mushrooms. cook for a minute on high heat or two until they are nice and caramelized, then season with a bit of salt.

Reduce the power to medium heat and wait a minute or two before adding the garlic. Add the garlic, along with a extra oil if needed. Cook the garlic until it just starts to turn golden around the edges, stirring occasionally.

To halt the cooking of the garlic, add the fish or shrimp and cook for a moment, enough to color them lightly and allow bits of them to stick to the pan, which will deepen the flavor of the sauce.

Next add the clams or mussels and stir for a minute. Add the white wine, bring to a boil and reduce for a minute. Add the tomatoes or tomato sauce, crushed red pepper flakes and wine, season this with a pinch of salt.

Cover and cook to make the mussels or clams open. When the mussels and clams are opened, add the bay scallops and continue cooking. Reduce the heat and cook just until the scallops are heated through.

Add a small amount of butter and the teaspoon of sliced mint, swirl the pan until the butter is incorporated and the sauce is thickened slightly, season to taste with salt, then serve, drizzled with a little extra virgin olive oil at the end.
Notes
If you want to serve with pasta, 1 oz of dried spaghetti could be sauced by this recipe for a light entree, served with a salad on the side. Or spoon it over ½ cup of cooked, soft polenta, or in a bowl accompanied by some grilled toast.
Nutrition
Serving:
4
oz
|
Calories:
348
kcal
|
Carbohydrates:
9
g
|
Protein:
39
g
|
Fat:
15
g
|
Saturated Fat:
5
g
|
Polyunsaturated Fat:
3
g
|
Monounsaturated Fat:
6
g
|
Trans Fat:
0.3
g
|
Cholesterol:
227
mg
|
Sodium:
576
mg
|
Potassium:
981
mg
|
Fiber:
1
g
|
Sugar:
3
g
|
Vitamin A:
890
IU
|
Vitamin C:
16
mg
|
Calcium:
105
mg
|
Iron:
4
mg