Honey mushrooms (various Armillaria species) are one of the best fall mushrooms out there, with a caveat or two. If the conditions are right, you could walk out of your favorite patch of woods with a literal truckload of these, it's all about timing though.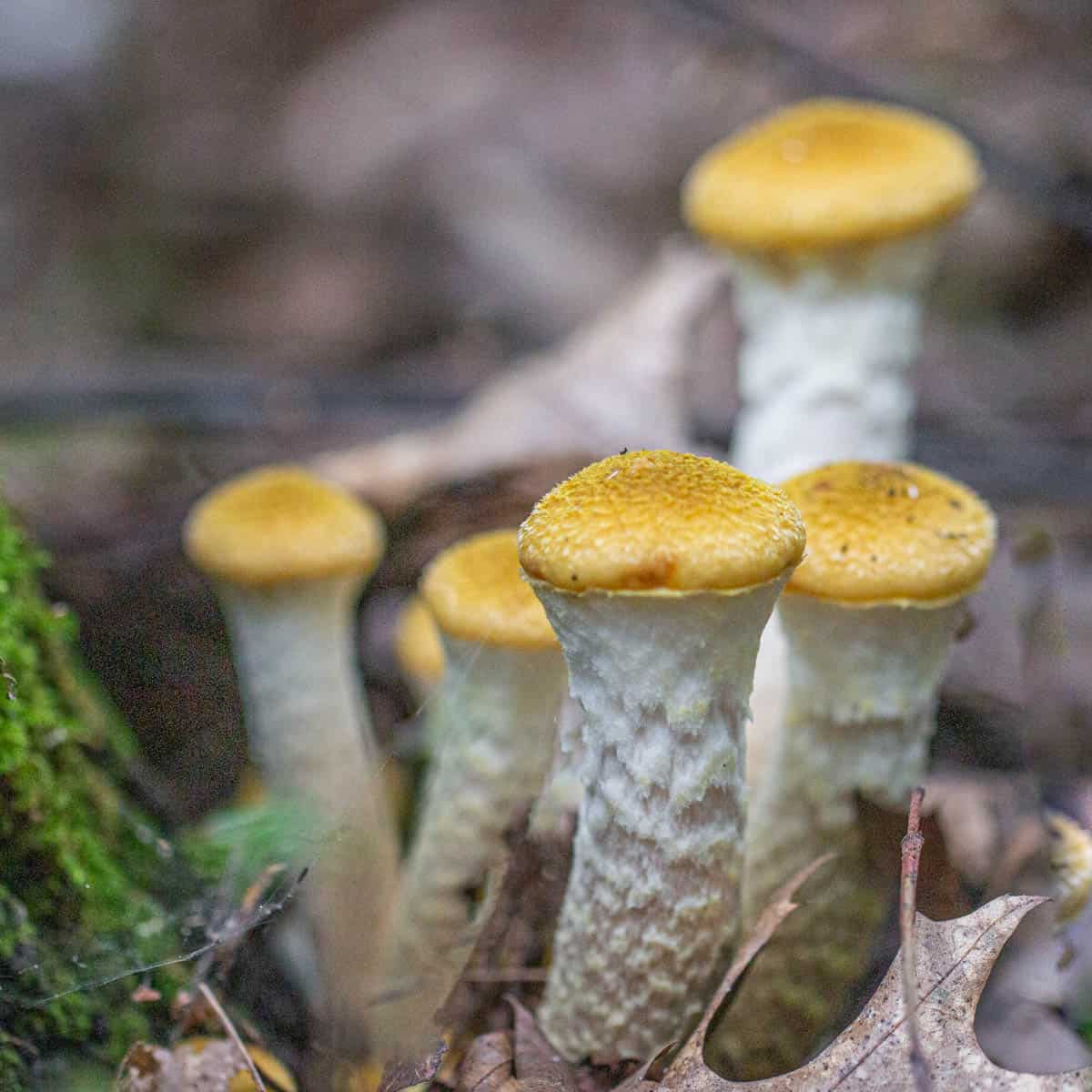 When I describe them to people who want to start picking them, I usually say something to the tune of "lookout for patches of mushrooms that grow like an infection".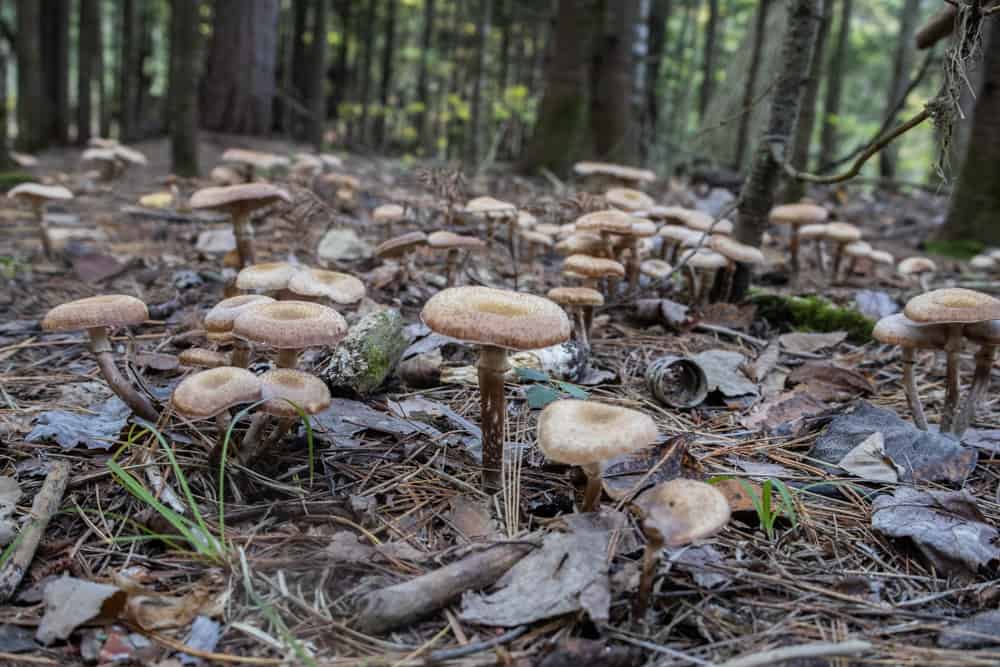 Habitat
Honeys are a parasitic mushroom, infecting trees and whole swaths of woods. Even when they're not fruiting, you can be on the lookout for areas they might like, my favorite variety grows on oaks, so I look for forests with hardwoods filled with dead and dying wood.
On a side note, the honey species I like enjoys the same type of terrain as hen of the woods too, and I often find them together.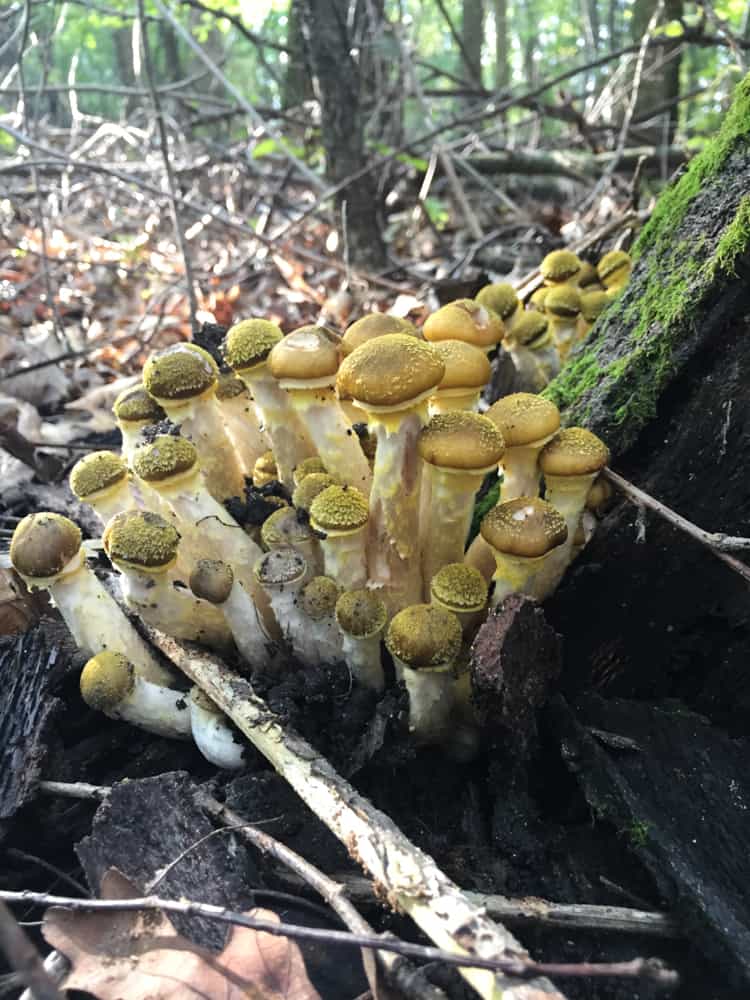 What gets confusing about honeys though, is that there are a bunch of different species with very slight differences, you could pick some with yellow caps (my favorite) and then a few feet away you could pick some that have dark brown caps.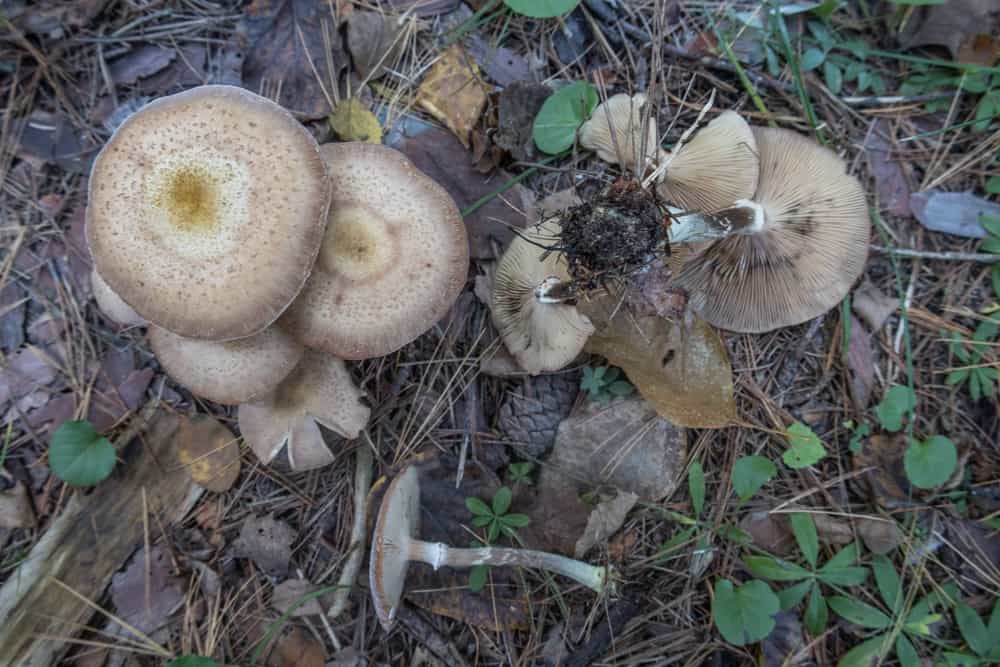 A Few Honey Mushroom ID Points
Honey mushrooms will have rings on their stems, unless they're Armillaria tabescens, or ringless honeys
The will also often have small iridescent hairs on their caps
Honey mushrooms love to grow in clusters, fruiting from a central base, like the picture above- a characteristic called growing "cespitose"
They could be growing from the ground, or directly from dead, dying or infected trees
Honey mushrooms will always have a white spore print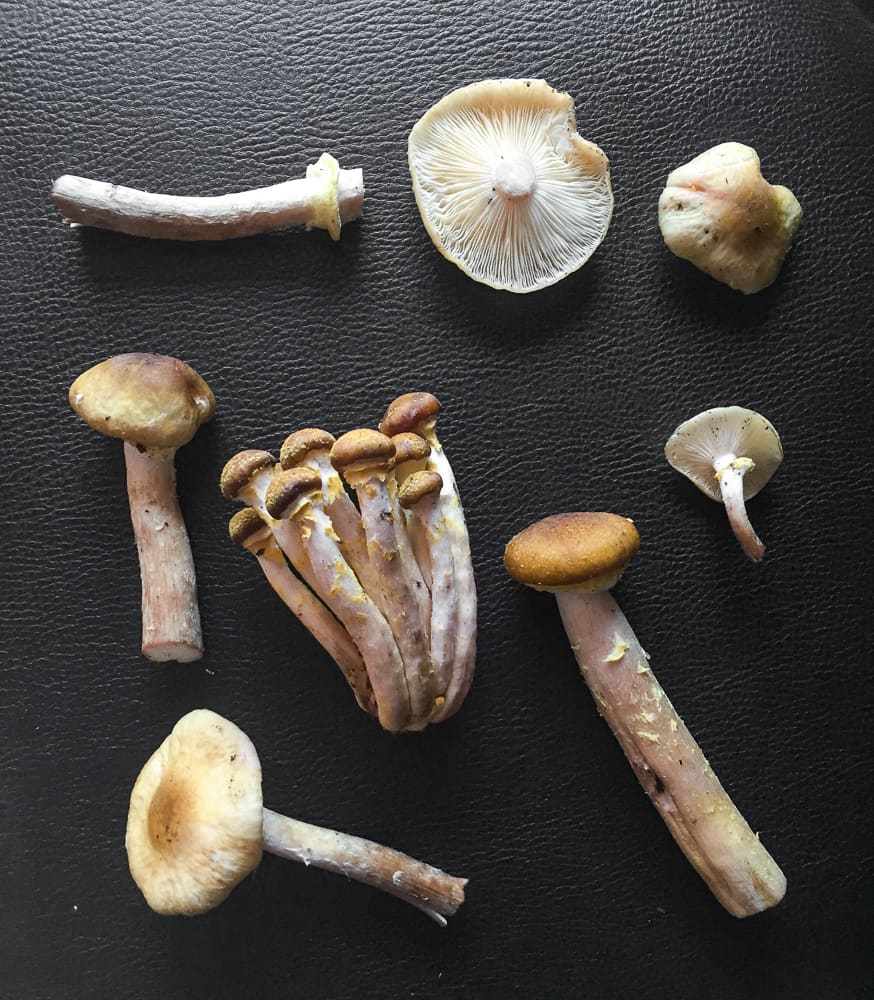 Variations in size
Honey mushrooms can vary drastically in size, with some being so large the caps are nearly the size of a softball. Older, large honeys I see often seem to develop a sort of circular bulge in their cap as they grow, with the occasional crack in the cap, as in the large cap below.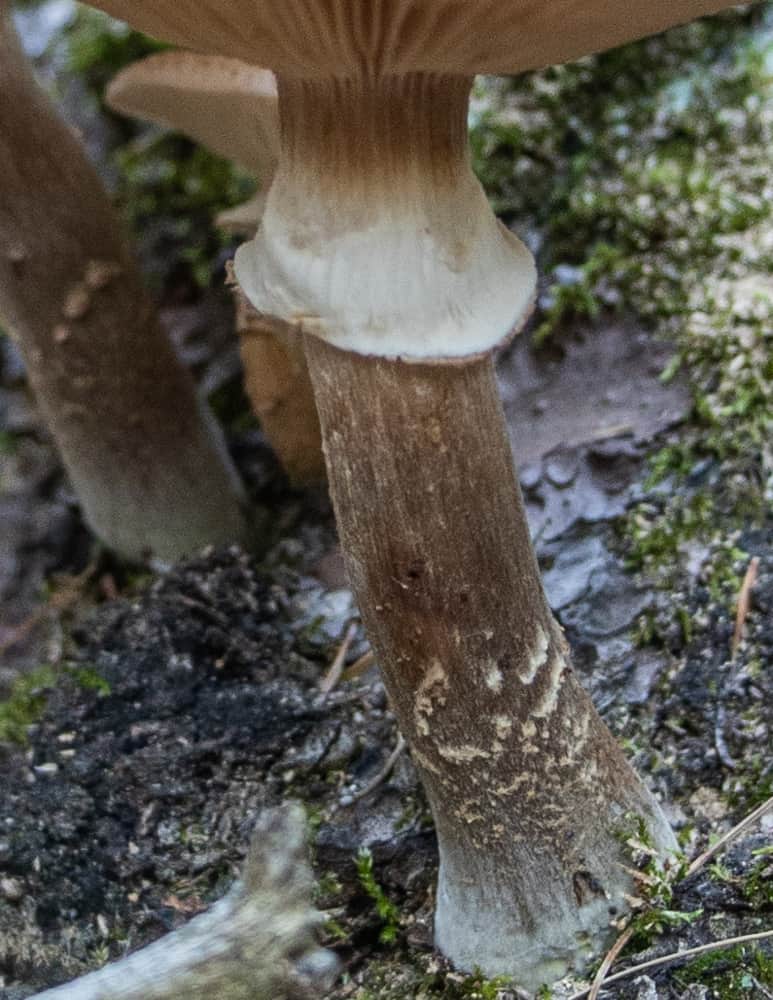 That being said, the size of your harvest, and the availability of other edible mushrooms may have a tendency to change your paradigm a bit.
If I'm desperate for mushrooms, and the only honeys I'm finding are mature with open caps, but the stems still cut clean and there is no bug damage, I may harvest them.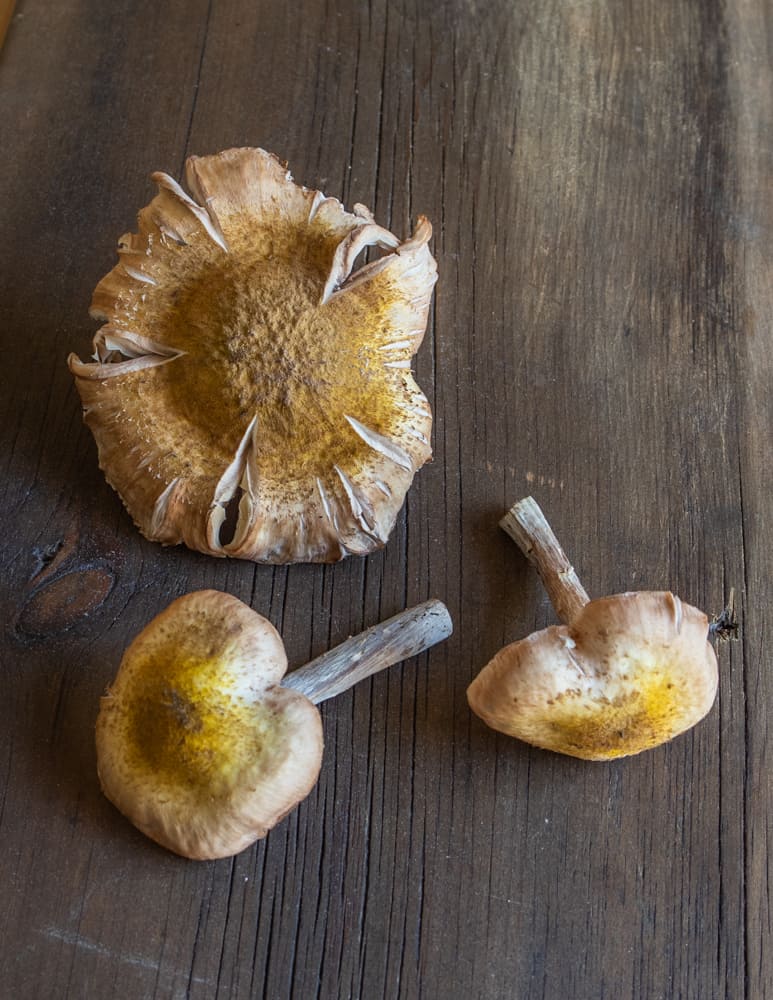 Typically, honeys are so prolific that I only take the youngest buttons where none of the caps are completely opened as they will have a superior texture to their mature counterparts.
Different Species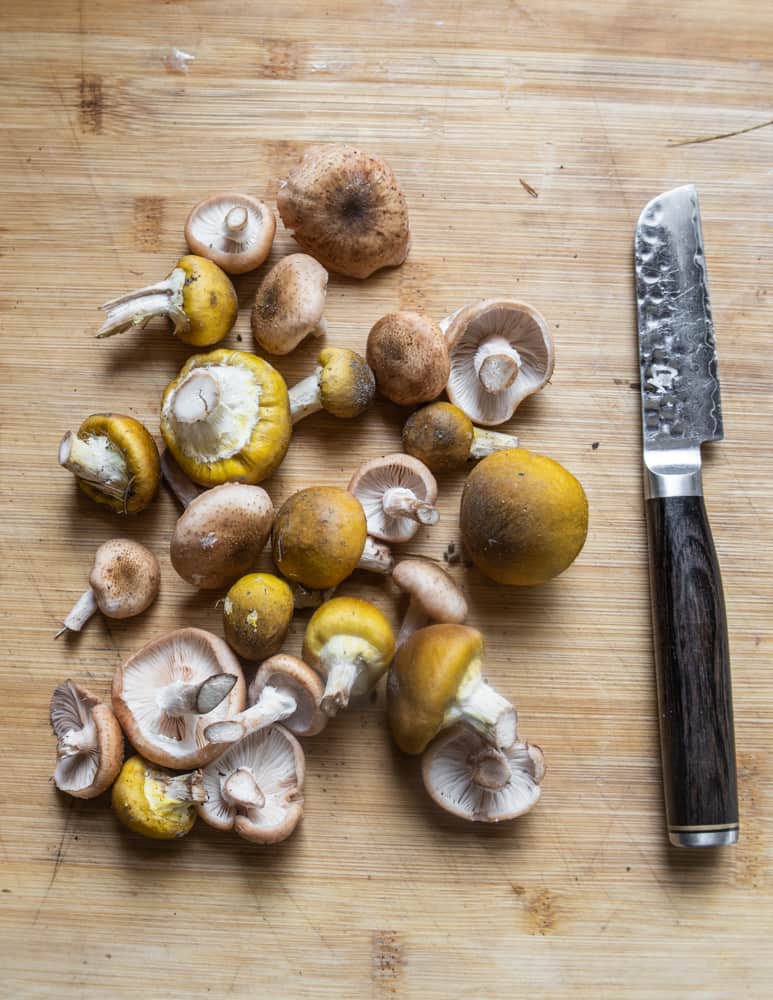 It's not technically correct, but I usually think of honey mushrooms in a greater sense as being one of two different kinds: conifer honeys and deciduous honeys.
To be very clear, there are many more species within the two species I'll outline here, but the slight morphological differences between species don't really matter for culinary purposes.
Armillaria gallica, the mycorrhizal honey
I usually see what I assume is Armillaria gallica on conifers in my area, and what I assume is Armilliria mellea on deciduous trees, but that is only a coincidence as A. gallica isn't relegated to only conifers.
There isn't a real difference in the flavor, but I usually come across large amounts of yellow-capped honeys in clusters, where Armillaria gallica I find singular, spread out, and growing mycorrhizal, as opposed to resembling a plague on the trees. Armillaria gallica also has a cottony veil under the cap, as in the mushrooms below.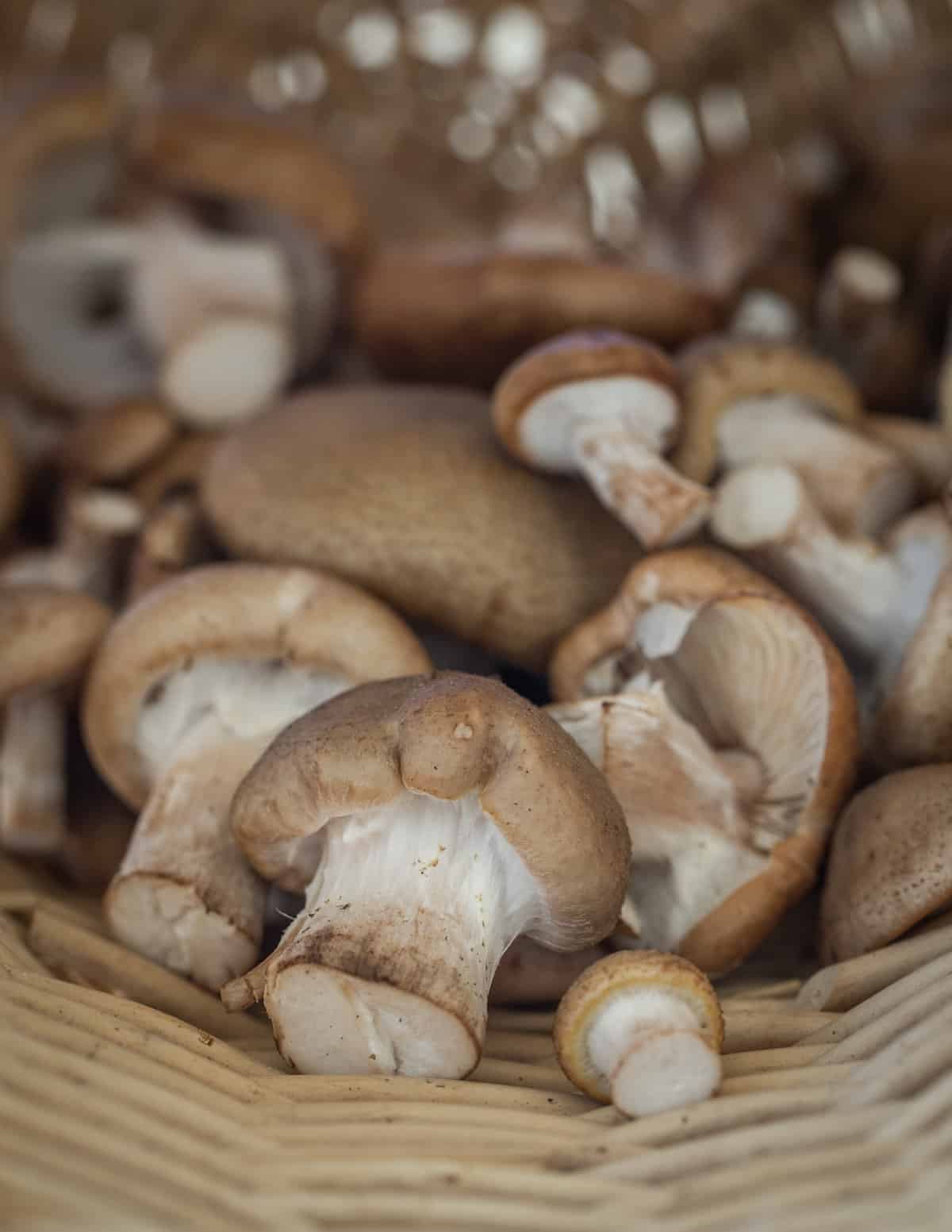 Natural white spore prints
Honeys often show a visible white spore print, so I don't often feel the need to take spore prints as I can usually find some mushrooms in the field that have done it for me.
Just look for some mature mushrooms in the area you're harvesting, remembering that the spore print is only one tool in a kit of identification features you should be using.
The image gallery below has a couple good examples-none of the mushrooms pictured below are for the table at my house.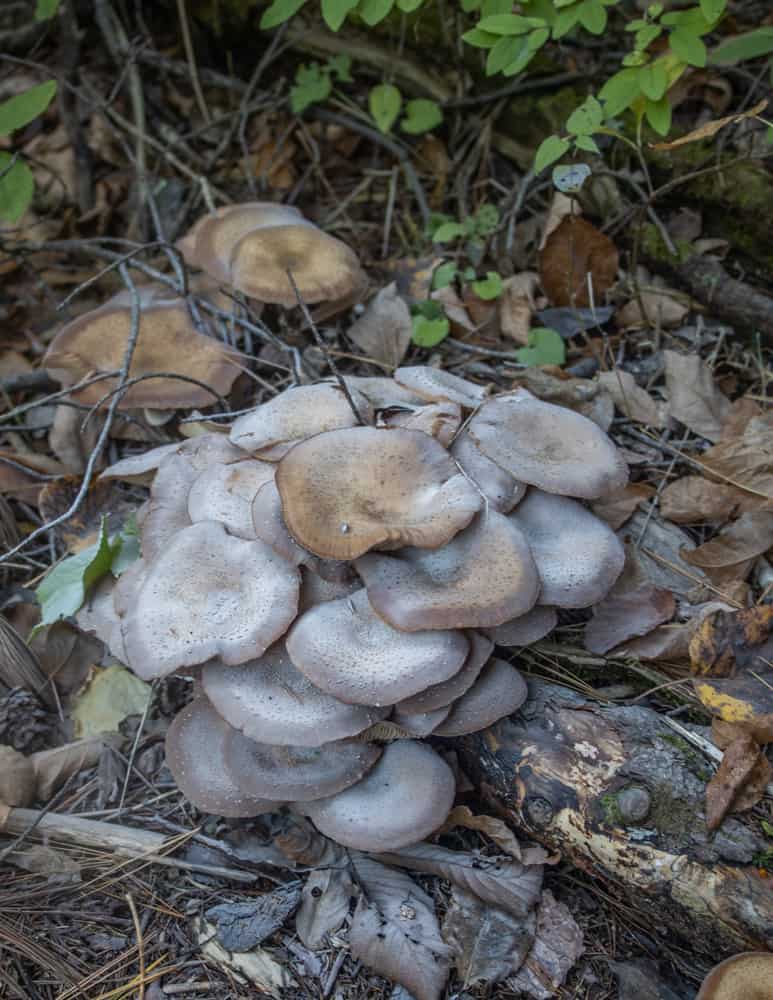 Deadly, (and not so deadly) Look-A-Likes
Honey mushrooms are great, but there are a few mushrooms out there that could be confused with them that should not be eaten, especially the deadly Galerina.
From my experience, species that could be confused with honeys could be, but shouldn't be limited to: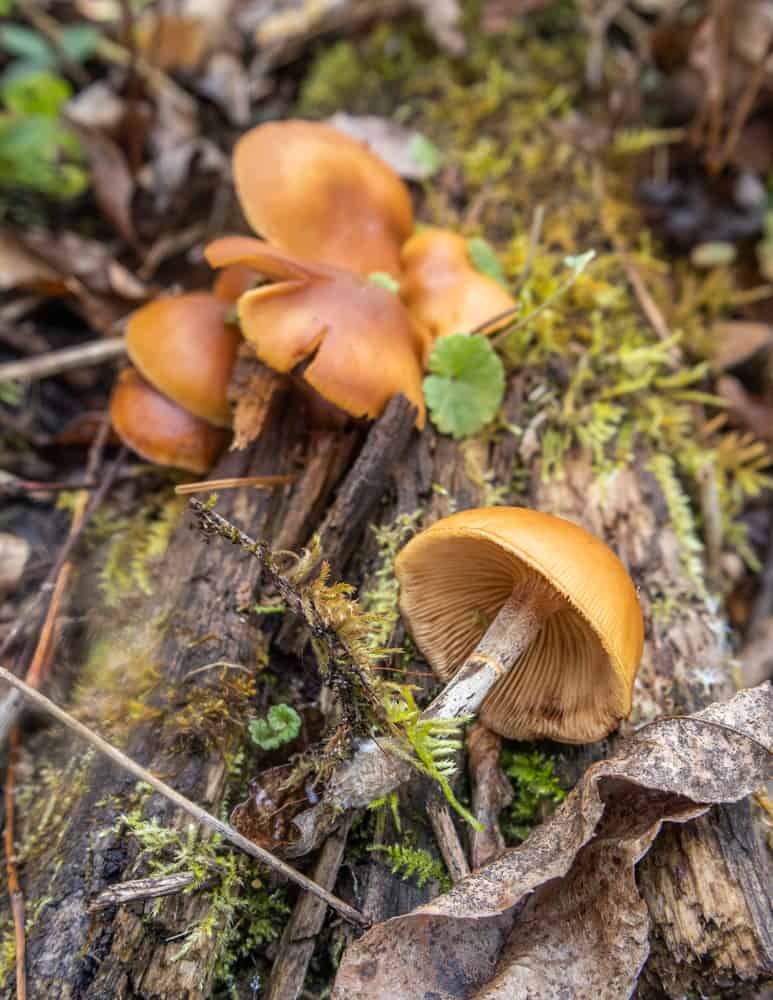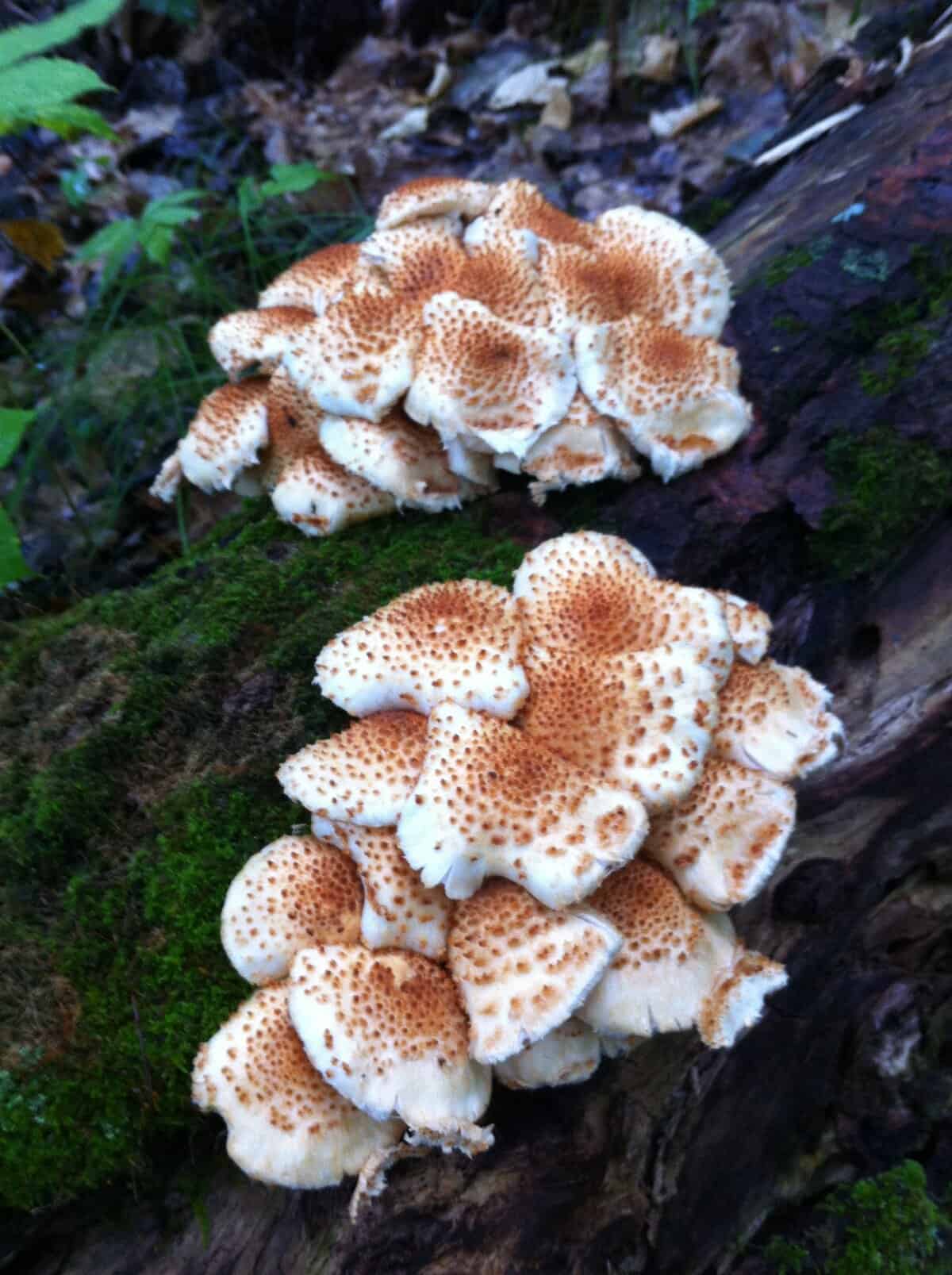 Harvesting
Just like a vegetable, and any other mushroom, you want honeys that are young and tender.
The smaller the caps, the more crisp and bouncy they'll be, and the less chance you'll see any larvae in them (they love honeys in Minnesota and Wisconsin where I hunt) also, the stems won't be as long and spindly.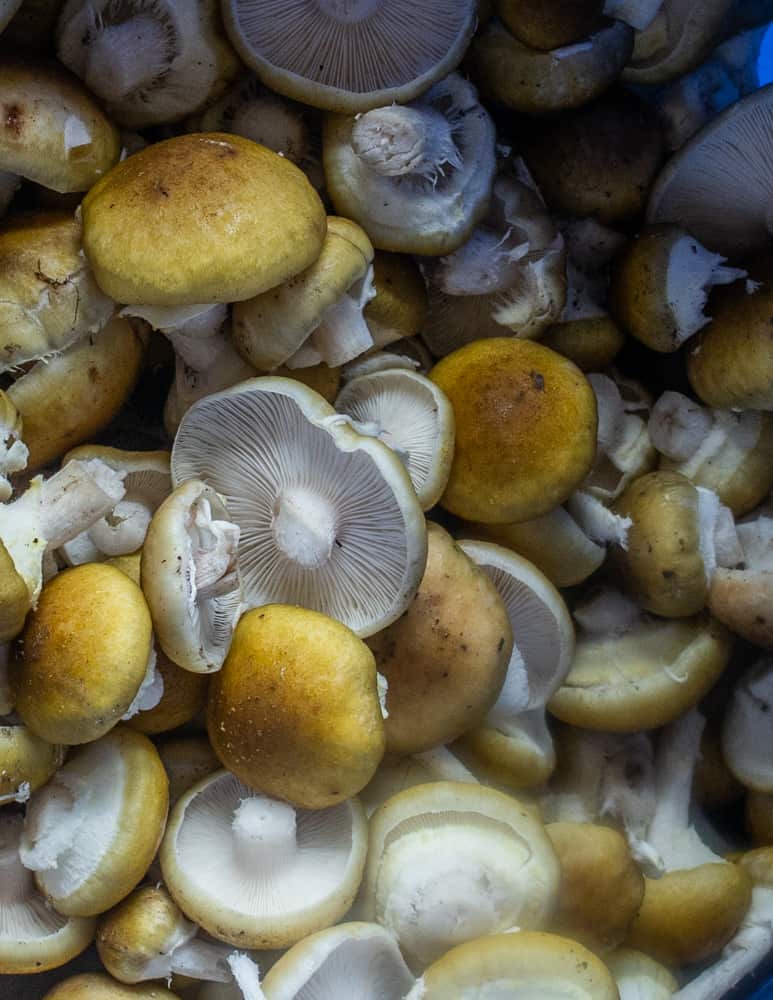 If I do find honeys that have big stems, and they're nice and bug-free, I may take them if I'm not getting much else.
The stems are not amazing by themselves, but they're ok, and still better than a cultivated shroom any day. Expect to see size variation here and there, occasionally I see honeys of massive size, say as big as small frisbees when the caps open.
The prize: young honey buttons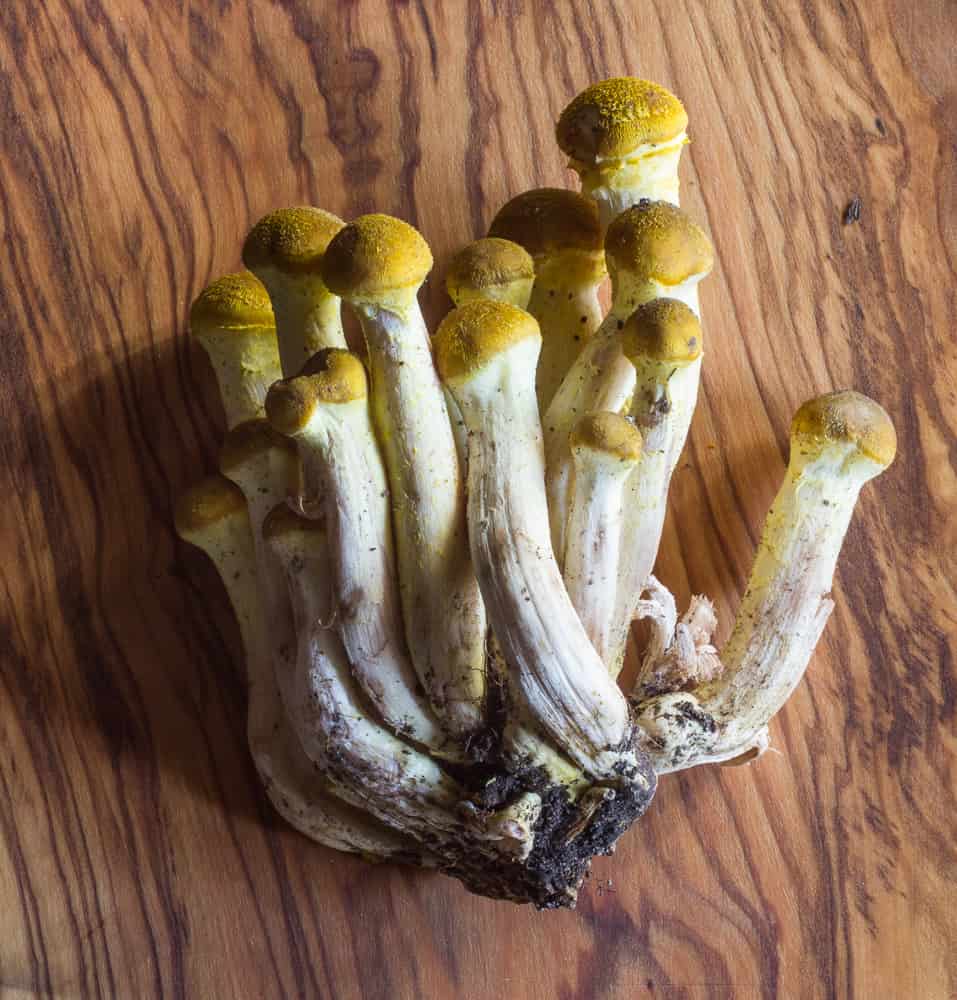 There's some debate on when the best time to harvest honey mushrooms is, and I've even had one person claim that honey mushrooms with completely opened caps will make you sick, where harvesting closed, tight buttons will not, which is not true.
Basically: If you have a honey mushroom, you have a honey mushroom, and it's age or whether the cap is open or not will have no bearing on it's edibility, assuming it's in good shape for the table.
How much stem do I harvest?
This is bit of personal preference.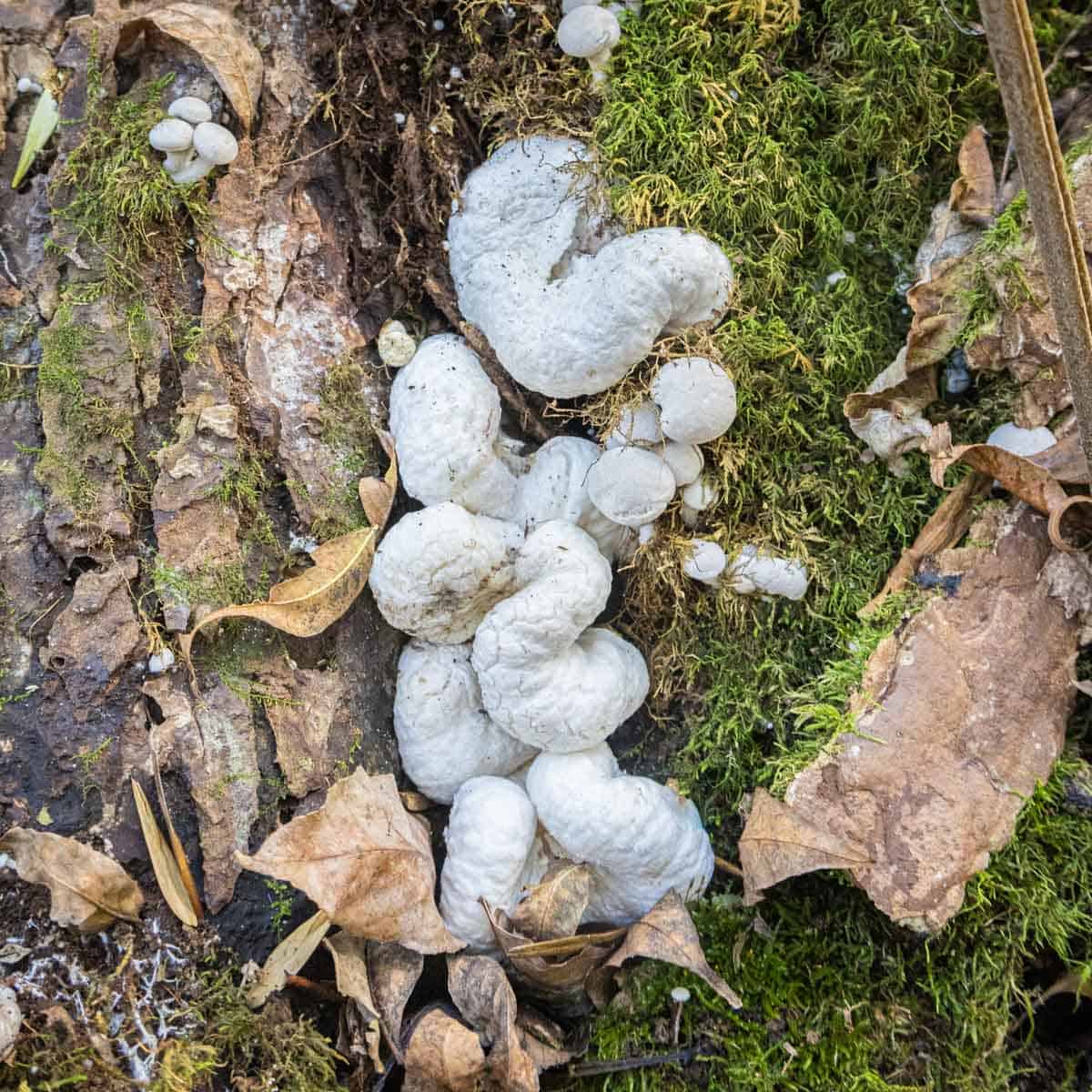 Bonus find: Entolomas
Where I live, honey mushrooms commonly grow near aborted entoloma/shrimp of the woods. When you find one, keep your eyes peeled for the others, as they might be close by.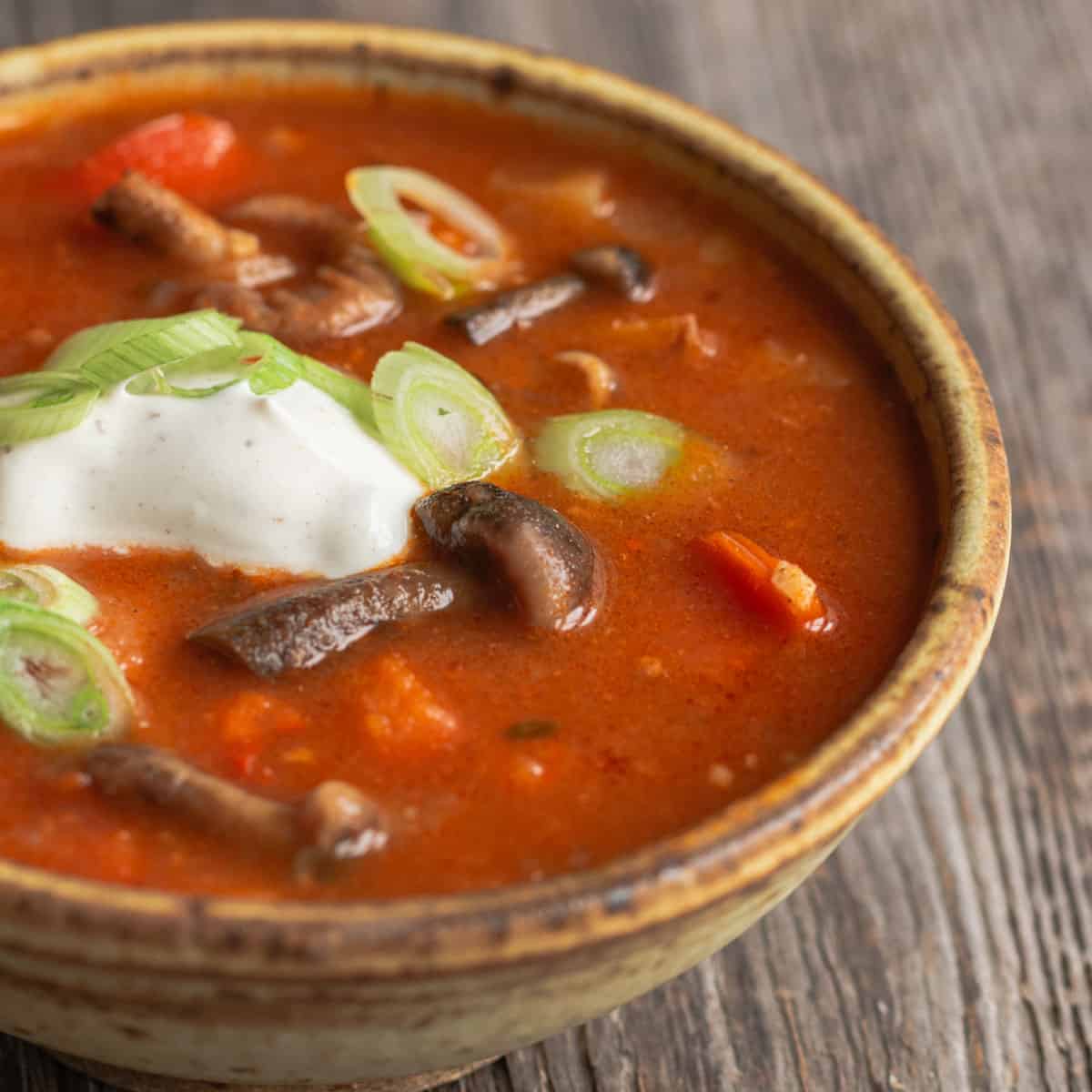 Cooking
There's plenty to be done with them. They can be blanched and pickled, roasted to concentrate their sugars and then marinated, sauteed, cooked in cream, dehydrated for soup in the winter, lots of things. There is a lot more to do with them than just treat them like another mushroom though.
Honeys are loved in Eastern Europe, as well as Italy, so if you're looking for inspiration, try looking for recipes for mushroom from those cuisines-there's a good chance some recipes could originally be made with honeys, but had their names changed due to availability.
In Italy they're known as "la familia", referring to their generous fruiting. They also make great substitutes for mushrooms in Asian cuisine, where they're natural thickening property can be used a bit like cornstarch. See below on mucilage for more on that.
Honeys love soup
Honey mushrooms love, love being cooked in soup and broth, and their natural mucilage will help give body to soups. See below on mucilage for more on that, or refer to my hot and sour soup, or honey mushroom gulyas for examples.
*Always* Cook Honey Mushrooms Thoroughly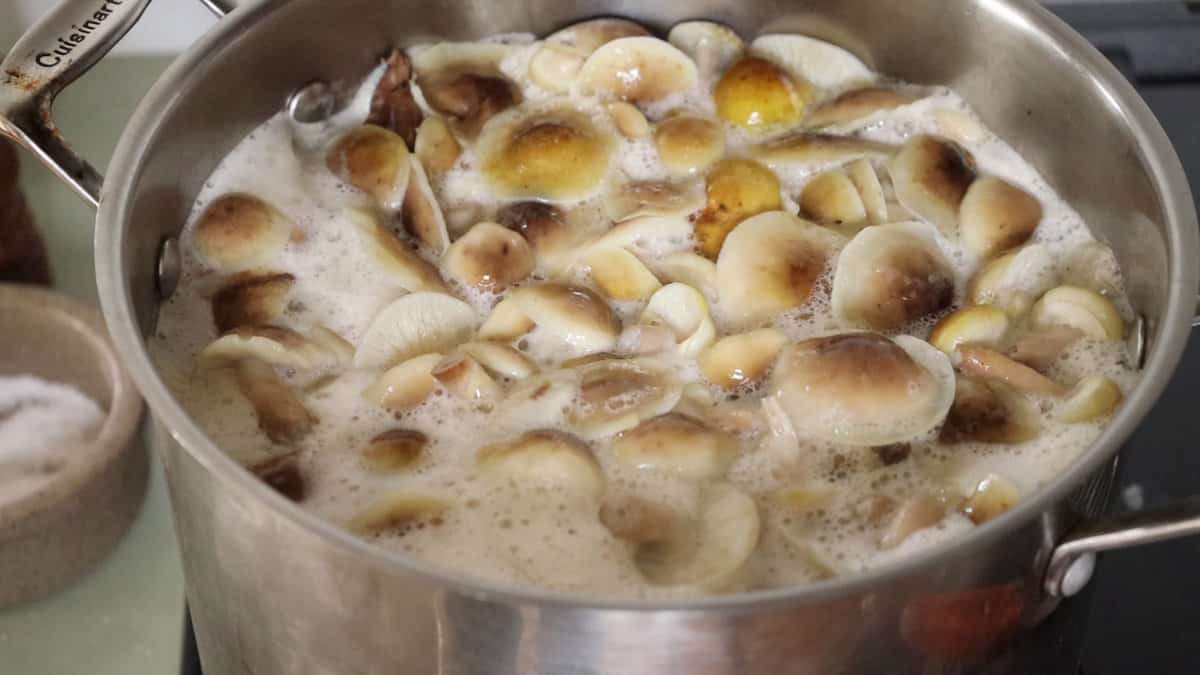 Many mycological societies ban the serving of honey at mushroom gatherings and cookouts since some people have become ill after eating them.
The biggest thing to remember is that they need a bit of extra cooking to make sure that they don't give you any gastric upset.
Apparently some people are more sensitive to certain species too, so start out serving small amounts to check for allergies.
I've also heard people say that the suspect species that can give intestinal upset is not the complex of honey mushrooms that grow in deciduous woods, but the coniferous species, Armillaria gallica. My advice is just make sure to cook them all completely through.
Don't be scared though-I've seen more people become sick after eating thoroughly cooked black morels than I have honey mushrooms. When properly cooked, the Honey mushrooms are delicious and rich, with a slightly sweet finish.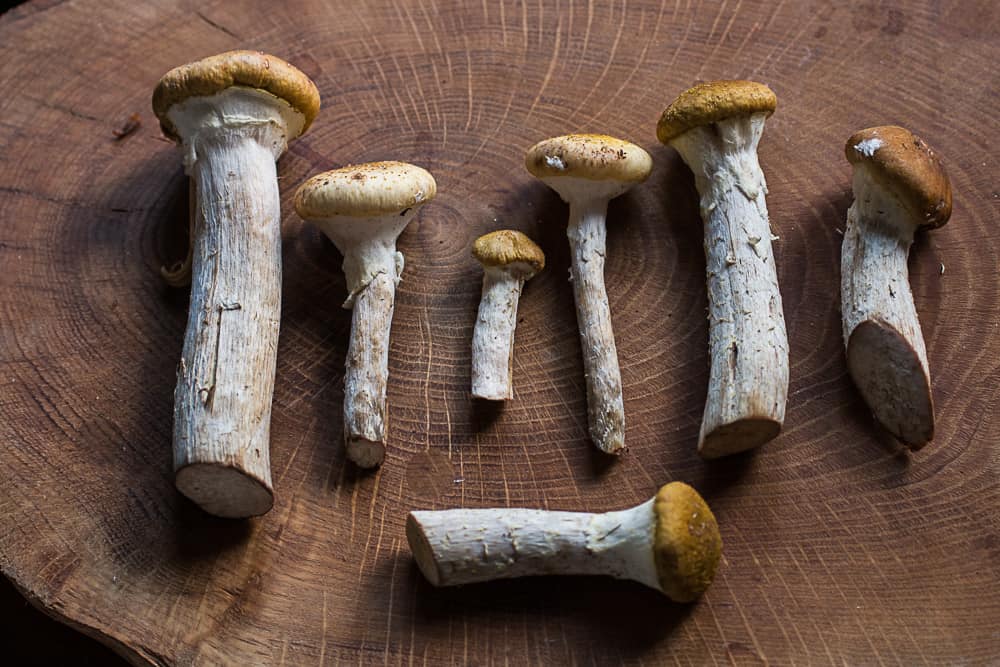 The Honey Slime
Yay for mucilage. Have you ever cooked okra? or Cactus paddles? Honeys, along with other mushrooms like Amanita, Lactarius and fried chicken mushrooms give off mucilage when cooked in liquid. To avoid this, blanch the honey mushrooms in salted water before adding to a pickle liquid, or dehydrate them.
People around the world have been enjoying honey mushrooms regardless of the mucilaginous qualities for years though.
Packed in pickling jars they can be a little snotty, if they aren't blanched first, but if you cook them in something like a soup or broth they will thicken it nicely, which means you can add them to soups almost like roux, or okra.
I should mention, when possible I like to serve honey mushroom caps whole, or if they're really large, halved or quartered, they just look better, and taste better like that. The long stems can be reserved for duxelles or broth, etc.
Preservation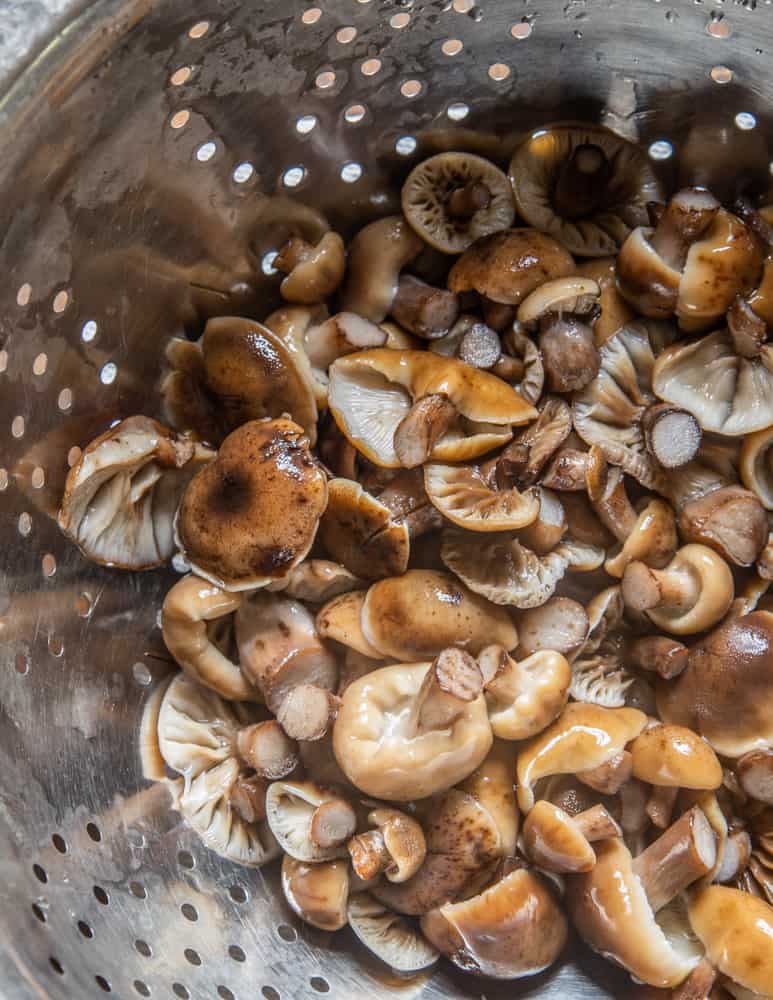 Boiling and freezing
Lots of possibilities here, but the most tried and true is probably boiling and freezing. Boiling is common in Eastern Europe where honeys, known as Pidpenky there, are heavily consumed.
See my quick tutorial video on how I do that. To boil them, I bring a pot of lightly salted water to a rolling boil, and cook the honeys until they're wilted, this will take about 4-5 minutes at a rolling boil.
After the mushrooms are visibly wilted and I can see they're cooked, I drain them, rinse with cold water to cool, lay them out to dry on a tray, then vacuum seal in 8-16 oz portions until I need them.
Dehydrating
Honeys also dry well, and are a common ingredient in the Christmas eve soup some of my friends from Russia and The Ukraine make.
To dry them, slice the caps and dry at 150 F for 8 hours, or until they're bone dry. Typically I let mine go overnight.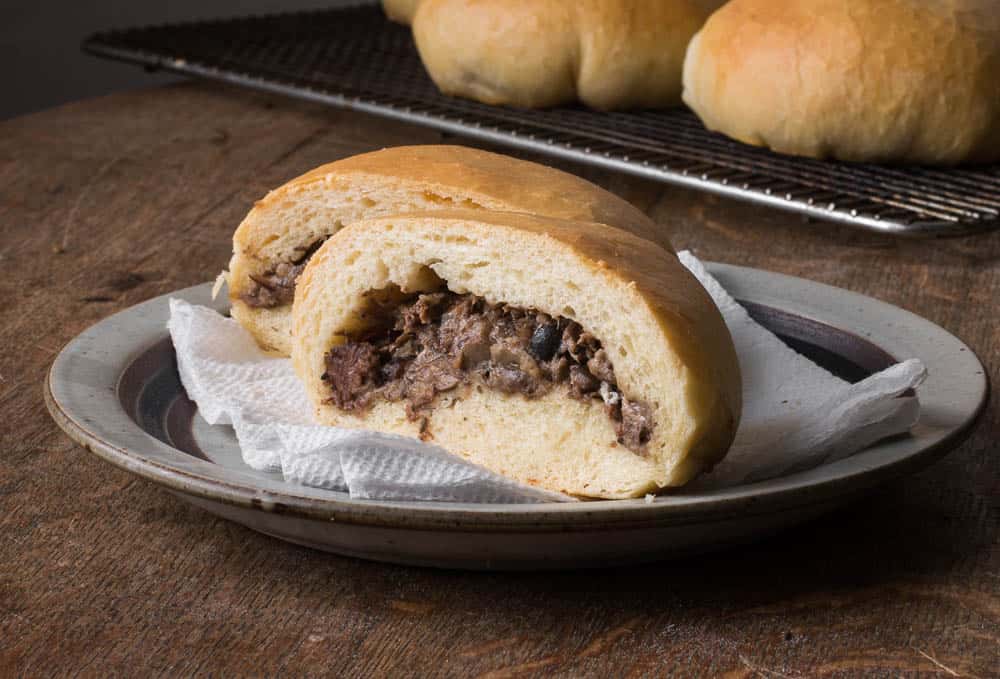 Recipes
Related
35 Essential Wild Mushrooms Every Forager Should Know