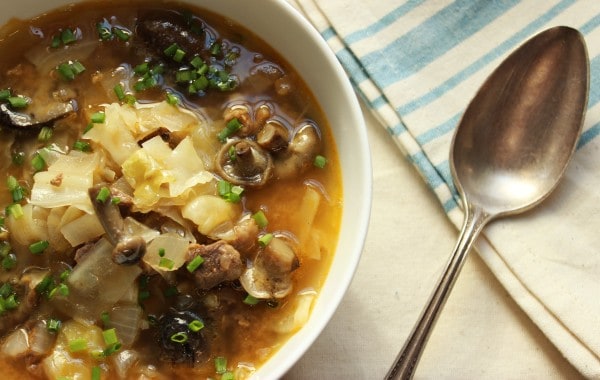 Hot and sour soup! Is it Asian food? Nope. Asian cuisine is not the only one to take advantage of the awesome combination of sweet and sour. There is another locale that values the combo of sweet and sour, and it's Eastern Europe.
Just thinking about a bowl of sour, sweet, meaty soup makes my mouth water, it just hits you in all the right places. My mind often wonders what the mushroom picking Russians in the Twin Cities are making with all of their honeys and slippery jacks, so this is a recipe I came up with in their honor.
Eastern Europe's love for slippery jacks is well documented, see another post on that here. Another one of their favorites, and a slightly superior mushroom in my eyes is the honey mushroom, or as they call it "pidpenky". There are a bunch of different varieties, but you can narrow it down to two different types if you see which tree they are growing on/near.
If they are growing on a deciduous tree they will be a particular set of species, growing on or around a conifer will mean they're another, and will usually lack a ring around the stem.
nbI won't even try to classify or act like I know all the varieties of honey mushrooms out there because I don't. Lets just say that finding the tree they are infecting is not that difficult, these things can be the scourge of a forest, and look like an infection. I know a couple of local hunting patches that are severely infected with honey mushrooms.
Some people in the mycological societies poo poo honeys, or ban them from potlucks, and that's understandable since some people might be allergic to them. Its true too that they are not as easy to identify as a chicken of the woods, or a morel for that matter. Either way, I have eaten every species of honey mushroom I have ever picked, and I have loved everyone. Just make sure to cook them thoroughly.
Back to the soup, I made a small test batch just to test the seasoning for you. I ate the whole thing in 2 sittings, its simple, cheap, and is a great way to stretch a small amount of meat, such as that old venison roast that has been sitting in your fridge that your hunter friend gave you a while back. Do make sure to thoroughly cook your honey mushrooms, as they can give some people GI problems undercooked.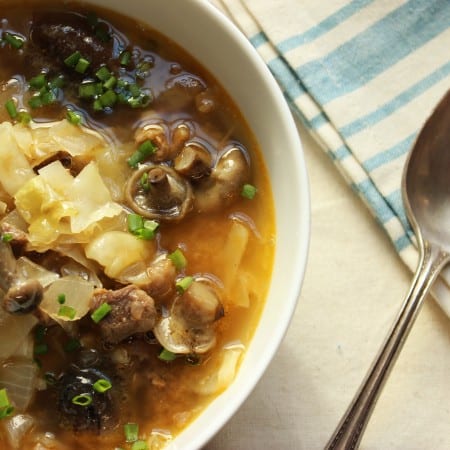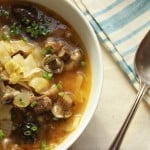 Print Recipe
Sweet and Sour Venison Soup with Honey Mushrooms
Tart and only slightly sweet, this is an Eastern European style soup with venison and honey mushrooms.
Ingredients
1.5

lbs

venison

such as top round or a roast, diced into ½ inch squares

1

lb

green cabbage.

you could use napa or savoy cabbage, if you do, increase the volume by 50%-it cooks down to near nothing.

⅔

cup

grapeseed or canola oil

for browning the venison

3

cloves

garlic

sliced

3

tablespoon

tomato paste

1

cup

diced white onion

7

cups

water or meat stock

I was in a pinch and used water, and that's fine if you're pressed for time, the venison meat adds flavor in itself

½

cup

apple cider vinegar

you could also substitute champagne, or just plain white

3

tablespoon

sugar or honey

Bouquet garni:

2

crushed juniper berries 1 dried bay leaf

10 peppercorns, 2 allspice berries, 3 cloves

1

lb

fresh honey mushrooms

trimmed of their stems, leaving about ½ inch remaining below the cap

Kosher salt and freshly ground pepper

Fresh herb of your choice for garnishing such as chives or fresh dill
Instructions
Get a 6 qt stock or pasta pot, begin by heating the pan with half of the oil, when the oil begins to smoke lightly, add the venison, season with salt and pepper, and cook on high heat until nicely brown and colored, working in small batches if necessary. (If it gets smokey in your kitchen, open the window.) Remove all of the venison from the pot so you can pour out the oil, (it is most likely scorched and burnt after all that browning and will make your soup greasy), although the bottom of the pot better not be scorched, since thats where much of your flavor is going to come from for the soup.

Add the onion and garlic to the pot and cook, stirring occasionally until its translucent, then add the water or stock, cabbage, venison, bouquet garni, and bring to a simmer.

Brown the mushrooms (optional)

while the soup is heating, heat a large 10 saute pan with the remaining ⅓ cup of oil and brown the honey mushrooms on high heat, working in batches so that you don't over crowd the pan. When all the mushrooms have been browned nicely, drain them on a towel to remove oil, then add them to the soup pot.

Cook the soup for 1.5 hours. After that, the meat should be tender and soft. Finish the soup by adjusting the salt and pepper to taste, add the sugar and vinegar as well.Serve garnished with some chives or chopped dill, parsley would be just fine too.
Notes
*Notes*
This is just a basic soup, adding cooked barley, millet, or rice would be great additions. To add a grain, add 1 cup cooked grain of your choice at the end of cooking, or ½ cup raw when starting to cook the soup. To keep the broth clear and preserve the texture of grains, I like to add them precooked at the end of cooking, your choice though.
If you want you could add the honey mushroom stems to the soup as well, I'm a fiend for the caps though, so I used only them since I had a great excess.
Serves 2, you will get about 2 qts  from this recipe
Prep Time: 30 minutes to clean mushrooms, dice meat, chop cabbage and a couple vegetables.
Cook Time: 2 hours
More