Possibly the greatest black walnut recipe of all time, these candied walnuts, coated with a caramel of dark sugar caramel and sea salt are a trick I learned on the job. With a little practice, you can make them too-just don't expect them to last long.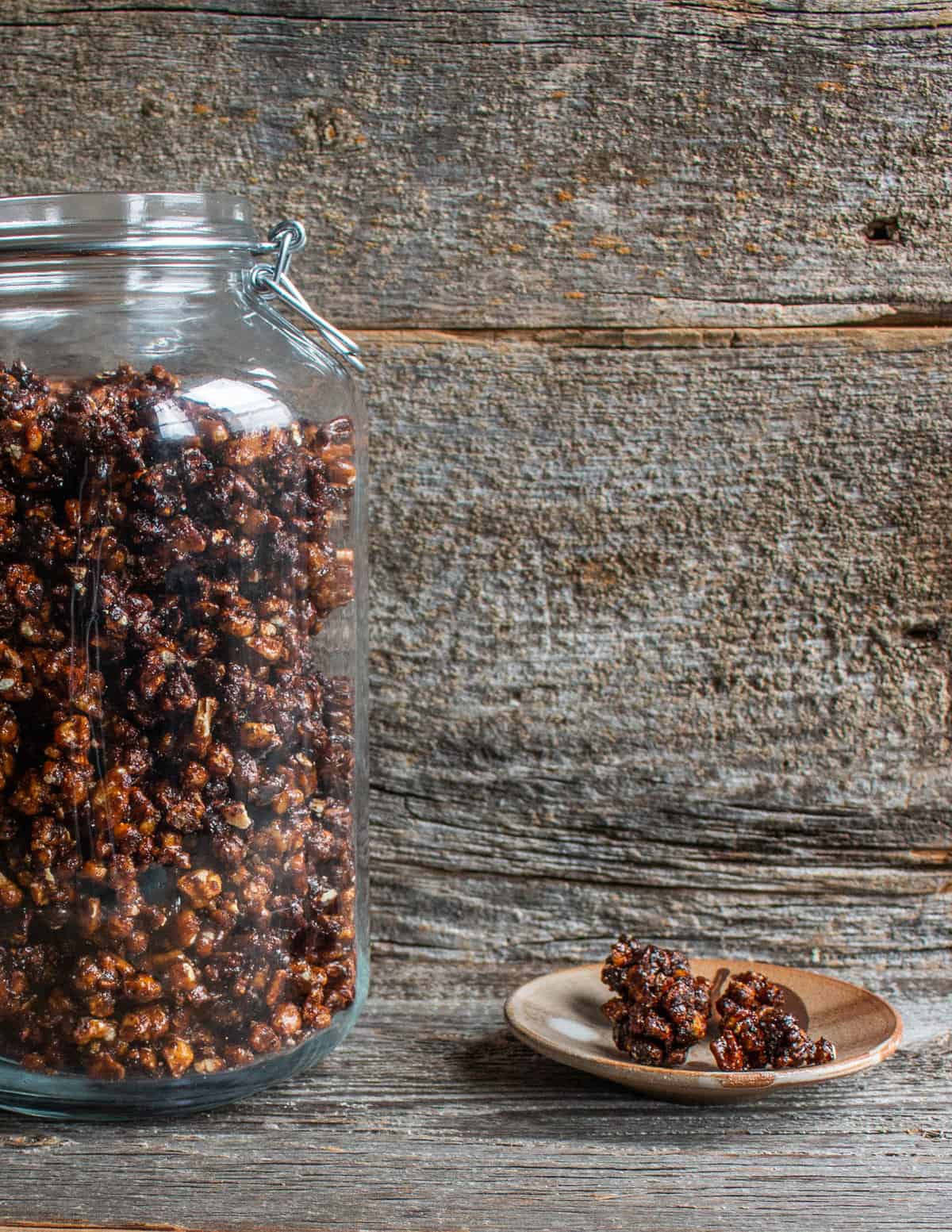 I used to work with a pastry chef who made these delicious, crunchy, salty, sweet candied hazelnuts. I got scolded more than once for snatching the candied nuts out of their mise en place.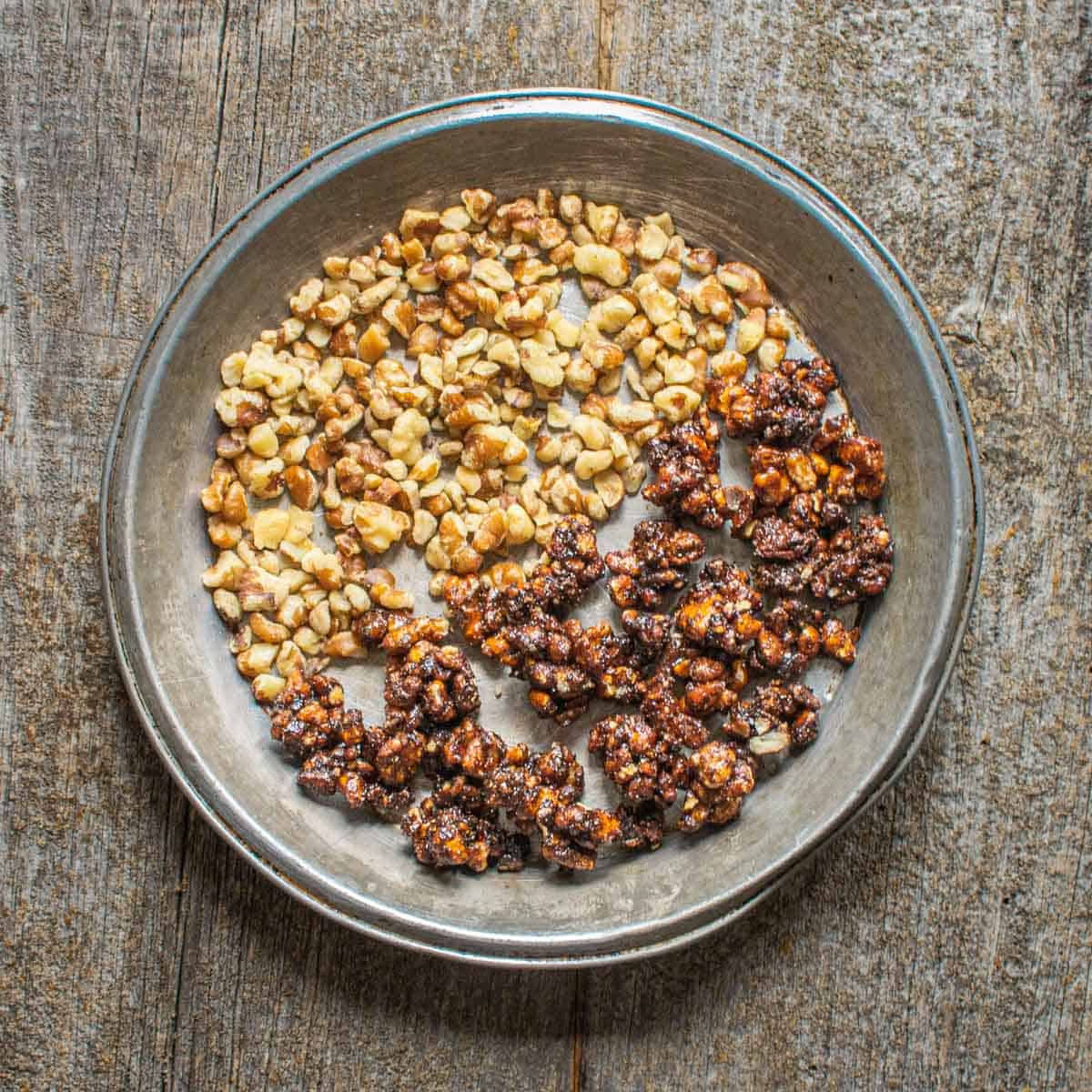 Eventually I just asked one of the pastry chefs for the recipe; she refused to give it to me. I didn't forget those nuts though!
It took a couple months of searching for recipes and comparing, but I finally found the method they had been using to make those stinking nuts. Afterwards, I played with the recipe and found I could use it to candy any nut in the same way.
After I started to use it on other nuts, I began to get bored with original recipe after eating them non stop for months on end. I started to add different things, spices, hot chilis, different sugars like agave or honey, combinations of sorghum, barley malt and molasses. I made piles of them, and gave the experiments out as presents and gifts.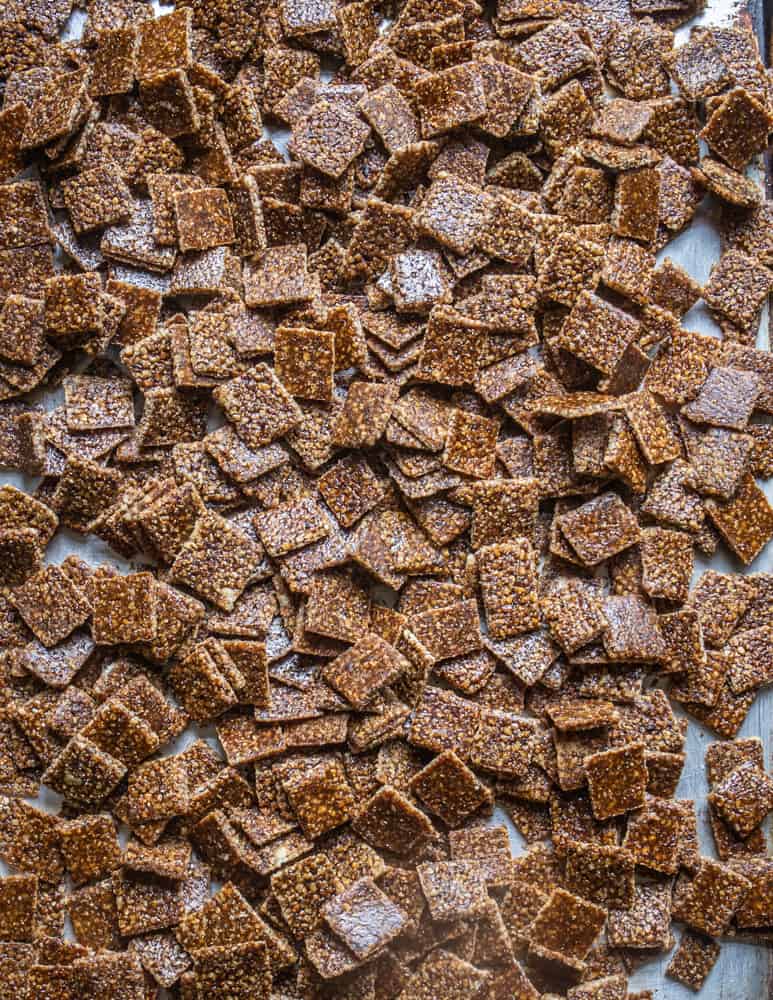 I'm telling you, every single time people eat these things for the first time, they fall in love, just like I did. I'm using black walnuts here, but you can use any nut or seed you like, the proportions are always the same, although using black walnuts or hazelnuts which have been rubbed of their skin make a particularly delicious croquant.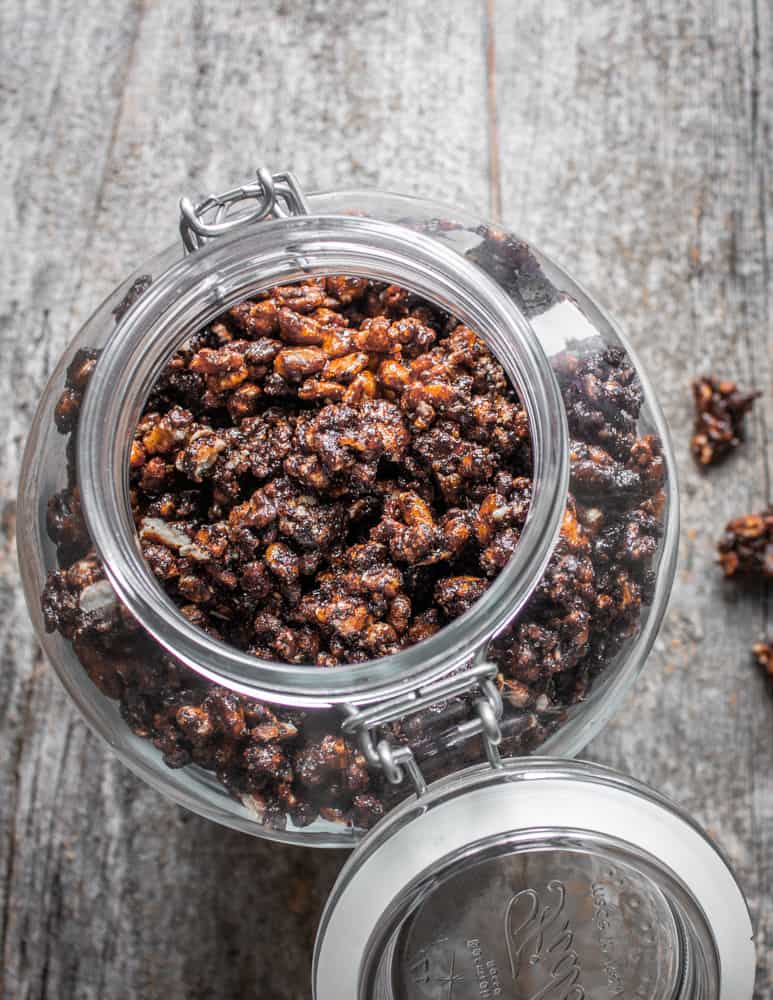 Since there are only a scant few ingredients, it's really important to use very high quality stuff, get the largest nut meats you can afford, or care to buy. Essentially this is the same method that many candied nut sellers will use at state fairs, where they have huge rotating drums that constantly stir the nuts and sugar to promote even cooking.
All I have done is adapt it for the home kitchen Here's the recipe I recreated, with a couple fun variations to try after you have made the first one.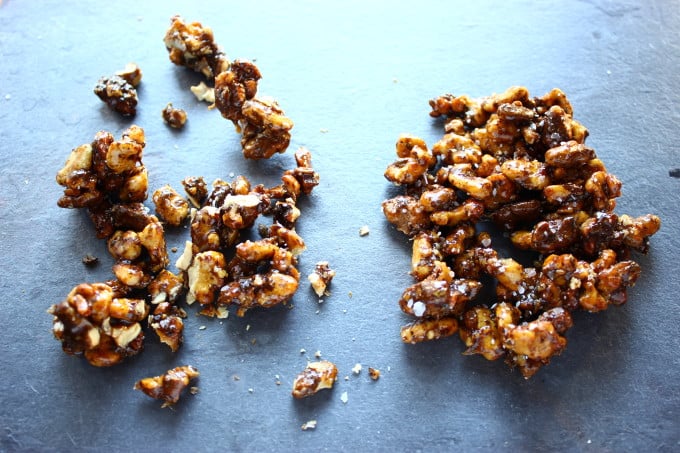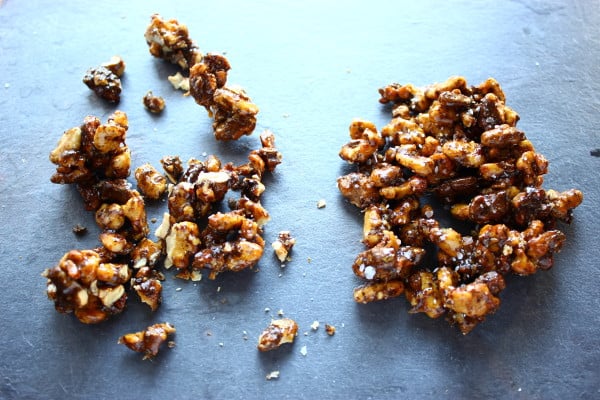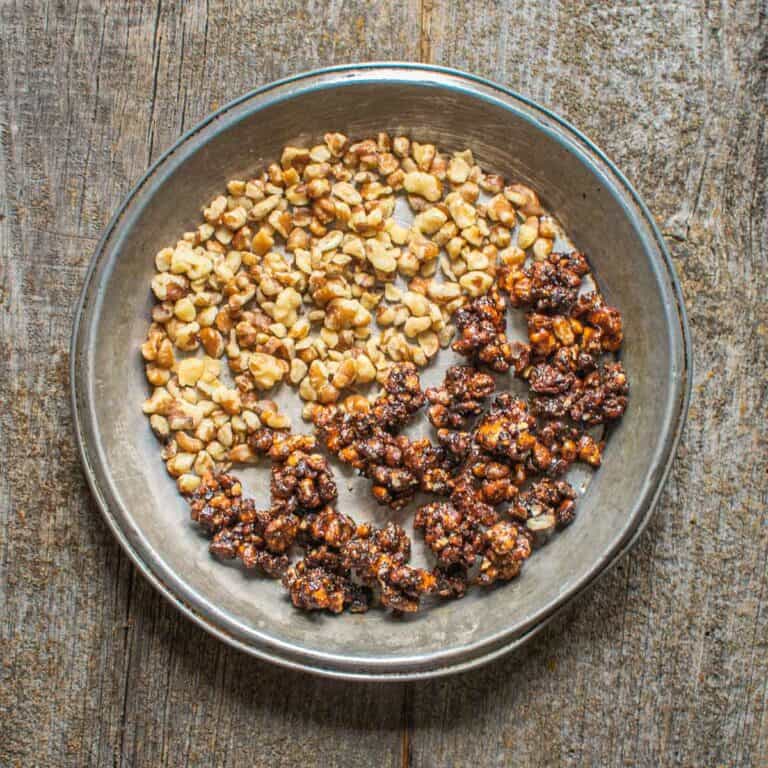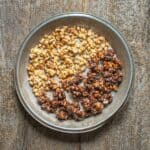 Print Recipe
Black Walnut Croquant or Candied Black Walnuts
Crunchy, sweet, salty candied black walnuts. Makes about 3 cups of finished nuts. You can also make this with other nuts like hazelnuts or walnuts.
Equipment
1 heavy 3 quart sauce pot
Ingredients
2

cups

untoasted black walnuts

Rubbed gently of their skins

½

cup

white sugar

¼

teaspoon

kosher salt

plus more to taste
Instructions
Read the entire recipe before you begin, and make sure you have a cookie sheet lined with a silpat or another nonstick surface at the ready.

In a 2 qt or similar saucepan, preferably heavy stainless or cast iron (no aluminum here unless you're experienced--it's too thin and uneven) heat the nuts and sugar on medium-high heat, stirring constantly with a wooden spoon. The sugar will start to clump and crystalize a bit this is normal, it may take a bit depending on your pan.

After roughly 5 minutes the sugar should start to melt and change color do a light amber. Continue stirring constantly with the wooden spoon to prevent burning, and to encourage even toasting of the nuts. If the sugar isn't melted yet, don't worry, just keep stirring.

The sugar will liquify and get loose as it gets darker. Once the sugar is completely melted and dark amber colored, the nuts should smell nice and toasty, but not be burnt. Take it off the heat immediately.

Quickly transfer the nuts to a silpat, cookie sheet, or other nonstick surface (in a pinch I've spread them out in a cast iron skillet).

Spread the molted hot nut mixture into an even layer, season with the salt while it is still hot and sticky, you don't want to stir in the salt since it will destroy the individual flakes of salt, making them melt.

Cool the nuts completely.

After the nuts are cool, they will be brittle, and likely in one large, giant hunk. break off small bite size pieces of the croquant and store in an air tight container. The candied nuts will keep for a few weeks stored in a cool dark place.
Notes
Using other nuts 
You can use other nuts in place of the black walnuts here. 
Additions 
Sometimes I add ¼ teaspoon of cayenne pepper to the nuts right before I take them off the heat. A tiny pinch of cinnamon can be ok too. 
Nutrition
Serving:
2
oz
|
Calories:
241
kcal
|
Carbohydrates:
16
g
|
Protein:
8
g
|
Fat:
18
g
|
Saturated Fat:
1
g
|
Polyunsaturated Fat:
11
g
|
Monounsaturated Fat:
5
g
|
Sodium:
73
mg
|
Potassium:
164
mg
|
Fiber:
2
g
|
Sugar:
13
g
|
Vitamin A:
13
IU
|
Vitamin C:
1
mg
|
Calcium:
19
mg
|
Iron:
1
mg
Related Links