A simple hot and sour soup made with mushrooms is great on a cold fall day. It's also one of the most traditional wood ear mushroom recipes I know.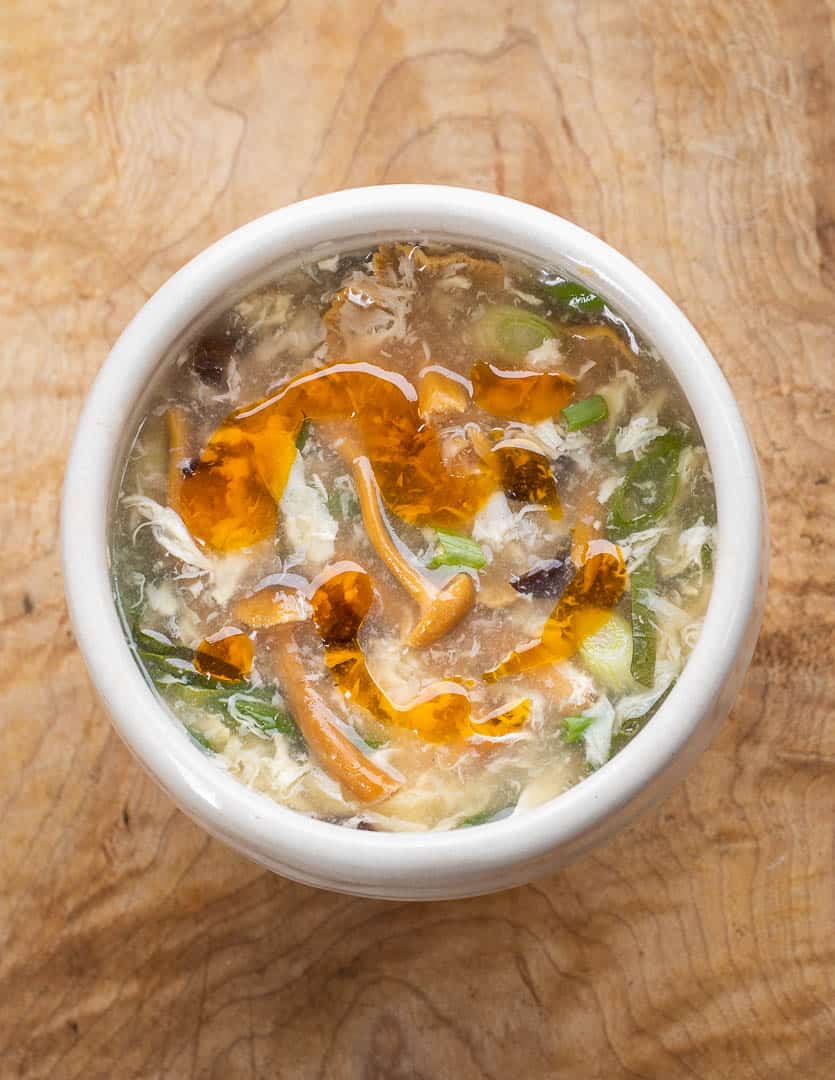 I've been saving a bag of wood ear mushrooms my friend from Forest Mushrooms gave me the last time I saw him for a good batch of hot and sour soup for months. Wood ears are special in that, after rehydrating they're nearly indistinguishable from their fresh state.
Finally I got around to using them in a batch of hot and sour soup, and I can tell you—this soup (and plenty of others too) are a traditional use for wood ears, for a reason.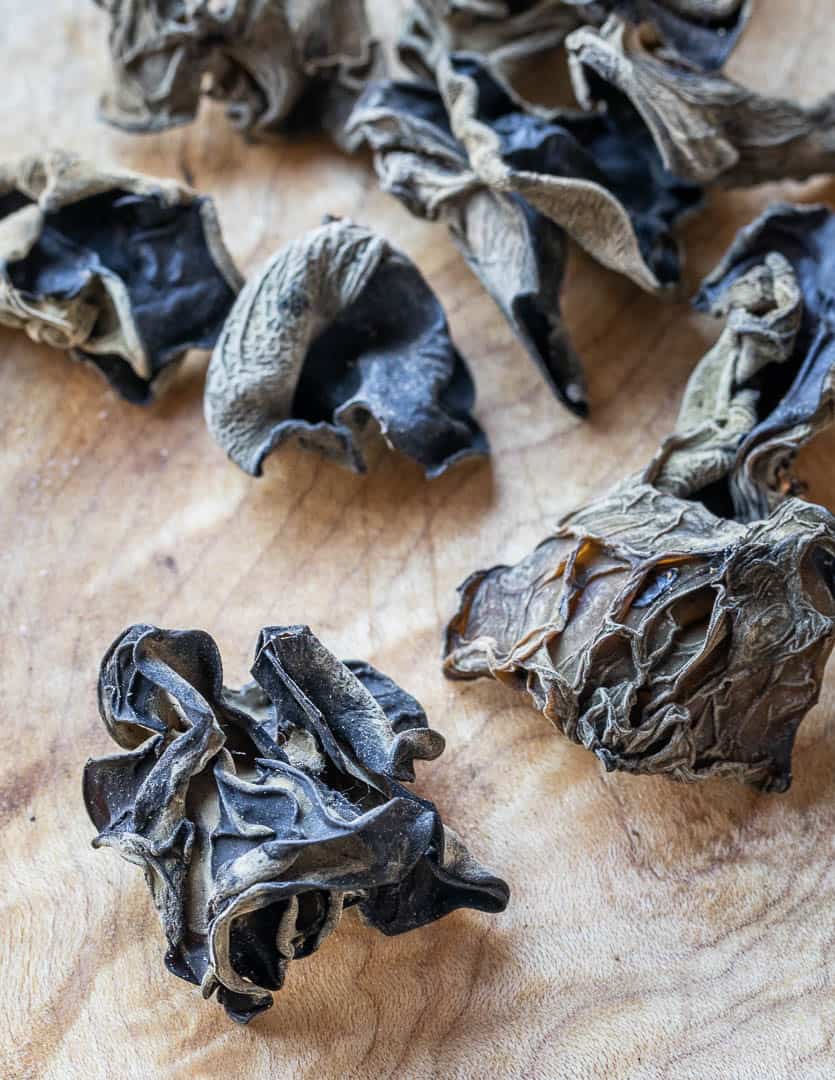 The only problem was my first batch of hot and sour soup turned out awful. Terrible. I made a nice rich, mushroom stock, simmered it low and slow with dried chunks of Ischnoderma resinosum I'd been cooking with. The stock tasted great when it was done: rich and dark—perfect for soup, right? I also used some of my expensive chinkiang vinegar, which is black like balsamic.
Unfortunately, using those ingredients to make the soup, especially after adding the egg, turned it an off-putting grey-brown, the sort of mud color that happens when kids mix all the fingerpaint.
The stock I spent all afternoon making, as well as the jet black vinegar and soy sauce all played a part in the aesthetic failure.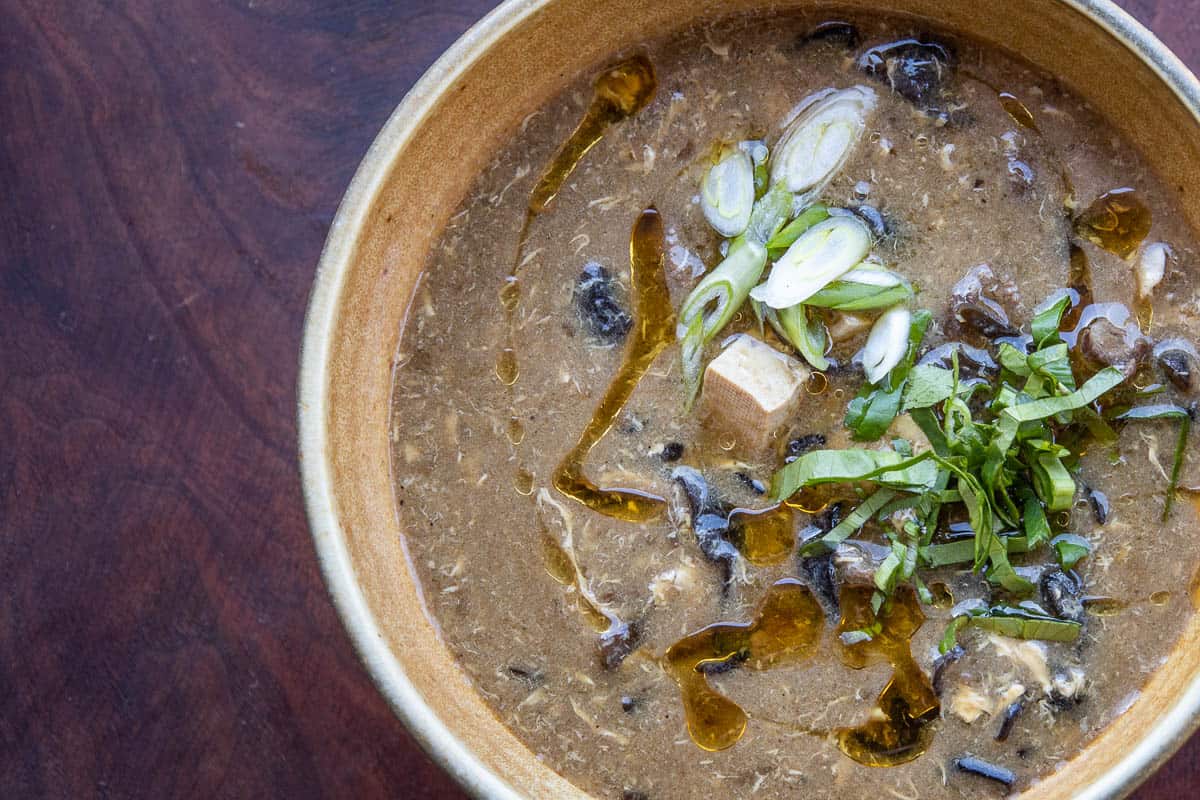 Use a light, clear stock
You want a light, clear stock for this, and, to be honest, I tell you with no shame that grocery store chicken broth is where it's at here. For the vinegar, you want rice wine vinegar, since, similar to the chicken stock, it's clear, and bright, but most importantly, light-colored.
The second and third batches of this I made using the same template, but with clear-colored rice wine vinegar and light chicken stock were really great.
The end product is just the tangy bowl of traditional tasting goodness I crave in hot and sour soup--no funny business. I encourage you to get creative with your mushroom varieties though.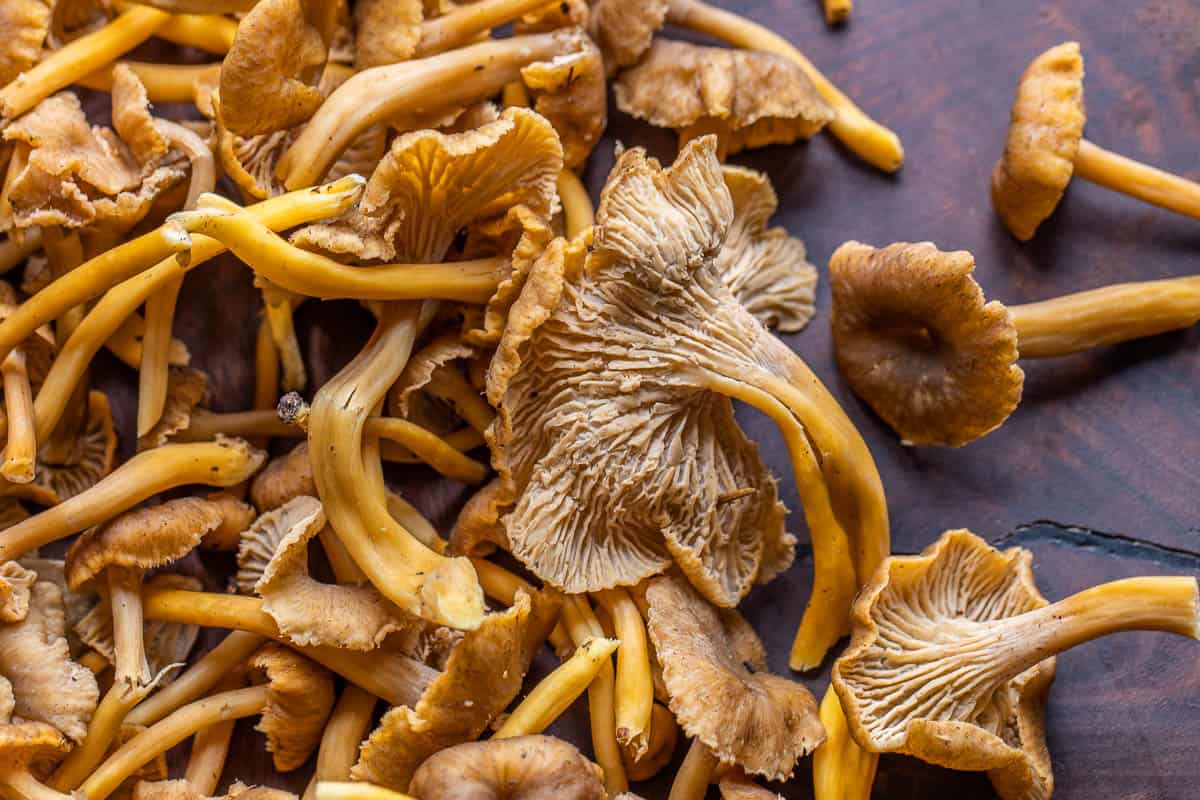 Mushrooms
There's lots of fun soup mushrooms out there you could pick from here. For hot and sour soup, I usually see wood ears and maybe shiitakes in my references, but it would be a shame to just use those.
Matsutake would be excellent, but I didn't have any. Yellowfoot chanterelles are wonderful in soup though, and I had a good handful of tiny ones that look great in soup, and keep their color cooked in liquid.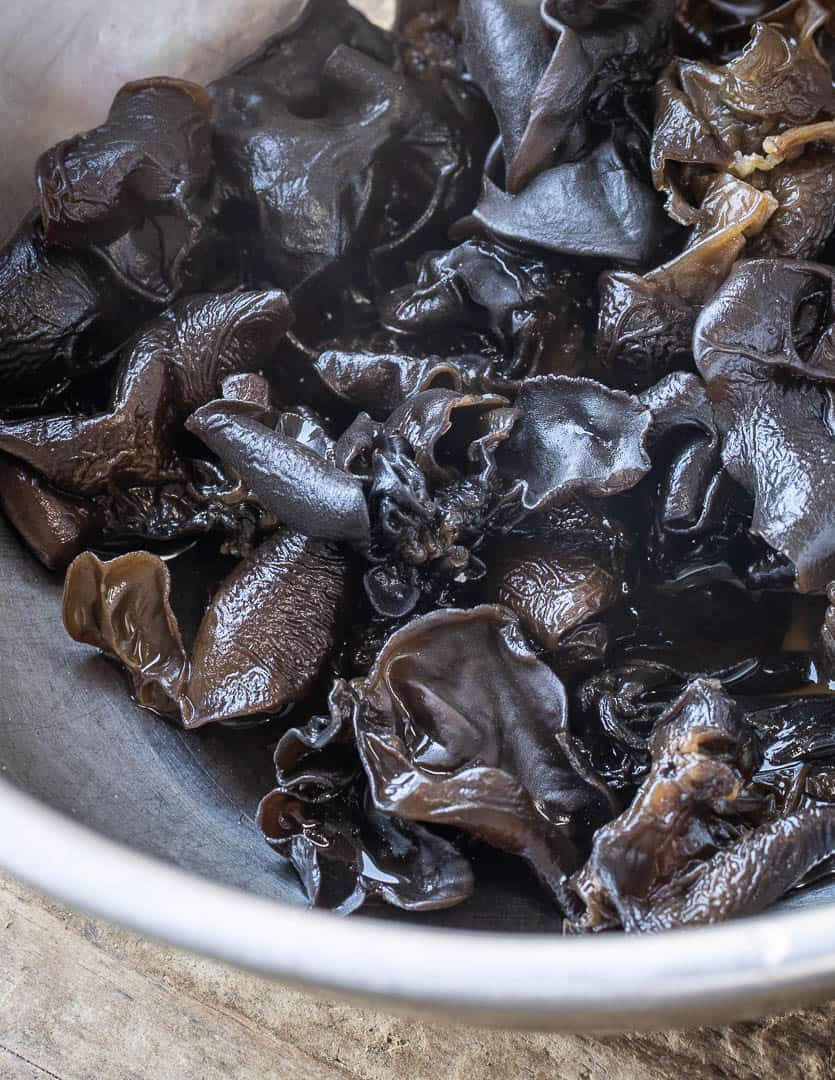 Mushroom ketchup
This is the perfect place to use some of your mushroom ketchup, but not just any mushroom ketchup. Since we're trying to avoid brown colors here, I use ketchup from light-colored mushrooms that you could make from chicken of the woods mushrooms, dryad saddles, or lobster mushrooms.
Traditionally soy sauce is used, and you can use it in a pinch, but you will definitely taste the mushroom ketchup in the finished product, and it is special. For this I used my koji-cured dryad saddle shoyu.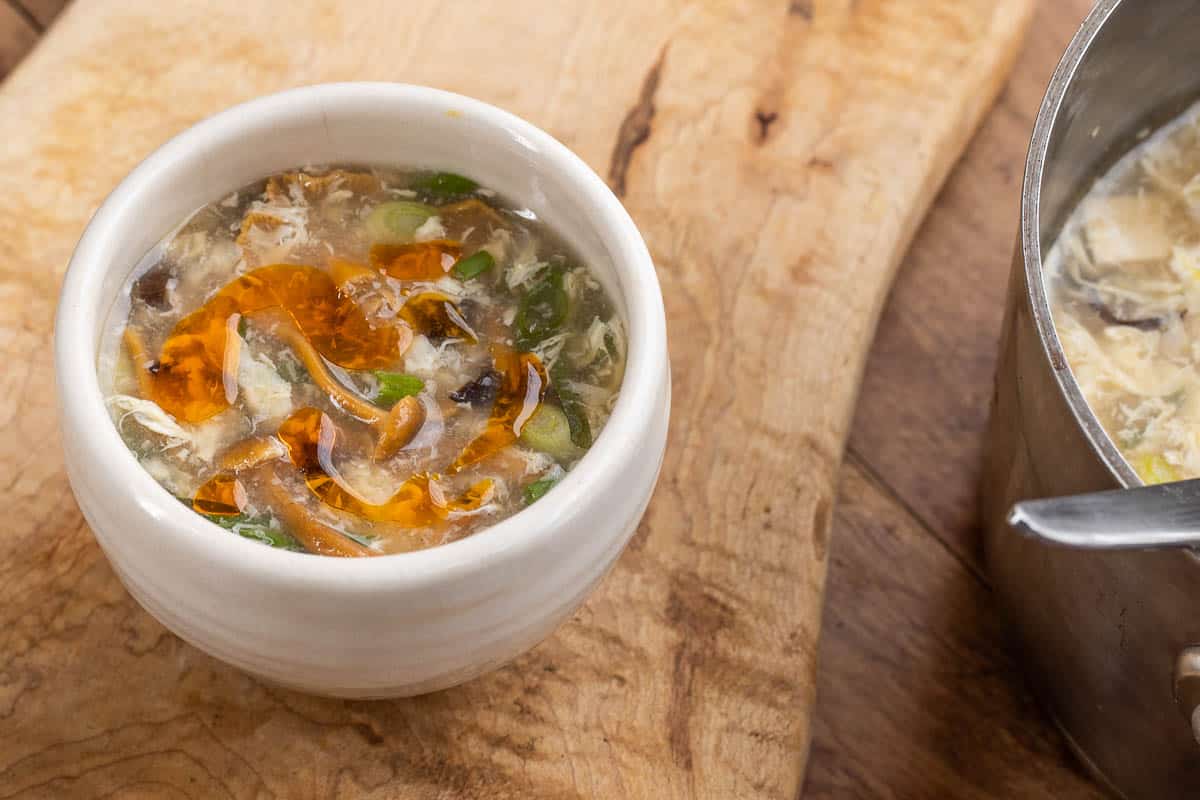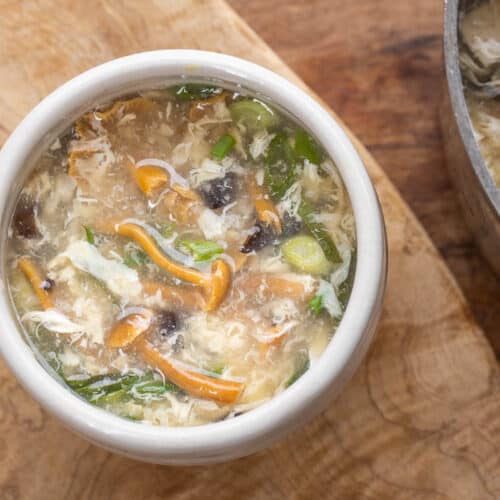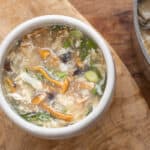 Print Recipe
Hot and Sour Soup with Wild Mushrooms
Classic hot and sour soup with wood ear mushrooms and yellowfeet.
Ingredients
Soup
4

cups

light chicken stock

½

teaspoon

grated ginger

½ inch piece

¼

inch

slice galangal

optional

2

tablespoons

rice wine vinegar

2

teaspoons

red hot sauce

such as sambal, chili garlic (or to taste, if you use the optional chili oil, go light)

2

tablespoons

mushroom ketchup made from light colored mushrooms

or use soy or fish sauce

2

oz

fresh yellowfoot chanterelles

smallest possible or another fresh mushroom like buna-shimeji or shiitake

5

grams

dried wood ear mushrooms or ½ cup fresh

A few drops of toasted sesame oil
Finishing
5

oz

high quality firm tofu

diced ½ inch (optional)

2

tablespoons

cornstarch made into a slurry with a splash of water

1

large egg

beaten

Slices

scallions

small handful to garnish

Red colored chili oil

optional

Sliced culantro or cilantro

optional
Instructions
Prep
Whack the galangal if using with the back of a knife to release it's aroma.

Pour hot water over the wood ear mushrooms to cover and allow to hydrate for 15 minutes.

Remove the mushrooms, discard their liquid (there isn't much flavor in it and remember the goal is to keep the color light here) julienne the mushrooms ¼ inch and reserve.
Thicken with cornstarch
Heat all the soup ingredients including the mushrooms until simmering and allow to bubble gently for 10 minutes so the galangal can add some aroma. When the soup is hot and simmering, stir in the cornstarch slurry, along with the tofu and allow to thicken, a minute or two.
Add the egg
Finally, and very carefully, stir the soup clockwise a few times vigorously, then gently drizzle in the egg moving in a clockwise motion with the still swirling soup. Once the egg has coagulated into beautiful ribbons, toss in the scallions and cilantro, divide portions between four soup cups, drizzle with the chili oil if using and serve.
Notes
Using other mushrooms 
This is an excellent recipe for using up wood ear fungus, but many others can be used too. Here's a few examples of mushroom types I'd use. 
Nutrition
Serving:
6
oz
|
Calories:
116
kcal
|
Carbohydrates:
11
g
|
Protein:
9
g
|
Fat:
4
g
|
Saturated Fat:
1
g
|
Polyunsaturated Fat:
1
g
|
Monounsaturated Fat:
2
g
|
Trans Fat:
0.01
g
|
Cholesterol:
48
mg
|
Sodium:
938
mg
|
Potassium:
352
mg
|
Fiber:
0.4
g
|
Sugar:
4
g
|
Vitamin A:
67
IU
|
Vitamin C:
1
mg
|
Calcium:
16
mg
|
Iron:
1
mg