A rich broth with vegetables, the last wild mushrooms of the year and soba noodles is a riff on a family favorite recipe my friend's mother used to make called Japanese noodle bowl.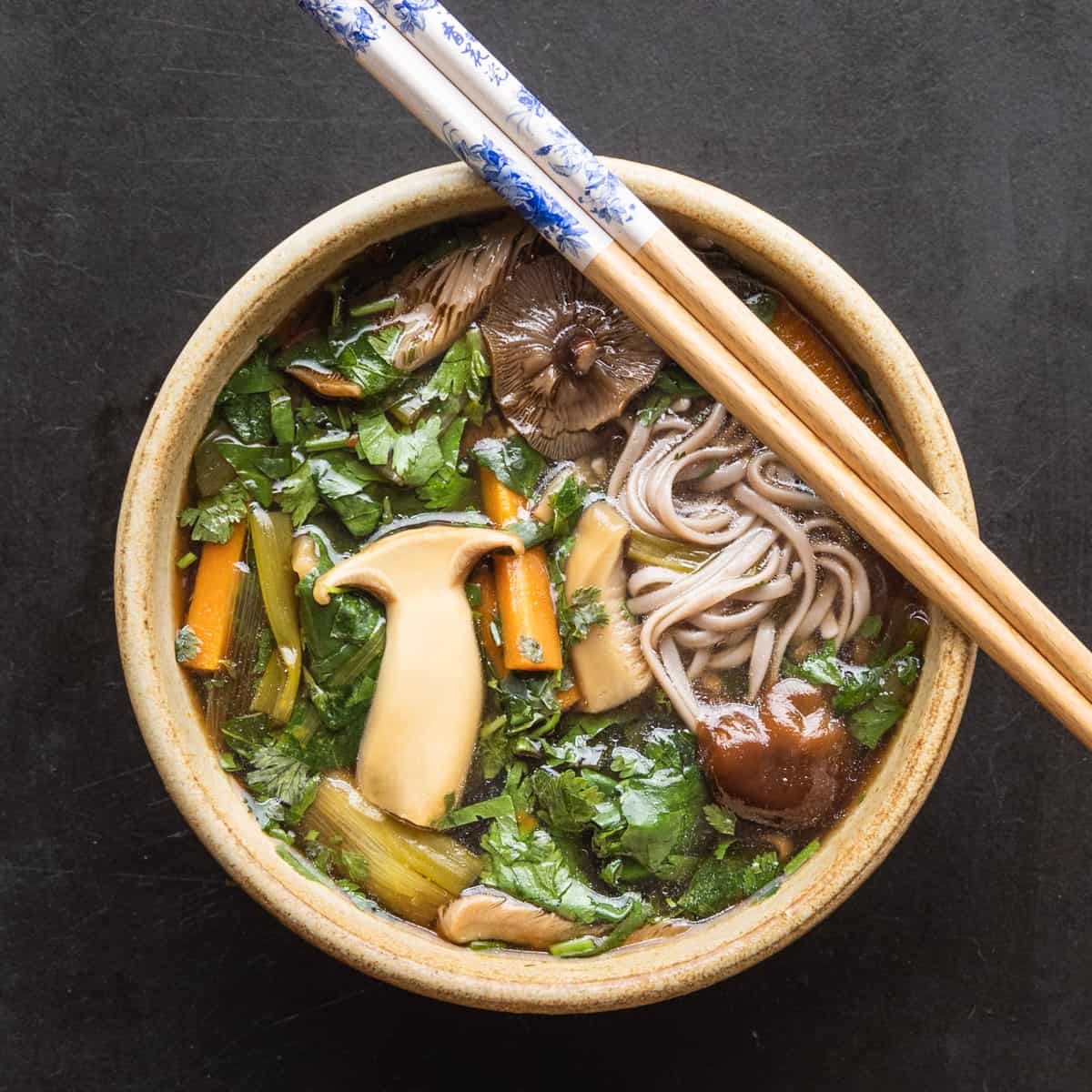 It was one of those dishes everyone looked forward to. If our group of friends was over and heard noodle bowl was on the menu that evening we'd take turns calling our mothers to ask if we could stay for dinner. The only real difference from the original is that instead I modified it into a mushroom soup, where the original recipe used pork loin.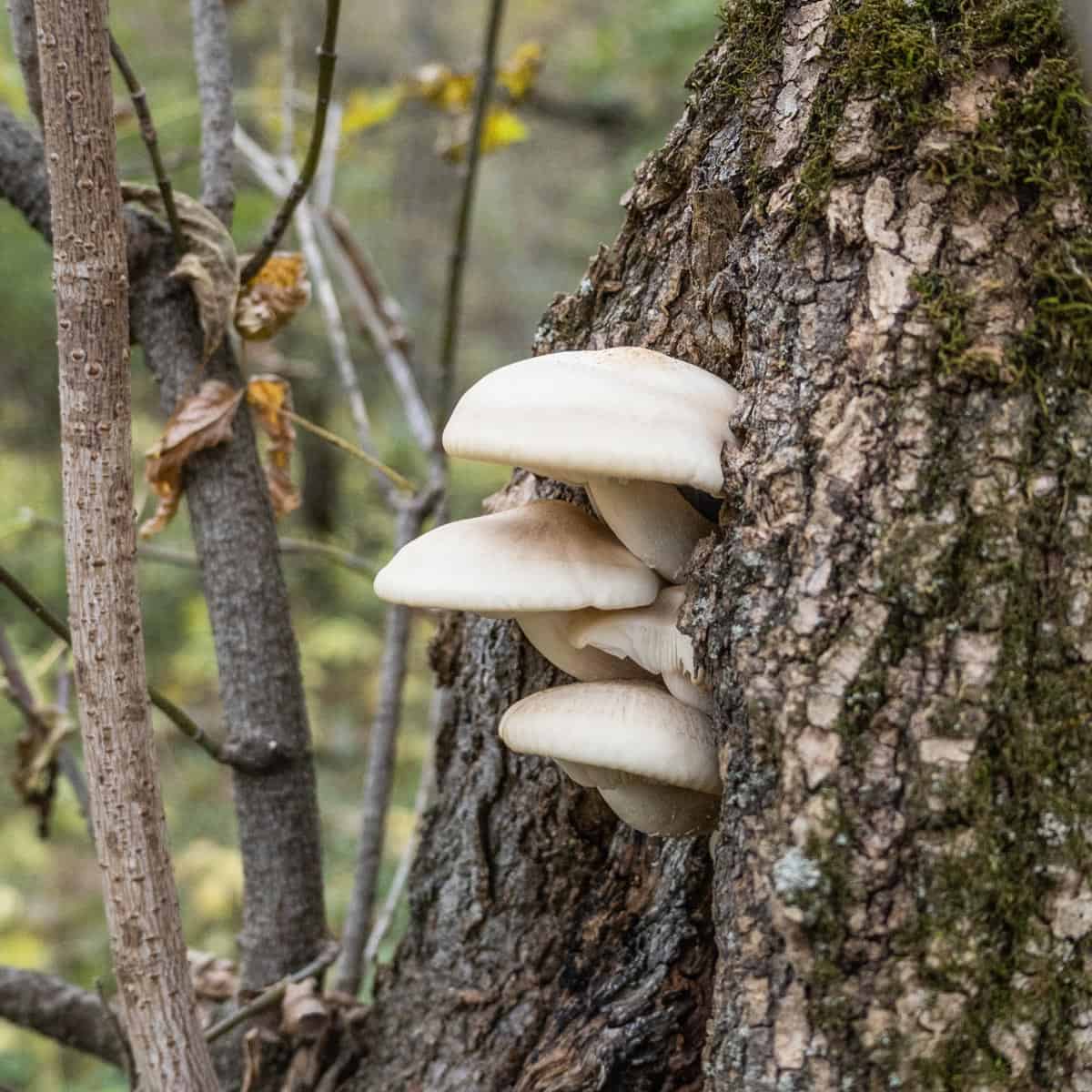 October got cold quick here, and with it came some nice flushes of fall mushrooms. Cold weather species like oyster mushrooms (at least 3 varieties of Pluerotus) and enoki (Flammulina velutipes) usher in the last days of the mushroom season. All of these mushrooms are great in soups and stews, as well as a simple stir fry.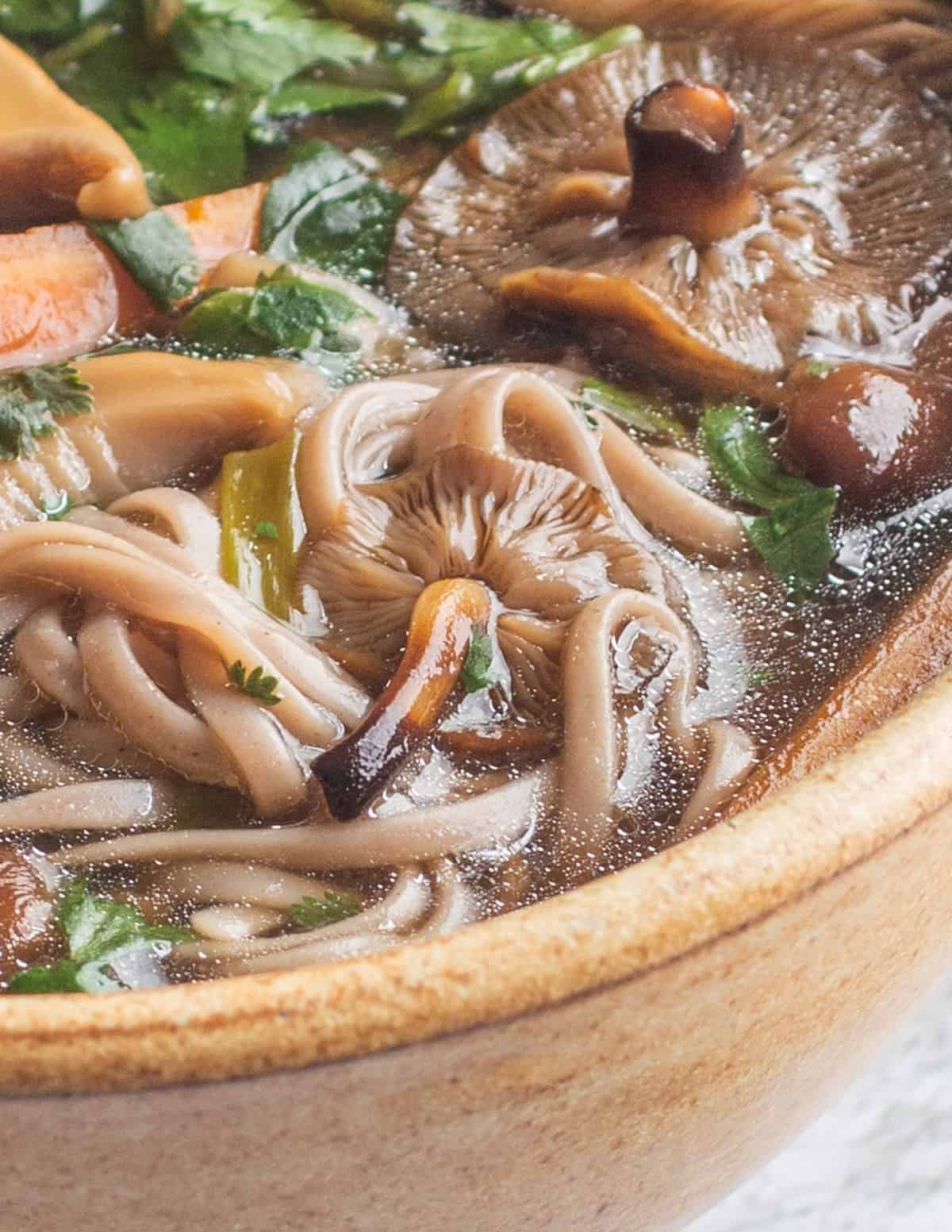 The good thing is that even if we get a frost, many cold-weather fungi are often adapted to temperature changes. For example, enoki will freeze at night and thaw during the day.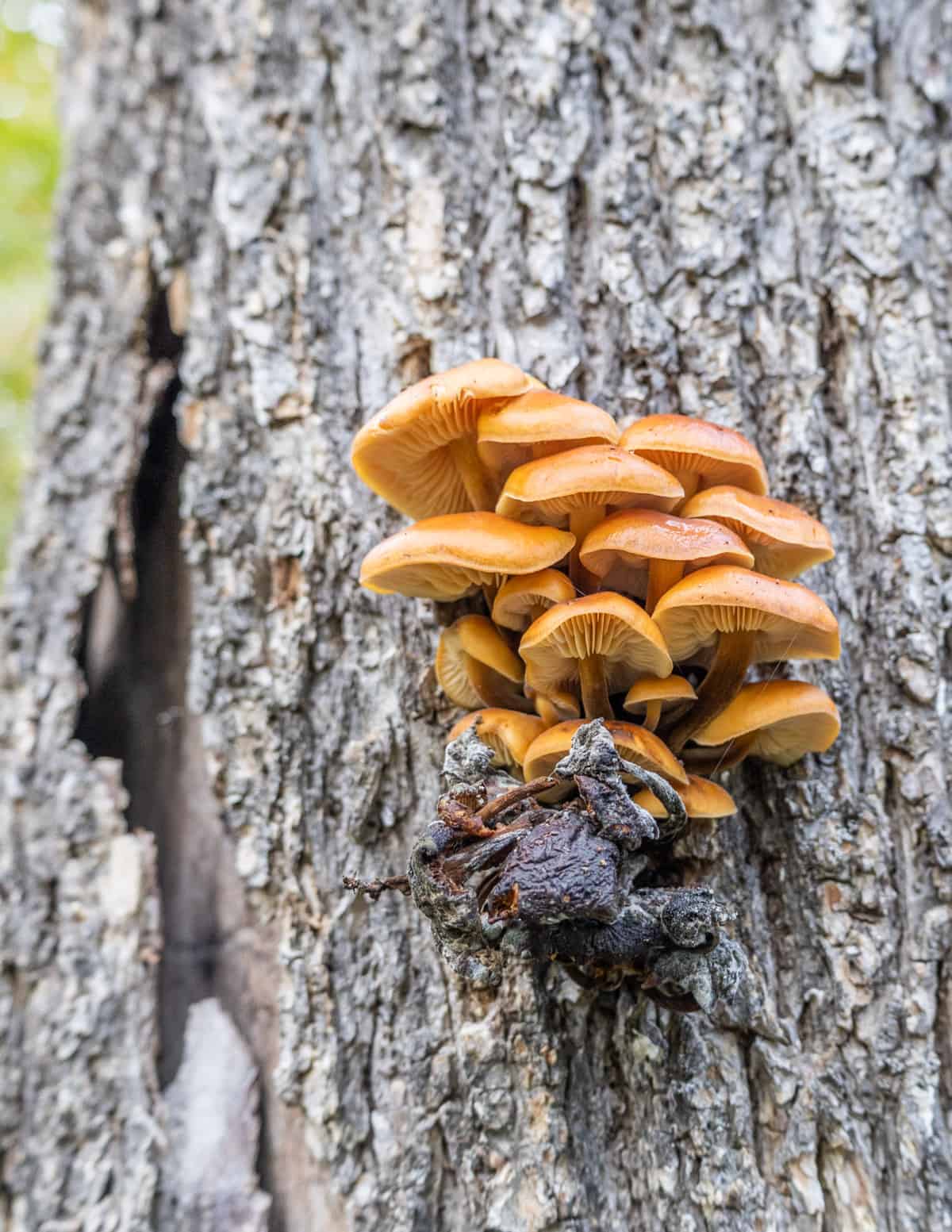 Most of these fungi, (especially all the oyster mushrooms) grow on hardwood trees. If I go to forests with elms and boxelders during October I can usually get more than I need.
I used a few different varieties for the broth: Matsutake, enoki, veiled oysters (Pluerotus dryinus), and elm oysters (Hypsizygus ulmarius). Hen of the woods work well too, if they're young.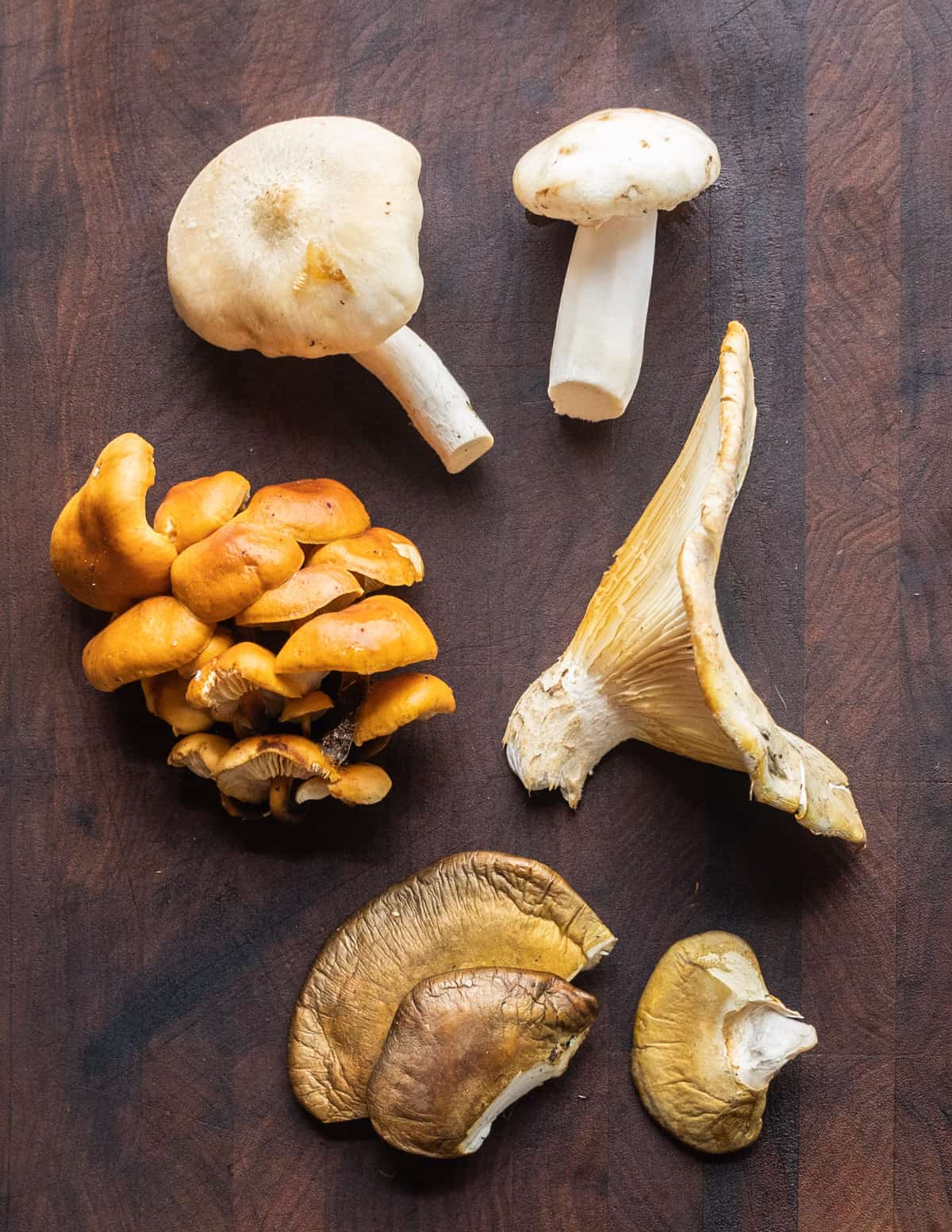 Making the soup
You begin by making a broth with dried mushrooms. Starting out with chicken or vegetable stock can be nice too. After the broth is cooked I pass it through a fine sieve.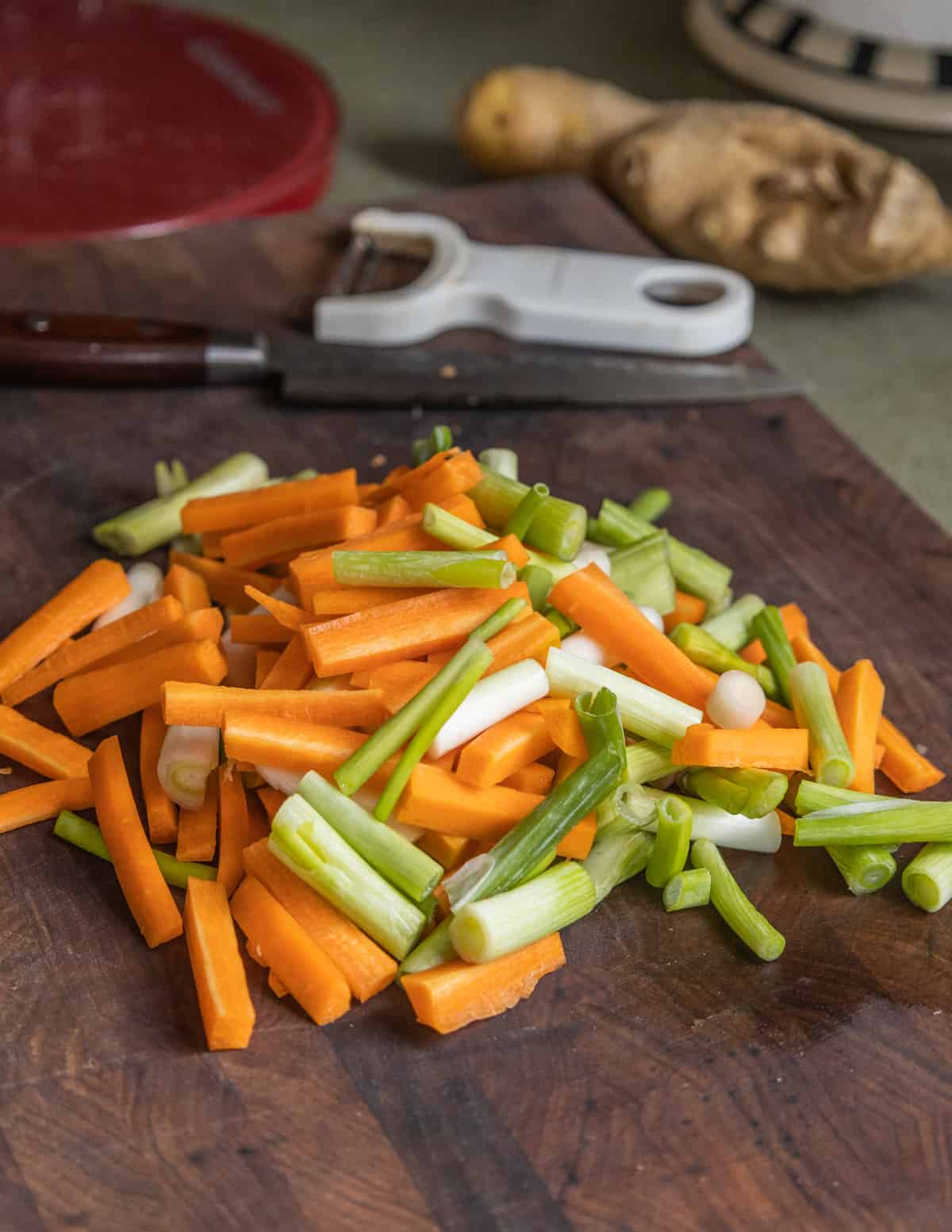 Next I add the mushrooms, julienned carrots and scallions to the broth with a couple slices of fresh ginger that gives it a subtle heat and aroma.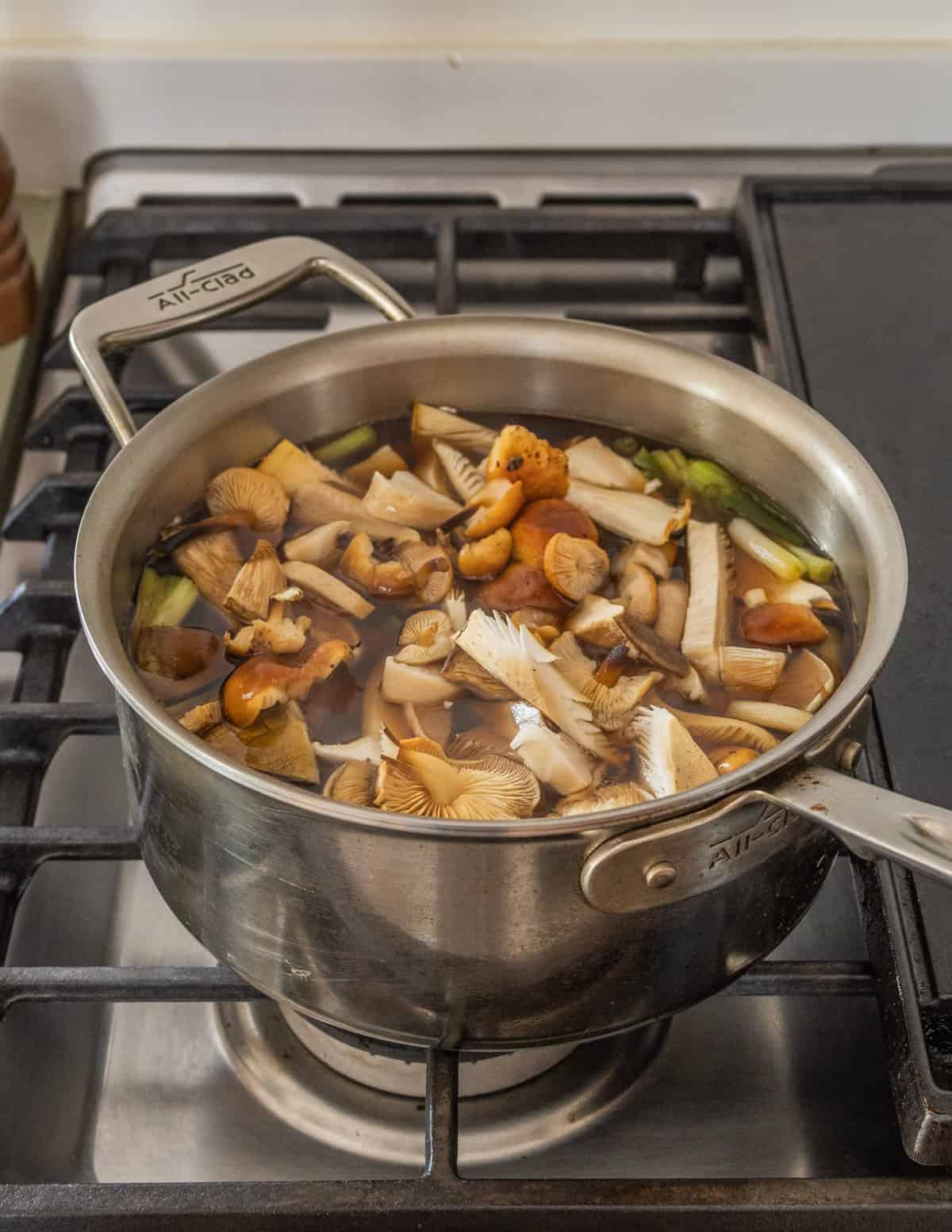 After the mushrooms are simmered with the vegetables and broth, you add some fresh greens and season to taste.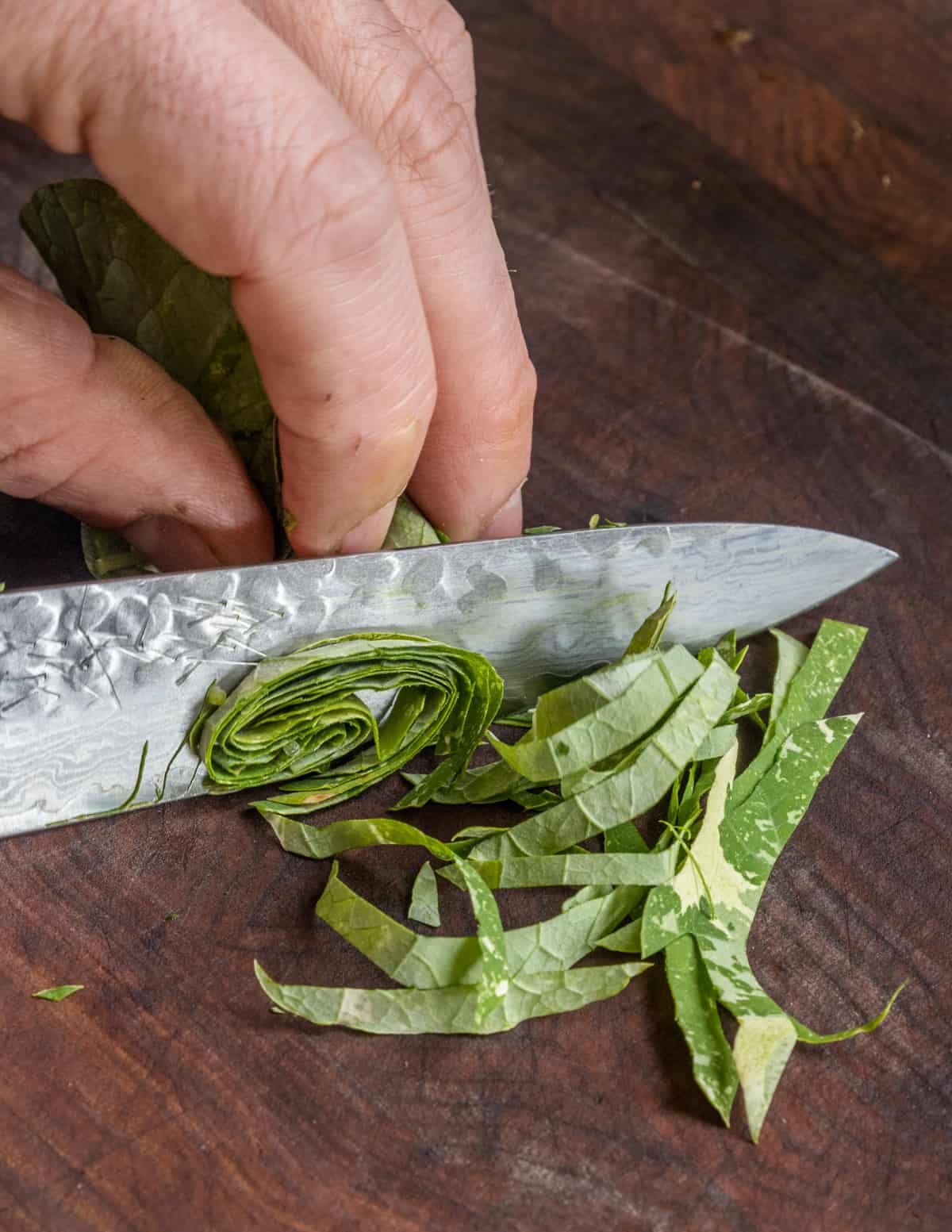 The original recipe called for spinach, but with the frost coming I figured I use the nasturtium leaves from my garden instead. They worked just fine. The flowers always make a nice garnish too.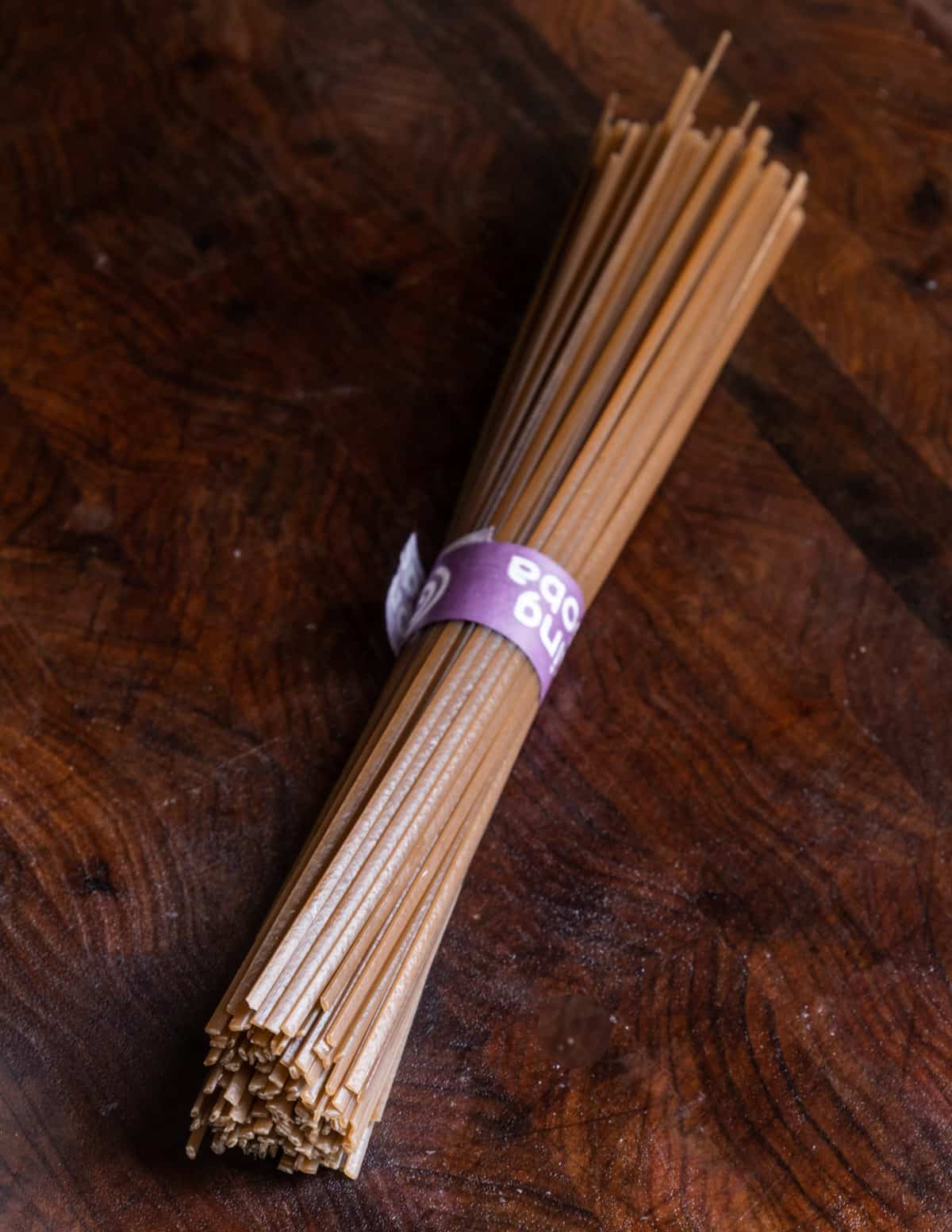 To finish the dish, you ladle the broth and all the goodies, piping hot, to some soba noodles in a bowl, finish with a drizzle of toasted sesame oil, and eat it with chopsticks. The broth has a rich mushroom taste, and slurping is encouraged.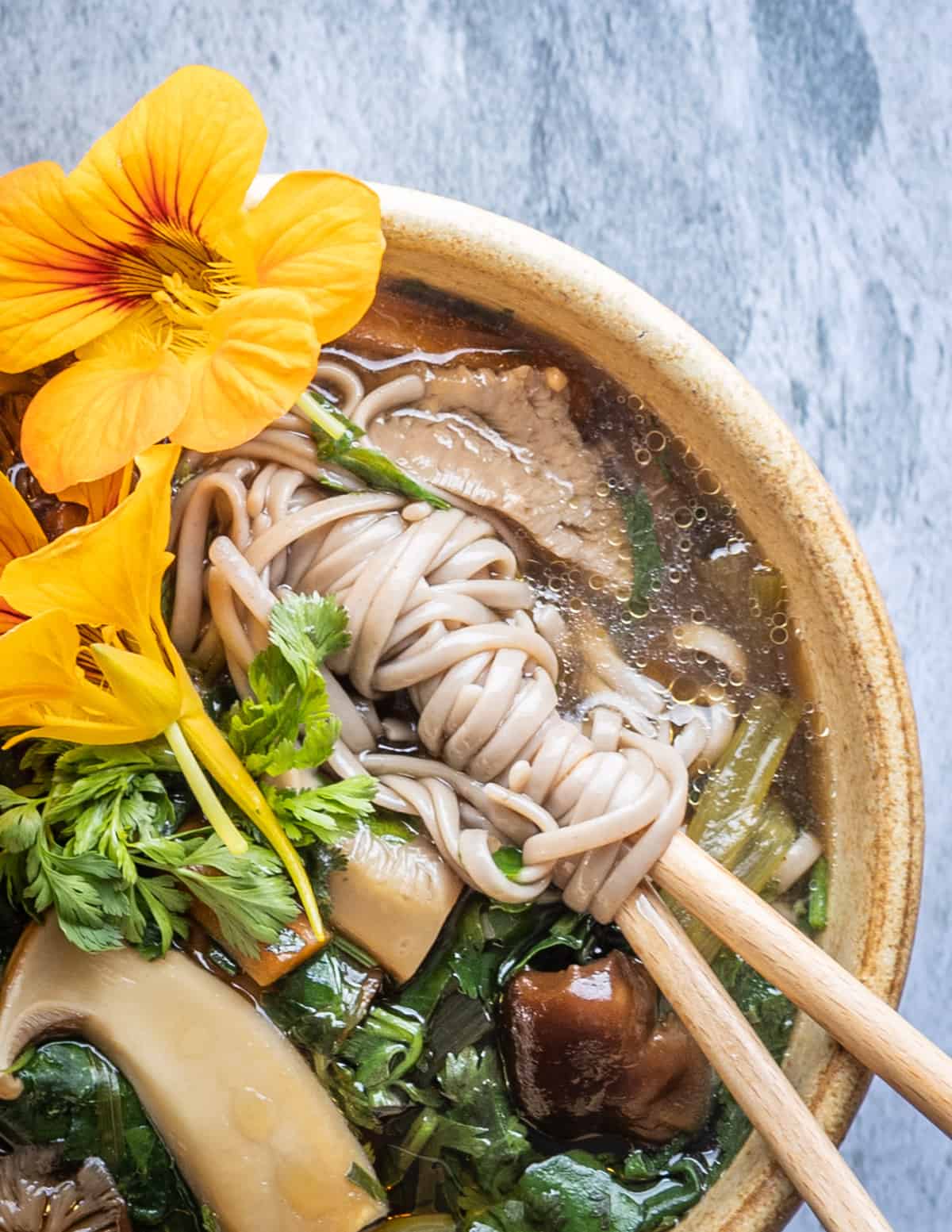 Related Posts
Vegetarian and Vegan Mushroom Recipes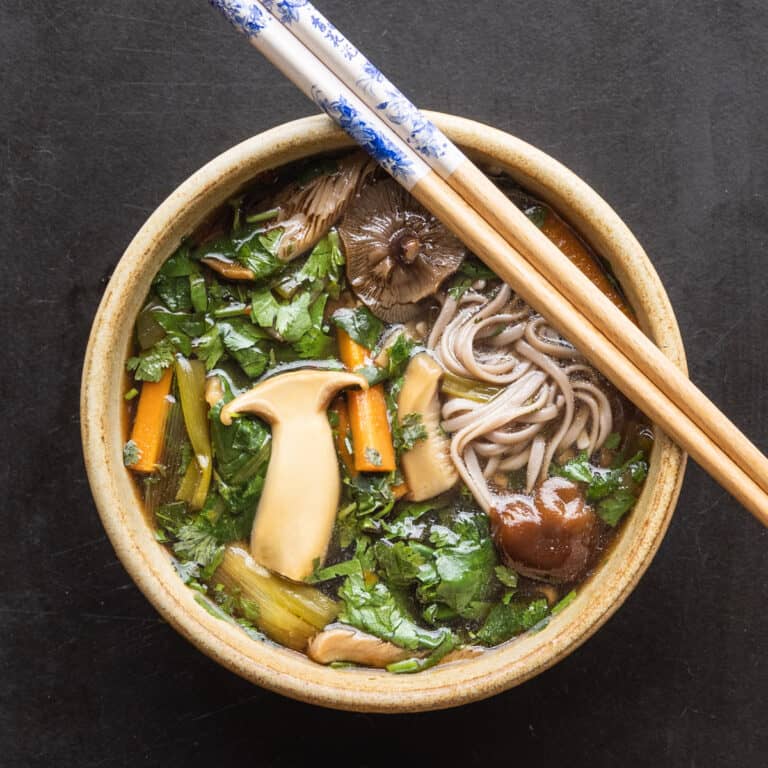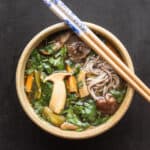 Print Recipe
Oyster Mushroom Soup with Soba Noodles
Wild mushroom broth with soba noodles. Inspired by a family favorite recipe. Serves 4.
Ingredients
Broth
6

cups

mushroom broth

or chicken broth

6

oz

carrot

cut into 1 inch julienne

4

oz

scallion

cut into 1 inch pieces

1 ¼

inch

slice fresh ginger

8

oz

fresh wild mushrooms

cut into differently shaped bite-sized pieces so you can tell which is which

½

cup

soy sauce

or to taste

Tiny pinch of crushed red pepper flakes

4

oz

fresh wild greens

shredded

Kosher salt

to taste
Serving
20

oz

cooked soba noodles

5 oz per person

Toasted sesame oil

Chopped fresh cilantro

A few nasturtium flowers

pictured, but optional
Instructions
Bring the first 7 ingredients to a simmer in a tall 4 quart saucepot. Simmer for 20 minutes or until the vegetables are tender.

Add the greens and cook for a minute more.

Taste the soup and gauge the seasoning. If you used chicken stock from a package it may not need any seasoning. If you use homemade stock you'll probably need a pinch or two of kosher salt.

Soba noodles

I like to cook the soba noodles in lightly salted water in advance, rinse them in cool water, then toss in a little sesame oil to coat and hold them until I need them. The can be stored in the refrigerator in a covered container for a day or two. To serve the noodles can be portioned into bowls, reheated quickly, covered in the microwave to take the chill off, and you can ladle the (very hot) soup, vegetables and mushrooms over the top.

Drizzle the soup with sesame oil if using (no need to garnish with it if you toss the noodles in some) along with the chopped cilantro (if using). Garnish with a few nasturtium flowers and serve with chopsticks.
Notes
I made this with oyster mushrooms and a blend of others I had. Some other mushrooms that will be good are:
Nutrition
Serving:
4
g
|
Calories:
221
kcal
|
Carbohydrates:
46
g
|
Protein:
14
g
|
Fat:
1
g
|
Saturated Fat:
0.1
g
|
Polyunsaturated Fat:
0.3
g
|
Monounsaturated Fat:
0.1
g
|
Sodium:
3174
mg
|
Potassium:
664
mg
|
Fiber:
3
g
|
Sugar:
7
g
|
Vitamin A:
10796
IU
|
Vitamin C:
17
mg
|
Calcium:
76
mg
|
Iron:
3
mg