Yellow oysters (Pleurotus citrinopileatus mushrooms) are a relatively new species of oyster mushroom that have been showing up in all kinds of mushroom hunting boards in the Midwest lately, so I thought it would be good to take a close look at them today. I'll cover their history and identification, invasive status, as well as some tips for harvesting and cooking.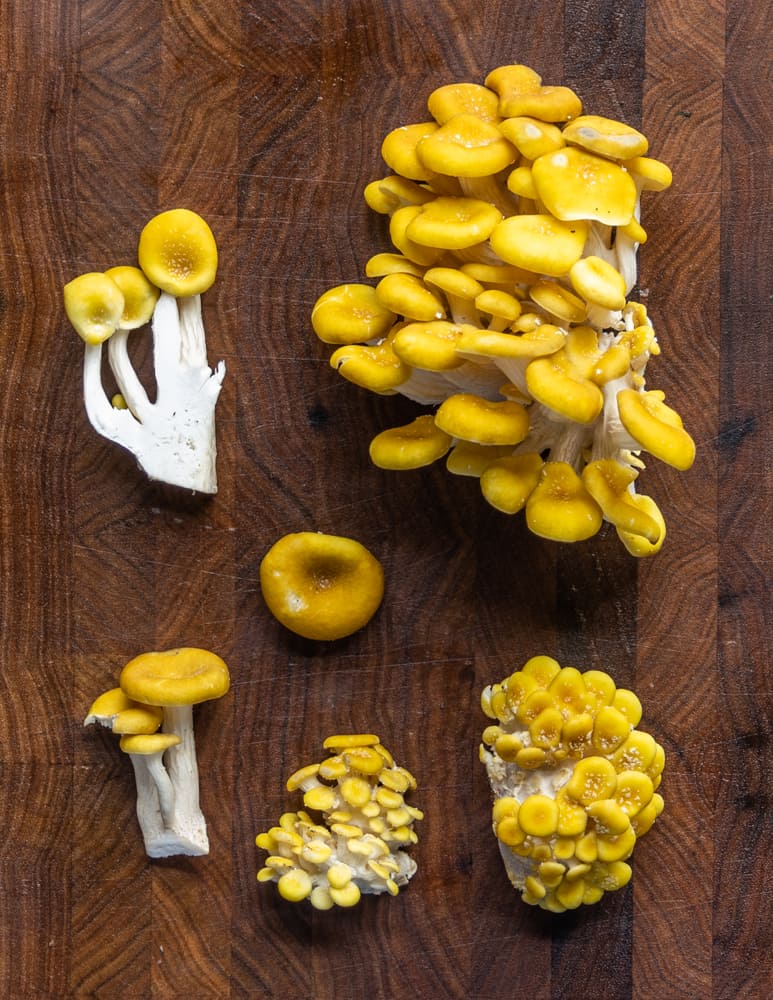 I knew these mushrooms would start showing up sometime where I live, it was just a matter of time. There's plenty of theories and urban legends about their origin, but one thing we know for certain is that yellow oyster mushrooms are not native to North America.
Golden oyster mushrooms are native to the hardwood forests of eastern Russia and northern China, as well as Japan. They're a popular edible mushroom over there and take well to cultivation, so it's no surprise that mushroom cultivation companies started selling them to grocery stores, as well as in grow kits for people at home where their spores can fly with the wind and spread.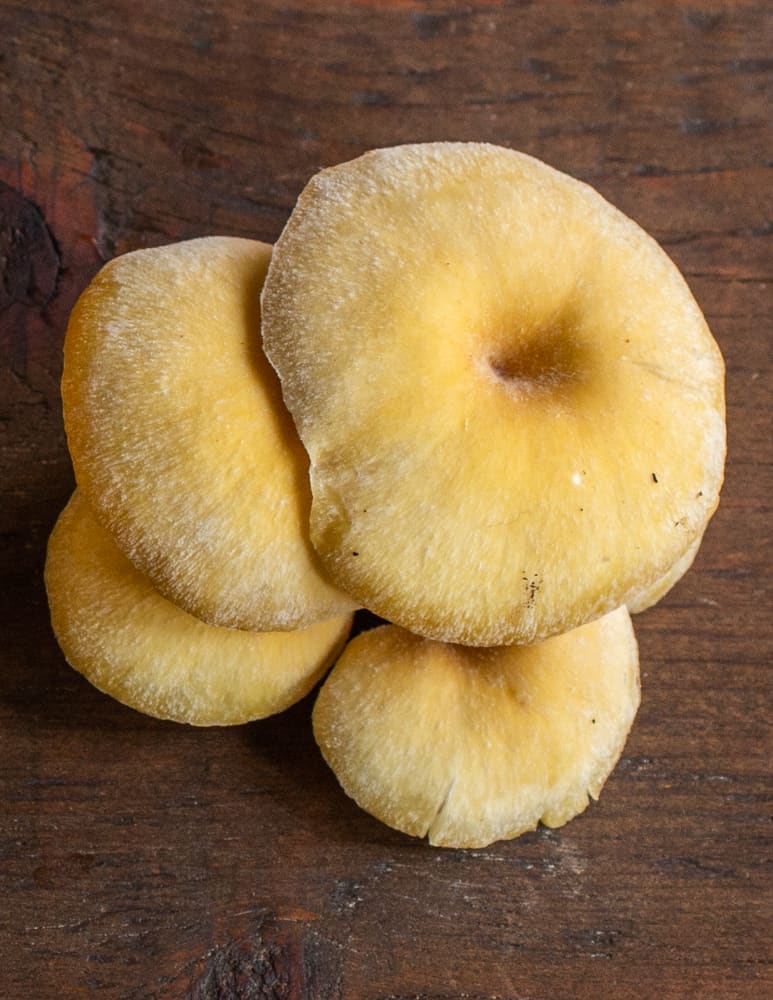 Habitat
Like other pleurotus species, golden oysters are wood-decomposing saprobes, meaning they digest dying, fallen, and damaged trees.
In Minnesota and Wisconsin, they start to fruit at the same time as morels, around the middle of May. They can grow with a number of different hosts, but at least where I live, they seem to exclusively prefer dead elms. Occasionally I've seen them on cherry.
Are golden oysters mushrooms invasive?
This is one of the big questions I've seen debated in the foraging community. Here's the story I've been told, and that most people will know.
As rumor has it (and it is just a rumor) a mushroom farm in Dubuque Iowa had a fire, and, over the next few years, the mushrooms began to travel north. At home cultivation of yellow oysters, especially outside, has probably contributed to their spread.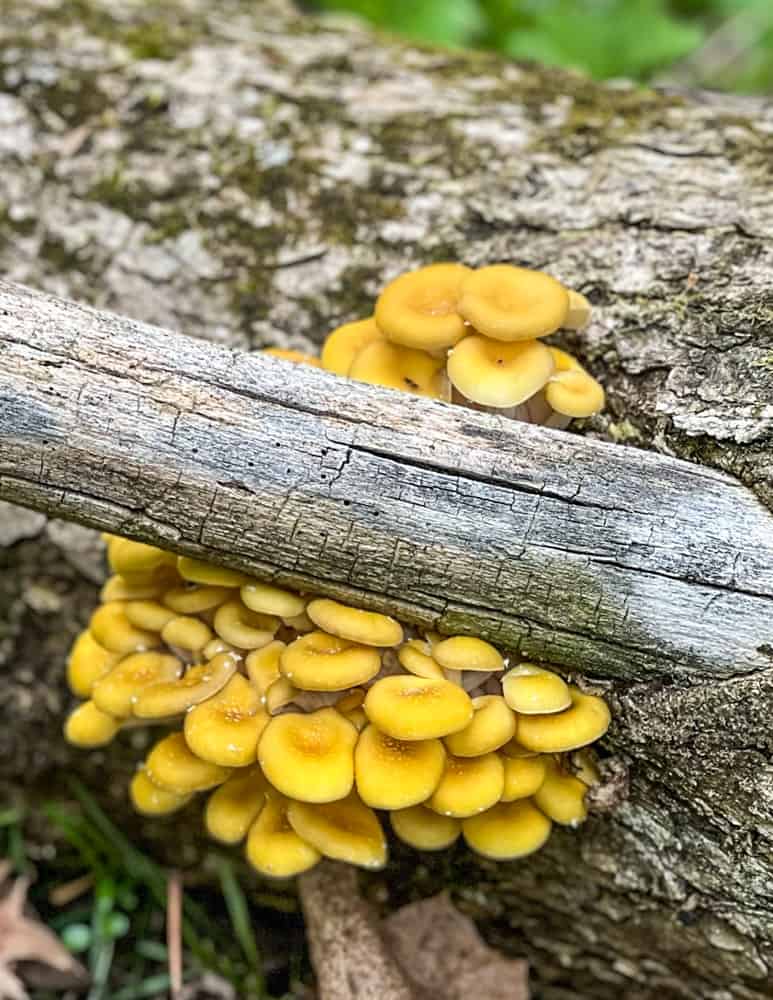 The term "invasive" can be used in a number of ways. While some disagree, and they haven't been legally recognized as invasive (as if it would do anything to stop them) I consider them invasive and describe them to others as such for a couple reasons.
First, the mushrooms aren't native, and they're consuming resources that other native mushrooms (pheasant backs, mica caps, and wild enoki) could use.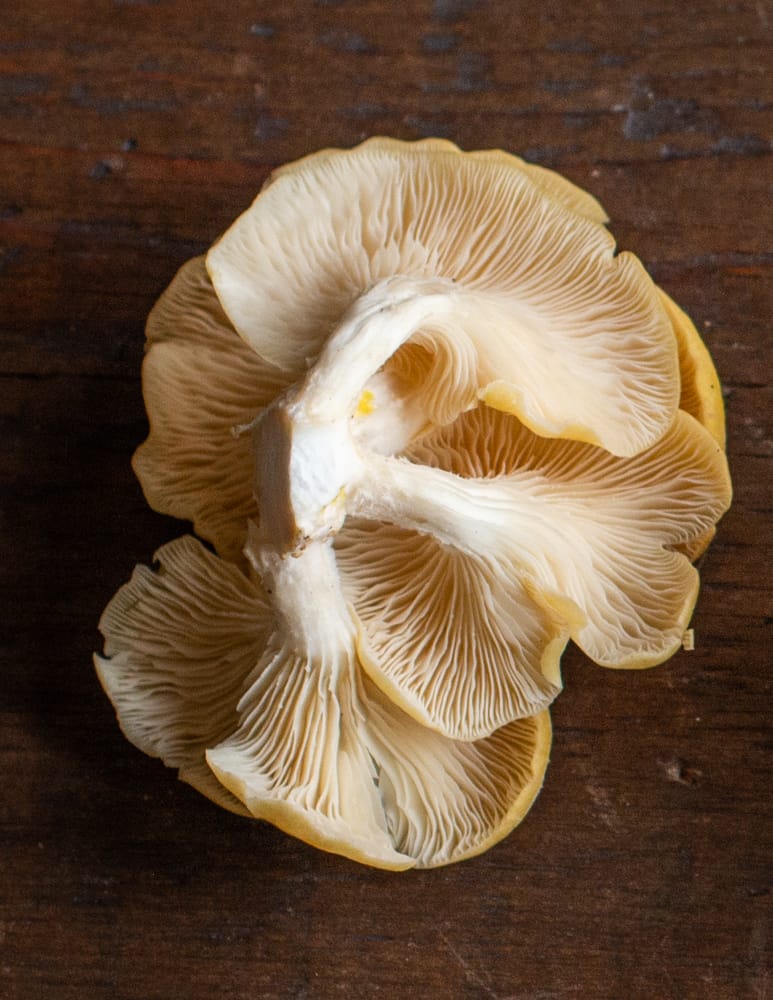 Saprobes that fruit like a pathogen
Secondly, and what I don't see discussed much, is their fruiting pattern. Like their cousins, golden oysters are decomposers. Unlike their cousins, their fruiting pattern more resembles a pathogenic fungus like honey mushrooms than their other oyster cousins. In short, they act like we'd expect an invasive mushroom would.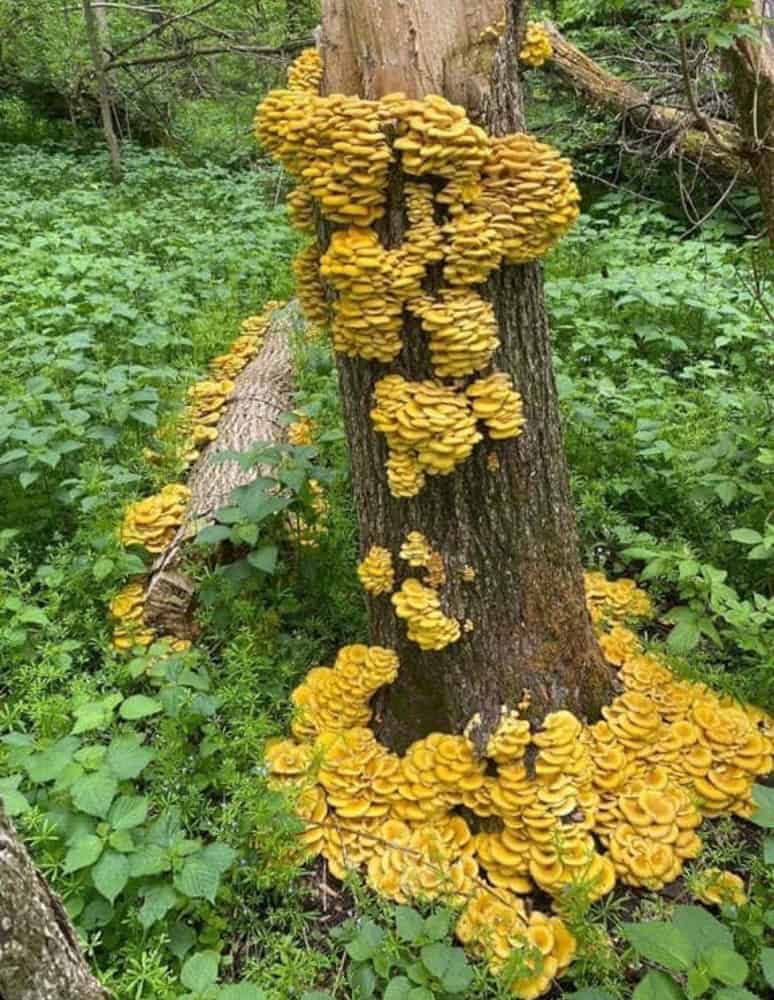 Impact on morels
As someone who hunts a lot of morels with elms, the preference of golden oysters for dead elm trees, which the mushrooms seem to consume whole, worries me. As these mushrooms spread throughout the Midwest, what will happen to the morels? I have a theory.
Morels grow with dead elms, but also with other dying and disturbed trees. The intensity of Dutch Elm Disease is still real, but each year we move farther away from the epicenter, so to speak, and the dead elms that used to produce many morels are becoming more quiet.
There's a critical period for morel production with elms from my experience. You're looking for elms that are dying and shedding their bark to get the most morels. As the trees continue to decompose, other mushrooms like Cerioporus squamosus (pheasant back) and mica caps start to show up, and the morels eventually leave. To clarify, the morels leave the tree, but not the area.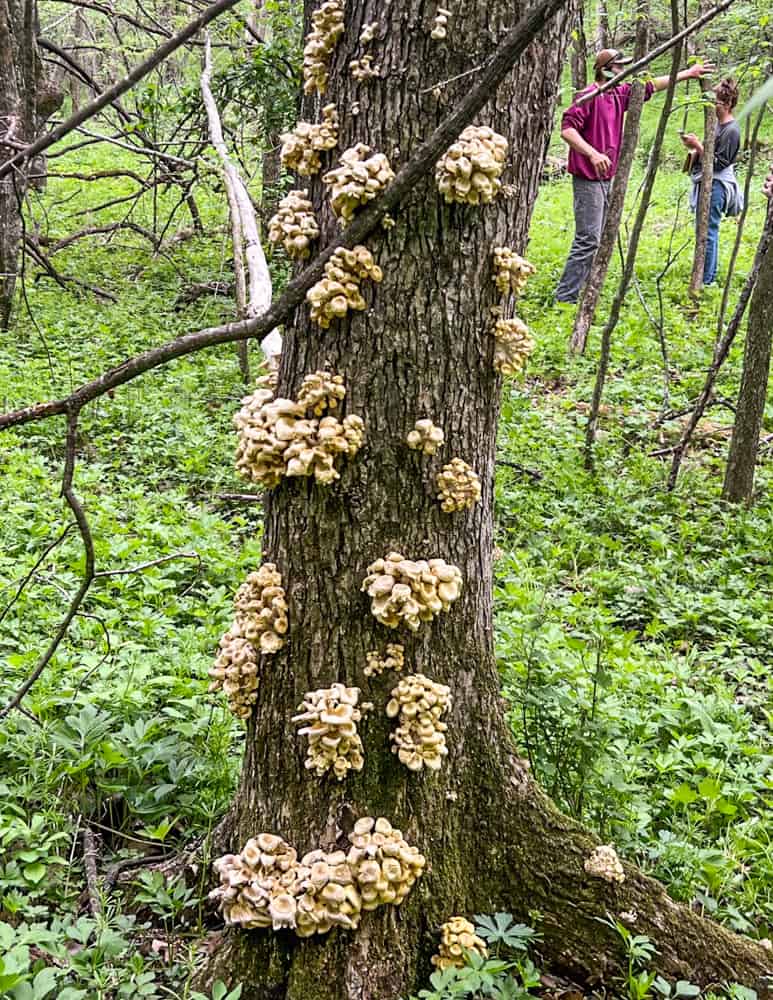 My theory, which is backed up by anecdotal evidence from a number of morel hunters in Minnesota and Wisconsin, is that the Midwestern Morels are gradually transitioning hosts from elms to green ash, which is being affected by the emerald ash borer. Some morel hunters are already taking the cue, and I know people that now exclusively hunt green ash in the Midwest, instead of elms.
If the morels are indeed transitioning hosts, the voracity that golden oyster mushrooms consume dead elm trees, many of which are past the perfect period for producing morels, would be a moot point. We morel hunters just need to start looking for dying ash trees, instead of elms.
Identification
Common white oyster mushrooms are easy to identify, and bright yellow oysters are even easier. Here's a few quick tips.
Golden oyster mushrooms
Have a sunny, bright yellow to golden brown cap
Have a noticeably depressed center on the cap with age that resembles a funnel.
Often grow in massive quantities, with trees producing many fruiting bodies.
The stems are noticeably curved or bent.
Have a white spore print.
Young growing mushrooms will often be in very tight clusters.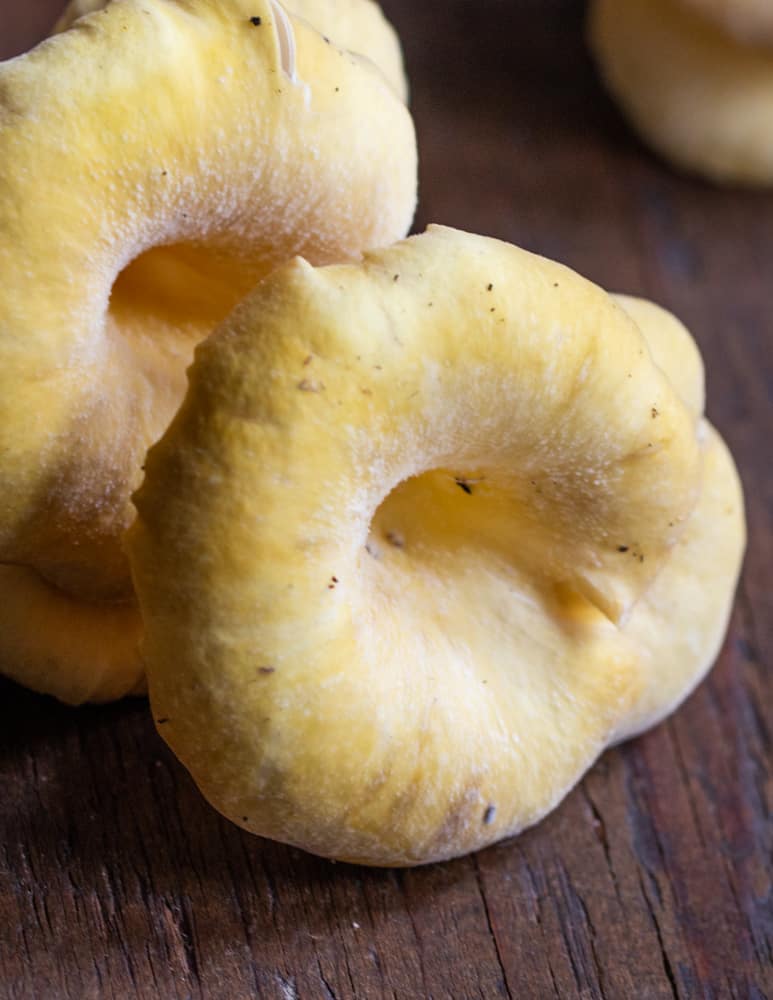 Harvesting
Invasive or not, these are delicious mushrooms with a sweet, nutty taste and good texture. The only issue, as with other oyster mushrooms, is getting them before the bugs do.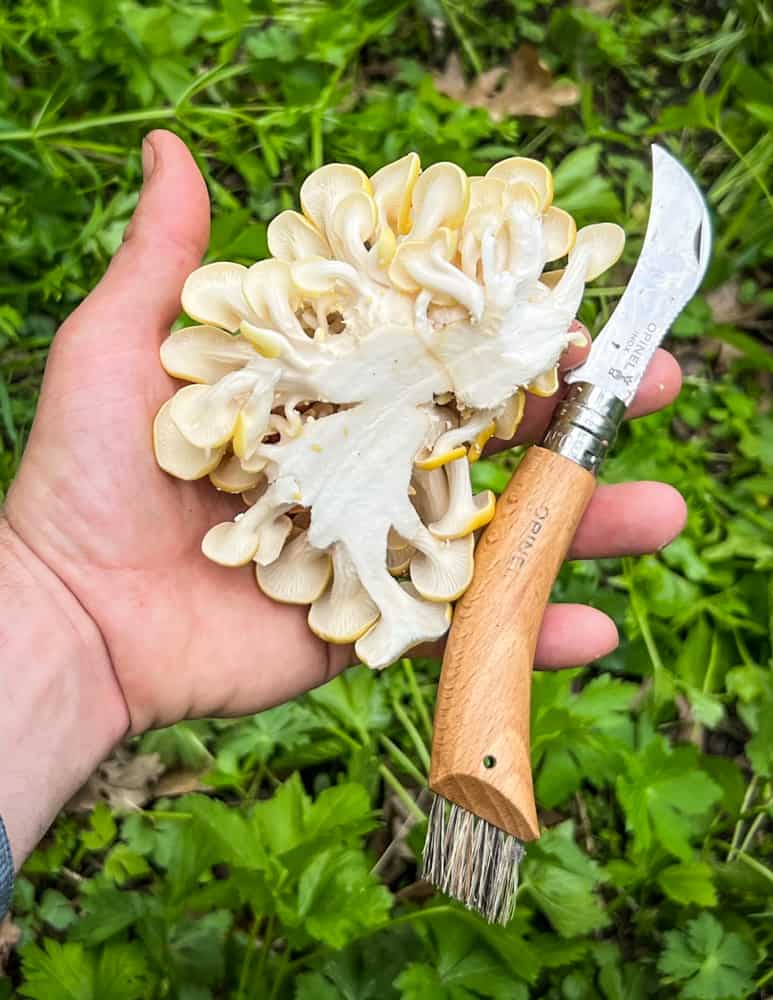 You are looking for very young mushrooms without bug holes in the stem. Cut them from the tree, inspect the stem, and keep them in large clusters when you can.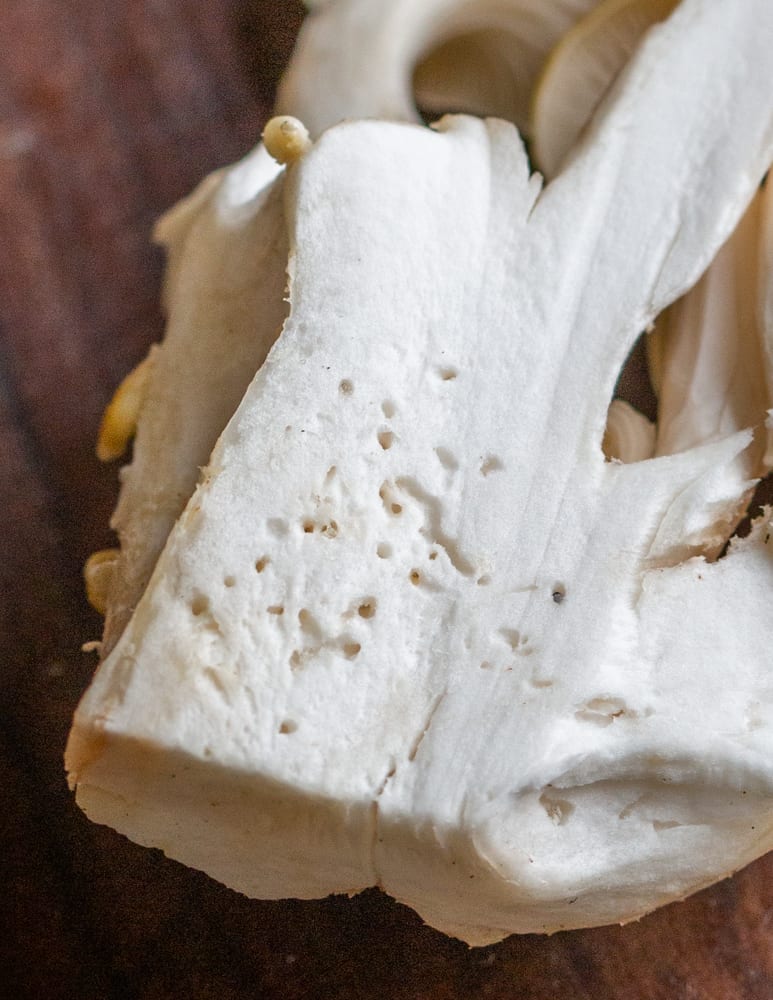 Cooking
These are a great wild mushroom for the table when young and bug free, with a mild, nutty flavor. You can use them in your favorite wild mushroom recipes, and they're just fine cooked until golden and slightly crispy with a little olive oil, butter and garlic, but, as they grow in clusters, my favorite recipe is oyster mushroom steaks.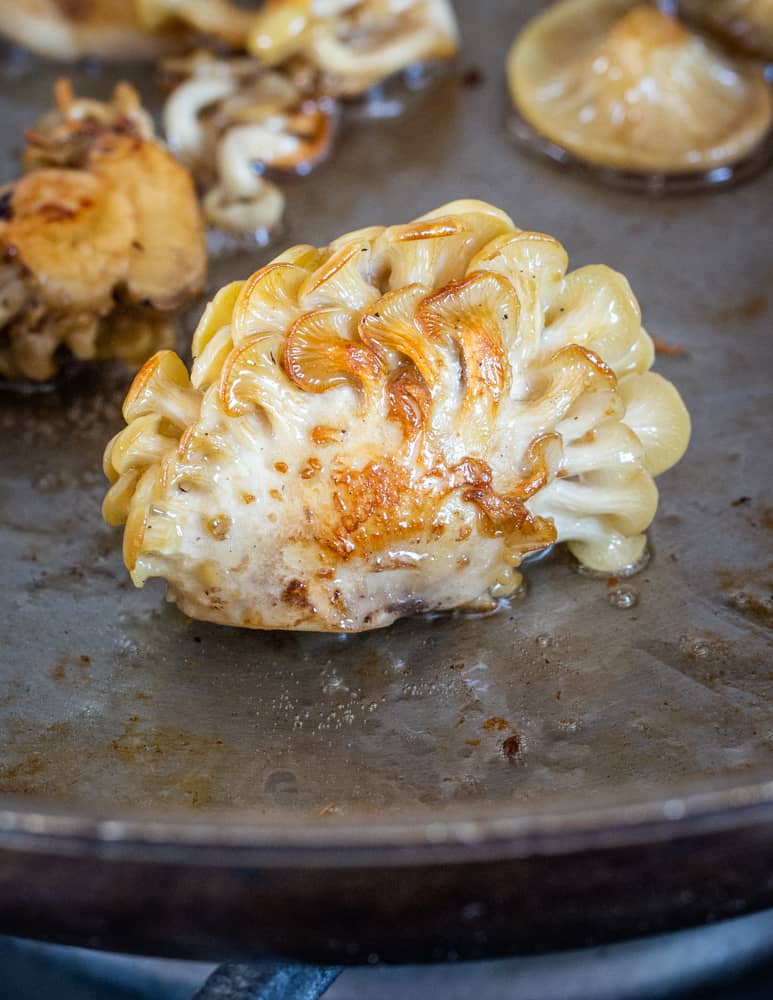 Above: I like to cook clusters of oyster mushrooms whole.
To make oyster mushroom steaks, I cook whole, large clusters roughly 4-6 oz each in a pan until wilted, then cover them with a weight and cook until golden brown and delicious. They make a great mushroom meat substitute.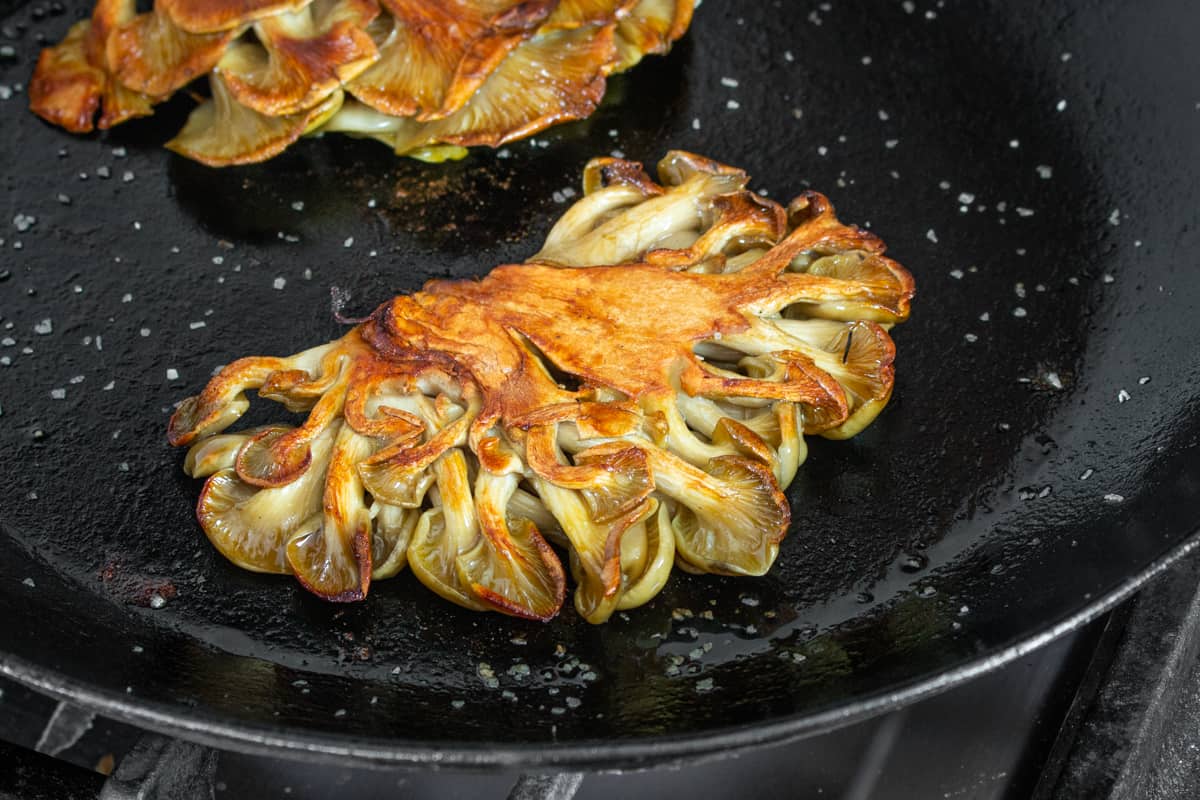 Related Posts
Oyster Mushroom Soup with Soba Noodles
References
Tracing the Naturalization of Golden Oyster Mushrooms in the United States