At the tail end of morel season, we'll start to see others coming up, especially if we get some rain in the Midwest like we did last week--it poured, and poured. My favorite are the first flushes of young chicken of the woods that come up, sometimes even while I'm out hunting morels, if I'm lucky.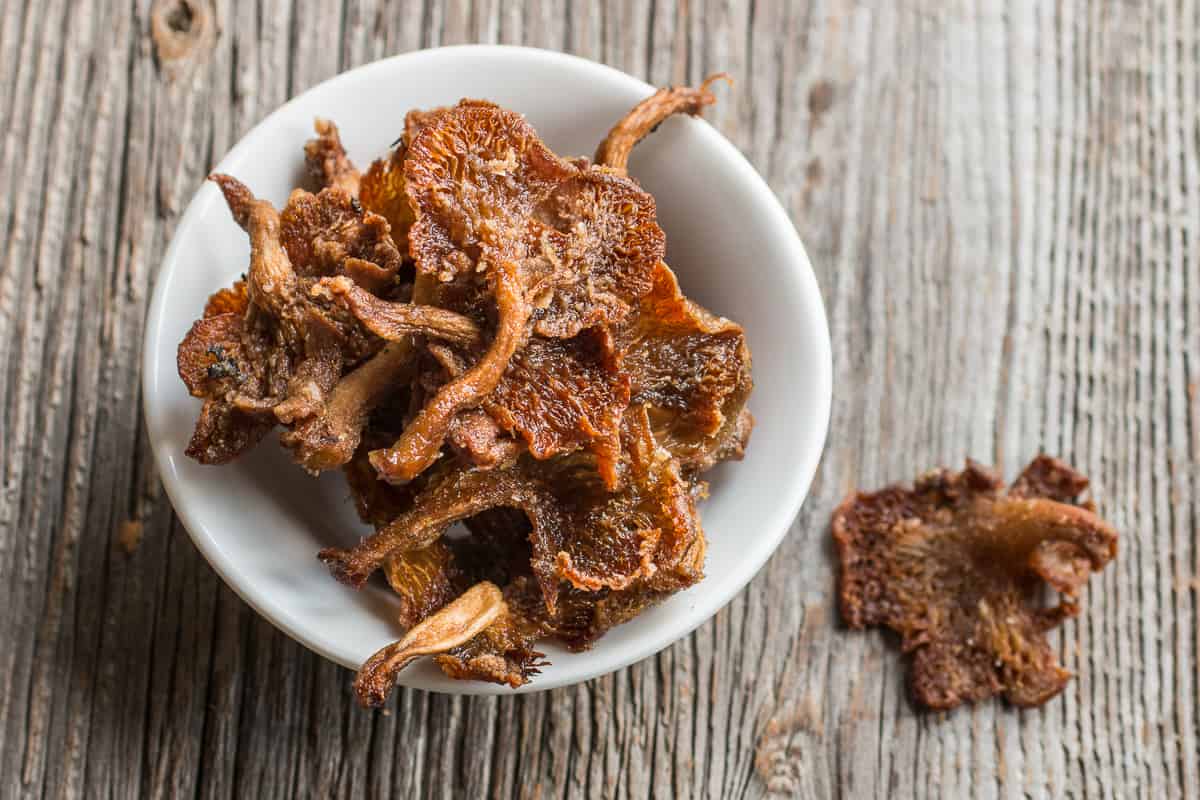 Spring oyster mushrooms will come too, but between you and me, I don't pick the typical varieties of wild oyster mushroom much, if at all. I usually find them beat up and buggy. I know there's some out there that are fine and worthy of eating, but my experience with them, and the fact that they're so widely available commercially tends to dissuade me from gathering them. It's mostly personal preference.
Golden oyster mushrooms (Pleurotus citrinopileatus) though, are a bit different. P. citrinopileatus grows gregariously, and, although they can get buggy like their cousins, their habit of fruiting in dependably large amounts warrants picking for the table.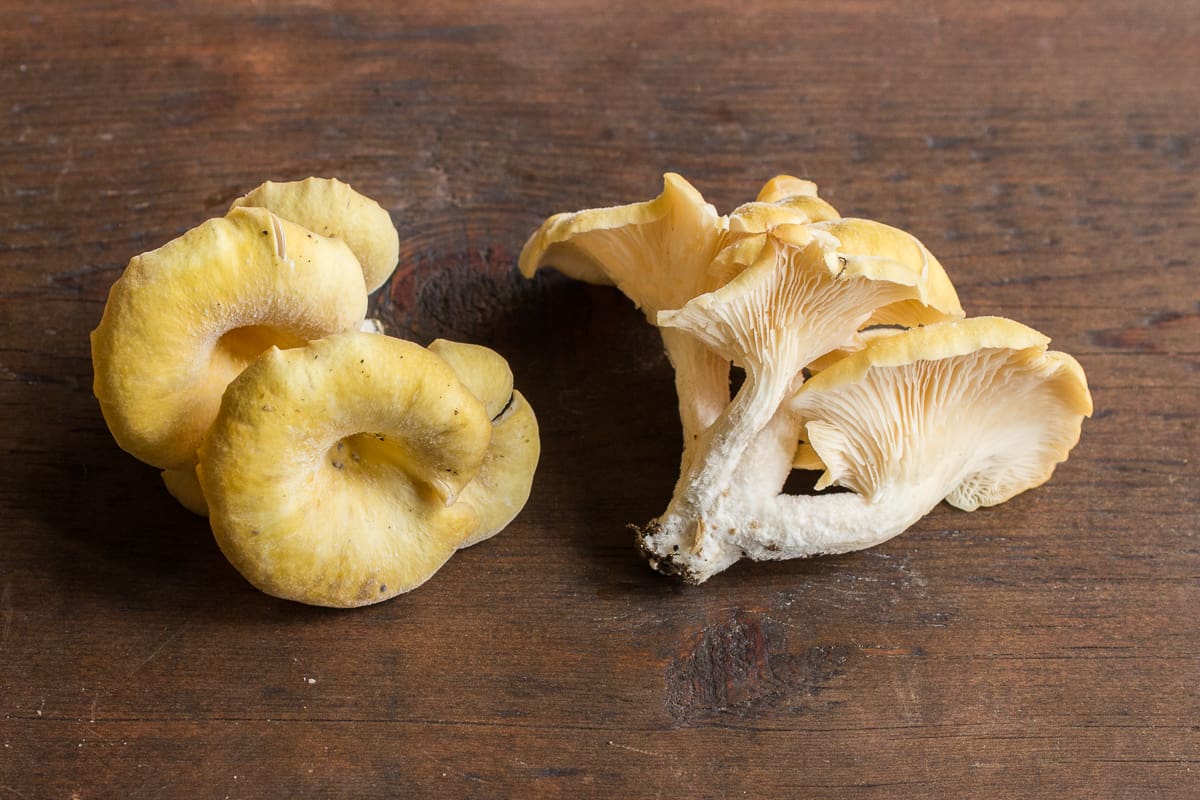 They're not widespread in Minnesota at the moment I'm writing this post, but they're in Iowa and Wisconsin, so they will be soon. The golden oysters in this post I was gifted from a friend hunting down in Iowa, filling a cooler with 50 lbs of them was no big deal.
These croutons though. I wrote about mushroom croutons years ago--two different versions that are both good, but typically done with a deep fryer. They're addictive as a simple bar snack or nibble with a cold beer, and will disappear at light speed.
But, not everyone has a deep fryer at home, so, with my fat bag of golden oysters in hand, I revisited my old croutons and worked on a home version for you baked in the oven. It can be done, and they're great. They're not as quick as the deep fried ones that only take a few minutes, and you might have some parts that are not as 360 degree crisp, but after you try a few, I doubt you'll care.
Other mushrooms you can use
Besides oysters, you can do this with a number of other mushrooms. Here's a quick list.
Crown coral mushrooms (Artomyces pyxidatus)
Regular oyster mushrooms like Hysizygus ulmarius and all Pleurotii
Black trumpet mushrooms
Yellowfoot chanterelles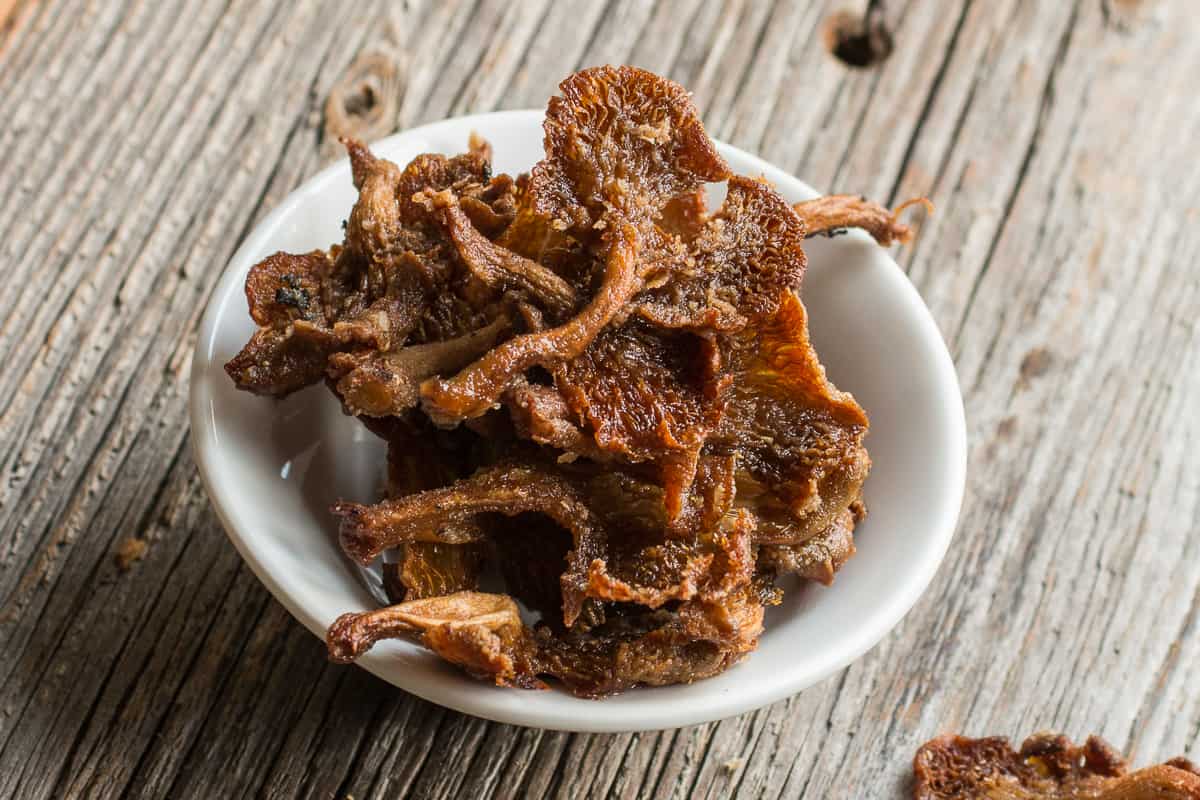 More
Vegetarian and Vegan Mushroom Recipes
Foraging Golden Oyster Mushrooms (Pluerotus citrinopileatus)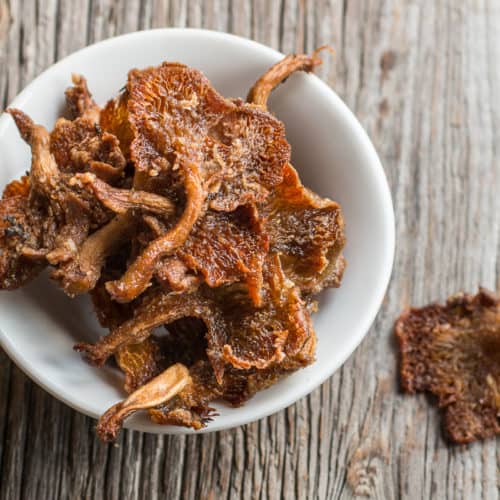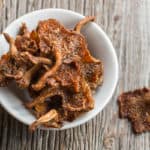 Print Recipe
Baked Oyster Mushroom Croutons
Crisp baked wild oyster mushrooms make an addictive snack or addition to a meal.
Ingredients
5

ounces

fresh oysters mushrooms

⅛

teaspoon

kosher or fine salt

Five cracks of the pepper mill

3

Tablespoons

cooking oil

like light olive oil, avocado, etc

2

tablespoons

all purpose flour or equivalent
Instructions
Clean the oysters, preferably without having them touch water (as oysters are generally above ground or purchased this isn't a big issue).

Pull the mushrooms into single pieces, then toss with the oil, salt, pepper, and finally the flour.

Lay the mushrooms out without overlapping on a baking sheet or large cast iron pan, and bake in a preheated 400F oven for 20-25 minutes.

Remove the mushrooms and allow to cool in the pan, then remove to a container and store at room temperature for up to 2 days.

The mushrooms can be reheated gently in the oven to re-crisp them, but as long as most of the water has been cooked out and it wasn't raining when you picked them they should keep a reasonably crisp texture.

Depending on your mushrooms, their moisture content, and your oven, you may need to bake them a little more or less, or make a batch or two to tweak the crispness and flavors to your taste. They make an addicting snack or salad garnish.