Crown-tipped coral mushrooms are always a welcome sight, pound for pound they have an excellent yield, as well as the bonus of looking like an life form from under the sea.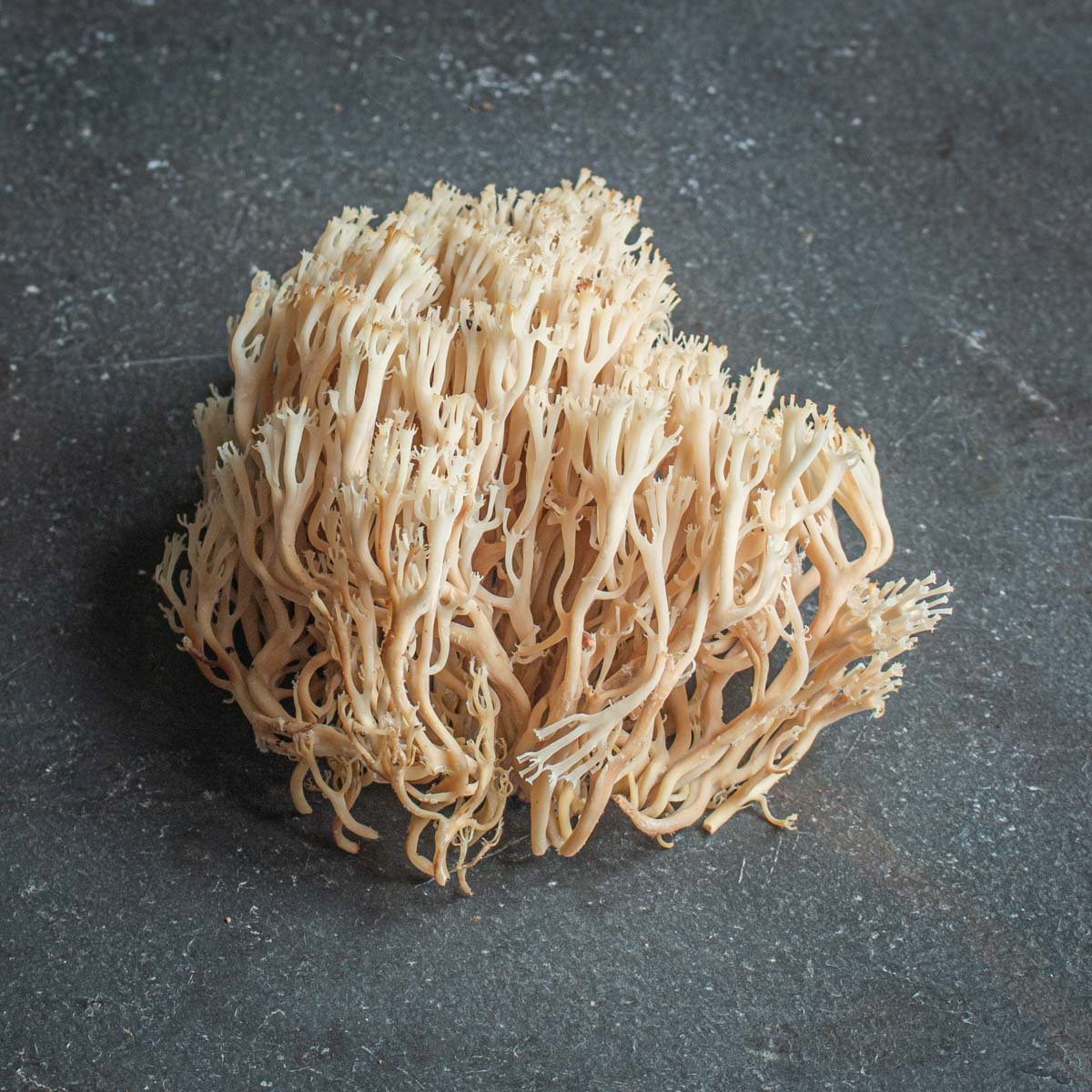 These are a favorite of mine for special menus and chef's tables since they rarely fruit in large quantities where I live. On occasion, I find enough to garnish a nice meal with them. These can be a confusing batch of species-keep a field guide handy.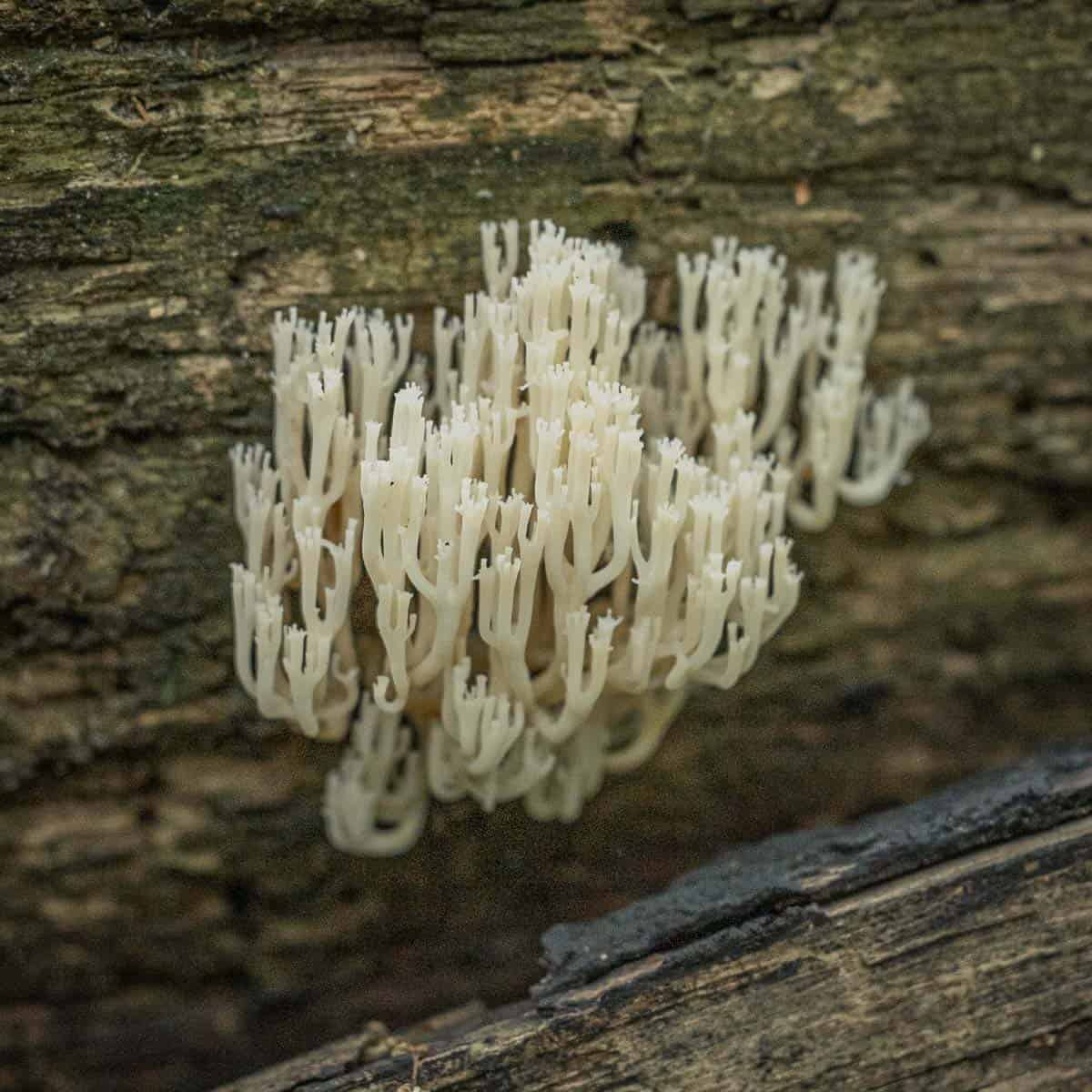 Identification Tips
As far as corals-type mushrooms go these are easy to identify. The biggest takeaways, at least for me, are the following:
Crown-tipped corals grow *directly* from wood, not on the ground, although it could be possible to confuse some as growing terrestrially if they are coming from a buried log.
Crown-tipped corals are looser in structure than ramaria, and much more delicate.
Crown-tipped corals are always white, or a shade of dingy white due to age. The base of the mushroom where they attach to the wood will be brown.
Ramaria mushrooms grow directly from the ground, and come in a variety of colors. Compare the two pictures below a few times, the differences are easy to pick out.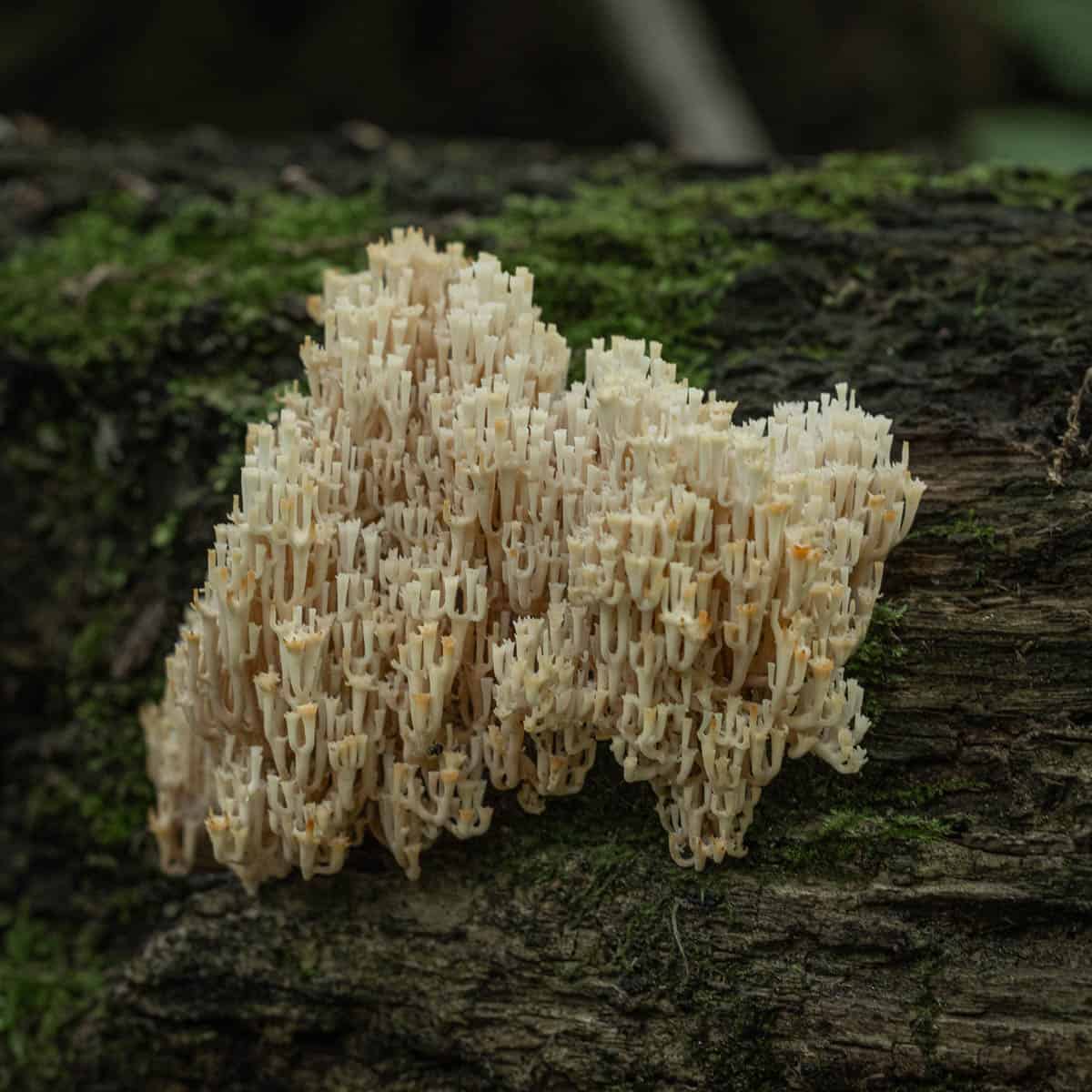 Look a Likes

There are other mushrooms that are not good that could be confused with these. My advice is:
Don't pick any that have a scent of Phenol (embalming fluid) or smell bad in general.
Don't pick any that have a gelatinous or liquidy/slimy base.
Don't pick any corals that are colored deep red. (I've been informed of a deadly Japanese coral that's red)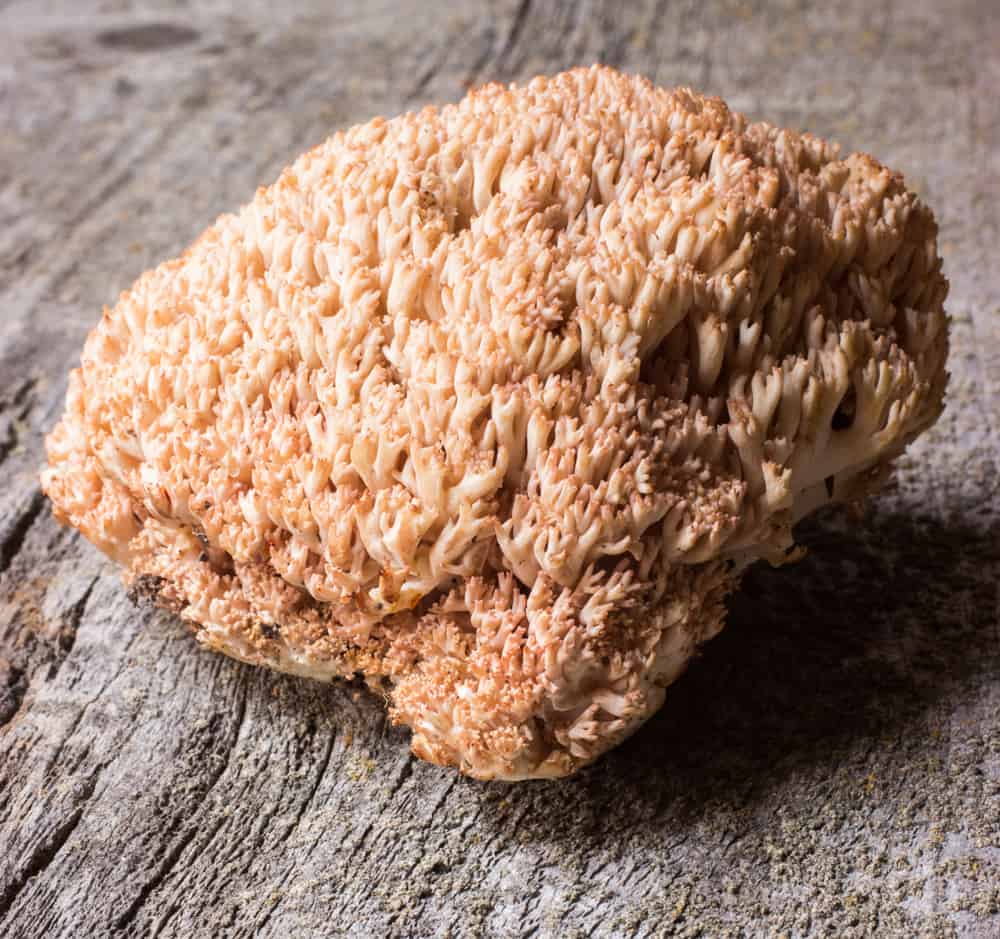 Habitat

Where I live they grow only on dead and dying wood like oak. Crown tipped corals will not grow directly on the ground, like Ramarias. I see them in the early and late summer in Minnesota.
Cooking

First of all, these are ok to eat, but honestly they're not going to blow your mind.
Crown tipped corals cook really, really fast, and can be a pain to clean since debris and dirt can get lodged in them.
To clean large amounts of them I like to break them into small clusters and swish them quickly in cold water. After their light bath, I set them on a cloth or towel to dry in the fridge.
With crown tipped corals at the restaurant, I like to pour boiling salted broth over them, leave let them cool in it, and then simply pick out individual clusters to drop into a soup as a garnish at the very last minute.
Its also a lot of fun to serve them with seafood and freshwater fish, to get a sort of "sea" and fish combination/play on ingredients.
Cooking in Soup or Broth
Cooking in soup or broth is one of the best ways to prepare these, just like I recommend doing with yellowfoot mushrooms, or Craterellus tubaeformis and their cousins. Cooked in a liquid, these will retain a little more color and texture.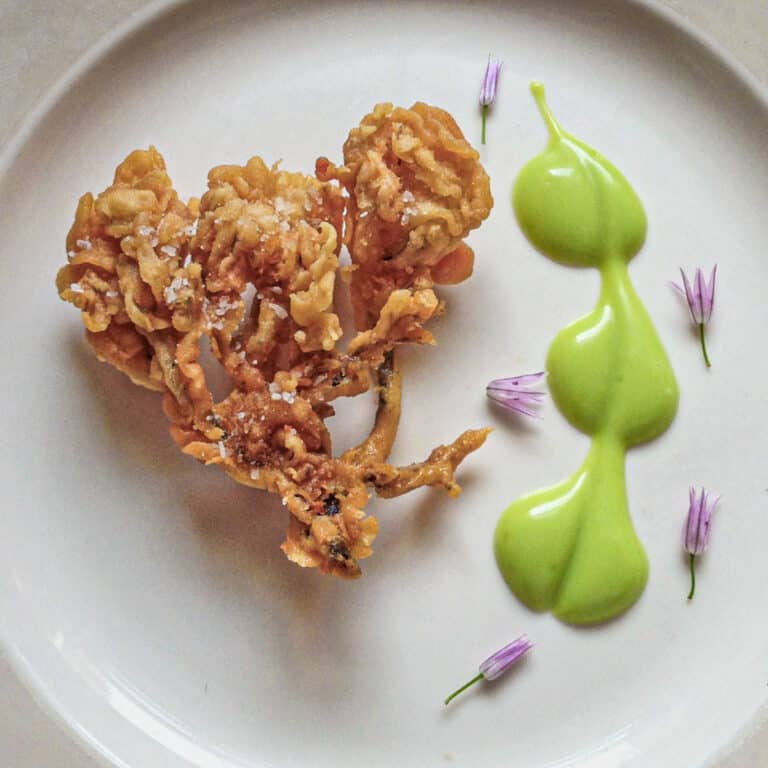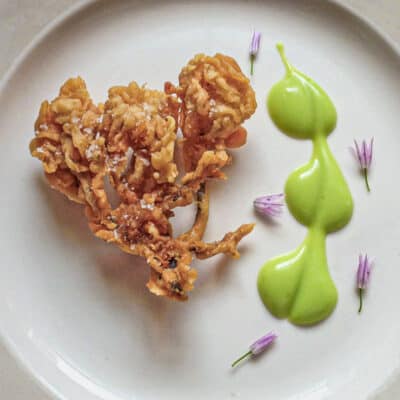 Preservation
These do not dry well, the smell changes a bit and gets kind of "gym-sockey", from my experience. If you want to pickle them I would make sure to separate them into large clusters.
Recipes
Recipes for crown corals, or where they can be substituted easily.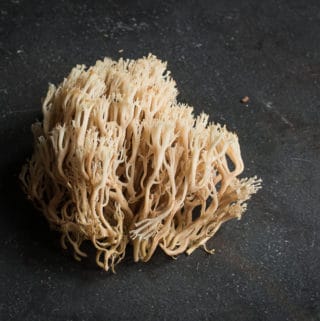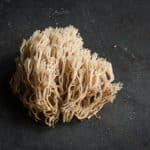 Print Recipe
Pickled Crown Coral Mushrooms
A quick and basic pickle method to which other seasonings may easily be added. The trick is to make sure you have extremely young, tight clusters of coral mushrooms, otherwise they could fall apart or be very flimsy. Feel free to adjust the quantities here to your needs.  Yield: 6 ½ pint jars
Ingredients
2

teaspoon

kosher salt

2

lbs

Coral mushrooms

the younger and more firm the better

4

cups

water

½

cup

champagne or white vinegar

2

cloves

of garlic

whacked with the back of a knife

a dried chilli or two for heat

depending on how hot you like things

a sprig or two of an herb

thyme or savory would be great
Instructions
Separate the coral mushrooms into clusters about the size of golf balls.

Next wash your coral mushrooms in cool water and clean them to remove any clinging dirt or debris.

Heat the water, salt, vinegar, chillis, garlic, and herbs in a pasta pot or another wide pan until the salt is dissolves and the mixture has come to a boil, then turn off the heat and leave the mixture to infuse for 5 minutes.

Remove the herbs and garlic and taste the mixture, if you want to, add more garlic or another chilli or two to make it more spicy, etc.

When the pickling liquid tastes like you want, add the coral mushrooms and stir, they will wilt very quickly.

When the mushrooms are wilted, use a pair of tongs, or a hand held strainer to remove the mushrooms and place them in ½ pint canning jars

fill the jars with mushrooms and their pickling liquid, leaving ½ inch of head room at the top of each jar to prevent them exploding.

Process the jars of pickled coral mushrooms in a water bath canner for 10 minutes.