Easy to identify, with no real look alikes (if you pay attention) crown-tipped coral mushrooms have a good yield and the bonus of looking like a life form from under the sea. They're a great mushroom for beginning foragers to learn.
Below: Crown tipped coral mushrooms Artomyces pyxidatus, formerly Clavicorona pyxidatus.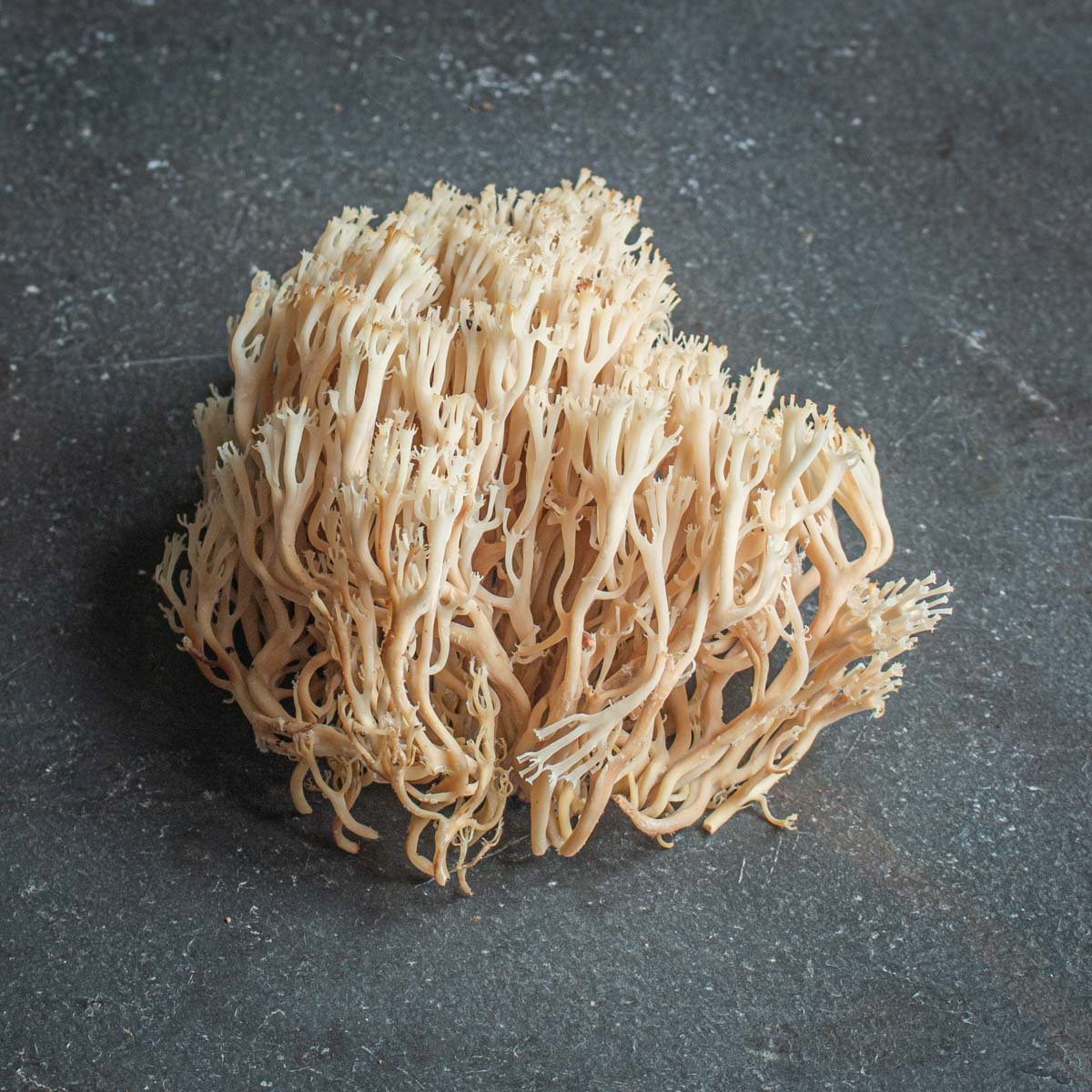 These are a common mushroom to see during June in the Midwest when mushrooms can be scarce. I used to harvest them regularly for soups on chef's table menus.
Below: Artomyces pyxidata (formerly Clavicorona pyyxidata) the crown tipped coral is much more delicate than ramaria species, although they look somewhat similar.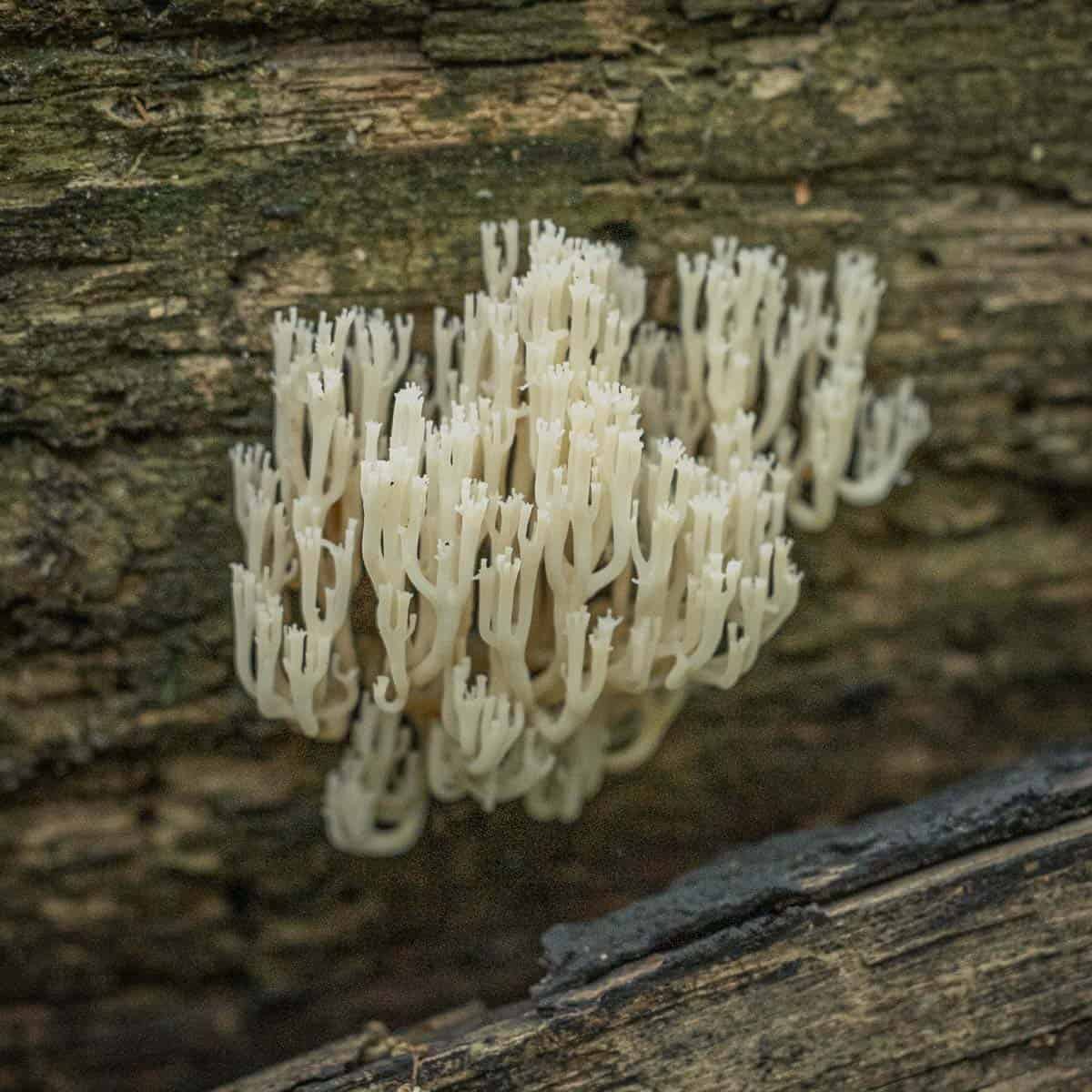 Below: crown corals have a small "crown" formation at the end of the branching tips.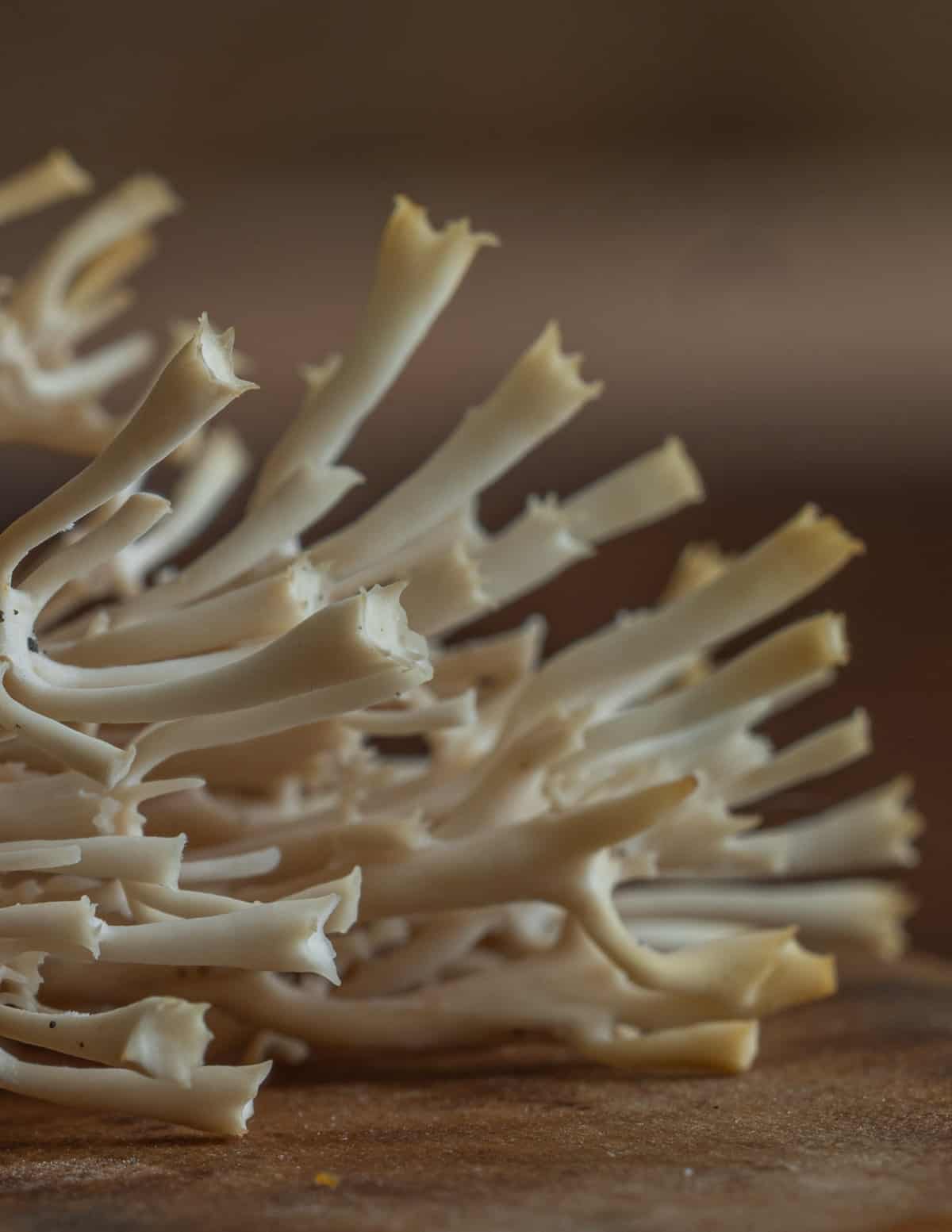 Crown Tipped Coral Mushroom Identification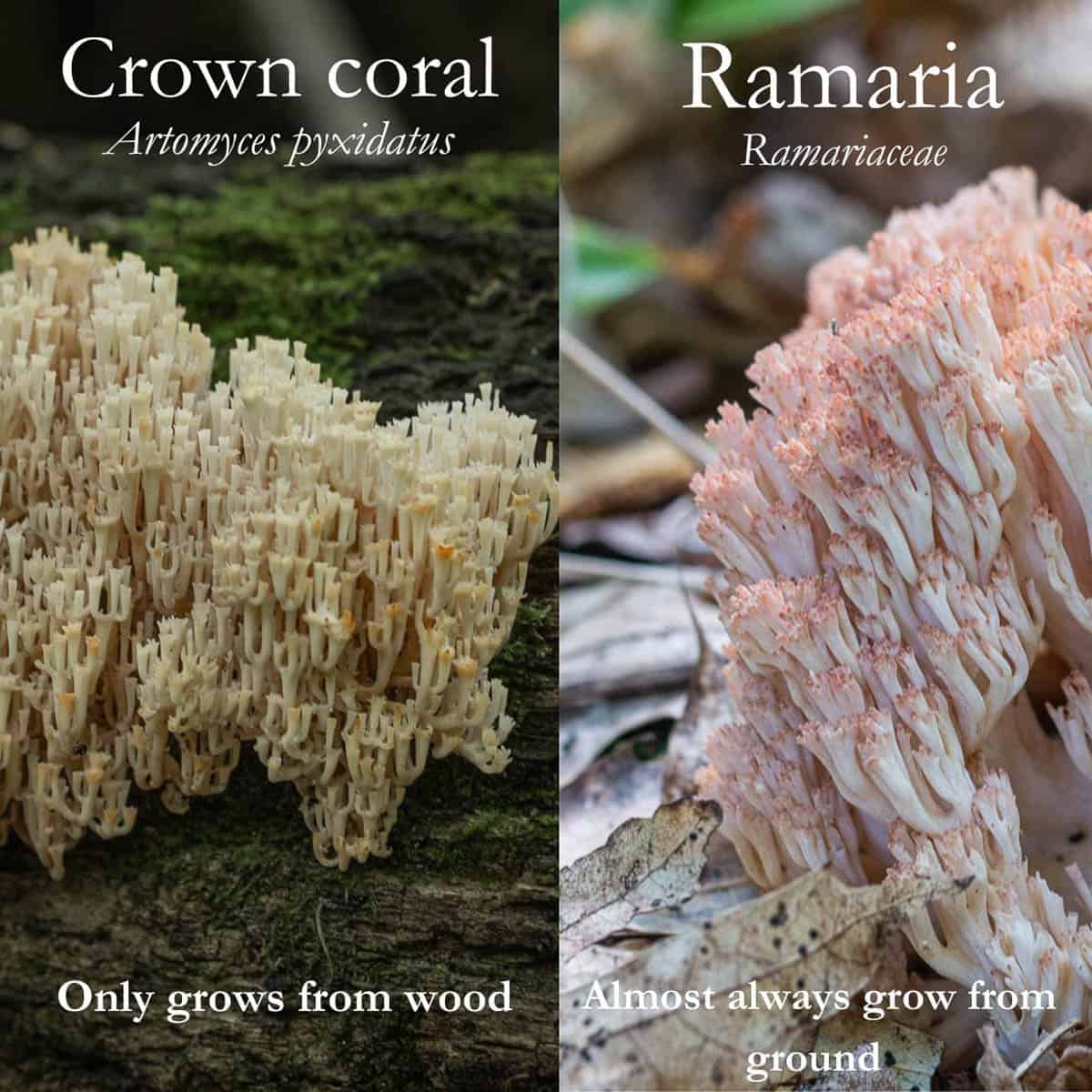 As far as coral-type mushrooms go these are easy to identify. Here's the biggest things to know:
Crown-tipped corals grow directly from wood, not on the ground, although it could be possible to confuse some as growing terrestrially if they're coming from a buried log.
Crown-tipped corals are looser in structure than Ramaria and much more delicate.
Crown-tipped corals are always white, or a shade of dingy white due to age. The base of the mushroom where they attach to the wood will be brown and the tips turn rust-colored with age.
Ramaria mushrooms grow directly from the ground the vast majority of the time, and come in a variety of colors besides white. I have never seen one growing from wood, but it's possible. Compare the pictures below a few times-the differences are easy to pick out.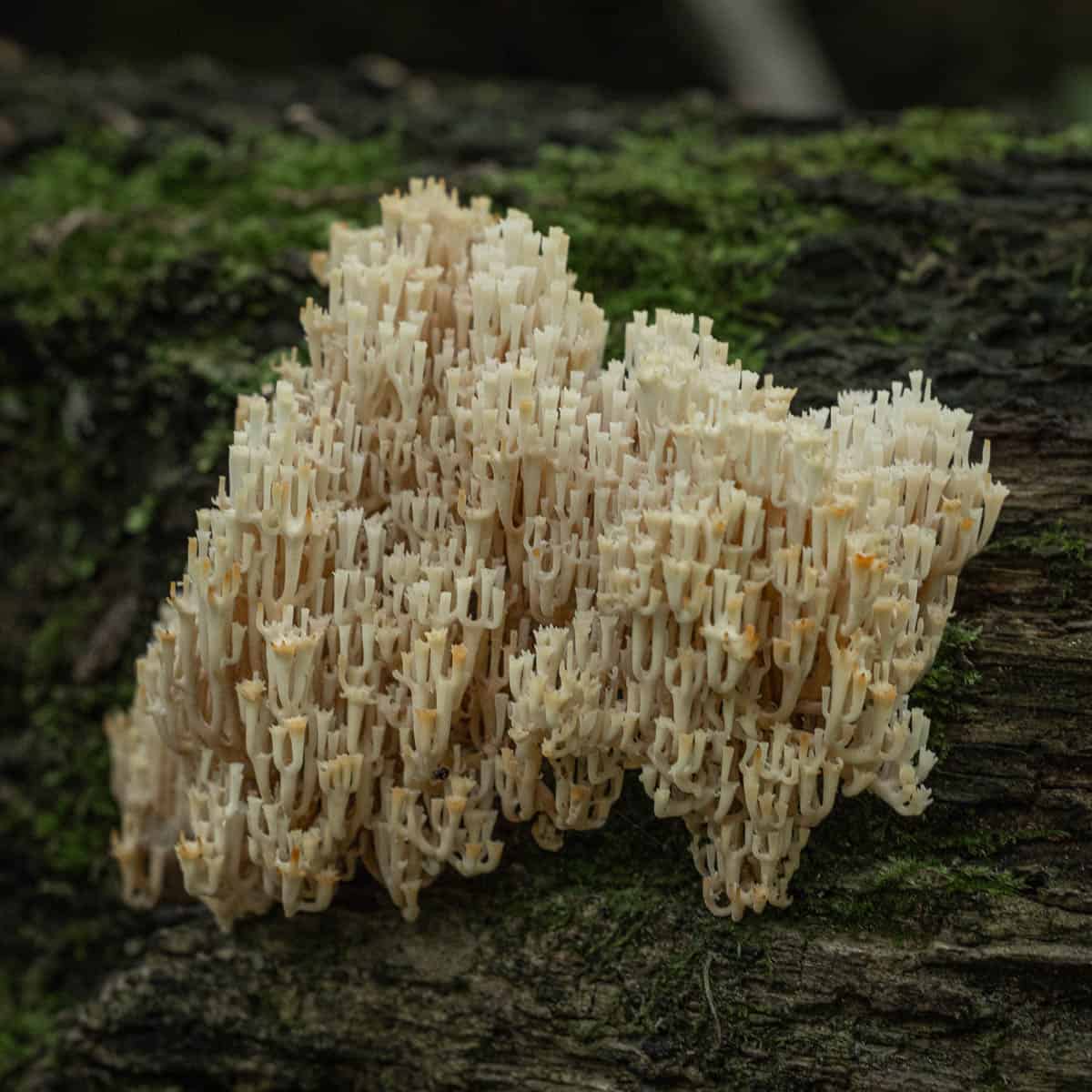 True crown tipped coral mushroom. Growing directly from wood with a white color.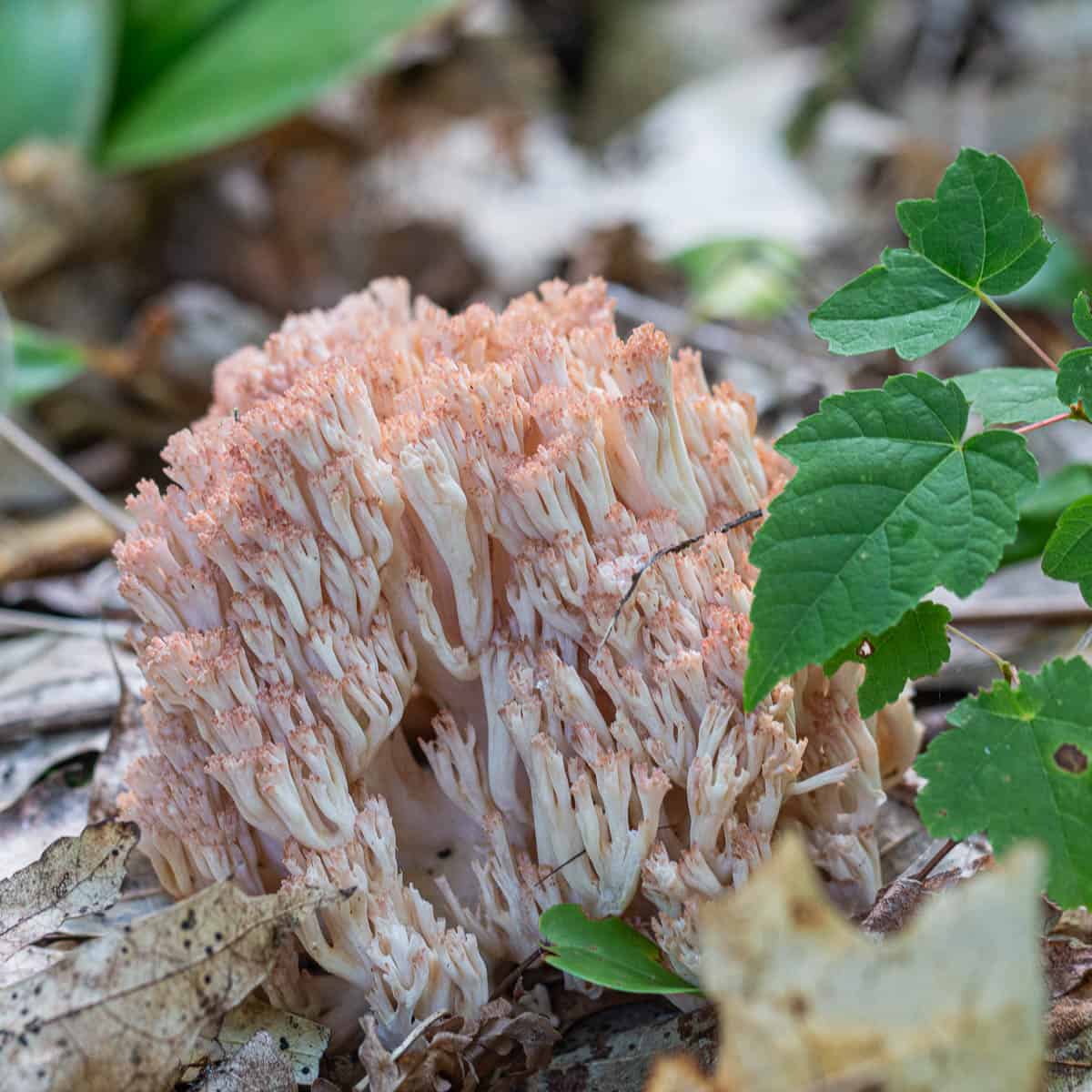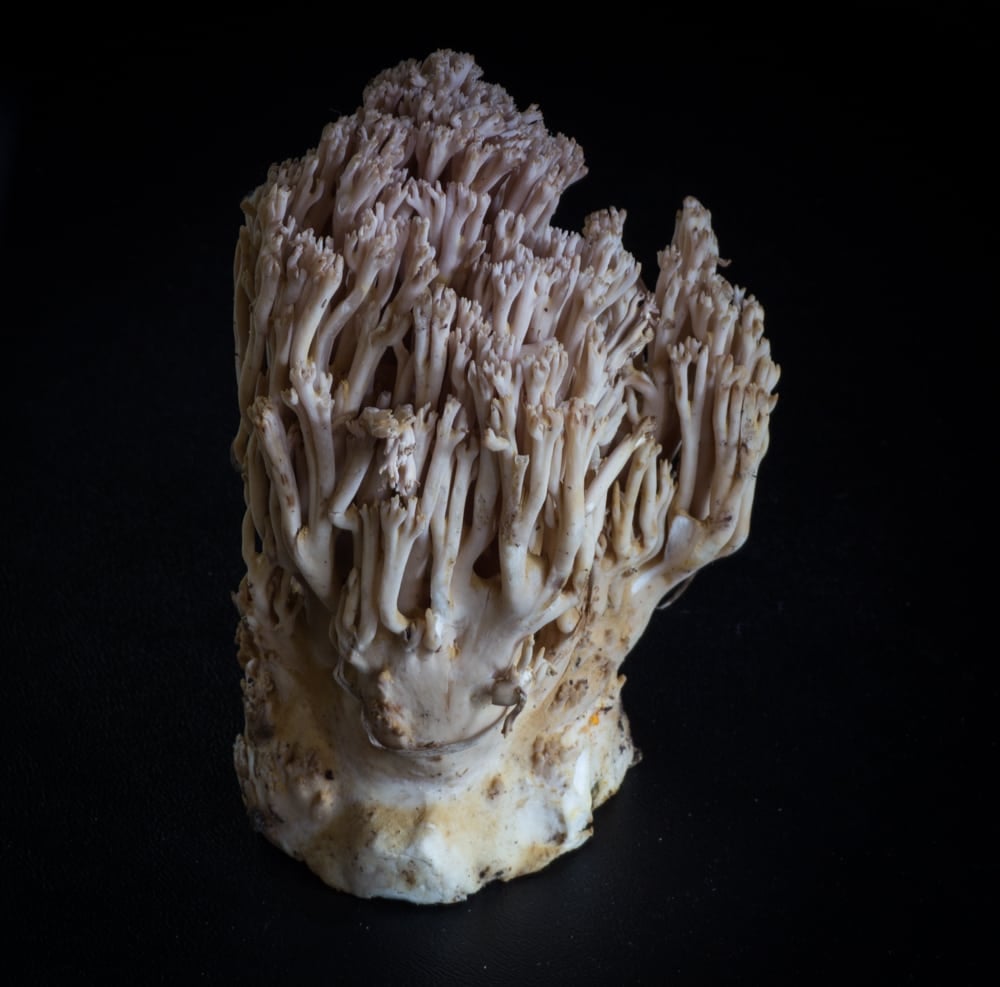 Crown Tipped Coral Mushroom Look A likes
There are other mushrooms that are not good that could be confused with these, such as Clavaria and Ramaria mushrooms. My advice is:
Remember crown corals never grow from the ground.
Don't pick any that have a scent of Phenol (embalming fluid) or smell bad in general.
Don't pick any that have a gelatinous or liquidy/slimy base.
Don't pick any corals that are colored deep red. (there's reputedly a deadly Japanese coral that's red-but that should be considered anecdotal).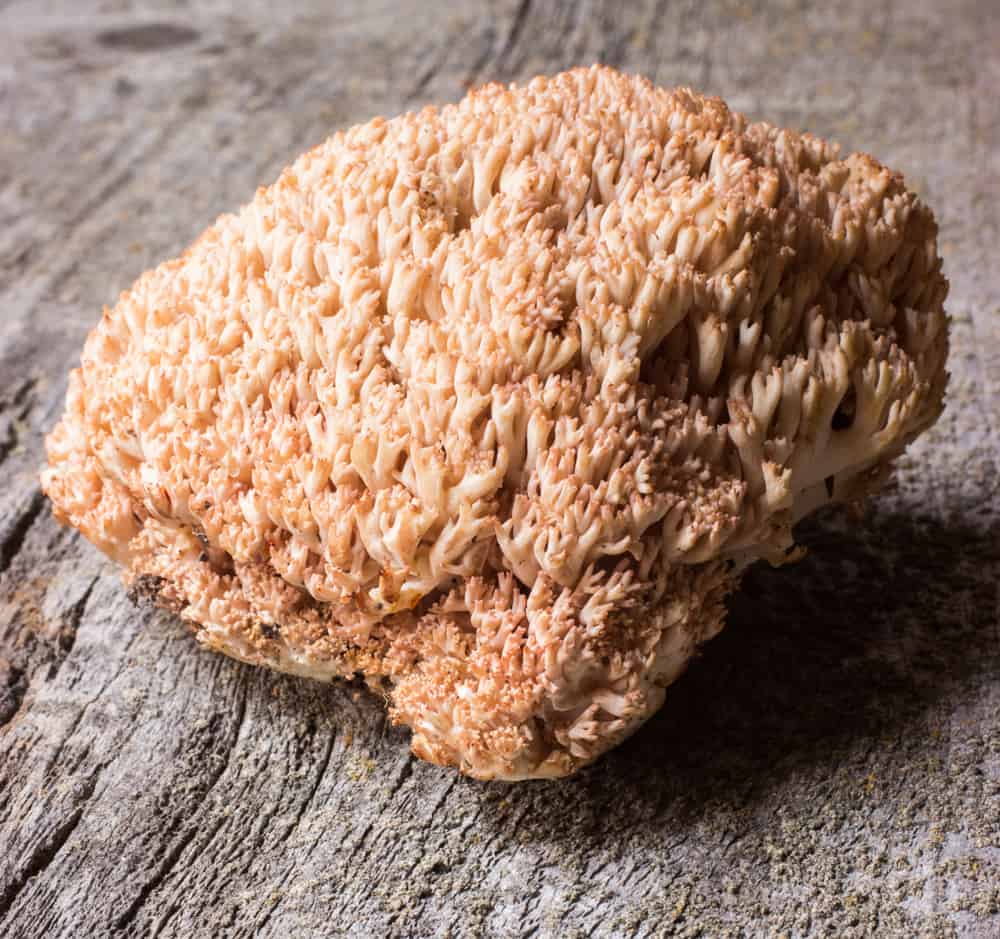 Above: Ramaria botrytis, a different type of coral mushroom in the Ramaria family. Note the firm structure compared to the crown tipped corals.
Below: Purple Coral Mushrooms (Clavaria zollingeri) are listed as inedible.
Where to Find Crown Tipped Coral Mushrooms
These mushrooms grow only on dead and dying wood like oak, especially mossy decaying logs. Crown tipped corals will not grow directly on the ground like Ramarias. I see them in the early and late summer in Minnesota and Wisconsin, starting in Early June.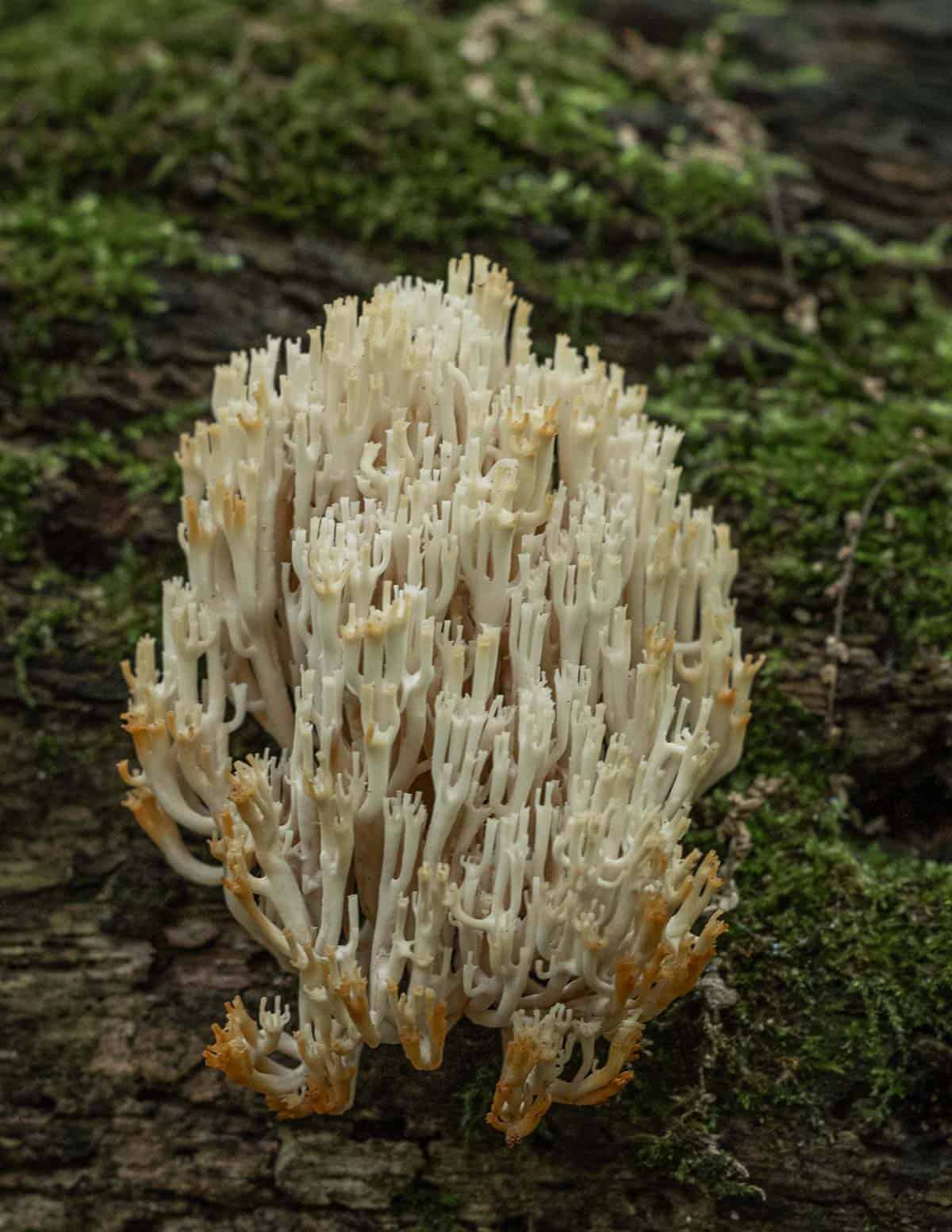 How to Cook Crown Tipped Coral Mushrooms
These are ok to eat, but they're not incredible. They have a mild mushroom flavor and are best used in soup. Crown tipped corals cook really fast and can be a pain to clean since debris and dirt can get lodged in them.
To clean them I break the mushrooms into small clusters and swish them quickly in cold water. Afterward I set them on a cloth or towel to dry in the fridge.
If I come across many of them I might make croutons by tossing them with cheese, flour and herbs and baking, pictured below.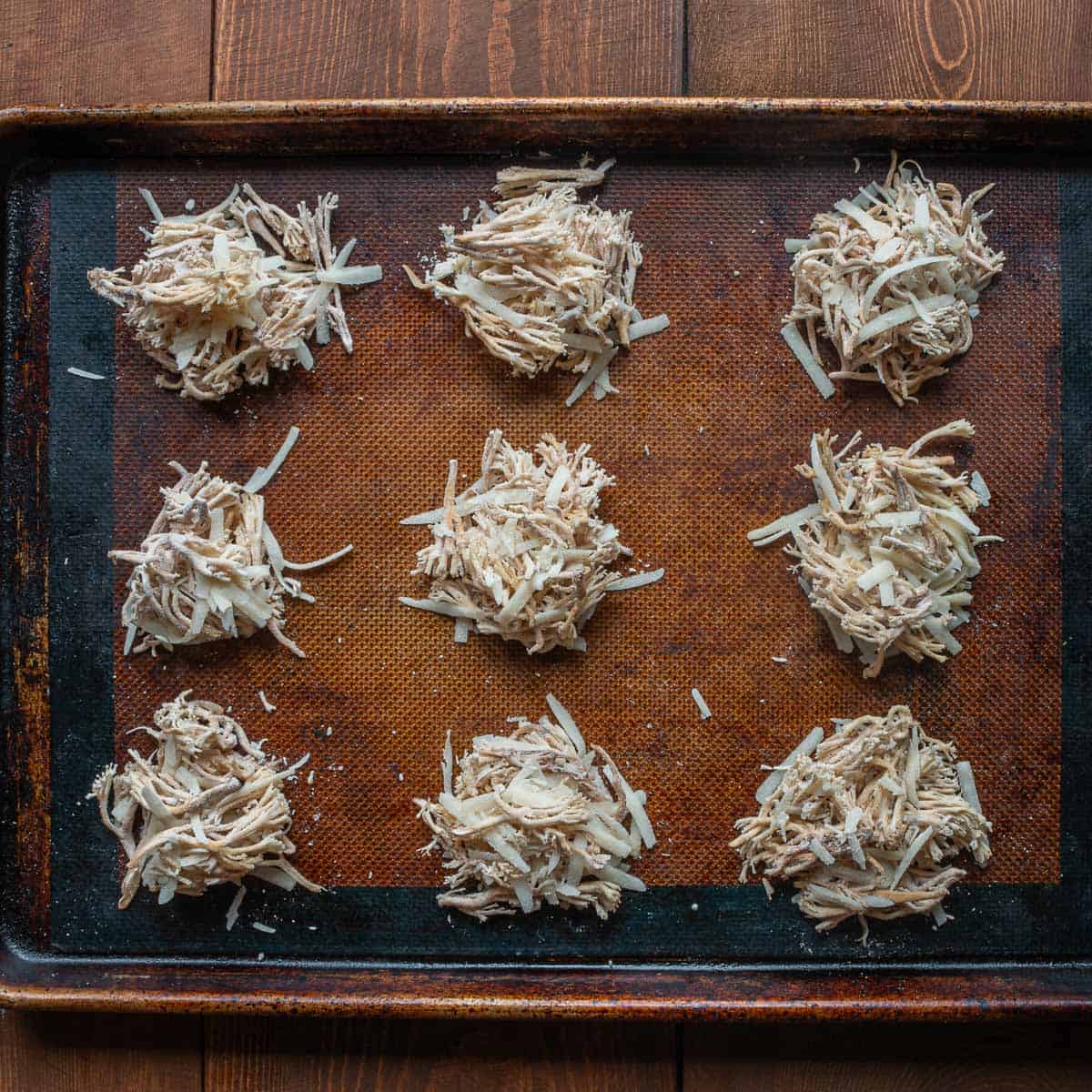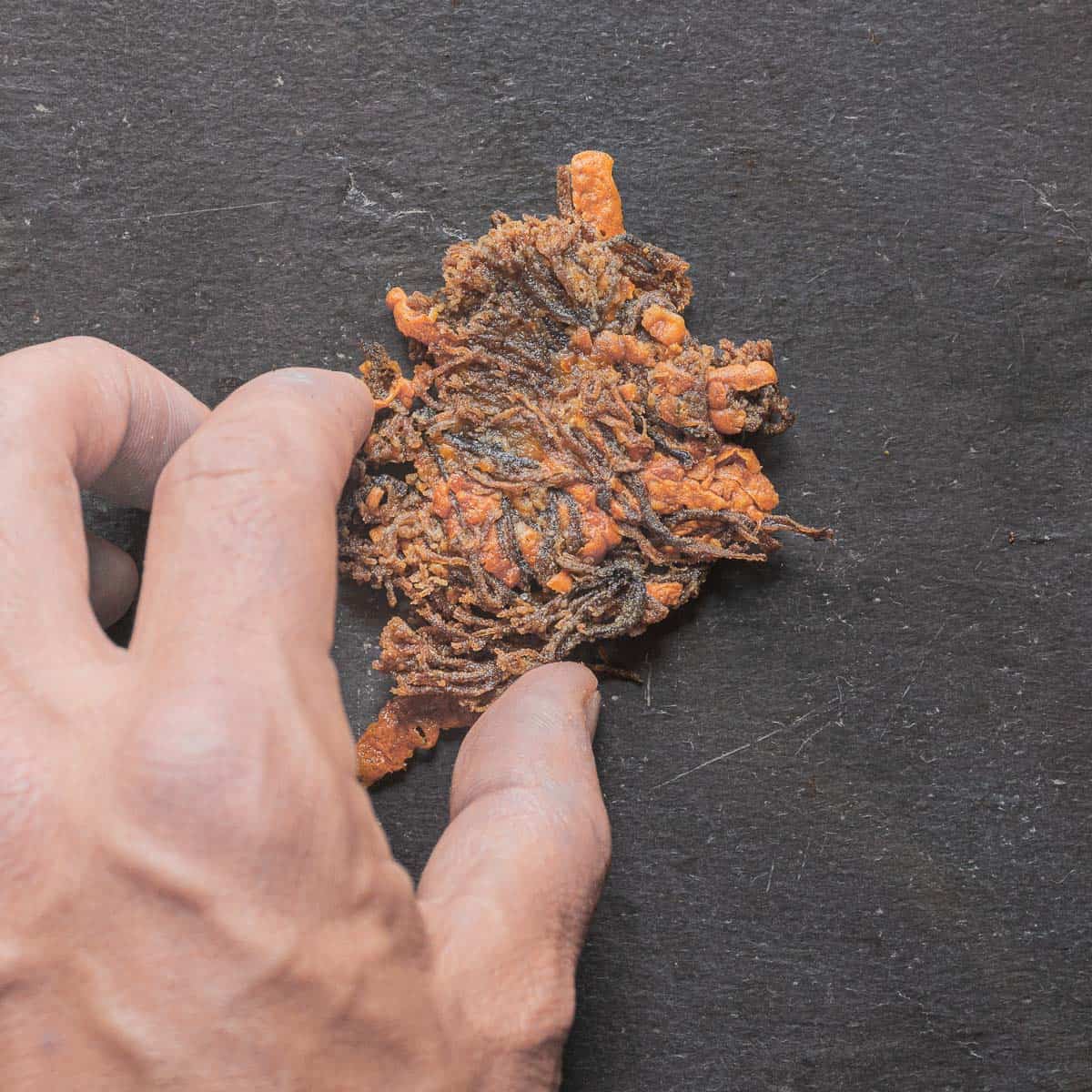 Cooking in Soup or Broth
Cooking in soup or broth is one of the best ways to prepare these, just like I recommend doing with yellowfoot chanterelle mushrooms.
Below: rabbit broth with hominy, mitsuba and crown coral mushrooms.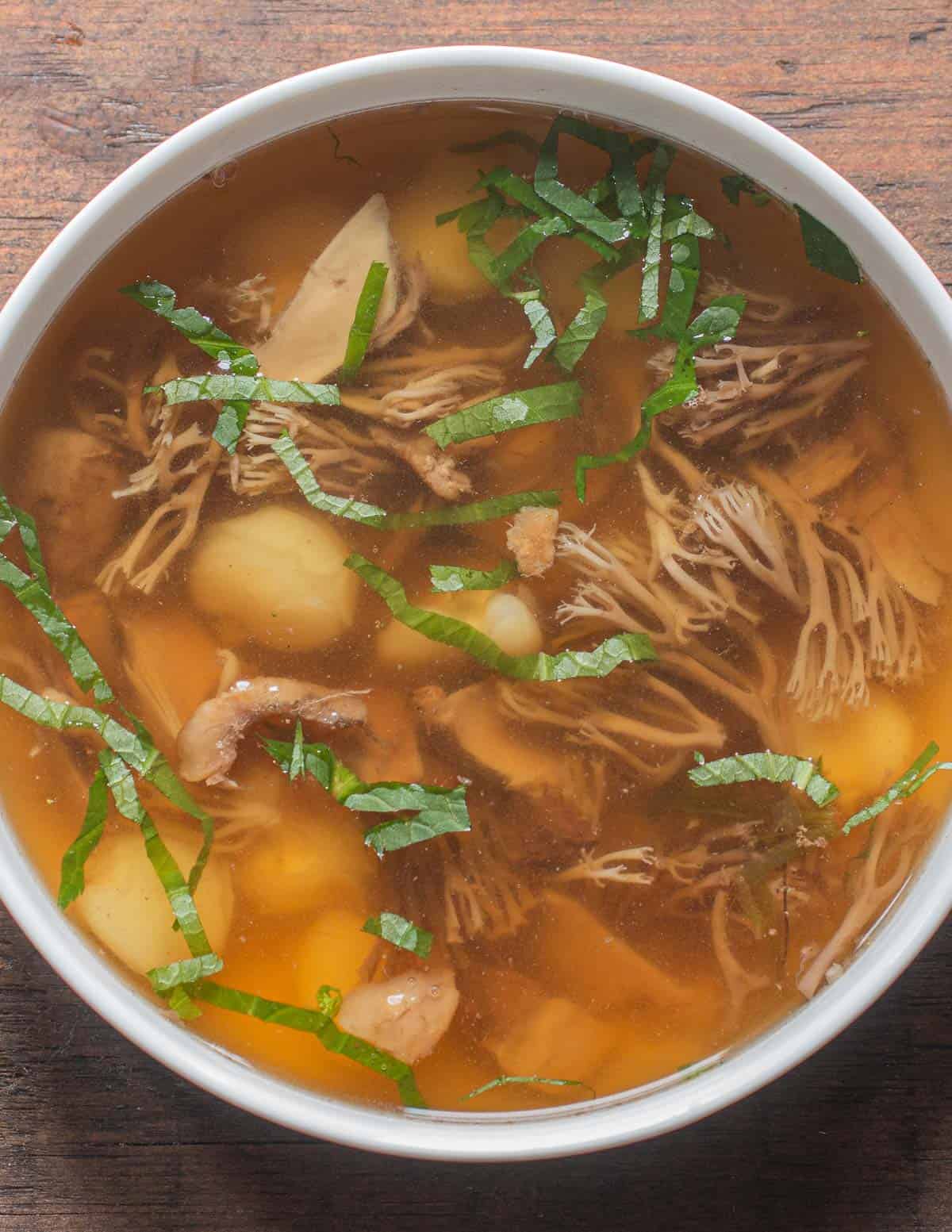 Cooked in a soup or broth they'll retain more color and texture. Clear broths like Japanese soups are the best way to use them.
Below: making my crown coral noodle bowl.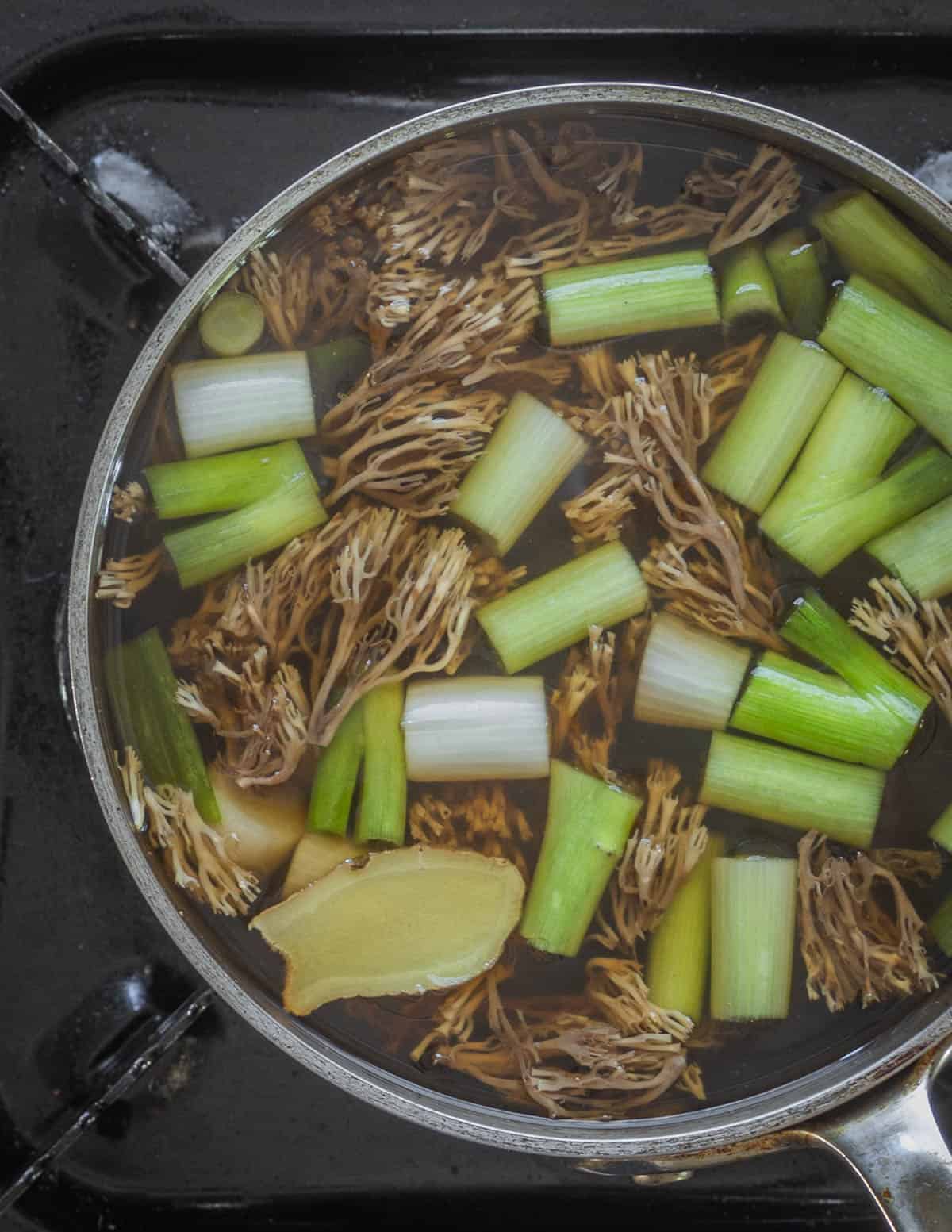 Preservation
These do not dry well, the smell changes a bit and gets kind of "gym-sockey", from my experience. If you want to pickle them I would make sure to separate them into large clusters.
Freezing the mushrooms by sweating in butter with a pinch of salt and freezing in a zip-top bag can work, but they're best eaten fresh.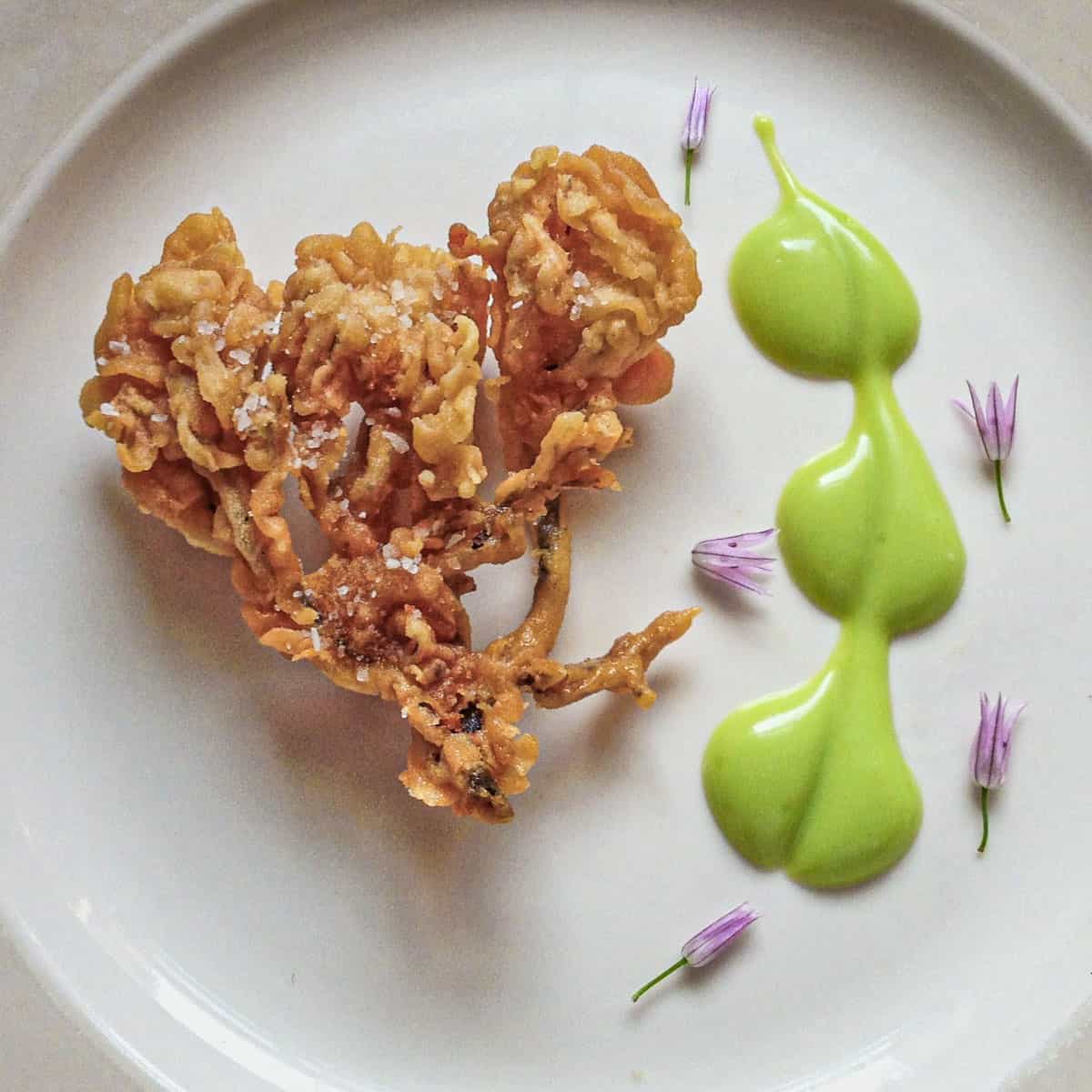 Above: Crown corals make a fun, crispy garnish.
Coral Mushroom Recipes
Recipes for crown corals, or where they can be substituted easily.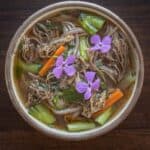 Print Recipe
Crown Coral Mushroom Noodle Bowl
Wild crown coral mushroom broth with soba noodles. Inspired by a family favorite recipe. Serves 4.
Ingredients
Broth
6

cups

mushroom broth

or chicken broth

6

oz

carrot

cut into 1 inch julienne

4

oz

scallion

cut into 1 inch pieces

1 ¼

inch

slice fresh ginger

5

oz

fresh crown coral mushrooms

cleaned and pulled into bite sized clusters

½

cup

soy sauce

or to taste

Tiny pinch of crushed red pepper flakes

4

oz

fresh wild greens

shredded

Kosher salt

to taste
Serving
20

oz

cooked soba noodles

5 oz per person

Toasted sesame oil

Chopped fresh cilantro

A few nasturtium flowers

pictured, but optional
Instructions
Bring the first 7 ingredients to a simmer in a tall 4 quart saucepot. Simmer for 20 minutes or until the vegetables are tender.

Add the greens and cook for a minute more.

Taste the soup and gauge the seasoning. If you used chicken stock from a package it may not need any seasoning. If you use homemade stock you'll probably need a pinch or two of kosher salt.

Soba noodles

I like to cook the soba noodles in lightly salted water in advance, rinse them in cool water, then toss in a little sesame oil to coat and hold them until I need them.

The can be stored in the refrigerator in a covered container for a day or two. To serve the noodles can be portioned into bowls, reheated quickly, covered in the microwave to take the chill off, and you can ladle the (very hot) soup, vegetables and mushrooms over the top.

Drizzle the soup with sesame oil if using (no need to garnish with it if you toss the noodles in some) along with the chopped cilantro (if using). Garnish with a few edible flowers and serve with chopsticks.
Notes
Some other mushrooms that will be good are:
Nutrition
Serving:
4
g
|
Calories:
221
kcal
|
Carbohydrates:
46
g
|
Protein:
14
g
|
Fat:
1
g
|
Saturated Fat:
0.1
g
|
Polyunsaturated Fat:
0.3
g
|
Monounsaturated Fat:
0.1
g
|
Sodium:
3174
mg
|
Potassium:
664
mg
|
Fiber:
3
g
|
Sugar:
7
g
|
Vitamin A:
10796
IU
|
Vitamin C:
17
mg
|
Calcium:
76
mg
|
Iron:
3
mg