Crispy, cheesy mushroom snacks made from clusters of crown-tipped coral mushrooms (Artomyces pyxidatus) are one of the best things you can make with this mushroom besides soup.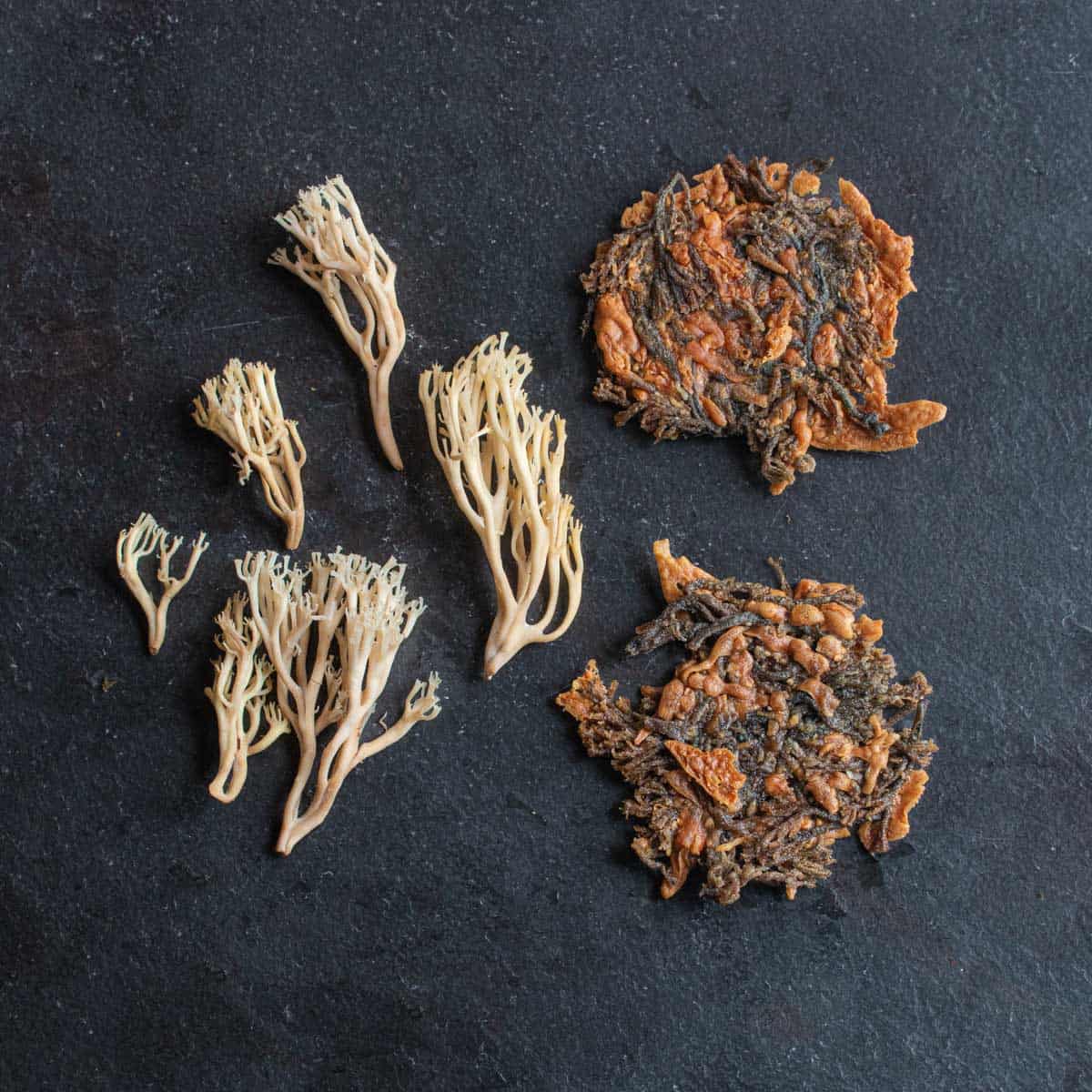 I took a few hours this week specifically to hunt some chicken of the woods, and I got skunked, hard. June can be kind of a dead zone in the Midwest for mushrooms until the chanterelles start, you'll see a few early chickens, but nothing like the amounts that start in the mid to late summer.
If any of you Midwesterners have been outside lately though, you know there's one thing that's out, and they're legion: the ol'crown-tipped coral (Artomyces pyxidatus) seeming to pop up on every downed log from Duluth to Iowa City. So, frustrated at the thought of my hunt being a bust, I picked some.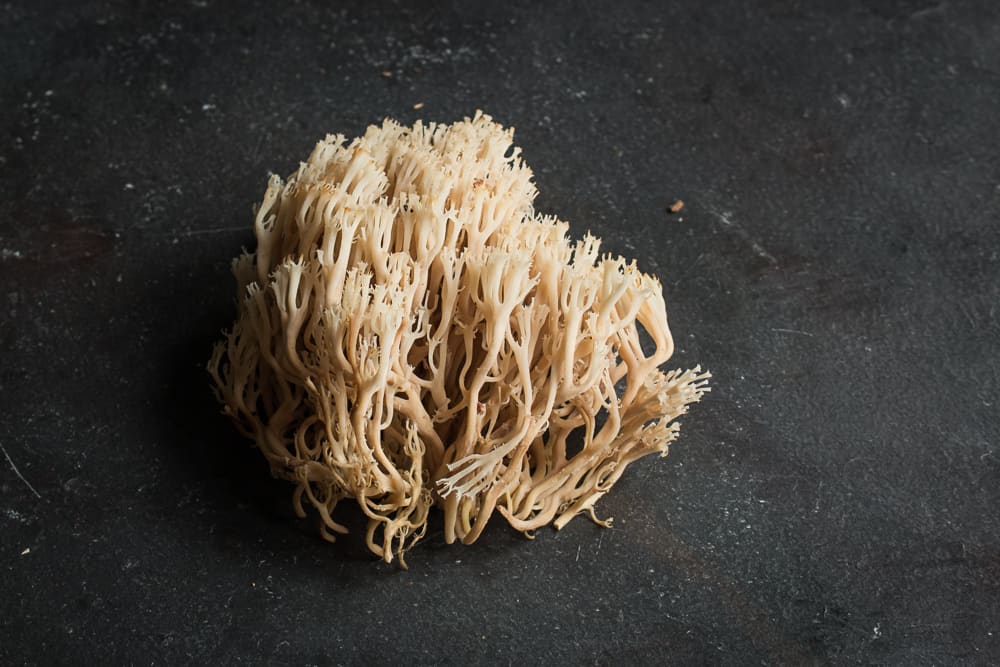 Giving Crown-Tipped Corals Soms Love
It's not that I don't like crown corals, I don't mind them, I just like chicken of the woods more. Chicken of the woods isn't as common, and, humans want what they can't have.
Chicken-less, but rich with a fat bag of corals, I cleaned a few, and wilted them in a pan, just to remind myself of how they cook up. I was reminded how much they wilt down quickly: after a minute or two, the fist-sized clumps I put in a pan were nearly flat.
I dwelled on their flat form for a bit, there was something I'd been missing. Instead of their loss of volume being a downside to cooking them in a pan, what if it could be a good thing, a way to get a different textural effect from a mushroom? Maybe they *wanted* to be flat as a pancake.
I tossed some clusters in flour, then baked them drizzled with lard on a sheet tray, low and slow, until the water had evaporated and the flour had crisped them. Some of the corals that overlapped had stuck together. They emerged from the oven a sort of alien natural form, like an edible fossil.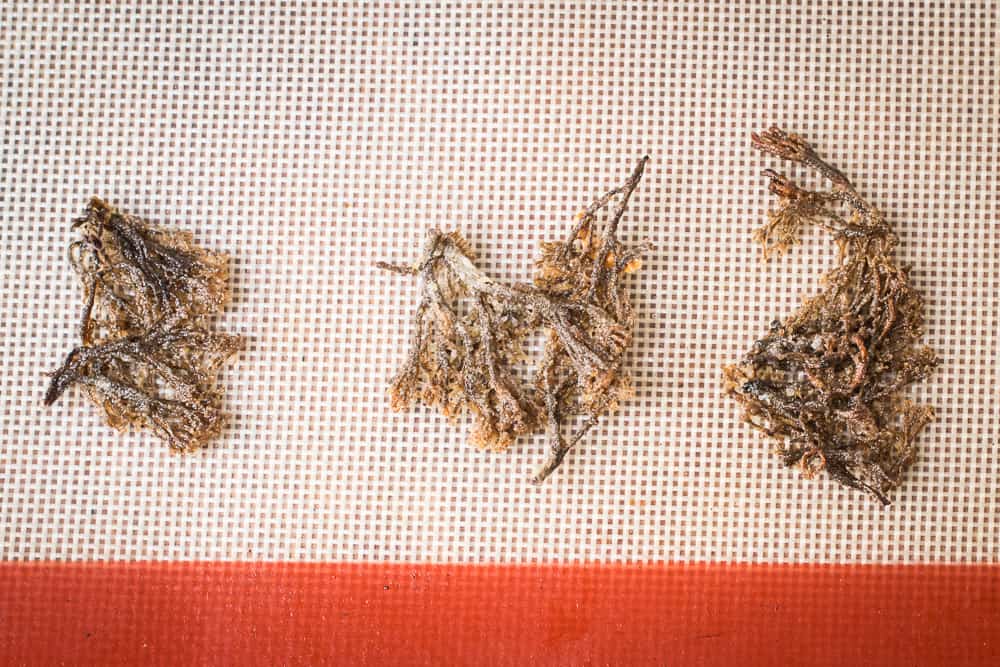 They're a one of a kind garnish. The lacy, wavy texture, and how they stuck together reminded me of another thing too, the way florentine cookies develop a lacy pattern from having a fat-heavy dough that separates in the oven as they cook, or the pattern that comes from baking good parmesan cheese into tuiles for garnishing salads.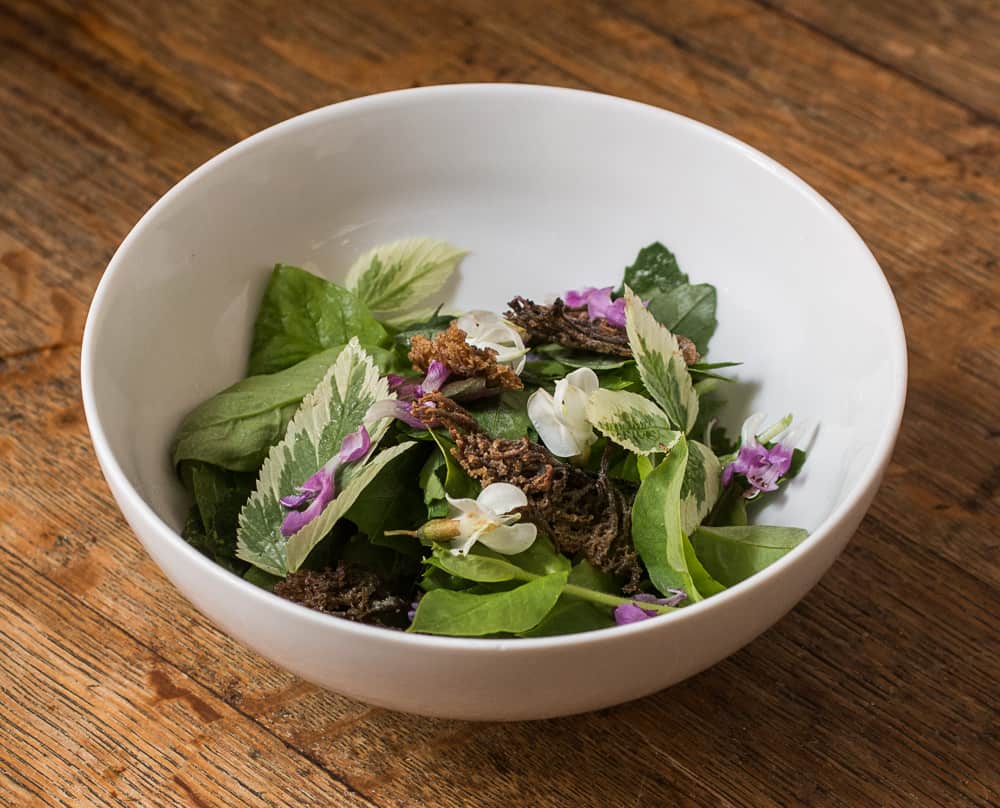 I tossed a little grated parmesan in with another batch, formed them into little mounds and baked away. After they cooled, they were firm as a cracker, firm enough to use as a vehicle for all the dips, spreads, cheese or, even better: broken up in chunks and tossed in a salad as super cool mushroom croutons. Mycophagy is fun.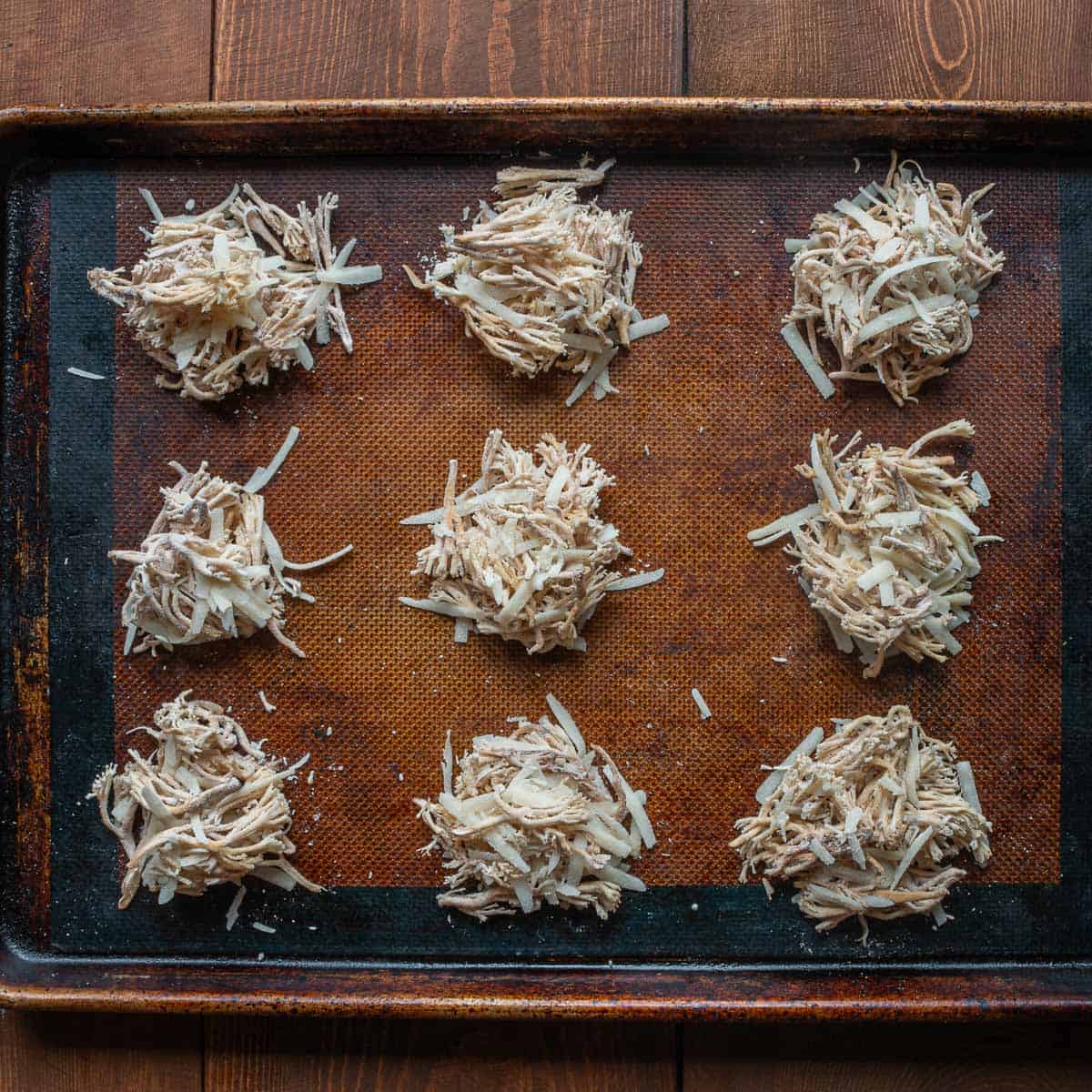 If you have crown tipped corals in your area, here's a couple recipes you can try. The croutons are more of a crunchy mushroom garnish, while the crackers could be used broken up as a garnish, a vehicle for canapes, or, anywhere you'd use a cracker. The best part is they're a snap to make, and will stay crisp at room temperature for a while until you need them. Cooking them, is almost easier than finding them.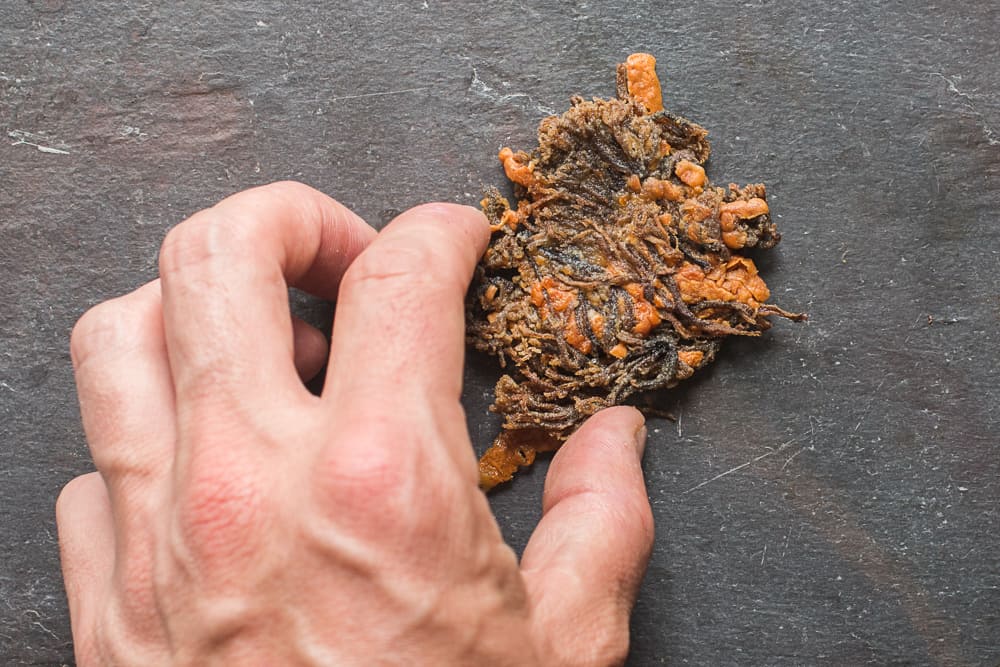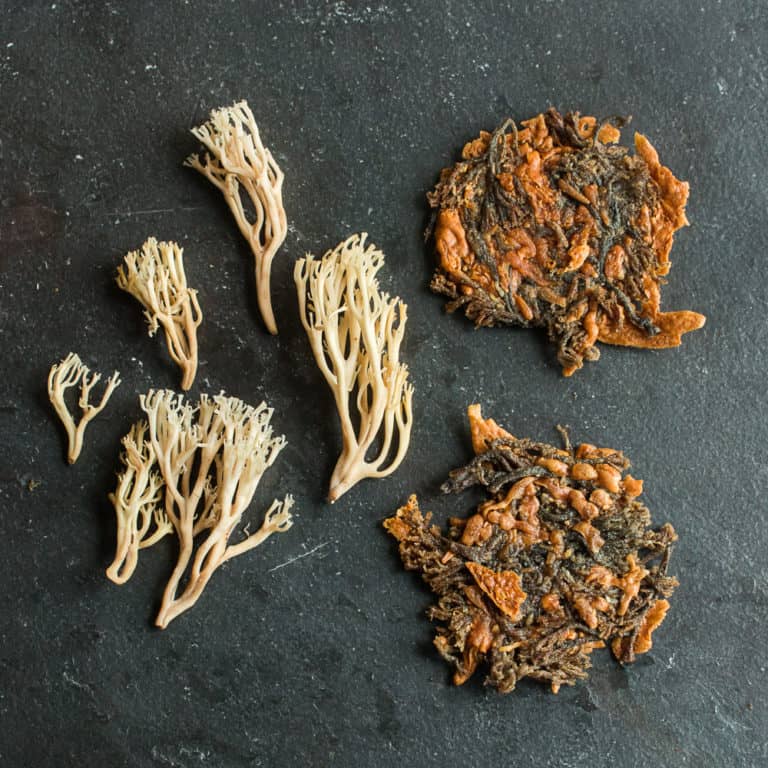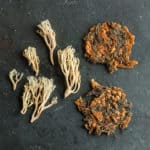 Print Recipe
Crown-Tipped Coral Mushroom Croutons
Crispy baked coral-tipped coral mushroom and parmesan crackers
Equipment
1 baking sheet

1 mixing bowl
Ingredients
4

oz

crown tipped coral clusters

trimmed of bark and picked over for debris and insects

Kosher salt

a pinch

1.5

oz

or about 3 tablespoons grated high quality parmesan

such as a locally made variety, grana padano, or parm reggiano

2

tablespoons

all purpose flour or equivalent

gluten free flour, starch, etc

Flavorless cooking oil

as needed (a spray bottle is perfect)
Instructions
Preheat the oven to 325. Toss the coral mushrooms, parmesan, pinch of salt and flour together in a mixing bowl, then make small mounds roughly the size of a ¼ cup on a baking sheet.

Discard any remaining flour at the bottom of the bowl. Flatten out the mounds lightly, then spray or drizzle lightly with oil and bake for 30-45 minutes, or until the mushrooms have wilted and the cheese and flour are very crisp.

Flip the cakes occasionally about half way through, pressing down on any raised parts to ensure even crispness. The cheese should be golden, and the crackers evenly crisp, but not burnt.

Remove the crackers to a cooling rack or towel to weep any excess oil, then store in a container with a tight-fitting lid at room temperature for up to two days, or refrigerate and toast slightly to re-crisp, and then cool, before eating.
Crown-tipped coral croutons
For croutons without cheese, take clusters of coral mushrooms, toss them with flour, oil them lightly and bake per above until crisp.
Notes
Serving / Reheating 
If the croutons are day-old and not as crisp, they can be gently reheated in a 300 F oven for a few minutes to bring them back to life. 
Making it gluten free 
These are bound with flour, but you can use gluten free flour here. 
Nutrition
Calories:
123
kcal
|
Carbohydrates:
8
g
|
Protein:
10
g
|
Fat:
6
g
|
Saturated Fat:
4
g
|
Polyunsaturated Fat:
0.2
g
|
Monounsaturated Fat:
2
g
|
Cholesterol:
14
mg
|
Sodium:
344
mg
|
Potassium:
208
mg
|
Fiber:
1
g
|
Sugar:
1
g
|
Vitamin A:
166
IU
|
Vitamin C:
1
mg
|
Calcium:
255
mg
|
Iron:
1
mg