A simple dish of purslane cooked with tomatoes, jalapeno and garlic is a traditional purslane recipe passed onto me by a worker from Ecuador.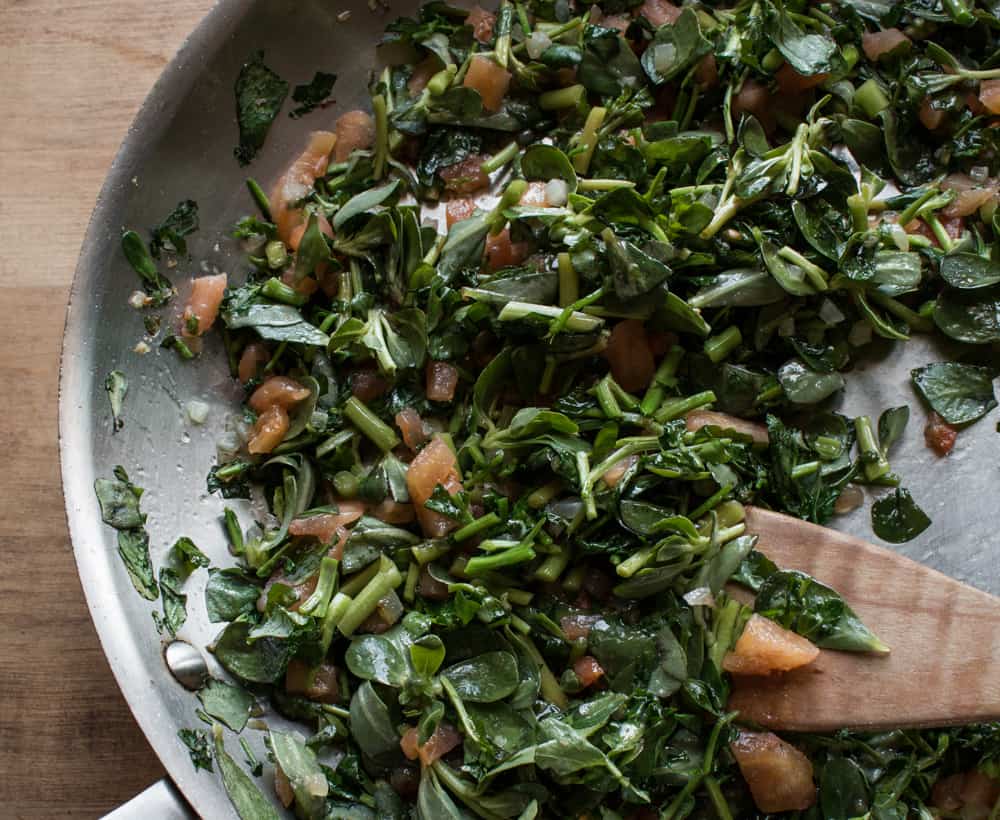 I love verdolagas / purslane, but until a while ago I hadn't really thought about cooking it. I knew it was done in some places, but there were a few reasons I didn't ever entertain cooking it:
I was harvesting purslane for a restaurant where I was the chef, and since I was picking it myself, I wanted to make sure it went as far as possible. Cooking the purslane down meant I would have to pick a lot.
It's use as a beautiful substitute for microgreens (I refuse to use them) can make a dish pop with green color, and again, stretches how far it can go.
If you know purslane, you might be familiar with one of it's other commonly used names: verdolagas, which, as you might expect, is a Spanish word, and it's used in both South American and European Spanish cooking, among others. The recipe here is a South American version passed onto me from one of my favorite dishwashers from Ecuador named Carmelita.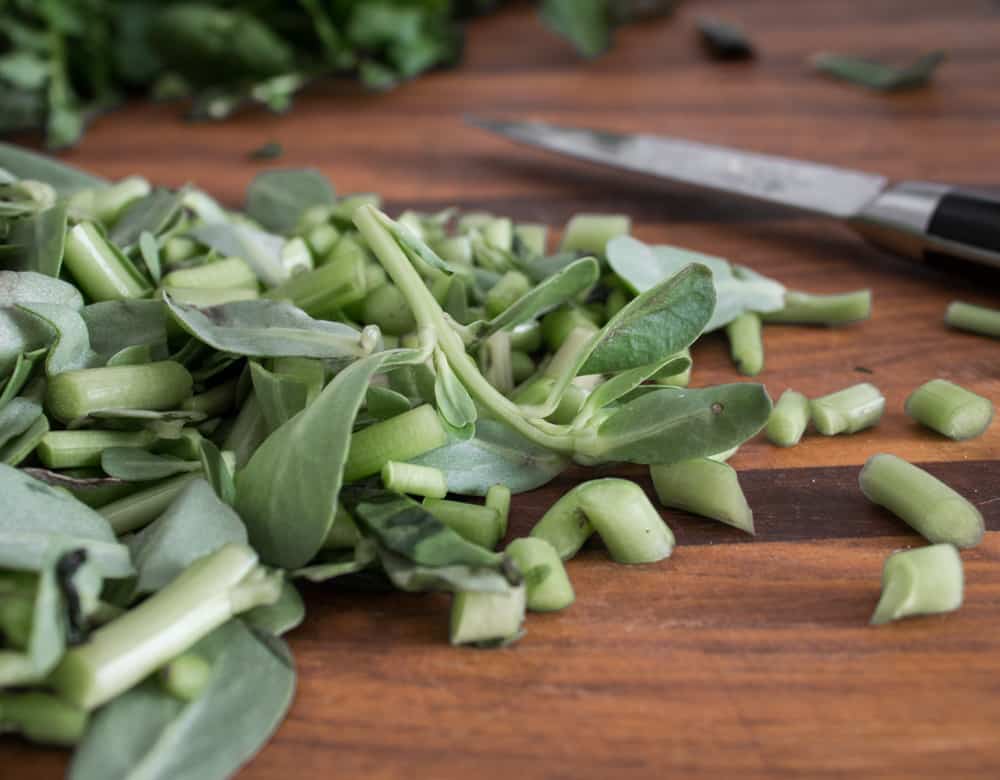 It's a simple recipe. Take some fresh greens, along with a good dollop of lard or duckfat as I use here, sweat them with some onion, tomato and jalapeno until everything is tender and delicious, and that's about it.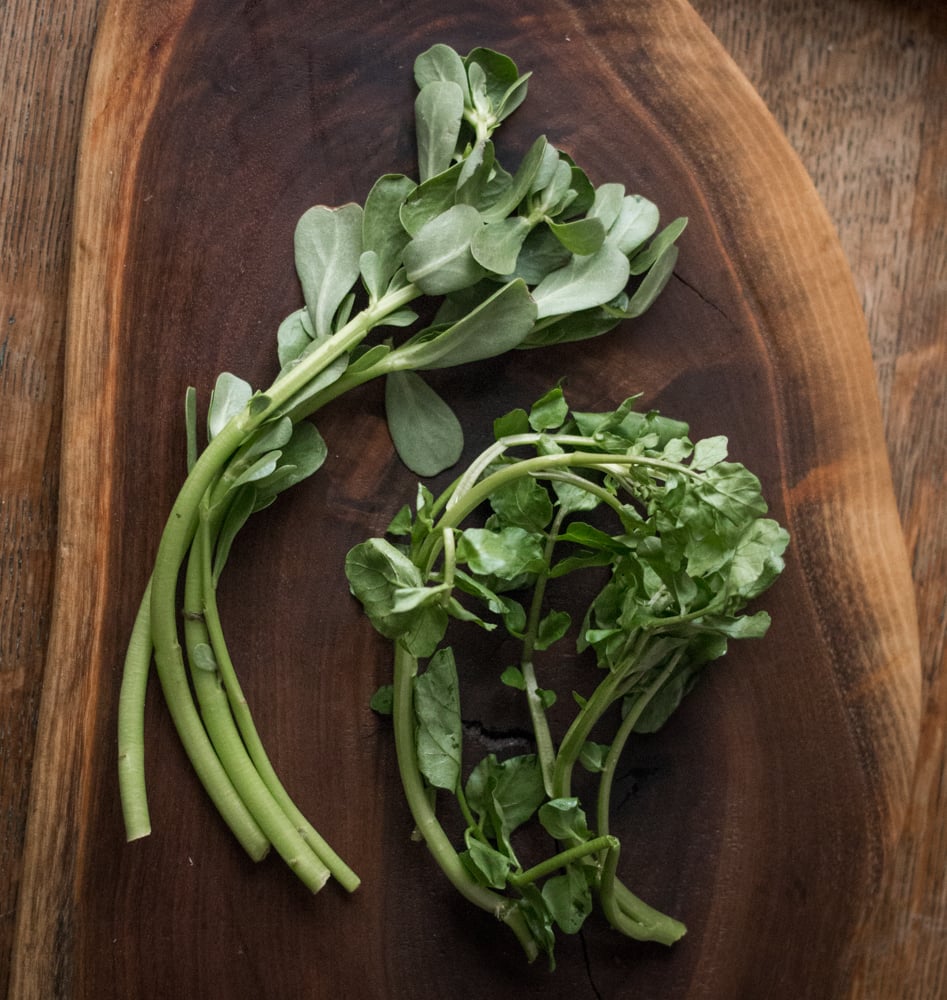 I made it a few times, and liked it, serving it to a few people here and there. One person remarked that the greens had a sharp flavor, and they do, a bit. It wasn't that they didn't enjoy it, but I think I've become a little used to the taste. Feedback is important for dialing a dish in.
To lighten the intensity of the purslane's tartness, I ended up cutting the weight in half with watercress, since it's neutral tasting cooked, but another mild green would be easy to substitute like spinach, lettuce, amaranth or dinosaur kale would work just fine. Or, just cut down the purslane to 25% of your blend.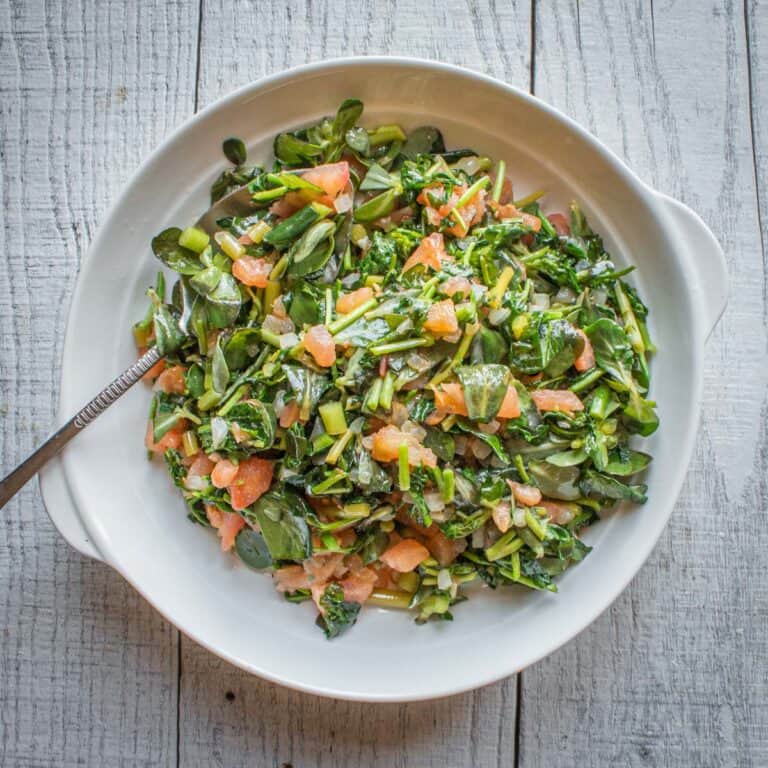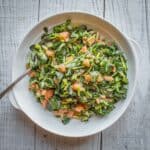 Print Recipe
Braised Purslane with Tomatoes and Duck Fat 
Tangy braised purslane and watercress. I served this alongside a saddle of lamb, but it would be just as good with chicken, pork or fish.
Equipment
1 4 quart blanching pot

1 10 inch saute pan
Ingredients
8

ounces

watercress

8

ounces

purslane

2 

large roma tomatoes

¼

cup

duck fat

poultry fat, or another lard or flavorful oil

Kosher salt and fresh ground black pepper

A few slices of jalapeño or Serrano chili

to taste (optional)

1

teaspoon

1 small clove garlic, minced

¼

yellow onion

diced ¼ inch
Instructions
Bring a pot of salted water to a boil. Remove the cores from the tomatoes, then slash the other end with an X. Blanch the tomatoes in the boiling water for a minute or two, then remove to an ice bath and chill. Remove the skin from the tomatoes, cut the in half and squeeze out the seeds. Chop the tomatoes into ½ inch dice and reserve.

In a large skillet about 10-12 inches, heat the duck fat, garlic, jalapeño and onion until the onions are translucent. Add the watercress, purslane, and tomato and cook, stirring occasionally, until the greens are well wilted. Season the greens with salt and pepper to taste, then serve immediately.
Notes
Instead of mixing the purslane with watercress, you can use many different greens here depending on what you have. 
Nutrition
Calories:
146
kcal
|
Carbohydrates:
6
g
|
Protein:
4
g
|
Fat:
13
g
|
Saturated Fat:
4
g
|
Polyunsaturated Fat:
2
g
|
Monounsaturated Fat:
6
g
|
Cholesterol:
13
mg
|
Sodium:
71
mg
|
Potassium:
659
mg
|
Fiber:
2
g
|
Sugar:
2
g
|
Vitamin A:
7638
IU
|
Vitamin C:
49
mg
|
Calcium:
132
mg
|
Iron:
2
mg