Grilled mushroom caps with a rustic herb sauce is one of my favorite wine cap recipes. The original version cooked the mushroom caps directly on the coals, but you can use a regular grill. Read on and I'll explain.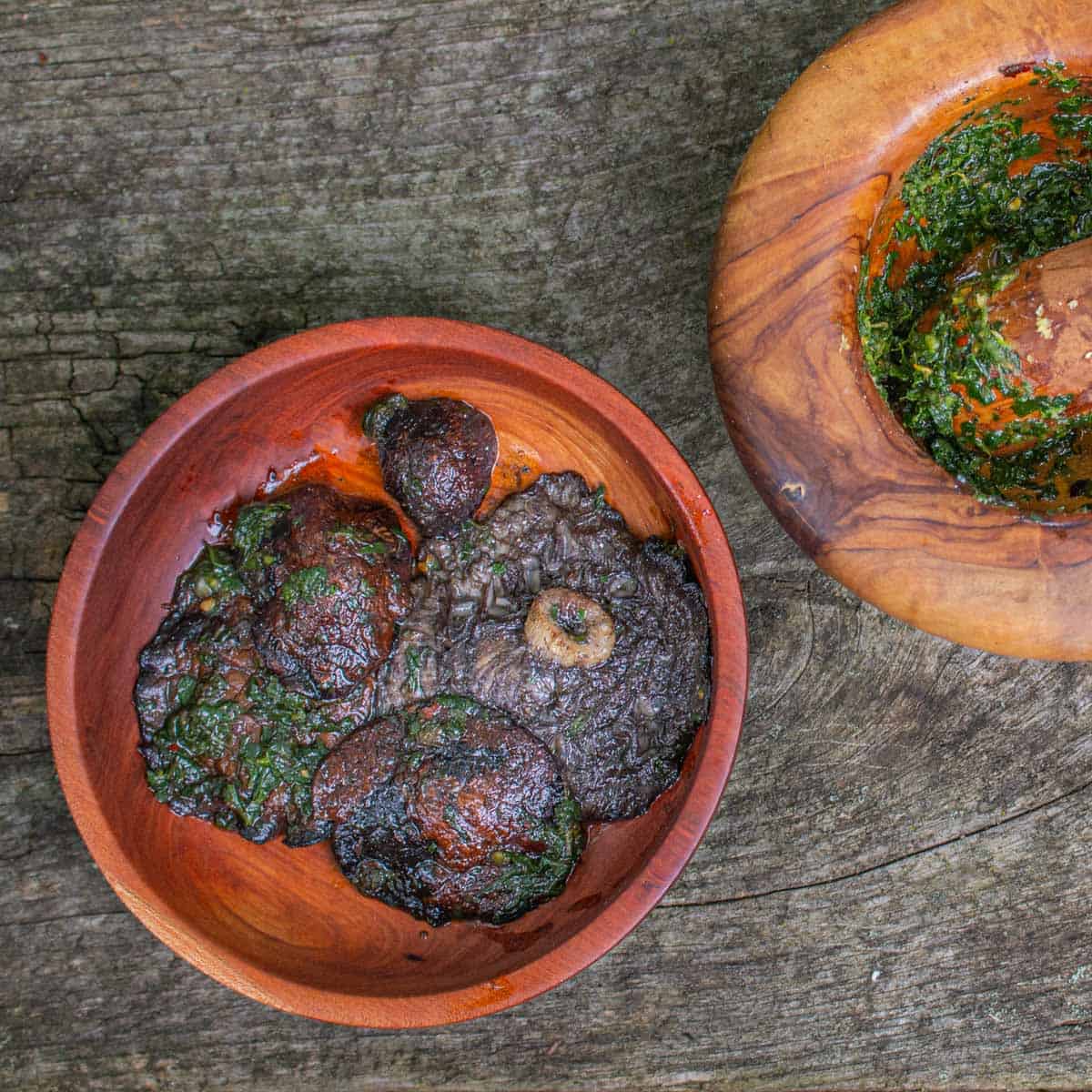 Use fresh mushrooms with big caps
For the best result, your mushrooms should be pristine and fresh. You're cooking whole caps here, so there's no hiding if they have a bunch of intruders or larvae.
The fire needs to be wood, not charcoal, because the wood is part of the seasoning--the few intense moments the caps are licked by the searing coals imparts flavor. It's a flavor of smoke, fire, and something primal, I mean, is there anything more primitive than cooking without a grill grate, and instructions that tell you to "dust the ash" off the mushroom caps before you eat them?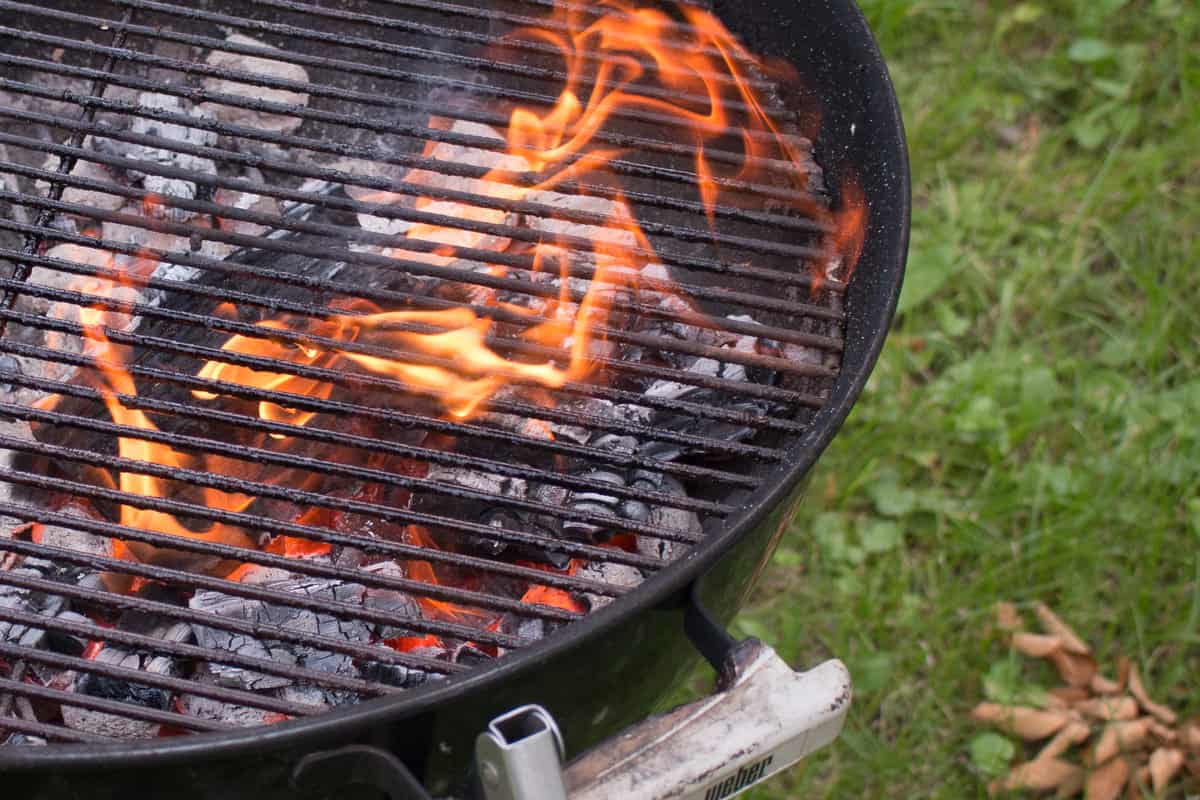 Mushroom Literature
This is a really fun dish, relatively easy to make, and is probably on some crazy-expensive tasting menu somewhere in one variation or another. I read about a similar preparation in a new book I've been reading called Honey From a Weed by Patience Gray, and it's part of what gave me the idea here.
I've read hundreds of cookbooks, but this one is really something. It's a journey of the authors travels accompanying her husband (a stone worker) through Spain, France, and Italy. She delves into regional cooking like no one I've ever read, and, refers to the hard to find ingredients, the plants, mushrooms, and vegetables with colloquial/common names, and Latin binomials.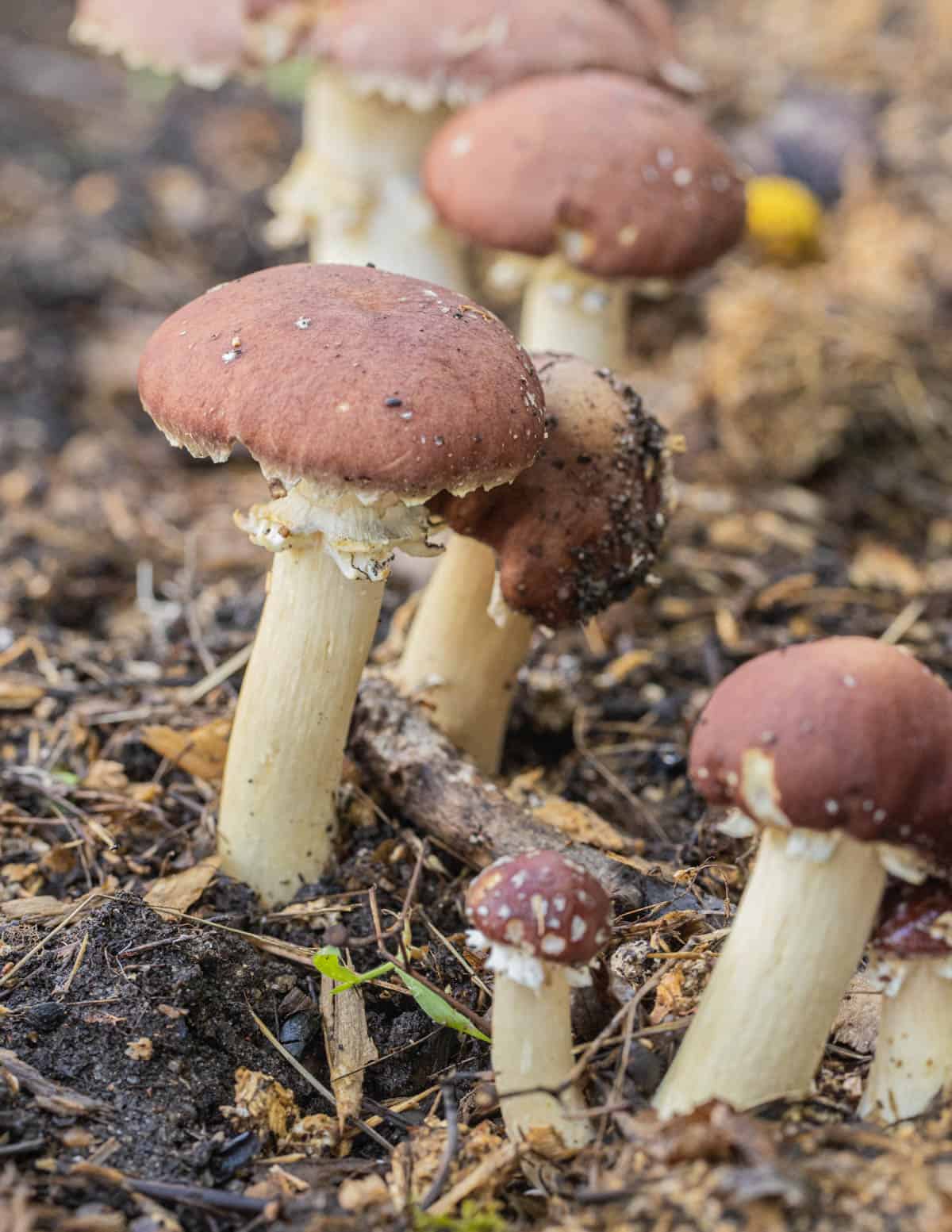 When I snagged a few wine caps (Stropharia rugosoannulata), or rather saved them from my new friend's woodchip pile this week as he was out of town, I thought I'd try out one of the methods in the mushroom section.
How to Make it
Here's the jist: you take some mushroom caps, and only caps (they need to be flat), then cook/grill them directly on wood embers. After they're done you brush them, toss in a rustic garlic-herb sauce pounded in a mortar and pestle with good olive oil, and eat.
It's a great way to celebrate scoring some wild mushrooms with big, fat caps, which are not as easy to find as non-fungus hunters might think, and that brings us to an important point about cooking shrooms like this.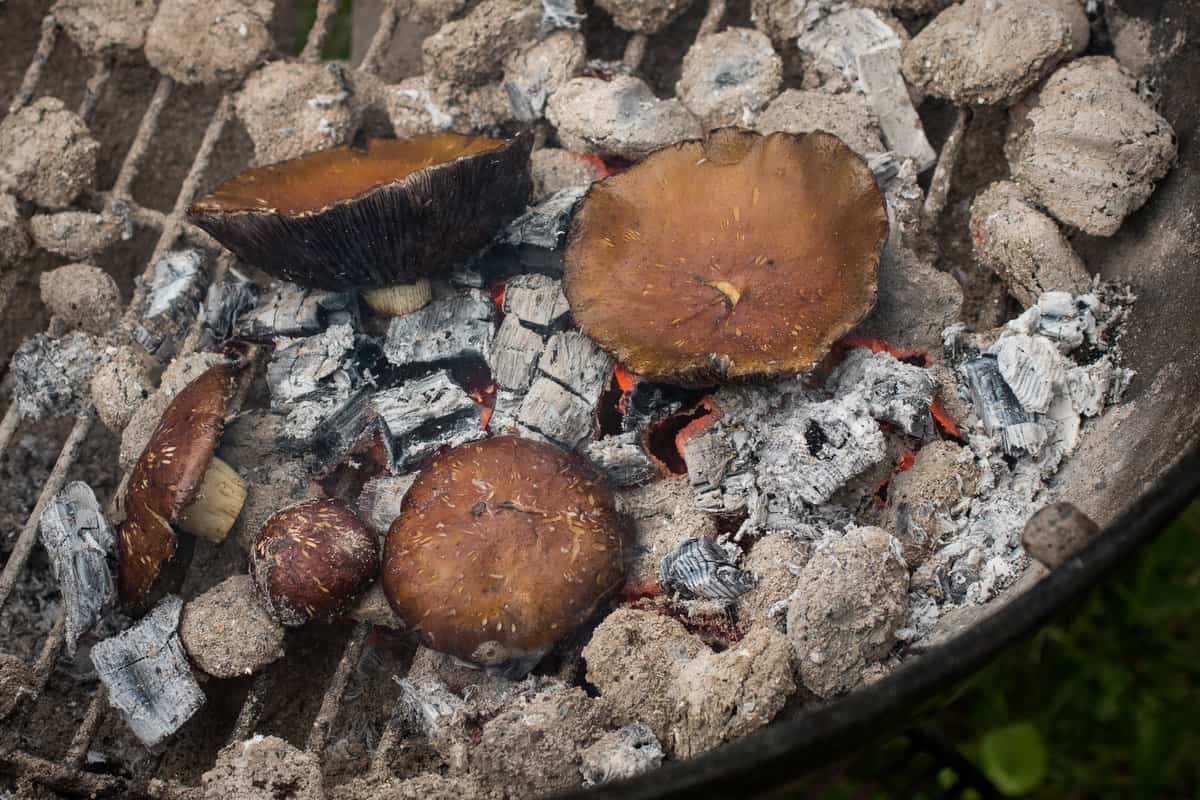 Be careful undercooking, or quickly cooking wild mushrooms
Foraging mushrooms with big caps will probably mean you're venturing into mid-level skill mushrooms, which, to me, basically means a larger array of gilled mushrooms.
Of course boletes (mushrooms with pores instead of gills) can have big caps too, but if you pick boletes, you know finding them bug-free can be tough, and, at least near me, the ones with high-bug resistance often need long cooking or dehydrating, and wouldn't make good candidates for quick cooking, like Leccinum species.
There's some slightly easier candidates where I live like Megacollybia rodmani or Pluteus cervinus and pestatus, and they would be great, as both are relatively easy to ID, and are pretty easy on the stomach.
It goes without saying too, that big slabs of polypore like chicken of the woods would be good like this, watched carefully so they cook and don't char, or wrapped in leaves. I'm probably going to try it with the next chicken of the woods I find, or a giant hedgehog if I get the chance to hunt with a particular friend of mine this year.
Anyway, that was a drawn out way of saying that not all wild mushrooms are good for quick cooking like this, which is why I thought of this method when I was picking the Stropharia/wine caps.
Wine caps are a widely cultivated mushroom, and cultivated mushrooms, as a general rule, have a much lower incidence of causing any sort of gastric upset than do their wild cousins (morels for example) that mess with people's tummies every year, for one reason or another.
So, if your on the fence about an ID, or are eating something for the first time, this is not the recipe for you. If you have some big mushroom caps, cultivated, wild or otherwise that you want to do something new with, and you've eaten them before, it definitely is.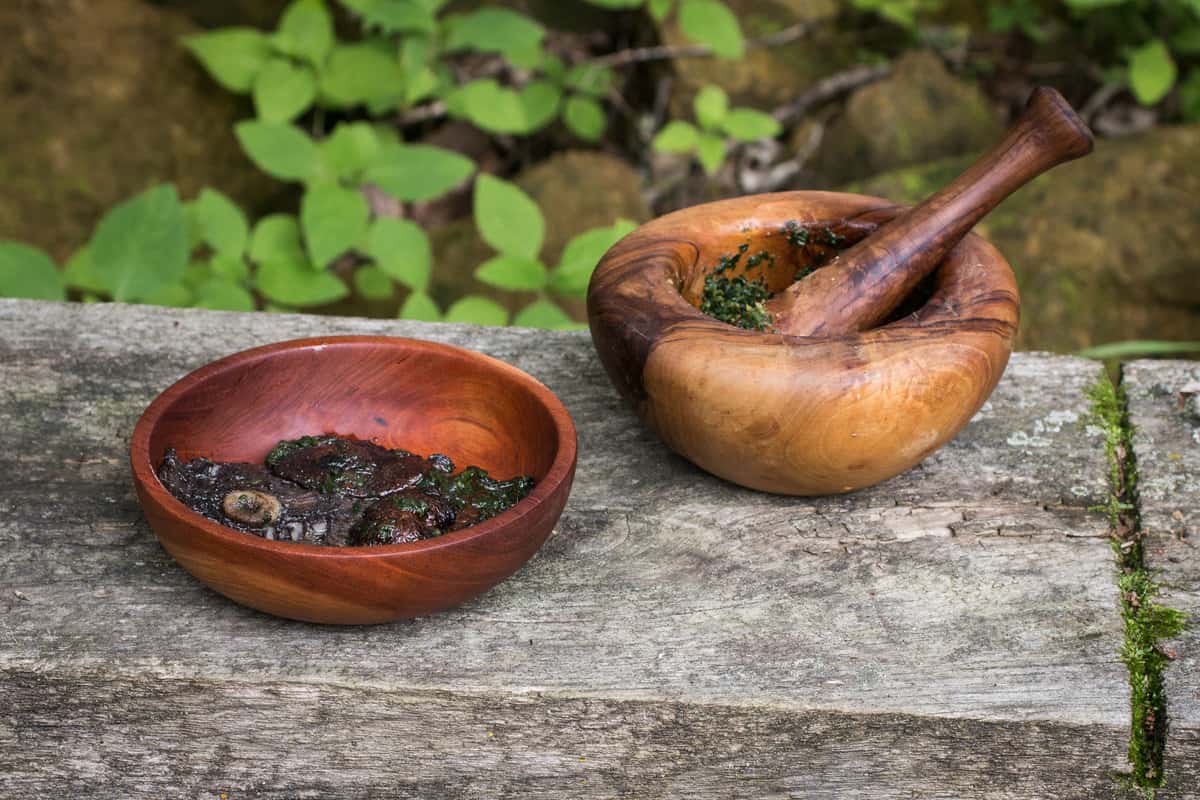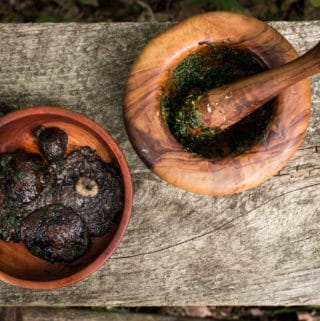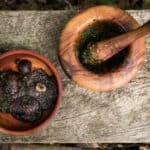 Print Recipe
Grilled Wine Cap Mushrooms with Herb Sauce
A very old recipe for cooking fresh mushrooms served with a rustic herb sauce.
Ingredients
6-8

ounces

fresh mushroom caps

2

loosely packed cups or 20 grams leafy herbs

such as parsley, basil, cilantro or mint

1

small clove of garlic

about 3-4 grams

2-3

Tablespoons

really good oil

like extra virgin olive oil, a tasty nut oil, etc,

¼-1/2

teaspoon

kosher salt

to taste

10

or so cracks of the peppermill

Fresh lemon wedges

to serve

Firewood

preferably a slow burning hardwood
Instructions
Start a fire. While the fire is going, chop the herbs and garlic roughly, then make the sauce by pounding the garlic and herbs with the salt and pepper in a mortar and pestle or a food processor, when you get a thick paste, thin it with the oil to make a rough sauce.

When the embers have formed, push them into a pile and make a little cooking mound. Using long tongs to preserve your fingerprints, cook the mushroom caps quickly, but thoroughly directly on the coals, moving them around to ensure they cook as even as you can.

When the mushrooms are cooked (a minute or two) remove them from the fire, brush lightly if they're not too wilted, and toss in a bowl with the sauce to taste.

The good part here is that ashes generally aren't gritty. I ate all of mine, and some had more ash than others: they were all fine, not a crunchy one in them. Transfer the mushrooms and their sauce to a platter and serve with lemon wedges and some additional kosher or finishing salt.
Notes
The Sauce 
The rustic sauce here is a nod to traditional cooking, but you can use whatever garnish you want here. Your favorite vinaigrette would be fine. Or try one of my herby sauces below. 
Ramp Leaf Salsa Verde 
Italian Salmoriglio Sauce 
Other mushrooms to use
Many mushrooms can be used here. Stropharia caps, milk cap mushrooms, and even shiitakes and cultivated portobellos can be used here. 
Nutrition
Serving:
2
oz
|
Calories:
145
kcal
|
Carbohydrates:
4
g
|
Protein:
2
g
|
Fat:
14
g
|
Saturated Fat:
2
g
|
Polyunsaturated Fat:
2
g
|
Monounsaturated Fat:
10
g
|
Sodium:
652
mg
|
Potassium:
110
mg
|
Fiber:
2
g
|
Sugar:
2
g
|
Calcium:
10
mg
|
Iron:
1
mg