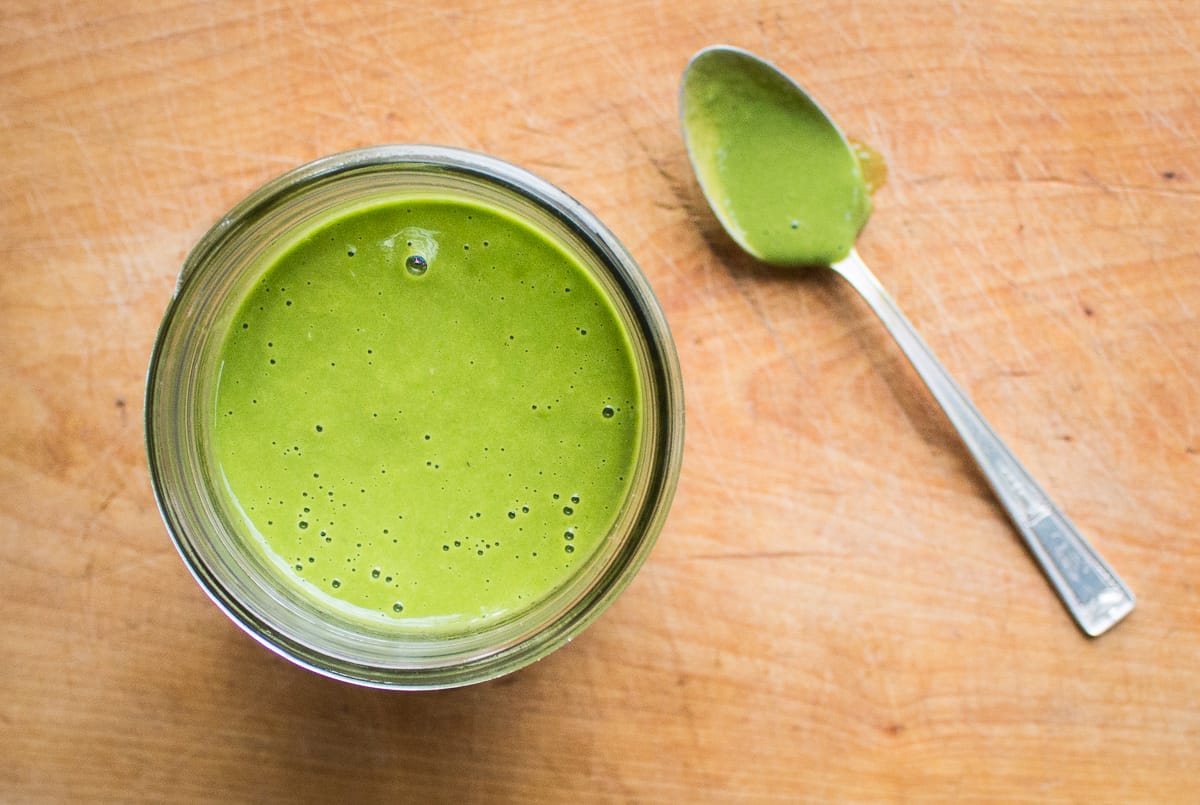 If you like ramps and wild onions, ramp leaf salsa verde is a new sauce for you to put on just about everything. I typically keep some sort of herby-mildy spicy sauce around the house for drizzling on things in a pinch, typically made from cilantro, oregano, or lovage, and, while they all follow the same method, each one tastes a little different, especially when I start using blends of garden herbs. If you have some cilantro from the store or garden, feel free to add a handful to this.
This is a condiment by the ramp lover, for the ramp lover. But, if I know one thing, it's that some people have a bigger tolerance for the heat of raw garlic and all the other "stinking roses" out there, so I'm going to outline a couple different ways to make the salsa verde taking that into account. (See garlicky AF version in the recipe below if you enjoy sleeping alone). The basic process for is simple though: blanch a few herbs, add some capers, anchovy, a good pinch of chili flakes, lemon juice or red wine vinegar, and puree until it's velvety smooth.
Wait. Anchovies you say? "Bbbbut salsa doesn't include anchovies!" There's two different salsa verdes. Latin American salsa verde is a sauce made from tomatillos, Italian-style salsa verde is herb based, and lighter. Both are delicious. If you're squeemish about anchovies, I urge you to give it a shot as it's really part of the magic here. If you like anchovies, make sure to bookmark my anchovy pan sauce recipe you can serve with steak or roasted mushrooms, too, see that recipe here.
There's a secret though, a real secret to salsa verdes that no one talks about. Go to a restaurant and see the word salsa verde on the menu and there's no telling what you'll get. On one hand, you could get a luscious, velvety sauce, the other possibility is that you get a thick, mulchy paste of herbal grass clippings. The secret is water. Adding water to something might make you think you're diluting it, but not so. Cultures around the world have thinned herb sauces with water for a very long time, especially in places near the sea, where, you guessed it, sea water is used (If you want to know more about those, look up Sicilian salmoriglio sauce, and chimmichurri). The water thins things out a bit, refreshing the texture and ensuring that you can spoon the sauce onto all the things. That being said, if you live somewhere with sea water, you could definitely boil some, cool it, and give it a shot–just omit the salt.
Put it on a steak, soup, eggs, chicken, fish, potatoes, or put it on a shoe–it's good just about anywhere. Don't be scared if it tastes a bit hot from the ramp leaves at first, or if it's a bit much for your tastes. The sauce mellows after a bit in the fridge becoming more mild after a few days.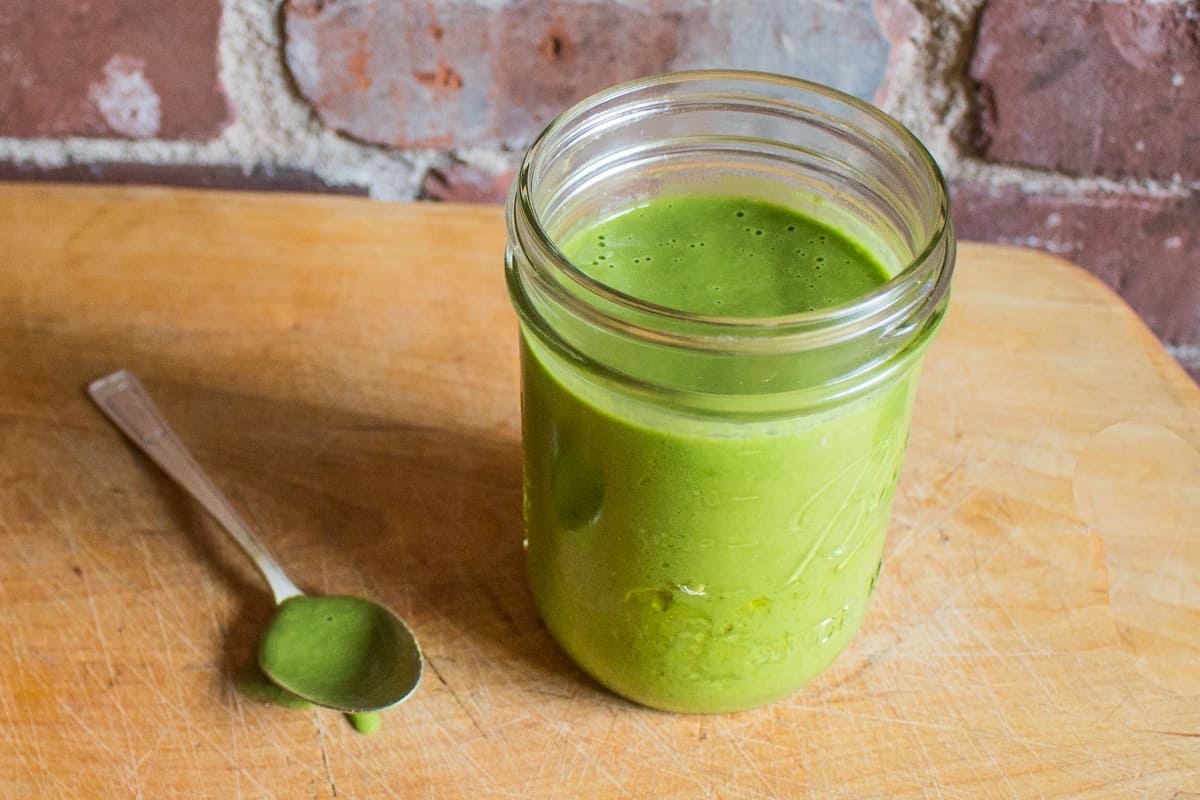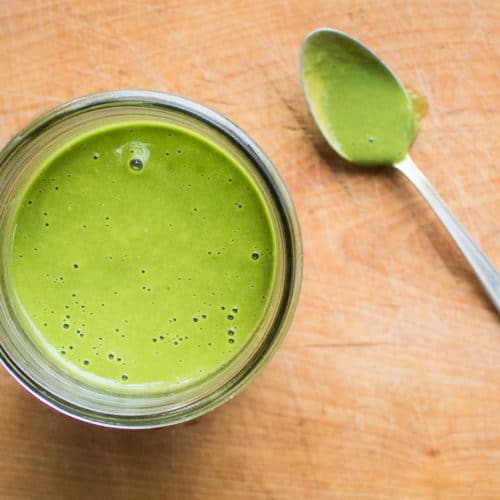 Print Recipe
Ramp Leaf Salsa Verde
A tangy, garlicky, slightly spicy condiment for just about everything made from ramp leaves or wild onion tops. The sauce will be very strong at first, but mellows as it sits in the fridge. As it chills, the sauce will firm up, stir or shake and bring it to room temperature to refresh it. Put it on anything and everything. Makes 1 pint jar.
Ingredients
2.5

oz

2 loosely packed cups ramp leaves

½

teaspoon

kosher salt

2

teaspoons

anchovy paste

or finely chopped anchovies

2

oz

lemon juice + zest of one lemon (red wine vinegar is a good substitute

1

tablespoon

nonpareille capers

1/8-1/4

teaspoon

crushed red pepper flakes

depending on your heat tolerance

¾

cup

6 oz blended olive oil

¼

cup

water
Instructions
Bring a small pot (a quart or so) of salted water to a boil.

Separate the ramp leaves into 2 piles. Blanch one pile of ramp leaves in the water for 10 seconds, then remove and refresh in cold water, then squeeze dry and chop. Coarsely chop the fresh ramp leaves. Combine both cooked and ramp leaves and remaining ingredients except the oil and water in the bowl of a blender, then puree, drizzling in the oil, until very smooth.

At the end, add the water. Transfer to a pint jar and store in the fridge. The sauce will lose it's bright green color after a few days but will be good for weeks.
Notes
Variations
Garlicky AF Ramp Salsa Verde
Puree the ramp leaves raw in the sauce, and prepare to sleep alone.
50/50 Ramp Leaf-Herb Sauce
Instead of all ramps, use half of another herb, added raw to the blender--cilantro is my favorite