One of the greatest parts of ramps are their leaves, they're big, beautifully elliptical and a deep shade of forest green that screams "Spring is here!" One of the most popular ramp recipes is a pesto made from leaves. Read on and I'll explain the details, of which there are a few. This is the same ramp pesto recipe I used to serve in my restaurants.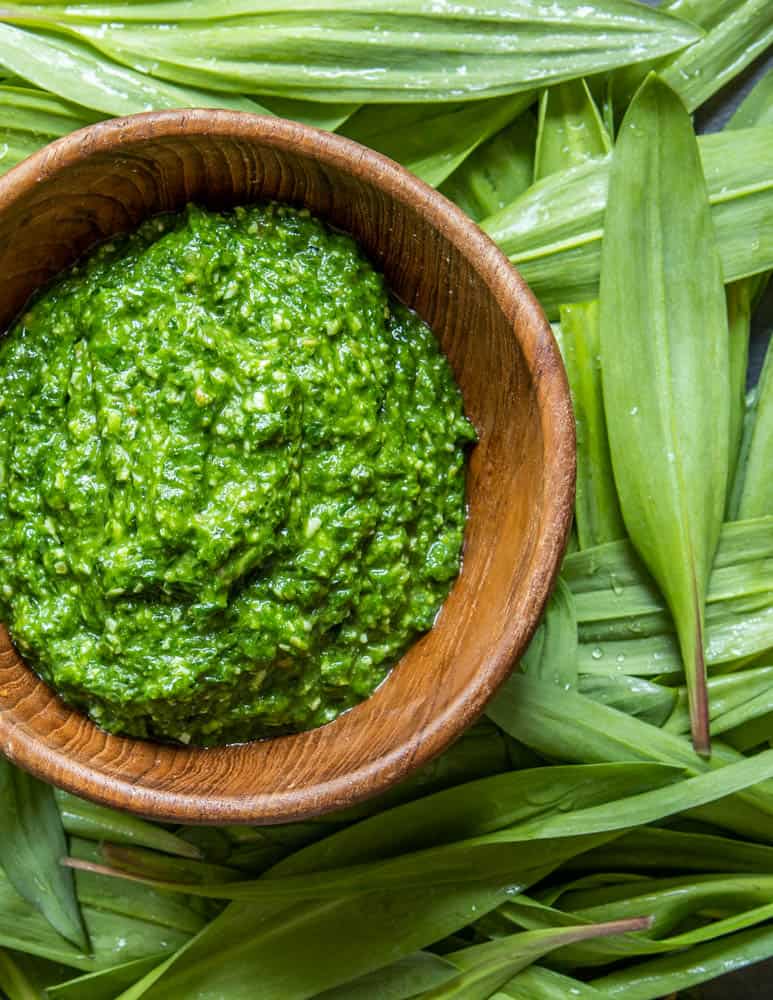 But, with how popular ramps are, everyone needs to pitch in and do their share to make sure that ramps stay here for the future, since they grow slowly, and if all the ramps get picked from a patch, there won't be any left for anyone else to forage. Making ramp pesto is a delicious way to do that.
You don't need to dig up ramp bulbs to make pesto, and that's the best part about making it--there's no digging involved. From a sustainability point too, digging up ramp bulbs means that the plant is gone, and won't be coming back. Leave the bulbs in the ground and you can come back for more leaves year after year without worrying.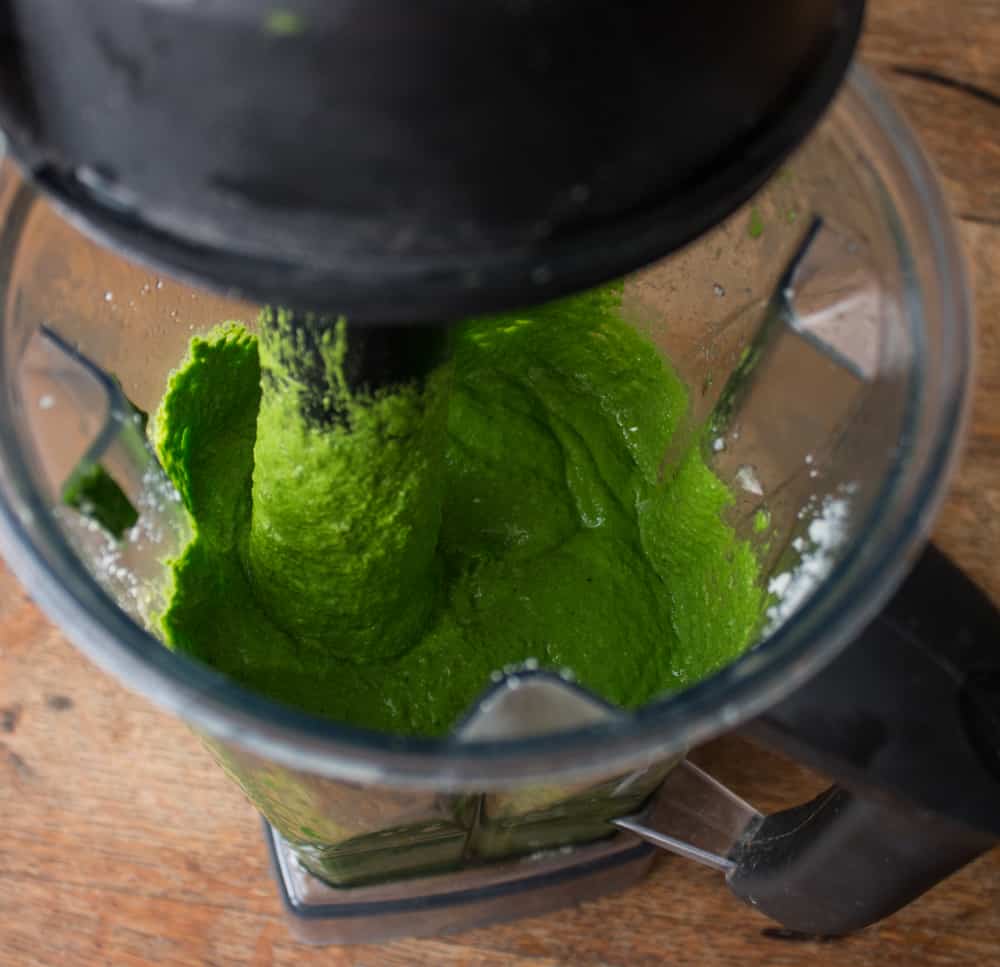 There's plenty of recipes for ramp pesto you can find online, and the quality can vary. Some I've seen are just adaptations or recipes passed along "telephone game style" from another website. Some also contain vague proportions, which through simple misunderstandings, could ruin your expensive batch of ramps.
This is my recipe, and it's the same one I make for restaurants, it's fool proof, but comes with a couple points I'm picky about too. Here's some key technique points you won't see on amateur websites.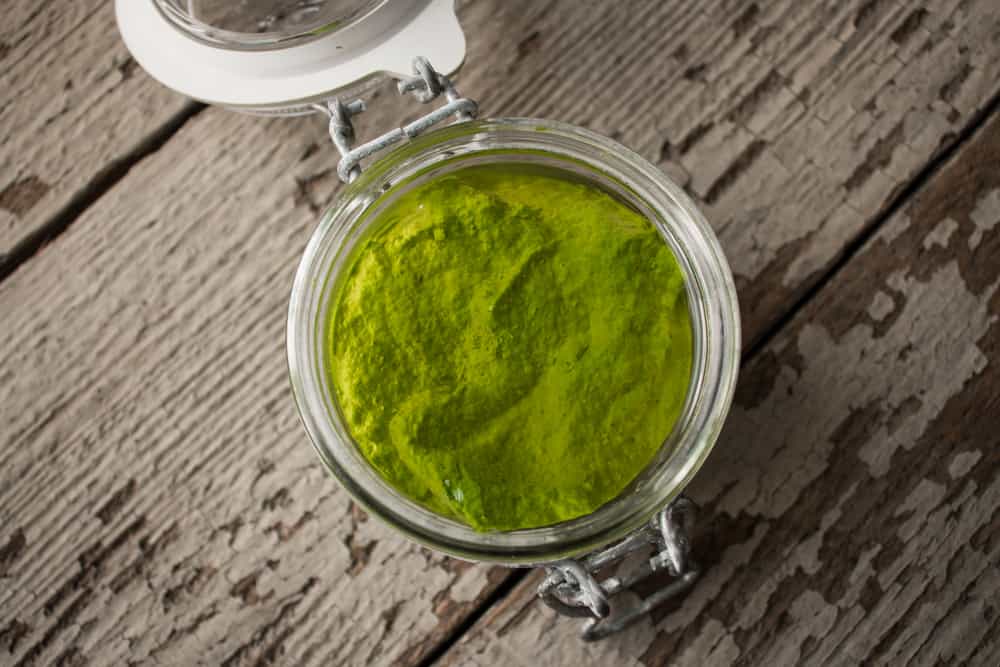 Tips
Avoid too much texture, and stringy pieces by finely chopping the leaves before blending
Don't over-puree. Mix the pesto too long and it will ruin it and turn it brown
Don't put too much stuff in it. It should be far and away mostly ramp leaves by volume
After your pesto's done, you need to take care of it. Aside from the aforementioned guidelines, if a line cook wants to piss me off, a great way to do that is to leave the container of pesto unwrapped and exposed to air, which turns the top brown, dries it out, and can cause it to spoil.
At home you can press plastic wrap directly on the surface of the pesto, or, if it's easier, cover the top with a thin layer of oil, as shown in my pictures.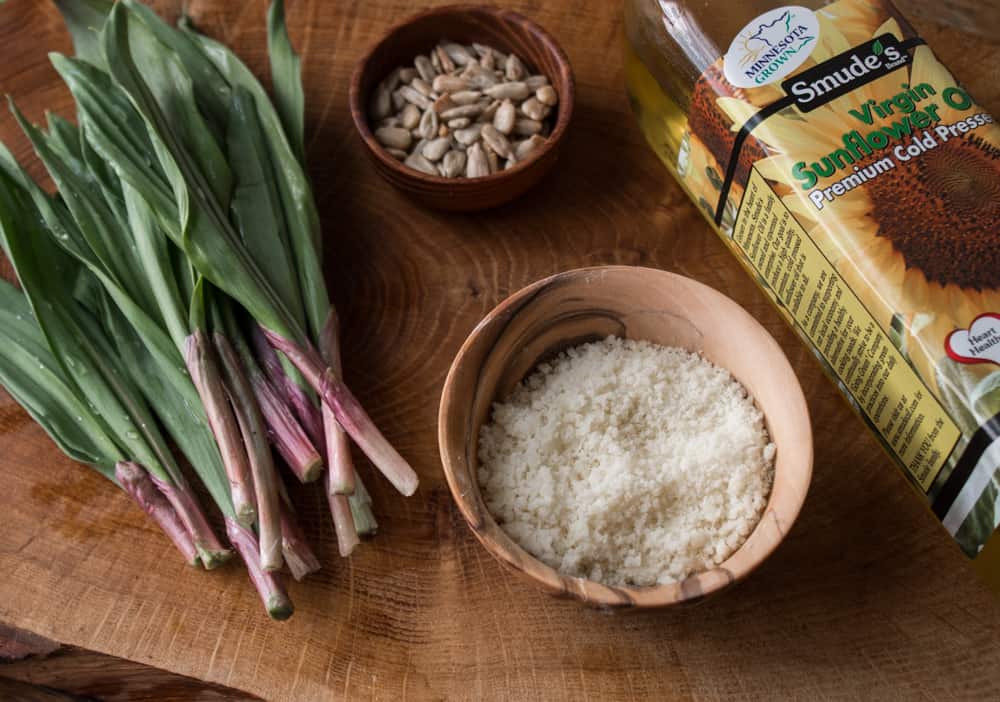 Typically pesto is made with pine nuts, and differs from it's French cousin pistou in that it includes cheese (I've nearly come to blows over this, for the record, pistou doesn't contain cheese). As far as the pine nuts go, they're expensive.
But I have a fun way around them. Back when I was sous chef at St. Paul's famous Heartland restaurant, with it's daily changing, hyper-local menus, every year we made a Midwestern ramp pesto and I grew to love it.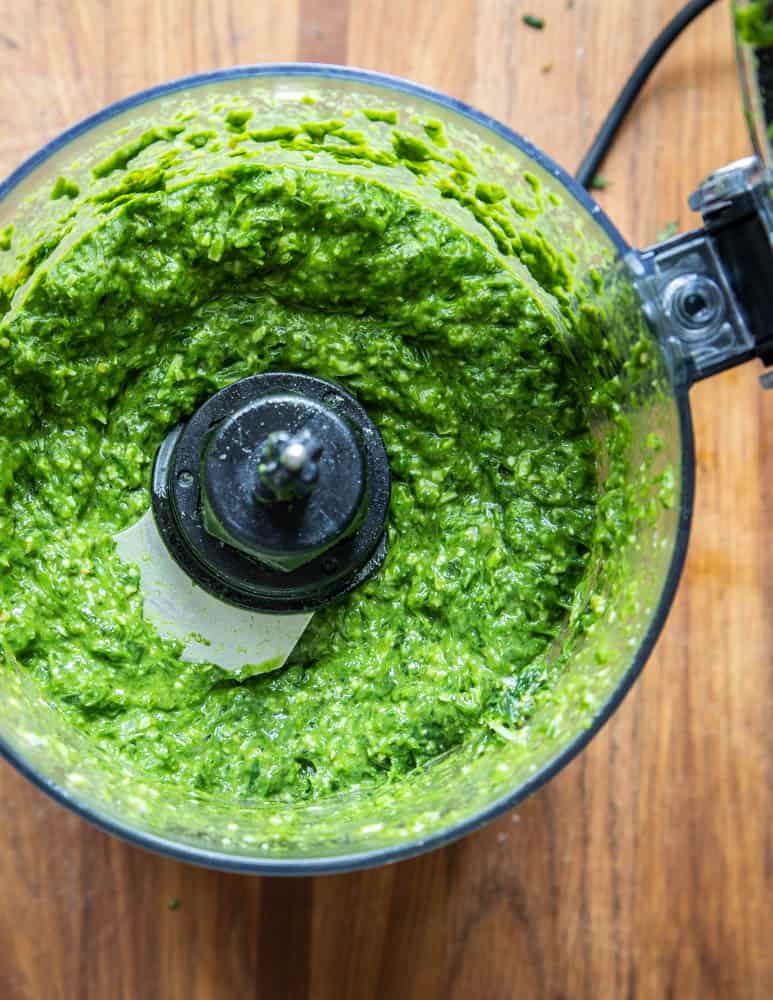 Sunflower seeds are just about the closest thing in structural composition to pine nuts I know of, and they're also a fraction of the cost. Smude's virgin sunflower oil from Pierz Minnesota is an amazing product, I call it the olive oil of the Midwest. Using these adds a Minnesota touch I like, but you can substitute whatever you want, they're your ramps, after all.
Similar Recipes
If you like pesto as much as I do, you should make sure to try Stinging Nettle Pesto with pumpkinseeds too, and Wild Ramp Butter.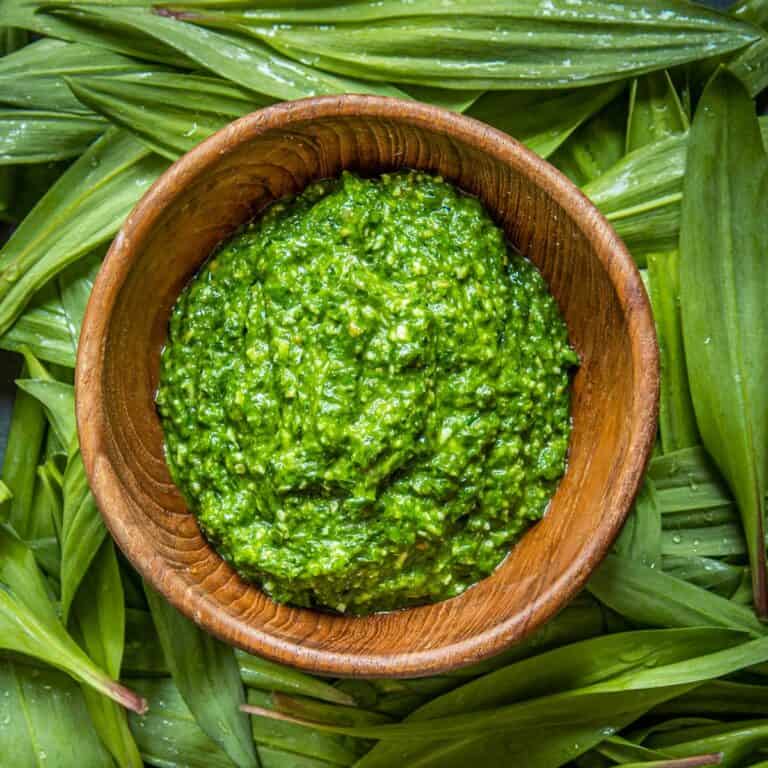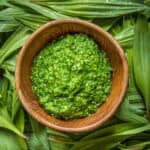 Print Recipe
Ramp Leaf Pesto 
Makes about 4 cups-scale as needed
Ingredients
8

oz

fresh ramp leaves

washed and cleaned

1

heaping  tablespoon sunflower seeds

or pine nuts

½

cup

Smude's sunflower oil or another good tasting oil

or extra virgin olive oil

3

tablespoons

parmigiano reggiano

or another high quality parmesan you like

A dash of lemon juice

optional
Instructions
Heat the oven to 350 or so, toast the sunflower seeds until they are aromatic and lightly golden, a few minutes. Cool and reserve.

Bring a pot of water to a boil large enough to fit your fresh ramp greens. Cook half the ramp leaves just until they wilt in the water and turn bright green, a few seconds, then immediately transfer them to very cold water to chill.

Remove the ramp leaves from the water and squeeze the water out with your hands or by placing them in a towel. Chop the blanched and raw ramp leaves together.

In the bowl of a food processor, combine the chopped ramp leaves, toasted sunflower seeds, cheese, and oil. Begin the pureeing process by pulsing to break things up, then keep going until you get a smooth-ish paste.

After pureeing, if the pesto isn't creamy, fluffy and light, drizzle in some more oil and continue to puree until velvety smooth, this recipe is made for restaurant and highspeed blenders, if you don't have one, you may need to add small amounts of oil/liquid to get it smooth. Double check the seasoning and adjust as needed, then refrigerate or freeze.
Notes
If you want the pesto coarse, don't puree it completely--it's up to you. I often make it smooth since I'll be adding other garnishes to dishes when the pesto is used.
A great way to preserve this is to fill ice cube trays with ramp pesto, freeze them, then pop out the cubes and freeze those for easy portioning, I like to use re-useable vacuum bags. Vacuum sealing the cubes will give the longest shelf life.
The lemon is optional, but the citric acid helps preserve the color.
Nutrition
Serving:
2
oz
|
Calories:
273
kcal
|
Carbohydrates:
4
g
|
Protein:
2
g
|
Fat:
28
g
|
Saturated Fat:
4
g
|
Polyunsaturated Fat:
3
g
|
Monounsaturated Fat:
20
g
|
Cholesterol:
3
mg
|
Sodium:
70
mg
|
Potassium:
162
mg
|
Fiber:
1
g
|
Sugar:
1
g
|
Vitamin A:
595
IU
|
Vitamin C:
11
mg
|
Calcium:
86
mg
|
Iron:
1
mg
More
Ramps: Harvesting, Sustainability, Cooking and Recipes