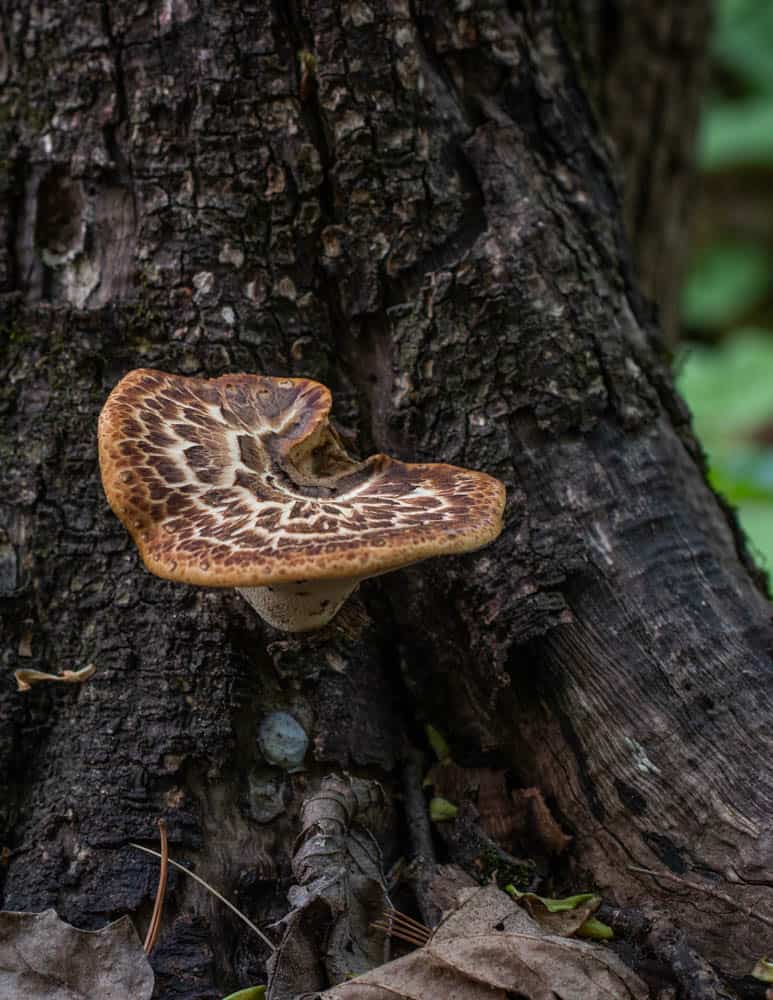 "Is this a dryad saddle?" and "Can I eat it?" Are such common questions in online mushrooms groups they're like a meme, I don't know of any other mushroom that people ask about more frequently in the spring.
The Dryad's saddle or Cerioporus squamosus, formerly known as Polyporus squamosus, are a mushroom with a beautiful pattern on the top of their cap that looks something like pheasant feathers, a visual example of their other common name: "Pheasant Back".
You could think of them as a cousin to the chicken of the woods and hen of the woods mushrooms.
Tender, delicious mushrooms are out there, it's true!
Before I share my tips with you: know this: if you've tried these mushrooms and thought they were inedible and too tough to enjoy, follow my advice here for separating the young and tender from the old and tough, and give them another shot.
I guarantee you, these mushrooms can be delicious, and tender, if you know what to look for.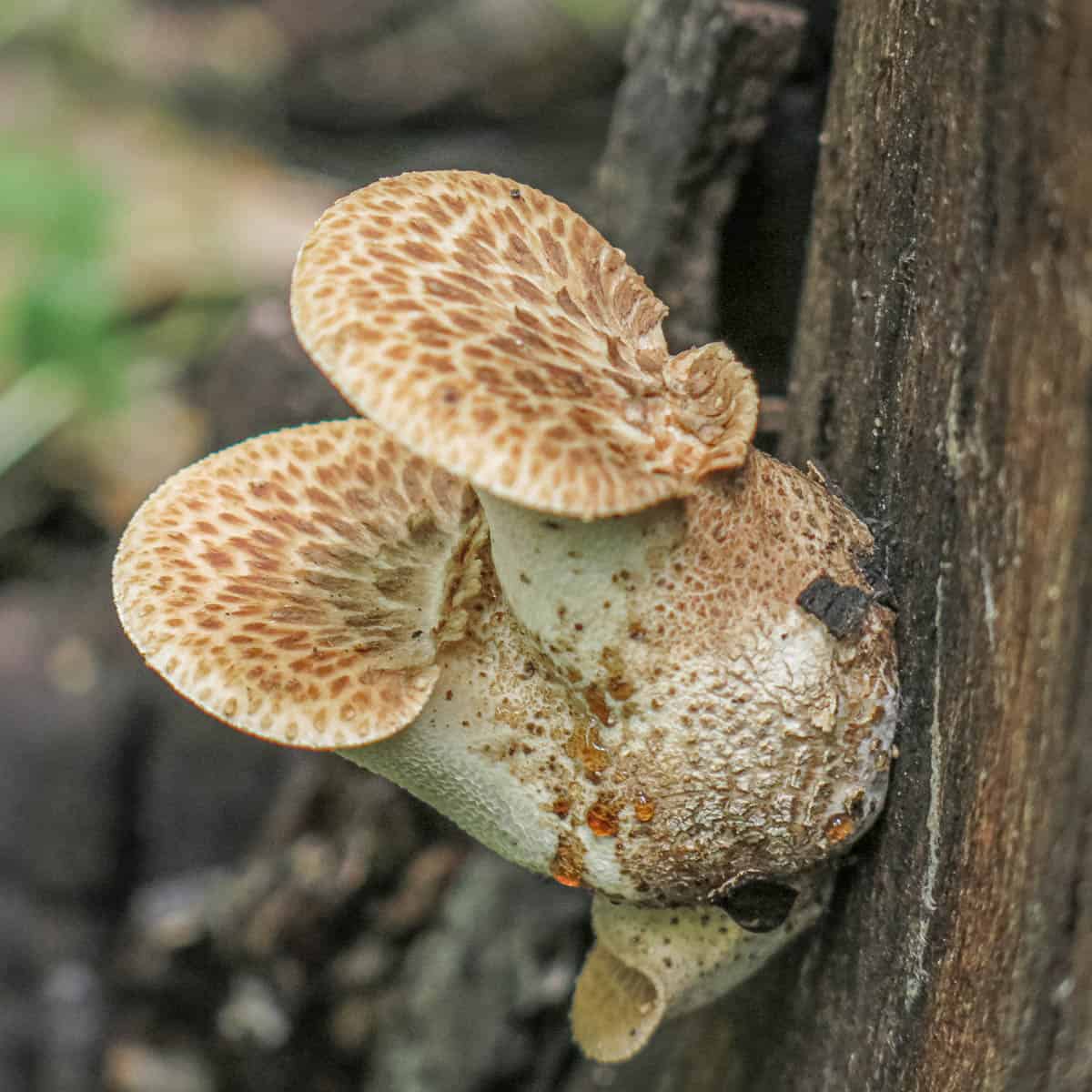 The first time I tried dryad saddles, I didn't know what to think. My coworker brought a large one in to identify and play with at the restaurant.
It was big, tough, and strange; much more dense and hard than any chicken of the woods or similar polypore I had worked with.
I cleaned up a big cap, sliced and sautéed it, then tossed the whole thing in the garbage after a bite.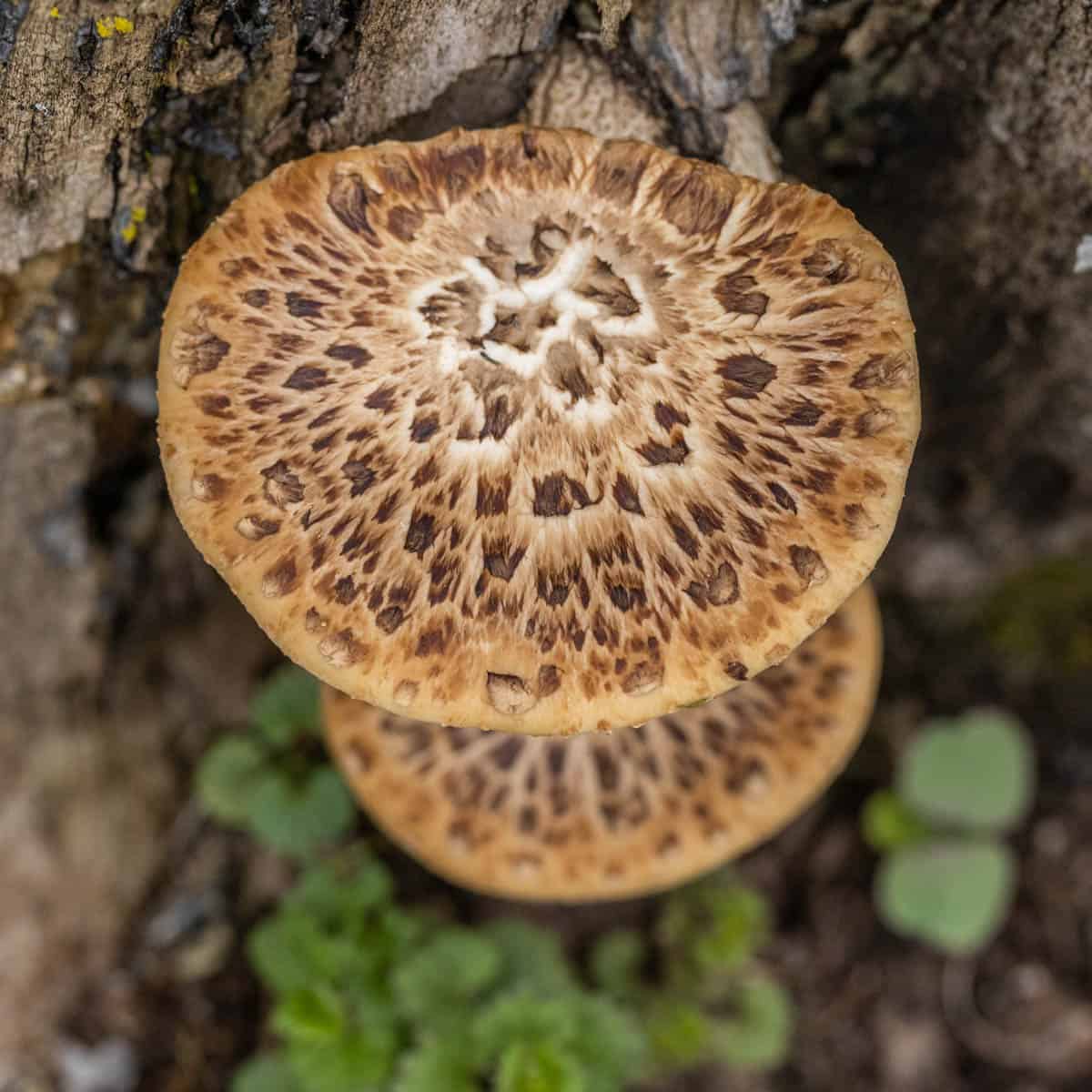 It was not good, way too tough to be of any use I thought, although it did have a really interesting flavor. I relegated it to the inedible category of edible mushrooms, and forgot about it for a while. I was missing out.
It's all about the stage at which the mushrooms are found. Too old and they're only useful for broth. If you find them young though, they're very good.
A "farinaceous" smell and taste
Some people say dryad saddles smell and taste of fresh cucumber, and I agree, along with some watermelon rind, it's a bit like comparing chanterelles to apricots.
Technically, the aroma of the dryad saddle, along with a few other mushrooms like Clitopilus prunulus, is known in mycological speak as "farinaceous" referring to an odor of grain.
Personally, I don't understand the reference, but it's useful to know for reference in case you run across it in a field guide or mushroom book.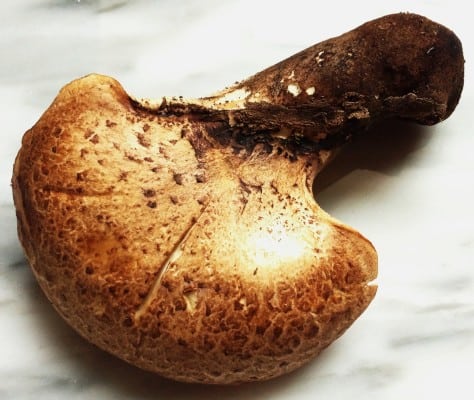 Habitat
These decompose trees like other polypores such as chicken of the woods or hen of the woods.
From my experience, these grow almost exclusively on dead elms, so expect to find them on decaying logs, stumps, half dead and injured trees. They'll start to fruit in the spring alongside morels, so you'll often see them around each other.
Look in deciduous hardwood forests for these first in the spring after heavy rains. They'll continue to fruit throughout the year, but it's more difficult to get them at a good eating stage from my experience after Spring when they seem to fruit heaviest where I live in Minnesota.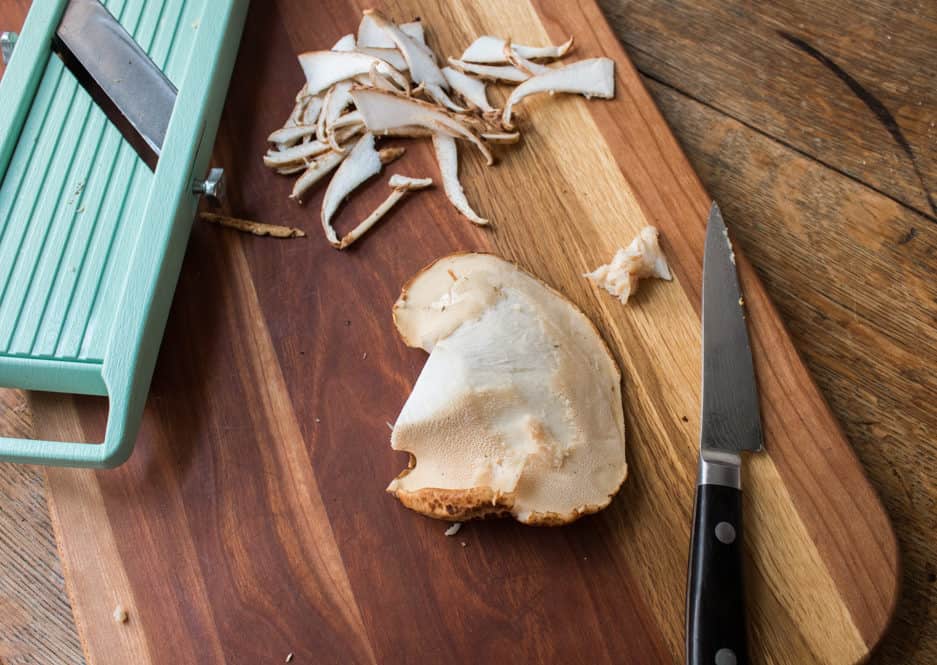 Cooking

So you found some, now, the real question is: how do you cook a dryad saddle? I've heard of people eating it and not liking it, and saying it is inedible. I've also heard people praise it for being delicious.
The confusing part is that both could be right, It just depends on what age you find the mushroom.
You wouldn't want to eat the stem of asparagus when it's old and woody, although you could make soup with them. The dryad's saddle is the same way.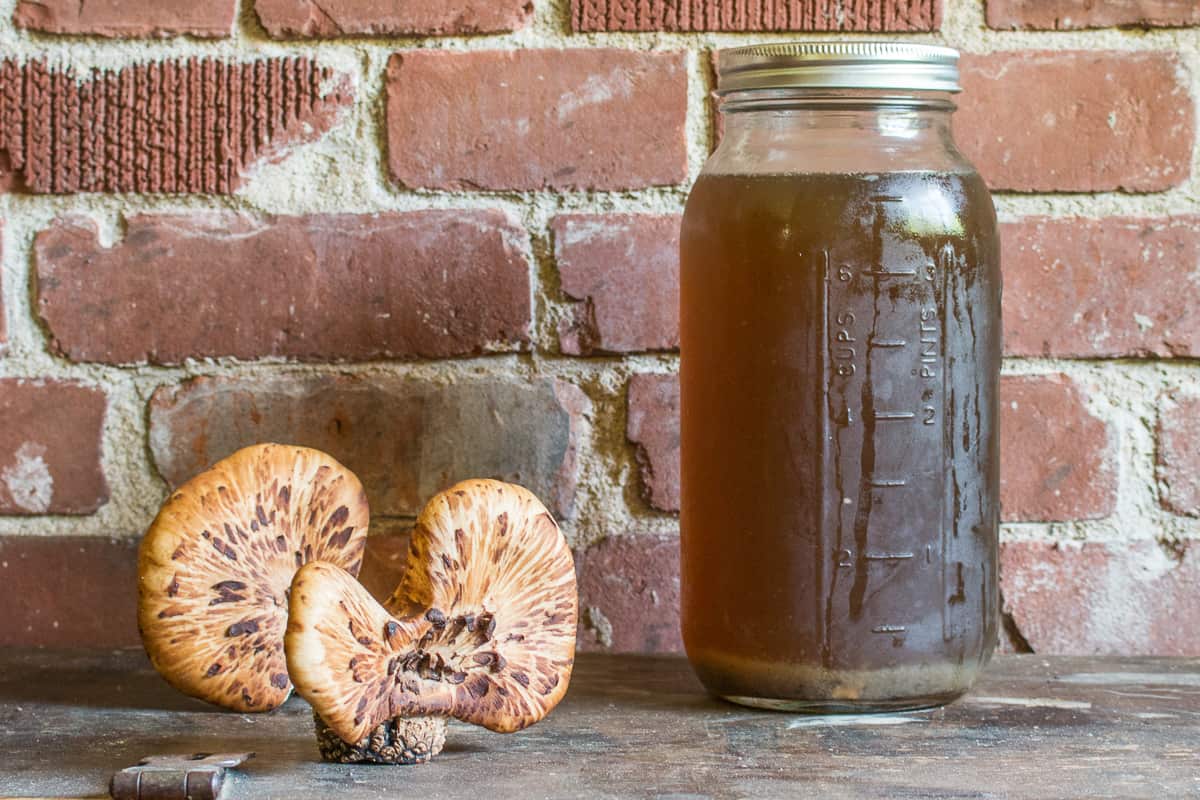 When they're young and soft, these can be succulent little nuggets. When they get older, they're tough and inedible, similar to chicken of the woods, but much more tough, woody, and, often bug-riddled.
In the kitchen, the first thing I do with a dryad's saddle is cut off the black stem (if present), then trim and scrape away the pores on the bottom side of the cap.
The pores on the underside of the cap are a bit textural for me, so I remove them by scraping with the side of a paring knife. You don't have to remove the pores from the mushroom, but I do when I serve it.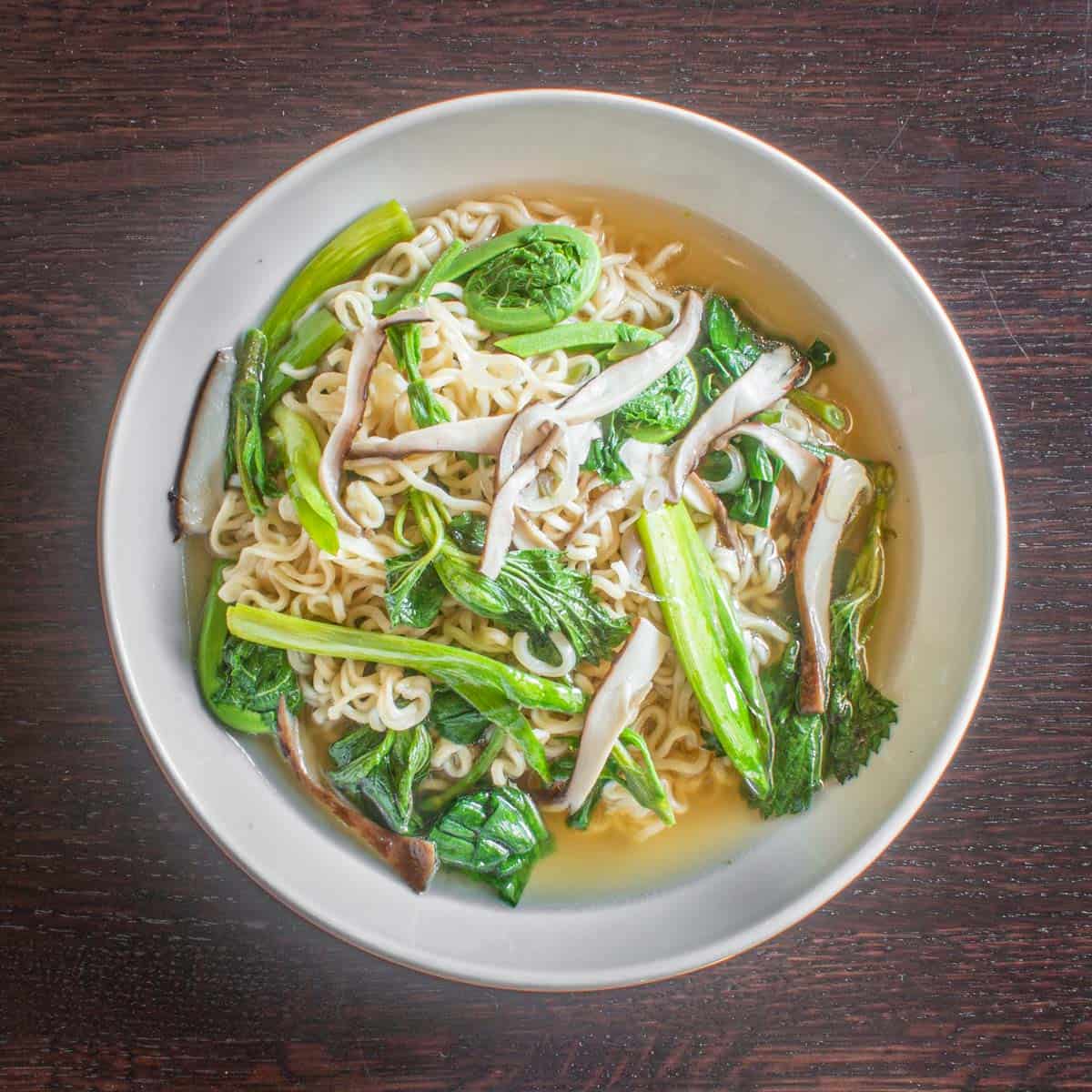 My trick for tender mushrooms: slicing paper thin with a mandoline
99% of the time, I slice these very thin, as in near transparent. To get them thin enough, you will need a mandoline slicer, get the Benriner model, it will last a long time, and it's what all the chefs use.
Don't worry about the mushrooms breaking up or disintegrating into a sauce, their firm texture makes them resilient, like shiitakes.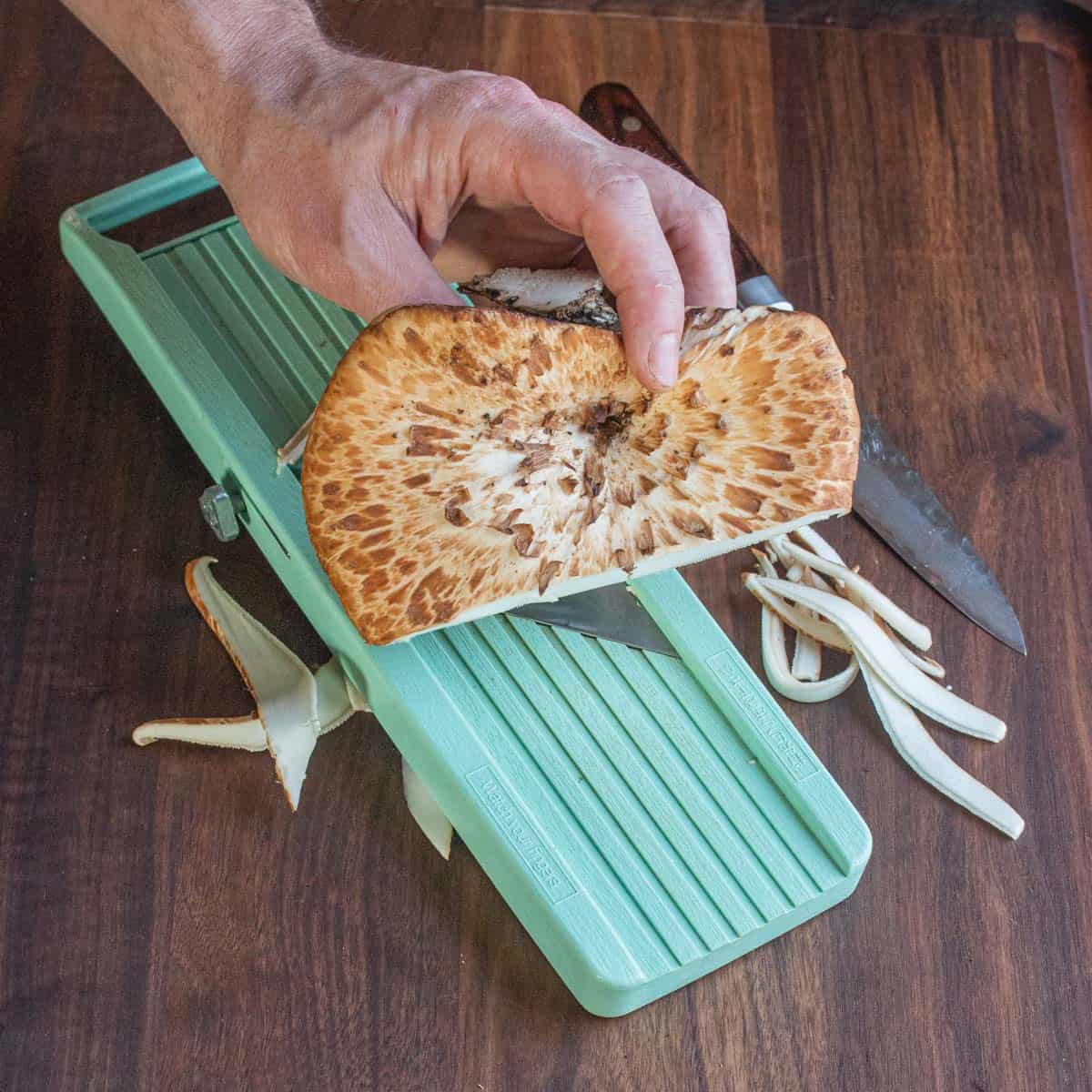 You want to keep this damp while cooking too, browning a little bit is ok, but heavy browning or sauteing can make them toughen and dry out.
I like to cook them sliced as thin as possible in a covered pan with a bit of butter and salt, and just a splash of liquid like water, wine or stock until the liquid evaporates, and the mushrooms brown, just a little.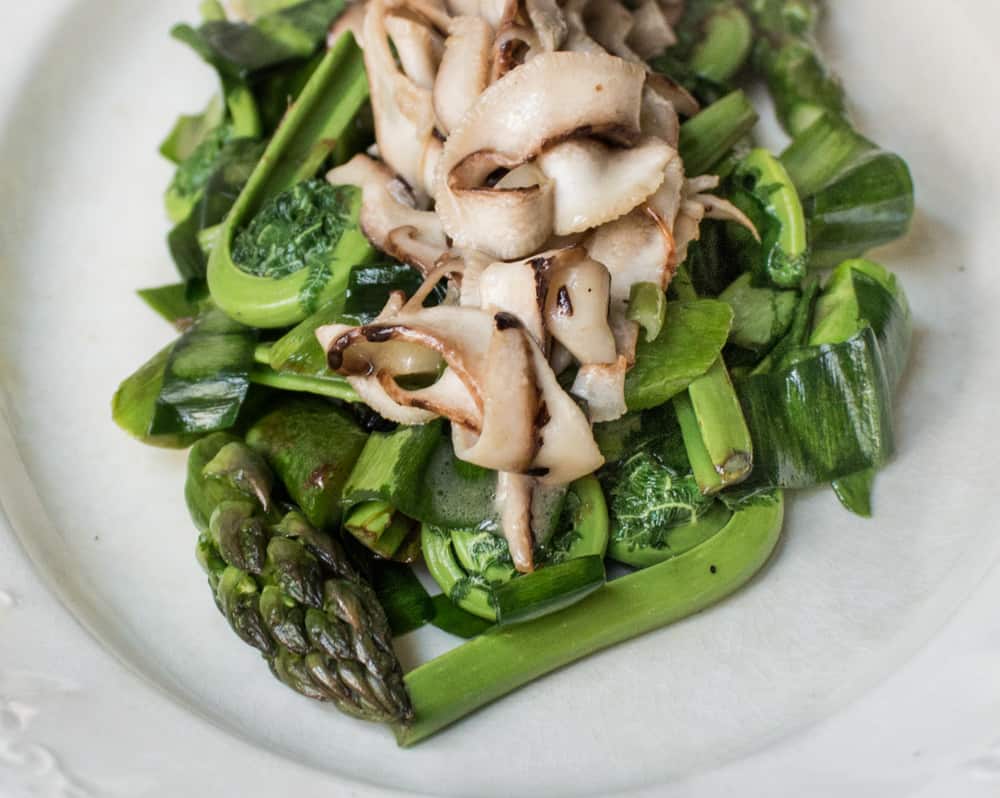 How do you know if a Dryad Saddle is soft enough to eat?

First, you're looking for young mushrooms. They should be rich in a deep brown color and markings. Avoid specimens that look white or cream as these are typically older.
Some large dryad saddles are tender, and some small ones are tough? Why?
This confused me, for years, and was part of why I passed them up, I never seemed to be able to know which mushrooms I could count on to be good to eat, and which ones would be rubber.
With other polypores I hunt and eat (the best known being chicken of the woods and hen of the woods, although Ischnoderma resinosum is great too) if I pick a young chicken or hen, I know I've got a tender, tasty mushroom.
Dryad saddles operate a little differently though, but there's a fool-proof way to tell if you should bring the mushroom home or not: the pores.
A key I use: how big are the pores?
The pores on the underside of polypore mushrooms like chicken and hen of the woods don't seem to change that much as they age, size is a much more obvious way to tell if they're tender or not.
Dryad saddle pores, however, visibly change as they mature. To me, it more resembles the transformation a bolete goes through as it matures than it's much closer relatives the chicken and the hen.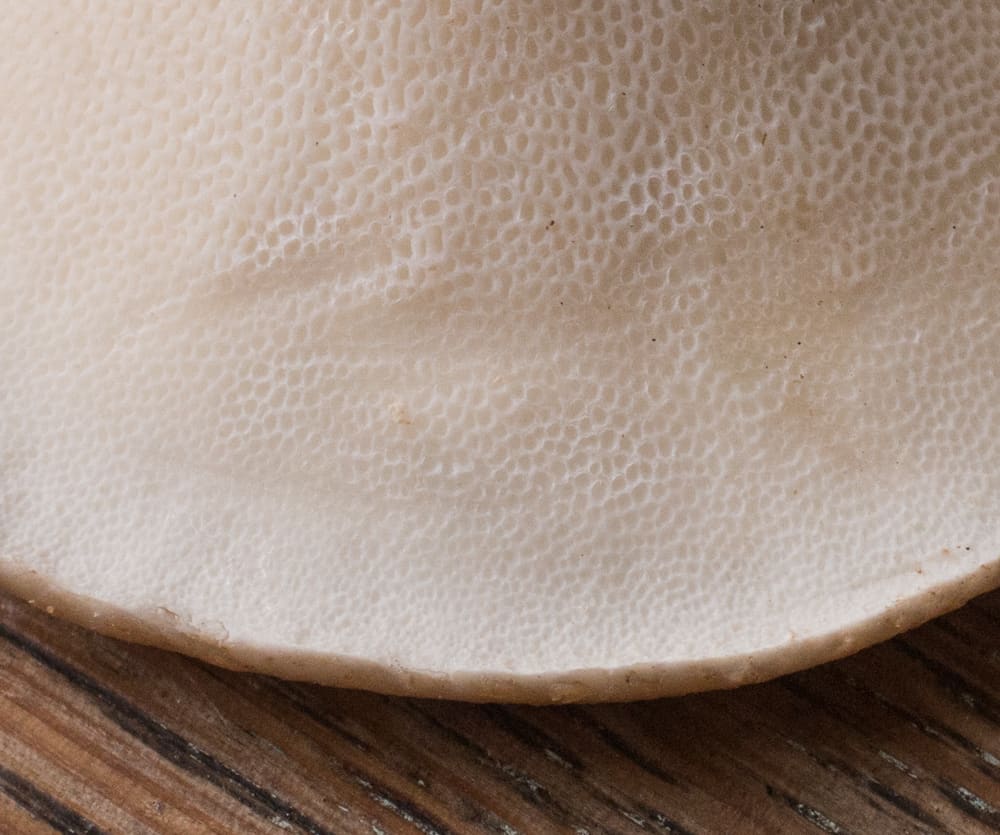 As it ages, the dryad saddle pores begin to open and widen to release the spores, and that is the key to finding a tender, delicious one.
Below and above are pictures comparing the pores of a tough dryad saddle and a tender one, both of which were confusingly about the same size as my palm.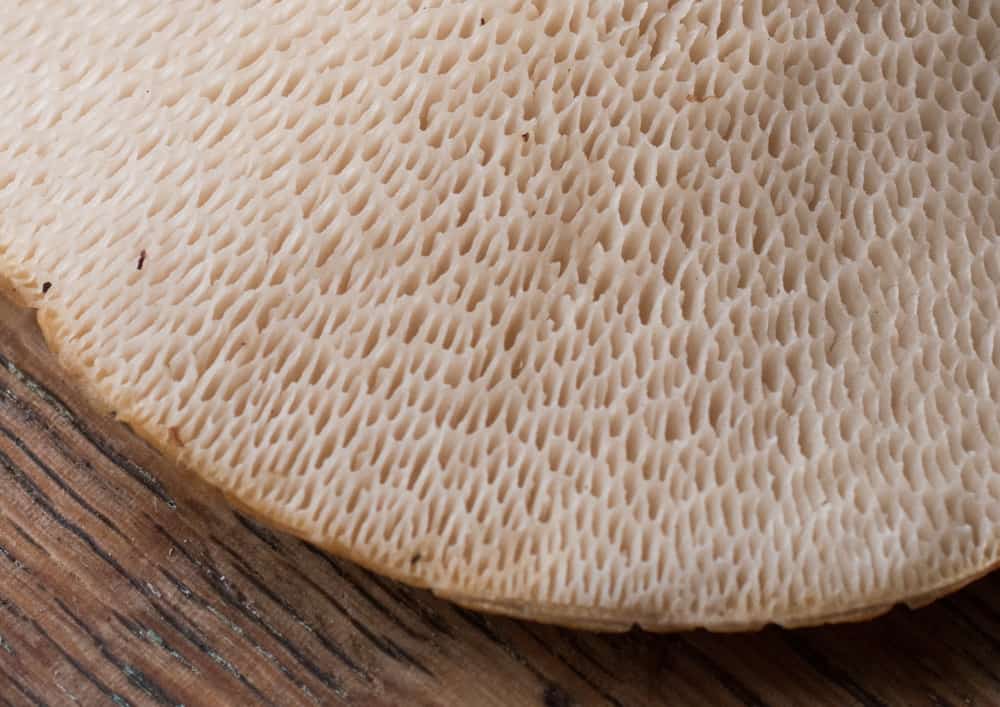 The scrape test
Before I understood about the pore size, I came up with a low-tech field test to see if the mushrooms are tender. I'd take my fingernail or hunting knife and gently scrape the underside of the cap, if the pores are easily scraped off, It's a nice eater.
If the pores remain and seem stuck to the cap, I toss it or save it for soup broth. So, there's more than one way to get to point a from point b, but finally knowing the how and why helped me respect these a whole lot more.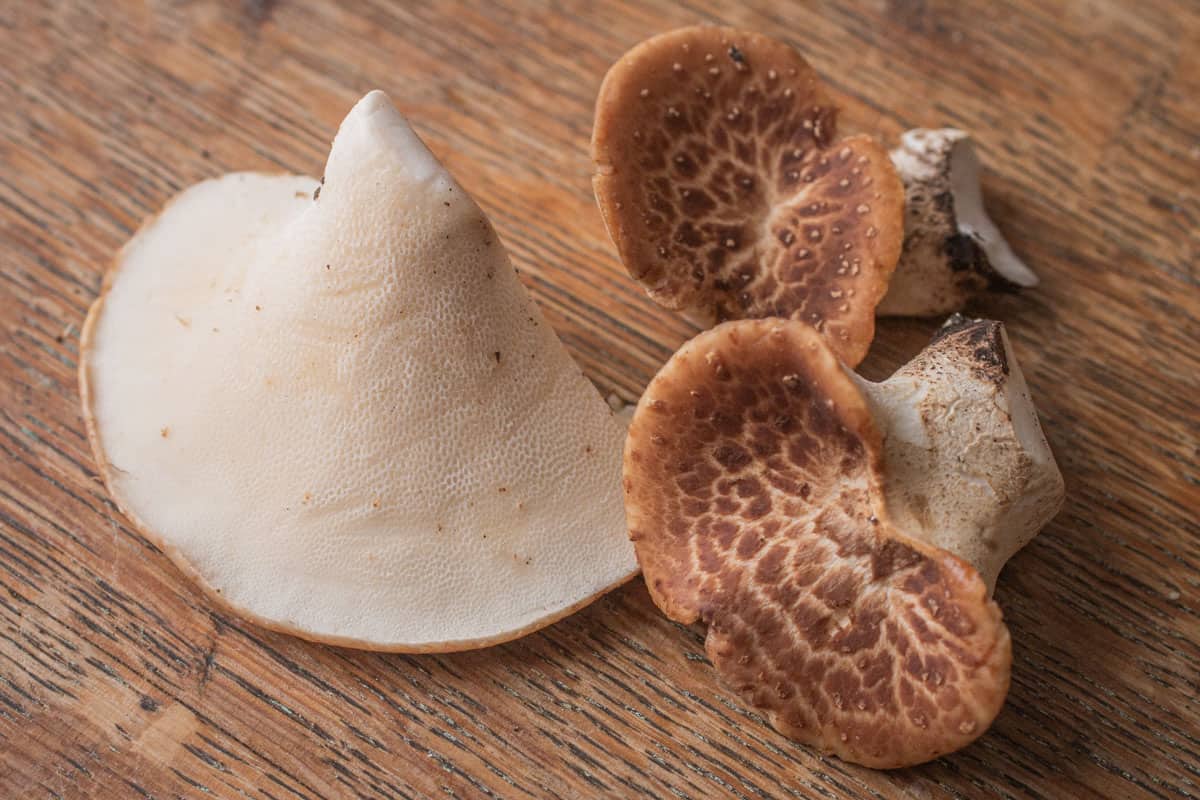 I found some, should I let them grow?
I get this question so often I had to include it. The answer is no. If you see them and you plan on eating them, take them.
If you try to get more out of them by letting them grow, you'll only come back to a rubbery, old, buggy mushroom.
That being said, I know some of you came to this page with a mixed bag of young and mature mushrooms, a position I've been in a number of times before I understood which mushrooms were the best to take.
Here's what you can do: the mature mushrooms make a flavorful broth, which tastes eerily of cucumber or melon rind.
The young ones can be simmered in the broth made from the older mushrooms, along with herbs, and whatever else you'd like to make a very special soup or brothy noodle dish.
Preservation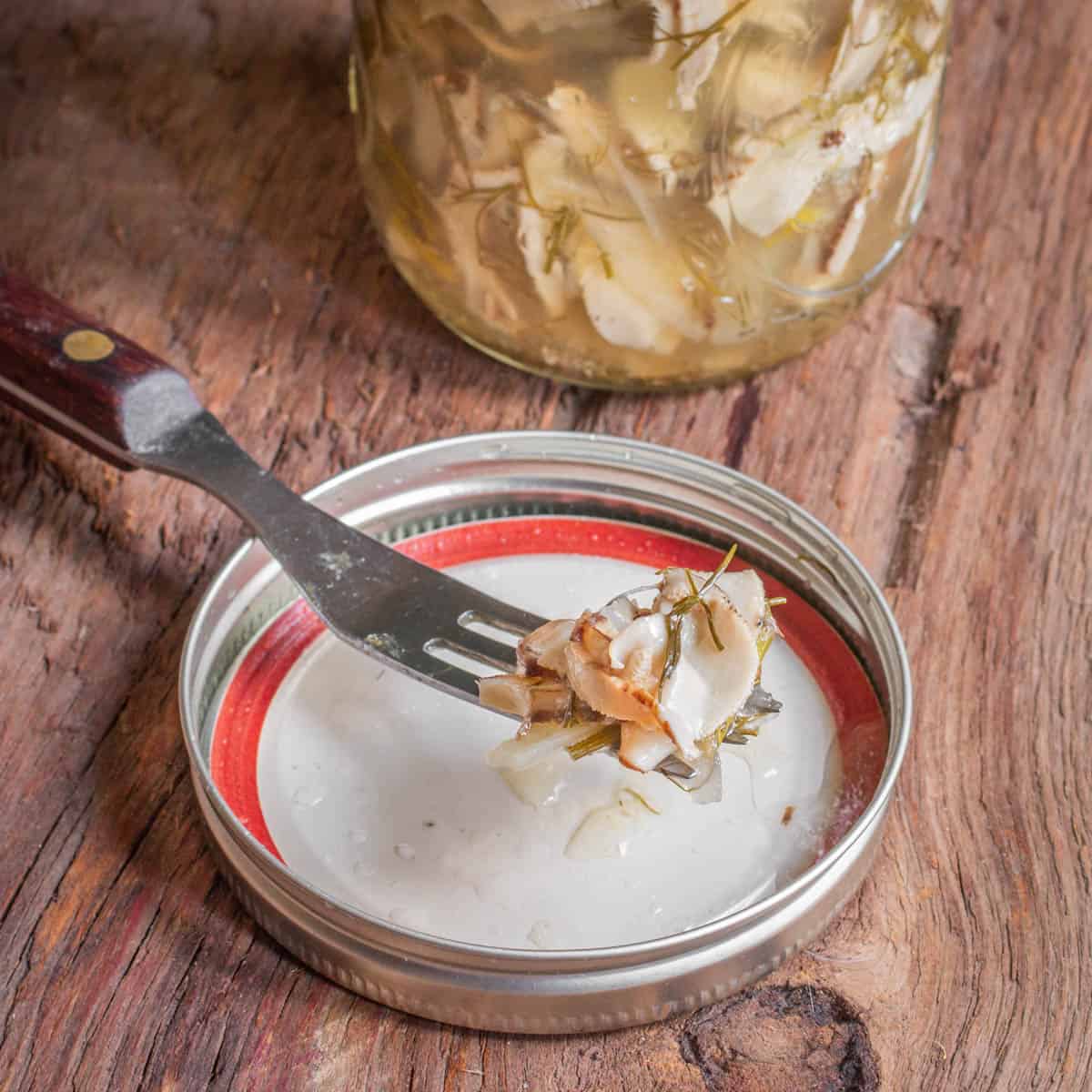 Like some other mushrooms (golden chanterelles, hedgehogs) I advise against drying these to reconstitute and cook with since they'll be hard and woody, but they can be dried and powdered for making stocks and soups.
If you slice them thinly, they make excellent pickles with a nice texture. Take a look at my recipe for mushroom conserve as a guide, it works magic on these and they keep their interesting cucumber flavor.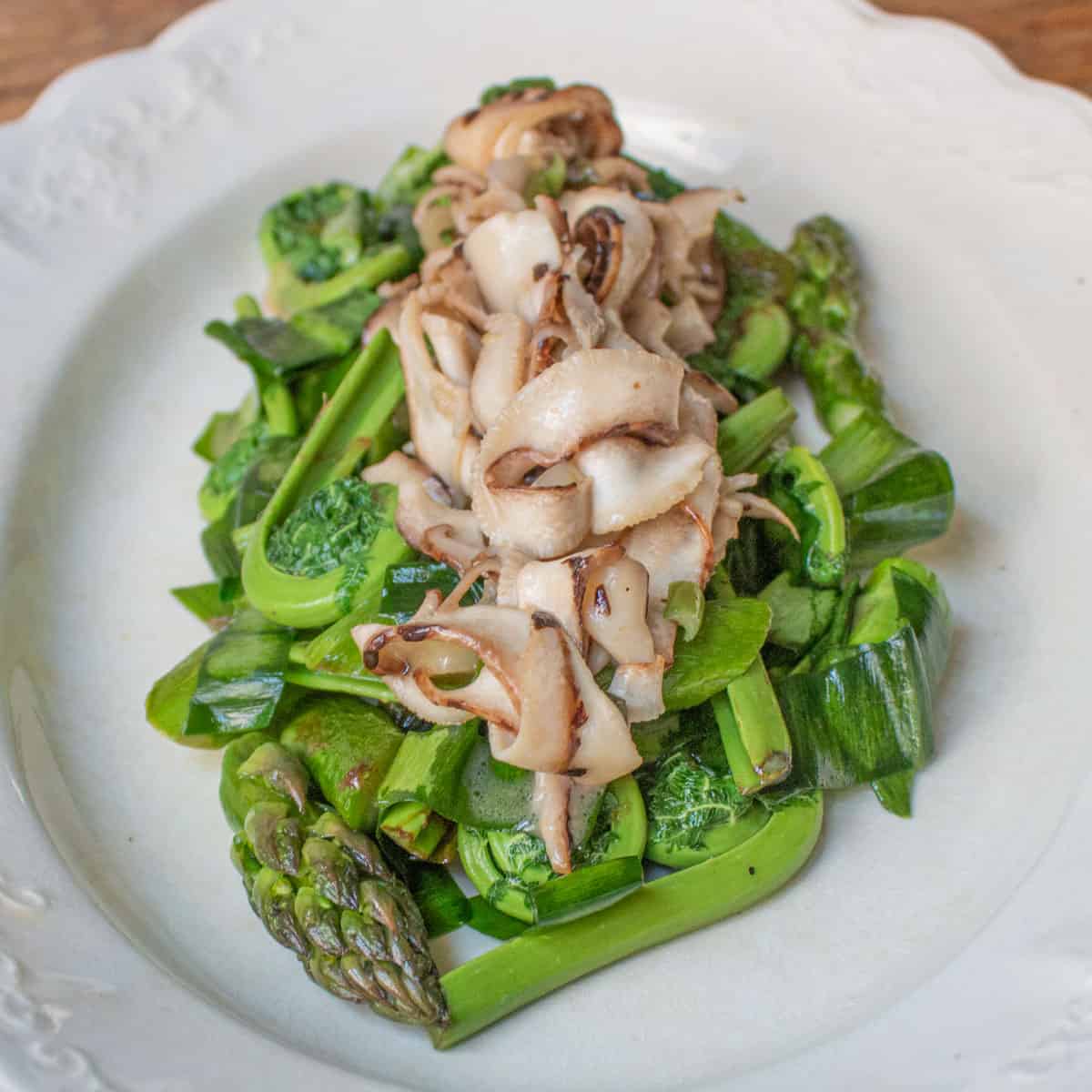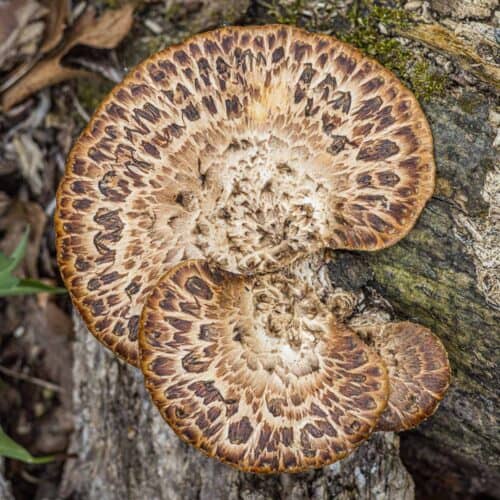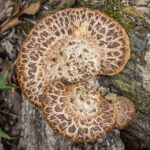 Print Recipe
Trimming a Dryad Saddle or Pheasant Back Mushroom
Simple walkthrough of how I trim and slice Dryad Saddles, and how to choose the nice tender ones for eating.
Instructions
Choose young, small dryad saddles.

Inspect the pores, they shouldn't be too open, rather they should be tight and compressed. Scratching them with a fingernail they should come off easily. If the pores are tough, consider drying the mushrooms or saving them to make stock.

Slice the mushrooms as thin as possible, I like to do this using a mandoline slicer. If you don't have a mandoline, just slice them as thin as you can.

Cook the mushrooms however you like. Adding a splash of wine to the pan can help them from drying out.
Recipes
More