Traditionally, confit is meat that's been marinated in salt and herbs, then slowly and gently cooked in its own fat. This mushroom confit recipe is similar and great for vegetarians, if you don't use duck fat.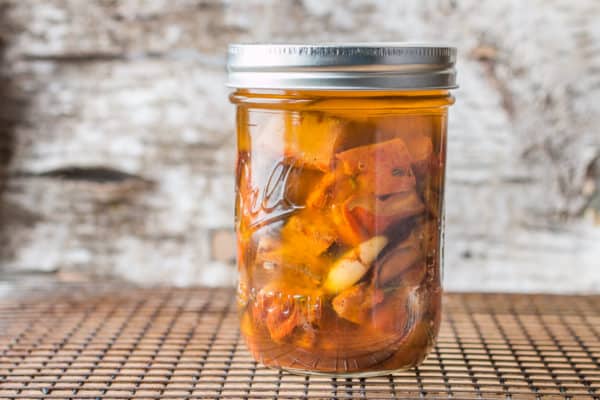 Confit isn't an everyday thing you'll make all the time but it's definitely a special treatment worth considering, especially if you have a bunch.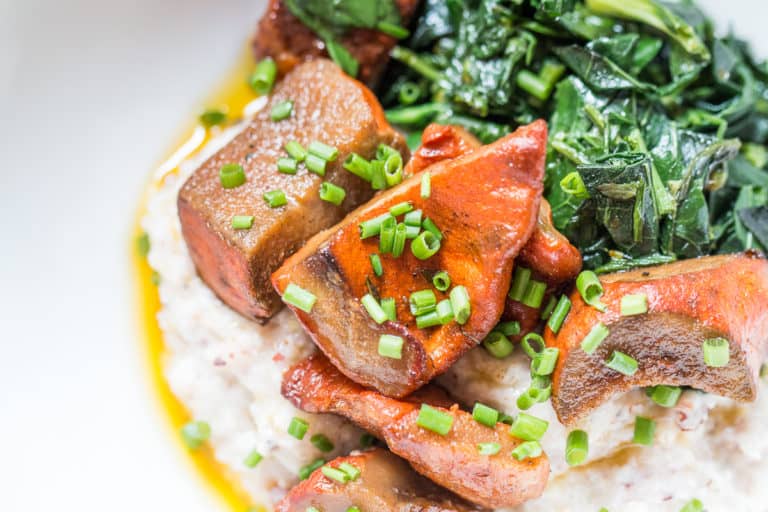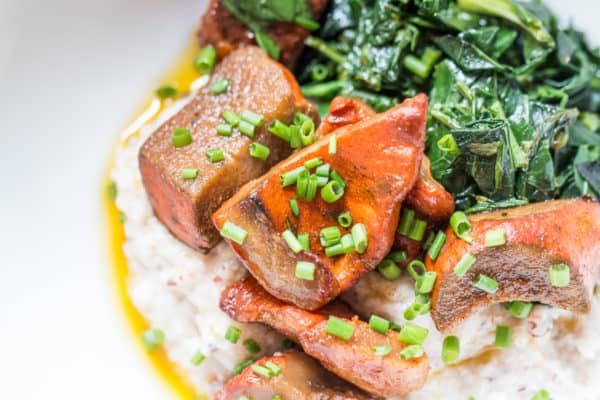 Confit mushrooms process 
Cut the mushrooms into meaty pieces, weigh them, season them with 1% (or slightly more) of their weight in salt in grams, then mix them with a bunch of herbs, rest overnight, then cook slowly in lard or another fat.
This is a way I would preserve large amounts of mushrooms for restaurant service but you can easily store it in a mason jar. Just make sure everything is kept under fat.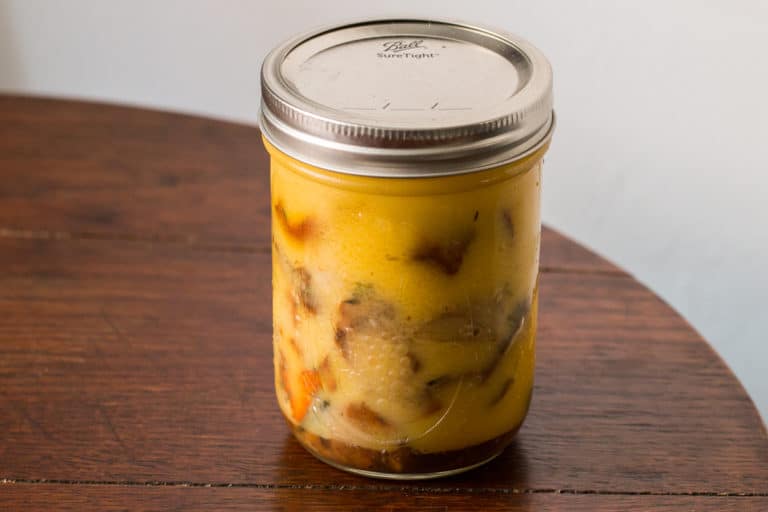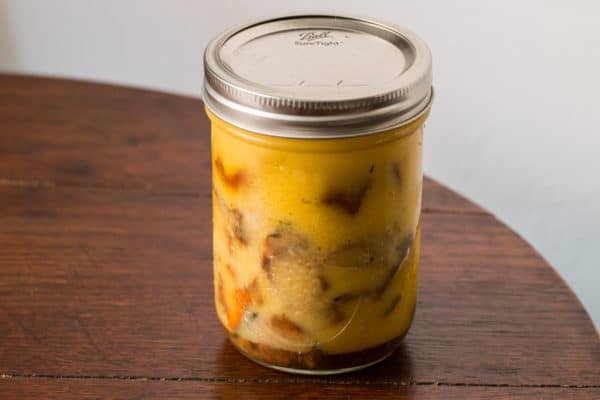 The Fat
Lard or duck fat is my first choice for confit since it gets firm, forming an air-tight seal. If you don't have lard, you could substitute unsalted butter or oil.
When it's time to use the confit you simmer for a while, then ladle out pieces of mushroom and a drizzle of their fat onto what you're serving them with. Polenta with wilted greens is great.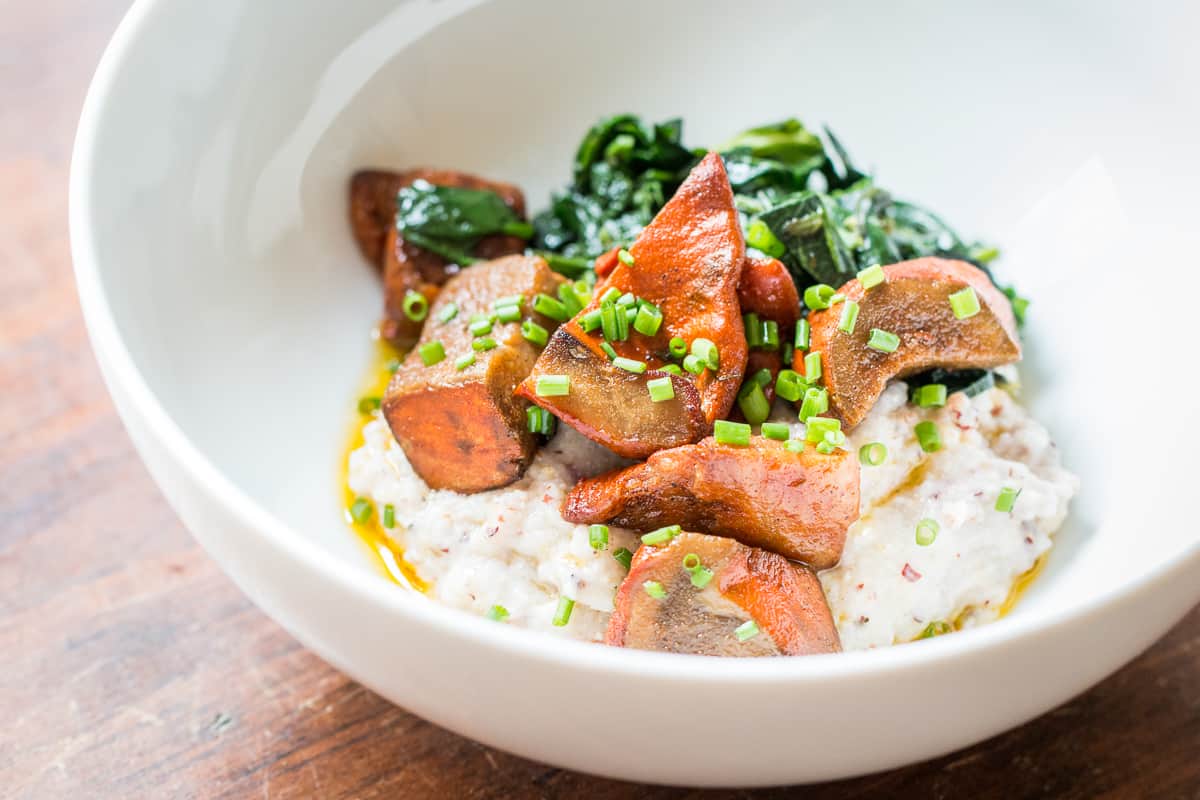 Safety
Confit is an ancient method of food preservation. Storing things like this at home isn't anything to be scared of, just make sure to reheat the mushrooms before you serve.
I use this in restaurants to extend the shelf life of wild mushrooms. If holding things under fat makes you nervous, keep them in the fridge and eat within a week.
Other mushrooms to use
Originally I used portobellos and shiitakes in restaurants, but Maitake confit is great too. Chicken of the Woods or Golden Chanterelles work too.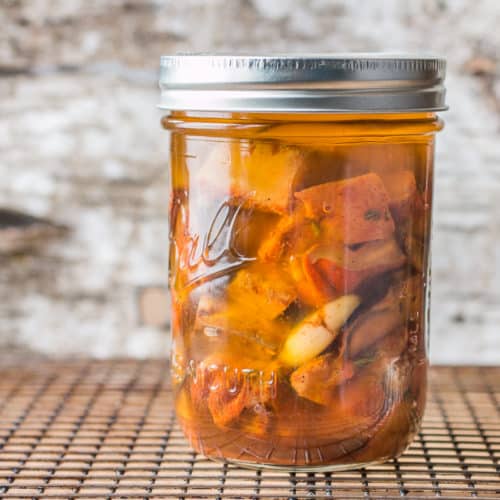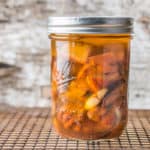 Print Recipe
Wild Mushroom Confit
A preserve of mushrooms seasoned with salt and herbs, simmered slowly in fat like duck confit.
Ingredients
670

grams

(1.5 lbs) mushrooms

cleaned, trimmed, and cut into large pieces

10

grams

(1.5 teaspoons) fine sea salt, or ground kosher salt

(see note)

2

teaspoons

paprika

1

teaspoon

ground cumin

5

cloves

of garlic

crushed with the back of a knife

1

Tablespoon

chopped thyme

1

large sprig of rosemary

whacked with the back of a knife to release their aroma

2

dried bay leaves

1

tablespoon

toasted black peppercorns

1000

grams

(4 cups) melted lard or olive oil

preferably from pork or poultry, although beef or lamb will work too
Instructions
Cut the mushrooms into large pieces or halve them if small. In a large bowl, toss the mushrooms with the salt and all the ingredients except the lard and allow to rest in the fridge for 12-24 hours.

Preheat the oven to 250. Remove the mushrooms and aromatics from the bowl, but leave any liquid behind, Squeeze the lobster mushrooms to remove juice.

Add the mushrooms and aromatics to an oven-safe container. Leave 4 inches of headspace to avoid spills. Pour the melted fat over the mushrooms to cover them completely.

Bake for 1.5 hours, then remove from the heat and transfer the mushrooms while piping hot to a mason jar, completely covering them with fat. Date and label the confit.

The confit will keep for a month completely under lard, but can be used after a week or directly from the oven.
Notes
Salt
For restaurant batches, say 5lbs + it's fine to use 1% salt by weight. For smaller batches, I  add a little more salt.
Yield
This will make enough to fill two pint jars, with some excess fat and a few mushrooms leftover.
Nutrition
Calories:
8112
kcal
|
Carbohydrates:
30
g
|
Protein:
23
g
|
Fat:
899
g
|
Saturated Fat:
66
g
|
Polyunsaturated Fat:
253
g
|
Monounsaturated Fat:
568
g
|
Trans Fat:
4
g
|
Sodium:
3919
mg
|
Potassium:
2353
mg
|
Fiber:
9
g
|
Sugar:
14
g
|
Vitamin A:
2009
IU
|
Vitamin C:
19
mg
|
Calcium:
79
mg
|
Iron:
6
mg
More
Vegetarian or Vegan Mushroom Recipes