Of all the wild mushrooms you can hunt and eat, golden chanterelles are some of the most widely available and prized. They're enjoyed the world over for plenty of reasons: a great, meaty texture, a paradigm shifting flavor if you're used to eating cultivated mushrooms, and an aroma as sweet as the ripest apricot you've ever smelled. To boot, they can be picked en-masse if you have a nice patch, and then again and again during the season as long as the rain keeps up.
Habitat
As far as hunting for them goes, they are a breeze compared to something like a morel, whose color blends in, camouflaged by their surroundings.

Here's some helpful notes on hunting them in the Midwest from my experience.
Multiple Species
To make things more interesting, there's a number of different chanterelles around to eat. All are excellent. Confusingly, chanterelles are used to describe a family of similar mushrooms, but most of the time people unfamiliar with the complexity of the family will only speak of golden chanterelles. Flavors can differ between some species but for the most part, you'll know you have something great to eat.
For a long time, people didn't even know chanterelles grew in North America, and when they were discovered, it was commonly assumed that they were a single species. Thanks to Mycologists like Tom Volk and Tavis Lynch, who are doing God's fungal work here in the Midwest, we know there is not one, but many different chanterelle species you can pick in Minnesota.
I'm no mycologist, but what type of differences can you see in the chanterelles above? If you look close, I don't think you'll need a microscope to see these are 3 separate species.
A fourth species (white chanterelle) is in the picture below. All of these were growing with oak. I don't know them all, but the chanterelle in the middle with the fat white stem should be Cantharellus phasmatus. All of them are excellent tasting, but especially the ones with the white stems in the middle and on the right.
Newest Species
Here's a recent article on 3 of the new-to-science chanterelles in the Midwest.
White Chanterelles
It is still unknown if the white chanterelles below are related to the well-known Cantharellus subaldibus from the West Coast, but hopefully someday we'll figure it out. White chanterelles are the rarest of all the chanterelle family mushrooms I harvest. See more on my post about white chanterelles.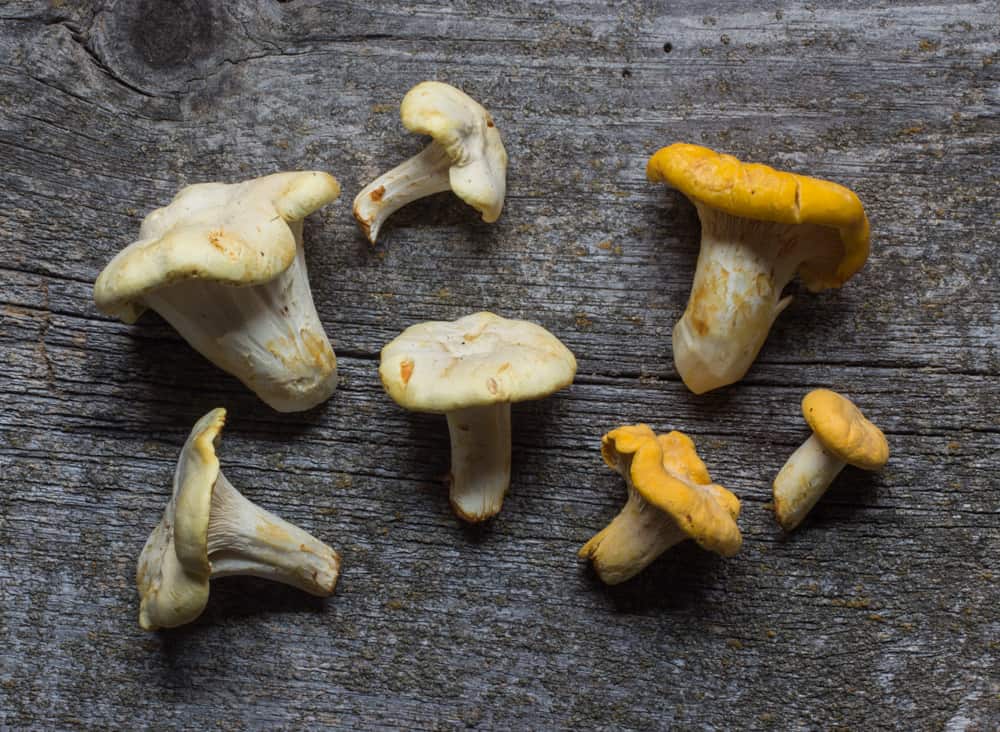 Other types of "chanterelles" I've found are:
Black Trumpet Mushrooms are also part of the chanterelle family, but they're a bit different than the others I've listed above.
Look-A-likes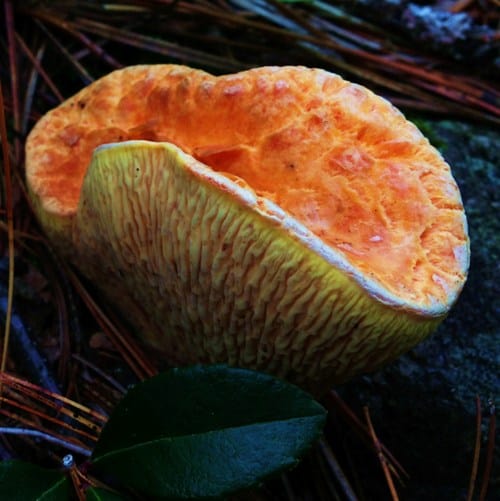 As far as look a likes, there are a couple to know of. The most important in my opinion are Omphalotus species, as well as Gomphus floccosus from my experience.
Above is a Gomphus floccous, the false or "wooly" chanterelle as it's called is actually eaten, especially in South America, but it is typically peeled before cooking. Omphalotus or the jack-o-lantern is not eaten, not matter what the preparation.
Golden Chanterelles VS Jack-O-Lanterns
Jack-o-lanterns differ from golden chanterelles in a few, very important ways. Jacks:
Are a darker orange than chanterelles, which are more egg-yolk colored.
Grow from a central stem, or whats known as growing "cespitose"
Have actual gills, where a chanterelle does not
May grow directly from wood, which golden chanterelles will never do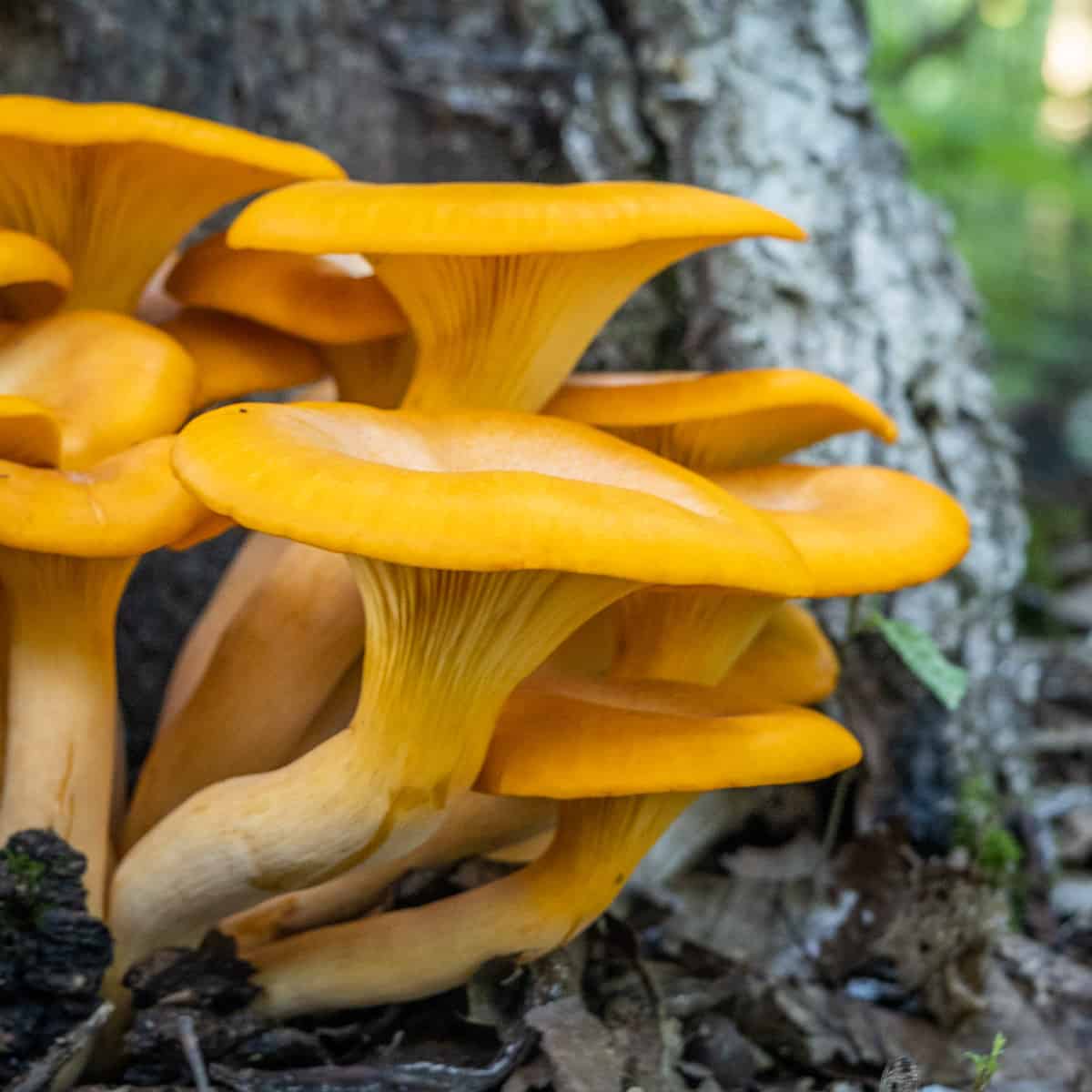 Cleaning, Cooking and Preparing
Cook Those Chanterelles Whole!
In the picture above, I'm putting whole, young buttons in a pan to cook them. We seem to have a tendancy in the kitchen to slice mushrooms up, but, when you're chanterelles are reasonably small (some species are always huge, like C. californicus) chopping them up is a complete waste.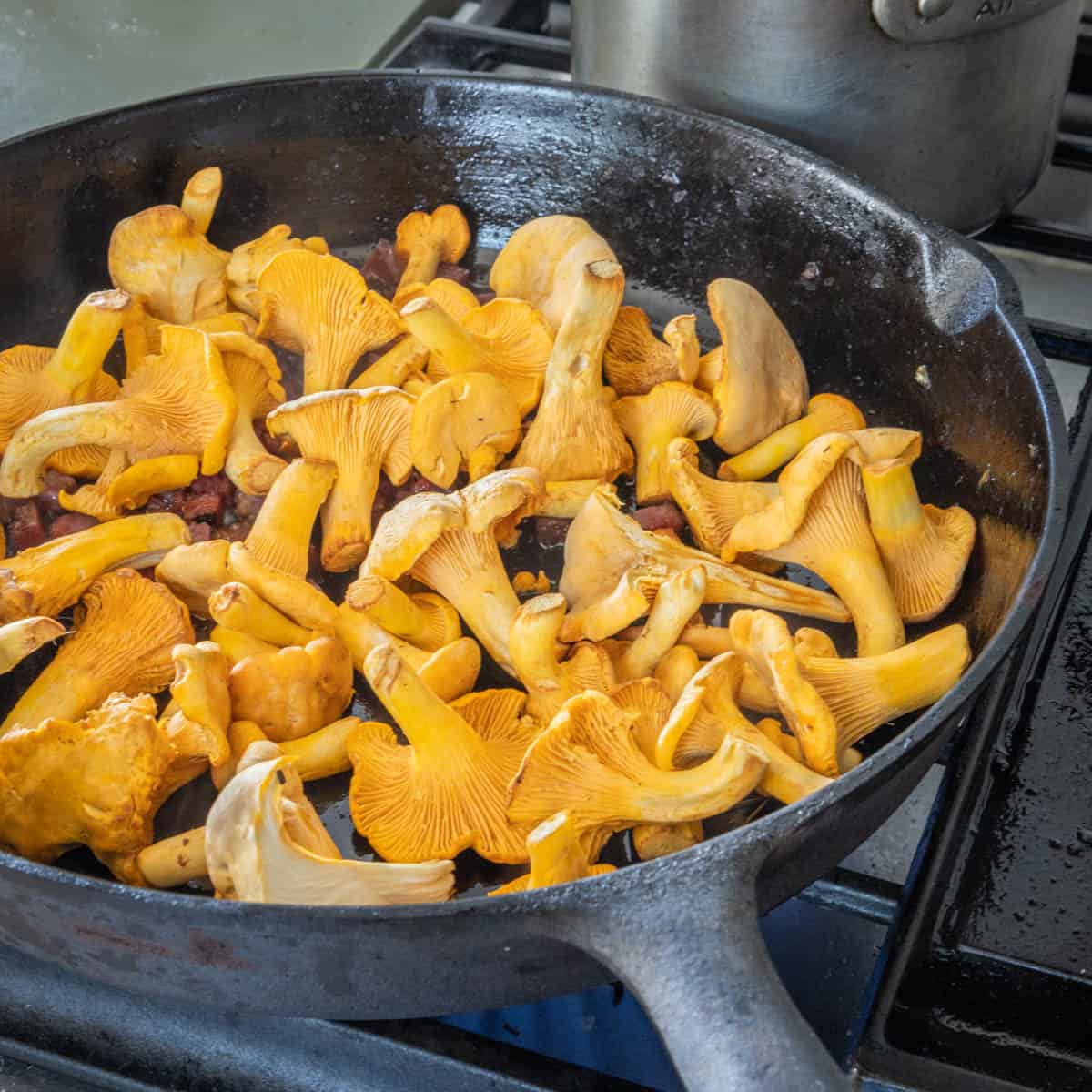 Part of why chanterelles are prized is for their texture, and squeeky bounce when young, almost like a fresh cheese curd. During the season you will be able to find plenty of old, mature chanterelles, but the young buttons are the greatest of the year.
The first flush of young buttons is also what I use to make mushroom conserve, since they're the perfect garnish for all kinds of plates, especially in the off-season. See the recipe for conserve at the bottom of the post.
There's Maggots In My Chanterelles!?
Before you cook these, sit down and let's get one thing out of the way. Like everything else in this world mushrooms have something that eats them, and on a molecular level, mushrooms are closer to meat than vegetables which means you might see different de-composers than you typically do with plants.
In a perfect scenario, you'll be the first to taste your chanterelles but sometimes, especially if you live in an area where the species of chanterelles don't have a resistance to bugs like they do in the Pacific Northwest (typically this is Cantharellus formosus), you're going to have to try and beat the bugs to your mushrooms.
This can be pretty disturbing for people to think about since most mushrooms we're used to seeing are pristine and we assume come from a clean grocery store. But if you're picking wild mushrooms, seeing the occasional maggot or slug is something you're going to have to deal with, so let that sink/writhe in for a minute.
The first maggots horrified my friends and I. Slugs are whatever, but there's something ingrained in Anglo Saxon culture to make me detest maggots, and everything that is rot, death, and pestilence. Let me tell you though, when you're a chef at a restaurant and you just got a 60lb air-freight, un-refundable shipment of mushrooms at 20+$ per pound, you'd be surprised how quickly your view can shift.
The moral of the story for me now is that if a chanterelle feels very firm, I take it after I trim the stem to check for holes, if there's a bunch of holes, I'll toss it, unless I'm going out late in the season to gather damaged mushrooms for duxelles or another mushroom concentrate.
When I talk to diners, I explain the fact that mushrooms occasionally have bug damage the same way I do when someone accidentally finds a caterpillar in their broccoli or a hog bristle in the headcheese:
"The occasional hitchhiker in a salad or with vegetables is a reassurance that the food you're eating has never been touched by pesticides or other chemicals. It's a natural product and something I take pride in."
Take pride in where your food comes from. Anyway, below are some great ways to use damaged chanterelles if you find yourself with some.
Recipes for bug-damaged chanterelles
In the Kitchen
Cooking chanterelles is fairly easy, but it's important to take into account the age of the mushroom for what you're doing. Here's some advice:
If your chanterelles are small, cook them whole, they keep a great texture, and look beautiful on the plate.
Small, young chanterelles are also the best for pickling, or making conserve, see my recipes at the bottom of the page
Unless you're pickling them, brown and put some color on them. The more color they have, the better they will taste.
The flavor of chanterelles is heavenly after browning lightly and cooking in cream.
If your chanterelles are older, they might cook up a bit floppy or soft, these older mushrooms would be great chopped up and made into duxelles, or pureed into a creamy soup.
During the season, check your chanterelle patches regularly, especially after rainfalls, I usually miss a couple, and many young shrooms are hiding under things waiting to be found as they grow larger.
Like most wild mushooms, it's good to cook them alone the first few times to get to know their flavor.
Chanterelles have a delicate aroma that's a bit like fruit or apricots, so keep this in mind when you're cooking them.
Less is more, using too many ingredients or things that are aggressive, like hot chillies, too much garlic, or smoked food like commercial bacon can overwhelm them so you don't taste them at all.
How I Clean Chanterelles
Over the years working in restaurants I've overseen processing of thousands of pounds. What I do is fill a sink with very cold water and quickly swish them one at a time to remove grit, then place them on a towel to drain. There is plenty of debate over whether to wash them or not though. Of course if your chanterelles are super clean, you don't need to rinse them, but most of the time, I do, here's why:
If the mushrooms aren't submerged at once, but quickly, one at a time, they won't absorb too much water, and can be set on a towel to weep what water they've picked up. After they dry they can be cooked per usual.
Wild mushrooms are often very dirty.
At a restaurant, you are probably not receiving just a pound or two of mushrooms. Cleaning with a brush is insanely tedius, sometimes ineffective, and requires a lot of expensive labor.
If the mushrooms do absorb too much water, it can be cooked out in a saute pan slowly until the mushrooms brown.
I've noticed many coops and Whole Foods, etc, sell Chanterelles off-season in Minnesota, in November or later. These are not Cantharellus Cibarius, but an imposter known as Cantharellus Formosus, a species that lives in the Pacific Northwest.
They're inferior in taste, but great because they don't typically contain any larvae. Their flavor is muted and only slightly apricot-y. They are still chanterelles though, and a great mushroom to eat.
Recipes
More