in France chanterelles are treasured in a simple omelet, or as they call it: omelet aux girolles. I've gussied the traditional one up a bit, but at the end of the day, all you really need is some mushrooms, a little creme fraiche or cream, some herbs, and a couple eggs.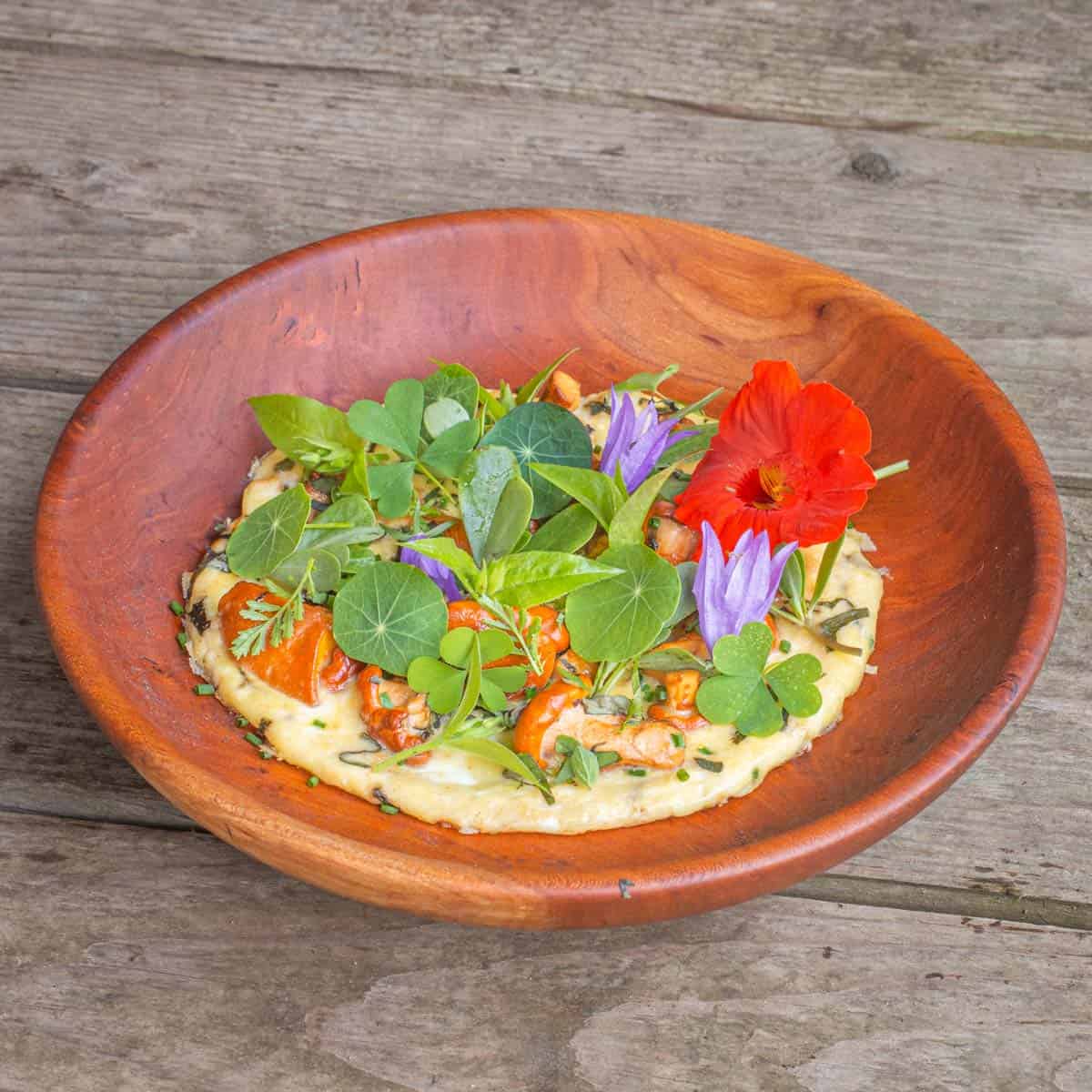 So I know that chanterelles were used classically in omelets, but I wanted to see if there were any tricks or different ways they are traditionally prepared. I searched around online for "Omelet aux girolles"-"Omelet with chanterelles".
I expected a decent number of results, but was totally blown away with what I got, recipes including everything from herb puree sauces, to unsmoked ham, creme fraiche, sour cream, even bell peppers and bacon.
The most important thing that I saw wasn't a recipe method though, it was in the picture examples. Searching for omelet aux girolles gave me pictures that really spoke to what I have to assume is the original way to prepare the dish.
The French sources more often than not had a thin, open-faced omelet, decorated all over with chanterelles, as opposed to some rolled up omelet with chanterelles in it, as we would naturally think of in the U.S.
Another thing to mention is how the chanterelles are prepped for cooking, or, rather the lack there of. This is something to make with whole small buttons, say, the first squeeky crunchy ones of the year. You could make it with larger chanterelles, cut up, but it really isn't the same.
Cooking chanterelles, especially young buttons whole, is part of what makes chanterelles, chanterelles. Whole chants keep their texture and flavor better, and have a really appealing look, it really puts them in a class all of their own, and is why buttons are preferred by chefs like myself.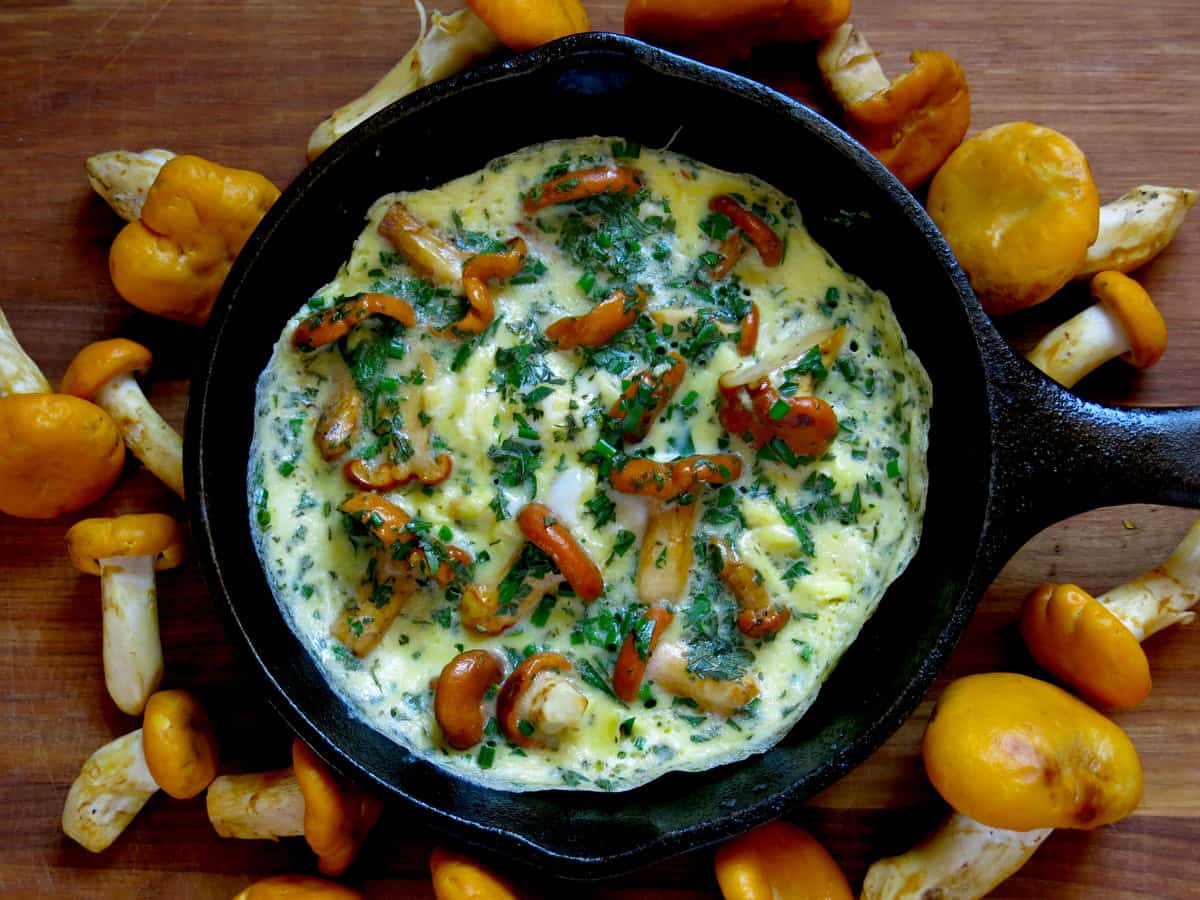 Originally, when I made this dish, it was just mushrooms in an omelet, as pictured above, and if you want to make that it's great-no problem there. 6 years later I re-imagined the dish, and added some fresh greens, which I prefer over the naked omelet, but, i'm including the older picture above so you can see the evolution this dish (and post) has undergone.
It's really simple: one egg, a few herbs, a dollop or creme fraiche or sour cream, and, the smallest chanterelles you can find. If there was ever a place to use the first chanterelle buttons of the season, it's here.
The herbs can be a blend of whatever is available, but they need to be soft, delicate herbs, and they need to be fresh, no compromise there. Think parsley, tarragon, chives, chervil. Rosemary, sage, dried herbs, even thyme, aren't the right sort of thing to use here.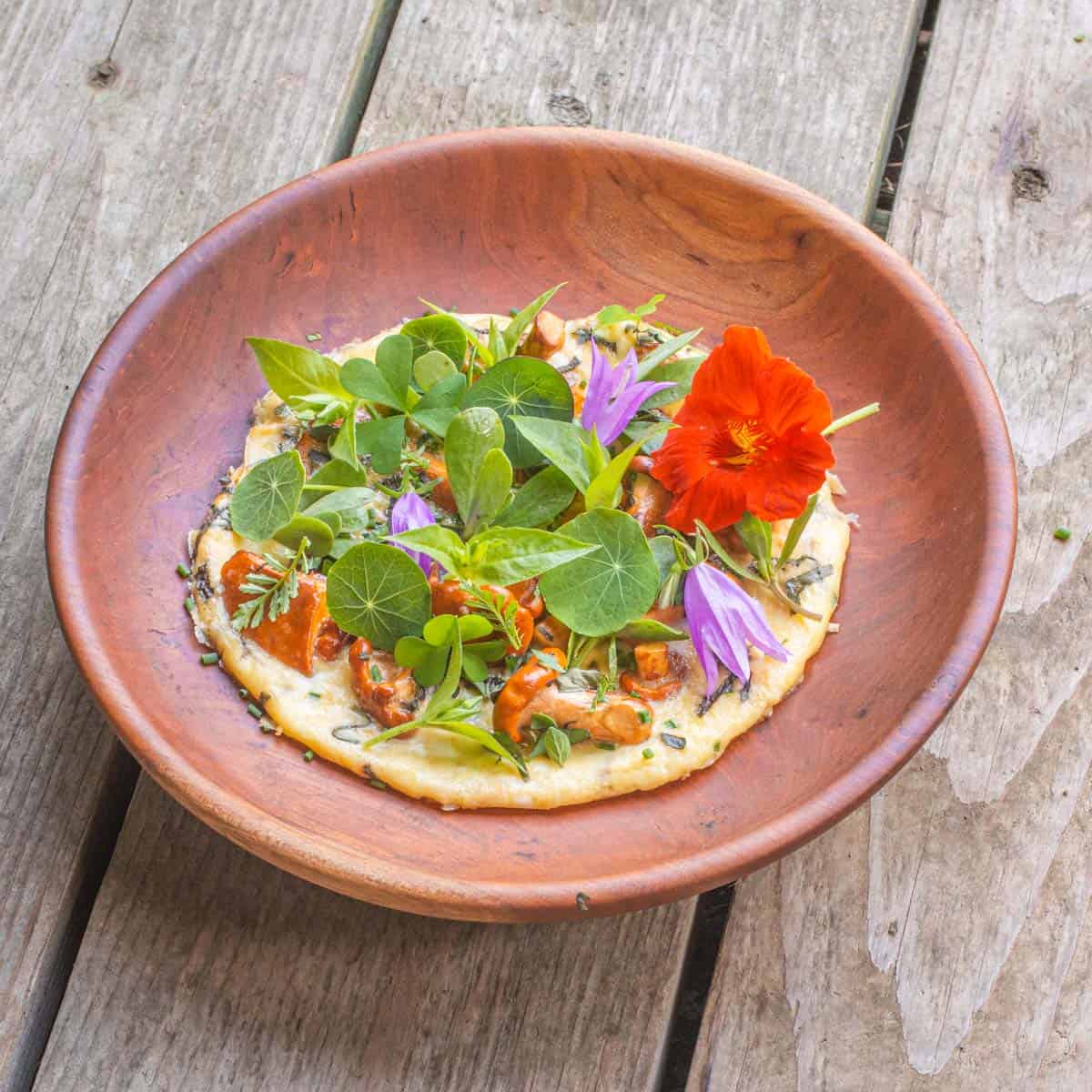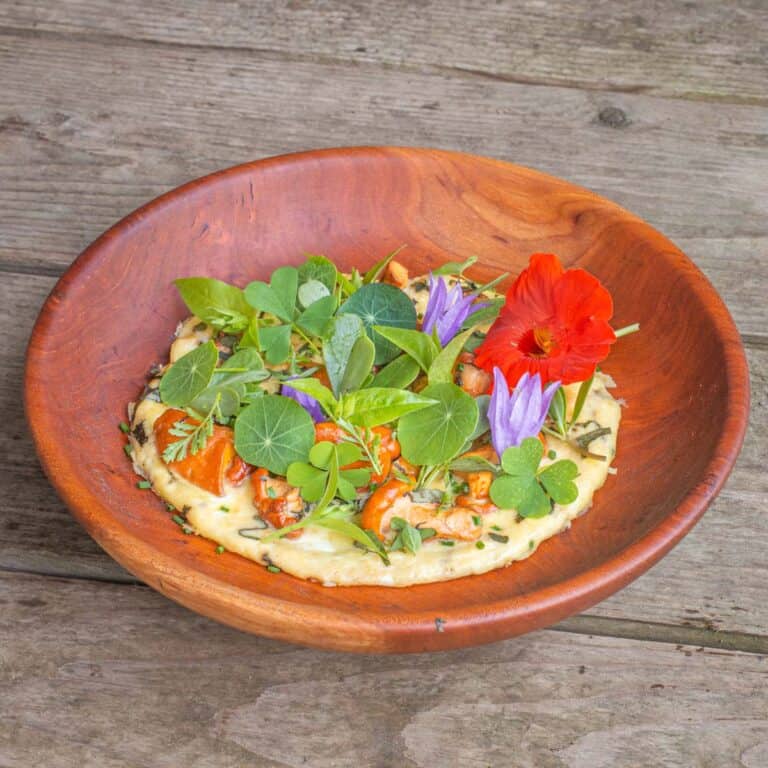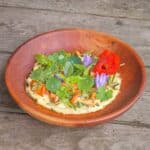 Print Recipe
Classic Chanterelle Omelette Aux Girolles
Serves 1 cooked in a small 6 inch skillet, scale as needed and make a wider omelet, two small ones, etc 
Ingredients
1

large egg

beaten until smooth with a tablespoon water

1

Tsbp Creme fraiche or sour cream

1

teaspoon

chopped fresh fines herbes-

Equal parts: Tarragon, Parsley, Chives, Chervil-slice the chives individually, chop the other herbs together, then mix all when finished

1.5

ounces

fresh chanterelles

preferably in small buttons (a generous handful if you don't have a digital scale)

Salt and pepper to taste

1

tablespoon

grapeseed oil

or other searing oil like vegetable, or canola

1

tablespoon

unsalted butter

Fresh greens and flowers

optional, dressed lightly with lemon, olive oil, and a pinch of salt
Instructions
If the chanterelles are dirty, brush them, then swish in cold water quickly, and dry on a towel. Very clean chanterelles may simply be brushed without washing.

Whisk together the eggs, chopped herbs, and sour cream or creme fraiche.

Heat the oil in a small cast iron skillet or a small teflon pan. (I used a small six inch cast iron with 2 inch sides). When the oil is hot and just begins to smoke, add the drained and completely dry chanterelles to the pan, cooking in the oil until they are lightly caramelized and golden, about 2-3 minutes.

Season the chanterelles to taste with salt and pepper, then add the butter and melt.

Add the egg mixture to the pan,  let this cook for 30 seconds, stirring occasionally to form soft curds which should only lightly envelop the chanterelles, keeping them visible and not hidden under egg.

When the egg mixture begins to coagulate, then turn the heat off of the pan and allow the eggs to set with the residual heat of the pan.

Finish the omelet by seasoning with a touch of fine salt like kosher or flaked salt and serve immediately, topped with the fresh greens if using.
Notes
This is a single serving, but it's easy to scale and make it for 2 people-just use a 1o inch pan. It's also good made with black trumpet mushrooms, and most other mushrooms. Feel free to experiment, but know that chanterelle buttons are the most traditional. 
Nutrition
Serving:
1
omelet
|
Calories:
327
kcal
|
Carbohydrates:
4
g
|
Protein:
7
g
|
Fat:
32
g
|
Saturated Fat:
11
g
|
Polyunsaturated Fat:
11
g
|
Monounsaturated Fat:
7
g
|
Trans Fat:
0.5
g
|
Cholesterol:
201
mg
|
Sodium:
72
mg
|
Potassium:
294
mg
|
Fiber:
2
g
|
Sugar:
1
g
|
Vitamin A:
662
IU
|
Vitamin C:
0.1
mg
|
Calcium:
47
mg
|
Iron:
2
mg