If you are a chanterelle hunter, you will likely have experienced this scenario:
You get home from your successful chanterelle hunt, you start to unload the mushrooms in the kitchen and prepare to clean and process them. You wash the mushrooms briefly if needed, allow them to drain and dry, and then proceed to cut some up into reasonably sized-edible pieces and cook. When you cut some of the larger mushrooms in half, you notice something strange, they are nearly hollow inside, some with little tunnels and discolored bits.
Feeling discouraged you start cutting some of the smaller ones in half as well, to check for similar damage. To your horror, one of the mushrooms has maggots inside of it: moving, writhing, wiggling maggots, each with a puny black dot on it's head. When you expose them from inside their mushroom home, they get agitated and start to writhe and squirm violently, shaking their little maggot tails back and forth and moving around quickly, or scurrying back into a tunnel they have carved within the mushroom. Absolutely disgusted, you hurl the mushroom across the room into the garbage, shouting a flurry of expletives.
Wild mushrooms are expensive, pound for pound more expensive than any sort of meat or protein I have ever purchased. When you pay that much for something, as a chef or restauranteur you must squeeze as much money as possible from it. Having a bug or two is absolutely acceptable, and I can tell you, never once in my life has a customer complained of or been squeemish about bug damage in a chanterelle, or any wild mushroom for that matter. Mostly I assume this is due to the public's ignorance of the bugs very existence though.
However, bug damage can get to a point that even I cannot tolerate sometimes. If mushrooms sit in the fridge for a while (especially boletes) the bugs inside them are not dormant; quite the contrary. I have heard tales of the maggots even migrating out of the mushrooms themselves to crawl around in the crisper, as well as having personally witnessed it myself as well with mature chicken of the woods.
This little rant about mushroom bugs has a happy ending though. I was recently trying to figure out how to use some chanterelles on the brink of death. They came in nice enough via air-freight, but Midwest chanterelles have much more bugs than others, such as from the Pacific Northwest. They sat for a day or two, and it seemed the bugs had laid siege to them in the cooler. We had to use and process the chanterelles quickly, but what to do? Their integrity was far too compromised to be simply sauteed, and even though customers still wouldn't know the difference....we would.
Normally I want to use chanterelles whole or thickly sliced, but, to hide their injuries I decided we would make a pureed soup. I wanted to rely on the heaviness of cream, but lighten it by not adding flour. The binder would be the pureed chanterelles themselves as well as cooked down white sweet onion. Try it if you have some bug damaged chantys.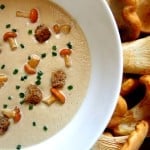 Print Recipe
Last Chance Cream of Chanterelle Soup
Yield: enough to serve 4 people a small 4 oz bowl, about 6 cups
Ingredients
1

recipe pickled chanterelles to garnish

I have a recipe for pickles here

1

lb

firm

bug damaged chanterelle mushrooms

1

cup

diced yellow onion

1

cup

diced leek

white part only

½

cup

diced bread for croutons

3

tablespoon

butter

2

cups

of cream

¼

cup

grapeseed

canola, or light- taste free olive oil (to be added as the soup is pureed)

½

cup

dry white wine

1.5

cups

of homemade chicken stock stock

plus an additional ½ cup

A Bouquet garni

optional consisting of: 2 fresh bay leaves, 1 small sprig of thyme, and 1 teaspoon of black peppercorns
Instructions
Heat the butter in a deep pot, add the chanterelles and cook, seasoning with a generous pinch of salt to release the juice from the chanterelles and stirring often, until they are fully cooked and have reduced in size by half. Continue cooking the chanterelles until they brown slightly, this deepens their flavor.

Add the diced onion and leek and cook for 5 minutes more, stirring occasionally.

Add the ½ cup of chicken stock and reduce until it is gone (about 5 minutes) and the onions are thoroughly cooked and soft.

Add the wine and cook for a few minutes, until reduced by half. Add the stock and cream, heat until the mixture comes to a simmer

When the mixture simmers, remove the bouquet garni, then puree the soup in a blender, adding equal portions of the grapeseed oil to each batch while pureeing- this adds air, helps it to puree, and improves it's velvety texture.Finally pass the soup through a metal or mesh strainer. If you have a vita-mix or industrial blender, you may not need to strain this, and if you just don't feel like straining it, thats ok, just make sure to give it plenty of time on high in the blender, until it is as smooth as you like. Season the soup to taste with salt if needed and then refrigerate immediately.

To plate, heat the soup, check the seasoning for salt and pepper, then garnish with toasted croutons pickled chanterelles, and the chives.
Notes
To achieve the smooth consistency of this soup I make sure to add the oil while it's pureeing in the blender. Oil added at the moment when something is being pureed reduces friction, giving you the creamiest result possible. This is a technique you can use anytime you use the blender for sauces, and is a great tip to remember.