Puffballs stuffed with cheese! Oh baby. There is just something about stuffing food with cheese that's awesome. I know if I make anything like this orders will come in rapidly, I had better be dug in deeper than an Alabama tick with prepped food. There is just something about oowey-gooey cheese that humans have a natural predilection for, especially for those of us who have even a touch of Wisconsin in their blood.
When the eggplant and tomatoes abound during the summer, I like to make a gluten free ravioli dish using thinly sliced eggplants filled with some sort of stuffing. The eggplants are sliced about ¼ inch thick, then grilled or roasted. A scoop of a cheese stuffing is placed in the middle, then the edges are brushed with egg to form a seal when they are heated. They are great with any sort of tomato sauce, or a similar preparation.
Here I have used puffball mushrooms to create a similar recipe. Any sort of puffball about the size of a grapefruit or larger can be used here. The recipe is so simple that I hardly need to give you exact proportions for executing it. A picture or two is all you need, which makes this a very approachable and easy thing to make. This is a really great thing to do with those puffballs.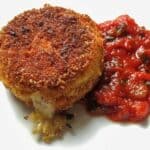 Print Recipe
Cheese Stuffed Puffball Mushrooms, with Ramp Ketchup
Puffball mushrooms stuffed with cheese.
Ingredients
Puffball mushrooms

A melting cheese of your choice

such as: gouda, mozzarella, gruyere, fontina, brie, ect.

Panko breadcrumbs

Eggs

for breading

Flour

for dredging

Cooking oil

such as grapeseed, canola, or animal lard

Ramp Ketchup for serving

see recipe here
Instructions
First prepare the puffballs.

Peel the outer skin from the puffballs using a vegetable peeler. Inspect the puffballs and make darn sure they are pure white and firm like styrofoam. Cut the puffballs into ¼-1/2 inch slices (this will depend on how big you would like them). Season the slices lightly with salt and pepper.

Next take a few slices of cheese and place them in the center of the puffballs, pressing down on the cheese slices lightly to  imprint their shape and create a bit of a "pocket".

Take another slice of puffball and place it on top of the slice with the cheese. Press this down to make a sort of sandwich. These will be even better if you wrap each puffball "sandwich" up tightly in plastic wrap and refrigerate for a few hours.

Take each puffball sandwich and coat them in flour, then dip them in egg, then in bread crumbs. If any parts are not totally covered with the flour egg and crumbs, you can spot treat them a bit by gently re-dipping the uncoated areas as needed.

Heat a cast iron skillet hot with plenty of oil, fry the puffball sandwiches on medium heat, flipping when they are golden brown. If the puffballs soak up all the oil and dry out the pan, add a little more so that they do not burn.

When the puffballs are golden brown and heated through, transfer them to a paper towel to drain excess oil. Serve immediately with the ramp ketchup.
More