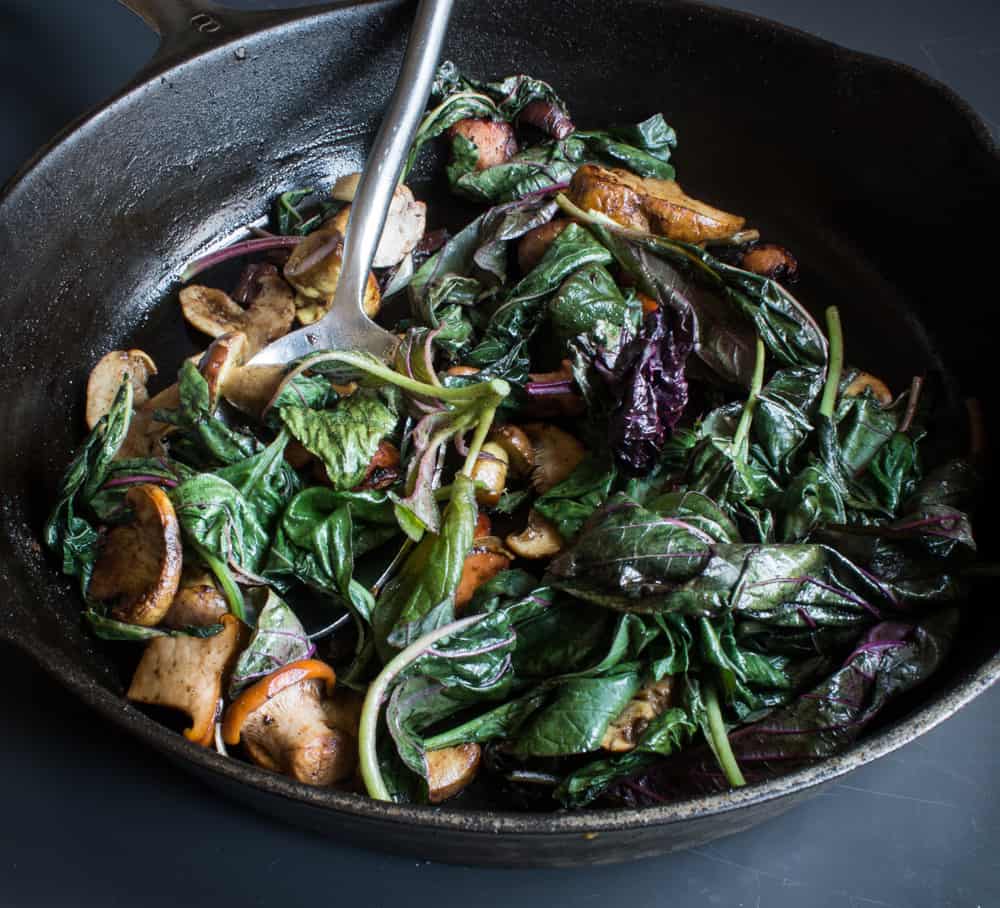 Amaranth is such a great plant. Like most of my favorite greens, the majority of people are probably just going to pull it out of their garden as a weed, and I get that, but if you have some growing you're doing yourself a disservice not trying it at least once-I guarantee you'll be hooked. When it's young, I pluck the tender clusters of greens to add to salads, when It's older I love to give it a quick wilt, just like spinach.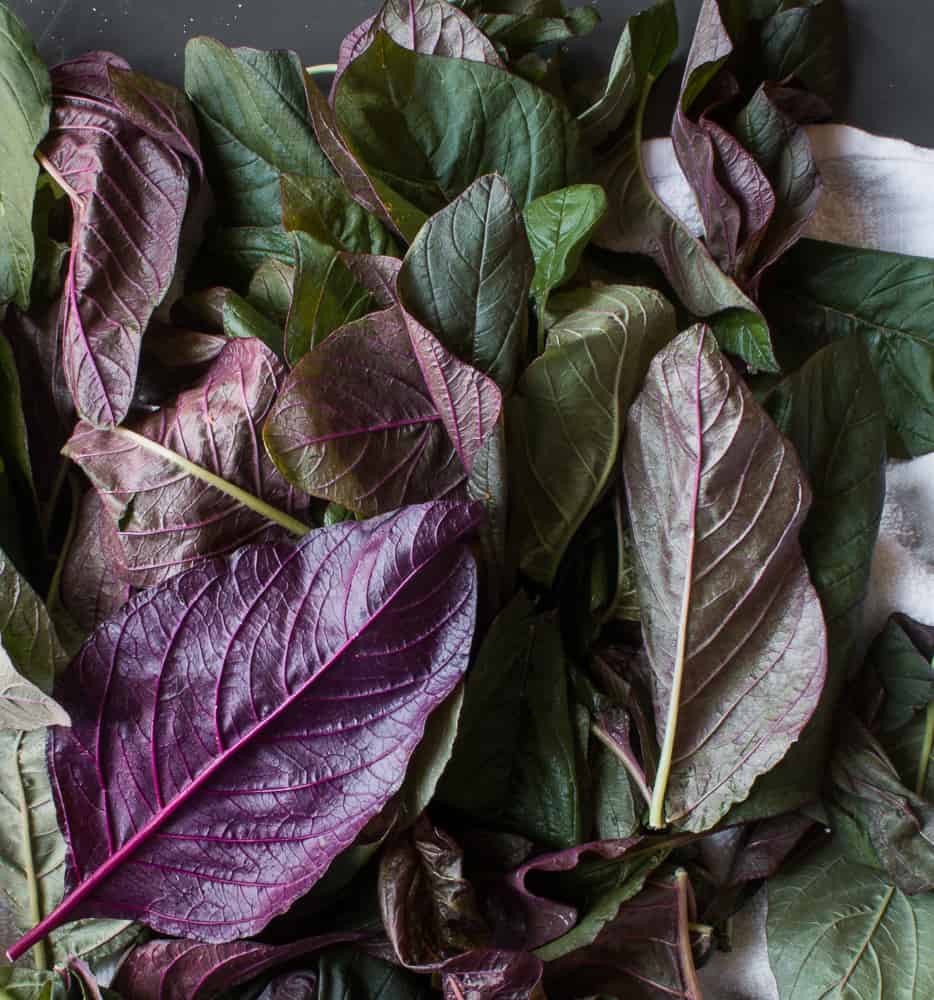 There's a number of different types too, you have regular wild amaranth, which will be green, and should be Amaranthus retroflexus if I'm not mistaken. My favorite species is burgundy amaranth, which is a brilliant, purple-red color. At the farmer's markets where I like to shop, the Hmong farmers often sell a hybrid variety of the two that's both green and red, as you can see in the picture here.
Amaranth reaches it's braising peak in the middle of summer, right around the time wild mushrooms are really starting to boom. It's a natural thing to pair them together, and a fun way to combine all of the mushrooms I've picked in a day into a single dish when I need to stop hunting mushrooms and start eating them.
On the day I made this I didn't have a haul of one particular mushroom, I came home with a mix of a couple different species: small bi-color boletes, club fungus, young white pored chicken of the woods, and hygrophorus russula. Be creative and make your own blend, it should be whatever is popping in your area.
The greens too don't even need to be amaranth, they could be a cultivated green like kale, or a blend of something, I really like lamb's quarter and amaranth mixed together. Think of it as a choose your own adventure dish.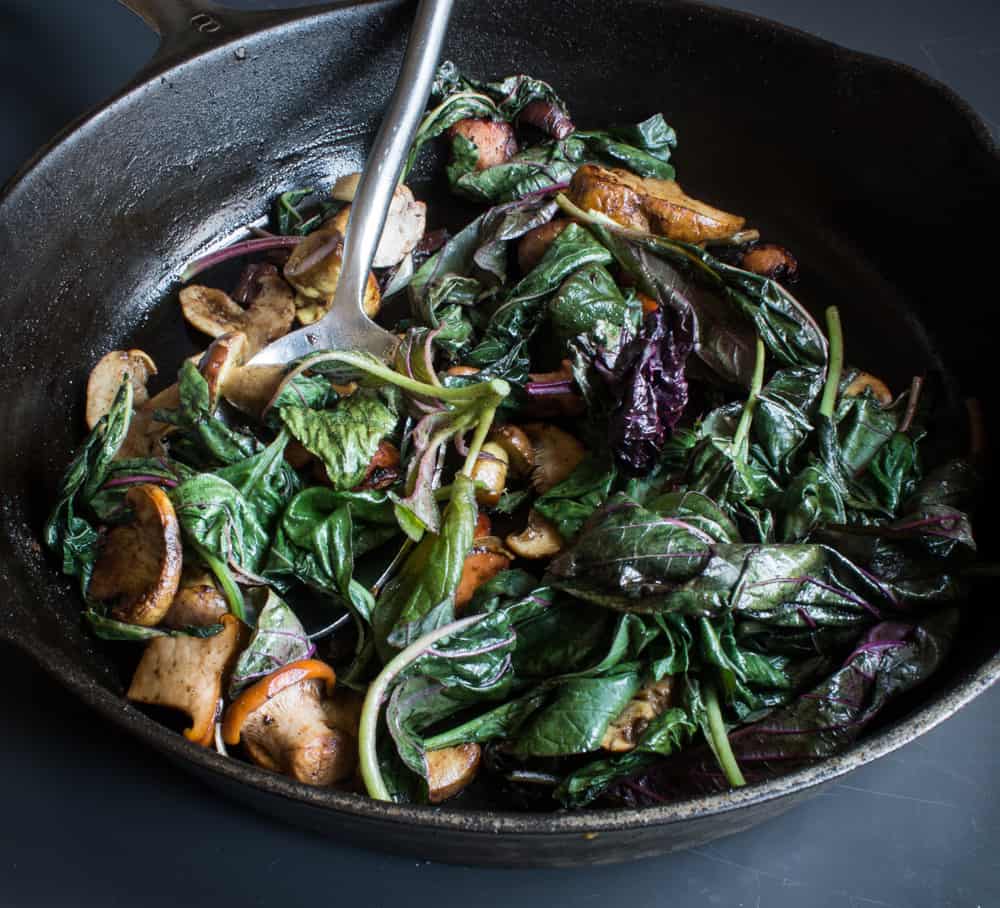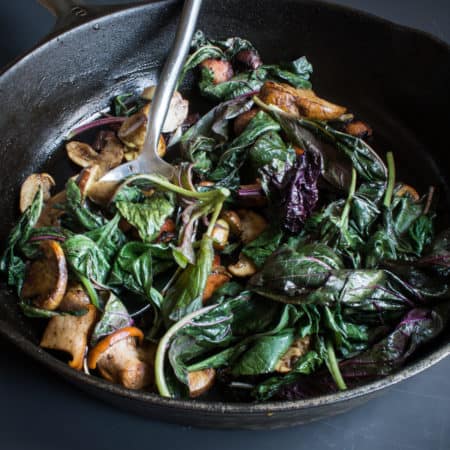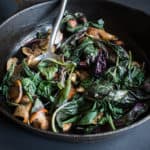 Print Recipe
Wilted Amaranth With Garlic, and Summer Wild Mushrooms
Serves 4 as a side dish
Ingredients
1

lb

amaranth greens

washed and dried

2-4

ounces

depending on availability: mixed wild summer mushrooms

see picture example above cleaned and trimmed into similar sized pieces

Kosher salt

to taste, as needed

Crushed red pepper

to taste, optional

1

large clove garlic

sliced as thin as possible

4

tablespoons

unsalted butter

2

tablespoons

dry white wine

a splash
Instructions
Heat the oil in a saute pan or cast iron skillet. When the butter is hot and sizzling, add the mushrooms and cook for a few minutes until lightly browned over medium high heat.

Turn the heat on the pan down to low, season the mushrooms to taste with salt, then move the mushrooms to one side of the pan and add the sliced garlic, and cook until lightly golden, stirring occasionally, about 4-5 minutes.

Add the pinch of red pepper flake if using, then add the splash of wine to stop the garlic from cooking, add the amaranth and cover the pan to allow it to steam and wilt for a few minutes, keeping the heat on low to prevent the amaranth from browning. Remove the lid and give the greens a good stir with some tongs or a wooden spoon, and put the lid back on for a moment if needed.

Taste the greens, adjust the seasoning for salt and pepper and adjust if needed, then transfer to a warm bowl and serve immediately. Sometimes at home I serve wilted greens like this right from the pan too.