I've been eating more and more amaranth in the past few years, for some reason I forgot I could wilt it like spinach. For a year or two all I did was put it in salads, and then it needs to be blended with other greens. If you use it raw, it can be a little tough for some people, even if it's only the young clouches/tender tops.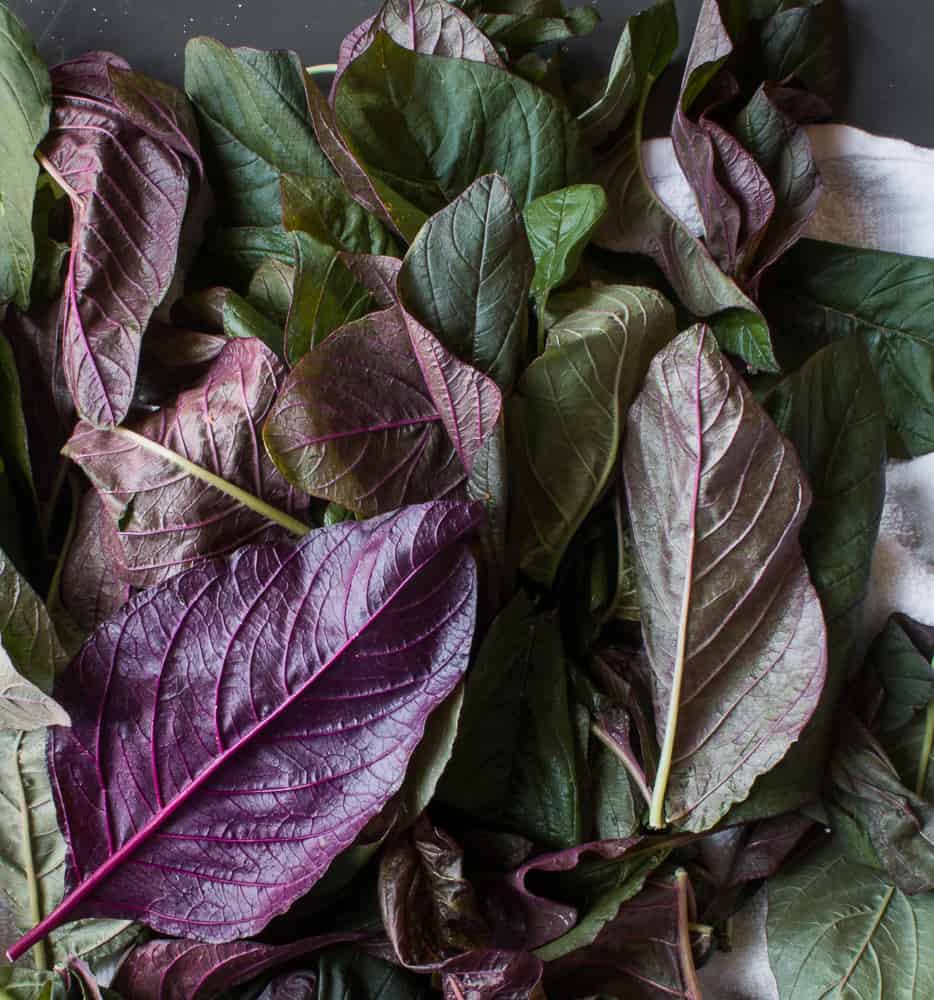 I was reminded how good it is cooked after a dinner where foreign exchange students came to a my girlfriend's farm near Menomonie for dinner. The guests ended up all being female culinary entrepreneurs from different parts of Africa.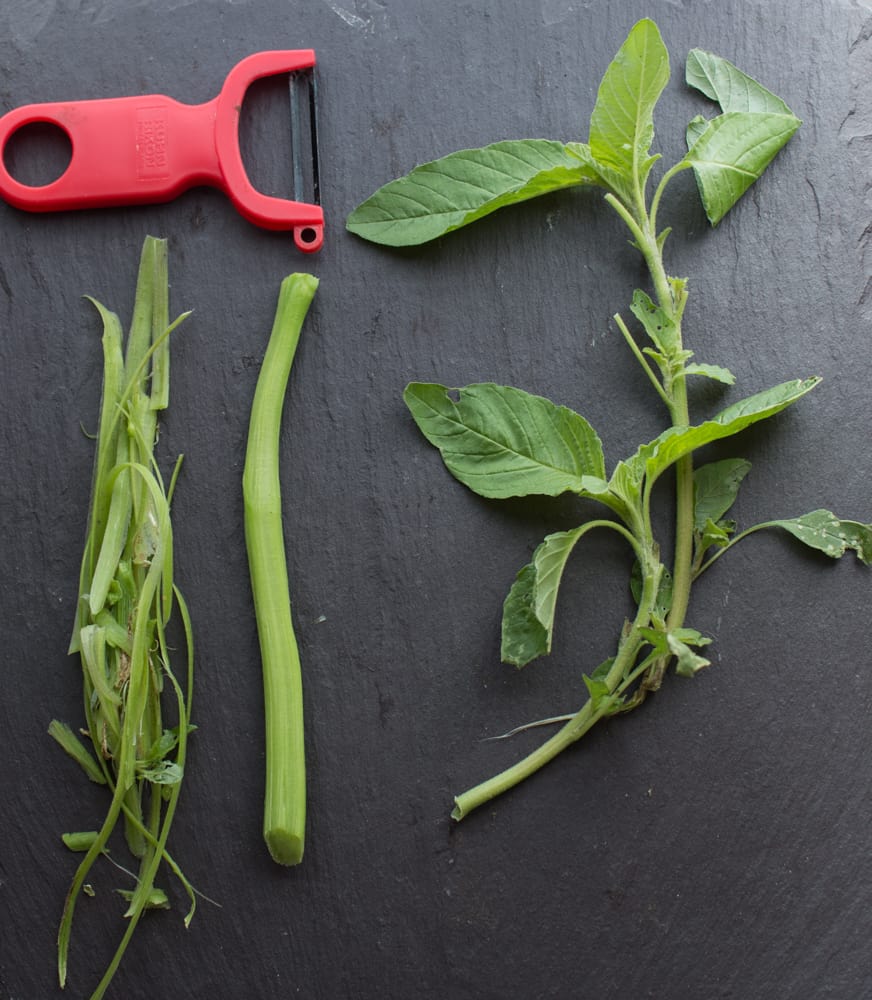 I was surprised to hear over dinner that they all ate foods and fruits that the others didn't in their region (they also spoke different languages as their native tongue). One similarity though, was that they all knew what the wilted amaranth at the table was. Food is the ultimate culture-bridging topic, and one I think is fascinating when the subject is traditional foods, especially plants and mushrooms.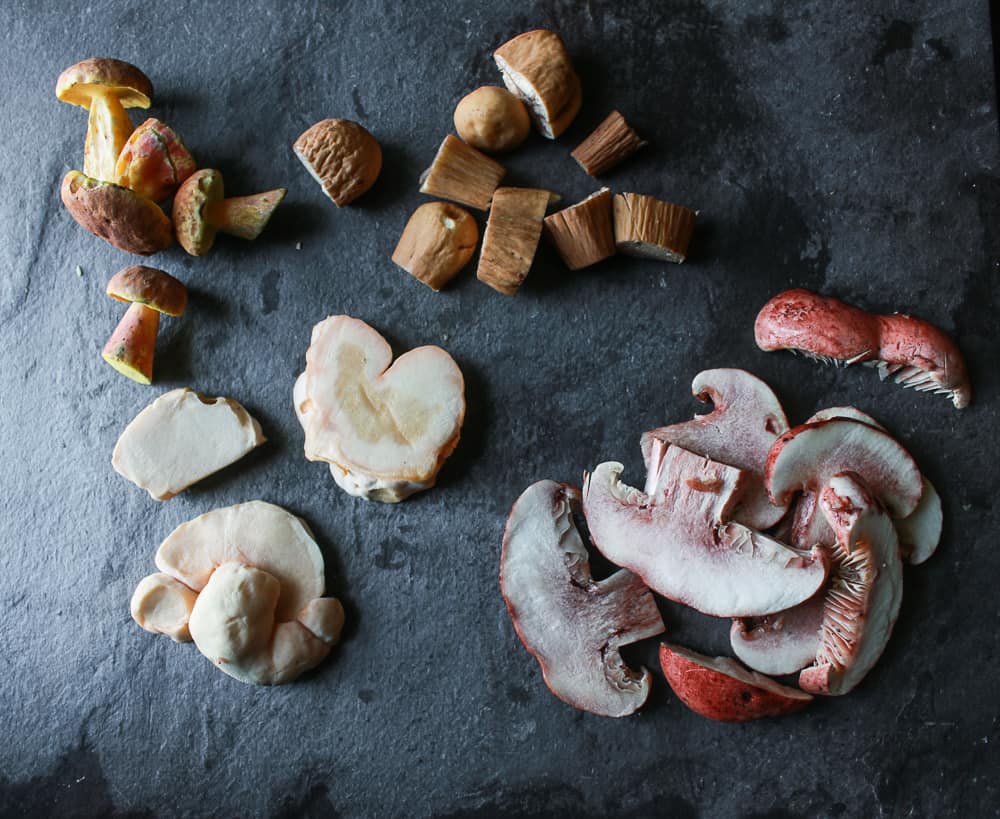 A couple days later, I was thinking of how much I enjoyed the dinner that I got a craving for amaranth so I made a panful during mushroom season with a mix of mushrooms like chicken of the woods, waxy caps, and black trumpet mushrooms. It's a simple variation on my favorite wilted green prep: garlic, olive oil, lemon and chili. It's a great way to use up a nice pile of greens from thinning the garden.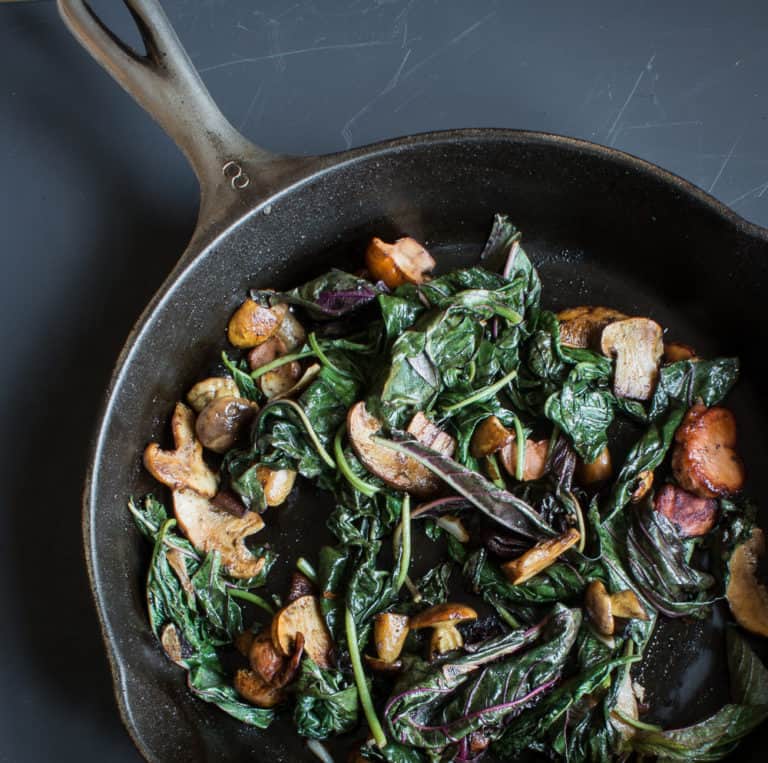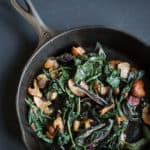 Print Recipe
Wilted Amaranth With Garlic, Chili and Mushrooms
Wilted amaranth greens with mushrooms, garlic and chili
Ingredients
½

lb

fresh young amaranth leaves

washed and dried

4

ounces

fresh wild mushrooms

cleaned and set on towels to dry

1

tablespoon

thinly sliced chesnok garlic or another hardneck garlic variety

2

tablespoons

unsalted butter

1

tablespoon

extra virgin olive oil

Fresh squeezed lemon juice

to taste

Crushed red pepper flakes

to taste

Kosher salt

to taste
Instructions
In a large saute pan, (preferably 10 inch) heat the garlic with the butter and oil on medium heat, stirring occasionally until the garlic is golden and aromatic-turn the heat down low towards the end to really get the garlic brown and toasty.

When the garlic is lightly browned, add the mushrooms and a pinch of salt and stir.

Continue to cook slowly until the mushrooms have released some of their juice and are completely cooked and wilted. Add the greens, chili flakes, mix and add the stock. Cover and simmer until the greens are tender and the pan is nearly dry. keep an eye on it so it doesn't burn.

Double check the seasoning for salt and adjust until it tastes good to you. You can drizzle a thread of extra virgin olive oil over it at the end. Serve with lemon wedges.
Notes
The garlic is part of the key here, I like to use different varieties when I can like the Chesnok Red, which has a strong flavor.
Use any garlic you want, but one bonus of cured heirloom varieties (besides improved flavor) is that I find they're much easier to work with. *Most* varieties I've worked with have larger cloves that are easy to peel, especially if they've been properly cured in a dry place for a while, like a barn.
Nutrition
Serving:
3
oz
|
Calories:
202
kcal
|
Carbohydrates:
7
g
|
Protein:
4
g
|
Fat:
19
g
|
Saturated Fat:
8
g
|
Polyunsaturated Fat:
1
g
|
Monounsaturated Fat:
8
g
|
Trans Fat:
0.5
g
|
Cholesterol:
30
mg
|
Sodium:
247
mg
|
Potassium:
630
mg
|
Fiber:
2
g
|
Sugar:
2
g
|
Vitamin A:
7286
IU
|
Vitamin C:
36
mg
|
Calcium:
70
mg
|
Iron:
2
mg