Golden brown fried liver with a rich sauce of mushrooms, sherry, bacon and onions is one of my favorite liver recipes.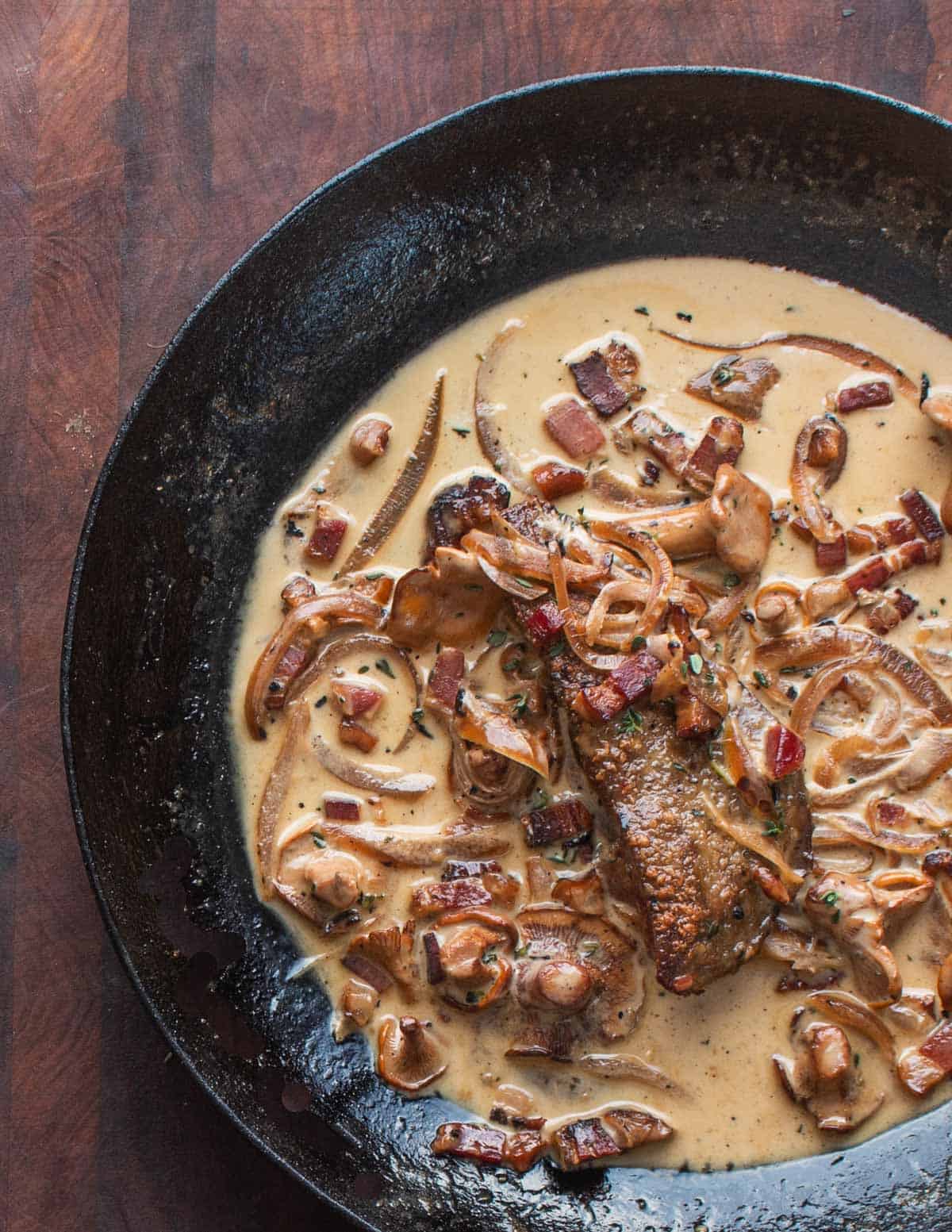 I used to run it as a first course on tasting menus at a restaurant specializing in nose to tail cooking.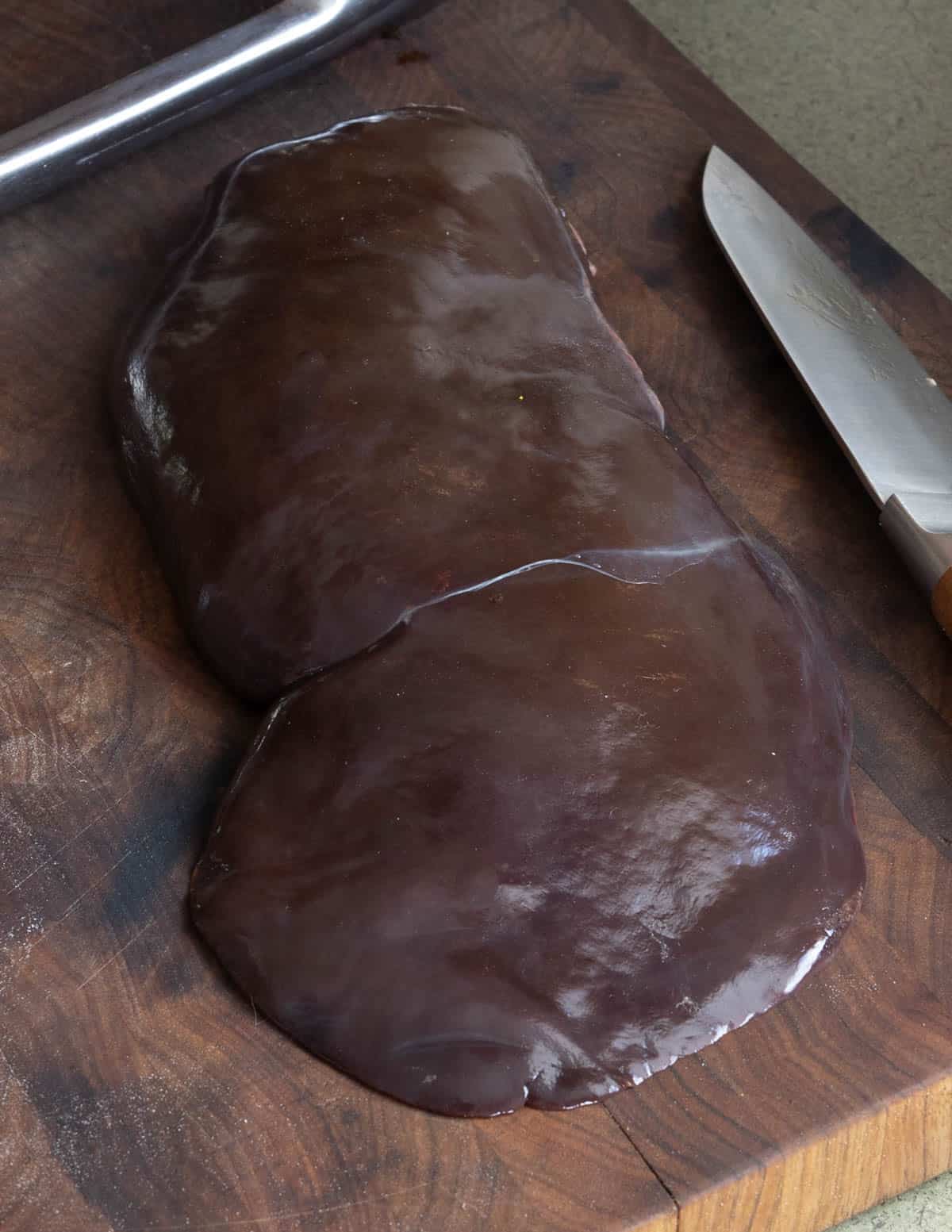 History
Veal is an economical meat, and a misunderstood one. Some people even think veal are baby lambs, if you can believe it!
It costs time and money to feed cows until they reach a usual harvesting weight. But young cows don't consume as much feed, which means they don't cost as much to produce.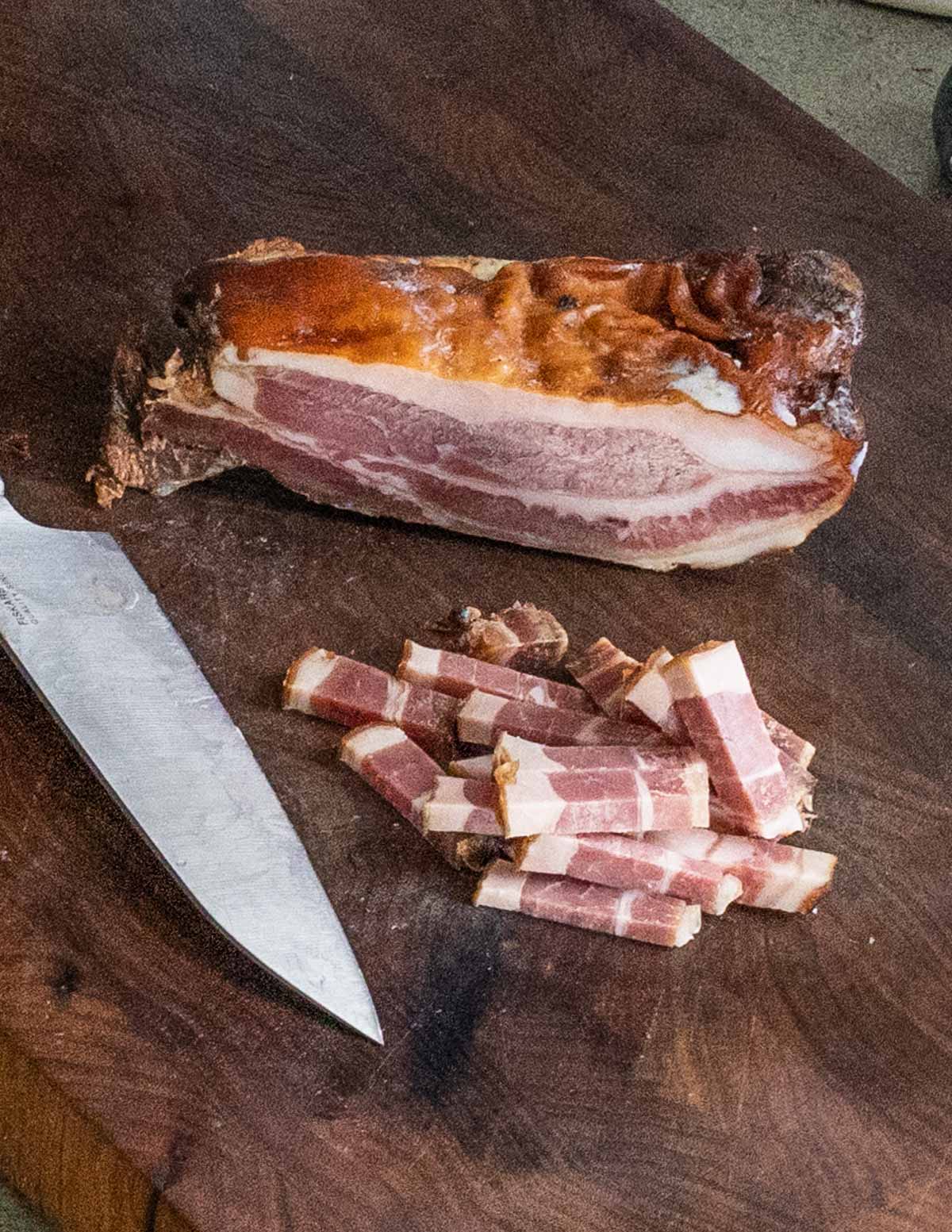 Rose Veal
Most people think of milk fed veal, and small animals chained to plastic houses in a feed lot, but modern veal isn't cruel.
Now, instead of pale, anemic meat, there's rose veal. Rose veal are calves that are allowed to follow their mothers around in a pasture, eating grass. Peterson Craftsman Meats is my favorite producer.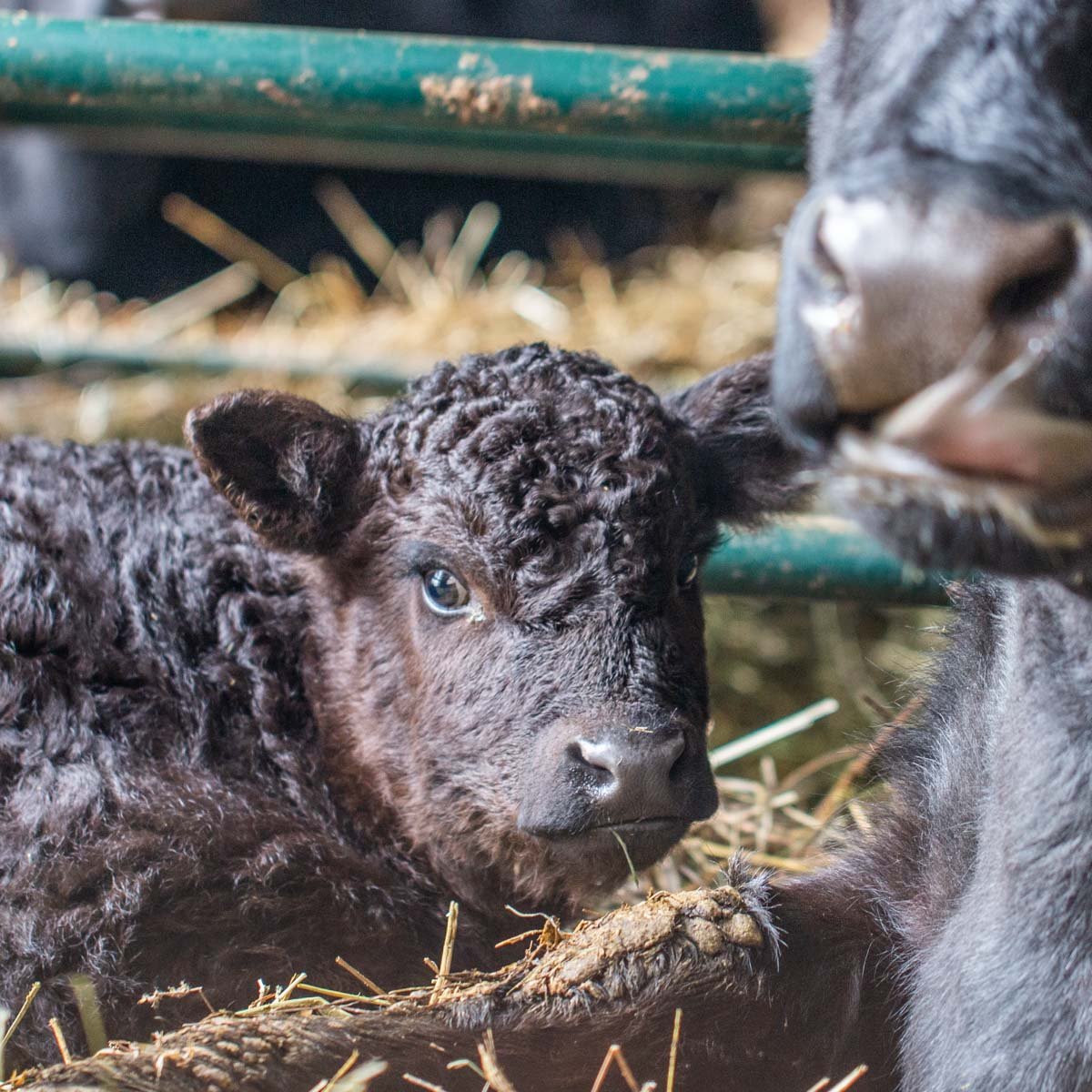 Eating grass instead of milk or formula means the meat isn't white. Instead the meat is red, like it should be. The trade off is that rose veal is not quite as tender as milk fed veal. Trust me, once you taste some, you won't care.
Making the dish
This is a quick dish to put together, but there's a few steps involved. First, the sliced liver is soaked in milk overnight. After soaking, it's dried off, dredged in flour and sauteed golden brown over high heat in a frying pan.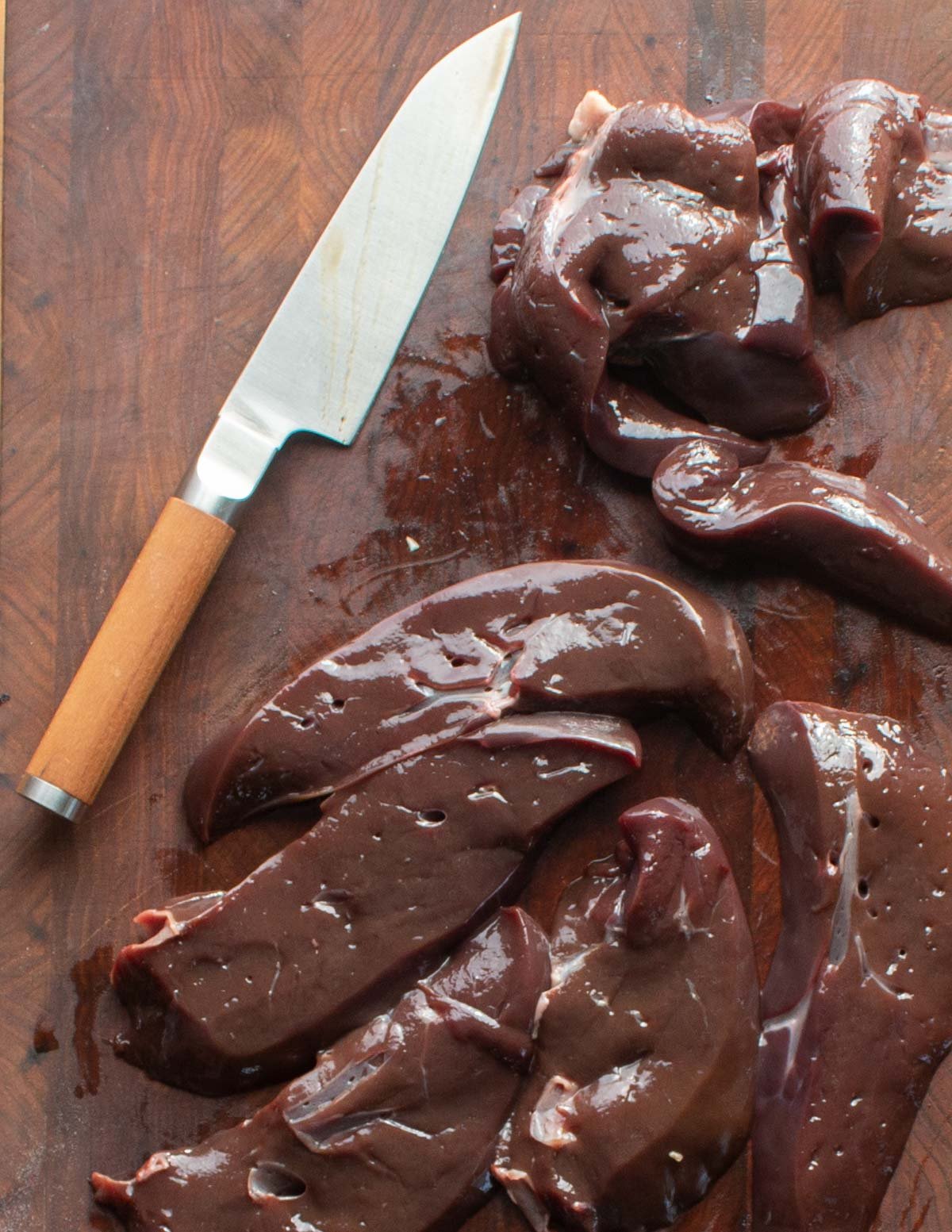 You remove the liver to rest while you prepare a quick sauce of caramelized onions, mushrooms, bacon, sherry, and cream. I used golden chanterelle mushrooms, but you can use whatever you have available. Fresh thyme adds a little depth. For a variation, you can use alternative cured meats like beef bacon.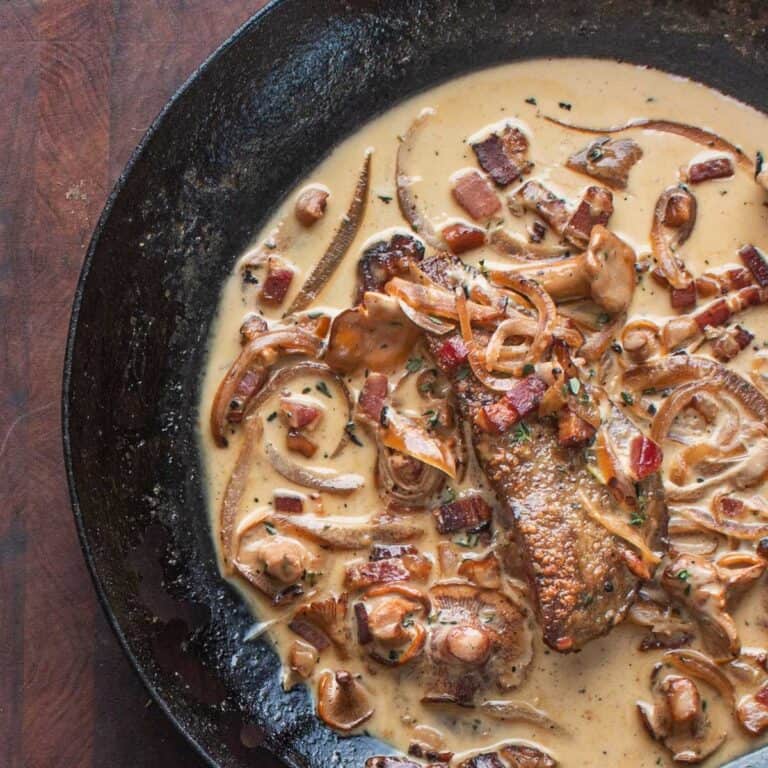 Print Recipe
Veal Liver with Bacon, Onions and Mushrooms
A rich dish of fried veal liver with bacon, onions mushrooms, sherry and cream served on toast. Serves 4 as an appetizer. Serve two slices of liver per person for a main course.
Ingredients
Liver
12

oz

veal liver

cut into 4 3 oz slices

Kosher salt

Fresh ground black pepper

3

Tablespoons

cooking oil

1

cup

all purpose flour

plus a pinch for the sauce

2

cups

whole milk

for soaking
Sauce
3

oz

bacon

preferably pancetta

4

oz

wild mushrooms

such as chanterelles

½

teaspoon

chopped fresh thyme

¼

cup

dry sherry

½

cup

heavy cream

4

oz

yellow sweet onion

this is one small onion

½

cup

chicken stock

traditionally this would be demi glace

1

tablespoon

unsalted butter

optional

½

teaspoon

honey or maple syrup
Serving
Sliced of toasted or grilled bread
Instructions
Caramelized Onions
Cut the top and bottom from the onion, cut in half, then cut into ¼ inch julienne.

Heat the onions and a tablespoon of the oil in a pan on medium-high heat. Cook for 15-20 minutes, stirring often and occasionally with a wooden spoon and adding a splash of water if the pan gets threatens to get dark.

When the pan looks like it's getting dry, add a splash of water and continue cooking, repeat the process until the onions are soft and deep brown.
Liver
Soak the liver slices in milk overnight.

Heat 1 tablespoon of the oil in a large saute pan or skillet until nearly smoking. Season the liver slices with salt and pepper, dredge in flour on one side only, tapping off the excess flour.

Fry the liver slices flour-side down until golden brown on high heat.

Flip the pieces of liver over and cook for a second on the other side, then remove to a plate to rest. At this point the livers should be about medium rare. You will put the pieces of liver back into the pan to warm up at the end.
Pan Sauce
In the same pan, heat the bacon and the remaining tablespoon of oil and cook until the bacon releases its fat and becomes crisp. Add the mushrooms to the pan and cook until they release their water and start to brown.

Add the flour stir, and cook a minute more. Add the sherry to the hot pan, swirl it to ignite (carefully) blow the flame out, then add the onions, honey, thyme and chicken stock and bring to a simmer.

When the liquid is reduced by half (about 5 minutes) add the cream and simmer gently until lightly thickened. Double check the seasoning for salt and pepper, adjust until it tastes good to you, then stir in the butter until incorporated.

Turn the heat off the pan. Slip the liver back into the pan and baste with the juices to help warm them up for a minute or two.
Serving
Meanwhile, grill or toast a few slices of bread.

Put the slice of bread on a plate, top with a piece of liver, spoon the thick onion and mushroom sauce over the top and eat.
Notes
Balsamic Variation 
This recipe is really good if you add a splash of balsamic vinegar to the cream. If you want to do that, you can skip the bacon to keep it on the lighter side.
Nutrition
Serving:
1
slice
|
Calories:
581
kcal
|
Carbohydrates:
33
g
|
Protein:
26
g
|
Fat:
25
g
|
Saturated Fat:
14
g
|
Polyunsaturated Fat:
6
g
|
Monounsaturated Fat:
15
g
|
Trans Fat:
0.4
g
|
Cholesterol:
340
mg
|
Sodium:
263
mg
|
Potassium:
535
mg
|
Fiber:
1
g
|
Sugar:
4
g
|
Vitamin A:
33750
IU
|
Vitamin C:
3
mg
|
Calcium:
40
mg
|
Iron:
7
mg