Purslane panzanella salad is one of the tried and true recipes I eat every year when plants need to be weeded from the garden. It's the classic summer salad of tomatoes, basil and mozzarella anointed with good olive oil you know and love, just enhanced with a couple handfuls of fresh verdolagas / purslane tips.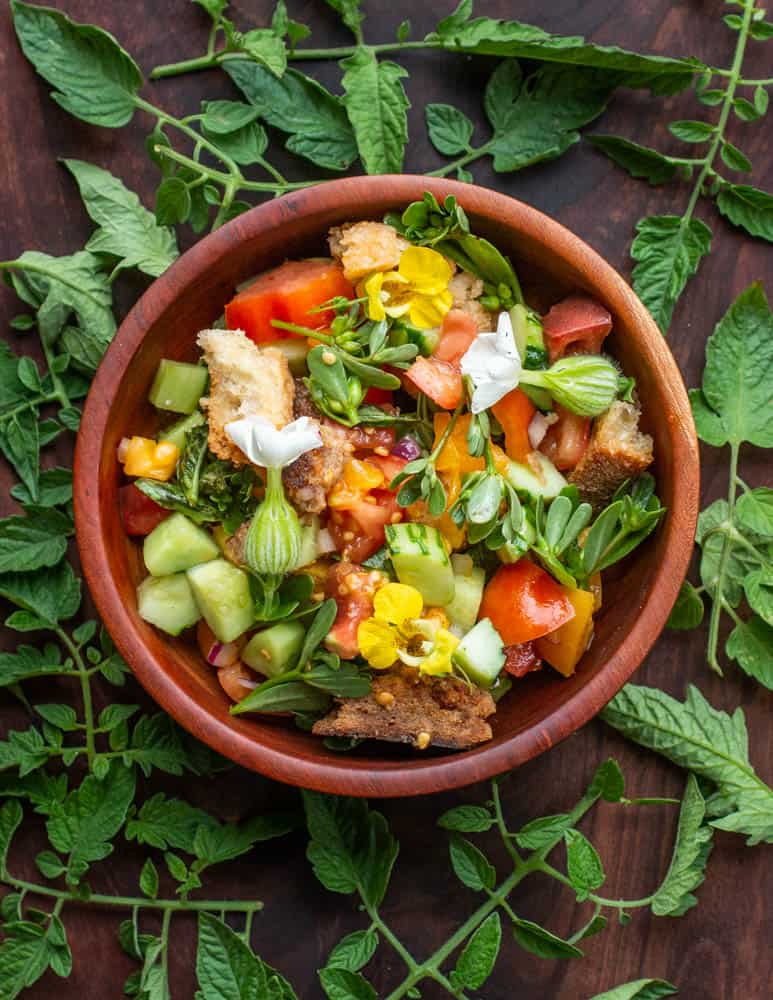 Every time I make it I can hear my former chef (Rino Baglio, the former personal chef to the princess of Monaco) who taught me to make the first version I learned in my ear: "The bread needs time with the tomatoes, it's best if they almost start to get soft from soaking up the juice." He would say.
Over the years I made lots of different versions of it, but this one remains my favorite, and was on the menu at my first restaurant for as long as we could source fresh purslane.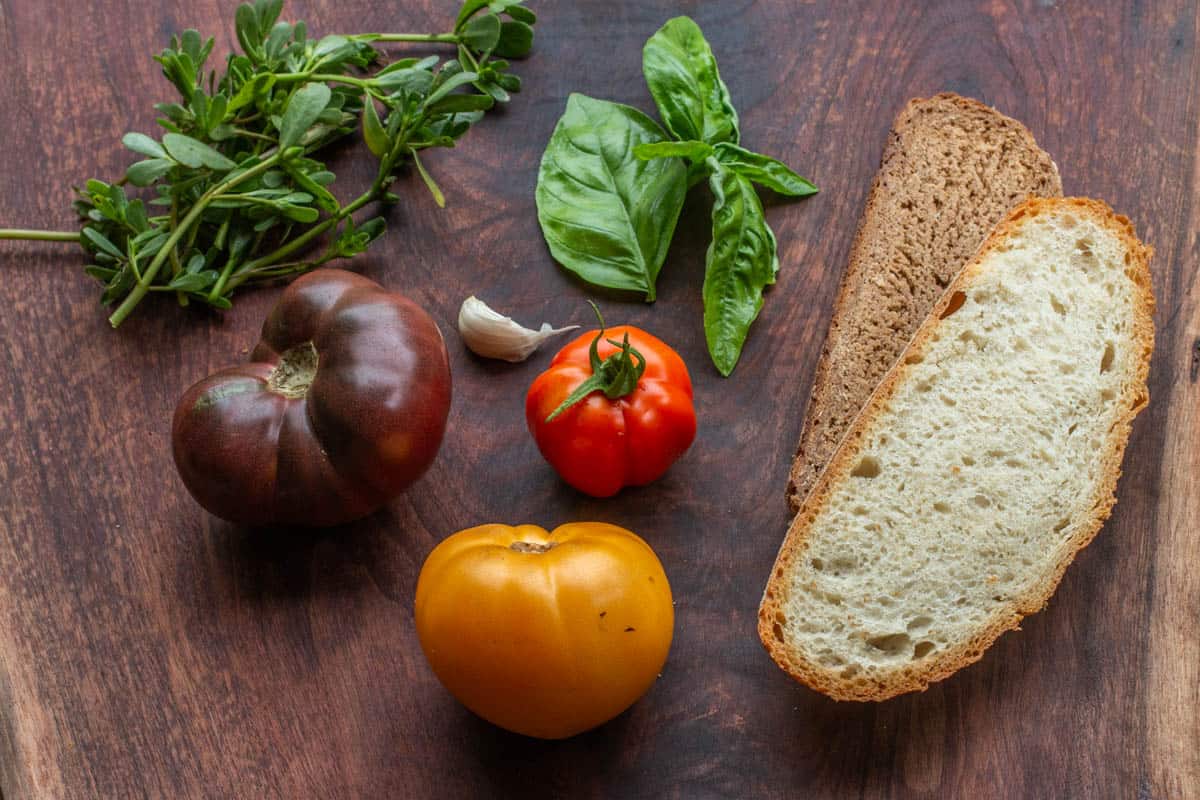 Tips
Tomatoes
This is something to only make during tomato season. The tomatoes must be the freshest you can get, and should never have seen a refrigerator, which ruins them for eating raw.
This is a place where you can really get creative with colors, shapes and sizes, since it's a chunky salad, so reach for your favorite heirlooms, or a mix of small tomatoes and large ones cut into similar sizes. One thing to consider on the type of tomato is the water content too. Larger tomatoes will give off more juice, which helps soak into the bread, which I think is one of the best parts of the salad.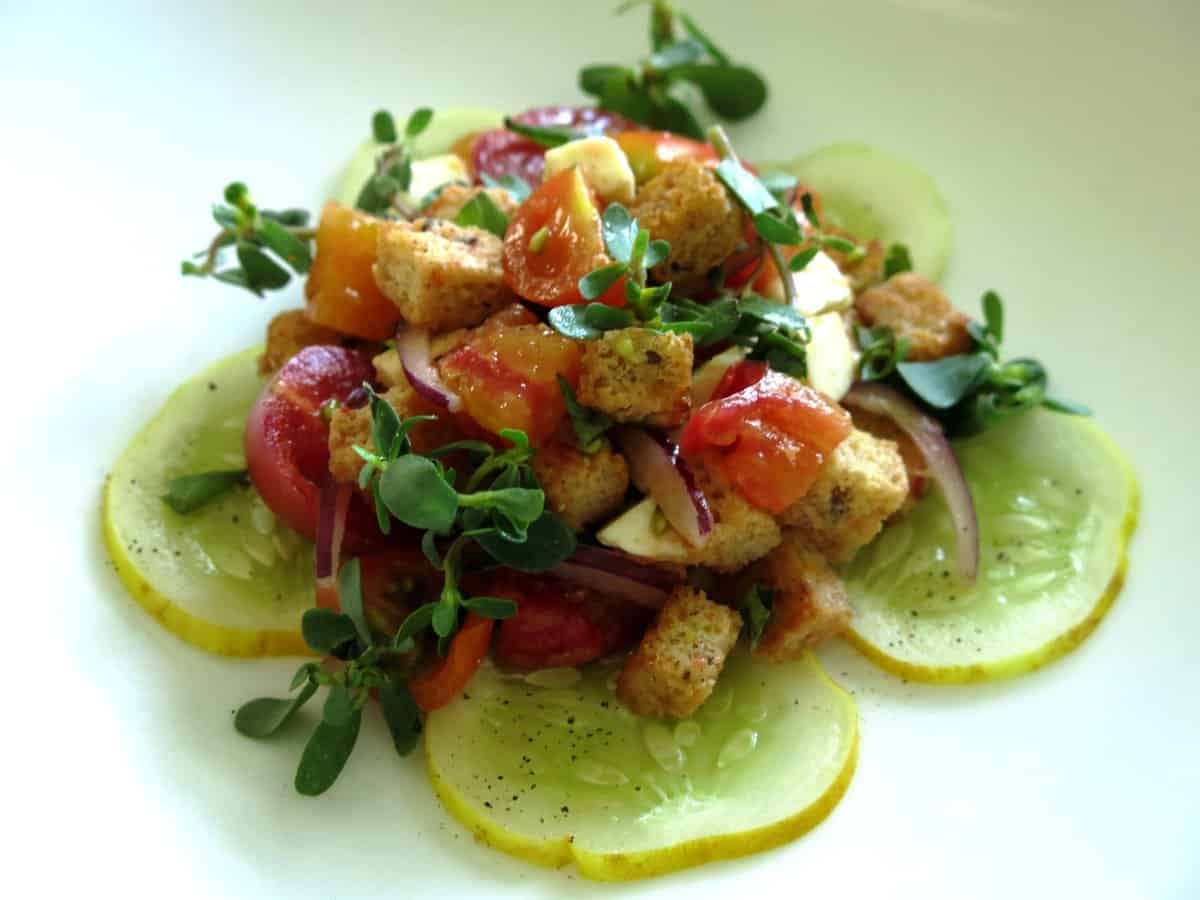 Other vegetables
In the purest form, a good panzanella can be just tomatoes, onions, basil and oil. But other summer vegetables can be a great addition. In a couple of the Italian restaurants I worked at, we would add cucumbers, and I like the cool, refreshing touch they bring. I typically use English cucumbers, that have been seeded, but not peeled. If I have other cukes from the garden laying around, they will work too, but I peel and seed them first as the skin is thicker.
The Oil
Traditionally, only extra virgin olive oil is used. At Heartland restaurant in St. Paul where I was sous chef, we only used ingredients from within 300 miles of Minnesota, and there I learned to love local, high quality oils produced in the area. Smude's sunflower oil is my favorite, and tastes strongly of sunflower. If you haven't had it, I recommend it.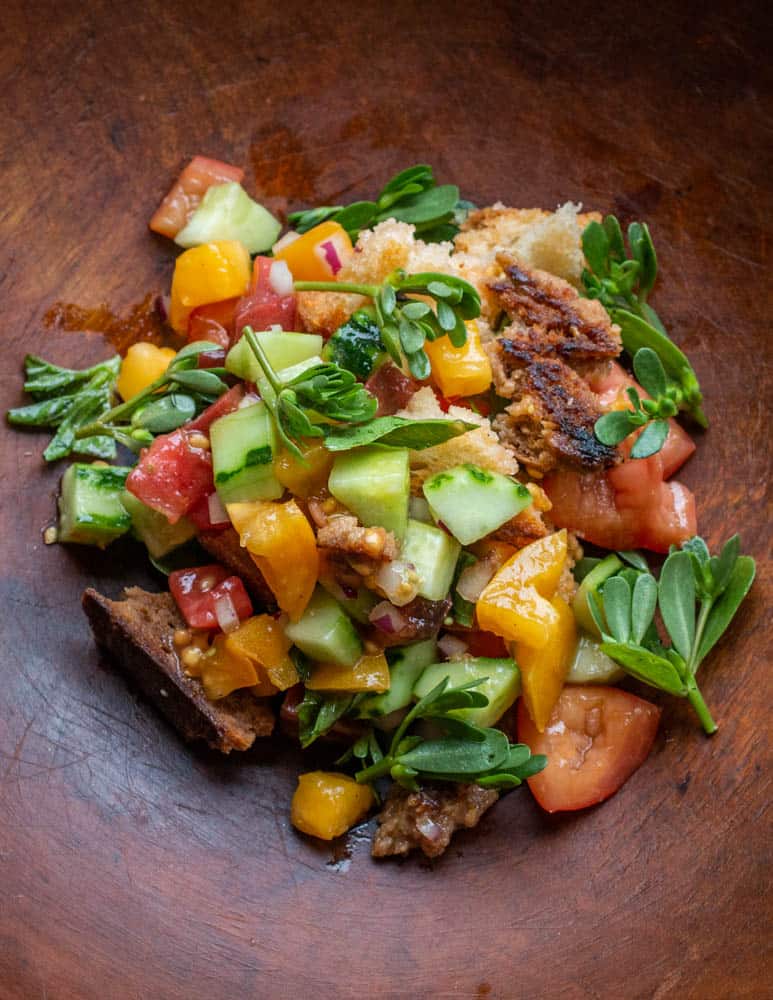 Use Quality Stale Bread
This is a peasant dish, traditionally made with stale bread. The type of bread itself is important too. Under no circumstances should you ever use basic white bread, or the cheap, fluffy "French" or "Italian" loaves from the grocery store.
Cheap breads, even when stale, will break down into mushy bread detritus, where high quality loaves will hold their shape, as well as the natural juices from the tomato for a longer period of time. No matter what bread you use, I like to remove the crust, since with high quality loaves it's often too tough to be pleasant, even after the salad has rested for a bit.
Mozzarella
Fresh mozzarella is traditional, but burrata can be a nice (if more expensive) variation. You want to use mozzarella that is sitting in it's own whey here-not firm block mozzarella that you would grate, which is too firm to work here.
Garnishes
During the summer I would add whatever edible flowers I could pick to the salad to switch things up. Pictured are white campion and touch-me-not flowers, but peppery nasturtiums are always good too.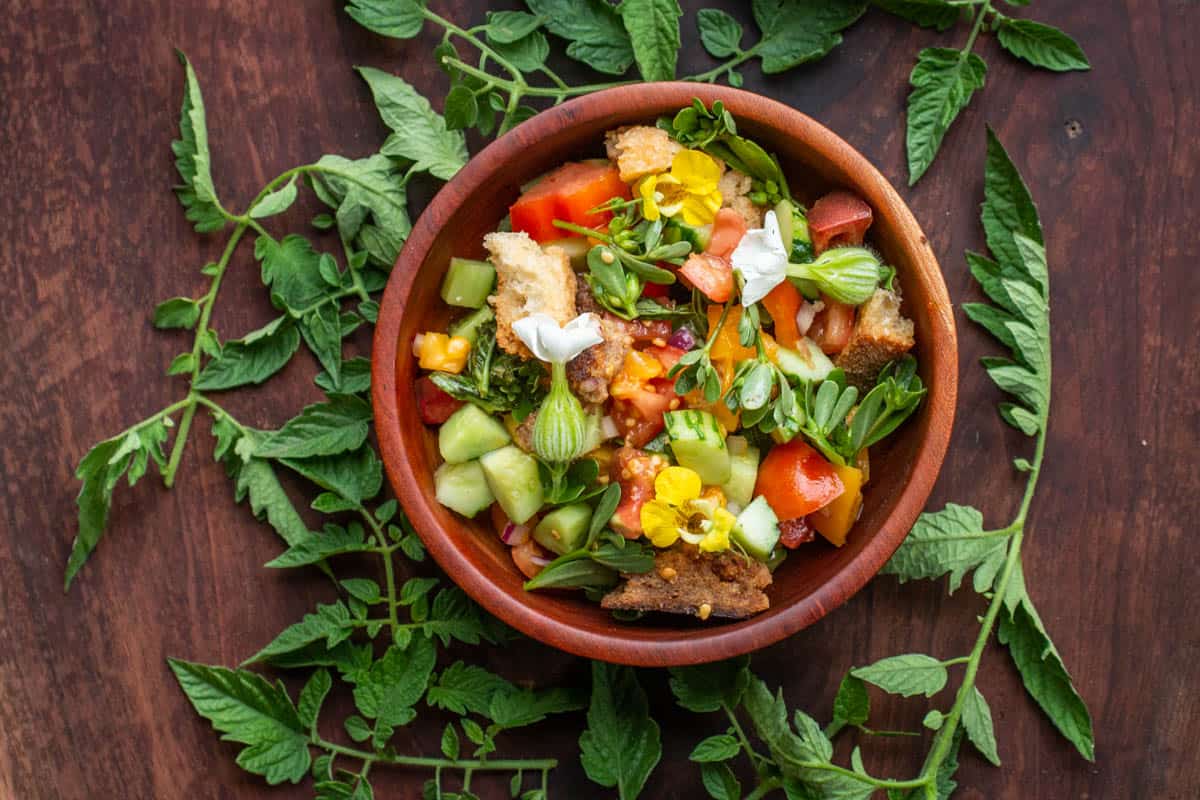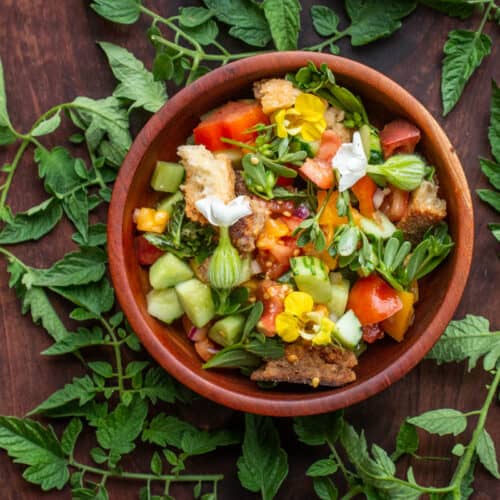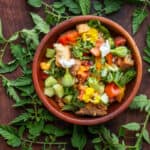 Print Recipe
Heirloom Tomato and Purslane Panzanella
A simple panzanella with purslane was one of the popular summer salads at my first restaurant. Serves: 6-–8 as a side dish.
Ingredients
3

½-inch [1.25 cm] slices (each ½ inch / 1.25 cm thick)of good bread, preferably sourdough, left out to stale overnight

2

ounces

(55 g) red onion, diced in ¼- inch (6 mm) dice

1 ½

pounds

680 g heirloom tomatoes, or the best fresh tomatoes you can find

6

ounces

170 g cucumber (about half a large English cucumber)

1

large clove of garlic

Kosher salt and fresh-ground black pepper, to taste

⅓

cup

80 ml extra- virgin olive oil, or Smude's sunflower oil

Fresh Torn fresh basil leaves, to taste

5

ounces

140 g purslane tips, washed and cleaned

Champagne vinegar, or another high-quality vinegar, to taste

4 oz

Fresh mozzarella or burrata cheese, cut into ½ inch cubes (optional)

Edible flowers

optional: pictured are white campion and touch-me-not
Instructions
The night before, leave the bread slices out, uncovered, to turn stale dry out. When you're reading to cook, Soak the diced red onion in water to cover.

Core the tomatoes, then dice into rough pieces about ½ inch square. Peel the cucumber, scrape out the seeds if mature, and dice cut in ½- inch (1.25 cm)dice.

Meanwhile, cut off the crust from the bread, then toast the slices of stale bread in an oven, toaster, or hot pan until crisp, then remove, cool until you can handle them, then and rub lightly with the garlic clove so that it dissolves into each side of the bread slices (don't feel you need to use all the garlic).

Tear the bread into pieces the same size as the tomato and cucumber. Combine all the ingredients except the edible flowers (if using), and allow the panzanella to rest for a few minutes so the juices can soak into the bread.

Toss before serving to distribute the natural vinaigrette that forms, taste and adjust the seasoning, then spoon into a bowl and serve, garnishing with the flowers (if you're using them).