Signs of summer are finally showing up here in Minnesota. For months it seemed like all the farmer's market had was peas and radishes, when we should have much more.. I was giddy when I walked into the  coolers the other day, greeted by wood lathe boxes all brimming with ears of sweet corn. Instantly my mind traveled to all of the things that a simple thing like an ear of corn can be transformed into: corn soup, sweet corn puree, compound corn butter for a corn buerre blanc made from the corn cooked in it's own stock, then pureed with eqaul parts soft butter in a blender and passing through a strainer. Corn relish, salsa, pickled corn, corn stuffing, and......."double corn polenta" -cornmeal cooked in sweet corn broth.
Creamed corn is a summer tradition, corn is sweet, so are chanterelles. Cream is sweet as well; especially a high quality variety like Castle Rock from Wisconsin. To boot, castle rock is even sweeter than usual since it's a grass fed cream. Grass fed organic creams are more floral and delicate than others though, and will also have a tendency to break if heated too high past a certain point, since they have not undergone the processing of mainline heavy creams.
The chervil used here could be any sweet herb, such as tarragon, parsley or spearmint, these will heighten the sweetness of all the ingredients (tarragon and chervil are my choice If I had to pick). Using a savory herb like thyme, wild oregano, or summer savory with give you a different character here, one more suited to pair with game or beef. If you add a savory herb, it  would be ok to add a garlic clove to be whacked with knife, sauteed with the chanterelles and then removed,  if you like. (I find garlic to be very strong when paired with cream, unless it is well cooked). As it is, this is great by itself or as a side. Throw a piece of meat on the grill and in becomes an entree. I just ate a bowl all by itself, with a friend of course.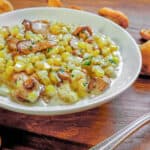 Print Recipe
Creamed Chanterelles with Sweet Corn and Herbs
Creamed chanterelles and sweet corn is a dish for when Summer is at it's peak.
Ingredients
4

oz

fresh chanterelles

quartered or halved if large, left whole ifv very small

2

cup

fresh sweet corn

roasted in the husk and cut from the cobb

¼

cup

diced shallot

cut into ⅛ inch dice or chopped fine

½

cup

heavy cream

¼

cup

dry white wine

1

Tablespoon

chopped tarragon or chervil, chives, or a blend

Salt to taste

½

teaspoon

sugar

2

Tablespoons

cooking oil
Instructions
Heat a few tablespoon of oil in a 8 inch or so saute pan until it is lightly smoking . Add the chanterelles and cook on high heat without seasoning until they are lightly golden on the edges. When they have some color, add the shallot and cook for a minute, then add the corn, salt and sugar. Add the wine and cook until evaporated.

After the stock is reduced add the cream, reduce until lightly thickened, adjust the seasoning until it tastes good to you. Finish with the herbs, and serve.