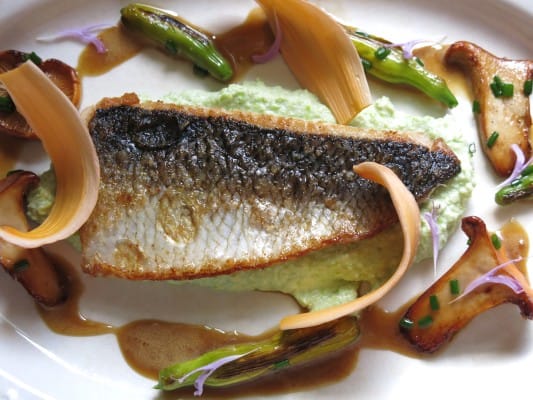 Thinking of cooking chanterelles in the summer fills my head with ideas. Their floral, fruity smell means we need some light accompaniments that won't take over and steal the show. Thinking of how their smell is so sweet, almost like flowers, reminded me of the daylilies growing outside next to my haggard, midget-mint plant. I grabbed some of their buds and a flower for it's petals, then made a dish out of them to compliment some freshwater herring filets, which are also known as tillabee, or lake cisco. If you don't want to make the entire dish the sub-recipes here for the endamame puree and the soy-vinegar sauce are useful by themselves.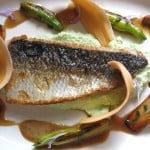 Print Recipe
Cisco, Chanterelles, Daylilies, Endamame, and Soy-Vinegar Sauce
Serves 4 as a light entree
Ingredients
4 5

ounce

cisco filets

cut in half if large If you don't have cisco, you could use rainbow or brook trout, or another mild fish, such as sole.

1

recipe endamame puree

follows

1

recipe soy vinegar sauce

follows

4

ounces

fresh chanterelles

day lily pods and petals: about 4-5 pods/person and 3 or so petals

tablespoon

fresh chopped chives

bergamot flowers

optional-these were fruiting at the moment and added a nice herbal punch along with the chives

grapeseed or other flavorless oil for sauteing

Kosher salt and fresh pepper
Instructions
Heat two 10 inch saute pans and put some searing oil (grapeseed or canola/vegetable) or lard in each one. When the pans are hot, season the cisco on the flesh side with salt and pepper, then on the skin with salt only, since the pepper can burn. Immediately after seasoning, put the cisco filets skin side down in the pan, without letting the filets touch.

In the other pan, add the chanterelles first to make darn sure that they get a nice color on them. When they are caramelized nicely add the day lily pods, season with salt and pepper taste, and then cook until the day lilies are wilted, about 2-3 minutes.

By this time, check on the cisco and make sure it is golden brown and seared on the skin side.

When the skin is golden brown, you can just turn the pan off, they will cook through gently with the residual heat.

Toss the chanterelles and daylillies with the chives

Finishing and plating

To serve, start by placing a nice scoop of endamame puree on the middle of each plate, then place the cisco filets on top. Next drizzle some of the sauce around the fish and endamame on each plate, followed by the day lily buds and the chanterelles.

Finish by placing some day lily petals around each plate, followed by the optional wild bergamot flowers then serve.
Endamame Puree
Ingredients
¼

cup

vegetable oil

like grapeseed, olive, or whatever you like, if you want to use extra-virgin olive oil you can, just use 50/50 with a flavorless oil to temper it's strong flavor which can get bitter

¼

cup

water

1

cup

shelled frozen endamame

Kosher salt
Instructions
Place the endamame in the bowl of a food processor and buzz until chunky and broken up a bit, then add the water and blend until it starts to turn creamy.

Then drizzle in the oil slowly until it is as smooth as you can get it, and all the oil has been added. It should have the consitency of mashed potatoes.

Season this to taste with salt and reserve.
Soy-Vinegar Sauce
Ingredients
2

tablespoon

water

2

tablespoon

nice soy sauce

2

teaspoon

vinegar

preferably champagne or rice wine

1

egg yolk
Instructions
Heat a small sauce pan half full with water until it is simmering lightly.

In a small metal salad bowl, whisk the water, soy, and egg yolk well. Now place the small bowl over the pot of simmering water and whisk continuously for a few minutes until the mixture starts to look a little creamy, thickens and warms up a bit, about 4-5 minutes.

Make sure that the water isn't at a rolling boil, or it can cook the egg in the mixture and make it lumpy. (If you cook it too much and the egg coagulates like scrambled eggs, don't fret, you can puree the mixture with a hand blender and strain it. or just start over, its not that tough to do.)

When the sauce has thickened enough to coat the back of a spoon, add the vinegar to taste, until it is as sharp as you like, then set aside and reserve. Essentially you have made a creamy egg based salad dressing, something of a cousin to mayonnaise.