Beef bacon (cured, smoked beef belly), is a fun alternative to pork bacon and easy to make if you have a smoker. If you're imagining thin crispy slices on a plate for breakfast though, think again. I'll explain everything you need to know about making beef bacon at home, as well as how to get the most from it in the kitchen.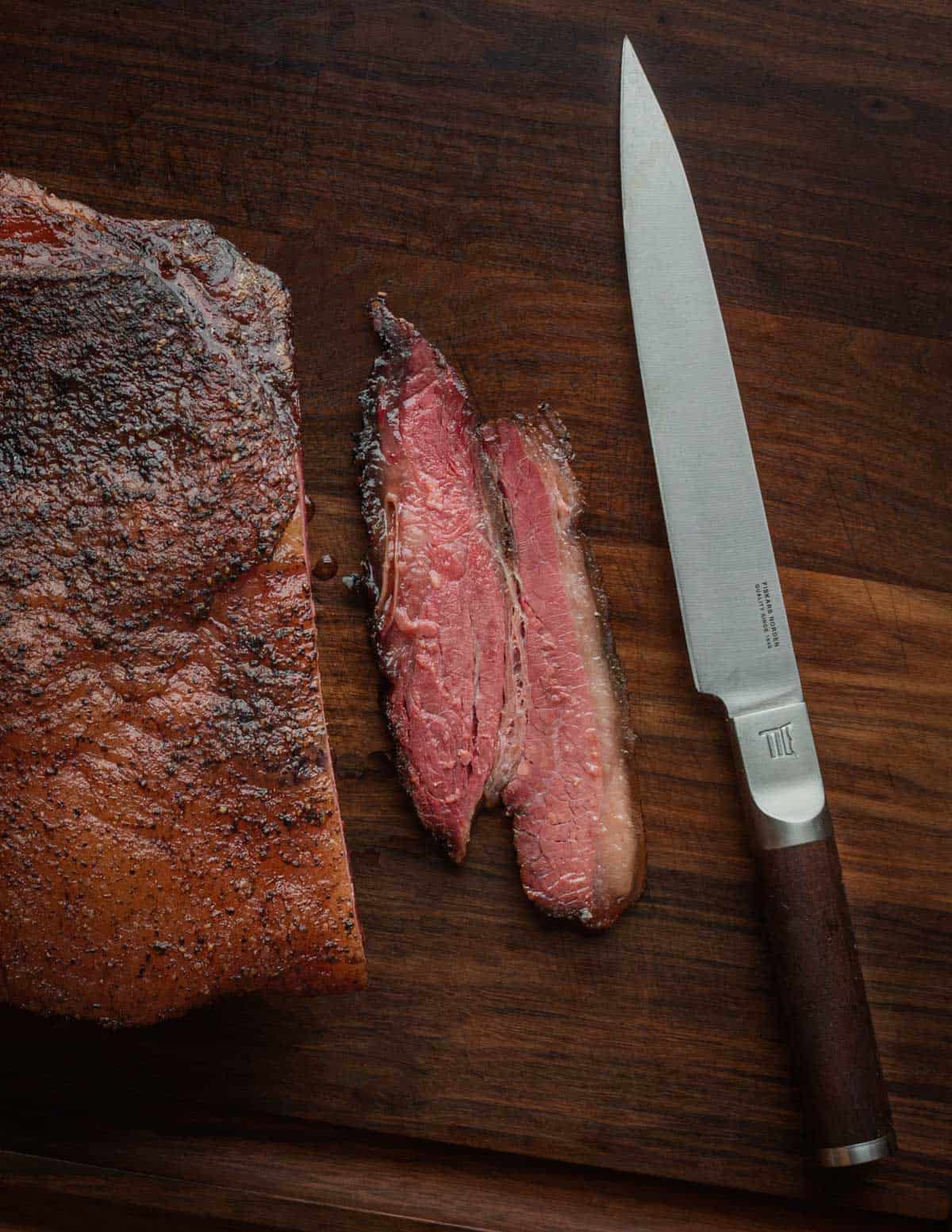 I've cured thousands of pounds of bacon over the course of my career, but I hadn't made homemade beef bacon until recently. The only problem is now I want to make veal bacon to see the differences.
I think this is a good piece of charcuterie to know as about 40% of the world doesn't eat pork, mostly due to religious abstinence, although some people are allergic to pork too. There's also preferences, like my highschool girlfriend who stopped eating pork after I brought home our pet potbellied pig Daisy on Summer break from college.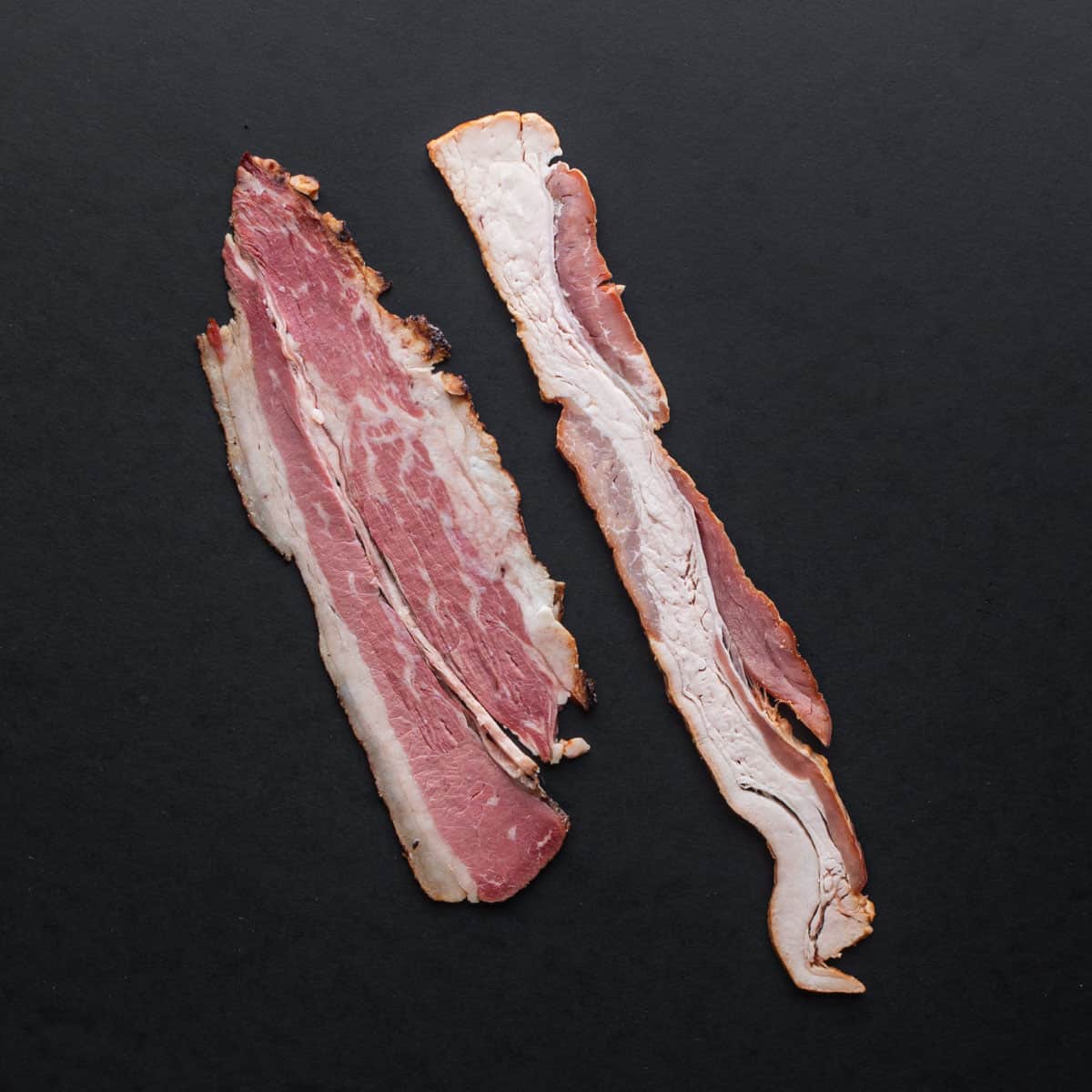 Cuts to Use for Beef Bacon
You want a marbled cut of beef with intramuscular fat as well intermuscular fat. Cuts on a cow that can work are shortrib, brisket, or beef belly (navel). Grass fed beef can work but can be low on fat. Wagyu is prohibitively expensive and best eaten uncured.
Brisket/breast will work, but the intramuscular fat is unevenly distributed, meaning you'll have both very lean, and very fatty pieces of bacon. Short ribs are are expensive, too small, and better off braised.
What is Beef Navel?
Also called navel brisket and beef plate, beef belly is the same cut of the pig traditional pork bacon is made from. As they have a similar fat composition, it can be used as a substitute for brisket to make beef navel pastrami and other salumi. It's an alternative cut, and if you like things like that, you'll also like the teres major steak.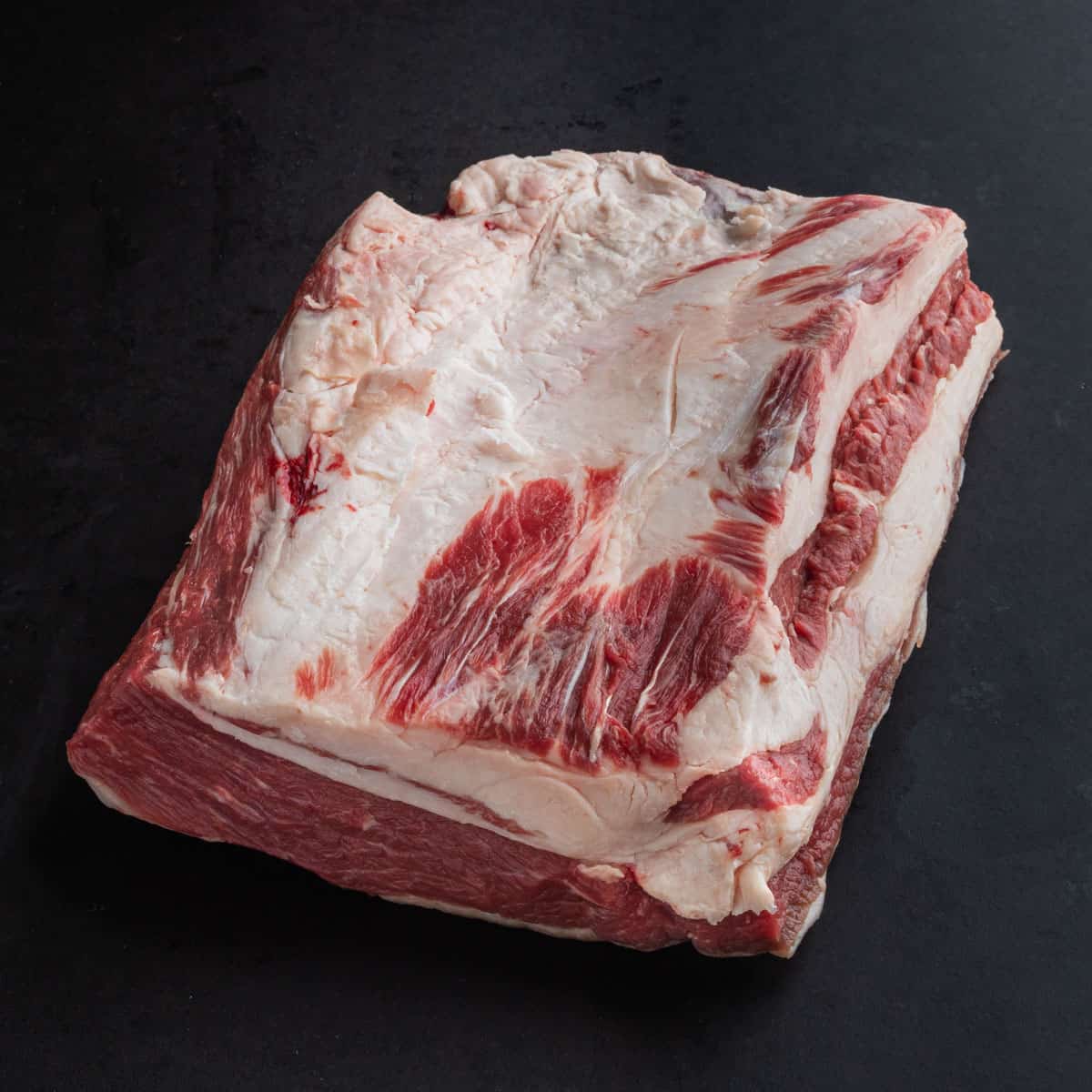 With a luscious ribbon of fat running through it, belly is the best cut for making beef bacon at home. I called my butcher to special order one and 5 pounds cost me $40.
Beef Bacon Ingredients
Whether I'm making lamb, goat, beef or venison bacon, the process is always the same. First I mix my secret spice blend, brown sugar, kosher salt, and pink curing salt no#1.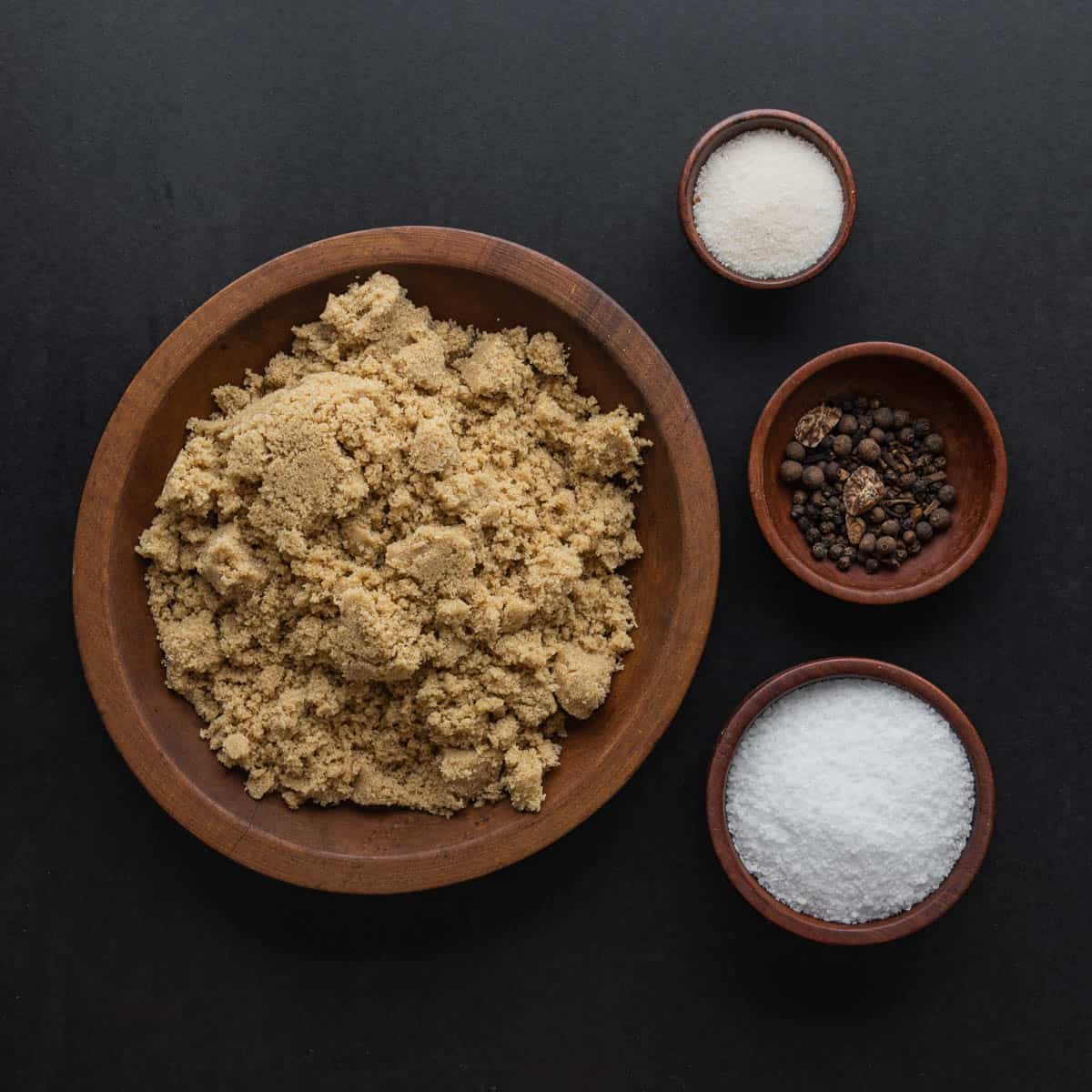 It's important to use a gram scale for the curing salt as the volume of salts alone can vary greatly (up to 3 grams for table salt vs kosher salt in a tablespoon). That said, I use volume measurements for seasoning with the cure instead of using a % of the weight of the meat.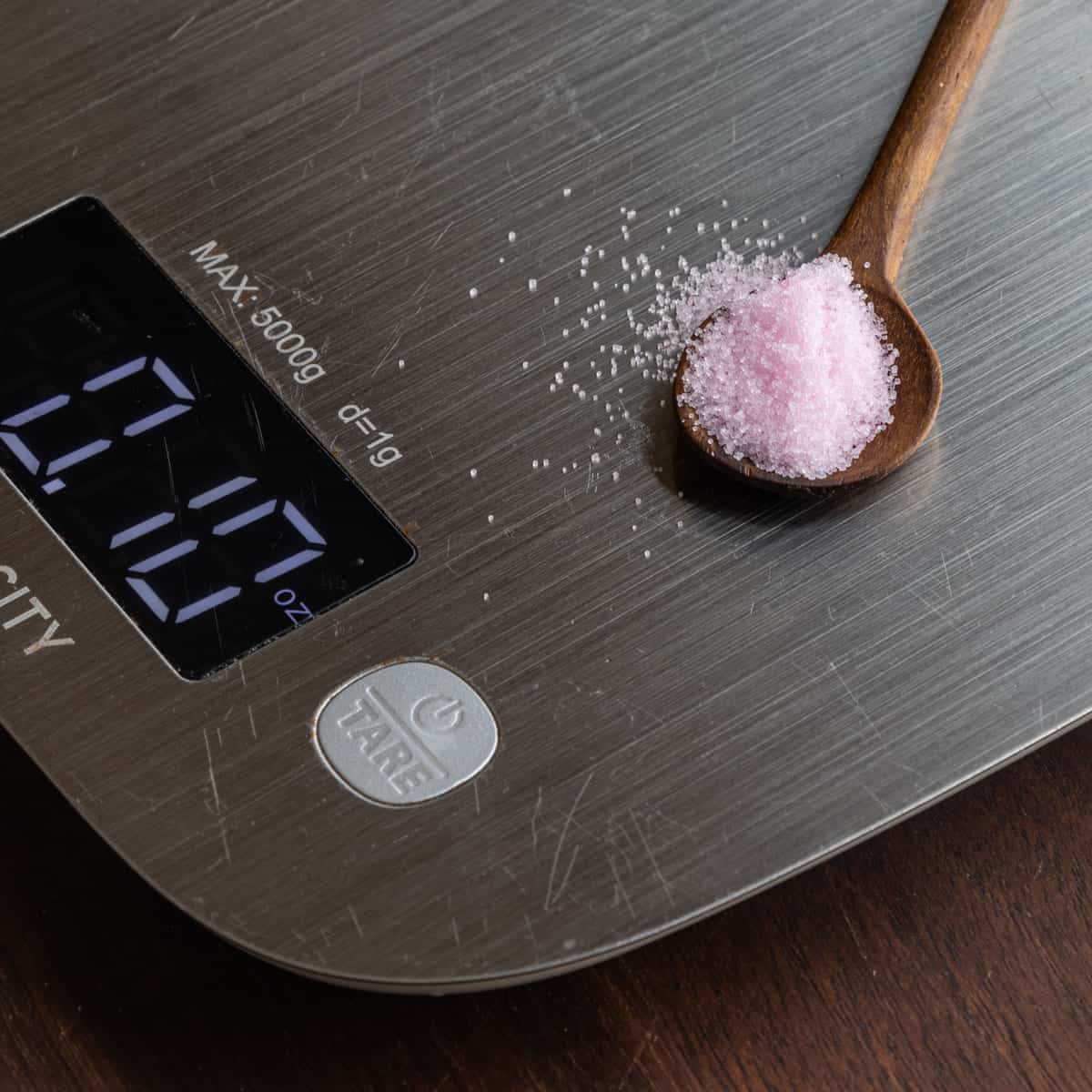 For the sweetener, I prefer brown sugar. I'll use light or dark brown, just not white sugar as it's too dry. The molasses flavor of brown sugar also compliments smoked meat, while the extra moisture it contains helps make a brine in the vacuum bag. Maple syrup or molasses work great too.
For the smoking process, just grab your favorite wood. I like the mild taste of shagbark hickory bark. Smoking with fruit woods is always good too. Sometimes I grab thick chokecherry and wild plum branches after a storm. If you can find some, dried grape vines also make great smoke for cooking.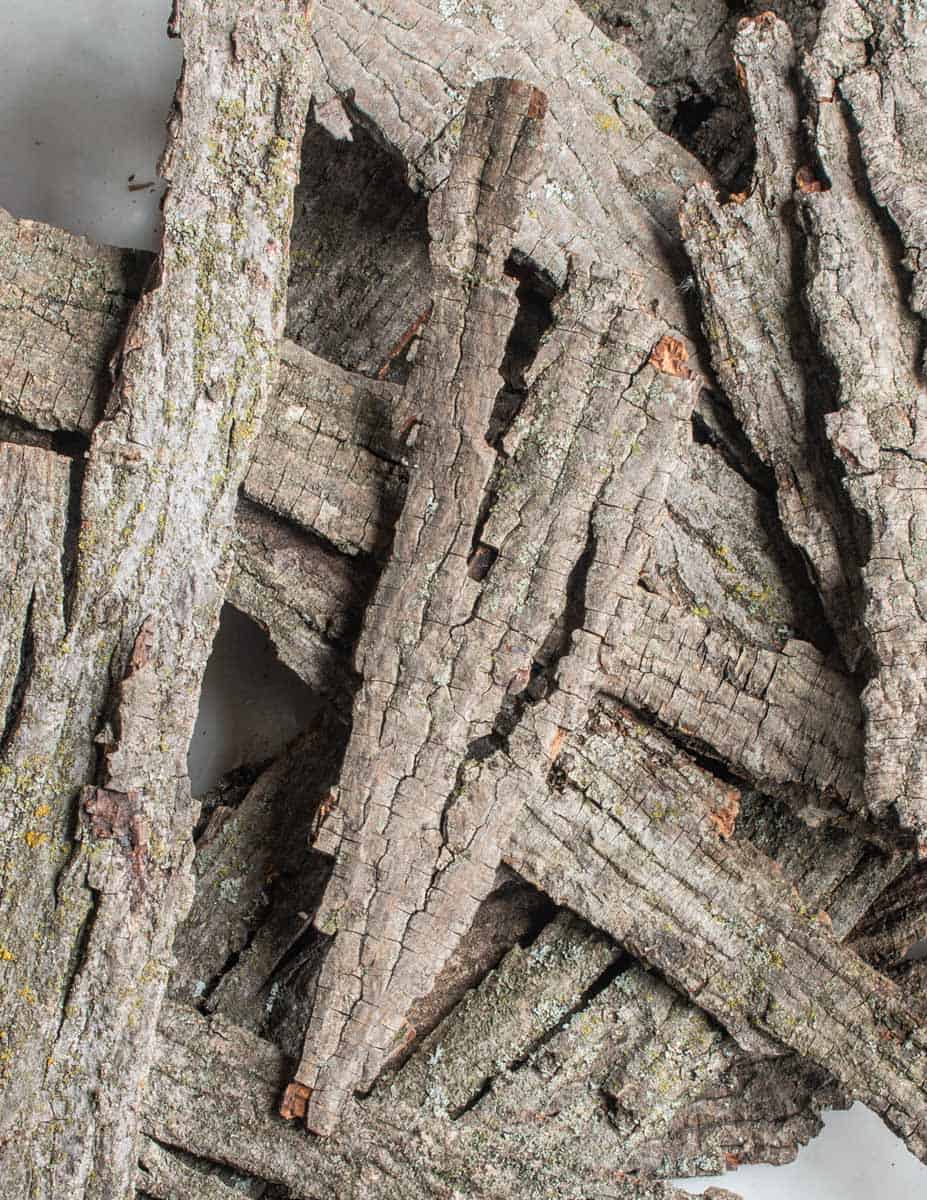 Do You Have to Use Curing Salt in Bacon?
My opinion is yes. "Nitrate-free" or "uncured bacon" is sold as a healthier alternative to conventional bacon. But, If you read the label of nitrate-free bacon, chances are you'll see celery powder or celery juice on the list of ingredients, which contain naturally occurring versions of the compound in pink salt (sodium nitrite/NaNO2) used to cure meat. Below are 9 selections from my local coop, including turkey bacon.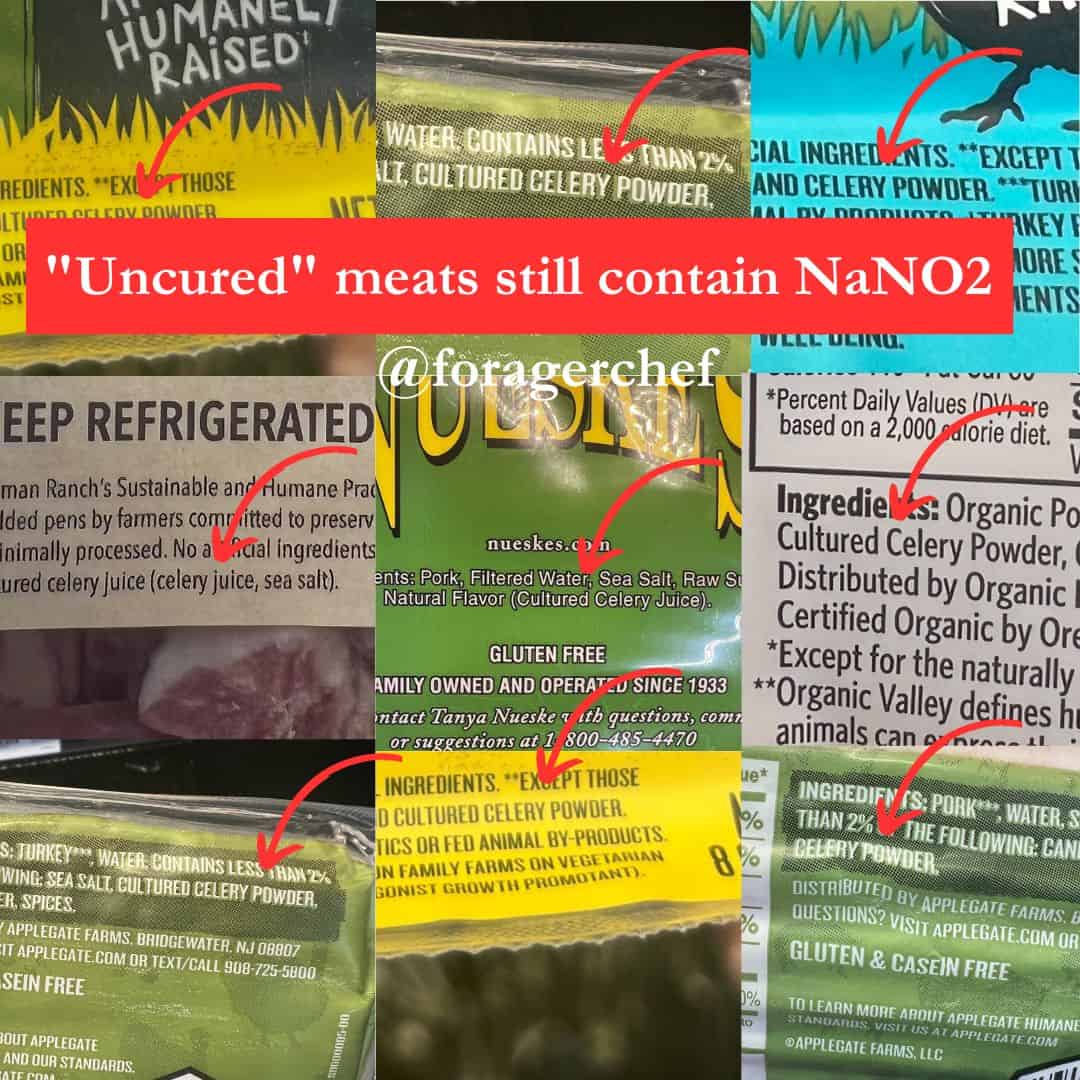 Sodium nitrite keeps meat pink and helps prevent botulism in cured meats. Additives derived from plants can have a variable amount of sodium nitrite, where pink salt is standardized through an industrial process and the salt is (usually) died pink for safety. I have used and had success with both, and I'd encourage you to use whatever aligns with your personal ethics.
How to Make Beef Bacon
First the meat is rubbed all over with cure (roughly ½ cup or 100 grams per pound), then the meat and cure is vacuum sealed and refrigerated (10 days for 5 lbs). Thinner cuts like short rib can cure faster, but there's a bit of work involved here so making less than 5 pounds seems silly to me.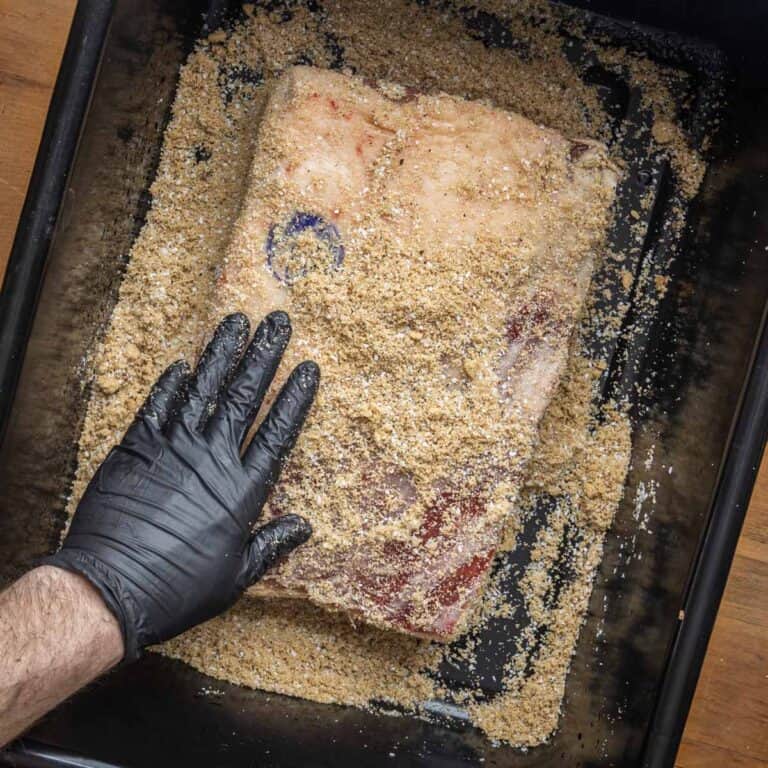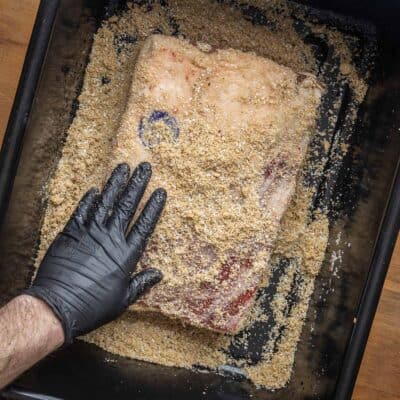 A few times during the curing process, or whenever you remember, remove the meat from the fridge and massage it a bit. After a few days, the meat will release water and form a natural brine. This is important for even curing. Leaving the meat on the counter for 20 minutes when you take it out will warm things up and speed the process along.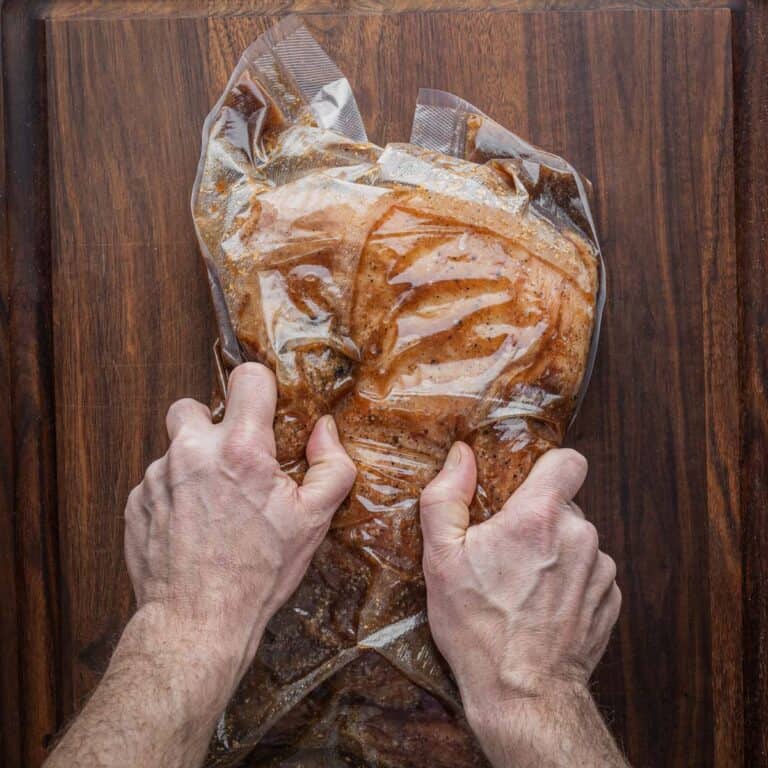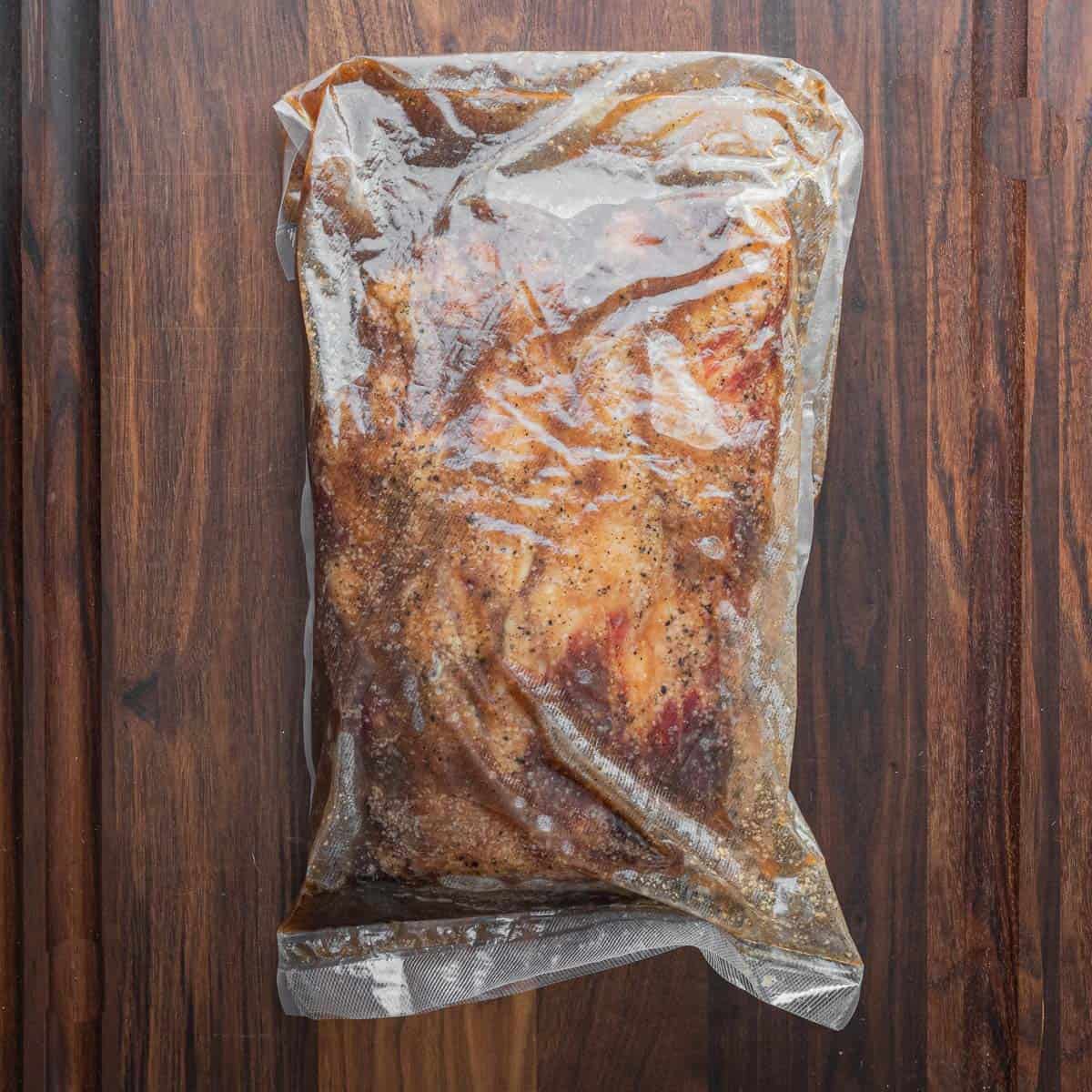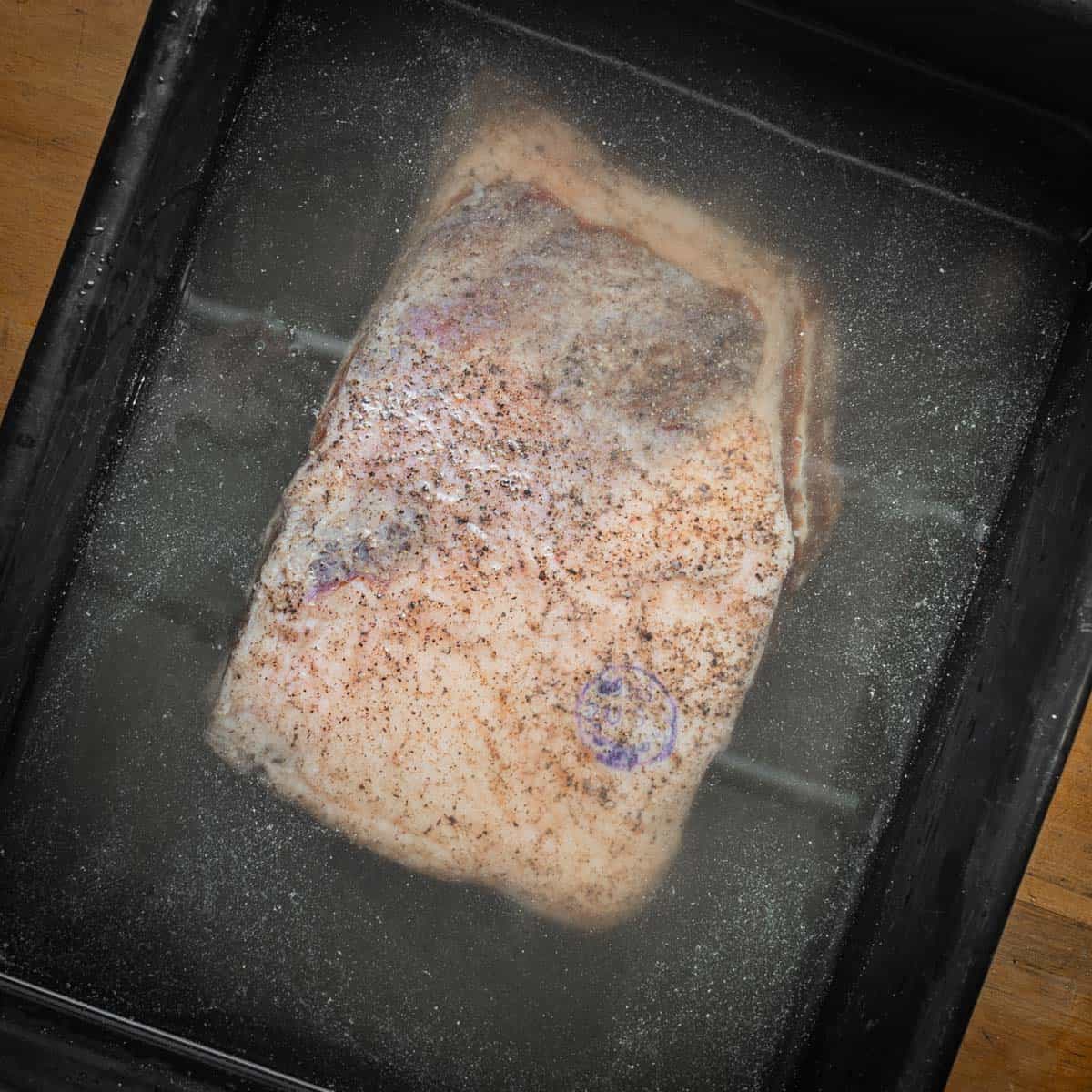 After 10 days, the meat's soaked in warm water and rubbed to remove the salt that could make the outer edges too salty. Next you pat the meat dry and refrigerate it overnight to dry. This helps form a pellicle the smoke adheres to and is the secret to a delicious, smoky brown crust.
How to Cook Beef Bacon
The cooking process is the same for pork bacon. You smoke the meat at 200-225 F (107 C) F for (3 hours for 5 lb) or until the meat reaches an internal temperature of 150 F (65 C). It doesn't have to be perfect, but if you overcook it it can fall apart if sliced too thin. If you follow my suggestion to cut the bacon into lardons instead of slices, you won't have to worry about that though.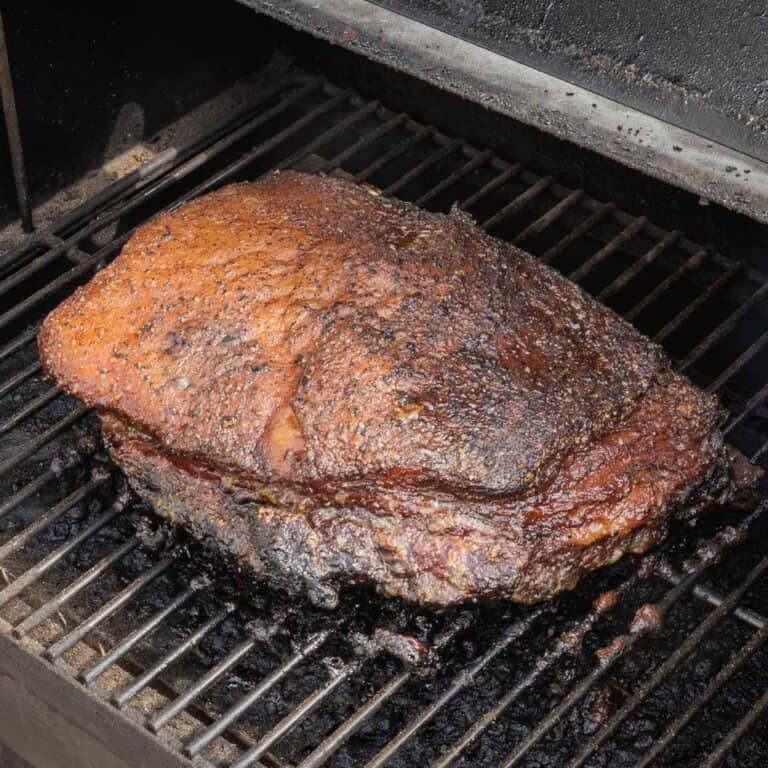 After you smoked the beef belly it's chilled to firm the texture. Now you can decide how you want to cut and store it. Since bacon is cured, it can be frozen after cooking which is generally what I do. Cut the bacon into serving size pieces that look like a bacon steak, vacuum seal, and freeze. You can layer multiple slices between parchment paper to prevent sticking.
How's Beef Bacon Taste?
Beef bacon tastes a little like smoked beef brisket mixed with bacon with a hint of spices from the seasoning blend. If you like smoked brisket, ribs, and all the good things in life, you'll like it.
You can adjust the seasonings in the spice blend to make it your own and add background flavors with different smoking woods. This time I just smoked mine on a Traeger, but any smoker, or just beef bacon on a grill with wood chips soaked in water will work too.
How to Use Beef Bacon
Of course you can use beef bacon as a substitute for pork bacon in just about any recipe. The most flexibility comes from how the bacon is cut. Four good choices are: diced, thinly sliced, thickly sliced, or lardons. It can also be eaten raw like ham on sandwiches, or with a salad cut into julienne.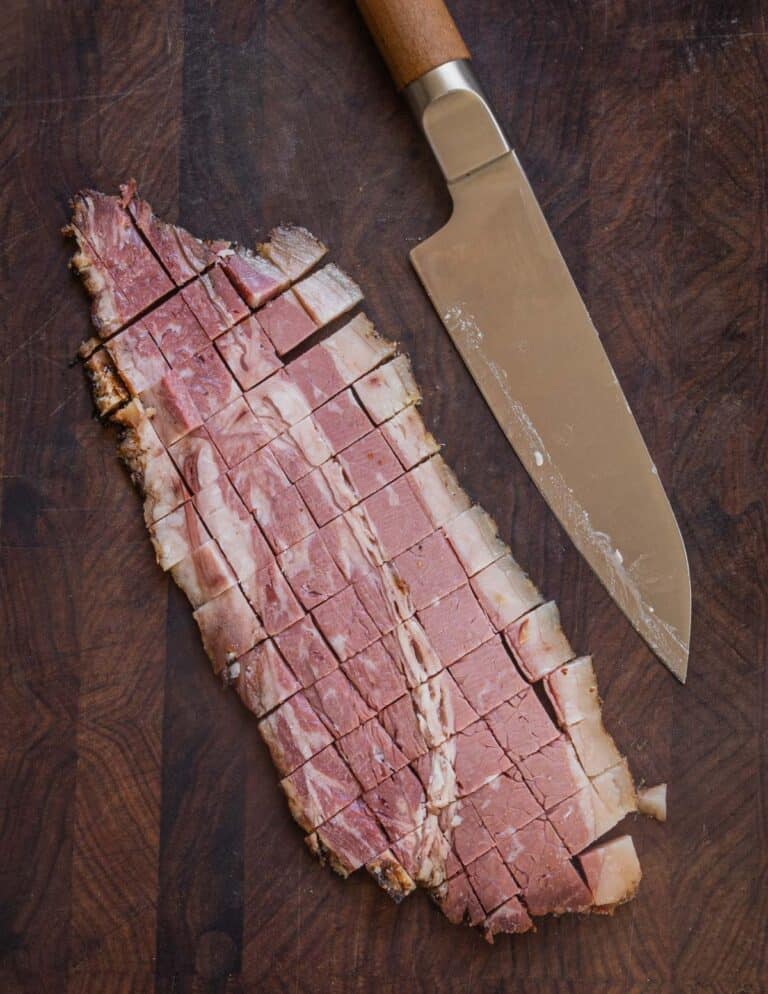 I don't recommend thinly slicing beef bacon as you would pork bacon, even though that's how it's sold in online butcher shops. Don't get me wrong-it's ok like that. But, it's nearly impossible to get thin slices without an electric slicer, and if it isn't thin, it won't get crisp.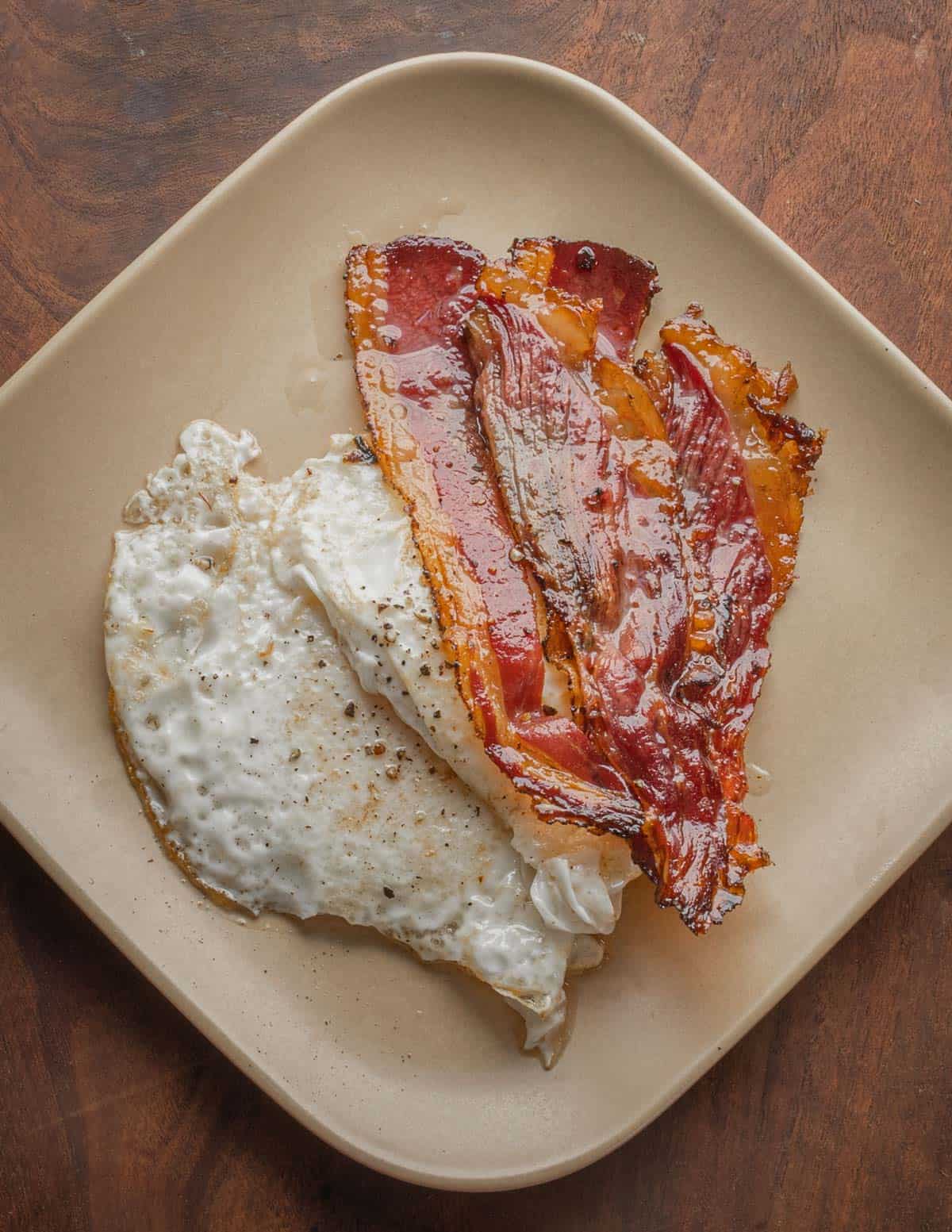 Where the bacon shines is when it's cut into lardons, or thick, French-style batons. Just a few lardons can turn simple dishes like a bowl of greens into a meal. One of the reasons I made this was just so I would have some around for cooking with fresh spring greens like sochan. I'd also suggest:
Using beef belly burnt ends in chili
BLTs
Bacon steaks
Beef Bacon Recipes
In the video I demonstrate 3 different, simple dishes you can use the lardons in. If you make a batch, I recommend making the spaghetti Amatriciana first, followed by a simple potato hash.
Bacon Potato Hash
To serve 4 people, render 4 oz beef bacon in a pan, remove and fry 8 oz par-cooked peeled potatoes until golden. Add 8 oz other par-cooked vegetables and/ or mushrooms, toss with 2 oz of sliced scallions and serve.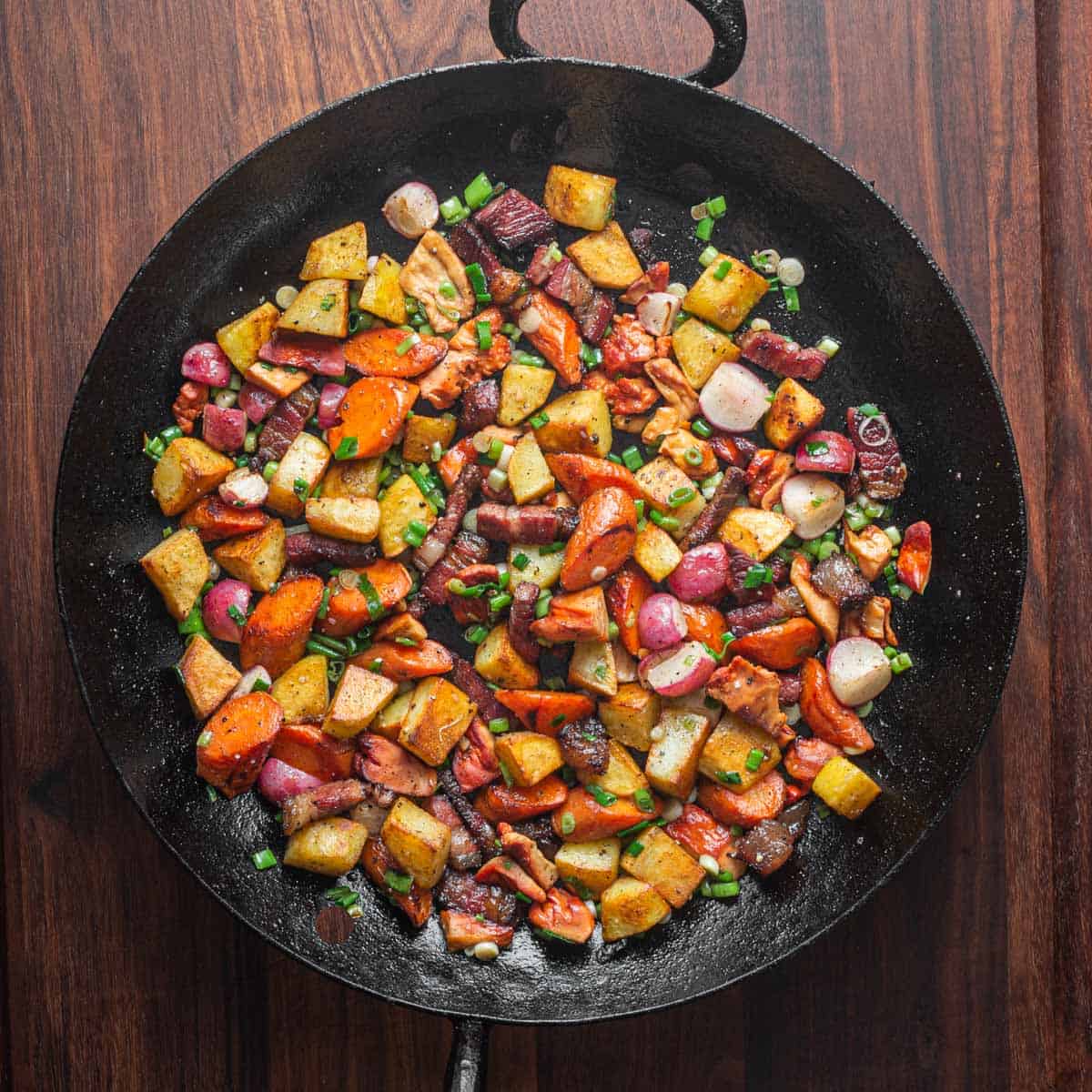 Spaghetti all' Amatriciana
A classic from Amatrice. For two servings, render 4 oz of fatty diced lardons in a pan with a crushed clove of garlic. When the fat's rendered and crisp, discard the garlic, add 8 oz tomato sauce, a splash of milk and plenty of crushed red pepper. Toss with 10 oz of cooked spaghetti, cook for a minute, toss with pecorino and serve.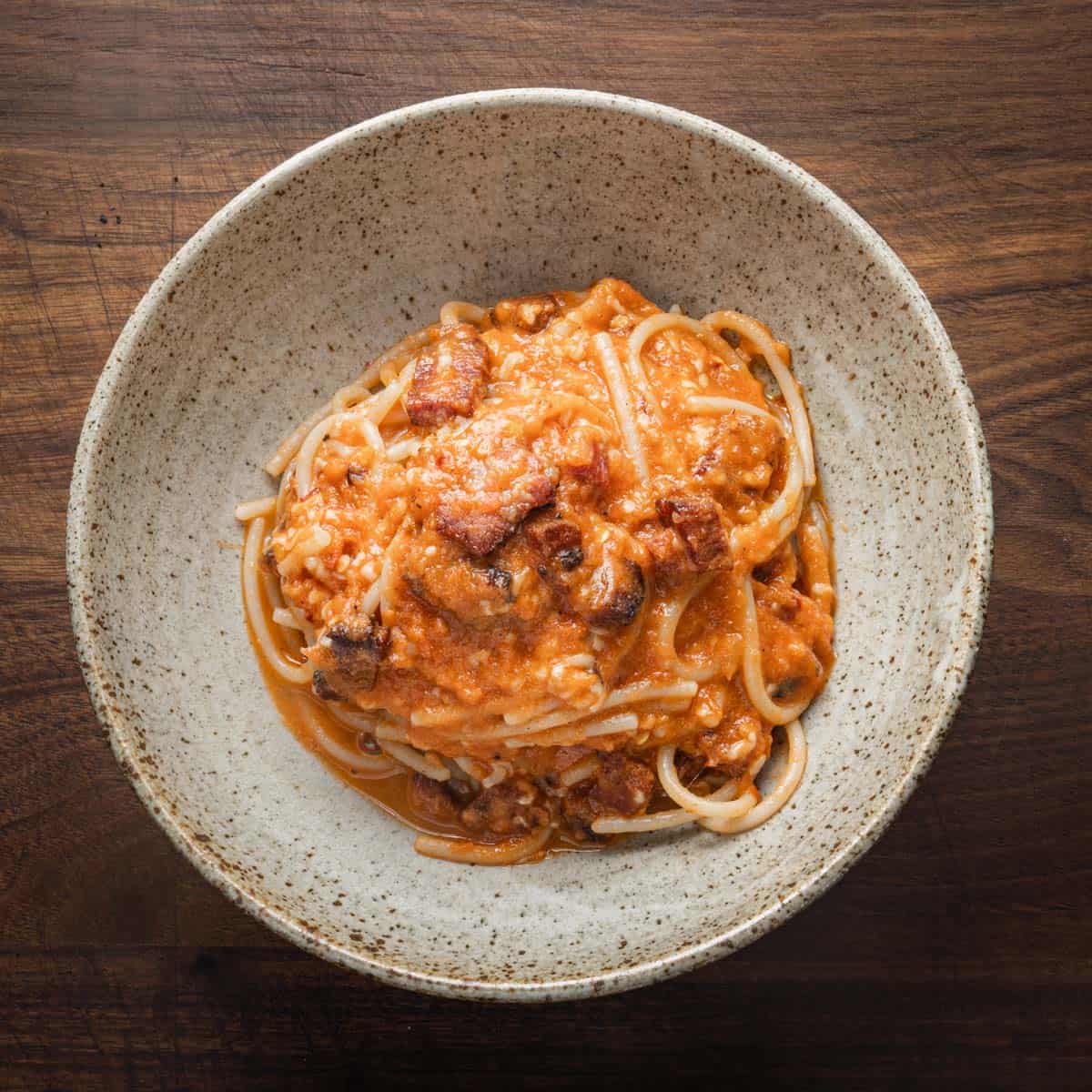 Nettle Gnocchi with Mushrooms, Bacon and Tomato
To serve two, saute 3 oz beef bacon until browned, add 2 oz mushrooms, and 6 oz of cooked gnocchi. Serve on a bed of tomato sauce (4oz). See the recipe for nettle gnocchi.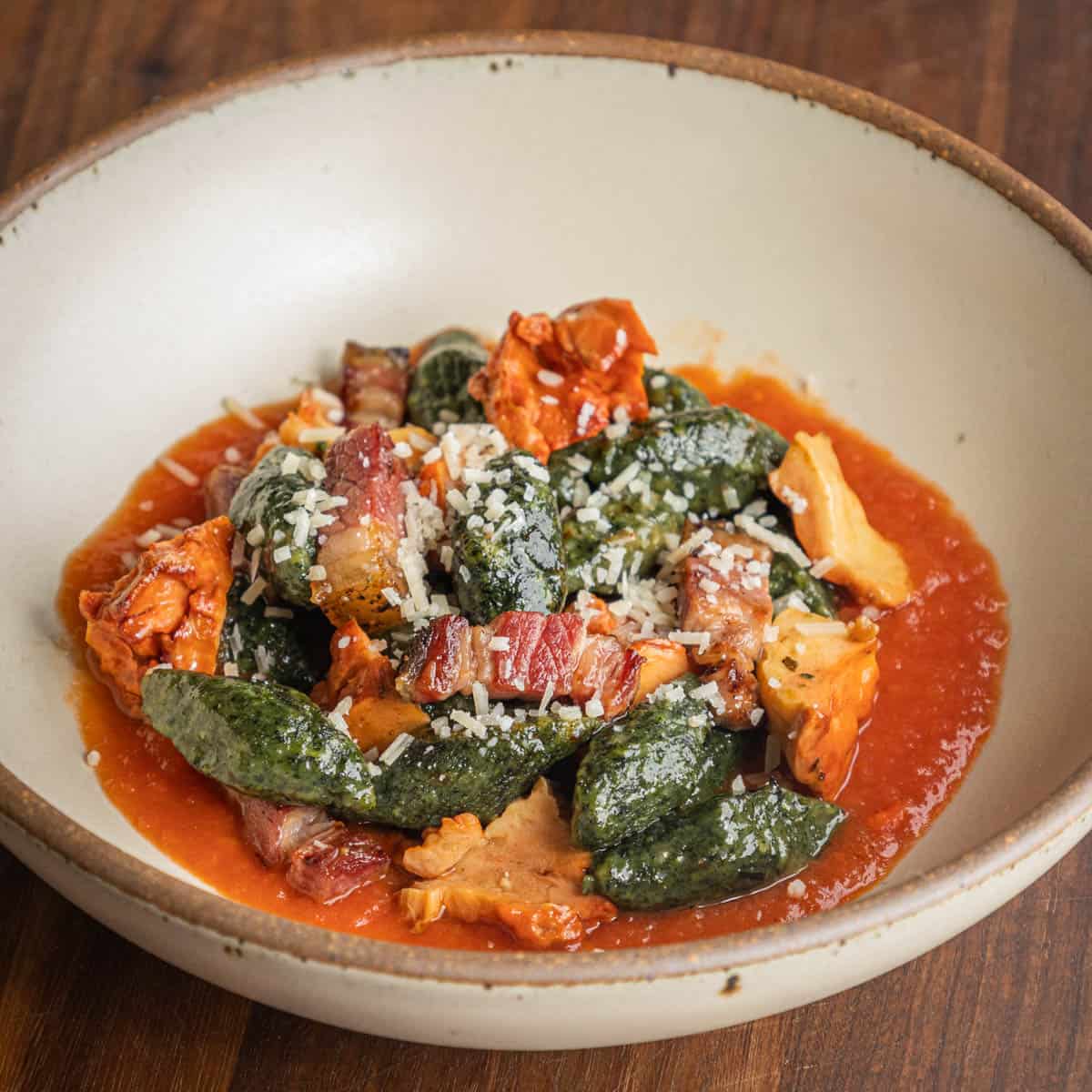 Bacon Steaks
From my first restaurant. Cook a ½ inch thick slice of the bacon on medium heat, making sure to slowly render the fat side. Serve with coleslaw and braised greens it makes a very rich meal.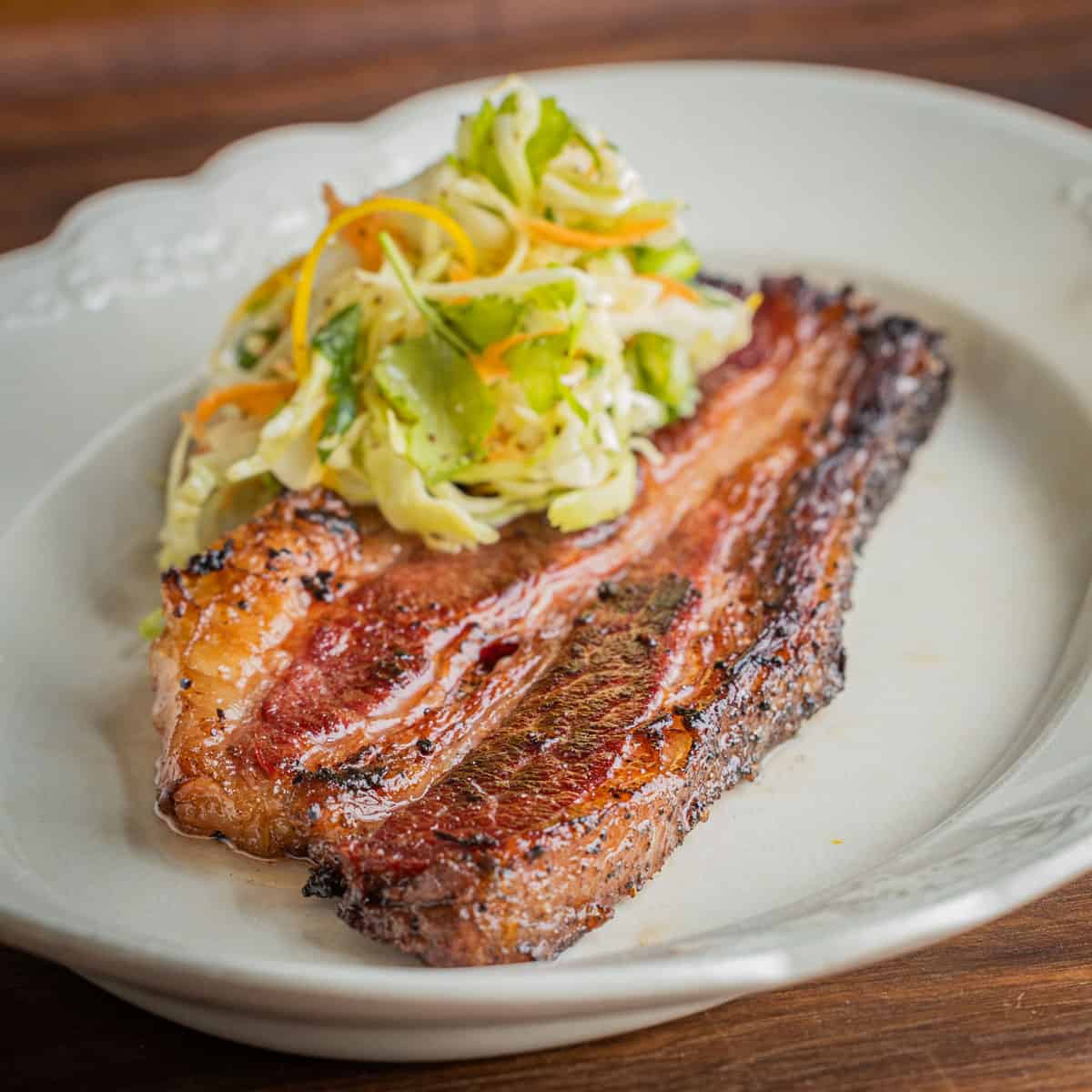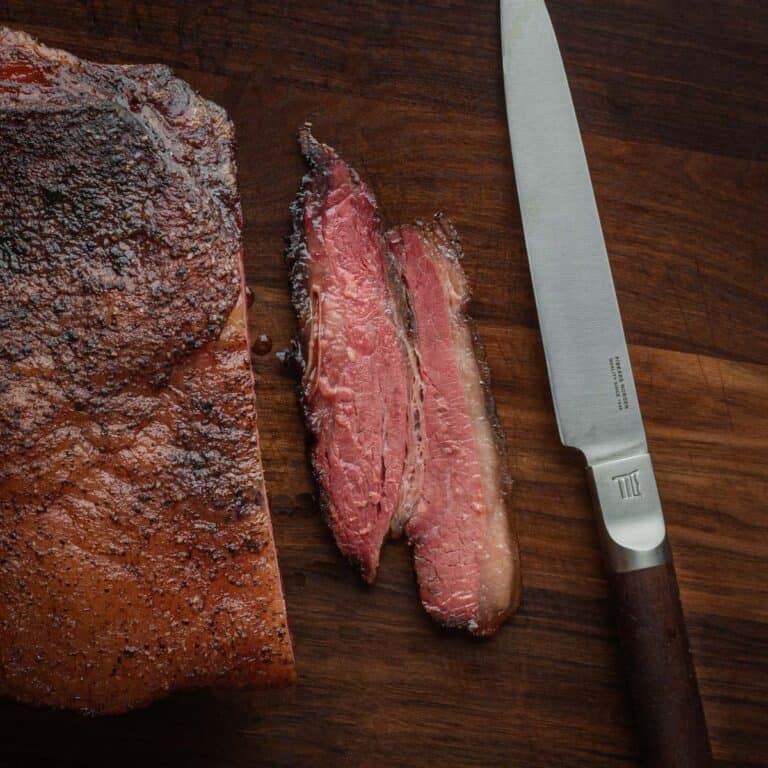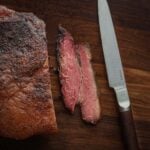 Print Recipe
Homemade Beef Bacon
A dry-cured and smoked beef belly recipe you can use in place of pork bacon or lardons. Makes about 4 lbs of finished bacon.
Equipment
1 latex gloves

1 Large food safe container

1 Vacuum sealer
Ingredients
5

lbs

beef belly or brisket

16

oz

dark brown sugar

*see note

8

ounces

kosher salt or fine salt

6

grams

pink curing salt (~1 teaspoon)

also known as instacure no#1

¼

teaspoon

cloves

¼

teaspoon

allspice

¼

teaspoon

grated nutmeg

2

teaspoons

fresh ground black pepper
Instructions
Cure the Beef
Lightly toast the spices in a pan on medium heat until aromatic-a minute or two. Combine the ingredients for the cure and mix well, taking a moment to enjoy the aroma of spices as you do.

Put the beef belly or brisket into a large container. Wearing gloves, massage the meat with the cure for 5 minutes, rubbing it into all the nooks and crannies. This will seem like a lot of cure, but it's washed off before smoking.

Put the beef into a large vacuum bag, along with all remaining cure, and vacuum seal. Refrigerate for 10 days, massaging the meat in the bag to help create a thick brine slurry.
Soak and Dry the Beef
Remove the meat from the bag and soak in lukewarm water for 5 minutes, rubbing with your hands to remove any salt and sugar from all sides.

Pat the meat dry, then refrigerate overnight.
Smoking
Smoke the beef bacon at 225 (107 C) for 3 hours, or until a thermometer reaches 150 F (65C). Remove from the smoker and cool, then chill completely before slicing.
Storing
For storing, cut thick, ½ inch slices of beef bacon and lay them on pieces of parchment, vacuum seal and freeze.
Notes
Sweetener
Adding a proportion of molasses or maple syrup adds a good flavor and helps distribute the cure evenly. It can be substituted for all or part of the sugar by weight. 
Massaging the meat 
Taking the meat out of the fridge for 20 minutes before you massage it in the bag will help speed the process of creating the brine. 
Nutrition
Serving:
30
g
|
Calories:
161
kcal
|
Carbohydrates:
0.6
g
|
Protein:
12
g
|
Fat:
12
g
|
Saturated Fat:
5
g
|
Polyunsaturated Fat:
2
g
|
Monounsaturated Fat:
5
g
|
Cholesterol:
18
mg
|
Sodium:
579
mg
|
Sugar:
5
g
|
Iron:
0.2
mg
FAQ
Is Beef Bacon Halal or Kosher?
This depends on when and how the animal was harvested. If the meat was slaughtered according to kosher or halal practices before you or someone else cures it, yes.
Where to Buy Pink Curing Salt?
You can buy pink curing salt no#1 online from Amazon or ask your butcher. I buy mine from a local Asian grocer where the price is $1.99 for a four-ounce bag.
Look for curing salt it in the salt section of Asian markets. But, it's important to know the salt may not be died pink and could be sold with its natural yellowish color. Store in a visibly labeled container as it must never confused with table salt.
What's the Difference Between Instacure 1 and 2?
Also known as pink salts. While both are salts for curing meat (1 teaspoon per 5 lbs), instacure # 1 is only for short-cures like ham and bacon that will be cooked after curing. Instacure 2 is the curing salt for long-aged charcuterie and salami. The two are not interchangeable for curing purposes.
How to Cure Bacon without Nitrates
You can omit the curing salt in bacon recipes, but it won't stay pink, will have a weak flavor, and won't last as long. Celery powder and juice used in "uncured" meat products contain the same compound (NaNO2) as curing salt. Using 0.2% - 0.4% of the weight of meat in celery juice powder is a common ratio.