Rich and heavily marbled, bavette steak is a classic French bistro cut of beef that every steak lover should know. If you like flank steak or skirt steak, or just want a new juicy steak to try it needs to be on your list. In this post I'll tell you everything you need to know about this underused cut of meat.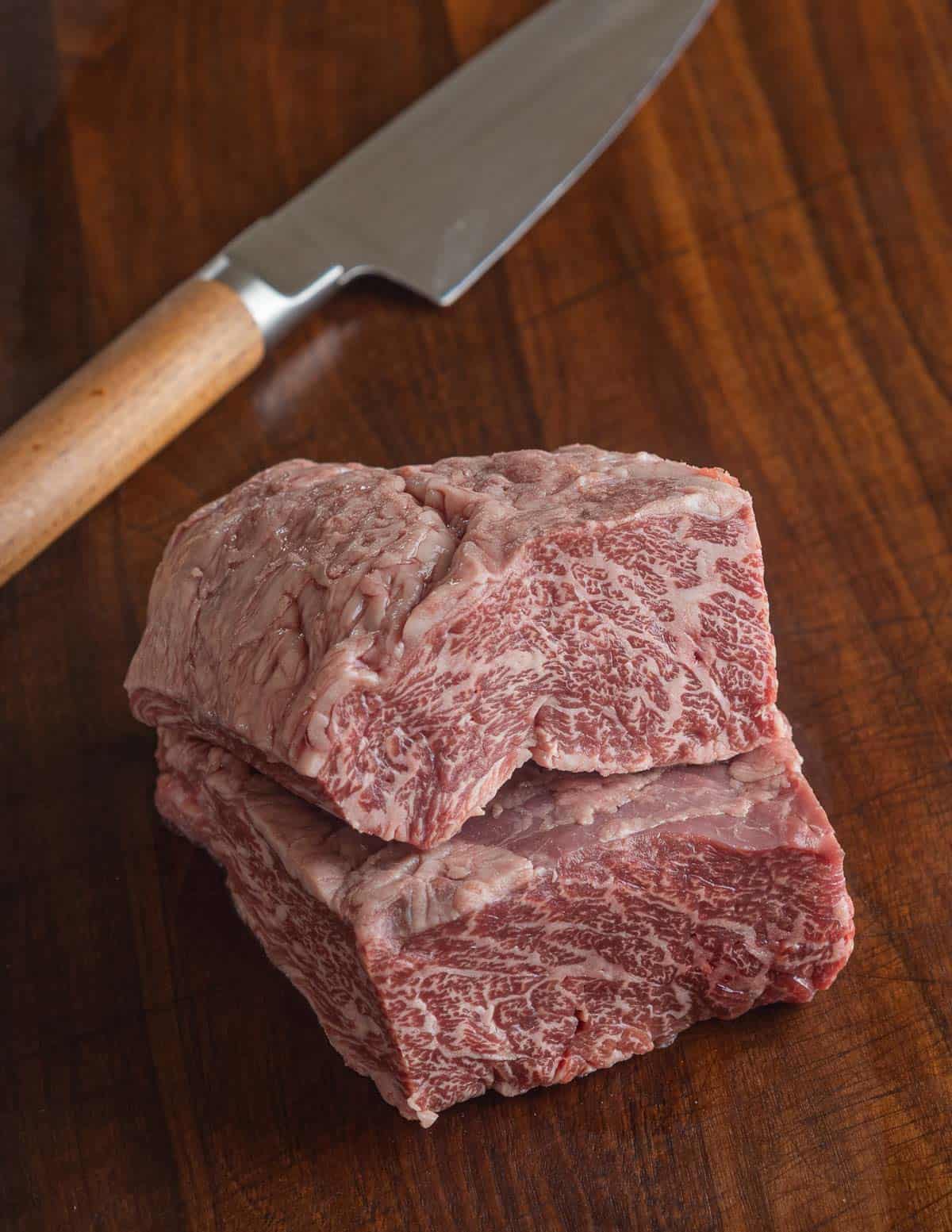 What is Bavette Steak?
Also known as the bottom sirloin, sirloin flap steak, sirloin bavette or even flap meat. The bavette steak cut is located near the flank steak on a cow, below the plate, or belly near the abdominal muscles of a cow. A classic beef cut served in Bistros, the name means bib steak in French. It has a rich, beefy flavor comparable to hanger steak.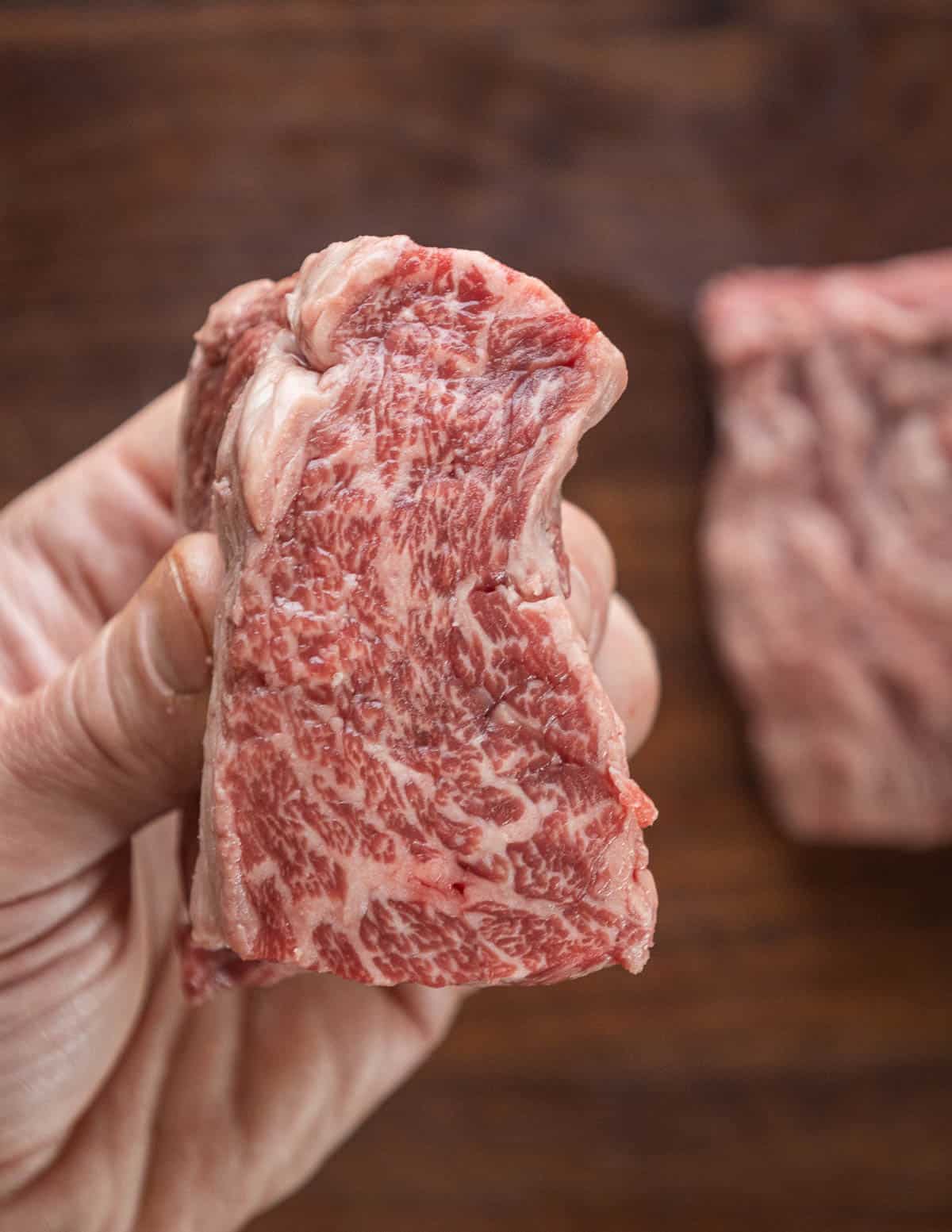 The steak is well known for it's combination of tenderness and beefy flavor. It's similar to flank steak, but slightly thicker and often more heavily marbled with intermuscular fat where flank is a lean cut. There's also wagyu bavette, and it can be incredible.
How to Cut a Bavette Steak
If you buy bavette steak from a local butcher it's likely that it will have been trimmed and portioned already. If that's the case for you then you won't need to worry about cutting and trimming.
If you're a chef or purchased a large cut of bavette, the first thing you'll want to do is take the meat out of the vacuum bag and pat it dry on paper towels, as shown below.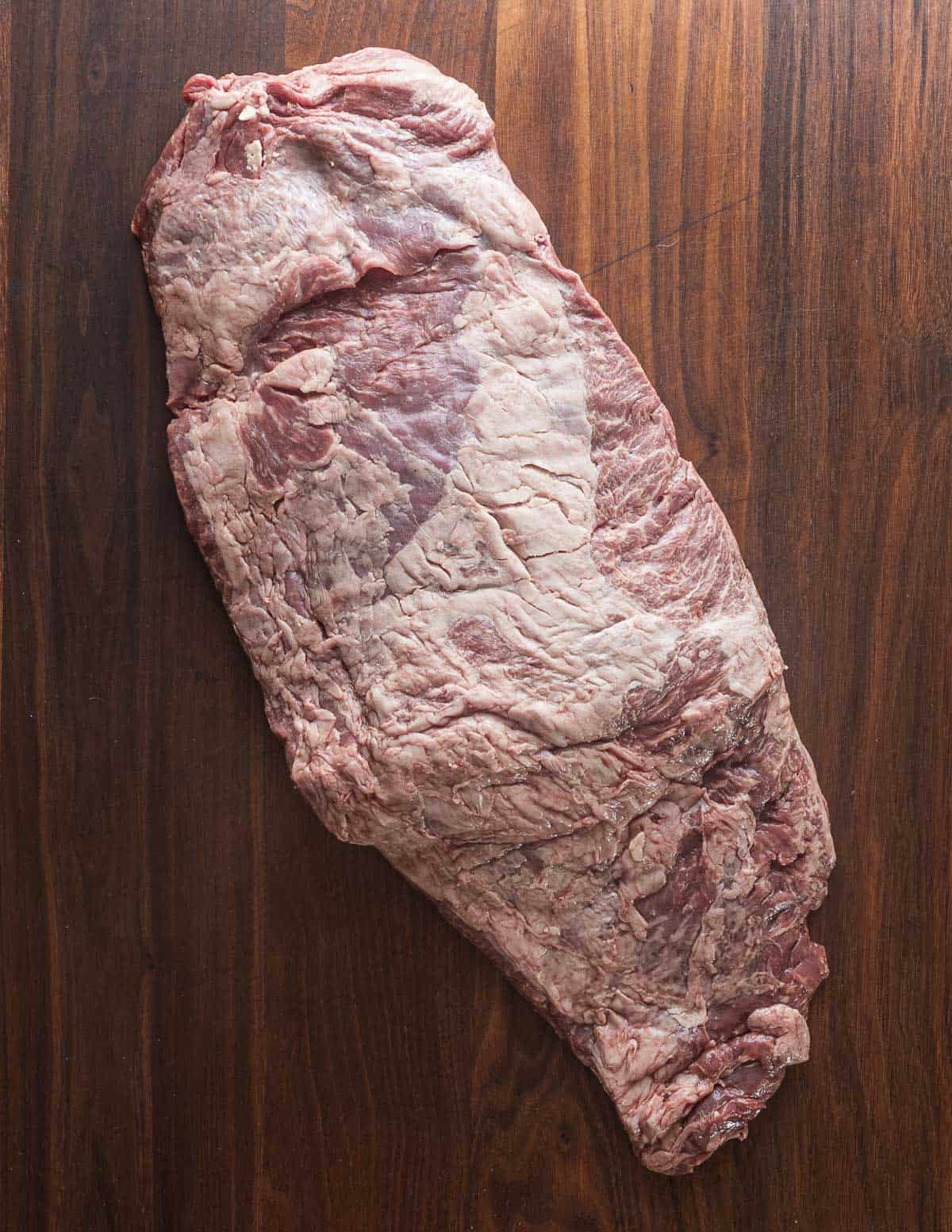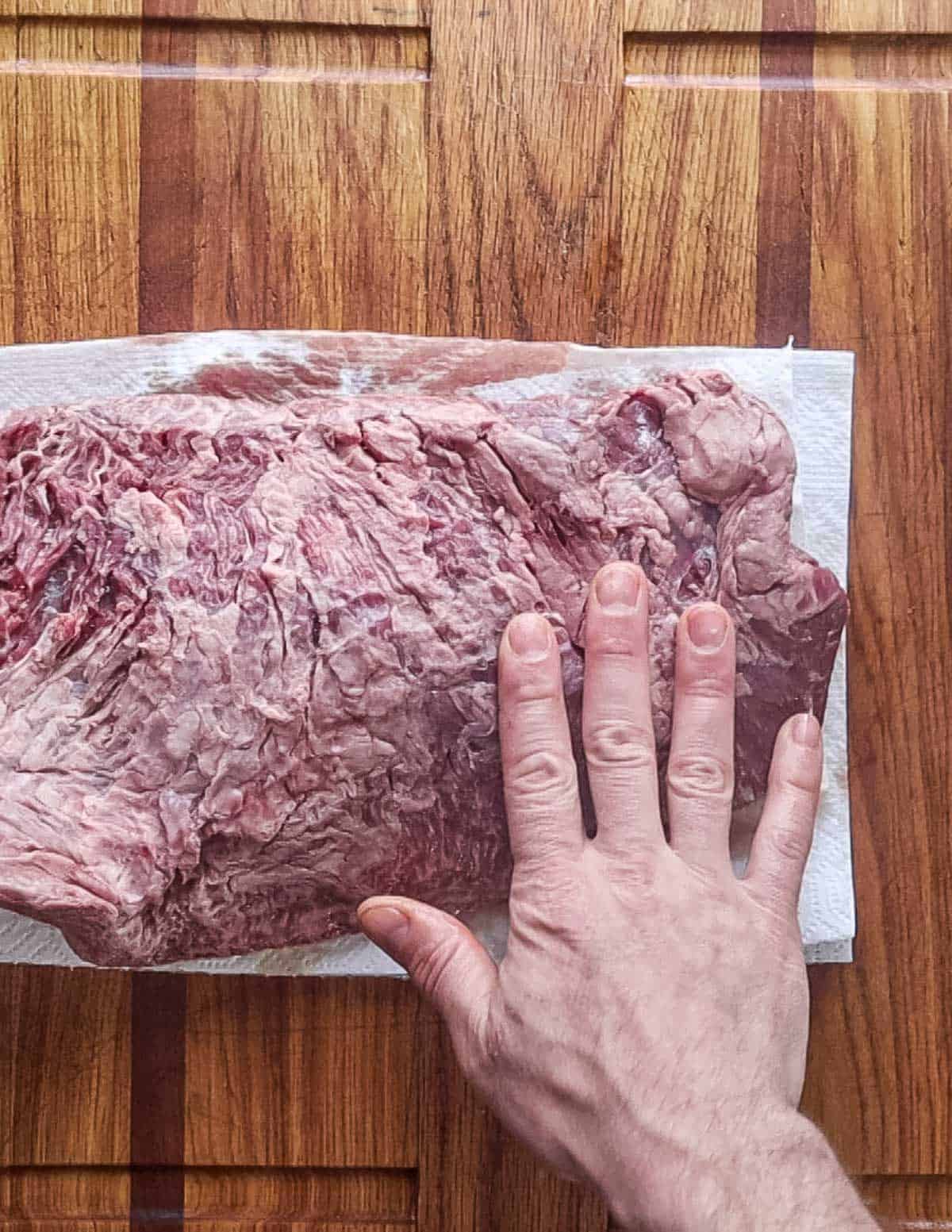 Next, remove the silver skin from both sides, if present. It can be tricky to see, but can be easily removed with a small paring knife. If you can't see it, it's ok, even if you don't remove it, it will still be good, but it may curve a bit when cooking.
Below: removing the silverskin.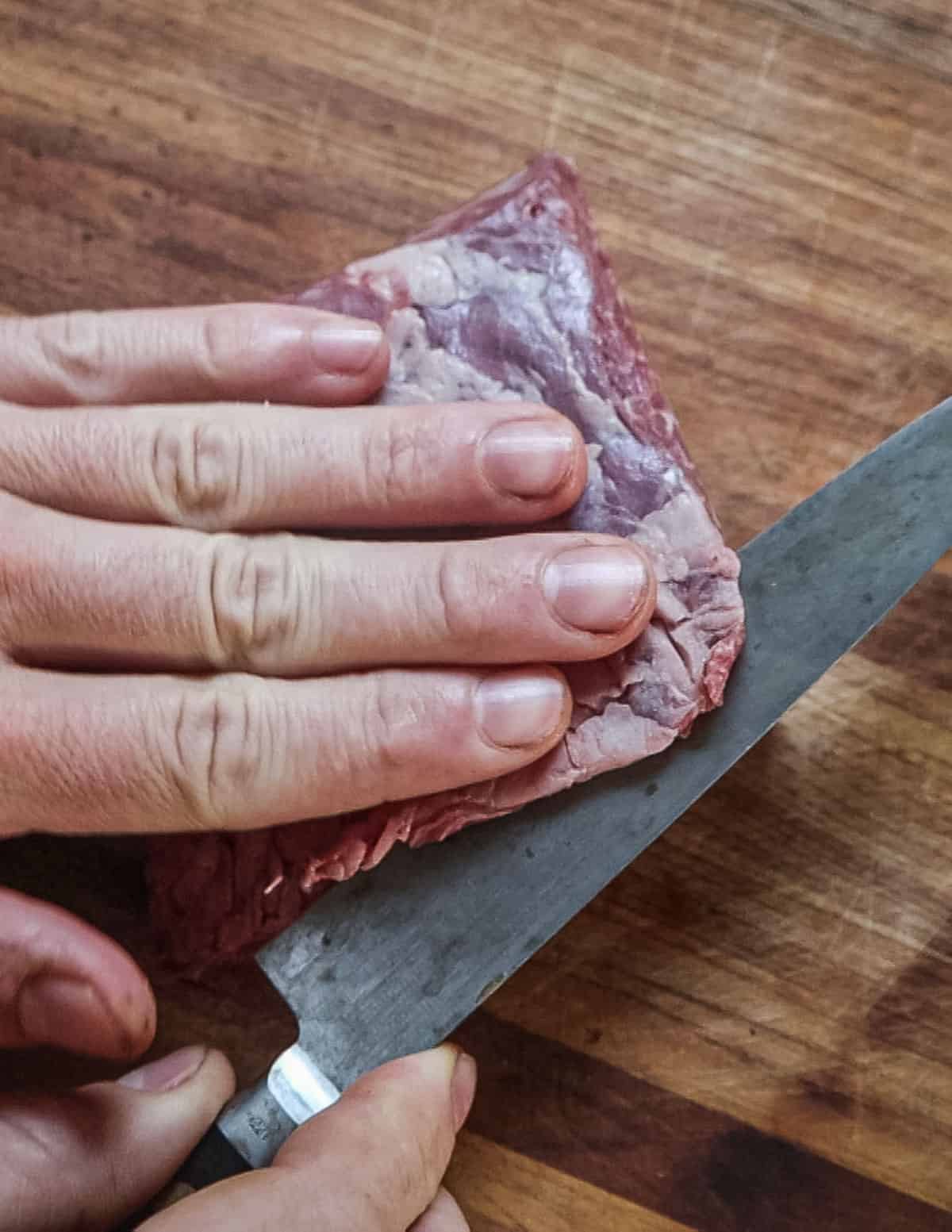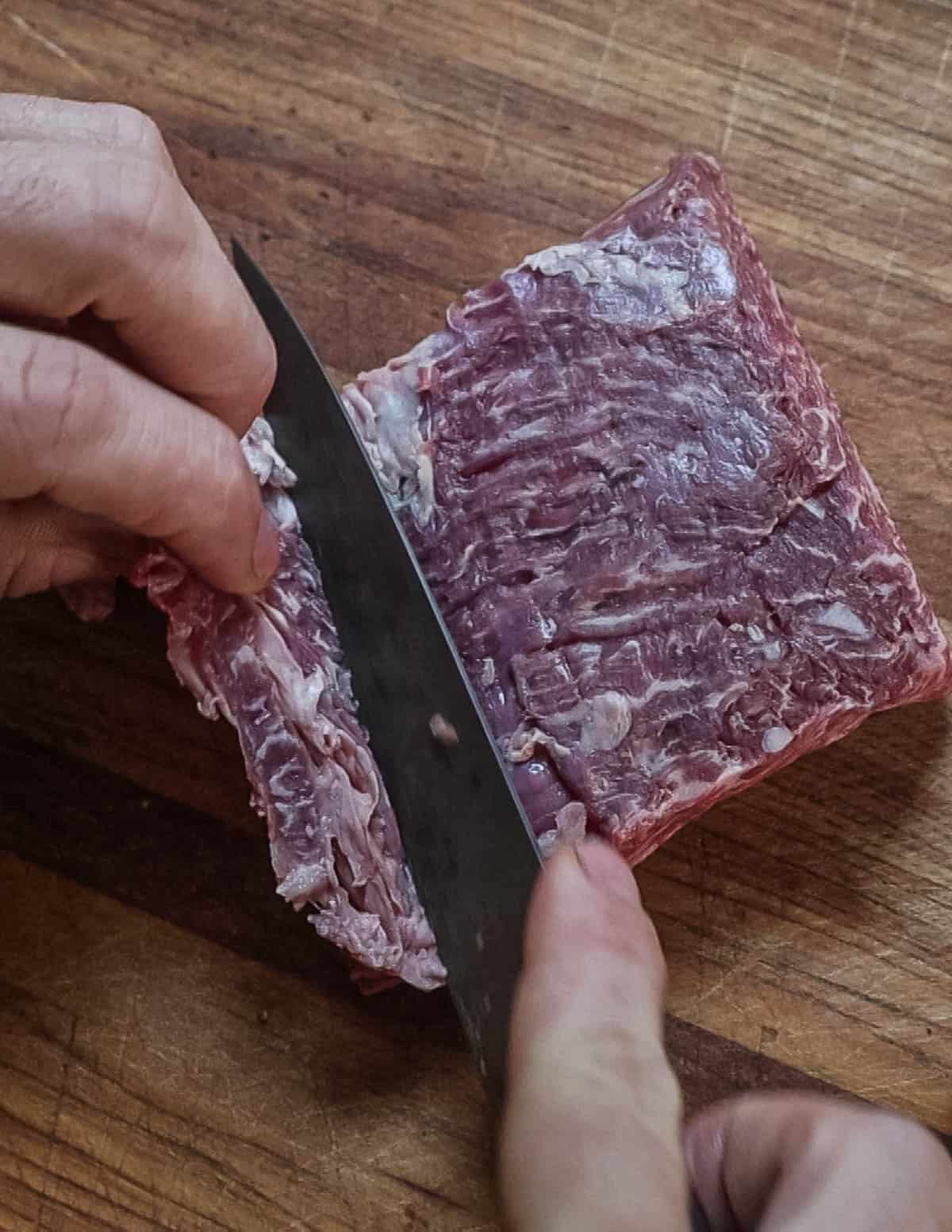 After trimming the silver skin, you can cut the steak into portions for individual steaks, or leave it whole for cooking in one piece.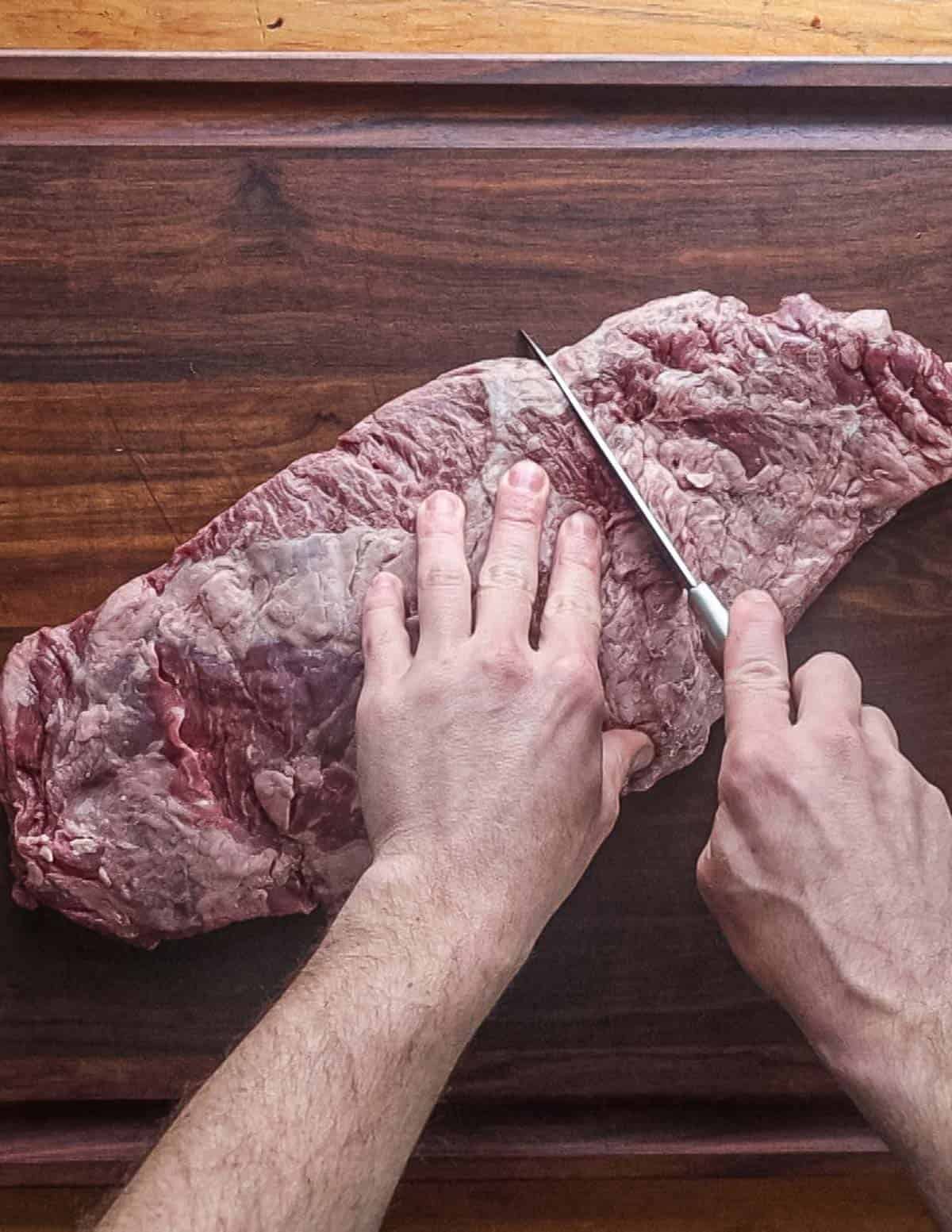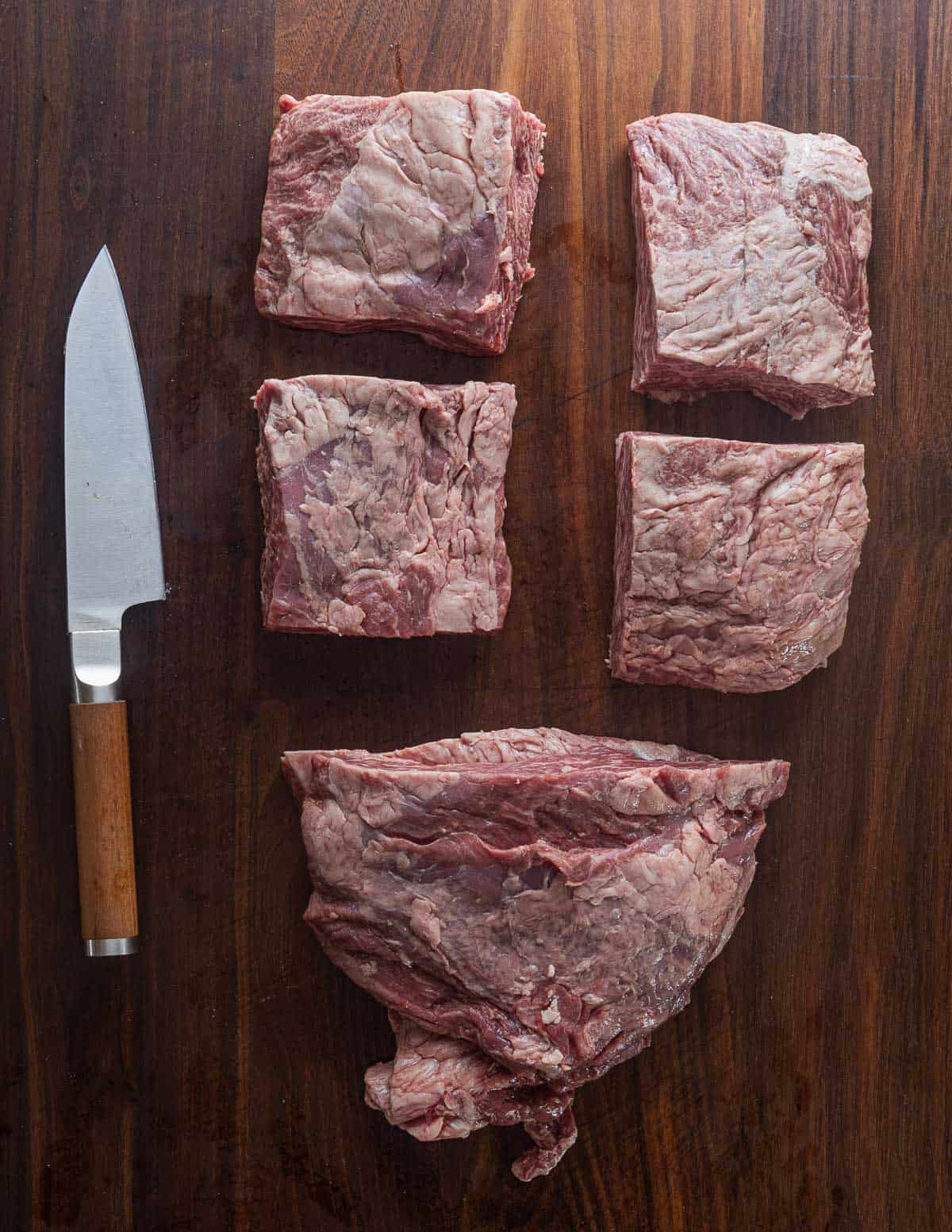 These are often heavily marbled steaks. Take a moment to appreciate the intermuscular fat.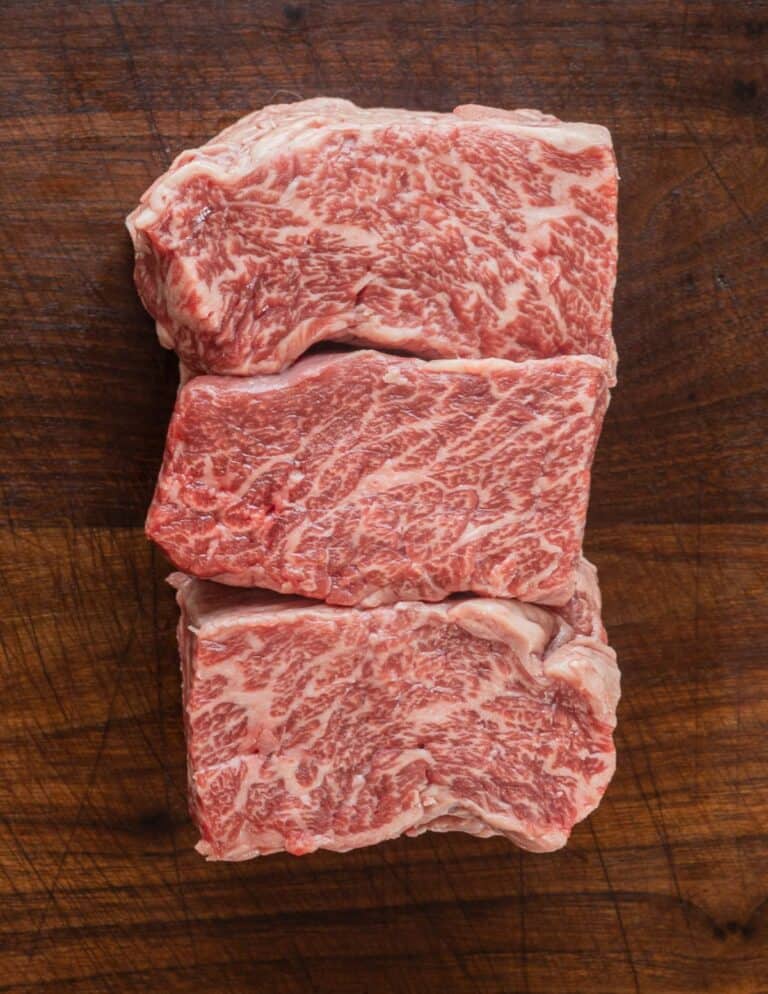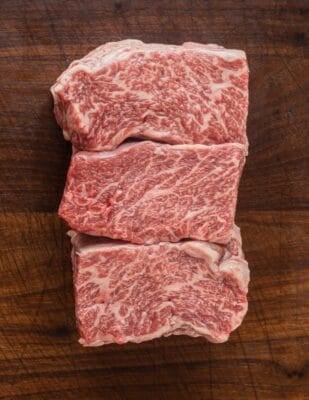 How to Cook Bavette Steak
This cut is perfect for grilling and pan roasting in a cast iron skillet. Like most steaks, the first thing I do is a dry-brine. To dry brine a steak, season the meat all over with salt and pepper and allow it to rest overnight. 4-6 ounce steaks are a good size for entrees and should be cooked for 3-4 minutes per side on medium-high heat, depending on thickness.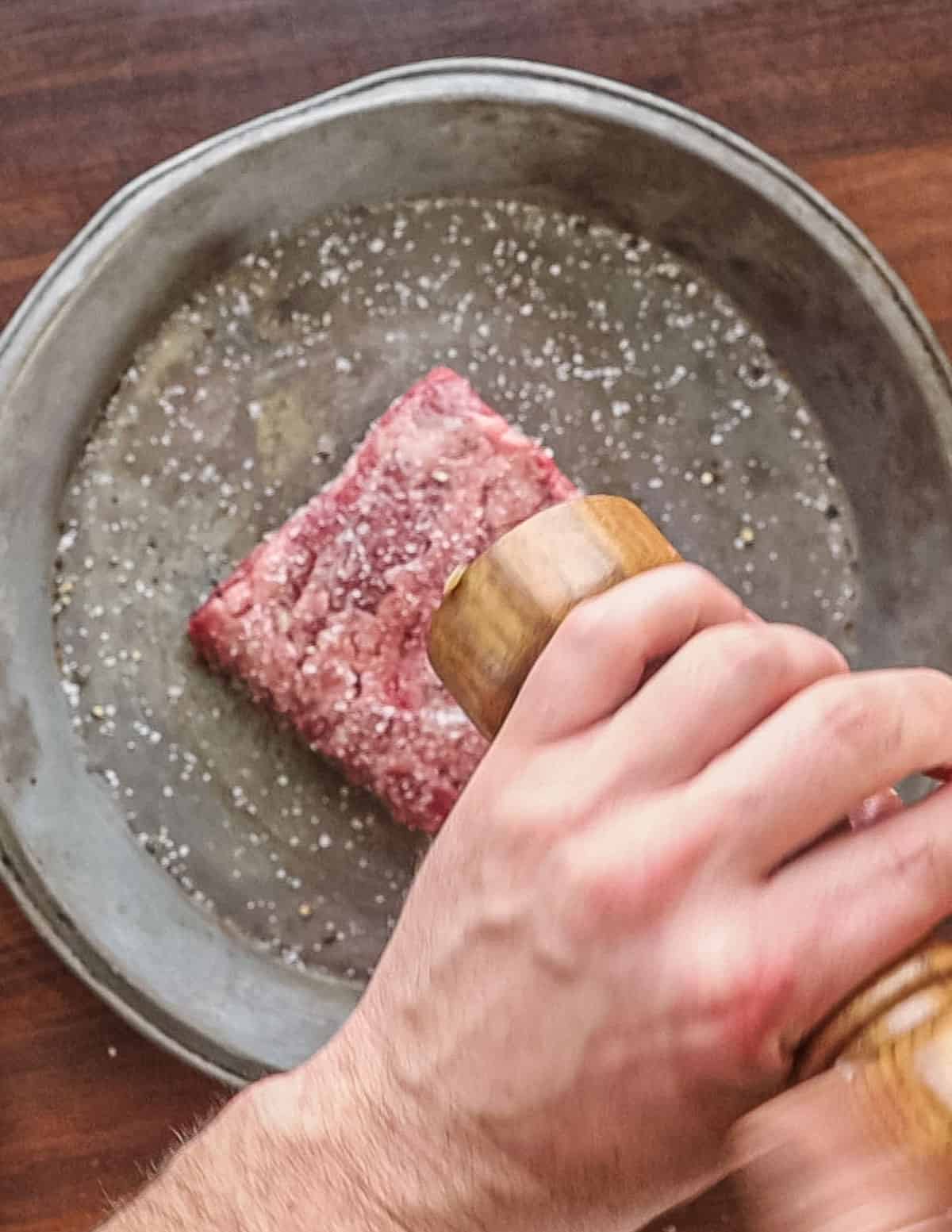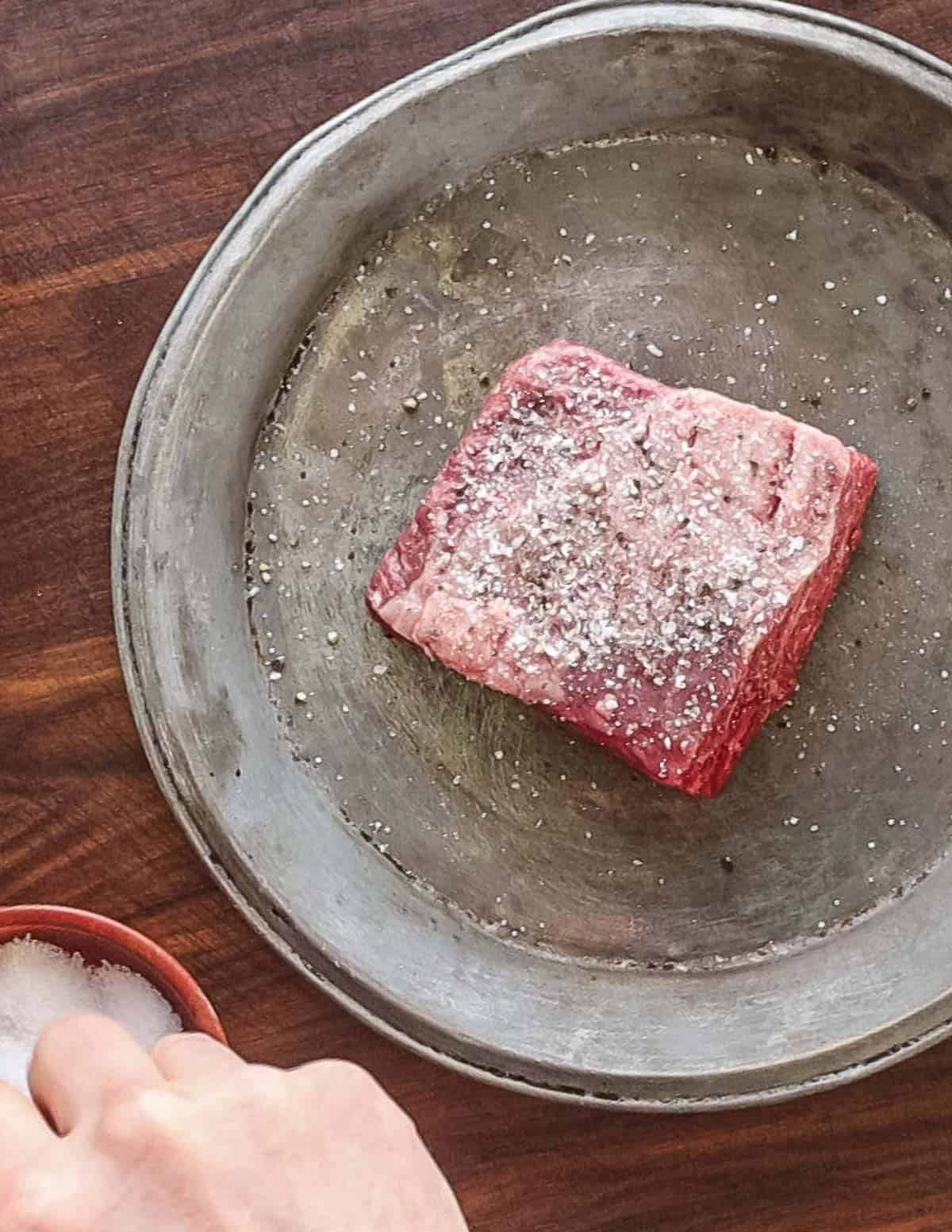 Since the steaks can taper, with one side being thicker than the other, cooking a bavette sous-vide is a great way to ensure even cooking and a perfect doneness, although a meat thermometer works too. While you could make a slow-cooked bavette steak, it would be a waste as it isn't a slow-cooking or braising cut.
Below: cooking bavette steaks sous vide.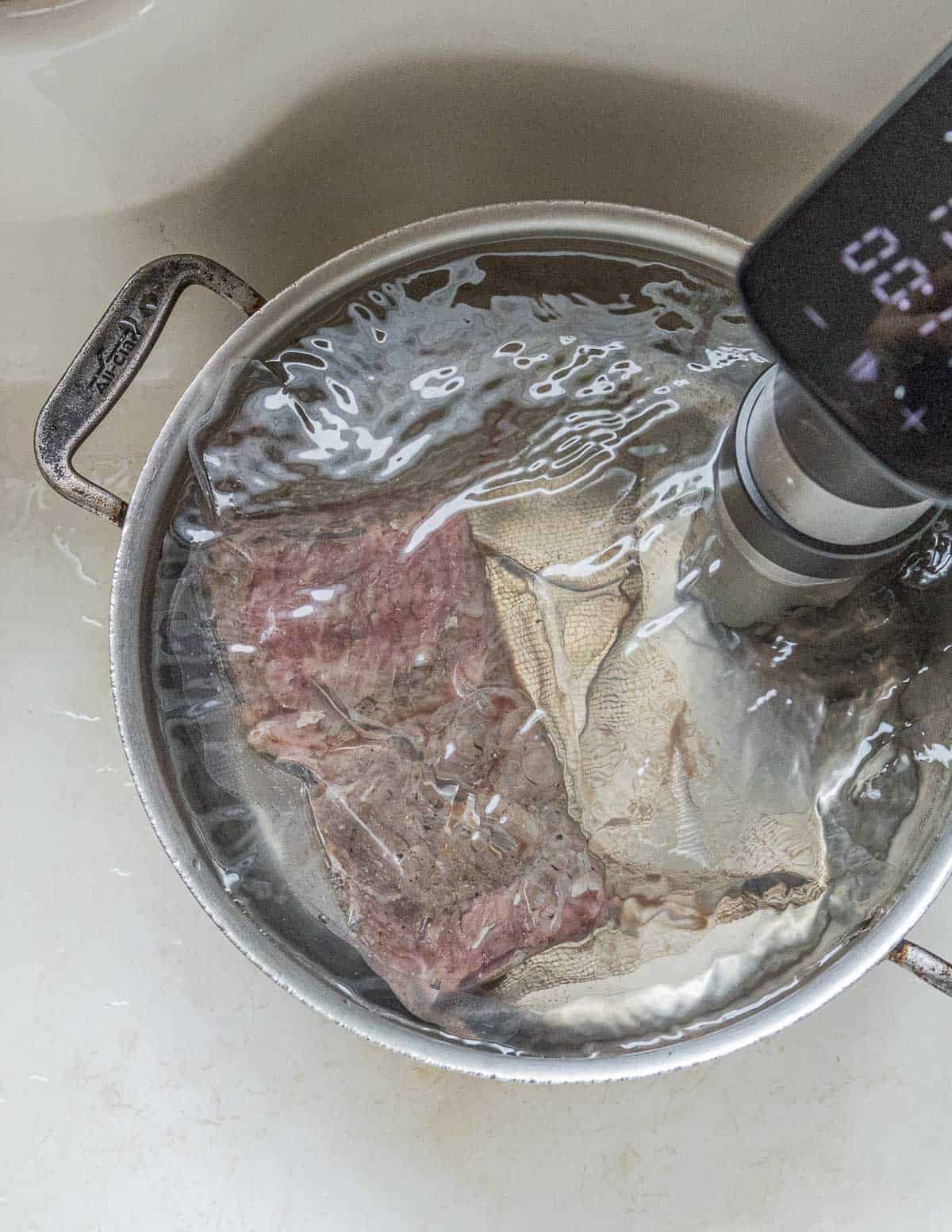 I like to take them off the heat at 135 F, which will give a medium-medium rare steak after the steaks are allowed to rest for 10 minutes before being sliced against the grain of the muscle fibers.
Below: resting a cooked steak before slicing.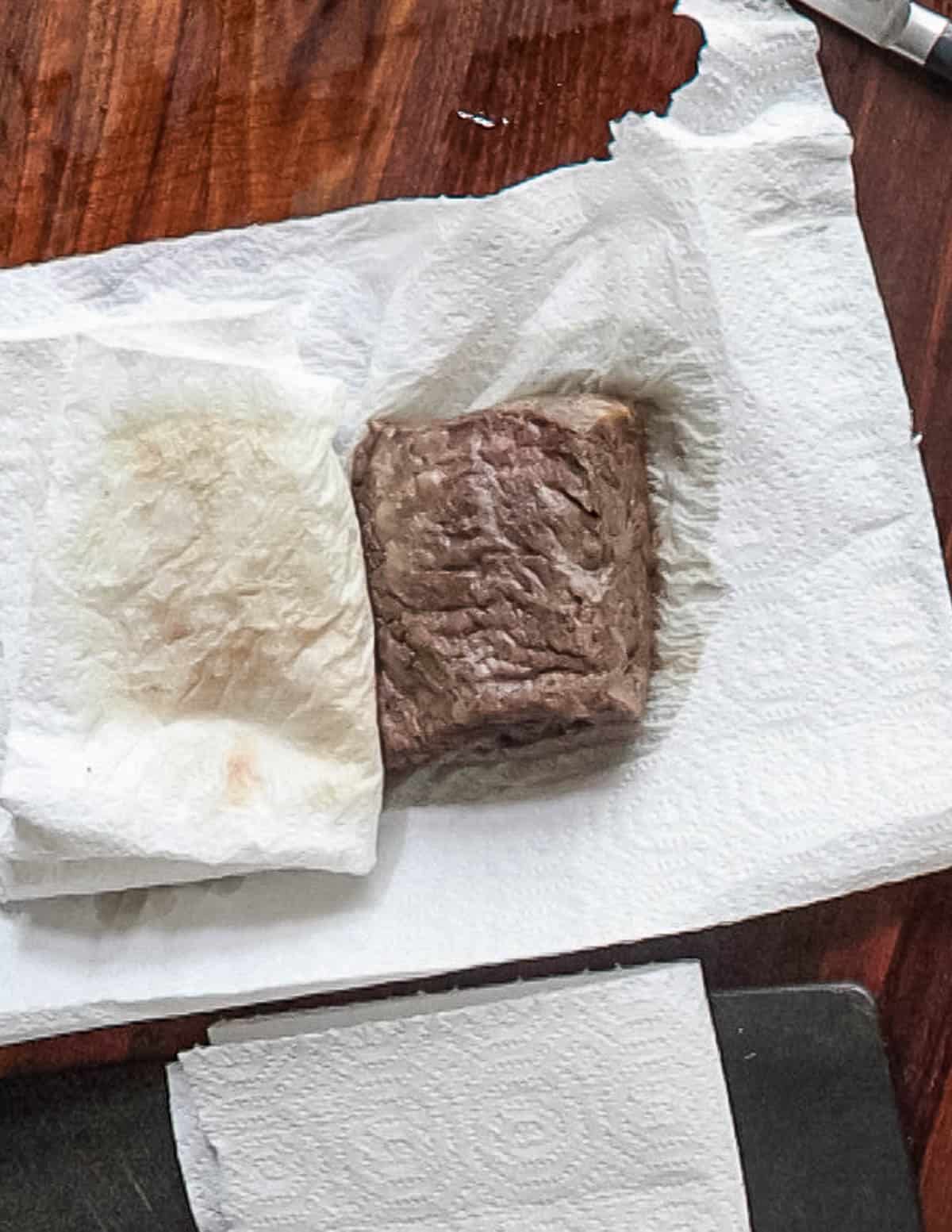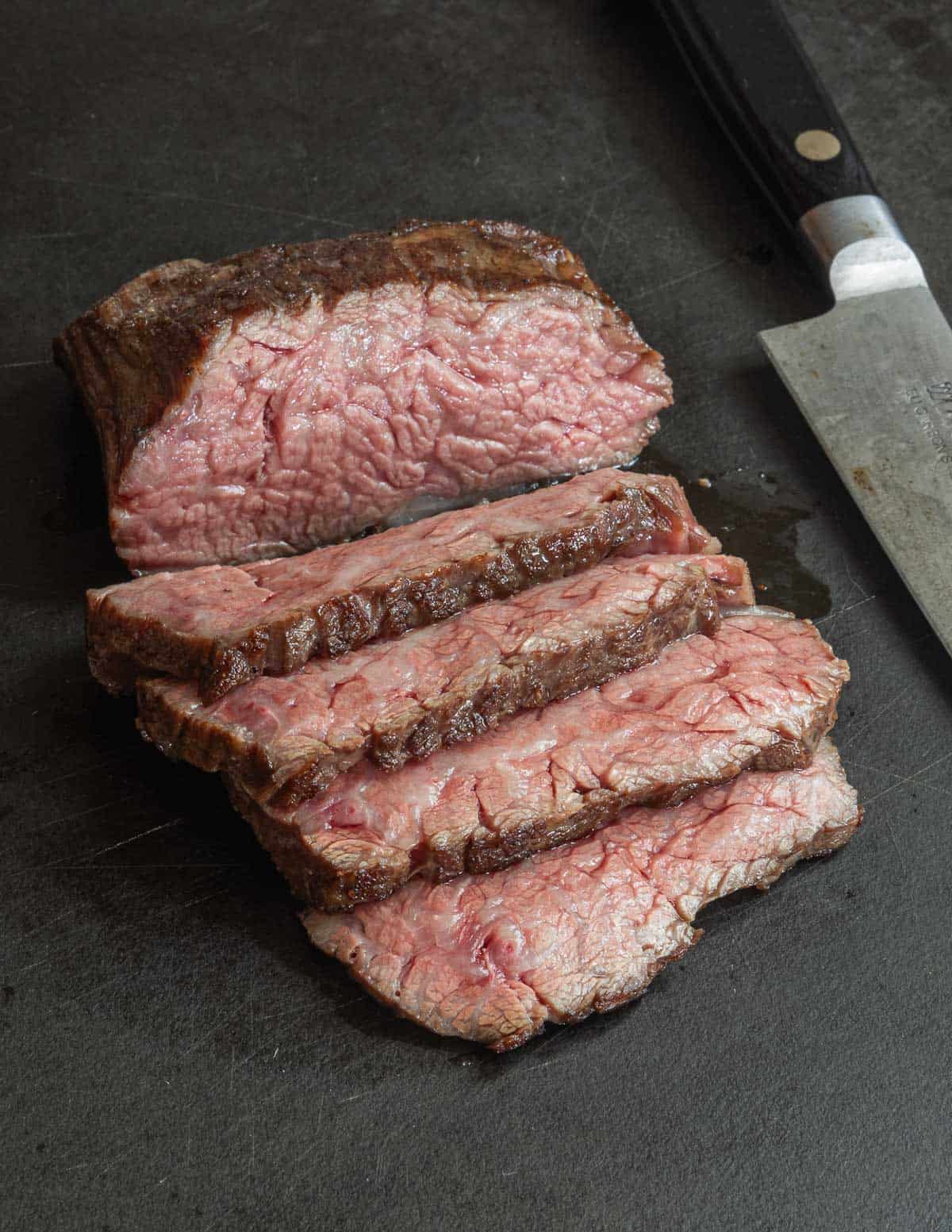 How to Grill Bavette Steak
These are a delicious steak to cook on the grill. Just like with other cooking methods, you'll want to season the steak with salt and pepper a few hours before cooking or overnight.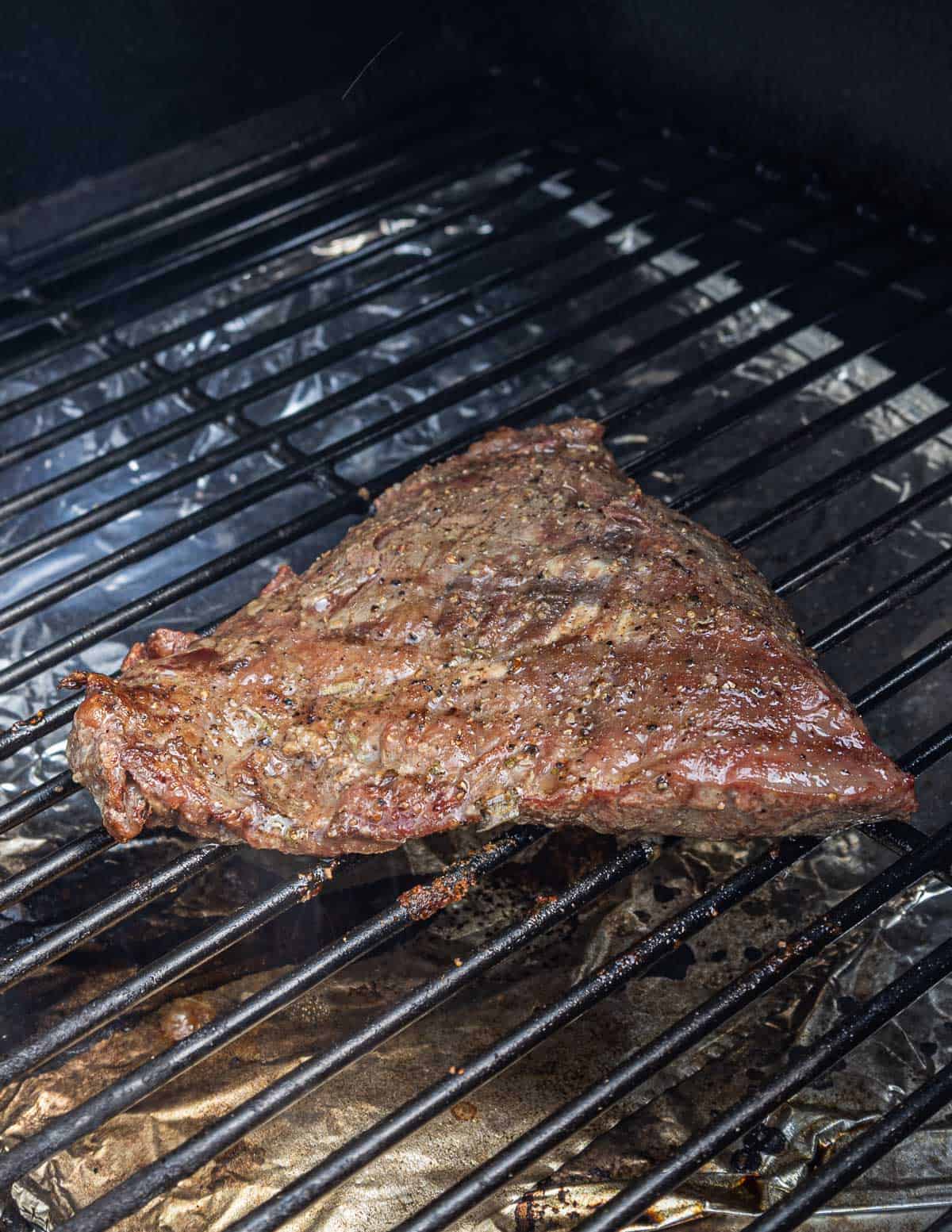 If using wood or charcoal, lightly oil the grates of a grill and cook the steak for 5-6 minutes on each side over indirect heat from the coals. If using a gas grill, have part of the grill turned to medium-low heat, and another part to high heat.
Start the steak out on the high heat and brown it on both sides, then finish by cooking gently on the lower heat until the desired temperature is reached.
Below: sliced, grilled bavette steak.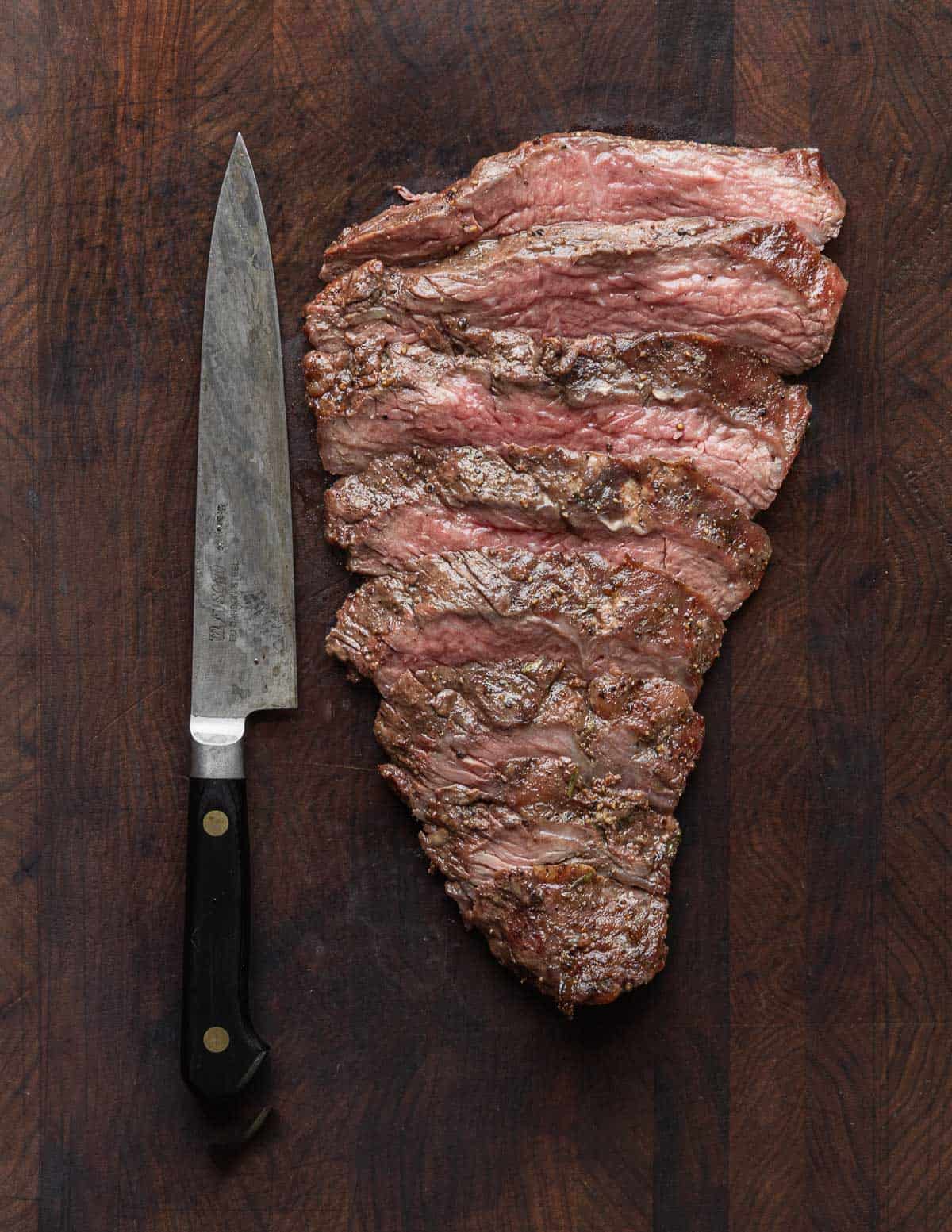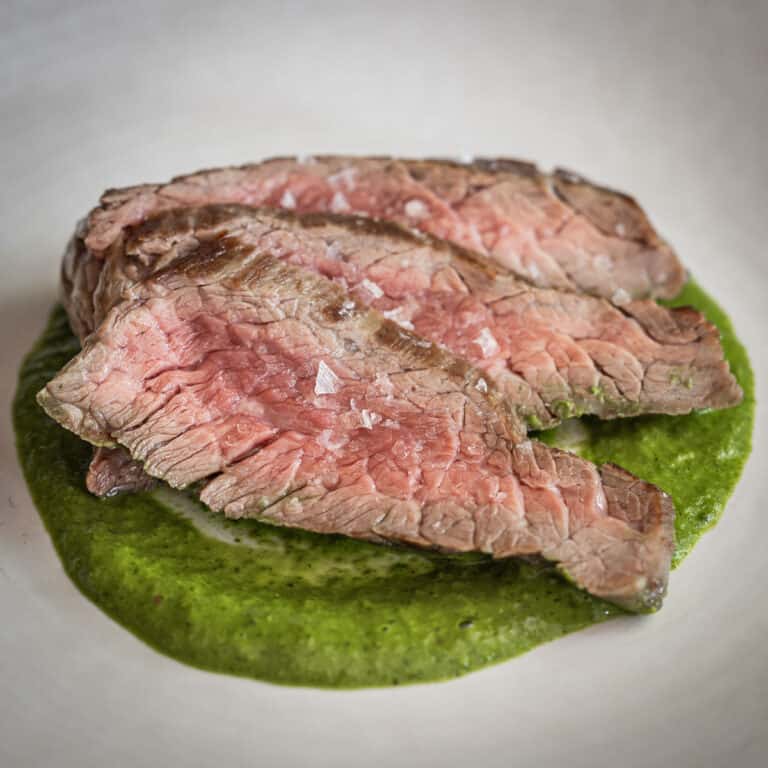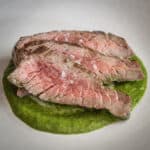 Print Recipe
Sous Vide Bavette Steak with Salsa Verde
Grilled, pan roasted, or sous vide bavette makes for a richly marbled, flavorful steak. Serve them with a spicy salsa verde for a perfect summer entree.
Equipment
1 sous vide

1 Large pasta pot

for cooking the bavette sous vide

1 large saute pan or grill

for browning the steaks
Ingredients
Salsa Verde
1

cup

Italian parsley

or another nuetral herb (I consider cilantro neutral here)

1

cup

flavorful herbs

like basil, oregano, lovage, etc

1

tablespoon

chopped garlic

Zest of one lemon

Juice of 2 lemons

Kosher salt and pepper

to taste

¾

cups

blended olive oil

high quality

½

cup

water

½

teaspoon

crushed pepper flakes
Steaks
1.5

lb

Bavette steak

trimmed into 6 oz pieces

Kosher salt and fresh ground black pepper

to taste
Instructions
Salsa Verde
Blanch the parley in boiling salted water, then shock in an ice bath. Squeeze the water from the parsley and chop roughly, then combine in the bowl of a highspeed blender and puree with the remaining ingredients except the oil and water. Process the mixture, drizzling in the oil to form and emulsion.

Afterword, with the machine off, mix in the water to lighten the sauce. Season to taste, then transfer to a mason jar or other container and refrigerate.

The sauce can also be made by mincing herbs and adding the rest of the ingredients, but sometimes I prefer to puree in the blender, especially if I'm short of time.
Steaks
Season the steaks with salt and pepper, then allow to rest uncovered in the fridge for at least 1-2 hours, and up to 24 hours.

You can cook the steaks in a pan, on a grill, or in a sous vide. Bring the steaks to room temperature before you cook them for an even doneness.

Cook the steaks until 135 F, then allow to rest for 10 minutes in a warm place while you warm up a side dish. I like an oven set to warm.

Slice the steaks against the grain and serve with the sauce on the side.